MGCC season kicks off with plenty of duels in the sun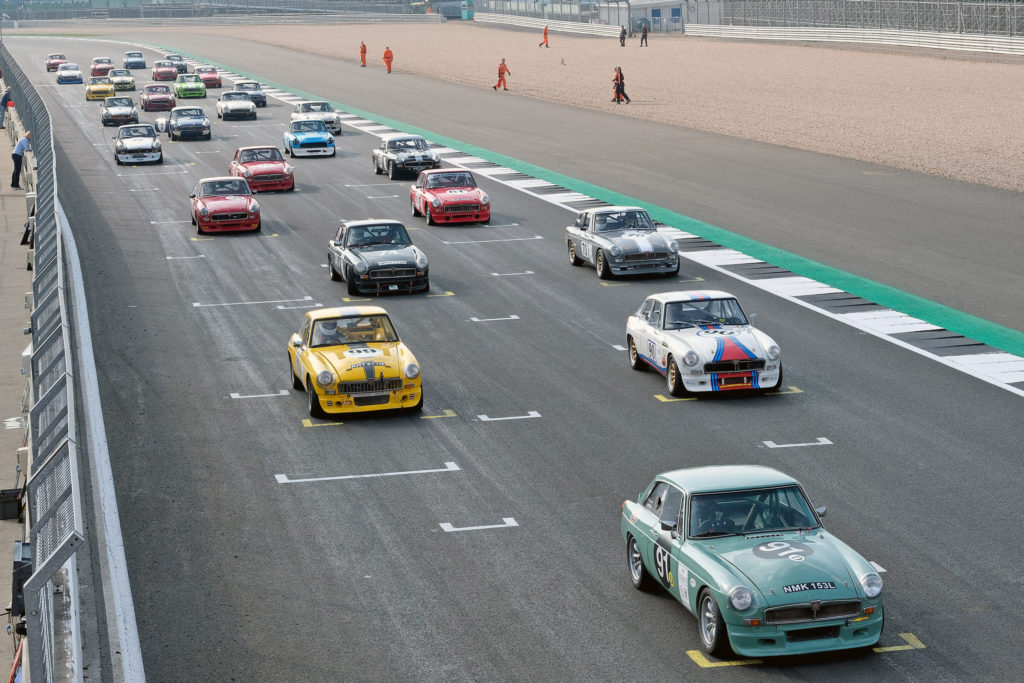 Several MG Car Club championships and series kicked off their race seasons at the club's opening 2019 meeting at Silverstone's national circuit – in highly unseasonable warm and sunny weather.
MGCC MC Cup supported by Peter Best Insurance
The MG Cup supported by Peter Best Insurance wasted no time in providing exciting racing action after their winter's break. And Richard Buckley was the star of the show, winning both season-opening races in his Rover 220 Turbo. This was despite starting either race second-last due to his clutch cable getting stuck in qualifying, and in both races he rose through the field in double-quick time. It all also got Buckley the Driver of the Day award as well as Driver of the Race for his second showing.
In the first race Buckley, his clutch woes now sorted, rose to lead by one-third's distance, taking the spot from Stuart Tranter who was competing the in the invitational class in a Tomcat. Tranter finished second and Peter Burchill in a ZS 180 got third.
And that wasn't the only impressive part of Buckley's achievement. "It's the first time I'd driven the car since I rolled it at Snetterton last year," he said.
"I hadn't tested it or anything. I had to rebuild it over the winter, it was all damaged, broke some engine parts, so I didn't have time to test it before the race. So it was literally out of the box. And after quali I didn't think I was going to be anywhere! But it seems to work alright!"
Dan Jones finished fourth, and with it got the Class B win as well as race one's Driver of the Race accolade, all despite bogging down somewhat in his ZR 170 at the start. He got class victory after Fred Burgess, who finished third overall on the road also in a ZR 170, picked up a five second penalty for exceeding track limits. MG Trophy regular Tylor Ballard was classified second in Class B while Jon Gil in a ZR 160 won Class A.
Race two resembled a replay of race one as Buckley again climbed through the pack rapidly, though this time it looked for a time that he might have to give best to leader Matt Simpson in his Tomcat. Simpson had made his own recovery from starting ninth – due to a combination of traffic and oil on the circuit in qualifying – and the two friends engaged in a tough, but fair and respectful, scrap for several laps.
"To be honest I'd pretty much settled for second," Buckley added. "But then I saw a backmarker, and thought if I could just box him in behind the backmarker and get the run round him – a little bit naughty but I did it! And that was it, I was away then. All's fair in love and racing!
"It's nice to race someone like that; you know you can get really close and it's not all going to all go wrong."
Simpson admitted to making an error with a camber adjustment which made his Tomcat "completely undriveable" and sounding like it was going to break, which meant he couldn't get onto the race one grid. The matter still impacted his car somewhat in the second race, and forced him to take a compromised racing line on right-handers, something Buckley took advantage of.
"He out-smarted me!," Simpson laughed. "He worked out where I was going to be slow and managed to do me! It was great, I knew he was going to get me to be honest and it was hard enough to hold him off for as long as I did.
"Through my own mistake the car didn't make it to the grid mechanically for the first race, but we managed to nurse it through the second race.
"Richard Buckley and I have had a few battles now and it's very clean and very hard work racing him. It's quite a privilege really. All in all a good day."
Simpson followed Buckley home in race two less than a second shy, and Tranter completed the top three. Burgess was able to claim Class B victory this time, finishing fourth overall, while Gil made it two Class A victories from two.
Mike Williams, so often fast but unlucky last year in his Metro, had that tale continue at Silverstone as his engine let go after one lap of qualifying which meant he couldn't race. It was something he had feared after a problem developed in Thursday's testing, though he had been hopeful of nursing his car through the weekend.
Reigning champion Darren Harris meanwhile elected not to participate, despite testing his ZR 170 at Silverstone the day before.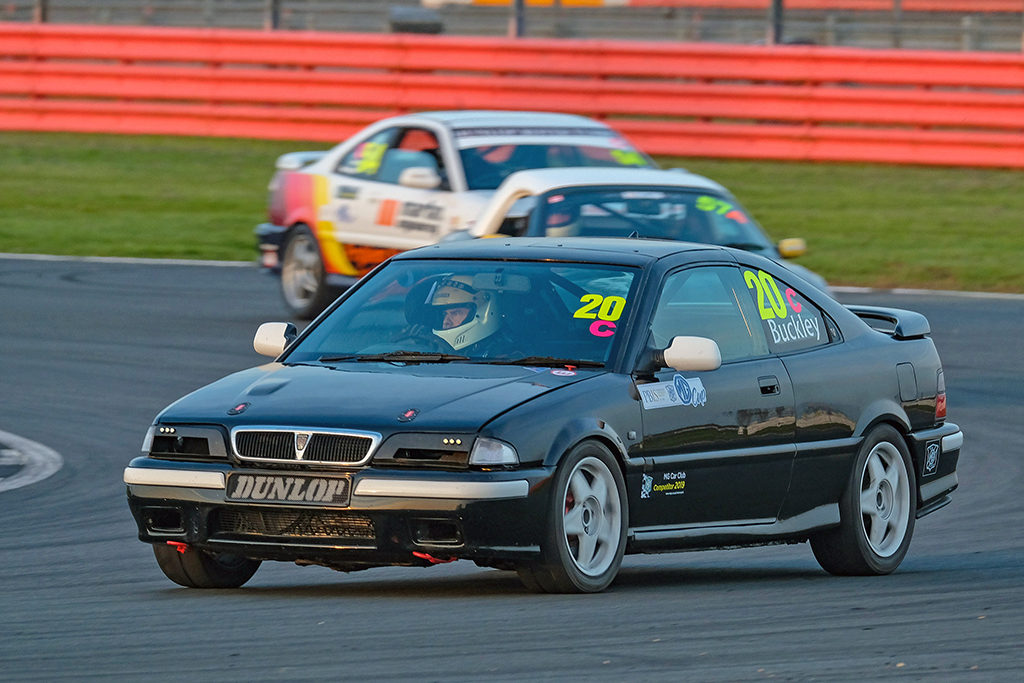 MGCC BCV8 Championship
The opening BCV8 race meeting of the year was a poignant affair as it came a few weeks after the sad passing of its popular long-time coordinator Pam McCarthy, as well as was mere days after the memorial service to honour her life. McCarthy had several links to the BCV8 championship over several years, including being the wife of long-time BCV8 racer and champion Roy, as well as the mother of rapid BCV8 drivers Russell and Spencer, Russell having won the last two BCV8 overall championships.
To pay tribute all drivers got out of their cars before the race and assembled at the front of the grid for a minute's silence and the competing cars carried stickers in her memory. Russell also handed out the trophies afterwards. And that the BCV8 racing continued, and with 28 cars on track, was the most fitting tribute of all.
"It's a massive shock for all of us, we are as a championship all mourning a little bit at the moment," said chairman of the championship James Wheeler.
"But the key thing is to try and keep going, keep strong and enjoy it, because if she's looking down at us she'll want the championship to be as successful as it's always been. The only thing is we need about three or four people to do what Pam could do as one person! So we're looking forward to the season, and all racing for Pam!
"Over the course of the year we'll [also] do little things to pay our respects; we'll have an end of year trophy as well that will be in Pam's name."
The race was won by habitual front-runner Rob Spencer. Starting third, he stormed past the front row pair Neil Fowler and Ian Prior at the start and held off his fellow GT V8 runner Prior for the rest of the way, beating him home by 1.1 seconds. Reigning Class D champion Fowler would likely have been in the fight too but his GT V8 on the third lap slowed as if losing a top gear, then pulled off. Wheeler might have been in the mix as well but had to nurse his car due to it running hot, then his GT V8 didn't get off the line at the start.
It was a 'double podium' for the Spencer family as Rob's son Jordan got home third, with it claiming Class C victory. This was despite his GT V8 smoking for much of the distance, to the point that Jordan had to reach across to open his passenger window!
Stephen McKie in his GT V8 won Class B by 3.9s from Howard Grundon's similar machine, and McKie claimed Driver of the Race with it. David Strike in an MGB GT won Class AB comfortably.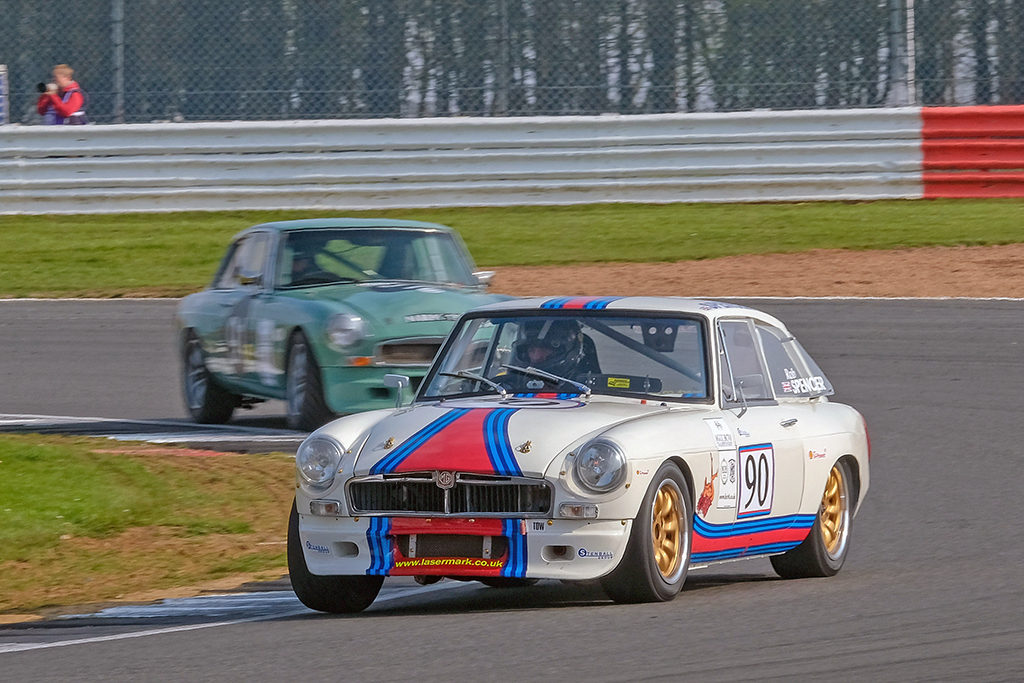 MGCC Drayton Manor Park MG Metro Cup with The College Motors MG Trophy
Reigning Drayton Manor Park MG Metro Cup champion Jack Ashton of Team Purple Helmets picked up where he left off last year by winning both the season-opening races at Silverstone from pole in his Rover Metro GTi. Yet if he thought that his brother and team-mate – and closest challenger last year – Andrew sitting out this season would give him an easier ride he was rapidly dissuaded of the notion as in both races Jack had to fend off a strong challenge from Dick Trevett's MG Metro Turbo.
Ashton appeared to be moving clear initially in race one, building a 5s lead by one-third's distance. Trevett then however was able to haul Ashton in. Ashton looked capable of keeping his purser at arm's length but late-on developed a misfire, which meant he had to hang on by his fingernails, reaching the chequered flag a single second ahead. Ashton reckoned that with another lap or so he would have had to cede victory.
Dan Willars in a Rover Metro GTi completed the top three, heading a frantic four-car battle for third place, resolved in his favour when Mark Wilson in his MG Metro Turbo had an off-track excursion at Woodcote. Willars also was rewarded with the Driver of the Race accolade. Ashton's team-mate Les Tyler likely would have been near-at-hand too but his engine blew up in qualifying which meant he couldn't race.
In the second race leader Ashton again was chased by Trevett but again looked just about capable of keeping him out of striking range. This time though it was Trevett's turn to hit late technical problems, as he blew up with just two laps remaining.
Wilson inherited the race two runners-up slot, after a race-long demonstration of watertight defence to hold off Willars in third. This also got Wilson Driver of the Race.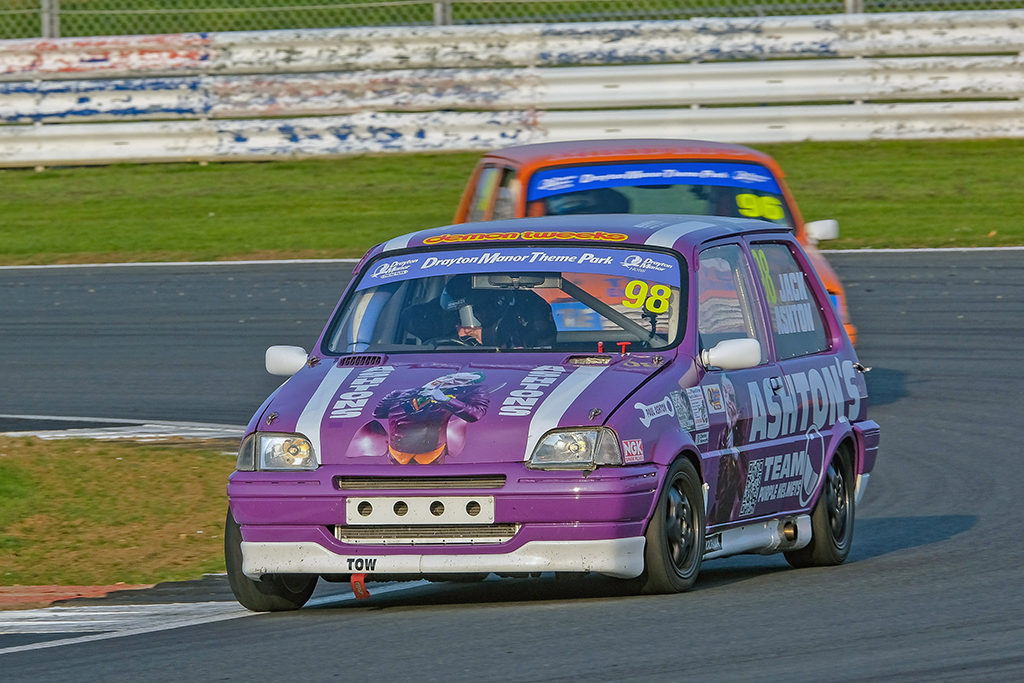 Equipe GTS A
The Equipe GTS Group A pitstop race boasted the largest grid of the meeting, with no fewer than 31 machines lining up, and the Equipe drivers enjoyed the impressive Equipe Driver Centre which was making its debut in the paddock! Group A victory was largely about one man though, as Lee Atkins dominated in his TVR Grantura 1800S. He took pole with a lap almost 1.3s under the nearest challenger then won both overall and in Class A3 with little fuss. Chris Ryan in a Triumph TR4 had a more eventful time, finishing second overall as well as winning the A4 class despite a five-second track limits penalty. He still was 7.5s clear of third-placed Mark Holme's MGB Roadster in the official results.
Andrew Williams in an Austin Healey 100M, who finished seventh overall, was A5 class winner with the other two competing in his class not making the finish.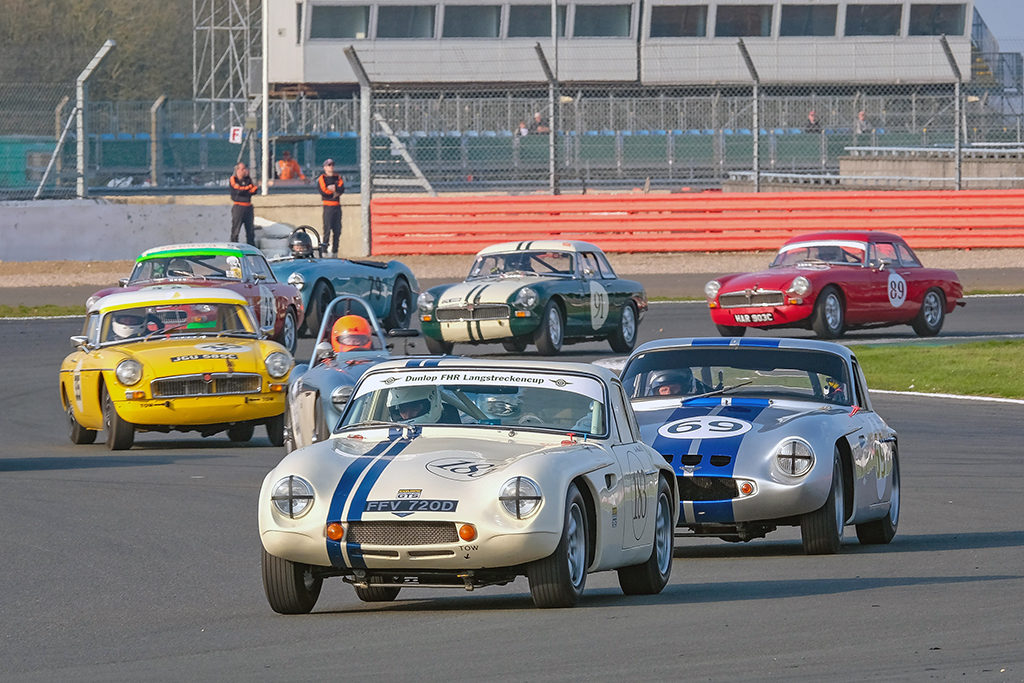 Equipe Pre-'63
The Equipe Pre-'63 race was a much closer affair, with Neil Fisher in an Austin Healey Sebring Sprite, John Pearson in a Healey 3000 and Mark Holme in a 3000 Mk II engaged in a tight race-long battle for victory. After nearly 40 minutes of racing the trio finished just 1.6s apart. Fisher won out, vaulting from third place into the lead with an earlier pitstop, at the expense of early leader Pearson and his close chaser Holme. Holme managed to pass Pearson for second place on the penultimate lap, also therefore beating Pearson to the Class 6 win.
Fourth-place finisher Bob Binfield in a Jaguar E-Type Roadster also got his place on the penultimate lap, in his case from the Healey 3000 shared by Guy and Simon Parry-Williams.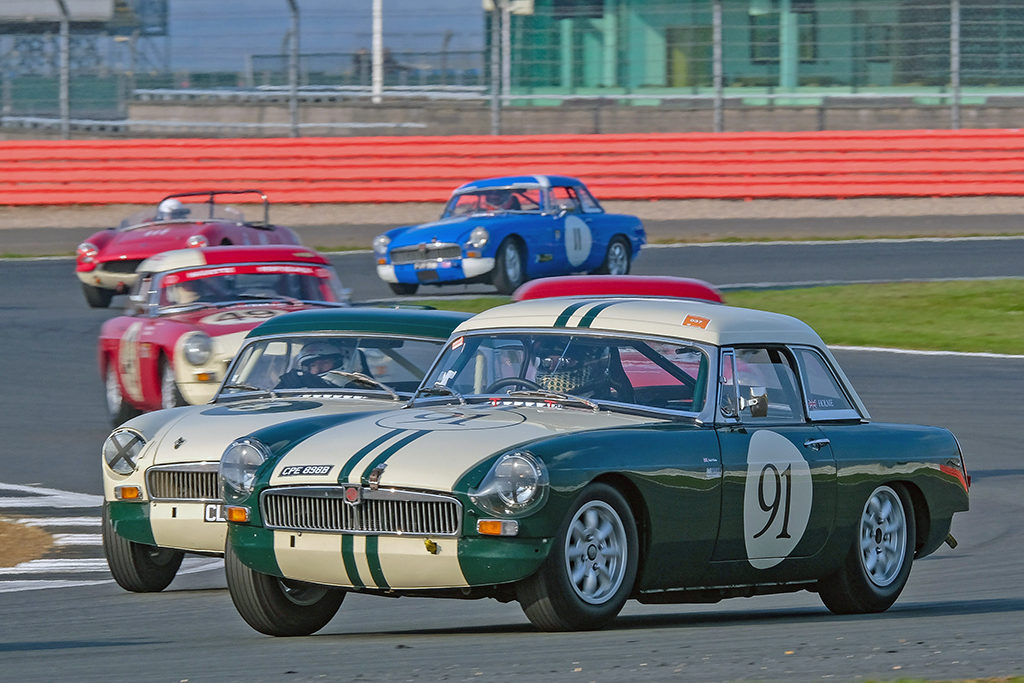 Equipe GTS B
The Equipe GTS Group B race, which shared the track with the Pre-'63s, was won by the MGB Roadster shared by Olivia Wilkinson and Austin Kinsella. They finished a lap ahead of runner-up Noel Leonard, who also was in a Roadster, but likely would have faced a tougher challenge for victory from another Team Rolleston Roadster that Wilkinson was also part of the driving duo for, in this case with Rupert West. That car was comfortably the fastest in qualifying by 1.3s, yet it pitted at the end of lap one and did not re-emerge. Andrew Somerville's Triumph TR4 also ran the Wilkinson/Kinsella Roadster close but picked up a three-lap penalty for making its mandatory pitstop half a minute before the pit window had opened.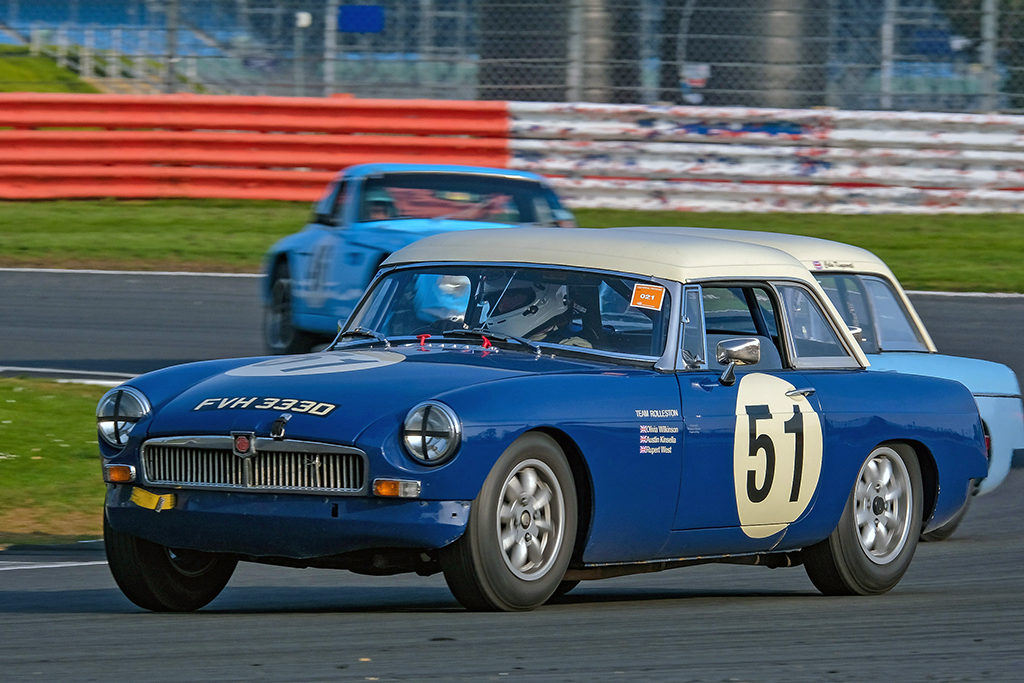 MGCC Cockshoot Cup
The Cockshoot Cup season-opener had particular intrigue as Ray Collier, who dominated the championship last year, was not competing. Indeed he is unlikely to compete in many rounds this season due to clashes with his day-job commitments as a tyre tester.
The opening race of 2019 was won by Paul Clackett in his ZS 180. Poleman Clackett was beaten predictably off the startline by Phil Standish's rear-wheel drive MG TF LE500, which started second, but Clackett passed Standish to re-take the lead at Brooklands on lap one. This was just before the safety car was deployed for a multi-car accident at Becketts, which accounted for Ashley Woodward's ZS 180 and Chris Greenbank's TF 160. Standish then dropped out shortly after green flag racing resumed, losing drive out of Becketts.
Clackett won ahead of a recovering MG Midget driven by Keith Egar, who started seventh and was running ninth when racing resumed after the early safety car. He then frequently was the fastest man on the track and took second place from Simon Lowery three laps before the end, shortly before Lowery retired with smoke billowing from his ZS 180. Egar finished just 3.6s shy of Clackett, and also got Driver of the Race for his efforts.
Michael Ashcroft completed the top three in his ZR 190, while Adam Jackson in fourth place in his ZR 170 was the Class B victor.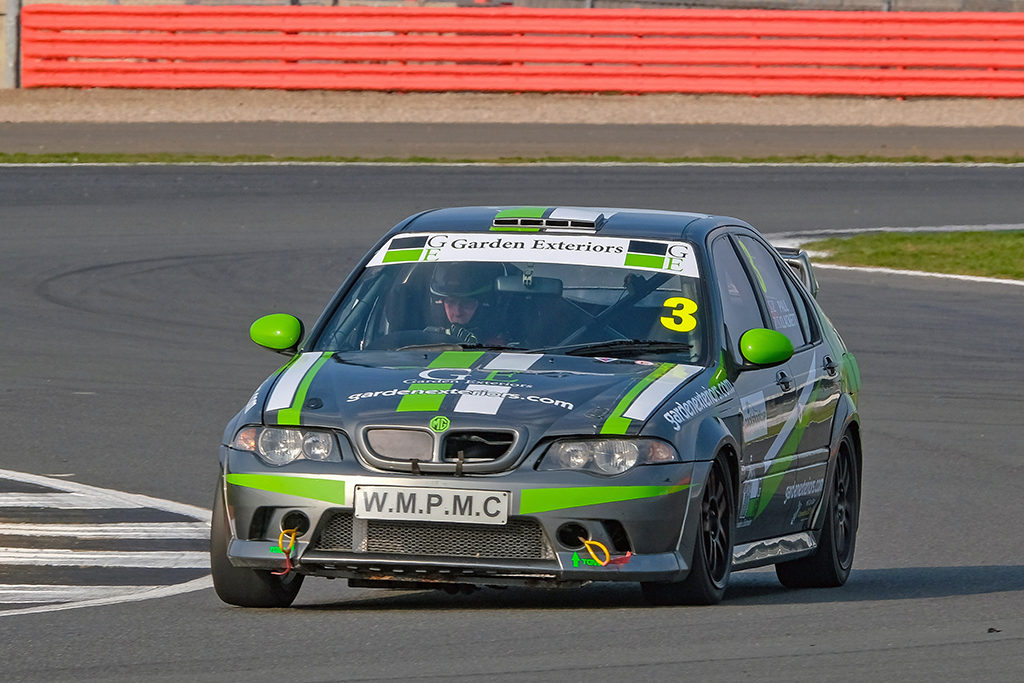 Guest Races
The guest races for this event were provided by the Mini Winter Challenge, which returned to the UK racing calendar after a 16-year absence. A mix of Miglia, Se7en, 7 S-Class and Libre Minis provided thrilling slipstreaming action.
The first race was won by Colin Peacock. For most of the way he'd shadowed a fevered battle for the lead between Kane Astin's and Joe Thompson's fellow Miglias, then he suddenly seized first place from the warring pair on the final lap.
It likely would have been the same trio battling for victory in the second race too, but Astin didn't take part as a precaution after hitting technical problems following an off in race one, which his team suspected was down to the gearbox or differential. This time Peacock pipped Thompson to the win by just 0.2s after another close fight.
Ex-BTCC racer Jeff Smith – who is recovering from injuries in a massive BTCC crash at Croft in mid-2017 – took a win and second place in the Mini Se7en class, despite missing almost all of qualifying when his engine overheated following a water pump problem, then having to run an older engine in the races.