MGCC Race Report: Round 6, Snetterton – 10th &11th October 2015
Race report by Leanne Fahy, pictures by Dickon Siddall
The traditional visit to Snetterton during the weekend of 10th-11th October marked the end of another MG Car Club season. In the lovely autumn sunshine we were graced with spectacular on track action, as another season came to a close.
MSCC Aero Racing Morgan Challenge
Keith Ahlers annihilated the competition in the sole Aero Racing Morgan Challenge encounter. With an eventual cushion of over 44 seconds, he triumphed from pole position to score a dominant victory.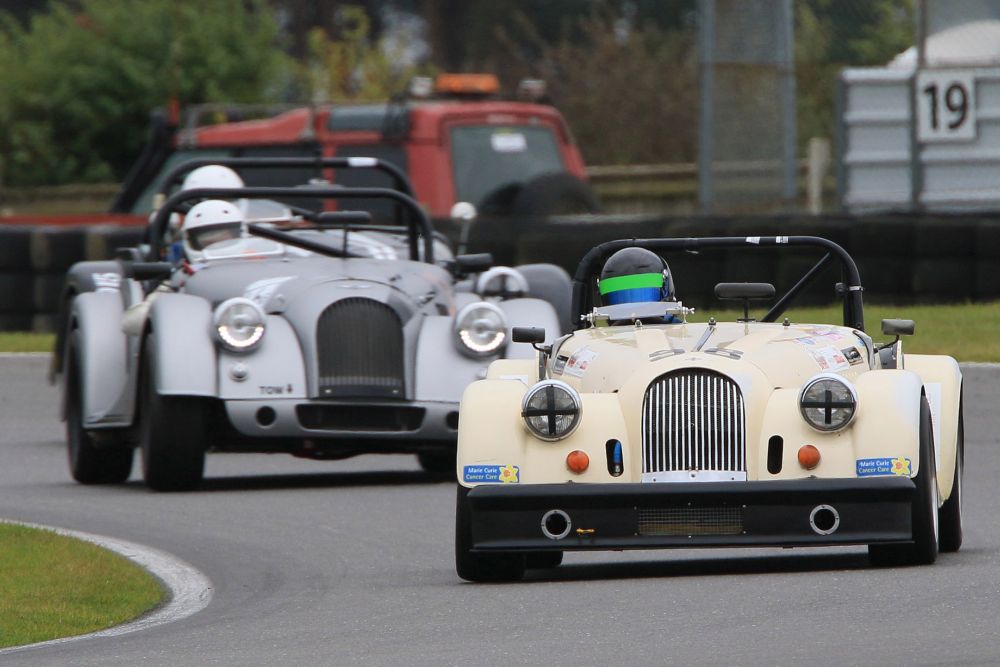 Behind, Jeremy Knight steered his way to a solitary second place finish, untouchable to third place finisher Andrew Thompson.
An astounding drive from 10th on the grid launched Tony Lees into a strong position. Despite being on the back foot after qualifying, Lees managed to claim fourth place at the fall of the chequered flag. A second place finish in Class B also came his way, together with the Driver of the Race award.
The Christine Siddall Memorial MG Trophy Championship

Ross Makar started the season finale in the strongest way, with victory in the first MG Trophy race, despite drama at the start. A first corner incident involving a number of cars saw the red flag immediately released, as Mark Bellamy and Tim Martin were left trackside.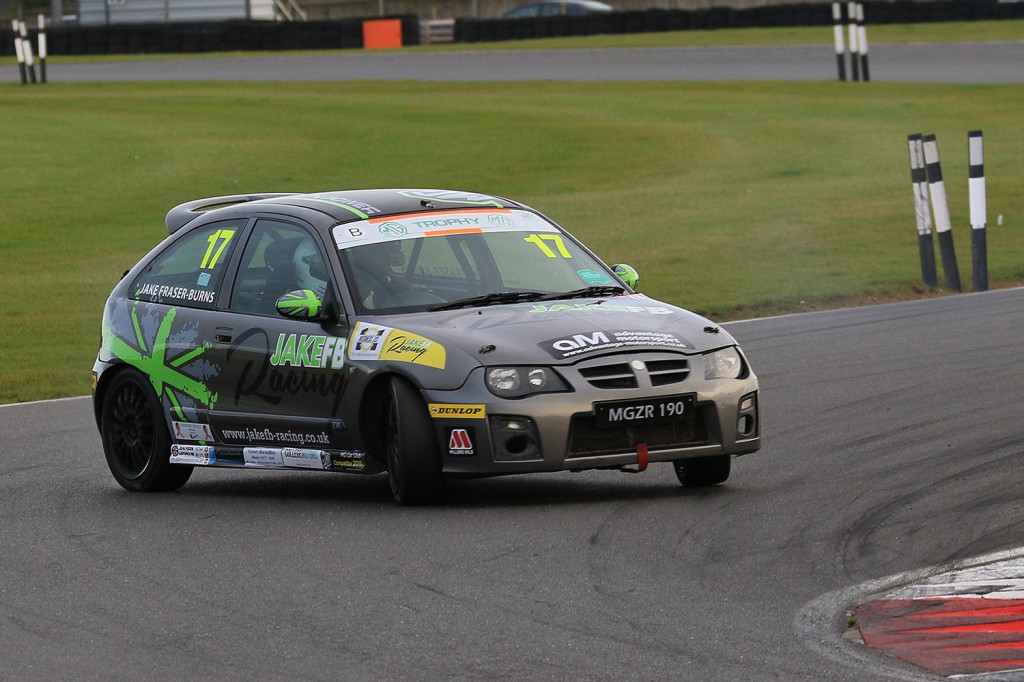 With the cars cleared, oil dressed and the grid reformed, it was time for a race restart, however due to the delay a shortened 15 minute duration was soon announced.
After two green flag laps, the field raced towards the first corner at the diminish of the five red lights, to see Jake Fraser-Burns lead the way.
The restart wasn't smooth sailing for the entire field, as Cody Hill encountered gremlins. A struggle to launch for the green flag lap saw his restart threatened. As the race began, Hill steered into the pit lane, whilst his team began to look for a cause.
The race continued with Fraser-Burns soon coming under threat from the charging Makar. Unable to fend him off for long, Fraser-Burns was forced to relinquish his hold. Once ahead, Makar held on for race victory.
Fraser-Burns maintained the distance for a close second place, just two seconds adrift of victory, whilst Jason Burgess rounded out the top three. A fiercely entertaining battle for Class C spoils saw Dan Molloy narrowly claim the advantage over Paul Luti, as the pair wrestled nose to tail for the duration. John Gil banked another Class D win to strengthen his title hopes.
It was a repeat performance for Makar in race two, as the MG Trophy season finale provided another spectacularly eventful end to the season.
Fraser-Burns led the way at the start, as the field raced towards turn one. Before long, his lead came under threat, as Makar saw his opportunity and edged ahead. Fraser-Burns lost out once more when Burgess also muscled his way through, however the race was far from over.
As the lead trio toured, Burgess tried his best to defend from Fraser-Burns, but was unable to hold him off for long. A determined drive saw him regain second lead duet were on hand to see out the season in style.
Burgess collected more silverware in third place, whilst the battle for Class C was certainly one to watch. Luti triumphed this time around, ahead of Fergus Campbell and Andrew Ashton. Gil again succeeded in Class D, to confirm his bid for 2015 MG Trophy Championship glory. Although Class D is noted as a lower budget class, Gil has proven anyone can win the championship outright. Fraser-Burns' strong performance was enough to earn him the Driver of the Day accolade.
MGCC Avalanche Motorsport BCV8 Championship
Despite a McCarthy lock out of the front row of the grid in qualifying, the pair were no match for Rob Spencer in the sole BCV8 Championship outing. A fourth place start failed to halt Spencer's performance, as he weaved his way to an end of season triumph.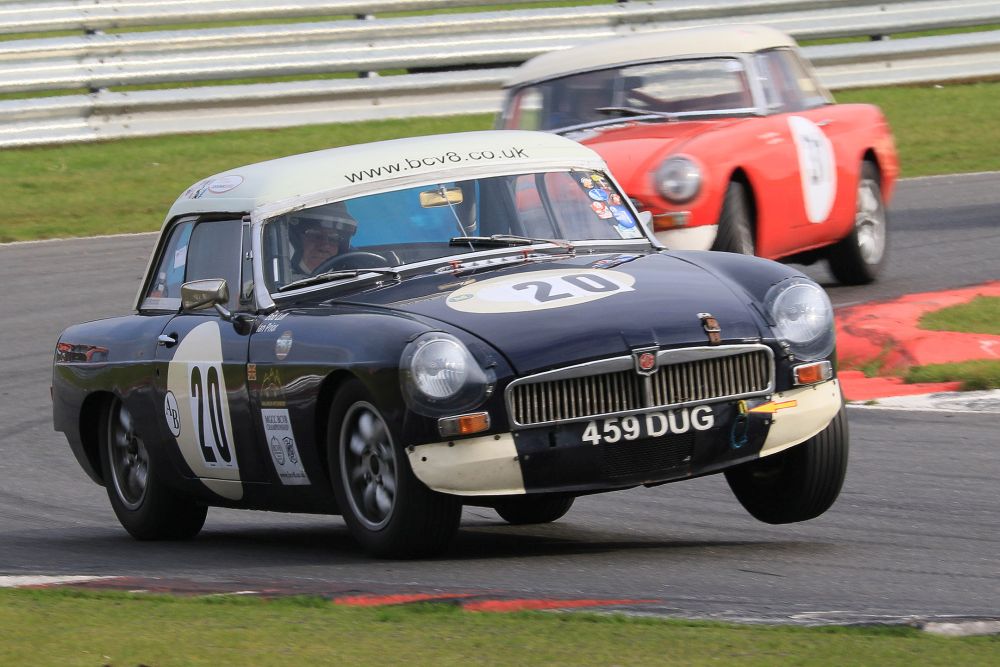 As the race began the McCarthy boys were unable to hold off Spencer, with the MGB GT V8 driver in control by the end of lap one.
Spencer soon began to feel the pressure, when the chasing Russell McCarthy was on his tail after a slight reshuffle of the order. Separated by mere millimetres for the duration, the pair eventually crossed the finish line just 0.6 seconds apart.
After displacing McCarthy towards the end, James Wheeler was on course for a second place finish. However, as the duo lapped for the final time, McCarthy managed to sneak ahead, with Wheeler just 0.1 seconds adrift.
Behind, Spencer McCarthy held on for fourth place, narrowly ahead of Neil Fowler and Simon Cripps. Spencer's victory also earned him Driver of the Race.
MGCC Drayton Manor Park MG Metro Cup
Mike Williams and Ben Rushworth provided thrilling entertainment in the first MG Metro race. Despite swapping places a number of times, it was Williams who claimed the all important victory.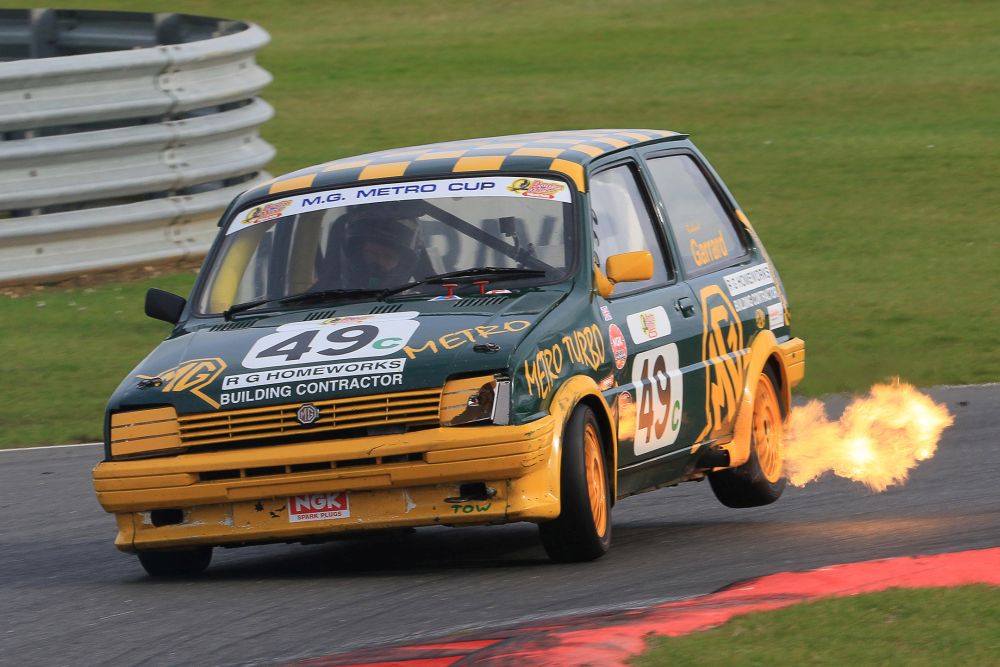 Starting from the front row of the grid, Rushworth had the initial advantage given his pole position, however fellow front row starter Williams was right there to challenge throughout.
As the top two squabbled over the lead, championship pretender Tom Sanderson trailed in third place. Keen to collect as many points as possible in the absence of chief title rival Philip Gough, Sanderson looked set to claim a podium finish.
However, as the latter half of the race unfolded, he was forced into the pit lane, as a plume of smoke escaped from the rear of his Metro. With Sanderson unable to continue, Jack Ashton was swiftly promoted to third place, ahead of Tony Howe.
With both Williams and Rushworth focused on the winners circle, track entertainment came in abundance. As the pair lapped for the final time, it was unknown who would claim victory, however as the chequered flag came into sight it was Williams just 0.3 seconds ahead of the youngster.
Ashton held on for third place, with Timothy Davies fourth, Tony Connell fifth and Richard Garrard sixth. Connell was also awarded Driver of the Race.
Williams discovered the perfect end to his eventful season in race two, to again steel the show in victorious fashion. Once again it was Rushworth who followed him home, in what was a thrilling finale to a fantastic season.
After being found to be underweight following qualifying, Tom Sanderson immediately found himself on the back foot when he was forced to start from the back of the grid.
Another strong getaway immediately handed Williams control, as Rushworth, Dick Trevett and Jack Ashton slotted in behind. As the top two ran away, Ashton was soon promoted to third place when a problem caused Trevett to pull off the track and into retirement.
With the championship title at stake, Sanderson was the man on the move, as his back of the grid start quickly became a fighting top 10 position. Before too long, he had landed in fourth place, as he hounded Ashton for a top three sitting.
With third place in his sights, Sanderson soon made the all important move to edge Ashton back to fourth. Ahead, Rushworth was in a position to challenge for the lead. As they stormed down the pit straight for the final time, the drivers were greeted with the red flag instead of the chequered flag, to cause an abrupt end. Oil on circuit gave cause for concern, causing an immediate race stoppage.
Just 0.2 seconds was enough of a cushion to protect Williams from Rushworth for his second triumph of the weekend. Sanderson's third place was enough to secure him the Class C championship title and Driver of the Race. Another Class B victory for Philip Gough saw the 2015 championship title decided in his favour, as well as Class B title honours. Sanderson's sterling effort from the back of the grid was enough to crown him Driver of the Day on Sunday.
Lackford Engineering MG Midget & Sprite Challenge
Paul Sibley steered his way to victory once again in race one, however he was challenged for the duration by James Dunkley.
As the pair escaped from the front row of the grid they were evenly matched on the run towards the first corner. Side by side for some time, they eventually sorted themselves into an order, with Sibley ahead of Dunkley.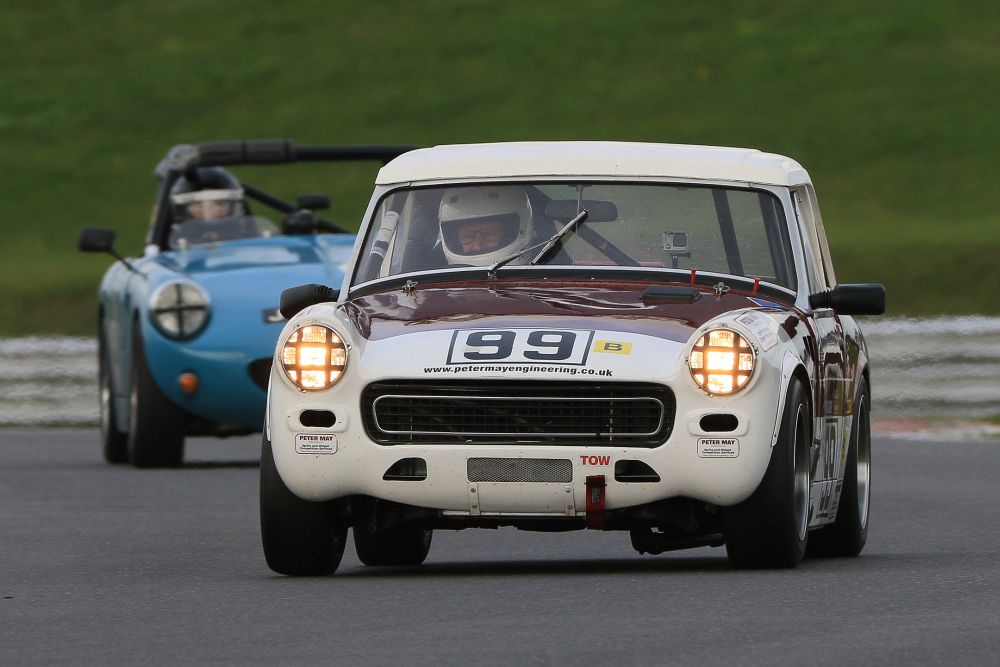 A determined Dunkley was eager to displace his rival, as he wholeheartedly chased him throughout. A separation of just 1.2 seconds at the fall of the chequered flag kept Sibley honest all the way, as Dunkley followed to second place.
Ed Reeve completed a very competitive podium, ahead of Chris Southcott, Richard Wildman and Richard Perry. Chris Southcott's Class B victory was enough to earn him Driver of the Race from our commentary team.
Dunkley shared the success with a race two victory on Sunday morning, as Sibley claimed championship honours. Another strong getaway for the pair from the front row of the grid saw them race towards turn one, but it was Sibley who led the way once again.
As the duo raced, Dunkley piled on the pressure to force championship pretender Sibley into defence mode. Dunkley soon seized his opportunity to pass for the lead, when a problem with his throttle caused Sibley to tread carefully.
Armed with a new coping method, Sibley was forced to drive into corners on the kill switch. Despite losing some 15 seconds to Dunkley, he managed to claw back to just a 10 second deficit by race end. A comfortable advantage saw Dunkley crowned victorious, whilst Sibley steered his way to MG Midget and Sprite Challenge championship spoils. Ed Reeve claimed third place, whilst Richard Wildman collected fourth place and Driver of the Race.
A broken differential for championship contender Andy Southcott caused a retirement to end his title hopes.
MGCC Motoring Classics Thoroughbred Sportscar Championship
Rob Spencer teamed his earlier BCV8 Championship victory with Thoroughbred Sportscar Championship success. With more of a cushion this time around, Spencer controlled his way to 2.2 second triumph over James Wheeler.
As the race began, Spencer immediately seized control, as Russell and Spencer McCarthy followed. With little between the top six cars, Spencer had a tough job to hold his ground, as his rivals tried their best to distract him.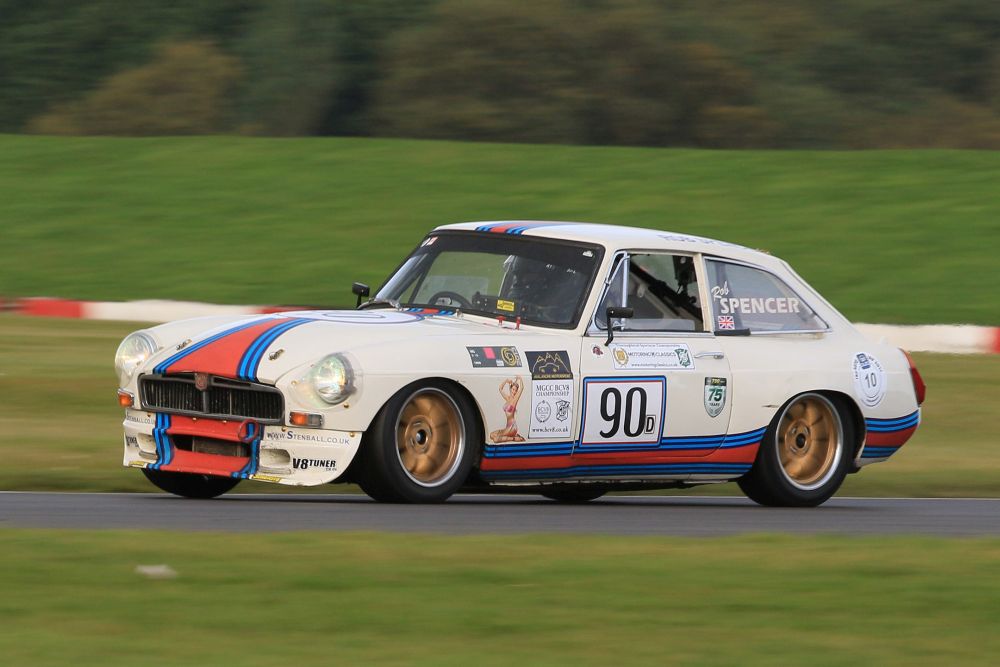 Unfazed by the competition, Spencer eventually edged away slightly. The rhythm soon simmered, when Wheeler eased his way into second place, to finish just 0.3 seconds ahead of nearest challenger Russell McCarthy.
Behind the top three, Neil Fowler and Spencer McCarthy followed, whilst Ken Deamer claimed a Class D victory.
A warning from the pit lane saw Simon Cripps' chances scuppered, when the mechanical issue flag was waved in his favour. After an initial visit to the pit lane dropped him to 14th place, Cripps' race ended shortly afterwards with a terminal issue.
The commentary team decided Wheeler's performance from sixth on the grid was enough to deem him worthy of Driver of the Race.
MGCC Peter Best Insurance Challenge
A second place start was enough for Richard Buckley to score victory in the first Peter Best Insurance Challenge race. Despite briefly losing the lead during the outing, he managed to crawl his way back ahead in time to see the chequered flag.
Buckley briefly lost the lead to rival Shaun Holmes, as the pair battled for supremacy. However, as the race unfolded, Buckley managed to steer his way back ahead in the nick of time. Despite his strong performance, end of race drama hit Holmes that saw him collect a 10th place finish.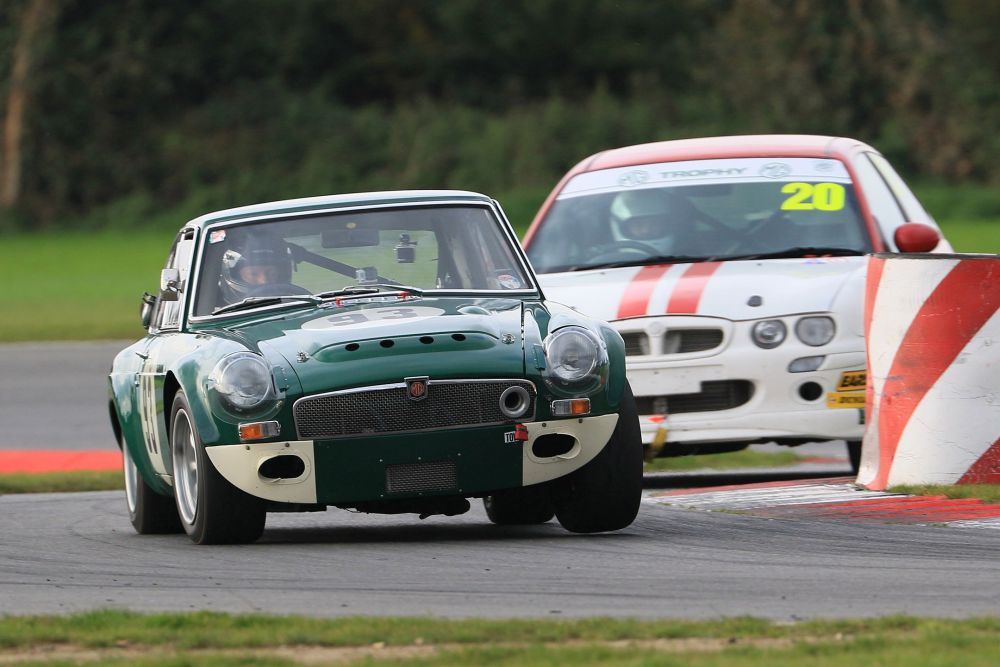 Behind Buckley, Iain Dowler claimed second place for himself and his MGZR 160, whilst Ed Davies rounded out the top three celebrations, ahead of Paul Eales. Dowler's determination also deemed him worthy of Driver of the Race.
Ollie Coles triumphed in race two, after a fierce race with Buckley for honours. Buckley had led the early stages of the race, however was forced to give way to a charging Coles at mid distance.
A fierce start saw Davies and Buckley evenly matched from the front row of the grid, as they raced towards turn one. As the first lap unfolded it was Buckley who had the edge to sneak ahead.
Eales and Championship Co-ordinator Clive Jones were enjoying a good battle in second and third places, respectively. However, as the pair lapped an unfortunate coming together saw Jones spiral down to an eventual 14th place finish.
Unable to defend from the charging Coles, Eales was soon forced to make way for him, as he set his sights on leader Buckley. Before long, Coles managed to fire his MG ZR into the lead, to hold the advantage until the end. Behind, the battle for second became one to watch, as Buckley and Dowler swapped places in a thrilling tussle. As the pair thundered towards turn one in the closing stages, a strong manoeuvre saw Buckley claim second place once more, before closing on the tail of leader Coles.
With the chequered flag in sight, it was Coles who held on for another victory, an astounding 0.1 seconds ahead of chaser Buckley. A very happy Dowler collected third place, ahead of Holmes in fourth. Holmes was also rewarded with the coveted Driver of the Race award.
The third and final race of the day gave the Peter Best Insurance Challenge fraternity an event to be proud of. With an abundance of action throughout, it was a spectacular way to end their season, with championship co-ordinator Clive Jones crowned 2015 champion by just one point.
As race three began it was Holmes who secured the advantage, as Buckley, Davies and David Brown followed. A race quickly ensued when Buckley and Holmes swapped places, to each have a turn in the lead.
Despite a series of fastest laps from Holmes, he was unable to fend off Buckley, as the latter came through to score his second victory of the weekend. Davies featured once more to finish second, whilst after two disastrous outings in races one and two, Tom Diment ended on a high with third place.
Despite struggling all weekend with a slower car around the corners compared to its MG ZR rivals, Holmes secured Class C championship honours, whilst Davies was crowned Class B champion. Newly crowned overall champion Jones was also awarded Driver of the Race.
 British Motor Heritage 4 Hour Relay Race
A hard fraught four hour race came to a close with the amusingly named Grumpy, Baldy and Small Pants team at the forefront for victory on track. However, with handicap positions applied it was the Williams Morgan Racing team who triumphed.
On track, the lead changed hands on a number of occasions, however after a final change, Nigel Innes was on hand at the end to claim success in his BMW E36 M3. Behind, 2014 race winners M Sport Racing collected second place, despite the challenge of third placed Morgan Magic plus.
The V8 Wideboys controlled the pace for much of the first two hours, when pole sitter Neil Fowler reclaimed the lead from Stephen Pearson. However, after speeding in the pit lane the team were hampered by a drive through penalty. Despite their woes, the V8 Wideboys team claimed third place in Class F with handicap.
With handicap positions applied the Guten Morgans outfit was awarded second place, ahead of Aero Racing and Class E victors Burble B's.
Fantastic weather teamed with thrilling racing made for the perfect season finale at Snetterton. Another year of hard work culminated in an other successful end of season race meeting. We have crowned a new batch of champions and no doubt most of you are already looking ahead to 2016. A big thank you for your continued participation during 2015, and of course thank you to all club staff, officials, commentators, photographers and all teams and drivers – you've made it a brilliant year. See you in a few months time for more of the same.