Mallory Park race report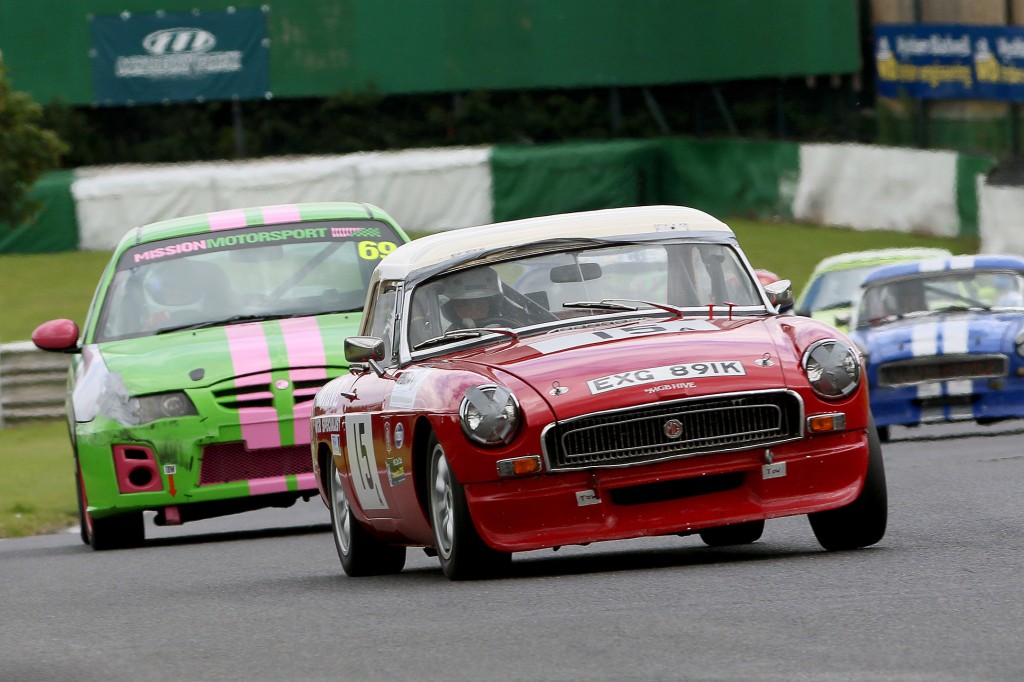 After the hustle and bustle of the busy MGLive! weekend a few weeks ago, we arrived at a fairly serene Mallory Park, for the fourth round of the MG Car Club. Complete with sunshine and blue skies in tow, the paddock was ready for another exciting day of high speed entertainment, and as ever our drivers and teams delivered. Report by Leanne Fahy, photos courtesy of Dickon Siddall.
MGCC MG Trophy Championship
Doug Cole fought back from a difficult start to claim race one spoils, in the opening MG Trophy encounter. Despite a pole position start, Cole's advantage escaped his grasp, handing initial control to Robin Walker.
As Walker led, he was trailed by a fiercely entertaining battle for Class B honours. Behind, Richard Marsh held the upper hand, until Lee Sullivan and Paul Luti forced his defence.
Back at the front, Walker encountered trouble, when his MG ZR suddenly slowed, dropping him from his race leading perch. Unable to overcome a seemingly terminal issue, his race ended, just in time to see Cole's recovery drive launch him back in front.
With Cole firmly in the lead, the Class B battle raged on behind. The trio raced virtually side by side for a number of laps, as positions changed hands multiple times. After 22 laps, it was Sullivan who claimed the upper hand, to finish as Class B victor and second overall, ahead of Marsh and Luti, also securing him the Driver of the Race and the eventual Driver of the Day awards.
Class C honours were awarded to William Payne, who secured the accolade over Gianni Picone, Tony Jones, Paul Croker and Tim Martin.
Cole doubled his Mallory Park success with victory in race two. His triumph was not so easy once again, when he was forced to battle through a number of fast starting Class B drivers to lead the way.
As the race began, the speedy Class B pairing of Sullivan and Luti leapt to the fore. However, Cole was determined not to be outdone by his Class B rivals and quickly made his bid for the head of the field. Once in control the victory looked set to be his, as the battle for Class B raged on.
Sullivan held the control in Class B, but was chased by Campbell and Luti profusely throughout. Separated by little more than a gasp of air, the trio raced towards the chequered flag. Despite numerous attempts to overtake, they made it through safely, to finish first, second and third in class, respectively.
Class C was again won by Payne, who's second victory was enough to catch the eye of our commentary team and secure him Driver of the Race. Picone played Class C runner-up once again, ahead of Jones, Croker and Martin.
MGCC Peter Best Insurance MG Cup
Thomas Halliwell triumphed in somewhat uncertain circumstances, after a chaotic first outing for the Peter Best Insurance MG Cup.
The initial start was aborted early on, when Paul Eales and Tom Diment collided with one another, resulting in Eales making contact with the barrier. An immediate red flag haltered the pace, as recovery crews attended to Eales and his MGB GT. With him safely out of the car, and the barrier repaired, the grid was reformed and the race restarted.
In similar style, the front row pairing of Richard Buckley and Halliwell were evenly matched on the run towards Gerard's for the first time, but it was Buckley who gained the upper hand. Determined not to give in so easily, Halliwell immediately fought back, with the pair racing side by side for a number of laps.
Buckley managed to leap ahead, however after dropping from the running order, Halliwell inherited the lead, to steer his way to honours.
Behind, Tom Diment and Lewis Anderson enjoyed a similar battle. However, as Diment settled ahead, his MG ZR suddenly began to slow, erasing his chances of success.
In Diment's absence, Anderson claimed an untroubled second place, ahead of James Walpole, Grant Summersbee, Steve Tyler and David Thompson. Summersbee was also awarded Driver of the Race.
Another double winner, Halliwell secured the spoils in the second Peter Best MG Cup appearance, to finish comfortably ahead, with just over nine seconds to his nearest challenger.
Halliwell and Buckley challenged one another early on, however, as the race unfolded, Buckley's early lead was diminished when Halliwell made a bid for honours.
Once out in front, Halliwell was able to develop a comfortable gap, to ensure he claimed another race win. Buckley held on for second place, ahead of James Darby and Anderson. Thompson narrowly missed out on fourth place, to finish just 0.2 seconds adrift of Anderson, whilst Walpole rounded out the top six. Anderson's efforts deemed him worthy of our Driver of the Race award.
MGCC Cockshoot Cup
Ross Makar steered his way to a sole Cockshoot Cup victory, despite fierce competition from those around him. Phil Standish had led the way for much of the first half of the race, but he was eventually unable to fend off the charging Makar.
As the race began, it was a hectic run down to Gerard's for the first time, as the field were vying for the coveted lead position. Despite the melee, it was Standish who elbowed his way to the head of the pack.
Standish soon found himself under pressure, when the fast starting Makar found his way to second place after muscling ahead of Ashley Woodward. After attaching himself to the rear bumper of Standish's MG TF LE500, the pair wrestled, as they launched towards Gerard's side by side
Forced to briefly slot in behind, Makar saw his opportunity as he and Standish exited Gerard's, as he leapt passed and into the lead, ahead of Standish, Woodward and Wetton.
As the lead quartet carved their way through back markers, positions changed once again. With Makar firmly in control, Standish found himself demoted to fourth place by race end, when Woodward and Wetton both weaved ahead.
Behind, Jonathan Harker held onto fifth place, ahead of Ian Winstanley in sixth. Keith Egar and David Coulthard followed in their MG ZR machines. Adam Key was rewarded with Driver of the Race for his Class F victory.
Equipe GTS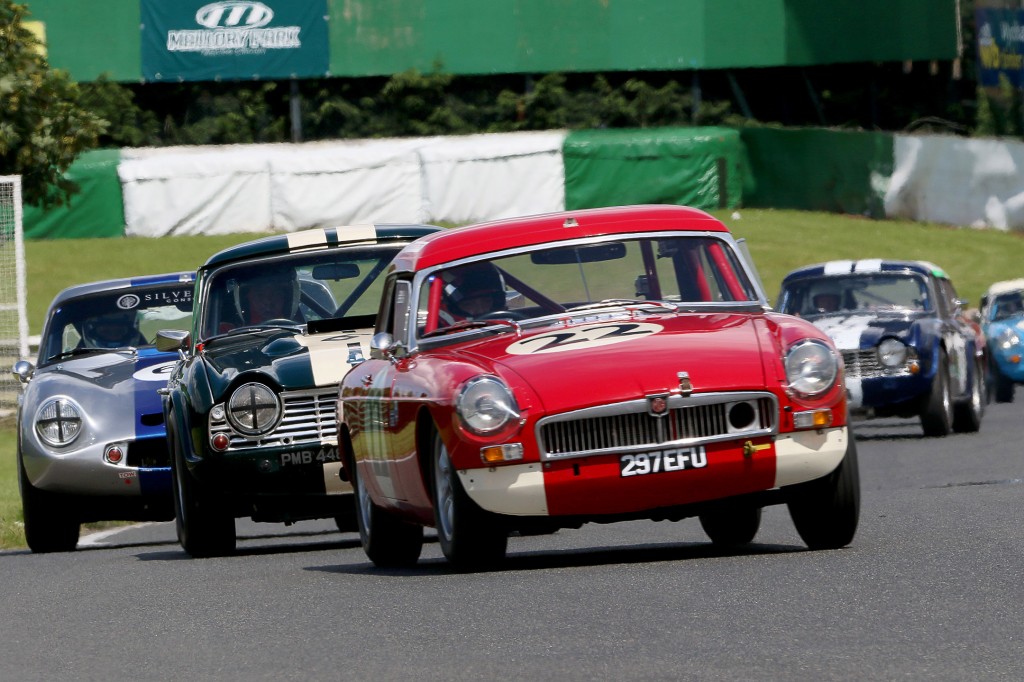 A 26 second advantage was more than enough to secure Equipe GTS victory for Tom Smith and his MGB. After a dash towards Gerard's on lap one, including a three-car wide manoeuvre for Smith, John Andon and Rob Cull, it was Andon who claimed the advantage.
However, as the field headed onto their second lap, Smith moved ahead before settling in a strong lead position. A series of fastest laps secured his stance at the front, as Andon and Cull battled profusely behind.
With Smith firmly in control, Andon managed to hold onto his second place standing, however a swift manoeuvre from Pete Foster ensured he was in the midst of the battle. As the chequered flag fell, Foster had positioned himself nicely to collect third place, ahead of Cull and Max Cawthorn. David Griffiths and Brian Arculus followed in sixth and seventh places, respectively.
MGCC Drayton Manor Park MG Metro Cup
Lee Connell enjoyed a triumphant end to the Drayton Manor Park MG Metro Cup race. An early lead was quickly thwarted by the charging Ben Rushworth, however Connell managed to reclaim his position in time to see the chequered flag.
After following from second place, Rushworth saw his opportunity to move ahead of Connell for his familiar lead spot. However, his advantage was short lived when Connell immediately fought back, reclaiming his advantage.
Shortly afterwards, Connell's lead was protected when Rushworth began to suffer difficulties, before dropping to an eventual fifth place. In his wake, Andrew and Jack Ashton managed to slot into the vacant second and third positions, whilst Richard Garrard happily took over fourth place. With Rushworth fifth, Tony Connell completed the top six.
Lee Connell's efforts were enough to secure him Driver of the Race from our commentary team.
Lackford Engineering MG Midget & Sprite Challenge
James Dunkley returned to winning ways in the solitary MG Midget and Sprite Challenge appearance. A formidable performance was enough to secure victory, despite intense competition from Graeme Adams early on.
As the race began, the upper hand immediately fell to Dunkley, however as the opening laps developed, Adams' pressure turned into a race leading performance. His glory was short lived, however, when Dunkley reclaimed his position at the head of the field.
Once back in control, the MG Midget pilot steered his way to a comfortable victory, protected by over four seconds to nearest challenger David Weston. Weston had enjoyed a thrilling race long tussle with Martin Morris, before Adams separated their scrap in third place. Morris finished fourth, ahead of our Driver of the Race Stephen Collier and Carl Chadwick.
Iconic 50's Sports Cars with FISCAR
Brian Arculus enjoyed a thrilling race to claim a narrow victory over Jonathan Smare, by just 0.6 seconds. Arculus led the way from start to finish in his Lotus Elite machine.
Initial competition came in the form of Graham Coles and Bob Lines, as the trio tackled the 1.39 mile circuit. However, as the race developed Smare elevated himself through the field to sit second, and mount a challenge on the unsuspecting Arculus.
Behind the lead duo, Coles found himself in third place, with Alex Quattlebaum and Bob Lines on his tail. As the chequered flag was waved to signal the end of play, the order remained the same, with Shaun Bromley and Nick Ashman also in tow. Ashman's performance was also enough to secure him the coveted Driver of the Race award.
In glorious sunshine we made it to the end of another successful race meeting. Although some of you will venture off to enjoy your own rounds, we will have a bit of a break now from the main MGCC championships. Good luck to everybody who will be racing over the coming months, and we look forward to seeing you all again at OultonPark in September.