Donington Park race report
After a long winter break the MG Car Club name returned to the race track on Sunday 3rd April, for round one of a brand new season. There was a sombre mood in the Donington Park paddock due to the recent unexpected loss of our own John Horton, however as the sun shone down John's presence was definitely felt throughout the day.
MGCC MG Trophy Championship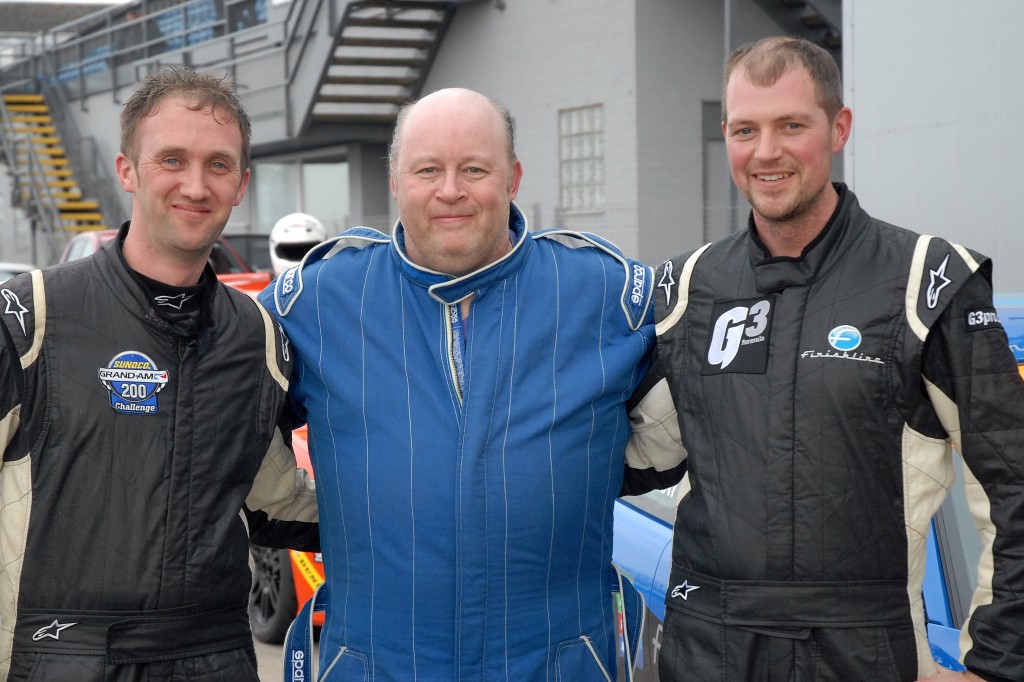 From left to right: Lee Sullivan, Doug Cole, Chris Bray. Credit Geoff Ford. 
Doug Cole enjoyed a successful start to the season, with MG Trophy race one victory. Despite chasing Chris Bray for much of the outing, Cole was ahead when the red flag ended proceedings slightly earlier than planned.
As the race began, it was Bray who led the way, closely pursued by Cole. Behind, the fast starting Paul Luti quickly swapped his fourth place grid slot for third place as the field rounded Redgate for the first time.
With Bray and Cole immersed in a full throttle battle, the scrap for Class B honours ignited. Luti found himself hounded by the eager Lee Sullivan, as the pair engaged in an almighty tussle.
At the front, Cole's efforts were soon rewarded when a swift move elevated him briefly into the lead. However, Bray soon fought back to hold the lead until the red flag ended the action. Third place was on offer for the duration, with the position passed between Luti and Sullivan throughout. The close natured racing of the MG Trophy was tested once again, as the pair battled mere millimetres apart.
Fergus Campbell soon joined in the action, but with just one minute left on the clock, the red flag was thrown to rescue a stricken Sam Ray, who was beached in the gravel trap, minus one wheel. With positions finalised, Sullivan was crowned Class B victor, ahead of Campbell and Luti.
The Class C scrap was as fierce as ever. Class C newcomer Gianni Picone initially led the way, however it was fellow debutant William Payne who claimed the victory. Picone held on for second place, ahead of reigning champion John Gil, Paul Bryson and Martin Webber.
Cole doubled his MG Trophy success with another victory in race two. He and Bray battle profusely once again, but it was the number 99 Class A runner who was ahead as the chequered flag fell.
Bray had led early on once again, as Cole followed. Upon seeing his opportunity, Cole made a successful bid for the lead. Despite immense pressure from Bray, with the pair circling side by side at times, Cole held on for a triumphant end to his day, also being rewarded with Driver of the Race and Driver of the Day.
Behind, Sullivan claimed Class B honours once again, together with another third place overall result. He and Luti had enjoyed a fierce battle once more, with Sullivan again coming out ahead. Luti held on for fourth place. Campbell was awarded Driver of the Race for his superb efforts during race two.
Payne doubled his Class C success with a race two triumph, ahead of Picone once again. Gil, Webber and Bryson completed the Class C finishers.
MGCC Peter Best Insurance MG Cup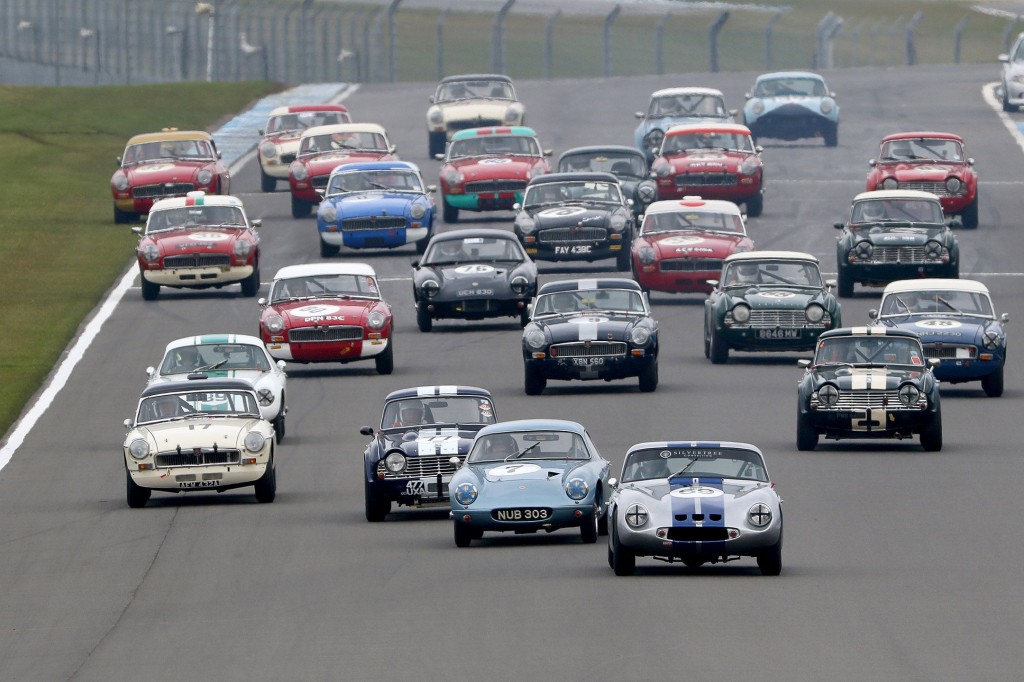 The Equipe GTS season got underway on Sunday. Credit: Dickon Siddall.  
Thomas Halliwell dismissed the opposition in the opening Peter Best Insurance outing. A front row start gave the MG ZR driver the perfect advantage, as he led the way around Redgate.
Immense pressure from the chasing James Darby and Paul Eales saw a fire ignited at the front, as both surpassed Halliwell for honours. However, it wasn't long before Halliwell made his mark, to weave his way back to the head of the field.
With The MG ZR driver in control, and Darby some 20 seconds adrift in second place all eyes turned to third. Following his early strong performance, Eales held on for a third place result, whilst David Thompson moved up to steal fourth place on the final tour.
Richard Buckley had look strong to collect a top three result, however was forced to the sidelines when his MG ZR expired on the pit straight. Elsewhere, Richard Wilson was deemed worthy of the coveted Driver of the Race award by our commentary team.
A change of exhaust between the two races for Halliwell failed to slow him down, when he steered his way to another race win.
Eales and his distinct yellow MGB GT leapt away as the race began, to lead the way into Redgate for the first time. His upper hand was soon stolen when the familiar MG ZR of Halliwell and Darby's MGB GT weaved their way ahead.
A fastest time of 1m25.151 seconds ensured Halliwell grasped success, some 29 seconds ahead of nearest rival Darby. He was also rewarded with Driver of the Race. Eales held on for a third place finish, ahead of Wilson, Thompson and Shaun Holmes.
Iconic 50's Sports Cars with FISCAR
Brian Arculus steered his way to an Iconic 50's Sports Car triumph, some 16 seconds ahead of his nearest challenger. Graham Coles had led the first lap in his immaculate MG A Coupe, however as the field headed towards the end of their opening lap Arculus managed to sneak ahead.
From here the Lotus Elite driver refused to relinquish control, stretching his authority to an eventual 16 second advantage. Coles held on for a comfortable second place finish, over eight seconds ahead of third placed man Jonathan Smare.
Driver of the race was awarded to the sole MG T entrant Nick Ashman, who claimed a seventh place finish overall.
MGCC Cockshoot Cup
Jason Simm swapped pole position for race victory in the sole Cockshoot Cup outing, despite a brief loss of the lead at the start.
As the race began, the fast starting Phil Standish in his MG TF LE500 directed the way around Redgate. However, by the end of lap one, Simm had steered his way back to the front.
Simm's pace was soon put on pause, when Andrew Wheals needed a rescue mission from the gravel. As officials leapt into action, the safety car neutralised the field. With Wheal's car safely recovered the race was restarted, as he steered his way towards a season opening triumph and a series of fastest laps.
Behind, Gary Wetton cemented his second place standing from qualifying to claim runner up spot in his MG ZR 190, whilst Standish rounded out the top three.
The race was stopped when Helen Waddington became stranded on the final chicane kerbing, after a mishap with Carl Chadwick's MG Midget. Ray Collier was awarded Driver of the Race, whilst also claiming a fifth place finish behind David Morrison.
MGCC Drayton Manor Park MG Metro Cup
Ben Rushworth began his season in a familiar way, with a victorious drive. After stealing pole position from Mike Williams, he maintained his advantage throughout, adding to his impressive victory tally.
As Rushworth showed the way, Williams slotted into second place, mirroring his rival lap after lap. By the race end, just 2.9 seconds separated the duo, with Williams holding on for runner up spot. Andrew Ashton had initially sat in third place, trailing Oli Hood for the opening few laps, however as the race unfolded, Ashton managed to weave his way into a strong third place. Ashton's efforts were also deemed worthy of Driver of the Race.
A sterling effort from MGCC newcomer Lee Connell ensured he collected fourth place in what was his very first race, whilst Hood and Richard Garrard rounded out the top six.
Equipe GTS
40 minutes of racing seemed effortless for Brian Arculus, when he swept by the chequered flag to claim victory. Despite a change of hands numerous times, Arculus was in the right place at the right time, when the clock hit zero.
Brian White started on pole position, alongside the shared TVR Grantura Mk III of Robi Bernberg and Paul Ugo. However, as the opening tour unfolded it was Rob Cull who led the way from third on the grid.
Arculus wasted little time in making his mark, when he leapt to the head of the field on lap two. The mandatory pit stops soon came into play at mid distance, meaning the lead changed hands on a number of occasions.
As the pit lane closed, action returned solely to the track. Before long, Arculus had regained his dominant stature, to claim race victory. His race winning efforts also secured him the Driver of the Race accolade from our commentary team.
David Beresford claimed second place, ahead of early leader Pete Foster and Craig Taylor. Henry Rice and Jonathan Smare completed the top six.
Lackford Engineering MG Midget & Sprite Challenge
James Dunkley remained unchallenged throughout the sole MG Midget and Sprite Challenge to seize the all important victory. A pole position start was the best launch into the opening lap, which proved triumphant overall for the MG Midget pilot.
After gaining control, Dunkley developed himself a 16 second cushion to nearest challenger Edward Reeve. Richard Wildman claimed third place, with his efforts also being deemed worthy of the prestigious Driver of the Race award.
Despite the difficulties running our first race meeting without John, this was a strong start to the season. After some very good racing we are very much looking forward to round two at Brands Hatch in a few weeks time. We look forward to seeing you all then.
Leanne Fahy.