Champions are crowned in MGCC's Snetterton tales of the unexpected!
The MG Car Club gathered for its final race meeting of the 2019 season at Snetterton, with several championships to be decided. And many of the resolutions, during a bright and breezy day of racing on the Norfolk circuit's three-mile 300 layout, were much less straightforward than might have been anticipated!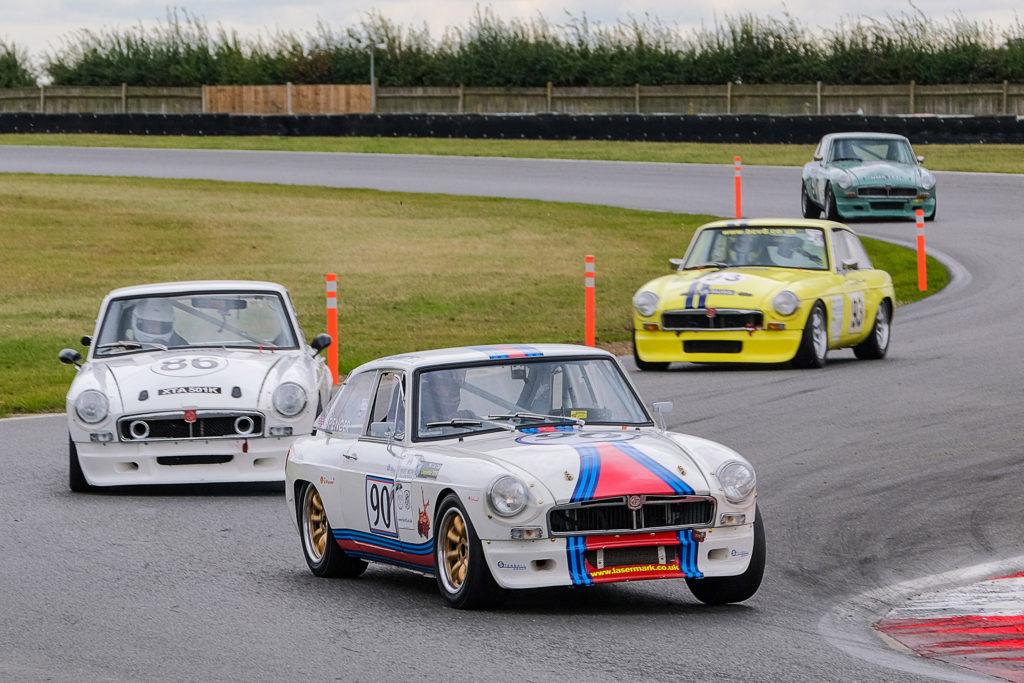 MGCC BCV8 Championship
Among the various championships that remained at stake, BCV8's looked the most intriguing. No fewer than five drivers arrived at this season-finale round with a chance of the overall crown, and of those only Class D's Ian Prior had a strictly-mathematical opportunity. Points leader Jordan Spencer led his Class C rival James Wheeler by six points, with long-time pacesetter Russell McAngus from Class AB and Class D's Neil Fowler also in the mix.
And incredibly all four of them hit technical problems in the first Snetterton race. McAngus slowed with engine problems early on, and after a long spell of perseverance retired near the end. Spencer and Wheeler however were locked in a frenzied on-track fight for class honours and potentially the title, but then a rock went through Wheeler's radiator meaning trouble for his engine. After trailing smoke for a lap or so Wheeler pulled off.
Neil Fowler meanwhile was running third both in class and in the overall race but lost pace from half distance when he developed trouble with fourth gear. It therefore looked that Spencer would cash in to the full, but astonishingly on the final lap a valve seat issue meant he suddenly had only seven cylinders and he was beaten to the line for his class win by Andrew Young, who earlier had spun out of the class lead.
The title therefore went to the final race. Wheeler and McAngus both had to sit it out with their problems, and with Fowler not winning in his class a finish would be enough for Spencer to seal the title. But in keeping with the day even that was nearly denied him. After what he called an "awesome start", fighting even with the Class D frontrunners briefly, from mid distance Spencer developed more problems. Still, he kept going to the end for fourth in class and his first ever crown. Young made it two Snetterton class victories.
"It started to make a valve bounce noise, so it pings," Spencer said of his race two troubles, "and it went downhill from there basically, people going past me constantly, but I just needed to get it home. So, got it home and got the points and won the championship so happy days! [I was thinking] literally 'please finish!'
"We had the engine apart during the lunch period [between races], got the engine repaired it was running alright, but we knew there was going to be a problem so we said 'look, go out and do what you can!'
"Very pleased with myself," the new champion concluded. "It's been the most competitive season going." Now his sights are set on retaining his crown.
There was further celebration for the Spencer family as Jordan's dad Rob won both races and got Driver of the Day. In both races he beat Russell McCarthy, who twice rose from starting 10th after oil leak problems in qualifying. In race one Rob said that McCarthy "hounded me good and proper" as the pair passed and re-passed before Rob prevailed despite first cooked then flat-spotted tyres. The showing also got Rob Driver of the Race. Rob's race two victory, with old tyres bolted on, was more comfortable as McCarthy rose to second more slowly. Third-placed Prior challenged McCarthy for second late on, and while Prior was unsuccessful in his quest he got Driver of the Race.
Simon Cripps won both Class B races ahead of Mark Scott, while Jordan's brother Luke added to the Spencer glory by taking race one's Class AB win. Paul Linfield won that class in race two.
MGCC Drayton Manor Park MG Metro Cup with MG Cup sponsored by Peter Best & MGF/TFs
The championship considerations for the MG Cup sponsored by Peter Best looked simple in advance of the Snetterton finale. Richard Buckley needed only a finish to seal the title, which he hoped to do in race one to allow him to 'go for it' in race two. He even went to the length of being ultra-cautious in the slippery qualifying session, and started 12th.
But Buckley's first race was over almost immediately as he was eliminated in a first corner smash. He made contact with his fellow Tomcat driven by Stuart Tranter from behind, pushing Tranter into a spin which in turn left two Metros – Rod Oakenfull's and Peter Coleman's – with nowhere to go. With all four stranded the race was stopped.
"It was my fault I think," Buckley conceded. "I got a really good start and suddenly Stuart's almost stopped way before I thought and I've just collected him and spun him round. Then it was just chaos behind. I pulled off and saw all this carnage and felt terrible. You don't want it to happen and certainly don't want to cause it."
And it left Buckley requiring major repairs to get out for race two. "Luckily I've got a son who's an absolute diamond," he continued, "and I borrowed some bits from some others, and got the car back together and the wheels pointed in the right direction. It was manic, we changed loads of bits." The damage for Buckley Jr and Sr to sort included a broken damper, a bent brake reaction bar and a sheared steering arm.
Mike Williams was rapid as ever in his Metro and took two Snetterton wins from pole, despite his brake-locking problems from Oulton Park recurring and a brief off in race two thanks to fluid down at Oggies. The results even gave Williams a remote late chance of the title, though in race two Buckley did what he aimed to do in race one by ensuring a finish, and placed fourth in class and 11th overall, meaning the championship was his.
"The car was actually really quick but I just drove round," Buckley explained, "I knew I needed to finish, and I was pretty sure if I finished fifth or better then I'd got it. It wasn't very spectacular but we did it!"
Buckley's main challenger in advance for the overall crown was Class B's Chris Boulton, and at Snetterton he took a second and third place in class, with Iain Dowler claiming both class wins. Boulton nevertheless took the Class B championship.
Carl Robinson won the Class A crown with two more class race victories. He was aided by that the class leader heading into the round Dale Reet had his engine blow late in race one and was unable to get out for race two despite a frantic effort to change units. Both Robinson's wins were dominant and the second came with the Driver of the Race prize.  Simon Lowery, more commonly seen in the Cockshoot Cup, finished fourth in race one by passing three cars on the final lap in his ZS 180, and got Driver of the Race with it.
The MG Cup race, as at Brands Hatch earlier this year, ran alongside the MG Metro Cup, as well as MGF/TFs, meaning a mammoth a 37-car grid.
The Metro title was long decided in favour of the dominant Jack Ashton, and he completed his imperious season with two more victories. And just like at Brands he showed his and his Team Purple Helmets Metro's potency by running with the MG Cup leaders – he twice qualified second overall and in race two finished a close third on the road, Peter Burchill getting ahead in his ZS 180.
However the ever-fast but often-unlucky Dick Trevett denied Ashton a season's complete clean sweep at the last by taking the fastest lap in race one on the way to finishing just two tenths behind Ashton, and this also got Trevett the Metros' Driver of the Race. In race two Richard Garrard prevailed in a multi-Metro fight to be third home, and that got him Driver of the Race.
"Absolutely elated, it's been a super year," Ashton said. "Dad [team boss Paul Ashton] giving me a perfect reliable car all year has given me the results. Not many come that easy so I'll take it while I can. Race two I had the bit between my teeth and wanted to get the lap record just to finish the season off as best I could. Abused the track limits to my absolute ultimate by getting the black and white flag as well! [Then] I got the lap record as well – what a way to finish!"
As for Trevett taking a fastest lap? "So the actual 100% record didn't quite come off – the 99.9% record!," Ashton added. "But I'm not complaining over a season like we had!"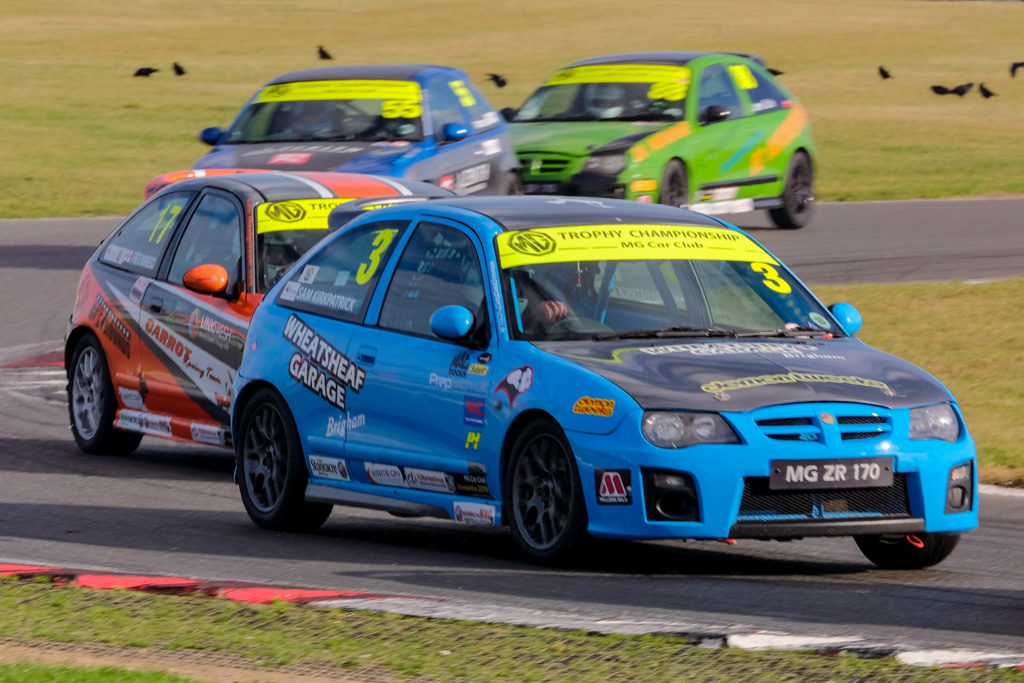 The NMG MG Trophy
The NMG MG Trophy's Graham Ross came to Snetterton in the box seat to wrap up the championship, and he made good on it with two decisive race wins from pole in his ZR 190. With it he became the category's first ever back-to-back champion, totalled eight wins from 10 this year and these were his first wins at the Norfolk track.
"Pleased with how today's gone and really pleased with how the season's gone," was Ross's summation. "I couldn't really ask for a better season, the car's been reliable, not had any accidents. I'm not saying [it was] straightforward, but a lot of distractions that could have happened, have not.
"And then it was up to me to bring the results home. I'm glad to retain my number one on the car! I feel I'm so in tune with the car, I've got the set-up right, I just love driving it. It's just a joy."
Therefore much of the tension in the MG Trophy finale surrounded who would win the Class B title, and that barely could have been closer between Paul Luti and Sam Kirkpatrick in their ZR 170s. The pair were locked together on track in race one and Kirkpatrick took the class win with a fine pass of Luti around the outside on the penultimate lap, taking advantage of Class A's Robin Walker coming past them both. This also all got Kirkpatrick Driver of the Race.
It also set up a winner-takes-all finale for the pair, and they again circulated in tandem. This time though Luti was able to hold off a very racy Kirkpatrick and with it pip him to the title by just two points. Ironically Walker helped Luti this time, providing him with a slipstream by running ahead.
"That race [two] was actually quite unpleasant for me because it was a case of keeping the car behind, behind," Luti said. "That's hard work, that's tiring, you're stressed, one wee mistake… I didn't want the same thing happening again that happened in race one where I got caught up with the car in front and it screwed things up. I was being very defensive on the apexes – it was the longest race!
"Technically I would say this is my first class championship win [after taking the TF crown as the only LE 500]," Luti added. "It's only taken, well 2008 was the first time so it's a lot of years!"
Kirkpatrick was gracious in defeat. "Just couldn't find a way past because Paul's quite good at defending and he's still fast," he said. "Disappointed to not win [the title] but I'll take second, it's alright. Didn't know what to expect at the start of the season but it ended up being an alright year."
Tylor Ballard got race two's Driver of the Race, having got back out after a hefty barrier impact between Hamilton and Oggies on the first race's opening lap, to finish 11th overall and sixth in class in race two.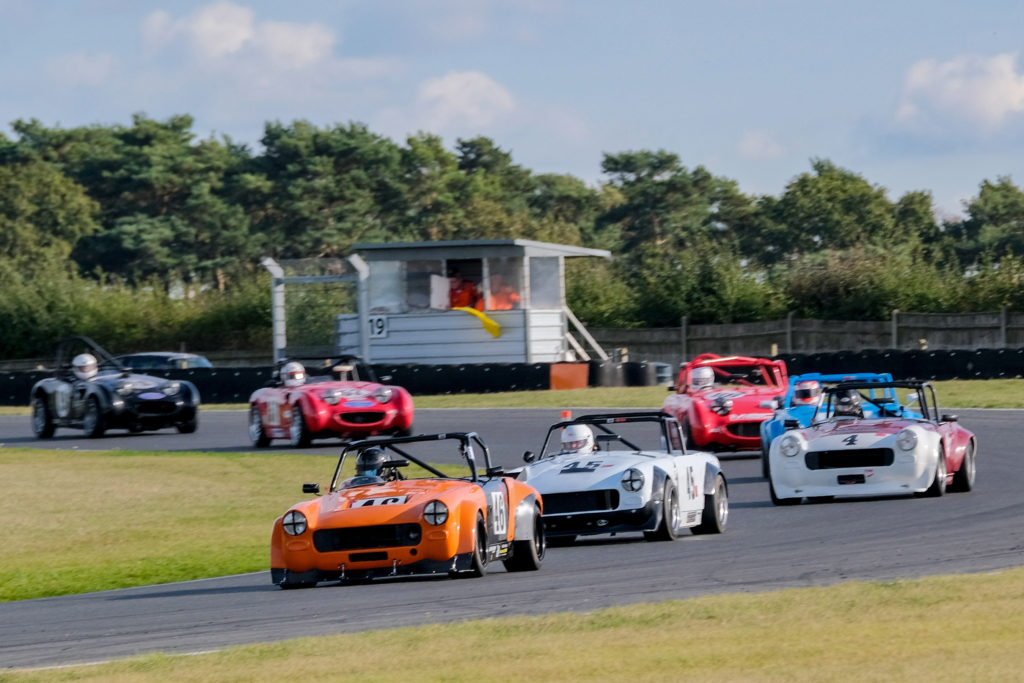 MGCC Lackford Engineering MG Midget & Sprite Challenge
David Weston claimed victory in the MGCC Lackford Engineering MG Midget & Sprite Challenge's opening race. He did it the hard way too, as having claimed pole he dropped to third at the start after a misfire off the line – which he resolved in the cockpit swiftly by tearing out a transponder wire which had been affecting his ignition system! This left Weston in a three-way all-Midget scrap for the win with Stephen Collier and David Morrison, and they were having their own problems – Collier had a top-end misfire while Morrison's chronic gearbox problems continued as second gear was jumping out.
Morrison and Weston moved by early-leader Collier on the same lap, then on the final tour Weston passed Morrison at Agostini for a lead he didn't lose. Completing a clean sweep, Weston got Driver of the Race as well.
Weston's second race however didn't last long as he and Collier on his inside collided at the first turn, leaving Weston spinning and then limping only as far as the pits at the end of the lap. This gave Morrison an immediate vast lead over Collier and he then took further advantage by leading a still-misfiring Collier home by nearly half a minute in the gathering dusk.
Mark Witherspoon pipped Ed Easton for both Class D wins, the second of which was by just 0.159 of a second and got Witherspoon Driver of the Race. "We had a hell of a race," Witherspoon noted.
Richard Perry claimed both the Class E wins to round off his dominant season. His first Snetterton win was comfortable while in the second he prevailed after a race-long all-Sprite scrap with Robin Lackford and Ian Burgin. Perry's results also were beneficial to him in the overall championship fight with Collier and Easton.
"It was good because we were coming here in with a chance of winning the championship, but it depended on Steve Collier, but he'd had a few troubles today," Perry said. "But I was kept really honest with Robin and Ian. I'd never driven in the fading light like we've had tonight and the sun so low, it was really quite a challenge actually. But we managed it."
Perry described the season as "not bad – I've done every one [race] this year, it's been good. It's [the car's] been faultless, although the diff is making a really funny noise now. I heard it in the last race, and I was tempted to change it but I left it. But I think it's on its way out – at least it didn't give up!"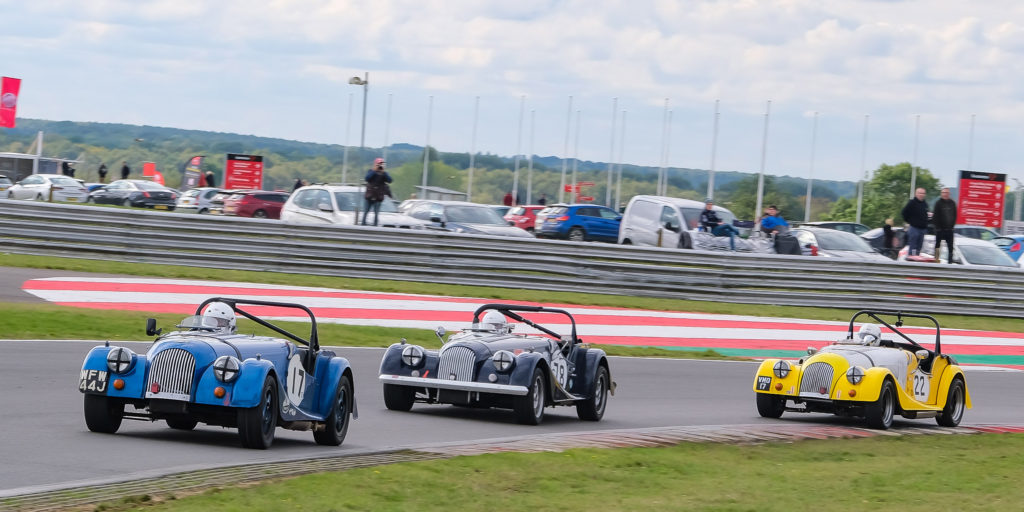 The MSCC Aero Racing Morgan Challenge had its own season finale race and title decider at Snetterton and in that none other than Coronation Street actor Tony Hirst claimed the crown, with a Class S win in his +4. It meant he just kept ahead of Andrew Thompson in the table, who with finishing third overall similarly took the Class G win. Hirst also is the first to win the title with the works Morgan team as well as did it with only six years' racing experience.
"It feels really really special and surprising and humbling," Hirst said of his championship. "I race to win but you never think that it'll happen to you. I started six years ago, in the [Silverstone Classic] celebrity challenge race. I was on Coronation Street, someone found out I was into motor racing and they entered me into the race and took me through my ARDS licence. I was passionate about Morgan then; I'd never driven one, I'd never raced one."
"It's been close all year," Thompson concluded. "The car's been superb all season, it's been really enjoyable. All the guys who've been leading in class have had challenges."
The race was dominated by Keith Ahlers in his +8, who took his sixth win of the year and 105th Morgan Challenge win in total. He quickly reasserted control after what he admitted might have been his worst start in 25 years, and then concentrated on lap records on the way to winning by over a minute. "It was great fun," Ahlers said.
Hirst had settle for second in the Oliver's Cup Morgan Pit Stop Race as, still in his +4 and paired with Phill Thomas who was making his debut in the car, he finished shy of Ian Whitt and Martyn Adams in Thompson's ARV6. It was the first time either Whitt or Adams had driven a Morgan too.