British Sportscar Weekend – Donington Park Race Report
The inaugural British Sportscar Weekend on July 14-15 at Donington Park hosted the latest diverting weekend of racing, in bright sunshine and sapping temperatures.
The Peter Best Insurance MG Cup combined grids with the Drayton Manor Park MG Metro Cup, the races co-sponsored by Minehead Motor Factors. It meant 35 cars for their races, the biggest grid of the weekend.
Richard Buckley took both Peter Best Insurance MG Cup wins, his first points since the Silverstone season-opener. He led all of race one from pole, though star of the show was Mike Williams. For this meeting Williams had replaced his R65 gearbox with a more robust MGZR equivalent, hoping to avoid the problems of earlier rounds. But here he had to start both races at the back after a wheel bearing failed in qualifying. He rose rapidly in race one and was third by lap five within four seconds of the lead. He then fell off the leader's pace and had an off-track moment as his tyres, in his words, "fell apart" in the hot temperatures, with holes in them the size of 50p pieces! He still salvaged third place and got Driver of the Race. Peter Burchill finished between him and Buckley in second.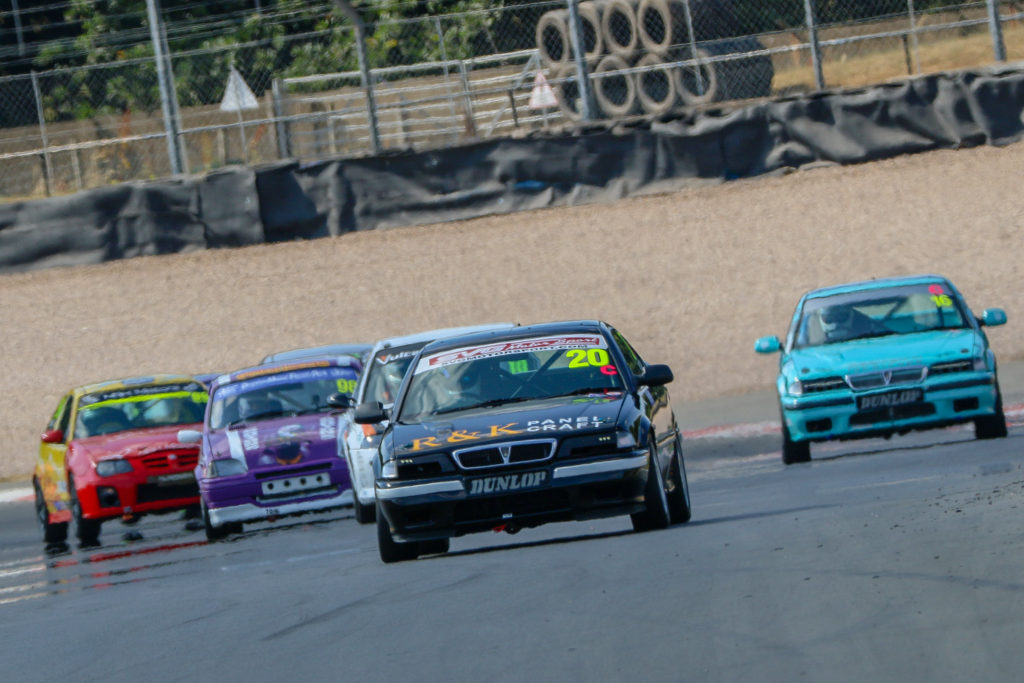 Ian Boulton won in Class B ahead of Iain Dowler, having passed at one-third's distance. Darren Harris increased his Class A championship lead by being first home in that category.
Buckley led all the way in race two as well. He was happier with his car after set-up changes, and built a lead of nine seconds by two-thirds' distance. Williams again rose from the back – learning his race one lesson he nursed his tyres and finished second six seconds off Buckley. Williams also was awarded Driver of the Day for Sunday.
Dave Nixon made up eight places overall to finish fifth in Class C, his first finish of the season, and got Driver of The Race for it.
Boulton finished third overall and with it got his second Class B win of the weekend. He got the place on the last lap when Burchill had an off and dropped behind. Dowler had clutch problems at the start as well as got a five second penalty for track limits, but still salvaged second in Class B. Harris again took Class A honours.
Jack Ashton continues to edge in on his brother Andrew in the Drayton Manor Park MG Metro Cup championship after taking both wins with Andrew runner-up in both. In race one Jack beat his brother by four seconds, managing the gap despite running out of brakes towards the end. Driver of the Race Shamak Glodek completed the podium.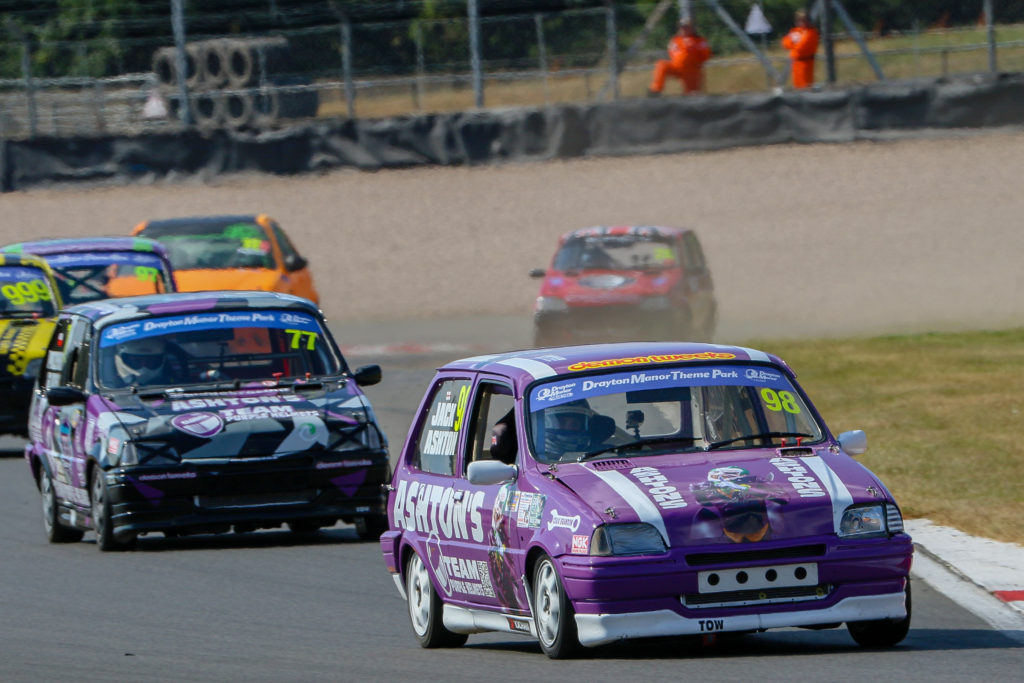 Jack took the second Metro race too, again beating Andrew by around four seconds, and this time Jack got Driver of the Race. Glodek's brakes failed going through the Craner Curves just after half distance but he was still able to finish fourth.
Championship leader Steve Collier won the opening Lackford Engineering Midget/Sprite Challenge race in his Midget. He prevailed over David Morrison after a tough battle. The pair swapped the lead several times in the opening laps then at half distance Driver of the Race Collier made the decisive break by passing Morrison on the inside of Redgate and then the chasing Stephen Watkins was able to get by Morrison at McLeans a few corners later. Morrison reclaimed second before the lap was out but by that time Collier had a decisive advantage. He beat Morrison by four seconds with Watkins third.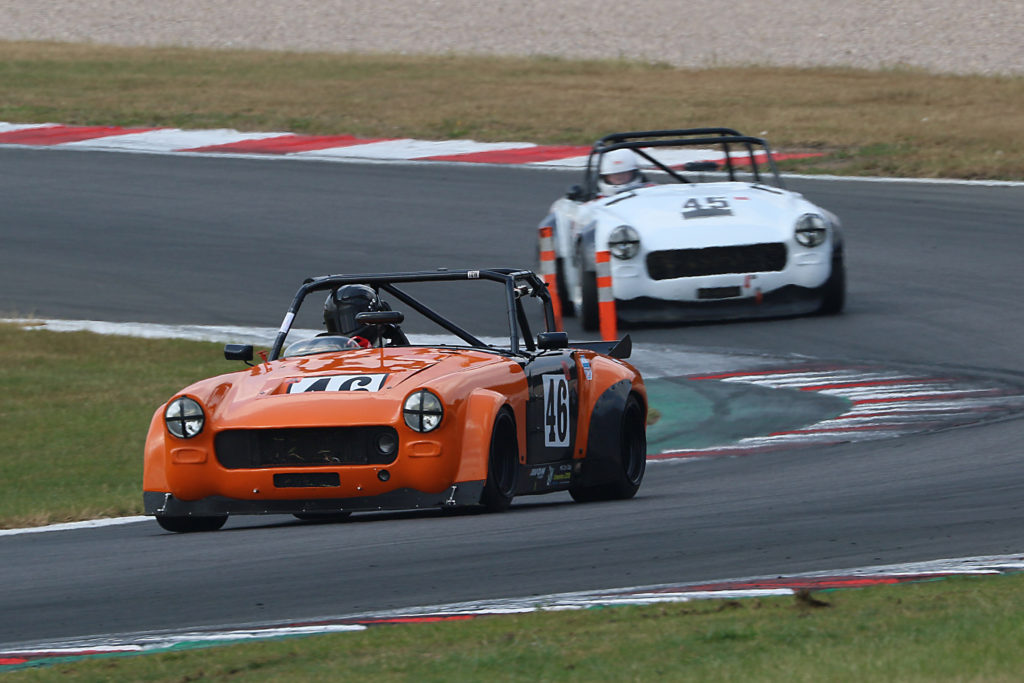 Paul Campfield took the race one Class E win in his Sprite, helped by woes for his chief rival Pippa Cow. She fell to the back at the start and although she climbed back to second in class albeit nearly half a minute off Campfield she then stopped in the pits with technical problems. Ed Easton beat Mark Witherspoon to the Class D race one win.
Morrison and Collier again fought over the win in race two, and this one was resolved when Collier slowed and pitted on lap four – his car was only offering intermittent power which he thought was a fuel or electrical problem, though he later discovered his Midget was leaking oil. Collier got the compensation of being awarded Driver of the Day for Saturday. Watkins also dropped out with technical woe.
Morrison won by 40 seconds from Richard Bridge who was struggling with his brakes from an early stage and Nick Day, who had to fix a crack in the sump between races after race one kerb-hopping, a further seven seconds back in third.
Ed Easton was awarded race two's Driver of the Race, which he described as "probably the best race that I've had" after prevailing in a multi-car battle which also got him his second Class D win. Campfield helped himself to a comfortable Class E with Cow not taking part.
Russell McCarthy took the TN Racing BCV8 Championship win, his second win of the year, after an eventful run. He set the pace early on but fell behind Neil Fowler after developing gearbox problems meaning he couldn't get third gear. He dropped two seconds shy of Fowler but then worked out how to get third by using second gear before, and he closed onto Fowler's tail by two-thirds' distance. However with his problems he thought he couldn't get past unless Fowler made an error, which happened on the final lap with Fowler running out of tyres in the hot 30minute-long race. Fowler did not get the chicane entering the final tour right which let McCarthy get alongside on the outside for Redgate, then Fowler twitched under braking and ran wide allowing McCarthy by on the exit.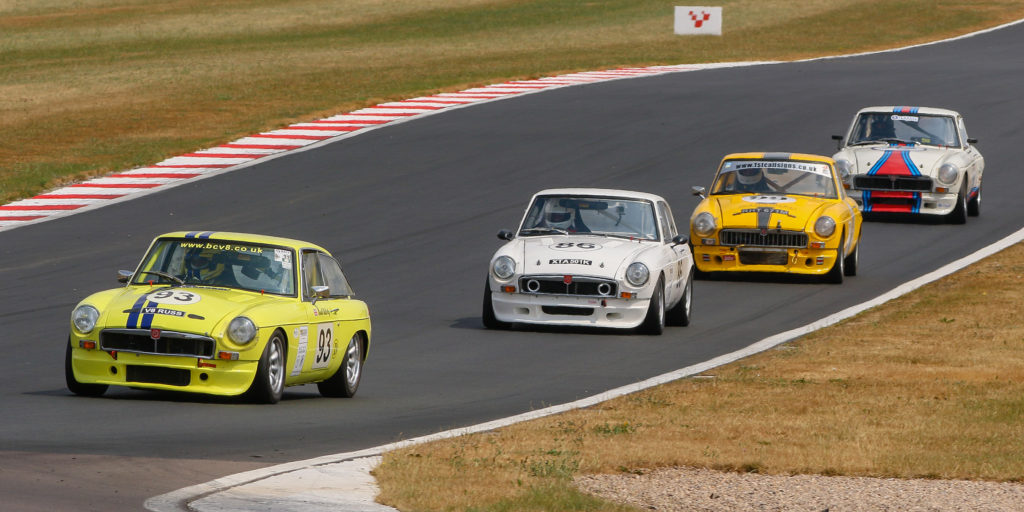 Rob Spencer, who had taken every BCV8 win this year aside from one heading into this meeting, was running with the leaders in third place but dropped out at one-third's distance when his halfshaft broke.
Spencer's sons had a happier time, Luke claimed the Class AB win – championship leader heading into the weekend Simon Tinkler was unable to make the grid – while Jordan was second in Class C behind Andrew Young despite having a 15 second penalty for exceeding track limits. Driver of the Race Mark Scott was Class B winner by nearly a lap.
In the opening MG Nottingham MG Trophy race Graham Ross claimed his fourth win in a row, just beating Jason Burgess who returned to action after missing Silverstone. Burgess led from pole but Ross seized the lead at half distance by getting up the inside at Redgate. Burgess stayed on his tail for the rest of the way and Ross won by half a second. Doug Cole finished third despite a Redgate spin on oil from two earlier blow ups as well as gearbox struggles.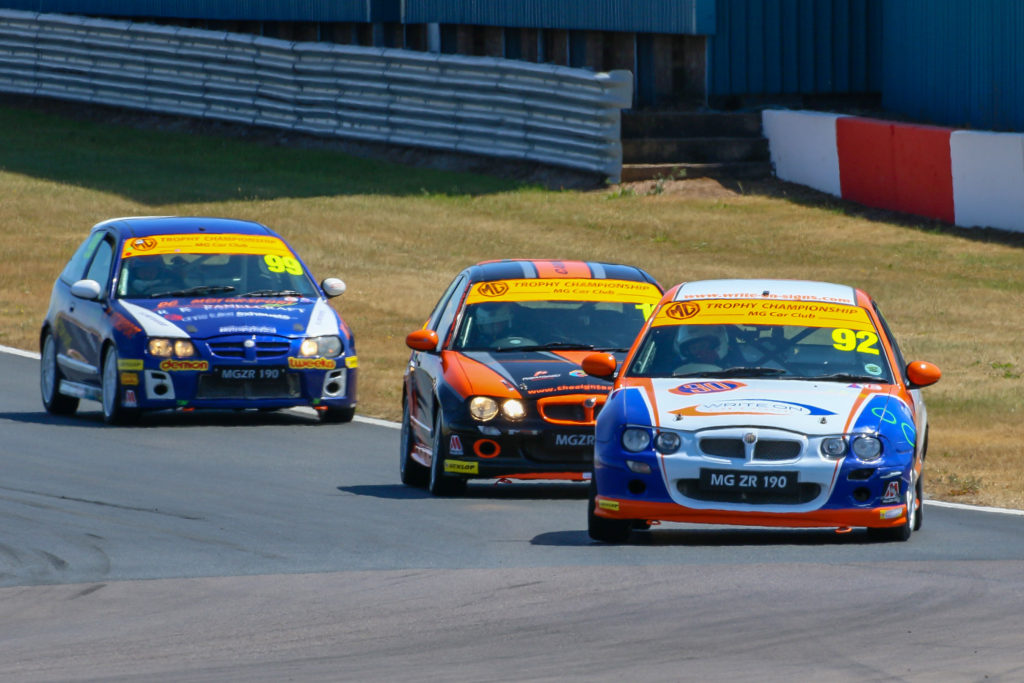 Paul Luti kept championship pace with Ross by taking race one Class B victory, winning out in a fight with Tom Butler and Driver of the Race Sam Kirkpatrick – whose team changed his engine to an old unit in double-quick time after a qualifying blow up due to Kirkpatrick selecting the wrong gear, also several cars went off on his oil. In reality Luti's win was comfortable as both Butler and Kirkpatrick got time penalties for track limits – Butler had five seconds added and Kirkpatrick 15 seconds for two offences. Tylor Ballard meanwhile made it three Class C wins in a row.
Ross made it five wins on the trot by winning the second race too, again from Burgess. It was more comfortable than race one as Burgess had to ease off to cool his brakes at mid-distance after a spell of pushing them hard trying to force leader Ross into an error. Ross also got to the top of the championship table as Luti slid off at McLeans trying to take the Class B lead from Fitzpatrick on the outside, and got beached in the gravel. Kirkpatrick helped himself to the class win ahead of Ryan Firth and Driver of the Race Butler, while Ballard extended his Class C winning run to four.
"I'm chuffed as chuffed can be," said Ross afterwards. "Jason kept me really honest. Then I seemed to be able to eke out a wee bit; then it was just a case of not doing anything silly."
Ray Collier was another to stretch a run of victories with a brace of Cockshoot Cup wins making it five out of five this season for him. In the first race he inherited the lead on lap one which he kept to the end, first Keith Egar's Midget who had taken the lead from the second row ran off in the early corners and lost places, then Phil Standish who had taken the lead from Egar speared off at McLeans when coolant leaked onto his rear tyres. The resultant flying gravel left Collier with windscreen damage for the rest of the weekend.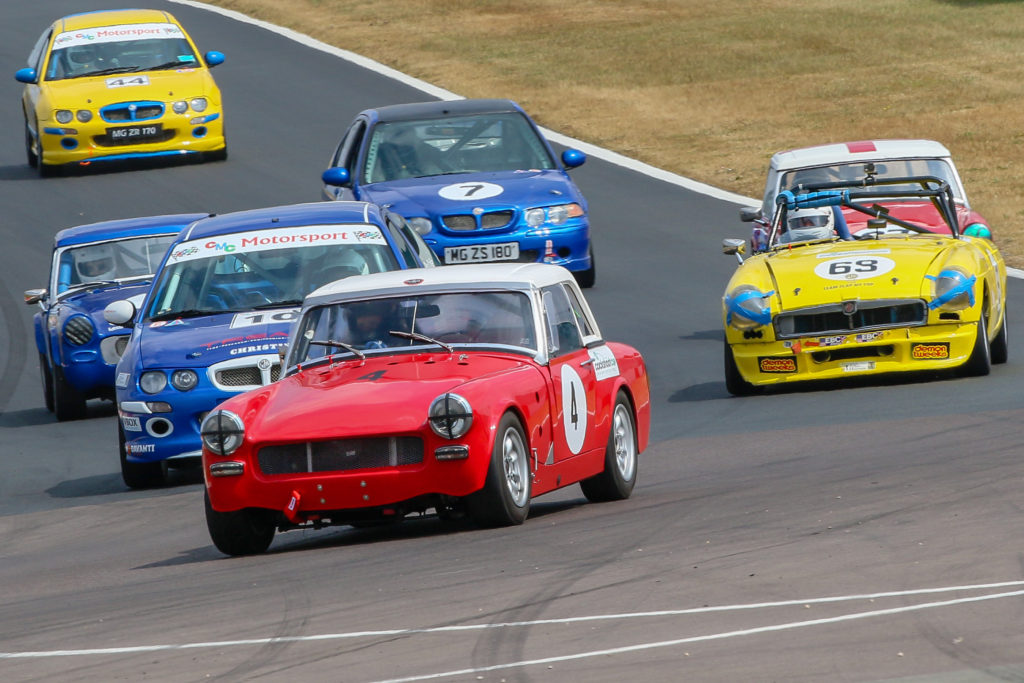 He won by six seconds from Peter Bramble who ran out of brakes late on. Simon Lowery got third after starting eighth, which got him Driver of the Race. In addition he was short shifting due to high engine temperatures and declared himself "stunned" to finish on the podium.
Ian Whitt took the Class B win comfortably ahead of Mark Bellamy who got a five second track limits penalty in any case but still finished second in class.
Collier then took the second race win. He fell to fourth at the off behind a pair of Midgets who as expected made a quick start, as well as behind Standish running third. Collier swiftly moved forward and took the lead from Egar on lap three. Standish before long was up to second and gave close chase of Collier for the rest of the way despite a smoky cockpit. Standish got right with Collier when the latter out-braked himself, but then spun at the chicane on the final lap in a last ditch attempt to take the lead. Driver of the Race Collier won and Standish recovered to take second.
Mike Peters took his third Class B win of the season with Bellamy again second. Whitt pitted with technical problems after just two laps.
Reflecting the sportscar theme the event included two Equipe and two Morgan races. The Equipe 3 Hour Classic Relay had a dramatic finish. Ricky Evans driving a Marcos GT for the B2 Marcos team and John Muirhead in a Lotus Elan for the Chapman's Chariots squad contested victory late on, Muirhead desperately seeking a way by Evans. The fight ended with Muirhead spinning off at Coppice with six minutes remaining, his Elan buried in the gravel. This meant that the race ended under the safety car and the B2 Marcos team of Evans, Chris Keen and George Rolls took victory.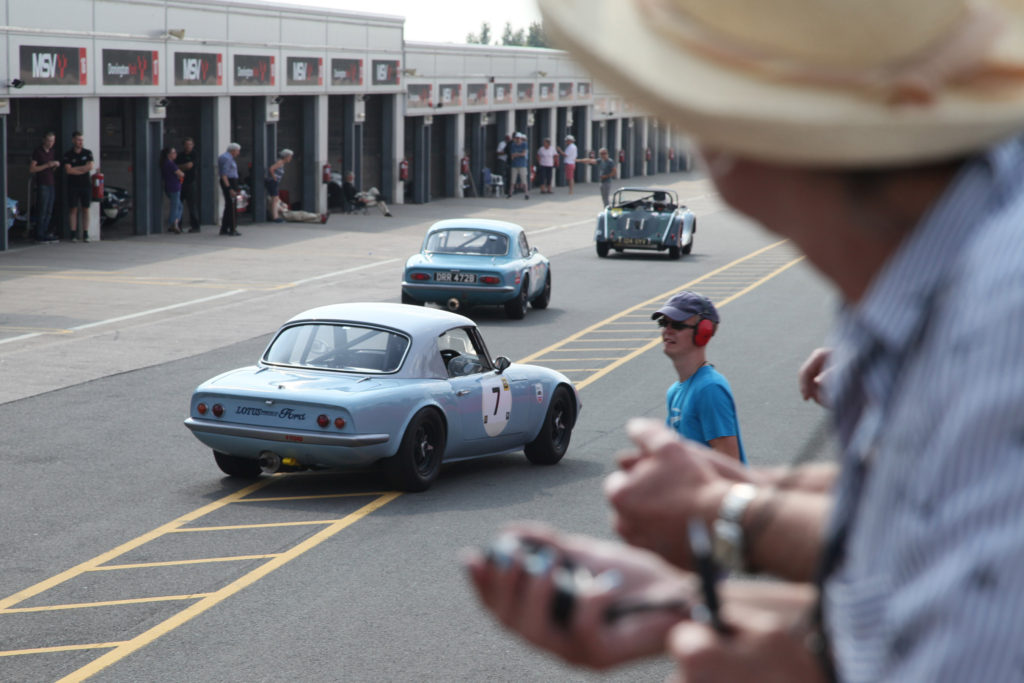 The Elan team had led much of the way but Evans chased Muirhead down in the final stint, and was aided by a safety car with around half an hour to go, caused by CGEEBIES's car leaving the track at the chicane, which wiped out much of Muirhead's half minute advantage. The race also earlier had been red-flagged for around 15 minutes as a fibreglass Tornado Talisman left the track and could only be retrieved by a flatbed lorry.
The Equipe Classic 30 Minute Sprint Race victory fight was enthralling too, this time between Jack Rawles in an Austin Healey and Tom Smith in a MGB Roadster – a pair who don't usually get a chance to battle due to competing in different Equipe categories. Smith led the early part though Rawles got extra urge after a mid-race safety car period in which he was able to cool his car's temperatures. The duo – Rawles quicker on the straights and Smith in the turns – swapped the lead on several occasions including four times in one lap. The final pass was with three laps left when Rawles sold Smith a dummy to take the inside line for Redgate, though Smith – despite a subsequent Old Hairpin excursion – was only two tenths shy at the end. He got the consolation of Class 3 victory. Stephen Winter won in Class 4 comfortably with Jim Campbell winning Class 5.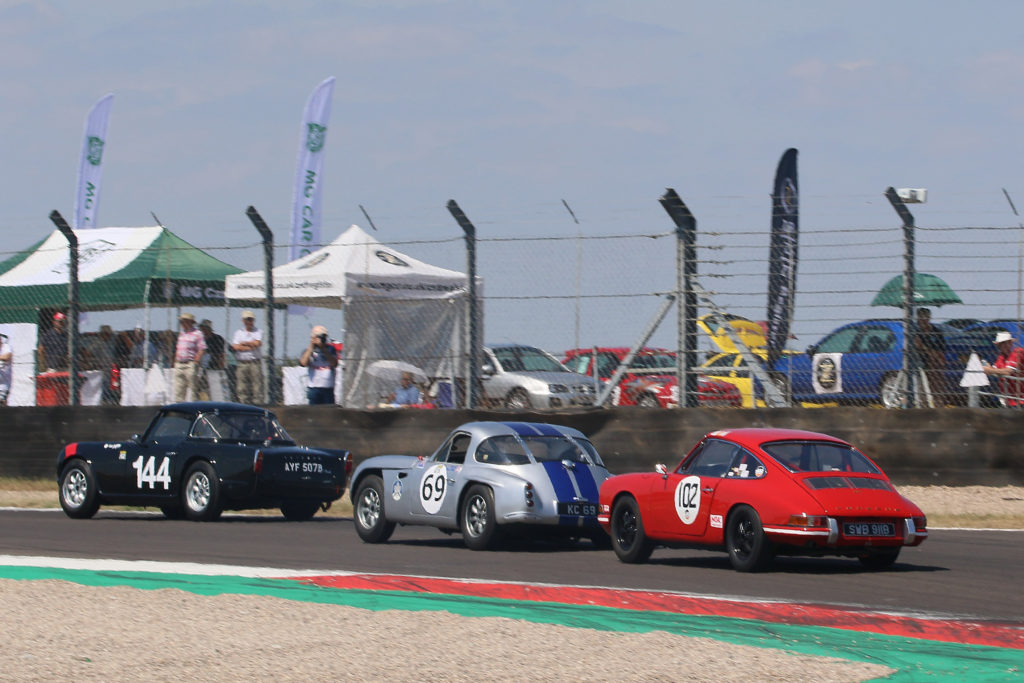 Local man Andrew Thompson dominated the opening Peter Morgan Memorial Race, winning by 22 seconds from Philip Goddard. Goddard had a poor start and ended the opening lap in seventh place. His route back through the field was also eventful; "everything kept going wrong," he said. Jerry Knight had shadowed leader Thompson in the opening laps but had to pull out on lap five as both of his master brake cylinders failed. This kept him out of race two as well.
Thompson and Goddard also took the Class G and A wins respectively. Tim Parson was the Class R winner while Phill Thomas won in Class J. Tim Ayres got the Class C win after leader Philip St Clair Tisdall ran off the track on the final lap due to running out of brakes. Brett Syndercombe won Class D and Ian Sumner Class E.
Goddard had yet another poor start in race two, this time due to starting in 3rd gear for what he said was the first time ever! This dropped him even further back, ending lap one in 14th. He found incredible pace this time to rise back to second place by lap five, then he quickly ate up the 10.5 second gap to be with leader Thompson by two-thirds' distance. Goddard then out dragged Thompson on the start-finish straight with three laps left to take a lead he wasn't to lose.
Goddard and Thompson again took their respective class wins and Parsons, Thomas, Ayres and Sumner again took Class victories. Jack Bellinger beat Syndercombe to the Class D win.
The Iconic 50s win was contested by Neil Cawthorn and Bob Lines. Cawthorn led the entire race from pole though for the most part Lines clung to his coattails, a second or two shy. Cawthorn's final winning margin was comfortable though as with two laps left Lines had a trip through the gravel at the chicane – he still finished second. Alex Quattelbaum visiting from America finished third, and Robert Innes-Ker was fourth and took the Class C win. Peter Edney got the Driver of the Race award for finishing fifth having started on the back row in 11th.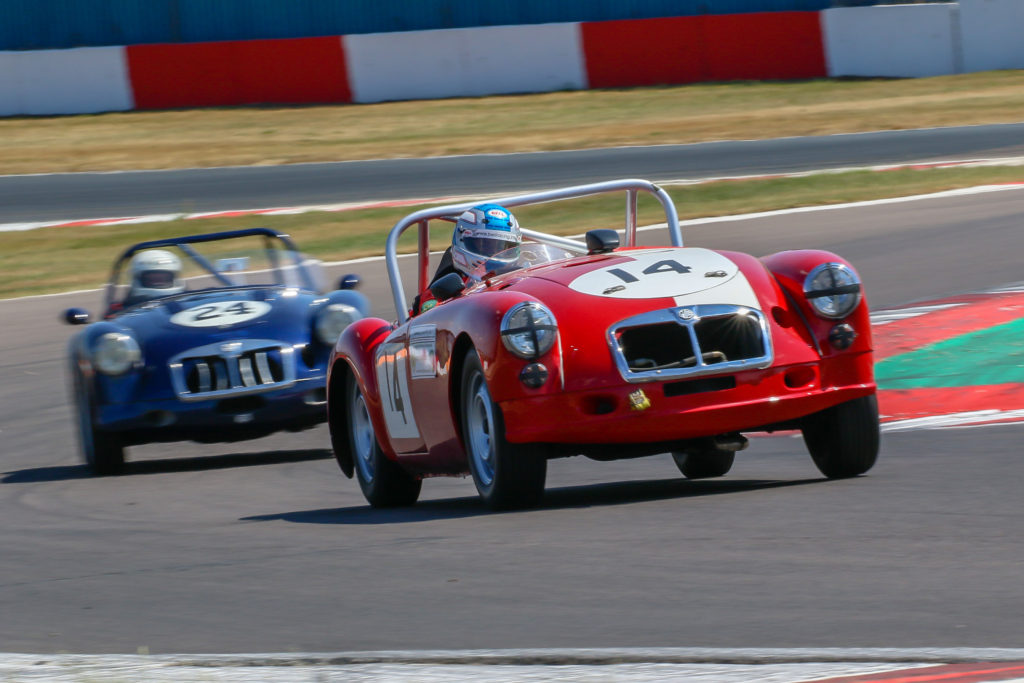 The Triple-M Register Challenge race had a late twist of its own as longtime leader Tony Seber left the track at Coppice with three laps remaining, letting Malcolm Hills through to win. Driver of the Race Hills had chased Seber hard, going much faster than he did in qualifying which he said was due to traffic in the latter. Just before his off it looked like Seber had made a crucial break from Hills in traffic. Fred Boothby took the Class B win.
The race had been red-flagged on lap one as six cars were stranded at Redgate after scattering when a car spun in front of the pack. Fortunately there were no serious injuries.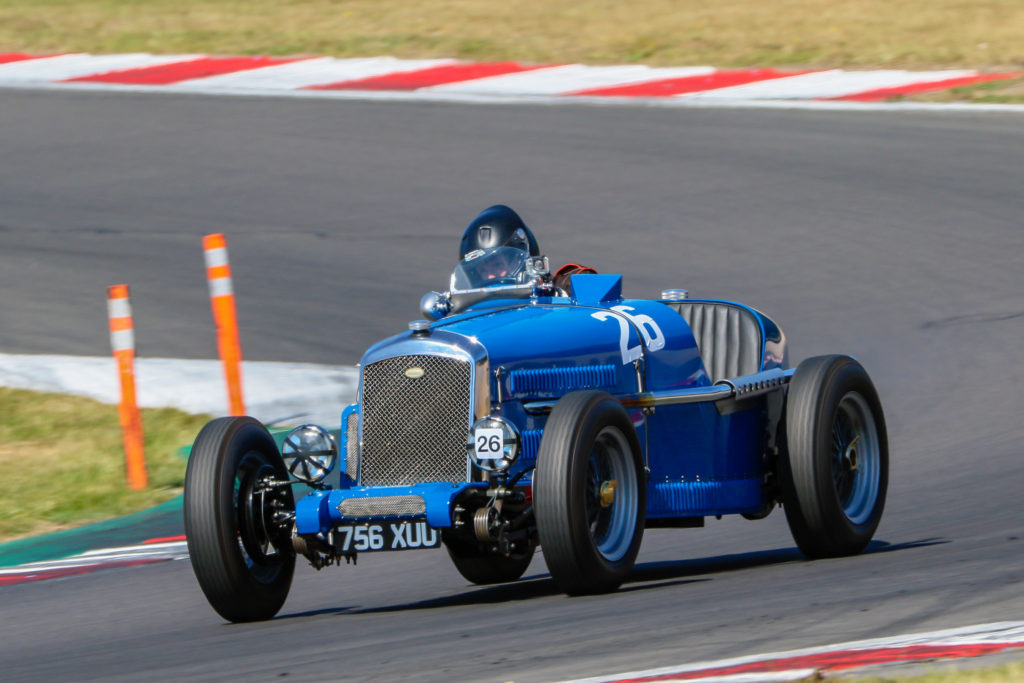 The MG Car Club's next race meeting is at Oulton Park on Saturday 1st September. We hope to see you there!
Words by Graham Keilloh
Photos by Dickon Siddall – DSdigital