Brands Hatch race report
A sunny weekend once again awaited the MG Car Club at Brands Hatch, for the annual Bank Holiday extravaganza. Excellent grids and fantastic racing made for a busy weekend on track, with a total of 23 races over the two days. As well as being joined by our usual flurry of MGCC regulars, we were pleased to be joined by the Porsche Club Championship, BARC Quaife Cannons Tin Tops Championship and BARC Quaife Motorsport News Saloons Championship once again. Report by Leanne Fahy, photos courtesy of Dickon Siddall.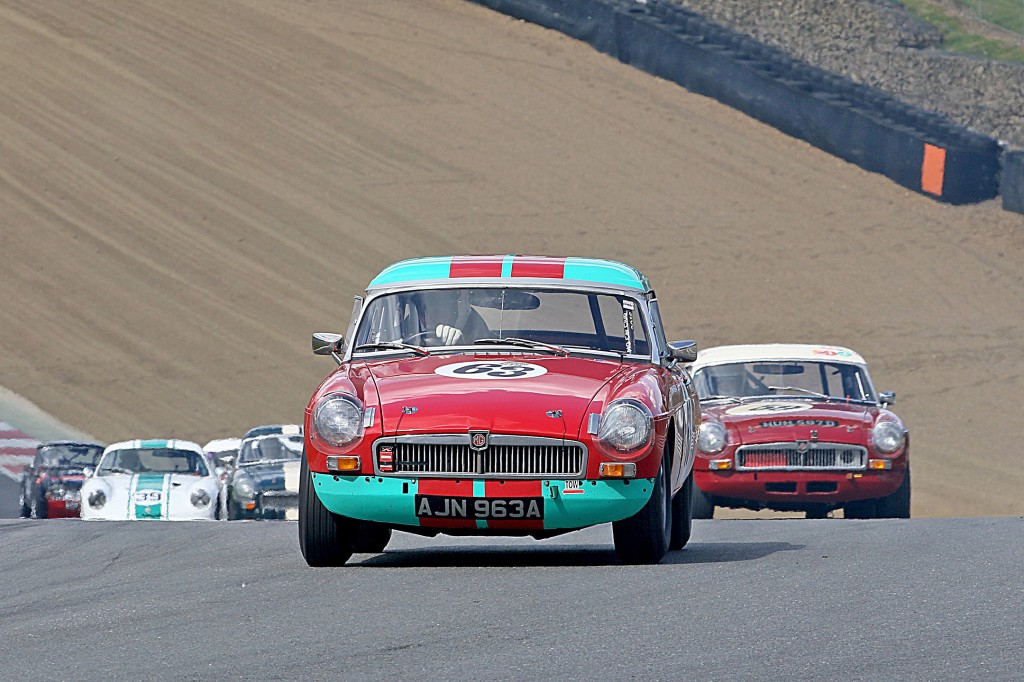 Graham Bates' MGB Roadster in the Equipe GTS
Porsche Club Championship with Pirelli
A familiar name topped the rostrum after the first Porsche Club Championship outing. Mark McAleer swapped pole position for another race victory, after a fierce chase from Kevin Harrison.
Harrison began to diminish McAleer's lead, however their battle was soon paused with the release of the  safety car. Talan Skeels-Piggins' race ended earlier than expected when his Porsche Boxster S collided with the barrier. With rescue crews on the scene, McAleer's control was protected by neutralised pace, before a nine minute sprint to the flag.
Just 0.7 seconds separated the pair at race end, as Harrison continued his strong form to maintain second place. Paul Winter completed the top three, after a fierce tussle with fourth placed Karim Moudi. The aptly named Tim Speed claimed a Class 2 victory, ahead of Andrew Toon.
McAleer doubled his success in race two, despite a last minute change in weather conditions. As the drivers lined up on the grid, the heavens opened to heavy rainfall. With cars set up for a dry race, the safety car led the field back to the pits, so tyres could be changed to suit the wet conditions.
Declared a wet race, the shortened sprint was eventually red flagged just over one minute from the chequered flag, when Steve Cheetham suffered a spin. With the result called, it was another victory for McAleer, ahead of Winter, Johnson and Pete Morris.
Kevin Harrison had enjoyed a stint amongst the top three, however after suddenly slowing in the midst of battle he was forced to the sidelines.
MGCC MG Trophy Championship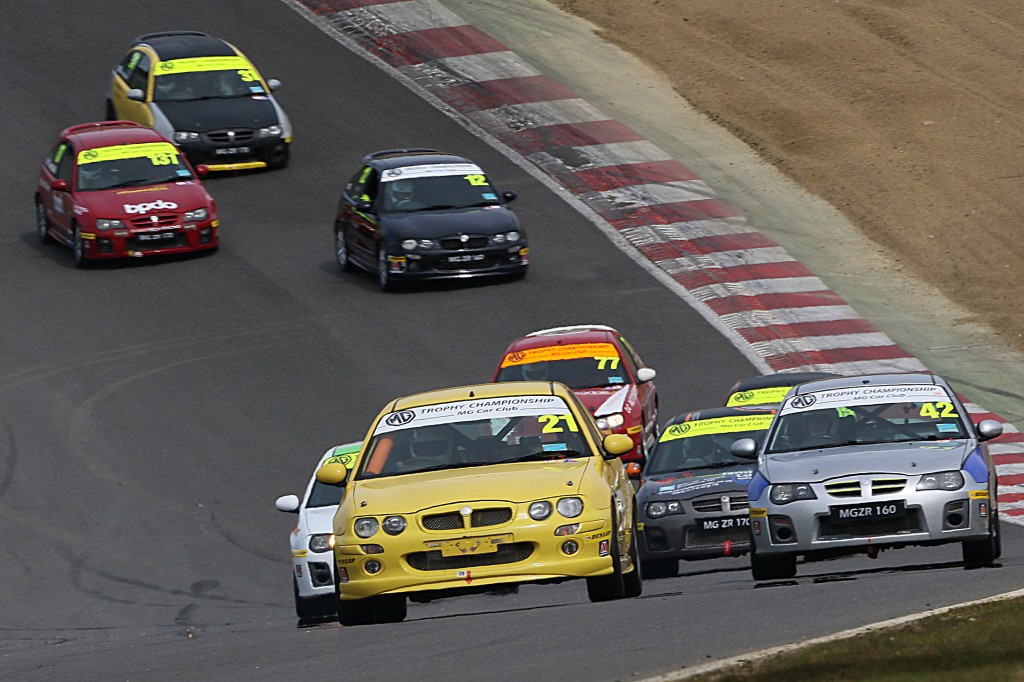 The MG Trophy ZRs come racing up Hailwoods Hill
Chris Bray cemented his love of Brands Hatch with a dominant race one win. 17 seconds separated him and nearest challenger Doug Cole as the 20 minute sprint came to an end.
Bray led from the moment the red lights diminished, and soon found himself hounded by Class B driver Fergus Campbell. By the second lap, Cole managed to steal away second, as he set his sights on the rear of Bray's MG ZR 190.
With the first two swiftly out in front, the battle for third overall and Class B honours grabbed everyone's attention, with Lee Sullivan and Paul Luti nose to tail for the duration.
With his opportunities mirrored by Sullivan, Luti was unable to decipher a passing point, as he chased furiously lap after lap. As the field steered their way onto their final lap, Luti found his mirrors filled with the sight of Robin Walker's machine, keen to steal his spot. After only running on three cylinders during qualifying, Walker had to start 21st, however a determined drive meant he was in a strong position to fight by the final lap.
As the trio crossed the finish line, Luti was narrowly pipped to fourth place overall, however still held onto the Class B runner up spot. Fergus Campbell completed the top three in Class B.
William Payne collected Class C honours, ahead of Gianni Picone and John Gil. Driver of the Race and the day were both awarded to Sullivan for his race one performance.
Cole steered his way to an unchallenged victory in race two, amidst a chaotic second race. Front row starters Bray and Cole were joined by the fast starting Paul Luti into Paddock Hill Bend, as the trio headed into the dip three abreast.
A brief collision saw Bray and Luti caught up in the drama as the field concertinaed out of Paddock. Luti managed to compose himself, whilst Bray was left stranded in the middle of the circuit. As the rest of the field luckily managed to avoid Bray, he nursed his damaged MG ZR back to the pits.
In his wake, Sullivan immediately look control of the race, with Luti close behind once again. However, as the pair scrapped, Class A front runner Cole managed to squeeze his way into the lead. Before long Cole sewed himself a comfortable advantage, to claim a clean victory by over 11 seconds.
Walker again fought his way through from 21st on the grid, to a strong second place by race end, whilst Sullivan held on for a third and Class B triumph. Much of the race focused on the battle for Class B runner up spot, as Andrew Rogerson, Jake Fraser-Burns and Richard Marsh immersed themselves in a fiercely entertaining tussle.
Action centred itself on Rogerson and Fraser-Burns, who frantically swapped places multiple times. However, as the race unfolded, Rogerson managed to hold station to claim fourth overall and second in Class B. Campbell, Fraser-Burns and James Cole followed. After a coming together between Marsh and Roberts into Clark Curve, the pair dropped to eighth and 12th, respectively.
Payne again dominated Class C with another class victory, again ahead of Picone and reigning champion Gil. Driver of the Race was awarded to Rogerson.
MGCC Watt Electrical BCV8 Championship
James Wheeler narrowly claimed race one success in the opening BCV8 encounter, despite the best efforts of Russell McCarthy.
A slow getaway from McCarthy gave Wheeler the advantage he needed to dash into Paddock Hill Bend ahead of his rivals. McCarthy's distinctive yellow machine soon filled the mirrors of Wheeler, however he was unable to find a way through.
As the pair negotiated their way through multiple flurries of backmarkers the gap reduced to mere millimetres, but Wheeler kept his cool and held his position. Just 0.155 seconds separated the duet at race end, with Wheeler in the prime spot. McCarthy claimed second place, ahead of Neil Fowler, Rob Spencer, Simon Cripps and Andrew Young.  Wheeler was also rewarded with Driver of the Race
James Wheeler made the best of a wet track to triumph once again in race two. A strong getaway immediately launched him into the race lead, as others faltered in difficult conditions.
As the field exited Graham Hill Bend for the first time, the wet track sent Neil Fowler into a spin. After luckily being avoided by the rest of the field, he dropped to the very back of the pack. Determined not to be too broken hearted, Fowler launched an attack that saw him manoeuvre his way into an astounding fifth place finish by the end of the outing.
Ahead, James Wheeler soon found himself under immense pressure from Jonnie Wheeler, as the pair raced their way around the Indy circuit. Jonnie was soon forced to switch his attentions to his rear view mirror, when Russell McCarthy mounted an attack for second place.
Despite his best efforts, McCarthy managed to sneak ahead, to take second over Jonnie. Simon Cripps held on for fourth place, ahead of Fowler and Young. Jonnie Wheeler's efforts were deemed worthy of the Driver of the Race award.
MGCC Drayton Manor Park MG Metro Cup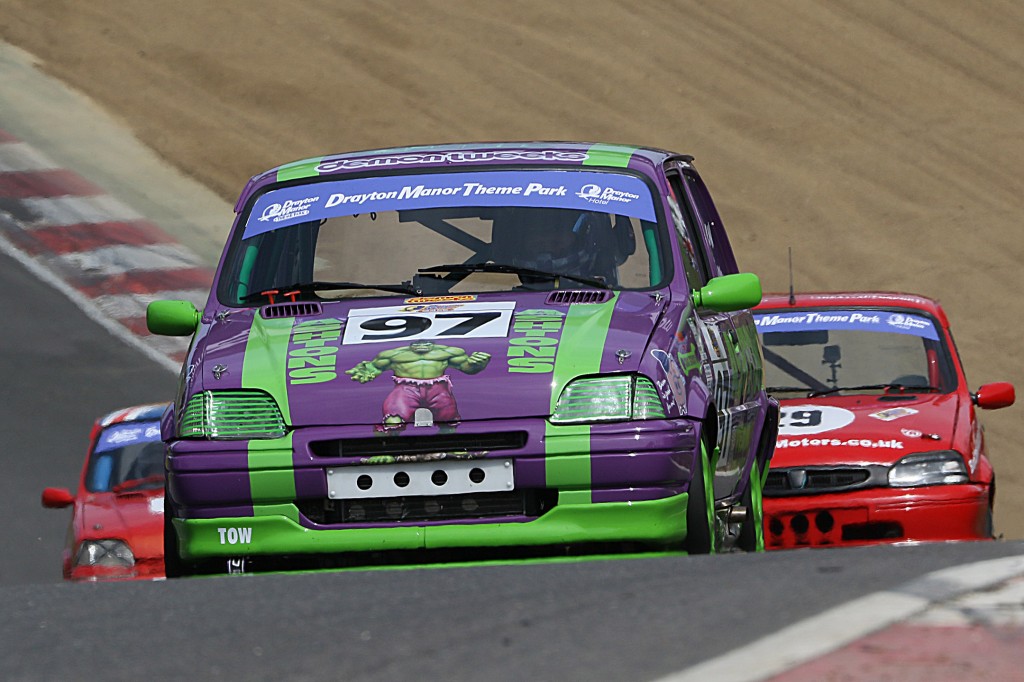 Andrew Ashton's Metro Gti in the MG Metro Cup 
Ben Rushworth steered his way to race one victory, after an eventful first outing for the MG Metro Cup assembly.
Pole position failed to give Rushworth the launch he needed, as Mike Williams led the way into Paddock Hill Bend. After leading for a number of laps, Williams seemingly suffered a problem when he ran wide before a dramatic drop in speed. In his wake, Rushworth reclaimed top spot to briefly lead the way.
Jack Ashton soon joined in the battle for honours, when he surpassed Rushworth. His advantage was short lived, however, when Rushworth grasped an opportunity to steal back control, with an astounding manoeuvre around the outside into Paddock Hill Bend.
A seemingly calm second half saw Rushworth collect the spoils by over 13 seconds, from nearest rival Jack Ashton. David Javes efforts resulted in a third place finish, whilst Andrew Ashton's impressive performance saw him switch last on the grid for a fourth place finish, and Driver of the Race.
Williams shared the spoils to claim a race two victory, despite intense pressure from Rushworth throughout.
As the race began, Williams made the ideal start to lead the field into the Paddock Hill dip. Rushworth swiftly latched onto his tail, as the pair leapt away in a two horse race. Rushworth ensured the crowds were kept entertained as he chased furiously, but despite some brave manoeuvres, he was unable to unsettle Williams' momentum.
Andrew Ashton worked his way to a third place finish, after displacing Lee Connell. Connell had held third for much of the race, and despite being unable to fend off Ashton, he held on for fourth place. Mark Eales' sterling drive secured him fifth place and the Driver of the Race from our commentary team. An eventful race for Jack Ashton saw him move up and down the field, to eventually settle in sixth place in competitive conditions.
Oli Hood had sat in a strong top three position, however after suddenly slowing and pulling to one side early on, his race soon came to an abrupt end. Driver of the Race was awarded to Mark Eales this time around.
Equipe GTS
Tom Smith triumphed in the eventful opening Equipe GTS outing. A dominant launch from pole position saw the MGB driver fire an attack into Paddock Hill Bend, as the field settled in formation behind.
As he defended his standing from Brian White and Rob Cull, Smith directed the way around the Indy circuit. Before long, Cull found himself hounded by the Triumph TR4 of John Andon, and after a stab at third place, Andon elevated himself into a podium position.
Shortly afterwards, Paul Latimer became beached in the gravel near the edge of the track, calling for the safety car. After finally collecting the lead cars, the race was restarted, despite a number of spinners in neutralised conditions.
With just three minutes left on the clock, the chequered flag was flown early, with thoughts of fluid on circuit. A number of spinners at Graham Hill Bend laid course for concern, and so brought about an early race end.
Smith's efforts were enough to crown him victorious, just 0.8 seconds ahead of White. Andon maintained his third place, ahead of Chris Ryan in fourth. Cull slipped to ninth place after a spin on track, that luckily saw him avoided by the rest of the field.
Smith doubled his success in the second Equipe GTS appearance, after long time leader Brian White pulled off the circuit.
White had led from the start, and looked set for a dominant performance, however after a puff of smoke from his Triumph TR4 he was forced to pull off of the circuit along the Cooper Straight.
Before White's abrupt exit, the battle for second place had been a thrilling one. Smith and John Andon repeatedly swapped places, but as White retired it was Smith who was in prime spot to collect honours. Andon held on for second place, whilst Ryan completed the top three. Cull unnerved Rob Spencer and Robin Ellis in the closing stages to surpass both and claim fourth place.
BARC Quaife Cannons Tin Tops Championship
Chris Bassett won the opening Tin Tops Championship race, albeit in dramatic conditions. After a fiercely entertaining scrap with Chris Whiteman, the race was red flagged just shy of the final lap, due to the stricken car of Alan Breck on track at Druids.
Bassett and Whiteman's duet was made into a furiously entertaining trio in the early stages, as Rod Birley made himself welcome in second place. However, after slipping back due to unknown circumstances, he paved the way for Peter Osborne to join the top three.
As Bassett and Whiteman launched towards Paddock Hill Bend on the final tour, the red flag was suddenly scrambled, when Breck's VW Golf Mk 2 came to a stop on the inside of the circuit. With less than 30 seconds to the race end, the result was called, crowning Bassett triumphant, and Whiteman as runner up.
Chris Bassett doubled his collection of Brands Hatch silverware in race two. On a drying track, the Peugeot 205 GTi driver launched into immediate control.
Whiteman managed to work his way back to second place in time for the chequered flag, after briefly slipping to third. Adams claimed third place, whilst a sterling drive from Birley secured a strong fourth place after starting at the very back of the pack due to problems during race one.
MGCC Lackford Engineering MG Midget & Sprite Challenge
James Dunkley continued his strong form from DoningtonPark, to claim race one victory at Brands Hatch. A front row start gave him the ideal view of Paddock Hill Bend, an advantage he used perfectly.
Graeme Adams and Nick Day trailed Dunkley during the opening stages, however, as Adams looked set to challenge for honours he suddenly slowed exiting Paddock Hill Bend, and pulled off the track. With a clear space behind him, Dunkley remain unchallenged, to soar straight into victory.
Day was the next to experience difficulties, when he pulled out of second place along the Cooper Straight, immediately ending his chances of success. In his absence, Edward Reeve slotted into a second place finish, ahead of Richard Perry.
Paul Campfield collected fifth overall, after a thrilling battle with Pippa Cow. Cow held onto sixth place, ahead of Carl Chadwick, whilst Driver of the Race was presented to Perry.
David Weston grabbed race two honours in the wake of Dunkley. Dunkley had led early on, before the pair engulfed themselves in a thrilling scrap. The MG Midget driver soon reclaimed the lead, when Weston dropped back slightly, however as Dunkley negotiated his way for the final time, a raised hand indicated issues, as he pulled to one side with electrical gremlins.
With Dunkley out of the running, Weston inherited the silverware, to claim victory over Edward Reeve and Perry. Driver of the Race was awarded to Chadwick in race two.
MGCC Iconic 50s & FISCAR
Robin Ellis won a shortened Iconic 50s and FISCAR encounter, when the red flag called for a race result due to a car stopped on circuit. With just over three minutes remaining, the race was not restarted, crowning Ellis victorious, ahead of Colin Jones.
Jones had held a strong lead for much of the outing, however as Ellis' Lotus Elite launched an attack, Jones was unable to hold him off.
Despite this, Jones and his MGA Twin Cam held on for a strong second place finish, ahead of Paul Kennelly in his Jaguar XK150S. Driver of the Race was awarded to Ellis for his strong performance.
MGCC Peter Best Insurance Cup
Thomas Halliwell was crowned race winner in the first outing Sunday afternoon. The race lead changed hands a number of times, but it was Halliwell ahead when it counted.
James Darby was in charge at the start, despite immense pressure from Halliwell and Ed Davies, behind. After a few position changes, Halliwell soon found himself in the lead, as Darby and Davies hunted him down.
As the end of the race came into sight, Darby suddenly slowed as he ran down the hill towards Graham Hill Bend. With his ailing MGB GT, he pulled off the circuit and out of a strong position, as Halliwell, Davies and Tom Diment took control of the top three.
Behind, Richard Buckley claimed fourth place, whilst David Thompson won a furious battle for fifth place, by just 0.022 seconds over Richard Wilson.
Halliwell doubled his success in race two, with a dynamic lights to flag performance. His MG ZR served him well, with more than three seconds between him and nearest challenger Ed Davies as the chequered flag flew.
After settling in second place it was a somewhat solitary affair for Davies, who finished some 17 seconds ahead of third placed Tom Diment. Diment's race was far from simple, when the fast charging Richard Buckley stormed through to fourth place, to finish just 0.6 seconds adrift of Diment's rear bumper.
David Thompson was pipped to fifth place, ahead of Richard Wilson in sixth. James Darby had run towards the front of the field early on, but after fighting a slowing MGB GT in the final few laps he wrestled a seventh place finish from his ailing machine.
MGCC Triple M race for The Mary Harris Trophy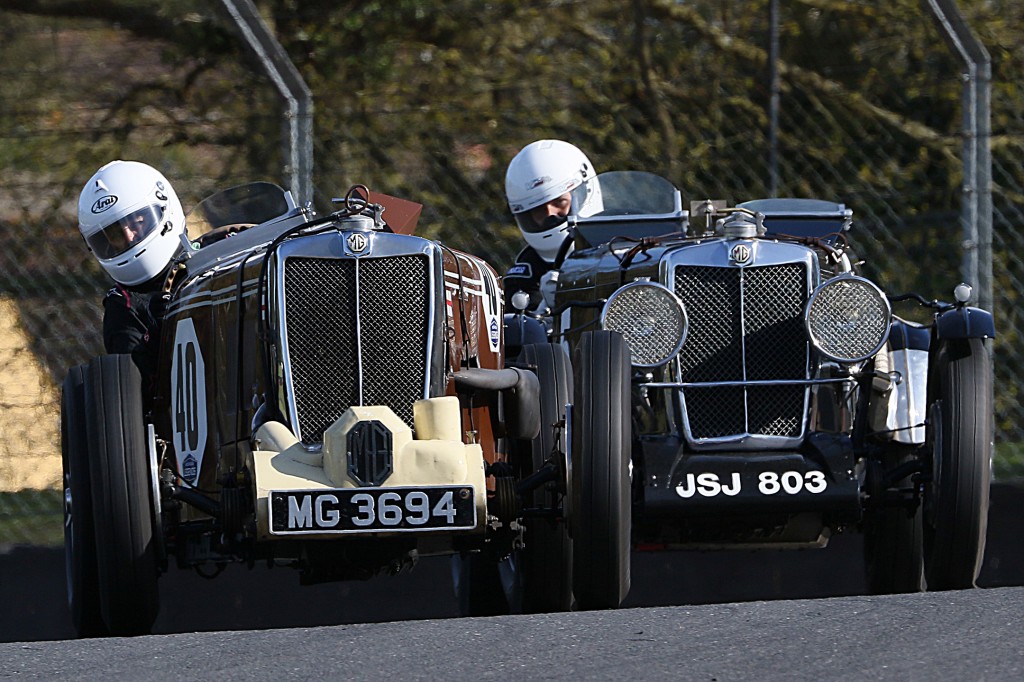 Jane Metcalfe (left) in the MG N Type side by side with Chris Smith's (right) MG NB
David Seber seized the opening Triple M victory, courtesy of a dominant performance. Early leader Charles Jones had led the way from pole position, but after running millimetres apart, he was unable to fend off Seber's advances.
After gaining control, Seber managed to build a 2.7 second advantage to Jones, with the MG L Special driver able to hang on for a strong second place finish. Mike Painter and his MG Kayne Special grasped third place, ahead of Thijs de Groot. A race long battle for fourth place ended with Mark Dolton ahead of Fred Boothby.
Handicap positions saw Jane Metcalfe fastest, ahead of Mark Dolton and Charles Jones. Driver of the Race was awarded to Mark Dolton.
Jones steered his way to victory in race two, along with the fastest lap of the race on the final tour. With a cushion of just over one second, his MG L Special performed well in the Bank Holiday heat.
Painter cemented himself in second place, a position he held from start to finish, but it was third place that gained some excitement. John Seber managed to claim a hard fraught third place, ahead of Thijs de Groot. Dolton and Boothby again featured, with fourth and fifth place finishes, respectively.
BARC Quaife Motorsport News Saloons Championship
Dale Gent demonstrated dominance in the opening Motorsport News Saloons Championship encounter, to storm to victory. Rod Birley tried in vein to distract his rival, but was unable to edge between the Subaru Impreza and the win.
Gent's dominance stretched from start to finish, as Birley followed for the duration. Despite his best efforts, Birley held on for a second place finish.
Malcolm Wise managed to secure himself third place, despite being chased by eventual fourth placed man Gavin Thomson. Tony Skelton and Andy Banham completed the top six.
Gent's efforts were again rewarded in race two, when he doubled his success. A key performance saw him claim victory by more than 10 seconds, as Birley once again played the runner-up.
It was a familiar scene at the front of the field, with Wise again the third placed man. Thomson held station in fourth place, once again ahead of Skelton, whilst Banham stole sixth place from Graham Crowhurst.
MGCC Motoring Classics Thoroughbred Sportscars Championship
James Wheeler continued his dominant weekend, to claim a third win in as many races during the weekend. The sole outing for the Thoroughbred Sportscars saw Wheeler control the pace from start to finish, despite fierce attention from Russell McCarthy and Rob Spencer.
After finishing second to Wheeler in both BCV8 Championship races on Saturday, McCarthy was keen to unnerve him this time. Despite fastest lap and a number of brave attempts around the outside of Druids, McCarthy was unable to nudge Wheeler from his victorious perch.
Spencer had looked strong for a second place finish, but after engaging in battle with McCarthy, he slipped back for a third place finish.
Neil Fowler made amends for a difficult second BCV8 Championship race on Saturday to claim fourth place, ahead of Simon Cripps and Barry Holmes. Cripps also collected the Driver of the Race award.
MGCC MG Challenge Race
The MG Midget's dominated the MG Challenge at the end of the day, with David Weston at the head of the field. Weston's dominance saw him secure race victory by over 28 seconds from Ed Reeve and Richard Perry.
The original start was red flagged when Dan Jones in his MG ZR rolled after landing in the gravel at Paddock Hill Bend. With both him and his car safely rescued, the race restarted for a 20 minute dash to the flag.
Andy Southcott, Pippa Cow and Carl Chadwick cemented the MG Midget name in the top six finishing positions.
What a spectacular weekend of racing at Brands Hatch. A great collection of cars graced the circuit over the two days, and after snow a few days earlier we were definitely spoilt with the weather. Brands Hatch was the perfect lead into MG Live in just over a month's time. We look forward to seeing you all there for more high speed fun.