Brands Hatch Race Report
A packed schedule of MG Car Club motorsport action was on the Brands Hatch bill over the weekend, (April 28-29), with fantastic big grids and a wide variety of MGs up to almost 90 years old taking to the Kent venue's iconic Indy Circuit.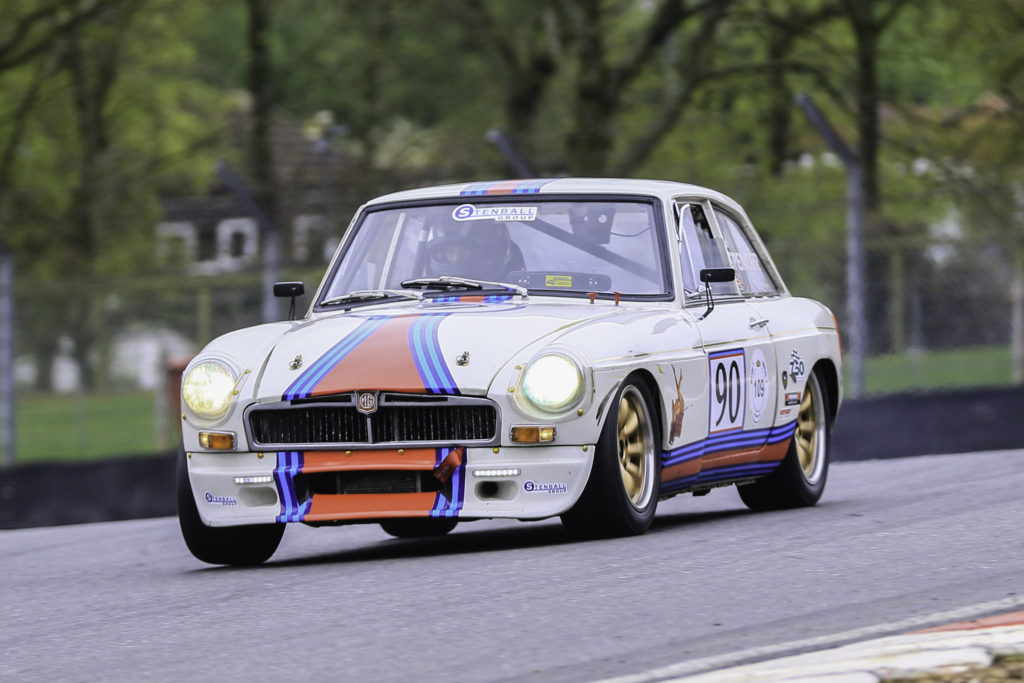 Rob Spencer made it three wins in a row with a Brands Hatch double as the TN Racing BCV8 Championship boasted what long-time co-ordinator Pam McCarthy reckoned to be its best grid since the 1990s. The tremendous promotional push by James Wheeler and the team, still supported by Pam, resulted in a 50 per cent increase in the grid size compared to the equivalent 2017 round, with 28 cars lining up to start the double-header.
Spencer's race one victory – in conditions much friendlier than they had been for the damp qualifying session – was credit to a sizzling start from sixth on the grid that saw him take the lead at Paddock Hill Bend. There was an early safety car period after Russ McCarthy beached at Paddock Hill Bend from eighth on the road, but Spencer kept his head after the resumption, even in the face of some difficulty towards the end that resulted him briefly taking to the grass on Cooper Straight. However, he was a sufficient distance ahead of Neil Fowler, who had charged through from tenth, to keep hold of victory.
James Wheeler ran second in the Class C-leading car until Fowler burst through, but ultimately only held on to the class win by less than a tenth of a second from Ollie Neaves. Simon Cripps was a fine fifth overall in his Class B-winning car, having earlier battled with the fading GT V8 of Jonnie Wheeler, while Andrew Young completed the top six. Babak Farsian was second in Class B (having won AB at Silverstone), while driver of the race Simon Tinkler emerged from a three-car scrap to top Class AB in the closing stages.
A sprinkling of rain before the start of the second race had unfortunate consequences, with a chain reaction incident at Graham Hill Bend ruling out three cars – Cripps, Fowler and Paul Khouri – from the 12-minute restart, with several more suffering damage. Spencer started as far back as row four for this one, but still swept into the lead at the beginning of the second lap. The challenge, when it came, was too late – Ian Prior had started on the ninth rank but stormed through, gathering fastest lap on his way to finishing within three-tenths behind the winner and picking up a deserved driver of the race pot.
Prior had deposed James Wheeler (again the Class C victor) at Surtees on the penultimate lap, with James' father Jonnie making it a Wheeler three-four. Andrew Young claimed fifth overall, passing the invited car of Guy Samuels – which had claimed pole in the morning rain – at Paddock on lap 10. Just outside the top six, the McCarthy siblings scrapped, with Spencer topping Russell and winning Class B in the process, despite starting at the back having missed qualifying. Farsian, who joined the warm-up lap late from the pit lane and took up his grid spot, was excluded after ignoring black flags, while David Strike struck on the final lap to snatch AB honours from Tinkler.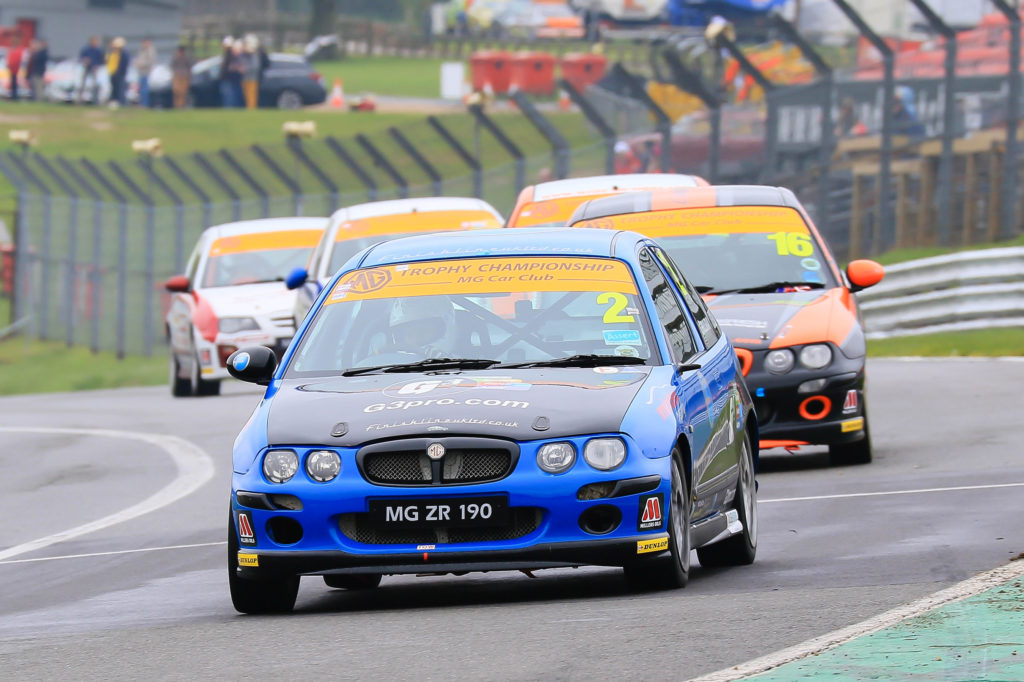 Chris Bray took victory on his seasonal debut in the Classic Fuel Solutions MG Trophy, but it was a race that was sadly red-flagged twice. The first stoppage came after Andy Firth crashed heavily at the foot of Paddock Hill Bend.
The grid for the restart was set by the order wound back a lap, which was to the advantage of Silverstone double-winner Jason Burgess who had just scurried through the Paddock gravel trap. Burgess started alongside Bray, therefore, but was behind the Cambridgeshire man for the five laps that were possible before another halt was called. Graham Ross jumped two places at the restart to claim third, while initial polesitter Ross Makar fell behind Andy Spencer to be the last ZR190 finisher.
The second stoppage was due to Tylor Ballard rolling multiple times and ending up atop the barriers at Paddock – a case of his race going from good (leading the ZR160 division at the first red flag) to bad (spinning on the opening lap of the restart) to worse. John Gil took the win in that class having passed Dave Heasman at Paddock on lap three. Meanwhile, in the ZR170 class, Paul Luti jumped Andy's son Ryan Firth at the second start, having trailed behind him before the red flag, while Ollie Hood made strong progress to take third and earn the driver of the race award.
The second race was remarkable in that it looked like a ZR170, that of Paul Luti, would take outright victory for the first time in the history of the Trophy. The Scot made a tremendous start, driving around the outside at Paddock to take the lead from fourth on the grid. The cars behind him – a jumble of Class A and B machines – proceeded to fall over one another for the following six laps, allowing Luti to build a 12-second lead. But then came the safety car to recover the stricken Samuel Johnston and Ross Makar mounts… "There were a lot of expletives," admitted Luti.
There was time for a six lap sprint, but initial challenger Bray was having intermittent issues, leaving fellow Scot Graham Ross – a green-flag lap spinner – to take up the cudgels, battling with a bad vibration picked up from gravel trap as he did so. "I didn't want to be the first person to be beaten by a 170," he said, after powering ahead of Luti on the Brabham Straight at the start of the penultimate lap.
Behind Luti, who was unsurprisingly awarded driver of the race, Ben Mills and Patrick Booth were classified as third and fourth after Matthew Turnbull (third on the road) and Hood were penalised 10 seconds for a safety car infringement. After Bray's eventual demise, Burgess (seventh overall) was Class A runner-up, having earlier been spun down the order by Bray, who lost the back end of his car when an engine fault kicked in. Gil completed the double among the ZR160s. Of greatest importance, however was the news that Firth Senior and Ballard had suffered no serious injuries.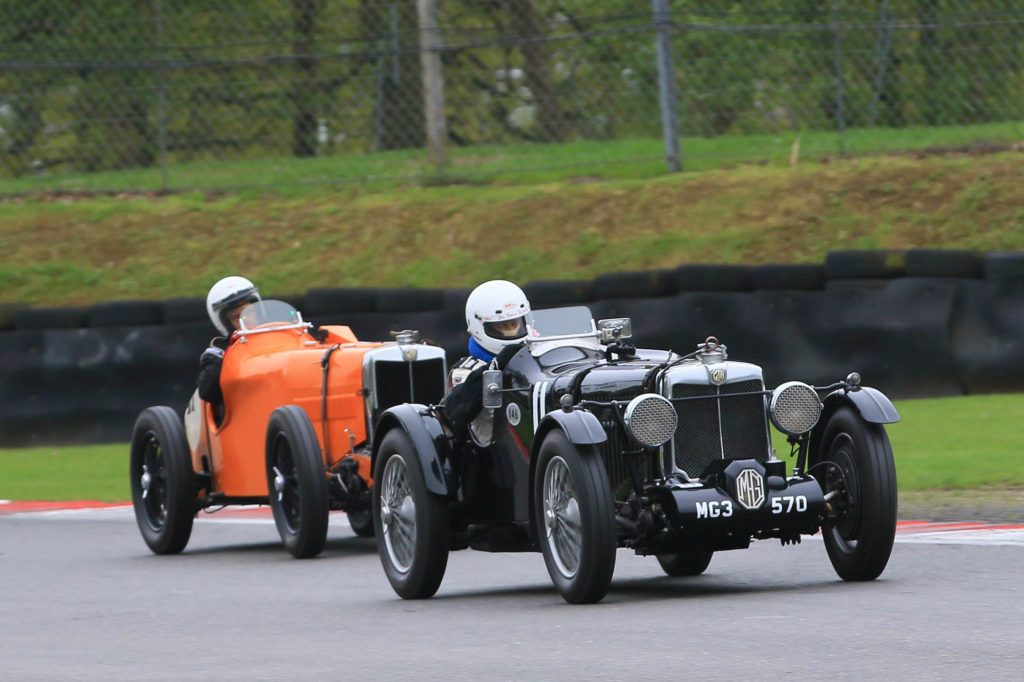 A superb field of 27 cars qualified for the Baynton Jones Historic Motorsport Triple-M Challenge but it was the Wolseley Hornet Special of Tony and Rod Seber that emerged to beat all of the MGs. Harry Painter's PA led at first, but Tony Seber pulled ahead along the Brabham Straight at the end of lap four. The gap remained negligible until Seber gained a critical advantage through traffic. They both pulled a long way clear of Charles Jones (L) and Mike Painter (Kayne Special), while there was a memorable three-way fight between the last cars to finish on the lead lap. Andrew Taylor (K3) gained fifth place on lap 11, then fended off the Hills/Ricketts K1 Monoposto and the PA Special of Thijs de Groot.
Very cold and drizzly conditions greeted competitors for the second bout, which caught out an unwary few. Mike Painter made the best launch off the line and led until a brief exploration of the Clearways gravel. That promoted Harry Painter, but problems with his car set in and the Hornet, now with Rod Seber aboard, took advantage. The surviving Painter and Jones ran together in second position and were closing on Seber when both spun within a few moments of one another on lap nine, with a further gyration for Jones at Graham Hill Bend elevating Andrew Taylor, up from seventh on the grid, into the podium positions.
Fred Boothby (J2) and Charles Goddard (PA Special) shared the spoils in the well-supported Class B, while Andrew Morland (L1 Tourer) and Hamish McNinch (PA 2-seat Sports) took a Class A winner's trophy apiece.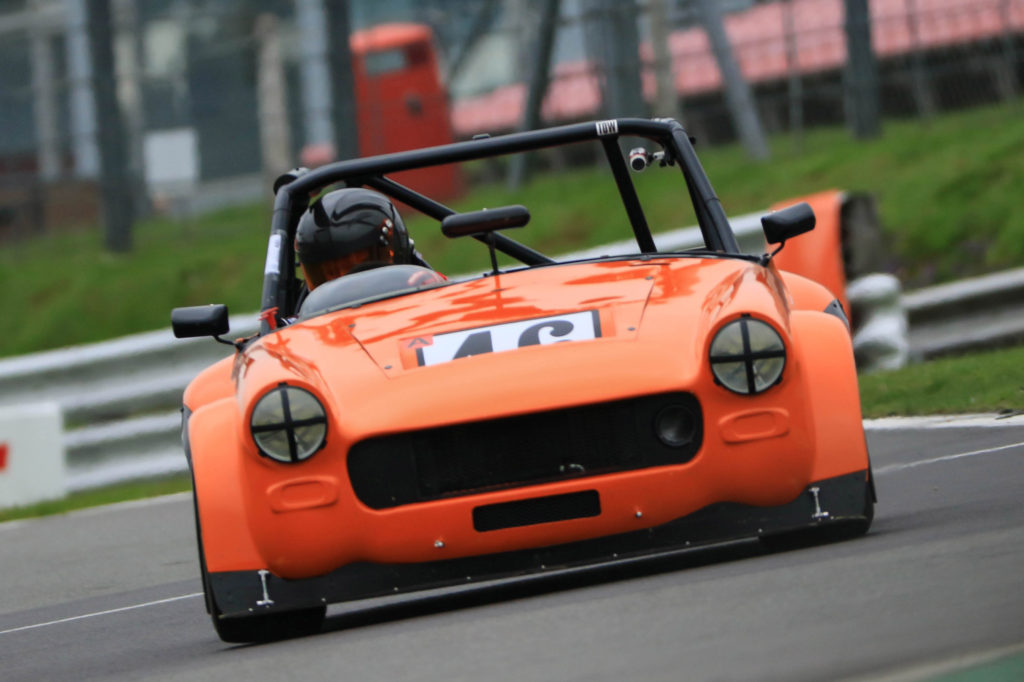 The first Lackford Engineering Midget and Sprite Challenge encounter was truncated by a safety car period (after Carl Chadwick collided with the barriers at the start of the second lap) and, when two cars became stranded at Paddock, an early chequered flag. In spite of a tentative getaway, Stephen Collier soon emerged in control, with 2017 champion Paul Campfield in second in his Sprite. Richard Bridge bounced back after a "really bad qualifying" to get within half a second of Campfield by the premature end. Kim Dear and Edward Easton were the other class winners, the latter earning driver of the race having passed Jon Simpson at Paddock for the lead on lap ten.
The second race went the distance, but again it was Collier that dominated. Once Bridge had worked his way through from row four he slashed Collier's advantage, but the leader responded and maintained a comfortable two-second margin. Campfield briefly lost third to Stephen Pegram, up from the back after ignition issues on Saturday, before the latter made an error at Paddock Hill Bend. Pippa Cow stole fifth position from Tom Walker when the incumbent made a minor error at the final corner, although Walker enjoyed some consolation in the form of the driver of the race award after his progression from the back. Easton added to his class success, while Andrew Wolf picked up Class C honours after Dear retired.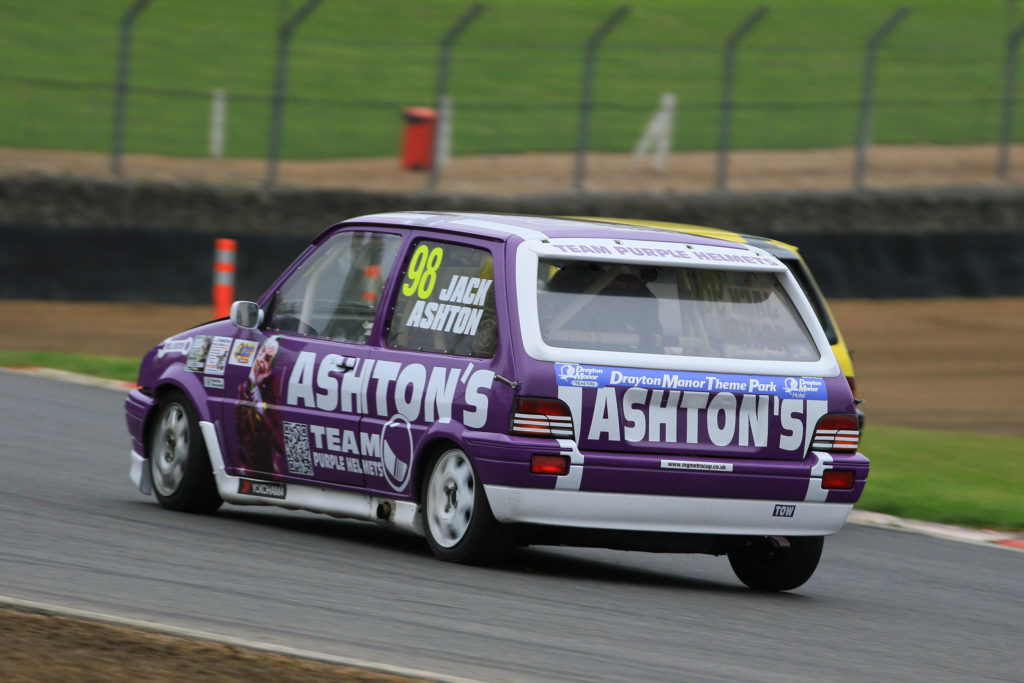 Andrew Ashton won the first Drayton Manor Park MG Metro Cup encounter quite comfortably after pole-sitting brother Jack struggled with a misfire in the early stages, dropping as far back as seventh. Jack had climbed back to second position by the mid-way point, by which time his sibling was 10 seconds clear and he could do more than narrow the gap to less than two seconds by the end. A strong third position for Mark Eales earned him driver of the race while Dan Balster, Shamak Glodek and David Javes had a race-long fight for fourth – and delayed Jack Ashton's initial fightback.
Jack came out on top on Sunday, accruing an advantage of more than 12 seconds over his brother, who spent much of the race with access to just third gear. After Balster spun into the Clearways gravel trap – prompting a caution period – Eales was lonely again in third, at least until his steering developed some unwanted tendencies and he was caught by Tim Davies and Dan Willars in the closing stages. They had fought a great battle for fourth, with Davies' move at Druids overturning that made by Willars at Paddock four laps earlier. Sadly, Javes was ruled out with gearbox issues, while Glodek's Metro failed off the line.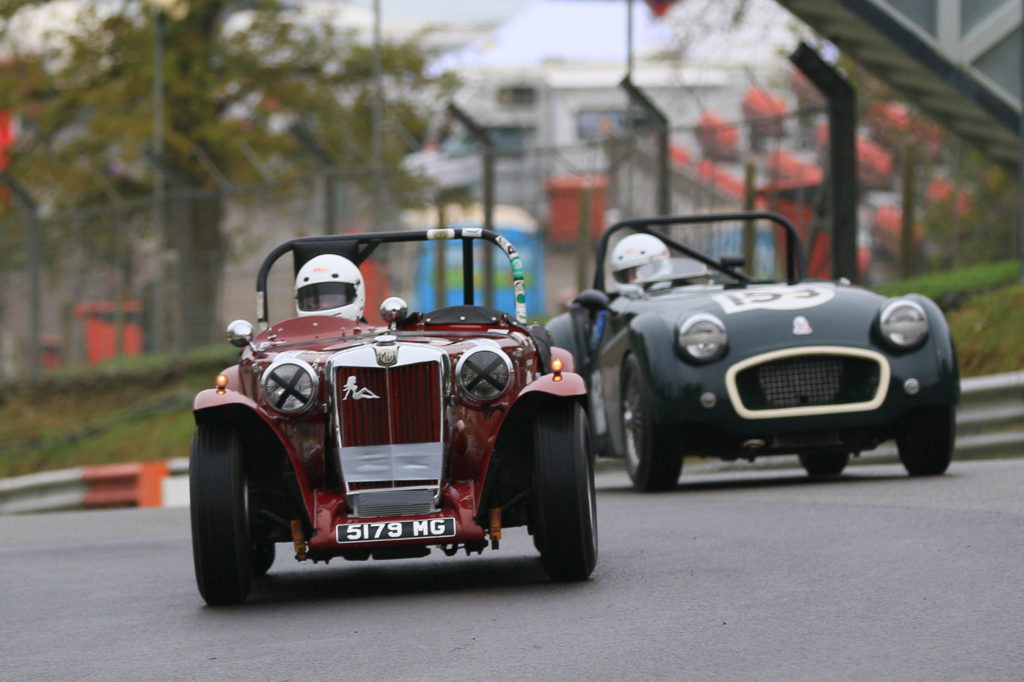 With the grid for the opening Equipe GTS Pre-'63 contest shuffled by a wet track, it took a handful of laps for the race to settle into a pattern and, in particular, for Richard Woolmer's perky opening efforts in his Turner MkII to be subdued. Jack Rawles (Healey 3000) had established a big advantage going into the closing laps, but there was still a three-way fight for second position. Paul Kennelly's Healey 100/M eventually took the place, while Nick Matthews (100/4) challenged the Lotus Elite of Brian Arculus on the final lap but got out of shape at McLaren.
The three that had disputed second fought it out at the front of race two, with scarcely more than a second between them for much of the distance. The key moment came when leader Arculus got boxed in by a tailender on lap eight, allowing Kennelly to pounce. Rob Cull was closing in on the lead trio in his MGA, having recovered from a lap 10 spin, when he had the first of two rain-prompted rotations. When Kennelly passed the chequer his lead, at almost a second, was the biggest it had been all race. Matthews took third, while David Wenman's Morgan +4 was a class-winning fourth, ahead of Bill Rawles.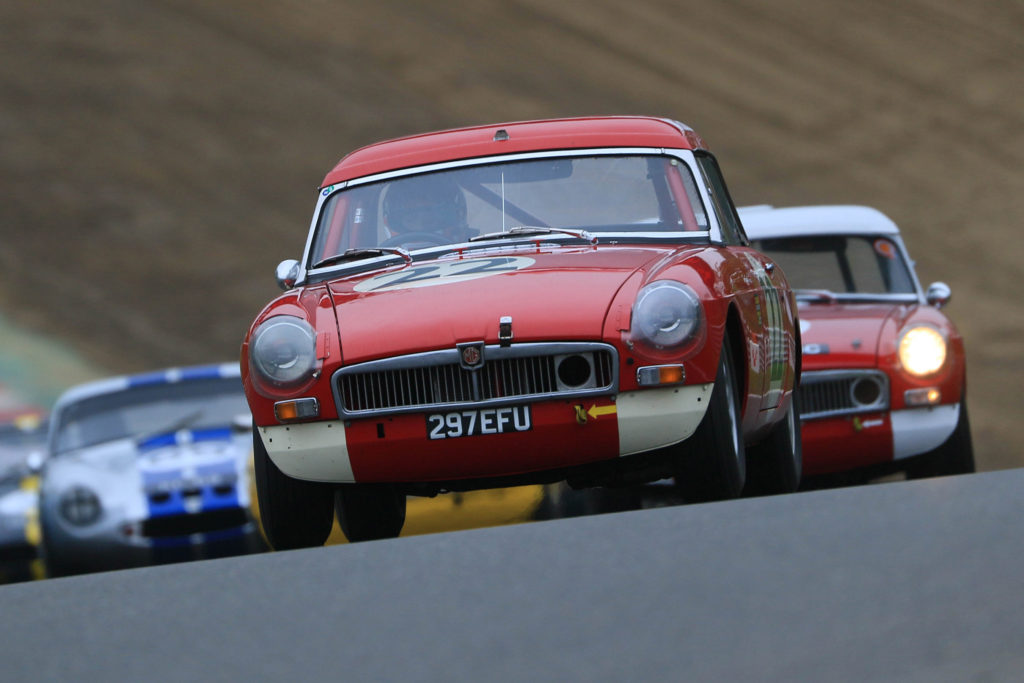 In the Equipe GTS Group B opener, a late safety car period meant there was a four-minute sprint to the flag. Babak Farsian profited when David Keers-Trafford was delayed by slower cars ahead of him, allowing Garry Townsend through to second position. With MGB Roadsters filling the first five places, respite came from the Ashley-bodied Midget of Tom Grindall, who made an eye-catching drive from row 14 to grab a top-six place on the last tour.
Grindall starred again in the Sunday rematch, grabbing third place at the start while ex-MX-5 racer Townsend led. However, Townsend made a mistake at Clearways on lap six, allowing Keers-Trafford and Grindall to pounce, with Grindall diving up the inside at Druids to take the lead half a lap later. Grindall was reeled in by DK-T later on, but his pursuer ran out of time. A little further back, Townsend was pipped by a fraction of a second by David Russell-Wilks (B Roadster), the latter having overcome Simon Milner's B earlier on.
It was no great surprise that Tom Smith charged into the lead from row two of the first Equipe GTS Group A race, but what was unexpected was one safety car period immediately followed by another – Paul Kennelly had dumped his Healey 100/M into the Druids gravel, and as soon as that was recovered Mark Ashworth spun his TVR Grantura into the Paddock beach. Simon Cripps had a fine crack at keeping Smith honest, while Rob Spencer grabbed the final podium spot from Robi Bernberg at Druids close to the end.
Smith was a rather more comfortable winner of the second race, which proceeded without interruption. Cripps was again second, but this time 16s adrift of the leader. With Spencer having troubles, it was a non-B that completed the podium – the Triumph TR4 of Chris Ryan, which charged through from the back having non-finished on Saturday. Once up to third, however, he had his work cut out keeping the TVRs of Bernberg and Wilf Penrose at bay.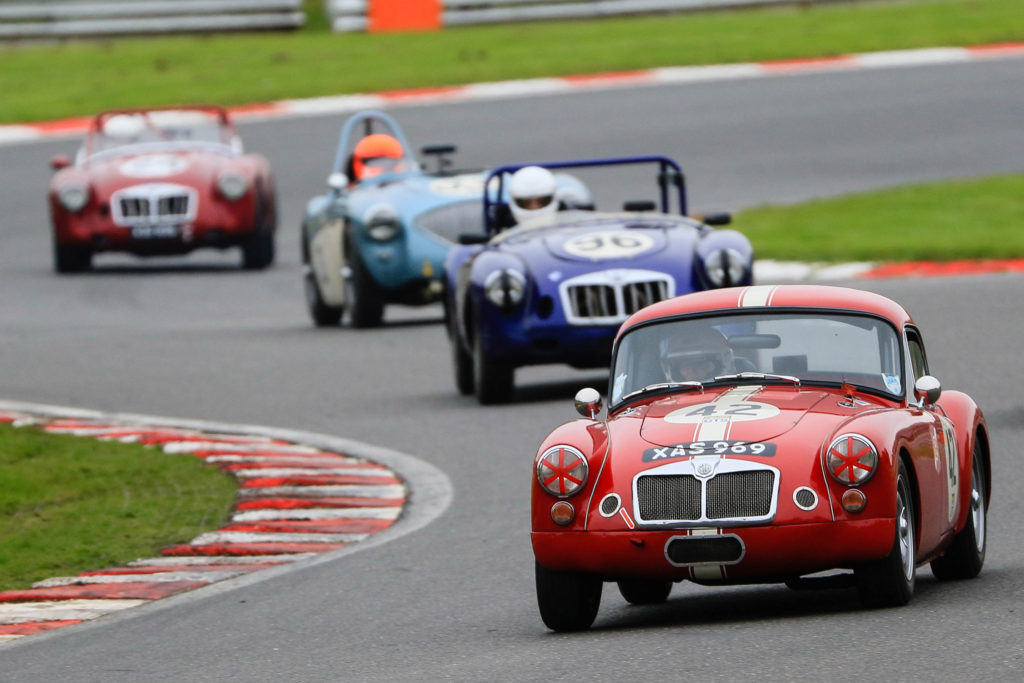 Even a lengthy mid-race safety car interruption could not throw Mark Ellis off his stride in the opening Iconic 50s contest. He blasted his MGA Twin Cam through from the second row to build a healthy advantage before it was eroded while Bruce Riches' Elva was recovered. Following their Equipe scraps, Kennelly and Matthews renewed their rivalry, the pair promoted to second when Stuart Dickinson spun his A into the spot vacated by Riches, delaying also the MGA Coupe of Graham Coles. Bob Lines (MGA), Jonathan Smare (Lotus Elite) and the Matons (MG Magnette) took their respective class victories.
Ellis completed his double in the second race, although he was threatened late on. Dickinson's tardy getaway dropped him to fourth position, but he dealt with Matthews at Surtees on lap four before emerging from traffic ahead of Coles four laps later. He closed to within three-quarters of a second of Ellis by the end. A three way fight for third bubbled up, with Kennelly eventually splitting Coles and Matthews, while after a mid-race position swap Lines reclaimed sixth from the class-winning Smare. Stuart Dean, in the Dick Jacobs special, superceded the Matons as Class B victor.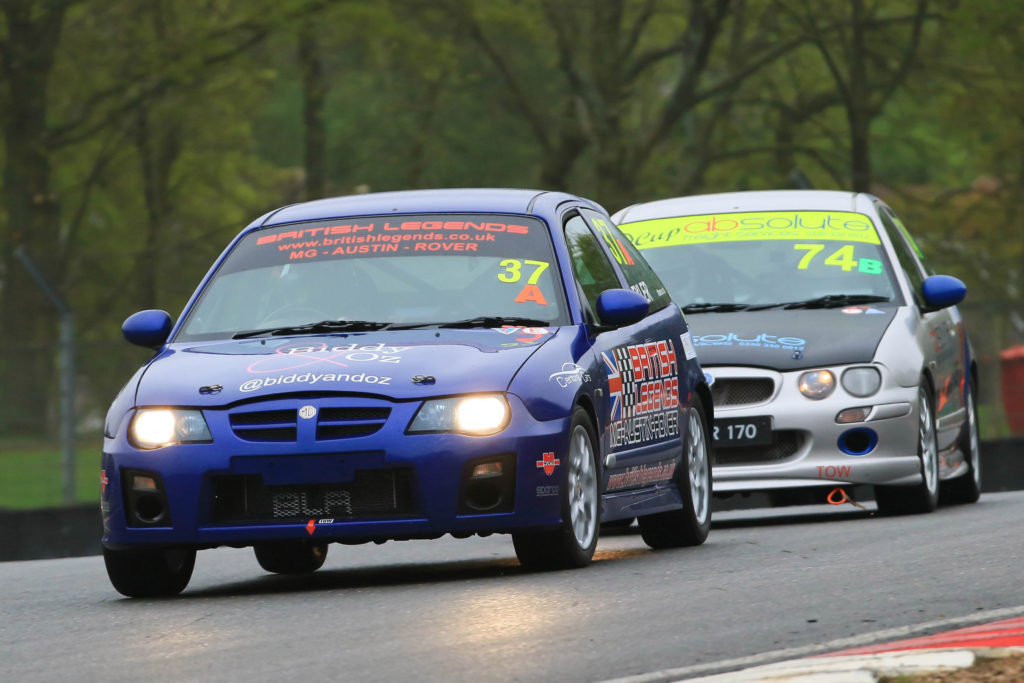 Mike Williams, in his uprated Metro, dominated proceedings in the initial Peter Best Insurance MG Cup race. Second-placed Matthew Simpson was threatened by the MGB GT of James Darby at first, but the latter faded, dropped onto three cylinders and retired with a lap to go. Driver of the race Nick Arden was therefore Class B winner, while event co-sponsor Steve Tyler, of British Legends Essex, topped Class A.
Williams was equally unstoppable in race two – run in surprisingly dark conditions for an early evening in late April – notching up a 16-seconds winning margin in spite of a safety car period, called after Kayleigh Twigger went off at Druids. After struggling to find motivation when the lights went out, Simpson progressed through the field and passed Dan Ludlow (who had taken over from Stuart Emmett aboard the Class A ZR160) when the green flags waved for the restart. Darren Harris gave Ludlow some stick near the end, while pre-event points leader Ian Boulton salvaged a class win from the weekend, having earlier been unclassified after starting from the pit lane some seven minutes late.
Report Ian Sowman Photography Dickon Siddall