An action-packed day of MGCC racing at Oulton Park
MG Car Club reconvened at the spectacular full-configuration Oulton Park track in Cheshire for its penultimate race meeting of the year, and provided a dramatic day of racing. Four MGCC championships were joined by two guests from Porsche Club GB, and there were almost as many seasons of weather during the day too, with an overcast morning and sunny afternoon separated by a short and extremely sharp rain shower! Something that only added to the on-track action!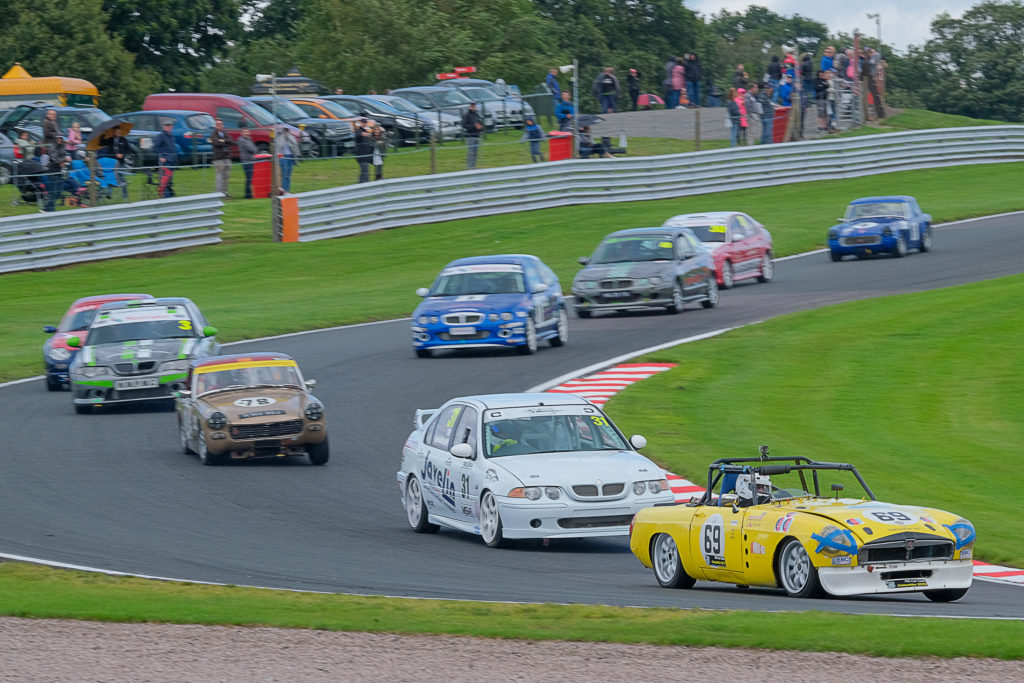 MGCC Cockshoot Cup
Paul Clackett in his MG ZS wrapped up this year's Cockshoot Cup championship in the previous round at Anglesey, but this was by no means the end of the excitement as at Oulton Park he was involved in a three-way fight for the win with a scarcely credible conclusion.
A few of Clackett's usual closest competitors weren't at Oulton, including Keith Egar, with an engine problem, and Michael Ashcroft. But 2018 champion Ray Collier was again racing his ZR 190, having missed the early part of the season with day-job clashes, and multiple Caterham champion Danny Winstanley also was racing as a guest, driving Howard Hunt's up-for-sale ZS 180 for the first time. Clackett started only eighth, as he had problems with his electrics in qualifying. Winstanley and Collier meanwhile filled the front row, Winstanley's best some 2.5 seconds quicker.
Clackett quickly made up for lost time though as on the opening race lap he stormed into the lead! On the third lap however Collier and slow-starting Winstanley got by and moved clear, aided by Clackett self-admittedly making a couple of gear selection errors.
Winstanley took the lead from Collier on the following lap at Hislops, and the front duo ran nose to tail until a dramatic final lap. The engine of Karl Green's MG ZS blew up at Old Hall, and while he pulled off quickly oil was left on the fast opening turn. Winstanley and Collier both hit the oil at went off into the barriers.
This let Clackett through to win by 17s from Peter Bramble's Roadster in second and Ashley Woodward's ZS 180 in third. "It's the old saying: to finish first, first you have to finish," Clackett said. "To finish the season with a win, that's how I started the season. I ran well in the race, I'm over the moon. Loved every minute of it.
"They [Winstanley and Collier] came up on me quick," Clackett continued. "Once they went past I was watching them and they were going at it hammers and tongs and I thought 'it's going to end in tears" – didn't realise it was going to be on oil. That's racing unfortunately! As long as they're OK that's the main thing."
"I saw Danny just break away, catch it and then fire off," Collier said of the late incident, "but by then you're committed, it's well over 90mph, the grass is still wet. It was one of those passenger rides that you never want unfortunately. It's been a brilliant race, he's [Winstanley] pulled my driving on a long way."
"It was going really well, I was quite comfortable [in first]," Winstanley added, "I wasn't pushing at 100%. I saw a yellow flag and eased off, so did the guy behind; when we arrived at the corner there was just oil everywhere."
Mike Peters was fourth home and with it an impressive Class B winner. Colin Stubbs was third home in class and crowned Class B champion, while his title rival Jimmie Johnson was fourth in class, departing a tight fight with Stubbs and Aaron Jackson for second in class late on as he was another to spin on Green's oil, though was able to continue. Ian Wright was sixth overall and an imperious Class A victor, and with it ensured his class championship.
Peters' performance got him both Driver of the Race and Driver of the Day awards. All three class winners also won the Vicky Peters Trophies.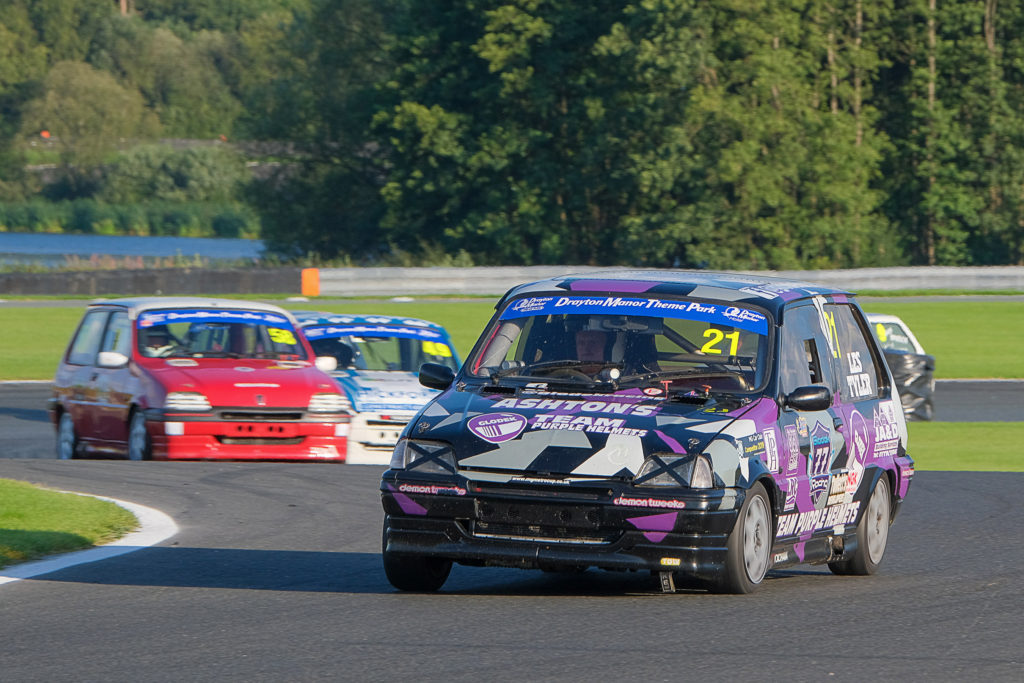 Drayton Manor Park MG Metro Cup
In Oulton's Drayton Manor Park MG Metro Cup races we at last got a close fight between the dominant Jack Ashton and Dick Trevett's rapid A-Series, which we had been denied since the season-opener at Silverstone, due in part to unreliability for Trevett.
Ashton won the opening race by 6.5s from Trevett, leading all the way, though Trevett was hobbled by his boost being too low. Tony Howe got Driver of The Race after finishing fourth having started ninth.
But in race two the close Ashton-Trevett battle was at last joined. Trevett, his boost sorted, got ahead at the start leaving Ashton with a conundrum on where to pass. But Ashton was getting a good run out of Druids into Lodge and it was there that he got by on the second lap. "I could have blocked him but we don't do that," said Trevett, "if he's quicker he's quicker. And he wouldn't block me."
Trevett then chased Ashton spectacularly, though the odd slide too many helped Ashton edge clear, his advantage peaking at 3.8s. Trevett noted his rear tyres were a little too worn as well, though added that this was not why Ashton beat him. They finished just 2.1s apart, though Trevett had a five-second penalty added for track limits. He still was classified second, and got Driver of the Race, with Howe this time third.
"We had a good ding-dong," said Ashton of race two. "Only a couple of his errors caused him to drop back a little bit, if it weren't for them he'd have been right behind me for the whole race."
"I'd just rebuilt the engine," Trevett added, "so it was a suck-it-and-see situation. [It] all held together, it sounds good, it drives good. [I was] Living with [Ashton] a bit better today. [There will be] a little bit more work, I'll be putting new tyres on for Snetterton and [then] I think we might be there."
Ashton with his two wins, poles and fastest laps at Oulton therefore continues his 100% record in the Metro Cup this year. He is aiming to complete the clean sweep at the Snetterton finale next month.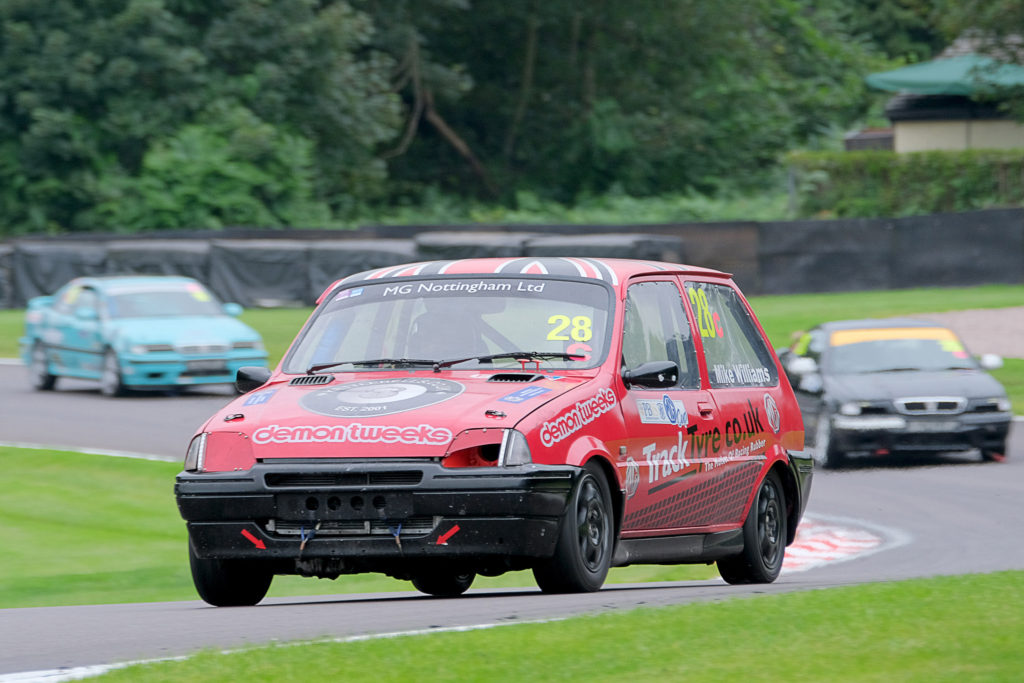 MGCC MG Cup supported by Peter Best Insurance
Mike Williams continued his strong form in his swift Metro GTi by winning the opening MGCC MG Cup race supported by Peter Best Insurance. He led all the way from pole, though the race wasn't entirely straightforward, as much of the 3.5s lead he had built early on was eliminated by a brief safety car call. Also Druids turn was treacherous for most of the distance due to oil on the circuit. "It was the scariest corner in the world before the oil went down and once there's oil it is the scariest corner in the world plus!," said Williams.
"It was just a case of hanging on in the first race, because I didn't really need to push, I was about a second a lap slower than qualifying just to get me round."
Williams beat championship-leader Richard Buckley's Tomcat home by just under a second, with Matt Simpson's fellow Tomcat close-at-hand in third. Stuart Tranter in the invitational class, also in a Tomcat, was fourth, just ahead of the ZS 180 of Peter Burchill, who got Driver of the Race for his effort.
Both the joint Class B championship leaders Iain Dowler and Ian Boulton hit problems in the first race. A piston or crankshaft failed on Dowler's ZR 170 early on, which sent him spinning in a cloud of white smoke at Druids, miraculously without any of the "about eight" cars behind hitting him. He still had to sit out race two, as there wasn't enough time to complete the required engine change.
Boulton had started at the back after a problem with the inlet manifold in qualifying meant the car wouldn't accelerate properly and was short on revs. Having swapped the inlet manifold for the race he rose to run second in class, but his 170 slowed late on as he heard the big end bearings fail. He nursed his car to the end and passed through the pits on the final lap, wanting to not necessitate a recovery of his car or drop things on the track, only to discover that meant he was classified as a non-finisher. Third-in-the-table Chris Boulton took the Class B win, leading all the way.
Williams looked well on the way to winning the second race too but a brake problem pitched him off at Druids. "I was completely in control, I wasn't pushing the car," Williams added. "What I think happened is the brakes on one side either locked up or on the other side failed completely. I had to press harder and harder and I think I almost got down to the floor with the pedal and it pulled me to the right."
This let Buckley through to win, holding at arm's length a multi-car scrap for second, and he admitted that fortune smiled on him. "Mike was just too quick to be fair," he said, "but then he had his brake problem, I just sort of managed the gap to the flag."
The scrap behind had a dramatic conclusion. Matt Simpson got by Burchill for third at Hislops on the final lap with a sharp outbraking manoeuvre, then tried immediately to line up a similar move on second-placed Tranter at Druids but found at the corner that his brakes had gone! The pair therefore collided and were out, letting Burchill through to second while Chris Boulton got third and another Class B win.
Ian Boulton returned from his race one problems and again came charging through from the back and this time finished second in class. This also got him Driver of the Race. Carl Robinson took both Class A wins from Aaron Ross.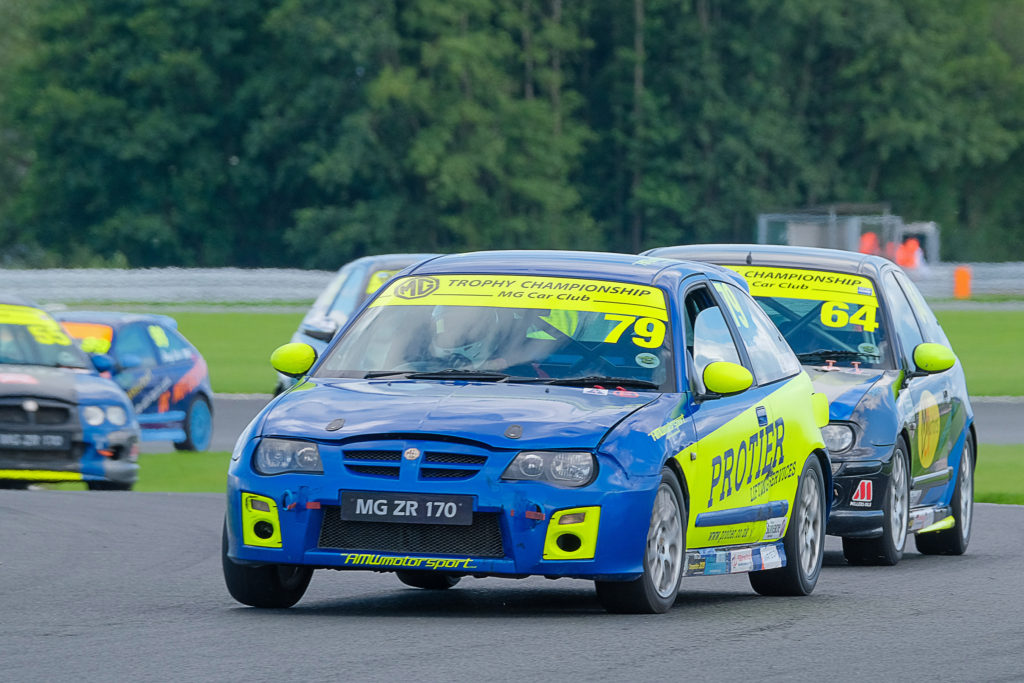 The Stoneacre Hyde MG Trophy
The opening Stoneacre Hyde MG Trophy race was an incident-packed affair, with the track still wet after the sharp rain shower. Much of the race was behind the safety car after a multi-car incident at Shell Oils on lap one which accounted for Adam Jackson, Fred Burgess as well as eventually, after a pitstop, second-place starter Patrick Booth.
After the safety car went in, championship leader and poleman Graham Ross led the three remaining laps and crossed the line first, but received a 10s penalty for being out of position at the start. This dropped him to fifth overall and second in class. Robin Walker inherited the victory and got Driver of the Race with it. Habitual frontrunner Doug Cole finished only seventh overall, and third in class, after locking up and spinning at Shell Oils just after the safety car was withdrawn.
Tom Butler was second home and with it got the Class B win, just ahead of Paul Luti and Sam Kirkpatrick who'd both had their problems. Kirkpatrick spun to the back at Hislops on the opening lap, while Luti also had lap-one drama, having a poor start then dropping down avoiding a melee at turn one, which he reckons left him with just two cars in the entire field behind him! He was delighted with his 170's handling in the wet.
Ross made partial amends by winning race two, this time in the dry, leading all the way. Cole on the opening lap meanwhile made a similar mistake at Shell Oils as in race one, which preceded a storming comeback to finish second and which got him Driver of the Race. For a time it looked like Cole might even catch Ross but the reigning champion had pace in hand and won by 3.6s.
"I have to be fairly satisfied," Ross said about his day. "The first race it was very annoying, rules are rules and I broke the rules so I've got to take my medicine. I was second in class so I didn't drop too many points. Second race went according to plan, I was thinking 'don't do anything stupid, pace it,' then all of a sudden I saw Doug Cole in my mirror, and I thought 'you've got to get a move on!' So a couple of quick laps and managed to bring it home."
Walker got third after Booth picked up a late puncture. "A win and third – better than I've ever done before! So very pleased!," Walker said.
Luti bagged the Class B win, heading a tight four-car battle which included Matt Turnbull, Burgess and Jackson. Kirkpatrick finished a lapped 17th after picking up rear-end damage at the first turn avoiding another spinner, then having to pit. "The car's a bit of a mess now," he said. His and Turnbull's results – Turnbull didn't finish the first race after bending driveshafts in a gravel excursion and pitting due to an excessive vibration upon rejoining – ensured it was a good day for Ross in the championship.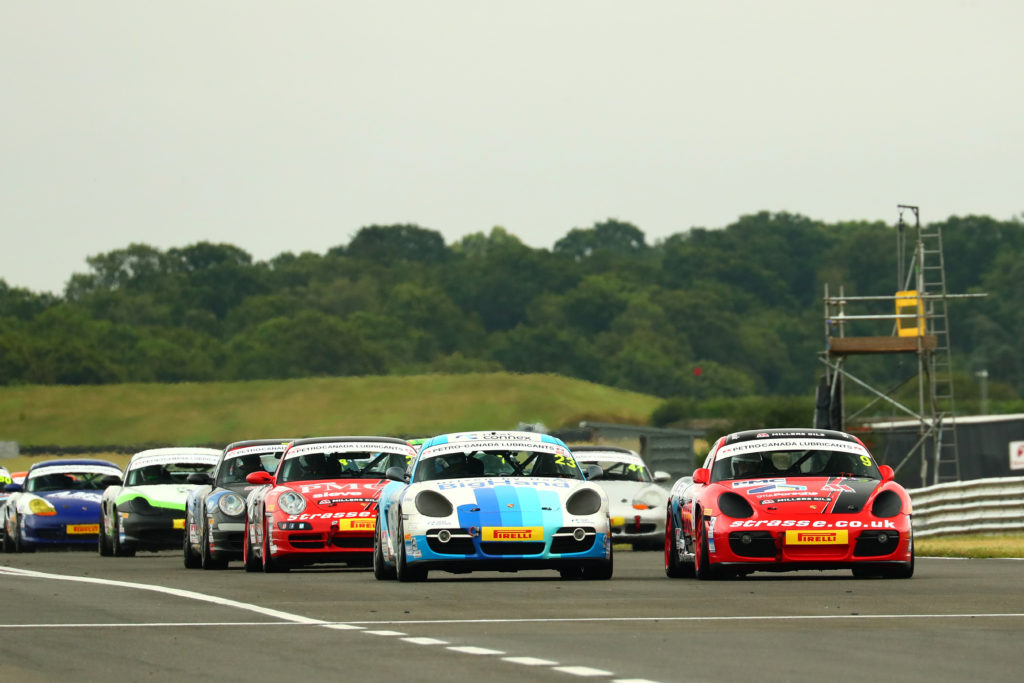 Guest races
The Classic Restoracing Championship for Porsche Boxsters held its season finale at Oulton. Ben McLoughlin starting from row two needed only a single solid points finish to ensure the title, but won the soaking first race by closing in on then storming past poleman and title rival Will Heslop. The race started behind the safety car, and Heslop made a smart jump on the rest when the safety car went in and led immediately by around five seconds.
However McLoughlin was by Heslop to lead within three laps, though the pair remained close for the rest of the way. "That was a real challenge," McLaughlin said of the conditions, "the rain came down rather hard when were in the collecting area. We've all got our dry tyres on which are cut slicks. They're obviously not great in the wet. There were so many rivers out there."
McLoughlin won the dry second race as well, but in less straightforward fashion. From pole he built a lead of close to 4s over Heslop before half distance, but from there Heslop hauled him back in and got by with a spectacular outbraking manoeuvre on the outside of Hislops on the penultimate lap. But on the final lap McLaughlin sought to retake the lead at Cascades and the cars collided. McLaughlin got home just ahead of Matt Bird, who had inherited second, while Heslop after his delay in the incident finished third, 11s back.
The opening Petro-Canada Lubricants Porsche Club Championship race with Pirelli was also interrupted by a couple of safety car periods, one at the start of the race and another at the end. This didn't stop championship leader Simon Clark leading every lap from pole in his Cayman, ahead of double champion Pete Morris in his 997 C2S. Toby Barlow in the Boxster took the Class 2 honours while Class 2 points leader Ross Morris – son of Pete – had to quit as the pins on his Boxster's brakes fell out at Shell Oils turn.
Chris Dyer claimed the second race in his Cayman, leading home Clark and Pete Morris after the 996 of early leader Glen Broster dropped out. Ross Morris this time won Class 2, while James Coleman, who has been in fine recent form, dropped out of that race due to a mysterious power loss at 5,500 revs, "like it had a restrictor on it". He'd had the same problem in race one but the safety car periods let him finish second in class nevertheless.