Snetterton Race Report
The season finale came and went in the blink of an eye, but what a great way to end the season. A flurry of thrilling races and spectacular performances on track made for a great end of season treat. Despite questionable weather at times, everyone made it through safely. Read on to find out more.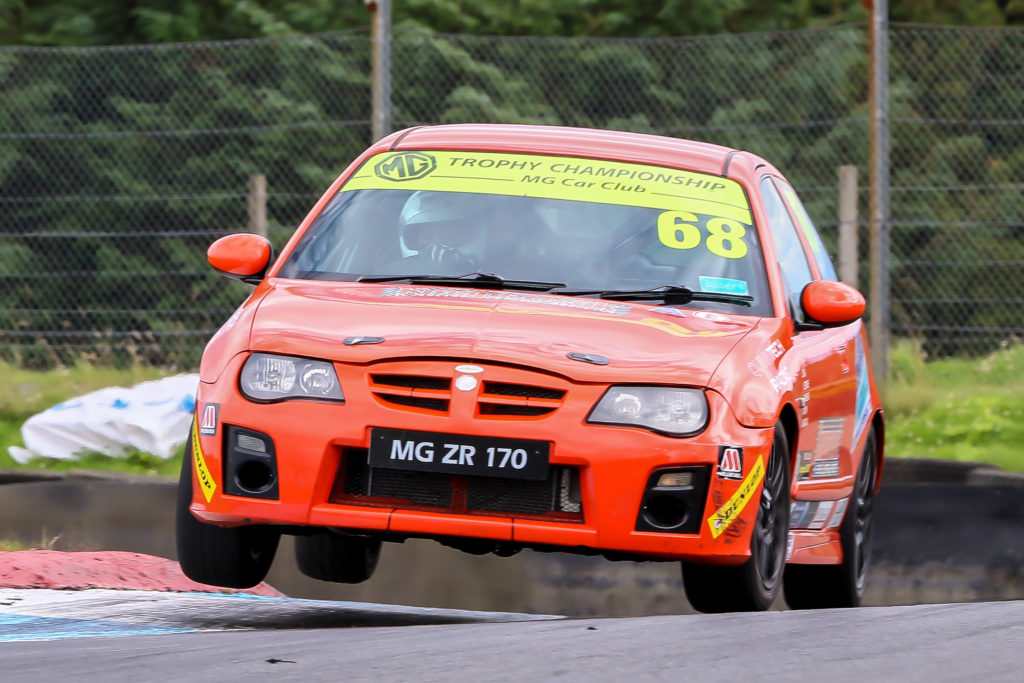 MSCC Aero Racing Morgan Challenge
Keith Ahlers demonstrated his dominance once again in the opening race of the weekend. After briefly losing the advantageous view from his pole position perch, Ahlers reclaimed top spot, to win once again.
Behind, the father-son battle continued for the Paterson family. Russell had the upper hand early on, however after a spin from son Elliot Paterson in the opening few laps, the latter remained out of contention for much of the race.
Russell held on for a second place finish, ahead of Jeremy Knight and Andy Thompson. Elliot Paterson managed to clamber back to a strong top six position, with a late lunge on the final lap to steal fifth. A fierce battle between Stuart Anderson and Tony Hirst was settled on the final tour, when Hirst lost out, allowing Anderson to pass for sixth place.
MGCC MG Trophy Championship
Chris Bray triumphed in the penultimate MG Trophy race of his career. Having recently announced his retirement following the last round of 2016, Bray began his final race weekend in style.
The clouds had gathered before the start of the race, but luckily the rain managed to hold off for the 20 minute duration.
Pole sitter Rob Perkins had led for the majority of the race, despite Bray's best efforts. However, as they thundered onto their final lap, Bray emerged in the lead. Perkins held on for a strong second place, narrowly missing out on his first MG Trophy victory.
Doug Cole rectified a steady getaway, to steer his way back to a third place finish. Behind, the battle for fourth overall and Class B honours was one to watch, as Andrew Rogerson and Paul Luti swapped places a number of times. Rogerson was ahead when it counted to claim the race spoils, whilst Luti finished fifth overall and second in class.
William Payne claimed race one Class C victory, ahead of Gianni Picone and Matthew Turnbull. Driver of the Race was awarded to Rogerson for his race one efforts.
A pole position start in race two on Sunday was just the advantage Bray needed to double his success, and end his MG Trophy career in style.
As the race began, rain drops started to fall, declaring it a wet race. Starting from second on the grid, Rob Perkins enjoyed the best start from the front, however immediately pulled off onto the grass with what appeared to be a lack of drive. With Perkins unable to continue, the top spot was swiftly occupied by Bray, who went on to claim an unrivalled victory.
Things were far from settled behind, with a flurry of Class B contenders battling over second place. Rogerson slipped into second place early on, and with the fast starting James Cole right on his tail, he certainly had work to do.
The order soon changed, when Luti, Lee Sullivan and Doug Cole came into play. Rogerson and Luti revisited their tussle from the previous day, with Luti eventually finding a way ahead. Once in second place, Luti disappeared into the spray, leaving Rogerson to battle with Sullivan and Cole.
After 20 minutes of fairly tame racing, the chequered flag fell on another season for the MG Trophy Championship. With Bray and Luti confirmed in the top two positions, the battle for third was undecided until the very end. Sullivan managed to fend off Doug Cole for third overall and second place in Class B, by just 0.1 seconds.
Rogerson collected an eventual fifth place, ahead of James Cole in sixth. Richard Marsh joined Perkins in retirement part way through, when his engine let go in spectacular style into Murray's, having only just replaced a head gasket on Saturday.
Newly crowned 2016 champion Will Payne clinched another Class C victory, to cement his authority at the top of the table. Turnbull and Paul Croker followed in Class C. Luti's commanding drive deemed him worthy of the Driver of the Race award.
BARC SE Quaife Motorsport News Racing Saloons Championship
The Subaru Impreza and Dale Gent combination proved triumphant once again, in the first Racing Saloons outing.
Rain drops began to fall on the warm up lap, declaring the outing a wet race. As more rain fell, Gent's lead came under threat from chief pursuer Rod Birley, as Gent gently lapped the now wet circuit.
Despite the pressure, Gent managed to hold on for a race one victory, ahead of Birley, Malcolm Wise and Liam Dalton.
In drying conditions second time around, Gent again steered his way to a commanding victory. With an impressive 21 second advantage, Gent's Subaru Impreza was again unbeatable.
Birley's efforts was enough to secure him another second place finish, whilst Malcolm Wise completed the top three, despite a spin at Coram in the early stages. Graham Crowhurst, Liam Dalton and Tony Skelton completed the top six.
MGCC Watt Electrical BCV8 Championship
The first BCV8 Championship attempt was red flagged, when treacherous conditions befell Snetterton. A heavy downpour made things difficult on circuit, as cars began to aquaplane. With visibility disappearing, the race was temporarily stopped.
With the river on the pit straight dispersed, racing resumed, albeit the race distance was shortened somewhat. Drama on circuit towards the end of the race caused for a red flag and an early finish.
James Wheeler was the man to beat, as he immediately leapt to the head of the pack. Jordan Spencer had led the way for much of the outing, however lost the position to Neil Fowler in the closing stages.
Rob Spencer managed to weave his way through the pack to place himself nicely in a points paying position, dismissing the opposition, including son Jordan, for a third place finish. Andrew Young claimed fourth place, and the 2016 BCV8 Championship title, ahead of Jordan Spencer in fifth place.
Having just competed in the MG Metro race, a quick change of cars for Ben Rushworth saw him enjoy back to back success, with a sixth place finish in his first BCV8 outing. Wheeler doubled his success by also collecting the Driver of the Race honour.
MGCC Drayton Manor Park MG Metro Cup
Mike Williams dismissed treacherous conditions to claim victory and Driver of the Race in the first MG Metro Cup race. An early lead looked set to crown Williams as the victor, however a challenge from rival Oli Hood set a different plan in motion.
On a slippery circuit, Williams fell foul of the conditions, as Hood splashed into the lead. Before long, Hood was demoted to second place, and into the path of Ben Rushworth in third.
With Williams back ahead, he remained unchallenged to the very end. Behind, Rushworth mounted an attack, that saw him surpass Hood for second place. Hood's third place came under threat in the final two minutes, when Lee Connell swept by to steal the position. Hood steered his way to fourth place, ahead of David Javes and Mark Eales.
Williams and Rushworth teamed up once again in race two, to provide a thrilling end to their 2016 championship feud. As the chequered flag fell it was Rushworth who was ahead on the final lap, to claim race victory and the 2016 championship title.
Williams stamped his authority early on, to lead the way ahead of Rushworth, however it wasn't long before the latter sneaked ahead. A fiercely entertaining encounter followed, as the pair swapped positions lap after lap, including an exciting sideways moment for Rushworth around the infamous Coram.
With just a few laps remaining, Williams looked set to end his season in victorious style, however lost out to Rushworth on the final lap.
Behind, Andrew Ashton claimed third place, ahead of Connell, Javes and Richard Garrard. Rushworth's title winning drive also secured him not only the Driver of the Race award, but also crowned him Driver of the Day.
MGCC Lackford Engineering MG Midget & Sprite Challenge
James Dunkley cemented his authority on the MG Midget and Sprite Challenge, with another triumphant drive in race one. Once gaining control, Dunkley refused to relinquish his hold, to finish in top spot once again.
A dominant grasp on the race saw Dunkley steer to an impressive 19 second advantage by race end. With the leader out of sight, Andy Southcott made second place his own, after a solitary performance. Championship contender Stephen Collier steered his way to third place, despite fierce competition from the chasing Nick Day. As the chequered flag fell, just 0.6 seconds separated the pair.
Despite a spin for Ed Reeve, he enjoyed his return to racing with a fifth place finish, ahead of Sam Healey in sixth place. Driver of the Race was awarded to third placed man Collier.
Race two was very much a repeat performance for Dunkley, as he triumphantly raced to another victory, and the 2016 championship title.
A cushion of 14 seconds by race end saw him ease his way across the finish line, ahead of Class B champion Andy Southcott.
The race for the Class B title was the one to watch, with Southcott and Collier both in line for the accolade. As both raced their way towards the chequered flag, Southcott had the upper hand, as he sat comfortably in second place.
Determined to keep himself in the running, Collier made his way to third place, however it was Southcott who clinched the title, by just 0.5 seconds for the fastest lap. Collier held on to third place, ahead of Ed Reeve, David Weston and Nick Day.
Southcott's successful drive was enough to secure him the Driver of the Race award, doubling his trophy collection in one outing.
MGCC Peter Best Insurance MG Cup
Dan Molloy claimed an untroubled victory in the first Peter Best MG Cup adventure. A dominant performance saw the MG ZR 190 driver lead the way from start to finish.
As he settled in the most desired position, Tom Halliwell clinched a second place finish, behind. Alan Brooke managed to hold onto his third place, ahead of Dan Ludlow in fourth. Molloy's winning performance was also good enough to earn him the coveted Driver of the Race accolade.
Brooke claimed victory in a thrilling second outing, after a very close encounter with Molloy for the duration.
Early leader Halliwell was soon dispersed, when Brooke and Molloy came thundering through. Brooke stamped his authority early on, however as he and Molloy battled, yesterday's race winner saw his opportunity to sneak ahead.
Once in front, Molloy held on to top spot, ahead of Brooke and Halliwell, with Lewis Anderson and David Thompson in hot pursuit.
With the result far from decided, the final lap was a hive of activity. Keen to nudge Molloy from his perch, Brooke fought back on the final tour, as the pair crossed the finish line millimetres apart. As the results came in, it was Brooke was claimed victory at the flag, a mere 0.053 seconds ahead of Molloy.
Brooke's sterling drive was enough to catch the eye of our commentary team, to earn him not only Driver of the Race, but also the Driver of the Day award.
MGCC Motoring Classics Thoroughbred Sportscar Championship
James Wheeler tripled his Saturday success at Snetterton, with victory in the sole Thoroughbred Sportscar Championship outing, as well as clinching the Driver of the Race award.
As the race thundered into action it was Rob Spencer who claimed control, however rivals Neil Fowler and Wheeler were right on his tail.
The order soon began to change when each driver searched for a turn at the front. A fierce performance from Fowler elevated him briefly into the lead, before Wheeler clinched the chance to sneak ahead. Once in control, Wheeler steered his way towards the chequered flag, to finish ahead of Spencer and Fowler.
Chris Edwards scored a Class C victory, ahead of fellow class winners Jim Bryan and Babak Farsian. Although not racing this weekend, Russell McCarthy was on hand to receive his championship title applaud from his fellow competitors.
BARC Quaife Cannons Tin Tops Championship
Chris Bassett and Peter Osborne shared the spoils in the double Tin Tops Championship outing. Bassett's pole position start was enough to secure him the advantage as race one began.
With Bassett and his Peugeot 205 GTi comfortably ahead, he looked set to have the position secured. The race was soon neutralised, when the safety car came into play, which immediately haltered the pace.
With very little time to continue, the safety car pitted, to leave just one racing lap to the chequered flag. Unable to disturb Bassett's control, Osborne collected second place, ahead of Daniel Fisher and Mikey Day.
Race two saw a change of positions, as Osborne claimed the upper hand this time around. Starting second gave him a perfect line of sight into the first corner, which he used to his advantage. Once getting ahead, he was able to fend off his rivals to steer to an eventual nine second advantage.
Behind, Fisher progressed to claim second place this time around, whilst race one winner Bassett finished in a solitary third.
British Motor Heritage Relay Race
Ricky Riccardo and the Rickette's was the team to beat this year in the four hour British Motor Heritage Relay race. Their fleet of BMW's were the perfect machine for the outing, to claim victory on circuit by over one minute, as they raced into the sunset.
The team led the way from start to finish on circuit, barring their visits to the pit lane, to demonstrate dominance in its finest form.
The Aero Racing team of Morgan machines were second on circuit, ahead of their fellow CDMC Morgan team.
With handicapped results taken into consideration, Chapman's Chariots were the team to beat, having developed a healthy lead with their team of Lotus cars.
It's difficult to believe but we have swiftly come to the end of another season, courtesy of a sterling finale at Snetterton. What a season it has been, we have seen some fantastic racing all season, and now we have crowned another brilliant batch of champions. The 2017 calendar is already taking shape, and we're looking forward to another exciting year with you all next year.
May I take this opportunity to thank you all for another great season, it's a pleasure to work with you all, and I can't wait for more action in a few months time. See you next year.
Leanne Fahy.