MGLive! 2015 Race Report
It hardly seems like a year since we were last at Silverstone for MG Live, but the weekend of 20th-21st June saw the MG Car Club take over the infamous circuit once again for our prestigious world renowned event.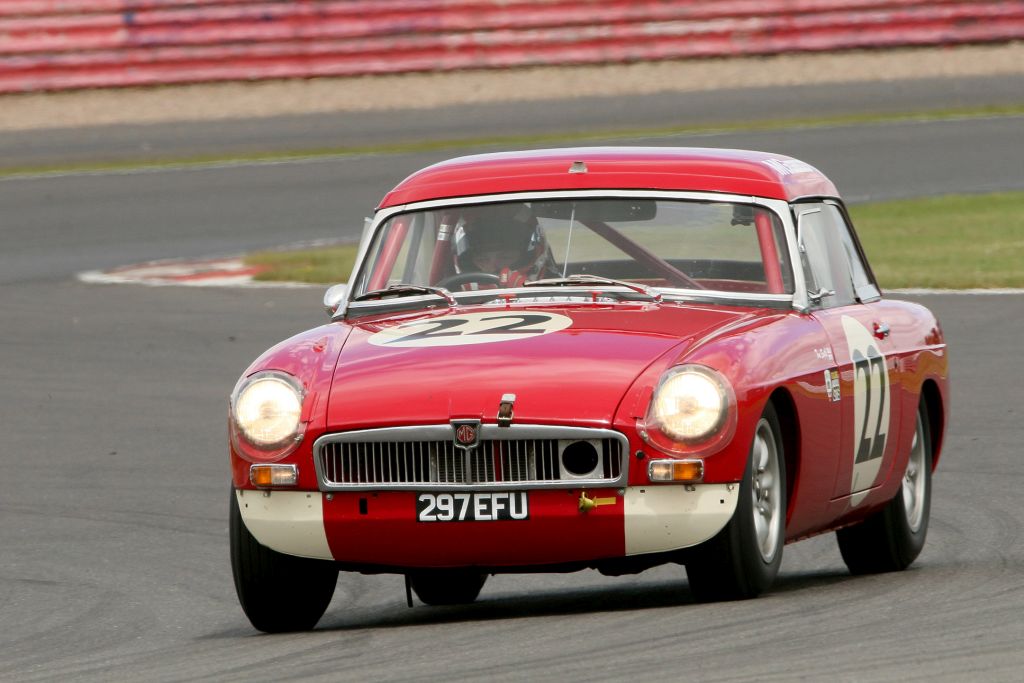 As well as our regular championships and series', we were once again joined by the Fuel protect Porsche Club Championship, as well as a new addition to our programme, the Healey Driver International Invitation Challenge.
Fuel Protect Porsche Club Championship
Craig Wilkins fought his way to race one victory and Driver of the Race in the opening outing at MG Live. After starting second he managed to immediately edge ahead of pole sitter Gary Duckman. Despite pressure towards the end of the race from Kevin Harrison, Wilkins remained in control for the duration.
Mark McAleer had looked set to claim second place in the early stages, however after a dicey battle with Pete Morris, the pair briefly collided when Morris slipped on fluid on track, sending McAleer down the order.
In McAleer's absence, Harrison slotted into second. As the final 10 minutes unravelled, Harrison fended off a five car train to claim second place, ahead of Mike Johnson and Pete Morris. Pole sitter Duckman collected fifth place, whilst McAleer fought back to 11th overall and ninth in Class 1. Jonathan Evans was the Class 2 victor.
An eventful second race began with a few spinners as the field battled a drying track. Heavy rain showers throughout the afternoon left a number of unsuspecting puddles around the circuit, adding to the spectacle.
Caught off guard, race one winner Wilkins was one of the unfortunate few sent into a pirouette at the start. Morris controlled the pace this time around, to slot into the lead straight away.
Paul Winter was the man to watch, when his run of fastest laps saw him rise to second place, as he closed on Morris in the closing stages. Despite a brief safety car period, Morris fought off the fierce advances of Winter, to pass the chequered flag victorious, whilst Duckman rounded out the top three.
The Finishline UK MGCC MG Trophy Championship
Graham Ross steered his way to victory and Driver of the Race in the opening MG Trophy race, after heavy rain and a brace of penalties marred the outing.
Pole sitter Cody Hill led the way on lap one, however after a spin that sent him towards the back of the field, it was Paul Luti who took control.
Before long Luti found his mirrors full of the charging Colin Robertson, who was keen to displace his fellow Scot. As the pair toured, the latter soon found an MG ZR sized gap alongside Luti to promote himself into the lead.
Luti soon found himself under pressure once again, when Ross Makar and Doug Cole immersed themselves in the battle for honours. Despite Luti's efforts, the MG ZR 190 machines found a way ahead, leaving Luti to battle for Class C supremacy.
With less than two minutes to go, a heavy rain shower sent the circuit under water. Despite the treacherous conditions, the majority of the field made it towards the chequered flag unscathed.
Despite Robertson's controlled drive to the flag, a time penalty for exceeding track limits saw him finish seventh, sending victory into the welcome path of Ross. Makar collected second place, ahead of Cole and Hill, who stormed his way back to a strong fourth place finish.
Luti steered his way to another Class C triumph, to claim honours over Andrew Ashton and Dan Molloy. John Gil was once again victorious in Class D, ahead of Paul Bryson and Martin Webber.
A swift last lap manoeuvre on the penultimate corner saw Hill originally claim race two spoils, however after being declared underweight, Hill was disqualified to hand victory to Robertson.
Robertson seemingly had the edge on track, however after touring the final lap side by side, Hill exited the penultimate corner ahead courtesy of an inside line. As the chequered flag was scrambled Hill swept by just 0.322 seconds ahead of Robertson and Ross.
With Hill erased from the finishing order, Robertson collected top spot spoils, ahead of Ross and Jason Burgess. Robertson was also awarded a special accolade for his 10 year service to the MG Trophy Championship.
Dan Molloy steered his way to Class C honours and Driver of the Race, ahead of Ashton and Luti. Luti had led the Class once again early on, but after losing out to the charging duo behind, yesterday's class winner held on for third place. Ashton had briefly led, however handed control back to Molloy after a moment in the final laps. Gil doubled his Silverstone success with another Class D victory, ahead of Bryson, Tim Martin and Webber.
MGCC Avalanche Motorsport BCV8 Championship
Simon Cripps dominated the sole BCV8 Championship outing in difficult conditions. A delay before the race start as officials checked the safety of a wet track after a downpour, saw the race shortened to just 16 minutes. Despite the odds, Cripps held on to triumph by over 6.9 seconds.
In what was a very wet race, the track conditions dictated the pace. Ian prior led the way, however after a big change during the first lap Cripps took control, ahead of Jonnie Wheeler.
As others faltered behind, Cripps' grasp never wavered. Second place changed hands a number of times, with the likes of Wheeler and Jordan Spencer each having a turn. After displacing Wheeler in the early stages, Spencer managed to hold on for a strong second place finish, to also secure the Driver of the Race accolade from our commentary team.
Equipe GTS
Tom Smith's dominant performance continued into the first Equipe GTS race, when pole position quickly became another race victory, despite treacherous conditions.
With a cushion of over 23 seconds as the chequered flag fell, Smith was unchallenged throughout, as he lapped his way to another successful outing. Behind, James Cottingham held on for a second place finish from second on the grid.
Third place was very much up for grabs during the outing, however after a fast start from seventh on the grid, Pete Foster battled his way to an eventual third place finish.
A race stoppage marred a thrilling race two, to crown Smith triumphant once again. After an incident for Pete Foster that saw his Triumph TR4 land on its roof after lapping backmarkers, the safety car was deployed before a red flag ended proceedings with less than three minutes to go.
The fast starting Nigel Winchester had led the way from the start after an impressive launch from eighth on the grid, as Smith slotted into second. The pair swapped positions a number of times, however Smith settled ahead when Winchester's Ginetta G4 began to smoke heavily.
In an abrupt end to an eventful outing, Rod Begbie steered his way from 34th on the grid to an impressive second place at the race stoppage, to also secure himself Driver of the Race. Martin Richardson finished third, ahead of David Beresford, Rob Cull and Class 1 winner Robin Ellis.
MGCC Peter Best Insurance MG Cup with MGCC Cockshoot Cup
Ollie Coles scored his first Peter Best Insurance MG Cup victory in race one, in a spectacular combined outing with the Cockshoot Cup.
As a total of 55 cars took to the track, the two championships were separated in their starts, with the Cockshoot Cup being the first to launch.
Ashley Woodward was the early leader, before Gary Wetton made a successful bid for honours. Once gaining control, Wetton held on to triumph as the chequered flag fell.
After being muscled out by Wetton, Woodward soon found his mirrors engulfed with the view of Phil Standish's MG TF LE 500. After a battle, Standish managed to sneak ahead, to claim second place in the Cockshoot Cup over Woodward.
Behind Ollie Coles in the Peter Best Insurance MG Cup encounter, Iain Dowler collected second place, ahead of Ed Davies, to make it a top three sweep for Class B.
Wetton doubled his weekend's successes with a lights to flag victory in the second Cockshoot Cup race. Unchallenged throughout, Wetton finished some 23 seconds ahead of Howard Hunt and Simon Lowery. Jonathan Harker had been enjoying a run in the top three, until a spin saw him out of the running just two laps from the end.
Ed Davies led yesterday's winner Coles across the finish line, separated by just over 13 seconds. Paul Eales had led the way early on, but finished third after Davies and Coles muscled their way by. Although third overall, Eales was deemed worthy of a Class A victory, whilst championship co-ordinator Clive Jones claimed second in class.
After fighting his way through from 18th on the grid to fifth overall and a Class B victory, the commentary team deemed David Morrison worthy of Driver of the Cockshoot Cup race, whilst Ed Davies received the honour from the Peter Best Insurance MG Cup encounter.
MGCC Motoring Classics Thoroughbred Sportscar Championship
Russell McCarthy claimed honours in the solitary Thoroughbred Sports Car Championship race, after a fiercely entertaining outing.
Jordan Spencer returned to the track in his third appearance of the day, to immediately grasp the lead from sixth on the grid. As Jordan toured, father Rob followed, eager to displace his son. Before long, Rob found his way into the lead, soon followed by McCarthy.
McCarthy was certainly the man on the move, when his new second place sitting turned into the lead. From here he refused to relinquish his commanding role, to lead Rob Spencer across the finish line. Simon Cripps claimed himself a third place finish, whilst Ken Deamer strengthened his championship lead in fourth. Peter Samuels and Jordan Spencer completed the top six, whilst Deamer also collected Driver of the Race.
Ian Prior had been a front runner, however after seemingly suffering a mechanical issue, he was forced into retirement in the closing stages.
Lackford Engineering MG Midget & Sprite Challenge
A storming performance saw James Dunkley wrestle his first MG Midget and Sprite Challenge victory away from pole sitter Paul Sibley.
As the race began, Andy Southcott took the lead, as Sibley slipped to fourth place. However, as the opening lap unfolded, Sibley had steered his way back to the front to the lead the way.
Before long, a fast starting Dunkley had launched himself from his seventh place grid slot to second place, as he hassled Sibley for honours.
After following Sibley's every move for a number of laps, Dunkley saw his opportunity to sneak ahead. As the pair began their final lap the scrap was far from over, when Sibley weaved his way in front once more. However, after a fierce move around Luffield, Dunkley made his victorious bid stick, to win by just 0.097 seconds from Sibley. Sam Healey finished third after a sixth place start.
We witnessed a thrilling battle for Class E honours between Pippa Cow and Richard Perry. Perry had led the way for much of the outing, however Cow managed to find a way ahead in the latter stages. Sadly Perry was unable to finish, after pulling off on the final lap.
Together with being awarded Driver of the Day, Dunkley's day was made all the more special during the trophy presentation, when he fell to bended knee to ask girlfriend Karen a very important question, to which she replied yes. Everyone at MG Car Club would like to congratulate both James and Karen on their engagement.
The Healey Driver International Invitation Challenge
The shared David Grace/Anders Schildt Austin Healey 3000 Mk I triumphed in the lone Healey Driver International Invitation Challenge.
Jeremy Welch had led the way from the start, however after the mandatory pit stops came into play, he slotted into second place for the remainder of the race.
With pit stops completed, a safety car appearance swiftly neutralised the pace, when Chris Clarkson disappeared from the running out of view. With his Austin Healey 3000 Mk I safely collected, the race resumed for a one lap dash to the flag.
A thrilling final lap saw action in abundance, as Welch and Schildt raced side by side for supremacy. Welch briefly stole the advantage, however as the pair rounded the final few corners, Schildt managed to squeeze back ahead, to reach the chequered flag first, a mere 0.351s ahead.
Behind the fierce battle for victory, the shared Jack and Oliver Chatham Austin Healey 3000 claimed third place, whilst David Smithies collected fourth place.
MGCC Iconic 50's with Fiscar Flyers
Martyn Corfield's eye catching Austin Healey 100/4 narrowly grasped victory over Robin Ellis in the token Iconic 50's with Fiscar Flyers race, with just 0.5 seconds the difference between them.
Corfield led the way from his fourth place grid slot, initially chased by Rod Begbie. However, after suffering a spin in his Elva Climax Mk IV, Begbie dropped to fourth place. In his absence, Ellis happily took over second place, as he tried in vein to unnerve Corfield.
Unable to match the straight line speed of the Austin Healey, Ellis claimed second place, whilst Begbie made his way back to third. Brian Arculus collected fourth place for himself and his Lotus Mk IX, ahead of Graham Coles and the MGA Le Mans machine of Rae Davis, a car that competed in the 1959 24 Hours of Le Mans.
MGCC Invitation All Comers 50 Minute Pit Stop Race
An eventful All Comers race was the perfect way to end a spectacular weekend, especially with the sunshine beaming down. After the mandatory pit stops came into play it was William and David Smallridge who claimed victory in their shared Sunbeam Tiger.
As the race began, an immediate red flag paused the action, when the MG ZR of James Cole headed into the Caterham 7 Superlight of Graham Booth as they left the grid. With Booth unable to launch from his grid slot, an unsighted Cole had nowhere to go, sending his MG ZR into a roll.
With both drivers deemed to be ok and their cars cleared, the race resumed, with the original grid reformed for a second chance.
This time the Ferrari 355 Challenge of Nigel Jenkins controlled the pace before the pit stops, chased by Tom Smith. However after the obligatory visit to the pitlane the order changed, with the shared Smallridge Sunbeam Tiger thrown into top spot.
Behind, Ian Prior and Smith managed to hold onto their second place, whilst Mark Halstead and Stuart McPherson steered their way to a third place finish.
It's hard to believe but we have now come to the end of another MG Live event. A year of planning has culminated in another fantastic race weekend. Despite interchangeable weather conditions the on track action was as supreme as ever, and we certainly enjoyed some fiercely close battles, with many race victories claimed by millimetres.
We would like to thank all involved for their efforts in organising, officiating and taking part in MG Live. Now the hard work begins for next year's event. Our main MGCC championship race weekend now has a break until OultonPark on 12th September, but a number of our championships will be in action between now and then, so good luck to those of you returning to the track soon.