Brands Hatch Race Report
Two days, 24 races and lots of happy people. The perfect way to sum up the second race meeting of the season. Brands Hatch always presents spectacular racing, and this year was no different. Each race was certainly eventful, and despite a number of red flags, the majority escaped unscathed. Although a little chilly at times, the sun shone all weekend, adding to the spectacle.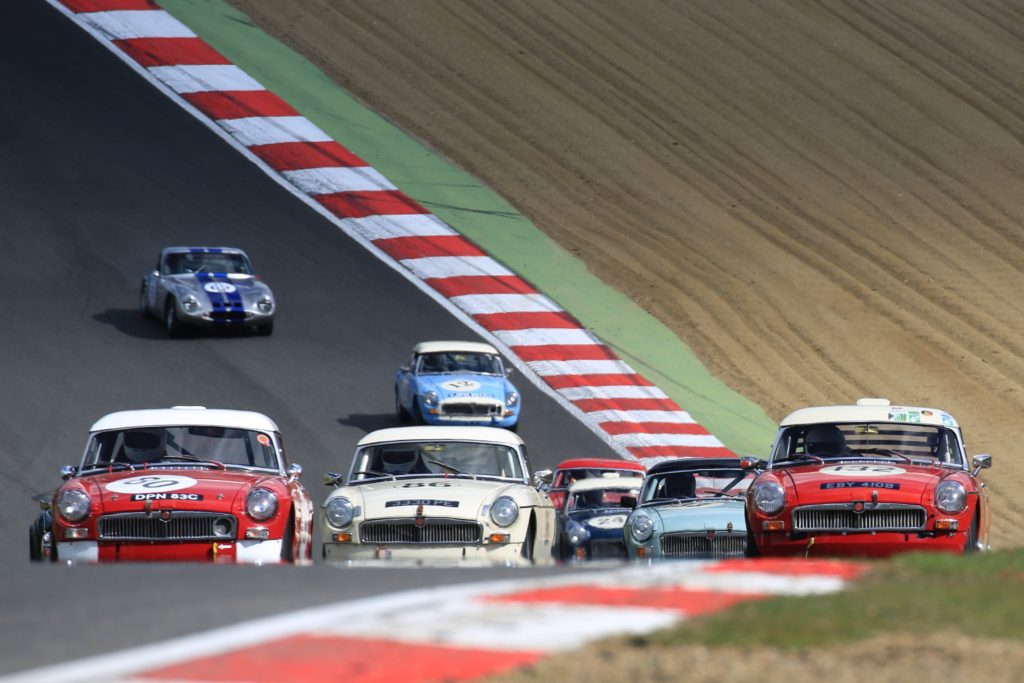 The Petro-Canada Lubrications Porsche Club Championship with Pirelli
Mark McAleer dominated the opening race of the day, to claim victory by over four seconds. A pole position start was the best advantage for the Porsche 996 driver, as he transferred this into race victory.
Unchallenged, McAleer tried his best to emulate his speedy qualifying performance, as he performed a continuous string of fastest laps. Behind, Peter Morris stood his ground in second place, albeit chased profusely by a determined Mark Sumpter.
The winning streak continued in the McAleer family, with Mark's son Jake claiming a triumphant end to his Class 2 battle with Steve Cheetham.
The McAleer name stole the show once again in race two, with both father and son claiming victory in their respective classes.
Father Mark's advantage failed to diminish in Class 1, as he led from start to finish. Having being reunited with his former Porsche 964 after 19 years, Sumpter posted a stream of fastest laps, to finish in second place. Kevin Harrison and Gary Duckman rounded out the top four.
Meanwhile, McAleer Son Jake was untroubled in Class 2, to finish ahead of Cheetham once again, whilst Ross Morris claimed a third place in class.
MGCC MG Trophy
A red flag ended the action earlier than planned in the first MG Trophy adventure. Despite an abrupt end, Ross Makar managed to fight his way to the head of the pack, to claim victory, and Driver of the Race.
A front row placing left Makar wheel spinning at the start, as the field surrounded him into Paddock Hill Bend. Despite this, he managed to weave his way ahead of the pack, as he pulled out quite a distance.
Pole sitter Jason Burgess fell foul of a spin at the bottom of Paddock Hill Bend. Despite leading the way at the start of lap one, he was sent into a pirouette. As the field swept by, his MGZR remained in one piece, as he rejoined unscathed at the back of the pack.
Doug Cole led the way early on, however hounded by gearbox issues, he was unable to defend his position from the charging Makar. With Makar disappearing into the distance, Cole was forced to battle Gary Wetton, with the latter eventually finishing slightly ahead.
Class B was a hive of activity, with Paul Luti, Andrew Rogerson and Jack Roberts nose to tail for the duration. Rogerson led the way early on, but after much deliberation, Luti managed to sneak ahead. With his mirrors filled by Rogerson's MGZR, Luti had his work cut out, but as a sudden red flag flew, his advantage was confirmed.
As three cars simultaneously left the circuit at various points, the red flag was thrown, deeming each to be in dangerous positions. With less than four minutes to go, the result was called, crowning Makar, Luti and Matthew Turnbull as class winners.
An eventful start saw race two red flagged before it barely began. An 11-car coming together at the top of Paddock Hill Bend saw the race immediately stopped, as cars were scattered across the track.
Giving officials the chance to clear the circuit, the race was restarted somewhat later, albeit sadly missing nine cars. Tom Butler and championship leader Turnbull were the only drivers able to take the restart after being caught up in the incident.
With the grid reformed, it was pole-sitter Burgess who secured the best launch, Makar settled in behind. By way of a series of fastest laps, Makar piled on the pressure, determined to match his race one winning performance.
As the pair lapped, a coming together with a backmarker saw Burgess caught out, as Makar sailed passed. With just minutes left on the clock, Burgess' determination saw  him make the most of an MGZR sized gap beside Makar, to reclaim the lead, and seal the race win.
Doug Cole steered to a somewhat lonely third place finish, whilst fourth place was awarded to Class B winner, and Driver of the Race Jack Roberts.
Luti had led Class B early on, however once Roberts leapt ahead, Luti was unable to reclaim his position, with the pair separated by just 0.121 seconds by race end.
Championship leader, Turnbull turned his luck around and doubled his success, with another Class C victory, ahead of Andy Spencer and John Booth.
MGCC BCV8 Championship
James Wheeler enjoyed a victorious start to his Brands Hatch weekend, claiming the opening BCV8 Championship race win by just over 10 seconds.
Untouched by his rivals, Wheeler enjoyed a seemingly easy outing, as he controlled the pace from start to finish. The action behind, however, was far from tame.
Ian Prior made second place his own for the duration, as the battle escalated behind. Andrew Young's third place became a long-standing position, as he held his ground until the chequered flag came into sight. Simon Cripps had steered his spectacular MGB Roadster to fourth place, however Neil Fowler's impressive recovery drive saw him steal a late fourth place finish. After recovering from a drop to 11th place, Fowler made the most of a late lunge on the final lap to claim fourth place. His impressive drive also saw him awarded Driver of the Race.
Cripps held on to fifth place, whilst Russell McCarthy stole the show with an impressive performance. After qualifying on pole,, McCarthy swapped cars, forcing him to start from the back of the grid. Despite his disadvantage, he stormed his way to an eventual sixth place finish.
Neil Fowler triumphed in the second BCV8 Championship race. A red flag ended proceedings earlier than expected, when Oliver Wardle's MGB GT V8 landed on its side in the infamous Paddock Hill gravel trap.
As Wardle clambered out of his stricken MG race car unscathed, the results was called, with Fowler awarded a victorious finish.
Some eight seconds adrift of the leader, Ian Prior claimed a strong second place. Ollie Neaves steered his way to third place and Driver of the Race, narrowly ahead of Andrew Young. Simon Cripps finished fourth, whilst Russell McCarthy enjoyed another sterling performance, to steer from the tail end of the grid to land in fifth place.
Equipe GTS
Tom Smith enjoyed a triumphant end to the Equipe GTS Group A outing, after a red flag ended proceedings earlier than expected.
As the race began, a spectacular manoeuvre around the outside into Paddock Hill Bend handed Smith the lead of the race. From here, the MGB Roadster driver was harassed by Rob Cull for the duration. As the top two began to sew themselves a substantial cushion to the rest of the field, the safety car was released.
An excursion into the gravel trap at Druids for Ivan Hayward meant the race was suddenly neutralised, as his TVR Grantura was rescued from a dangerous position.
After a few laps circling at half pace, the race restarted, only to be abruptly interrupted with the red flag. As the field raced through Paddock Hill Bend, Chris Ryan and Brian White collided, with both landing in the gravel trap, entangled with one another.
Happily, both drivers jumped straight out of their cars, indicating their safety. As both drivers were checked by medics, as a precautionary measure, and both cars were removed from the gravel trap, the race result was called, with Smith handed victorious status, ahead of Cull.
Following back to back outings, Cripps followed his fifth place finish in the BCV8 Championship race with third place in the Equipe venture. Robin Ellis secured a fourth place finish, ahead of Brian Arculus and Jonathan Smare. White and Ryan had been running within the top four before their incident at the restart.
Smith doubled his success in race two on Sunday morning, after a furious battle with chief opponent, Rob Cull.
The pair were side by side away from the grid, but as they rounded Graham Hill Bend, it was Smith who managed to convert pole position into the race lead.
Cull's efforts to displace Smith were rewarded at mid distance, when he managed to squeeze his TVR Grantura into the lead. Cull looked strong to defeat Smith, however as the race neared the end, the latter managed to weave his way back to the front.
Determined to reclaim the lead, Cull tried his best to pester Smith until the chequered flag flew, however had to settle for runner-up spot once again.
Brian Arculus battled his way to a third place finish, after overtaking Cripps part way through. Cripps held on to fourth place, whilst Robin Ellis managed to fend off Peter Edney and Jonathan Smare.
The first Group B outing ended in similar fashion, as the red flag ended the race earlier than scheduled, crowning Tim Greenhill victorious.
Greenhill led the way from start to finish, challenged only by Simon Milner. As Greenhill led the way, Milner and pole sitter Oliver Friend engaged in a furious tussle.
As the pair scrapped, they began to close on leader Greenhill, however an incident which saw Jonathan Ostle's MGB Roadster land on it's side, brought about the red flag and the end of the race. With fluid to clear, the race was not restarted, crowning Greenhill the winner, ahead of Milner and Friend.
David Griffiths triumphed on the second attempt, to steal honours from long-time leader Greenhill. Greenhill had led the way for most of the 30 minute duration, however after immense pressure from the Triumph TR4 behind him, he was forced to settle for second place, some three seconds adrift.
Milner fought for his third place result, to finish ahead of Oliver Friend. After a good start, Friend did drop down to 11th place, before a recovery drive that saw him narrowly miss out on a podium spot.
The battle of the David's was won by David Allen, to claim fifth place ahead of David Russell-Wilks.
MGCC Lackford Engineering MG Midget & Sprites Challenge
Richard Wildman won the eventful MG Midget and Sprite Challenge opening race. As Andy Southcott veered off circuit on the opening lap the red flags were shown, as officials rescued his Lenham Sprite.
Following a lengthy stoppage, the grid was reformed, as the race began. Wildman and Collier steered head to head towards Paddock Hill Bend, however as the pair stormed into Druids, Collier's pole position MG Midget suddenly slowed.
Despite his woes, Collier continued to circle his ailing race car, before entering the pits. In his absence, Wildman went on to steel the show, with a race win, ahead of Edward Reeve and Paul Campfield. Peter Kennerley completed the top four, Stephen Pegram and Carl Chadwick rounded out the top six. Campfield's efforts deemed him worthy of Driver of the Race.
Collier and Wildman attempted to renew their battle in race two, however the outcome was not as we expected. Bad luck befell Collier once again, after a brief red flag period, with Ed Reeve eventually being crowned winner.
As the pair thundered away from their front row perch, it was Collier who led from pole position. Wildman settled in behind, as the pair raced into the distance. Their pace was soon haltered, when Dean Stanton's Austin Healey Sprite became beached in the Paddock Hill gravel trap.
At the restart, Collier raised a hand, indicating a sudden ailment, as he pulled off circuit and into retirement once again. Wildman took up the lead mantle, however after being hit with a 10 second penalty, his lead diminished, handing victory to Reeve.
After an outstanding opening lap, which saw him move up from eighth place on the grid, Paul Campfield was in the right place at the right time, to claim a strong second place, whilst Wildman received some solace with third.  Despite his woes, Collier was awarded Driver of the Race.
BARC SE Quaife Modified Saloon Car Championship
Rod Birley stormed his way to success in the first of the Modified Saloon Car Championship outings. Despite briefly losing the lead to chief rival Dale Gent, Birley stamped his authority.
All eyes were on both ends of the grid, to see if the standard Birley versus Gent battle would make an appearance. With Gent starting at the tail end of the field the race was certainly on.
After a minimal five laps, Gent was nibbling at the heels of Birley's Ford Escort. Just half a lap later, and it was Gent's Subaru Impreza leading the field. As he lapped, smoke suddenly began to bellow from the back of his race car, forcing him out of the running.
As he exited the race, Birley inherited his original position, to reclaim top spot in time for the chequered  flag. Tony Skelton held on for a second place finish, whilst Malcolm Wise and Paul Adams completed the top four.
Birley returned to the winner's circle in the second race, finishing ahead of Skelton once again. A safety car period mid-race simmered the pace, however as the action restarted, we were given a few laps to decipher the result.
Unchallenged from behind, Birley secured victory with a 2.5 second advantage over Skelton. Andy Banham steered his Subaru Impreza to a third place result, ahead of Mark Cripps.
MGCC Drayton Manor MG Metro Cup
Dick Trevett fended off fierce attention from his rivals, to be crowned winner, Driver of the Race and Driver of the Day in the opening MG Metro race. Trevett led from start to finish, however intense pressure from Lee Connell early on kept him on his toes.
A determined drive saw Connell try his best to steal the lead from Trevett's grasp. Keen to avoid the distraction, Trevett continued his strong form, ignoring advances from behind, as he held on for the race win.
As Connell piled on the pressure, his efforts were deemed too fierce, when he was penalised by five seconds for exceeding track limits. With the penalty applied, he eventually finished in fifth place.
Jack Ashton and Andrew Ashton managed to sneak ahead, to finish second and third, respectively, while Mike Williams claimed a fourth place finish. Tony Connell completed the top six.
Williams stole the show, to finish just 0.2 seconds ahead of Lee Connell in race two, after a frantic 18 minute dash. Pole sitter and race one winner Trevett succumbed to bad luck at the start, when his Metro slowly exited stage right at the start. In his absence, Williams inherited the lead.
As Williams navigated the way, Lee Connell, Jack Ashton and Andrew Ashton followed in succession, with the quartet millimetres apart for a thoroughly thrilling encounter.
Connell attempted to pass on a number of occasions, as he and the Ashton brothers nibbled away at Williams' advantage. A side by side manoeuvre wasn't enough to see Connell sneak ahead, allowing Williams to hold onto his mantle.
As the top two soared passed the chequered flag, Jack Ashton managed to fend of brother Andrew, by a minute 0.1 seconds, to claim third and fourth places, respectively.
MGCC Triple M Race for the Mary Harris Trophy
Tony Seber claimed the first of the Triple M race victories, and Driver of the Race, in his Wolseley Hornet Special. The red flag was raised towards the end of the outing, calling for an early end to their first appearance.
Malcolm Hills was the man to beat, as he steered his MG K1 Monoposto into the lead at the start. As Hills circled, he suddenly came under pressure from the chasing Seber. Unable to defend his position for too long, Hills was forced to succumb to Seber's advances, as he sailed into the lead of the race.
A sudden stoppage came about when two cars landed in the gravel trap at Clearways, calling for a red flag, and an early race finish. Harry Painter claimed a third place finish, ahead of Charles Jones Mike Painter and Andrew Taylor.
Seber triumphed again in a shortened race two, to claim top spot ahead of pole sitter Harry Painter. As Richard Jenkins' MG KN came to a halt on the exit of Druids, the red flag was shown, with Malcolm Hills' stricken MG K1 Monoposto also being collected by recovery crews.
Charles Jones had led the way early on, before Harry Painter reclaimed his advantage to lead the way. Painter's lead was soon nibbled away, when race one winner Seber steered his way ahead. Behind, Harry Painter claimed second place, ahead of Jones and Mike Painter. Thijs De Groot was awarded Driver of the Race by our commentary team.
MGCC Iconic 50s Series
Jonathan Smare won the first Iconic 50s series outing. As the impressive machines toured, Smare muscled his way into the lead, to take the chequered flag some 13 seconds ahead of his nearest challenger.
Pole sitter Robin Ellis succumbed to bad luck, when his Lotus Elite was pushed away from the grid before the start. After lining up in the pit exit, Ellis managed to start his pristine white challenger, to take the start, albeit from the back of the grid.
With a mountain to climb, Ellis didn't shy away from the challenge in front of him. After sailing his way through the pack, he eventually claimed a third place finish, just 0.5 seconds behind Steve Watton. Watton was rewarded with Driver of the Race and Driver of the Day.
Ellis brushed away his race one troubles to claim a victorious end to his weekend in race two.
Early leader Bob Lines was muscled aside, when the charging Ellis came through. Despite looking strong, Ellis was unable to escape the grasp of race one winner Smare, as the pair swept passed the chequered flag just 0.9 seconds apart.
Following his strong race one performance, Watton claimed third place, in what has been his first race weekend in his Turner Mk II Gurney Special. His second and third overall were also backed up by two class wins.
The shared George and Peter Edney driven MG TB finished in a strong fourth place, ahead of Colin Jones and early leader Lines. Edney was also awarded Driver of the Race.
MGCC Peter Best Insurance MG Cup
The Alan Brooke-MG Metro combination was unbeatable once again in the opening MG Cup race. Tom Diment looked strong for victory, however he was forced to pull out of the lead when his MG ZR suddenly slowed.
A speedy launch saw Brooke leap into the lead as the race began, albeit with Diment hot on his heels. As the pair circled mere millimetres apart, Diment's bid for glory was strong enough to see him sneak ahead and into the lead.
Diment's control looked set to secure him a good result, however when his MG ZR seemingly gave up the ghost, due to a fuel pick-up problem, he was unable to defend his position. As he pulled out of the race, Brooke collected the lead once again, to steer to an unchallenged victory.
Ed Davies was awarded second place, in his MG ZR, ahead of David Mellor, Ian Boulton, Richard Buckley and Dan Jones. Josh Wright's strong performance secured him the Driver of the Race award.
A frantic finale for the MG Cup saw Tom Diment steer to a race win, and Driver of the Race, some 6 seconds ahead of nearest challenger James Darby.
Race one winner and early leader Alan Brooke looked set for another dominant outcome, however he suddenly dropped down the order after a couple of trips through the gravel at Clearways.
As the lead changed hands a number of times, it was Diment who muscled his way ahead, to claim an eventual untroubled triumph. Behind, Darby narrowly held on, to steer his MGB GT to a second place, despite feeding into the clutches of third placed Boulton.
David Mellor's efforts saw him battle his way to fourth place. Recovering as much as he could, Brooke steered his MG Metro back to a fifth place finish, whilst Dan Jones again collected sixth place.
BARC SE Quaife Cannons Motor Spares Tin Tops
Jamie Ross was the driver to beat in the first Tin Tops race on Sunday. As pole sitter Rod Birley endured an interesting moment on the opening lap, he fell to fifth place, as Ross elbowed his way ahead.
Ross remained untroubled throughout, whilst second placed Daniel Fisher came under threat, behind. A small mistake from Fisher allowed Chris Whiteman to capitalise from third place, as the pair swiftly swapped positions.
As time disappeared, an early finish crowned Ross victorious, whilst Whiteman collected second place, ahead of Fisher, Robert Hosier, the recovering Rod Birley and Rikki Taylor.
Race two was abandoned after just two laps, when Rikki Taylor rolled on the run up to Druids. As time ran out, the race was called, with Ross ahead of Fisher and Whiteman.
There we have it, an unfortunate end to the weekend, but round two is officially complete. We now have a seven week break before the ever-exciting MG Live at Silverstone. Taking place over the weekend of 17th and 18th June, we look forward to seeing you all.
Leanne Fahy.