Past Events 2014-2017
 Autumn Leaves Run 2017: Sunday 22nd October
Taking account of the success of the 2016 event, organiser Andrew Kelly planned a more expansive route of some 80 miles, designed to showcase the coastline and countryside of Northumberland in Autumn, passing a number of castles along the way, ranging from the most wonderful, to some long since fallen from splendour.  
 Given the extended route and the need to be at the finish for lunch from about 2:00pm, Andrew arranged for the management of Dobbies Garden Centre at Ponteland to kindly open at 9:30am to serve breakfast to the entrants, most of whom took advantage of this, given the excellent offerings we have come to expect from Dobbies. Once again Peter & Judith Baglee kindly agreed to sign everyone on, as well as taking part themselves in their MG TD. We ended up exceeding the planned maximum entry, as 45 cars made it to the start, which meant there would be 90 people having lunch, not easy on a Sunday! 
  Following a drivers briefing, the cars were flagged away from about 10:45am (not in age order this time) with Andrew being timekeeper to ensure we did not create a rolling convoy, and our junior marshal Charlotte flagged the cars away with a rather large Northumberland flag.
Jim Adamson in the Healey and Kym Bradshaw in the MGB look like they are on the grid, but did go off one after the other… old habits die hard for MG racers!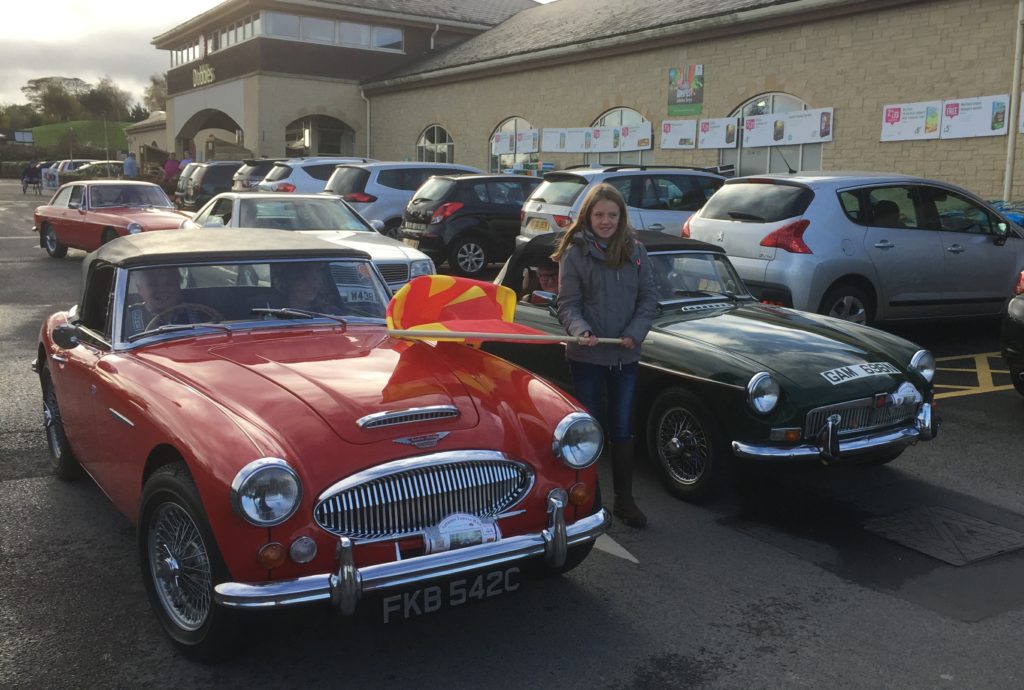 Also seen at the start are (clockwise from top left): John & Linda Shaw in their 1965 MGB, Ian & Christine Fair in their 1939 TA Tickford,  Dale Efemey in his 1970 MGB Roadster and Ian Clayton in his 1960 Austin Healey 3000.
The route took the cars through Morpeth, and north east towards the coastline, passing Warkworth Castle. then north to Alnmouth before heading west towards Alnwick, with the stunning Castle coming into view, before the cars drop down to cross the Lion Bridge and the famous Percy Lion with its straight tail standing on the bridge wall.
Trevor and Kay Leighton on the bridge in their MG RV8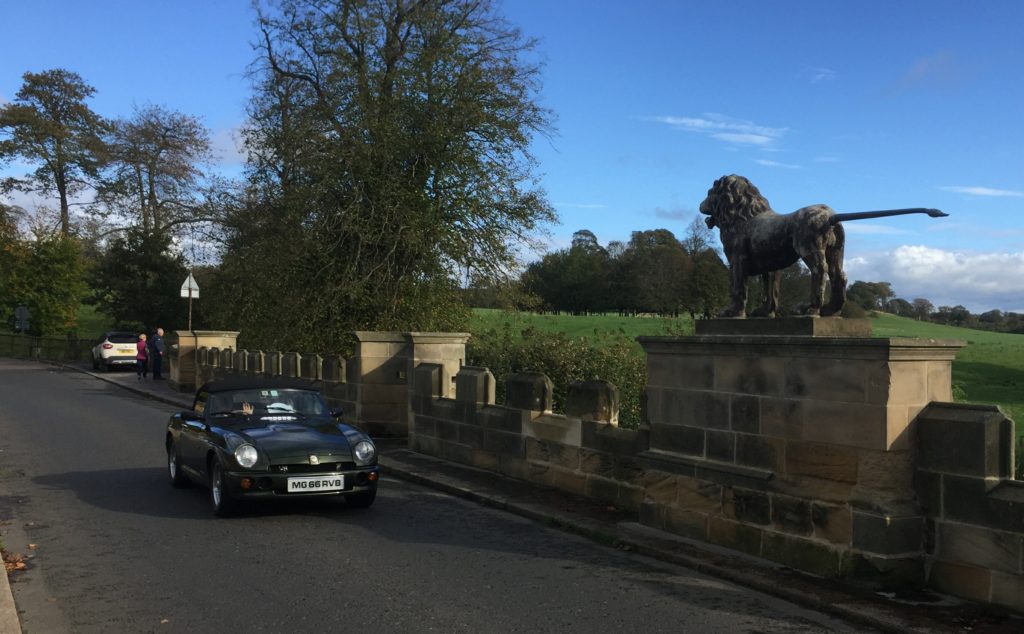 The first half of the route concluded in the market square at Alnwick for a welcome coffee stop.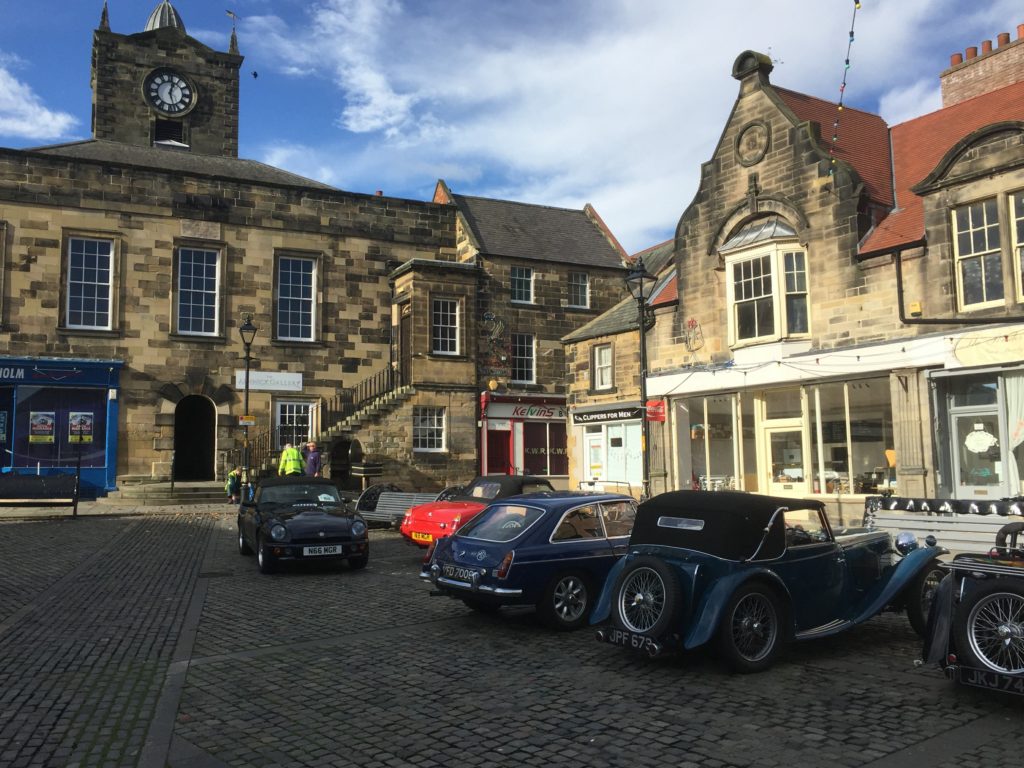 Refreshed, the crews headed out over Alnwick Moor, passing Eglingham Castle set in beautiful scenery, before pressing on through Glanton towards Rothbury.
Crossing the Ford at Eslington are: Doug Carmichael (MGB) and Peter Baglee (MG TD).  David Alexander took the photos, avoiding getting soaked!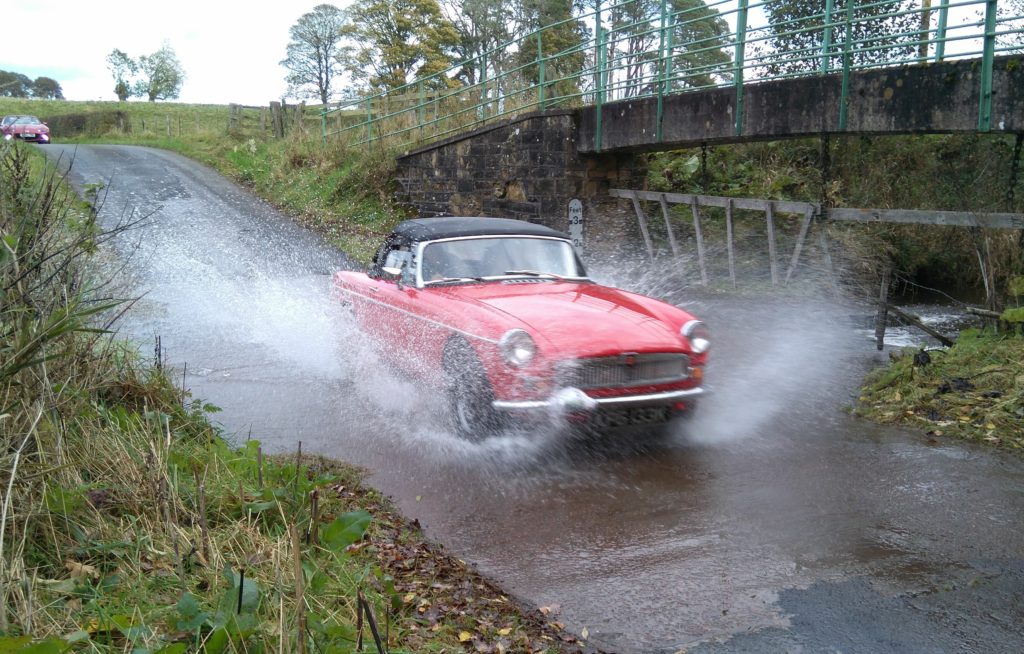 The cars then headed out via Callaly Castle, south towards Rothbury, crossing the River Coquet in that historic town, before heading back towards Morpeth and the finish of the run at the Dyke Neuk Inn, Meldon.
   Following a perfectly acceptable Sunday pub lunch, Andrew Kelly announced that the winner of the Autumn Leaves Trophy for the most appealing car was the 1977 MGB Roadster of Lloyd and Marjorie Oxley.
Andrew presenting the trophy and a bottle of Mead to Lloyd, with Lyn Ebdon and Charlotte in support.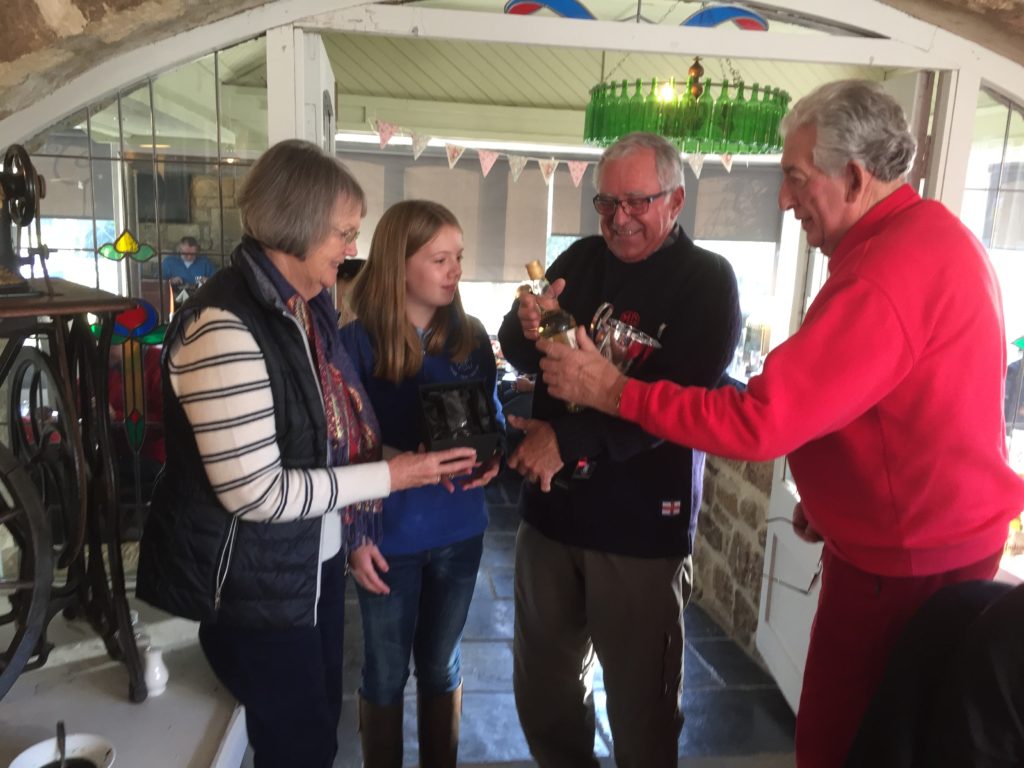 This event is always well supported by our friends in MGCC Yorkshire Centre, so I am pleased to report that Jack Haig  was awarded the Spirit of the Event Award.
Thanks to Andrew Kelly for such a well organised event, which received a lot of good feedback from those taking part.
     Report posted by Noel Lindford. Photos mostly by Noel Lindford and David Alexander.
10th Tyne-Tees Old Speckled Hen Run: Sunday 10th September
  This year's event was rather special on two counts, as not only was it the tenth anniversary of the Tyne-Tees Centre's Old Speckled Hen Run, but this year it also incorporated the 35th Anniversary Herriot Road Safety Trial, which first ran in 1982, devised by Tony Wood. It was wholly fitting therefore, that John Watson from Abingdon Works Centre (AWC), the man who originated the AWC Old Speckled Hen Run 25 years ago, and who entered "our" event this year, kindly agreed to be our guest flag starter and guest judge.

 Just some of the 45 cars entered that made it to the start, lined up at the Rokeby Inn driveway. 
It was also fitting that Tony Wood took the lead in planning the Herriot Road Safety Trial, which this year included a mix of picture questions posed on Highway Code road signs and MG themed motoring, at three checkpoints on the event, the first being at the start. The crews also had to observe "things" en route, from clues given and observed sections indicated at relevant point in the route books. The crew with the highest score would be awarded the Herriot Road Safety Trial Trophy. Finally, there were a series of driving accuracy tests to be performed at the lunch halt, and the crew with the lowest penalty points accrued would win the Driving Skills Trophy. 
  The event started from the Rokeby Inn, at Smallways, 8 miles west of Scotch Corner on the A66, where Charles and Lindsey made us very welcome and provided excellent teas, coffees and breakfast rolls, which were very welcome to all, and especially those coming from afar, with good friends from Yorkshire and Caledonian Centres taking part. Mervyn Gillespie and Janice Boustead kindly managed signing-on for us, and were our friendly  "meet and greet" team.
  The route this year was a 95 mile run across Swaledale, Wensleydale and Teesdale, with the lunch-halt being at the splendid Tennants Auction House Garden Rooms at Leyburn, where after lunch, the driving skills tests would be attempted.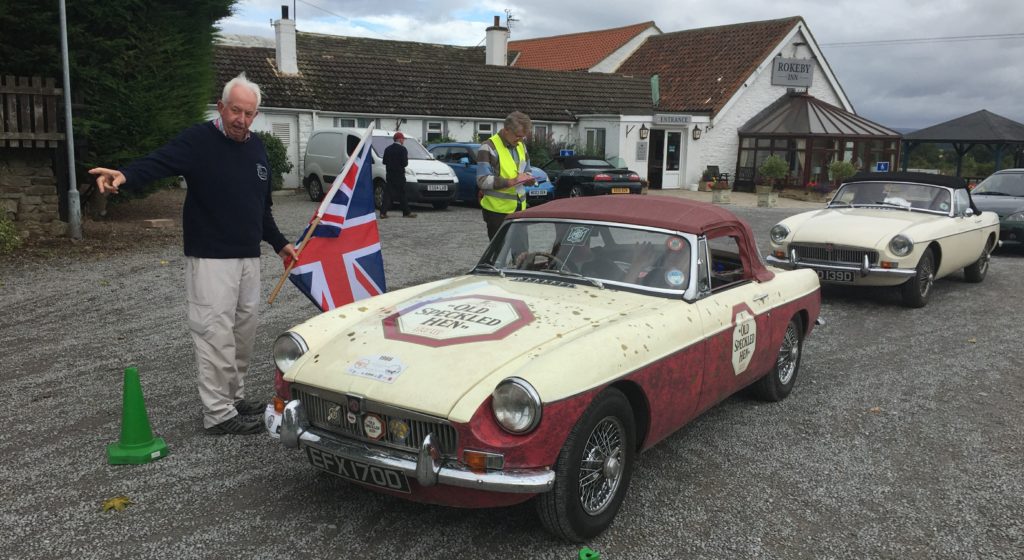 Paul Hetschkun and co-driver in the OSH MGB get some last minute advice from John Watson…go "thataway"!
Following the drivers briefing, and an explanation of how the event works (held on-time…well done everyone!) the cars queued up to attempt the first set of questions (on road signs) at Checkpoint One, before being flagged away by John Watson, from just gone 10:00am. Meanwhile our intrepid marshals Tony Coates and Tricia Colligan had zoomed off to get set up at Checkpoint Two, which we set at the highest point on the Buttertubs Pass! More on that later…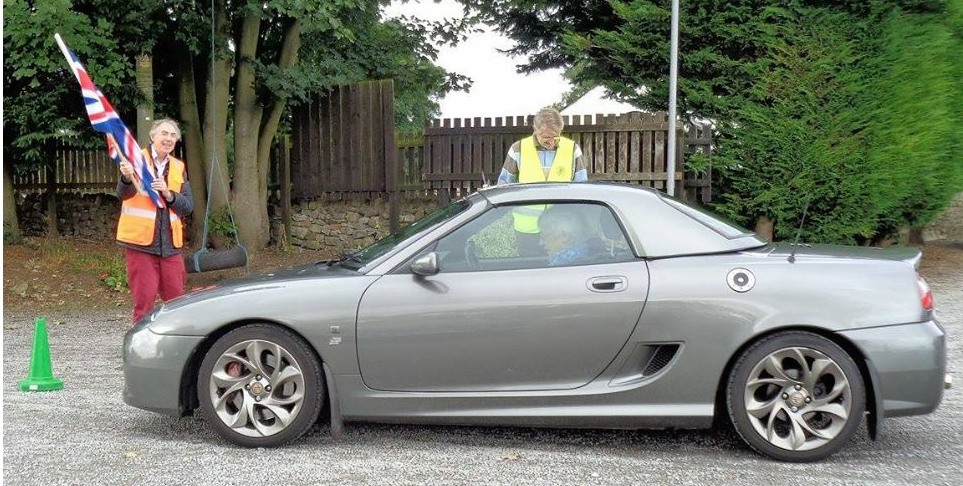 John and Gill Watson set off in their MG TF Steptronic after being questioned on the Highway Code by Tony Wood.
   All cars got away and headed off down winding country lanes that led them into Richmond, and onward to their first roadside clue, a carved owl in a carved tree, which most got. The route then took them via Reeth and Gunnerside, to head on up the Buttertubs Pass, a winding road that climbs (and climbs), linking Swaledale and Wensleydale, and at the top of which was Checkpoint Two where our crews came across  our waiting marshals Tony & Tricia, braving the elements!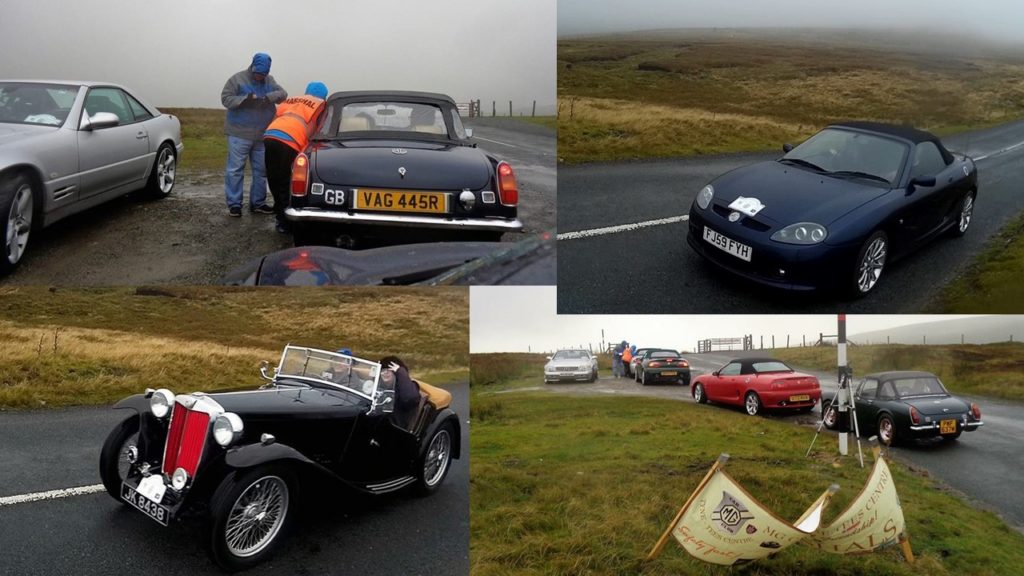 After descending the Buttertubs Pass, the cars headed off via Bainbridge and Aysgarth to the lunch halt at Leyburn. Here in the car-park opposite the Tennants Garden Rooms Tony Wood and myself, helped by Donald Dalton, set up three driving skill tests, which almost all entrants attempted. after sampling the delights of the splendid café at Tennants.
 The tests were on the drivers judgement of 1) how close you could position two cones and still get your car's front wheels cleanly through, 2) how far one revolution of a road wheel is (some interesting results there!) and 3) how close one could reverse into a coned garage without actually touching the pole upstand at the back…you needed to get as close as possible, but touching / demolishing the garage lost you a lot of points. Even more points lost if you flattened the marshal…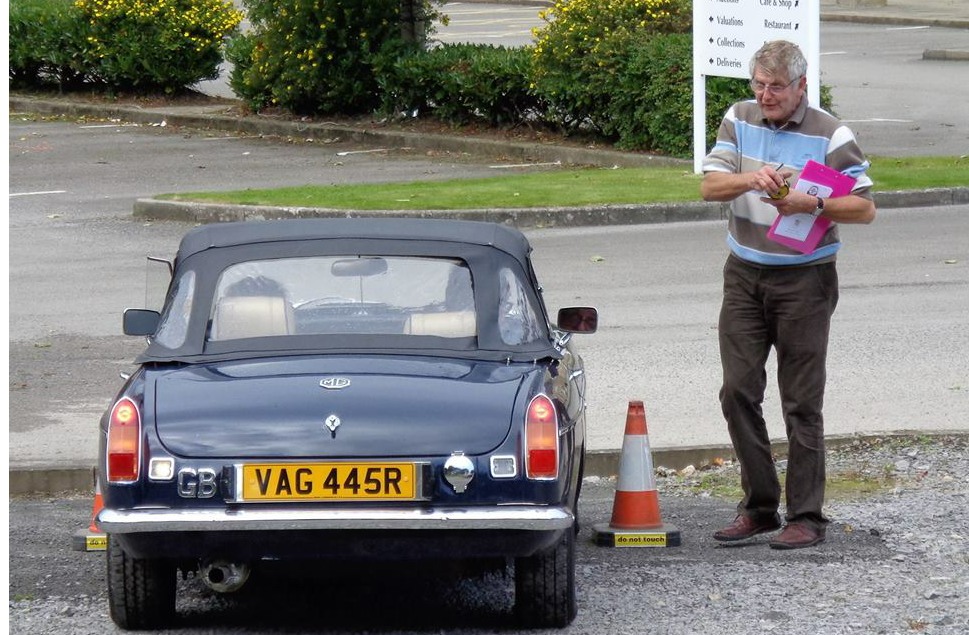 Tony Wood about to check the gap between Lloyd & Marjorie Oxley's MGB and the "Do Not Touch" cones…a good effort!
   The afternoon section took the cars back out of Leyburn and via Grinton (where some did spot the sheep on a unicycle atop the Bridge Inn) and back through Reeth to Arkengarthdale and across the Stang, where Tony and Tricia were waiting at Checkpoint Three (again at the highest point…next year we will marshal from a pub car-park!) with more picture questions. Having survived that and found more clues along the final section of the run, which took the cars through Barnard Castle,  the route took the cars onwards to the finish, which this year was at the splendid George Hotel by the river in Piercebridge, where an excellent cream tea was served in the ballroom. Here there was some hectic adding up by Tony Wood of all the score-cards, handed in and those from our marshals Tony and Tricia, who did get back to the George in time for tea. In the meantime, all entrants were given a specially commissioned Herriot Trial rosette before the results were announced. Steve Lidgate was deemed to be the clear winner of  the Driving Skills Test and was awarded the Steering Wheel trophy, but the Herriot Trial produced a tie between Stuart Mumby and Martin Robinson, resolved with a tie-break question. Stuart got closest to stating the actual stopping distance from 60mph (it's 240 feet) so he picked up the very nice glass Herriot Trial trophy. 
 Our guest judge, John Watson, chose Stuart Mumby's blue MGA 1600 Roadster as the pre-1981 MG he would most like to take home, and Helen Waddington (below left) won the post-1981 award with her 2010  MG TF135.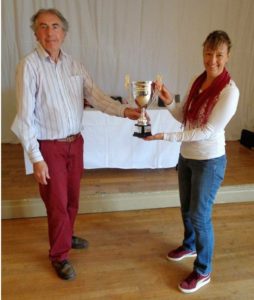 The Spirit of the Event Award  went to Tony Coates and Tricia Colligan for braving the elements to marshal the event for us….to rousing applause!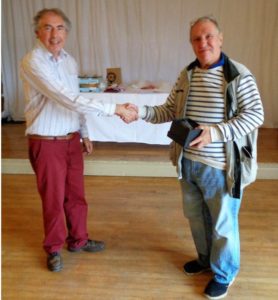 Thanks to all who entered and took part in such good spirit, and to all who marshalled and supported this event, not least Mervyn & Janice for managing sign-on, Tony Wood, Dennis Hope, Tony Coates and Tricia Colligan. 
Thanks also to Greene King, brewers of Old Speckled Hen beer for sponsoring us.
  Report by Noel Lindford. Photos (mostly) by Tony Coates and Noel Lindford.  
Croft Nostalgia Weekend: 5th & 6th August
This event just gets better every year, and has been dubbed by some "the Northern Goodwood Revival".   Not so many racing celebs and luvvies on parade as at Goodwood, but just as evocative, with people capturing the spirit of 1950's and 1960s racing and the fashions,  at our local race circuit! The star of the show in the sky was a BBMF Lancaster bomber, which due to impending inclement weather on Sunday, made an early appearance before noon. Challenging for our good friend Ken Cothliffe from Yorkshire Centre, who was doing the flying commentary, but was also scheduled to do some circuit tours in his lovely Mk1 Midget "Little Red" It all worked out.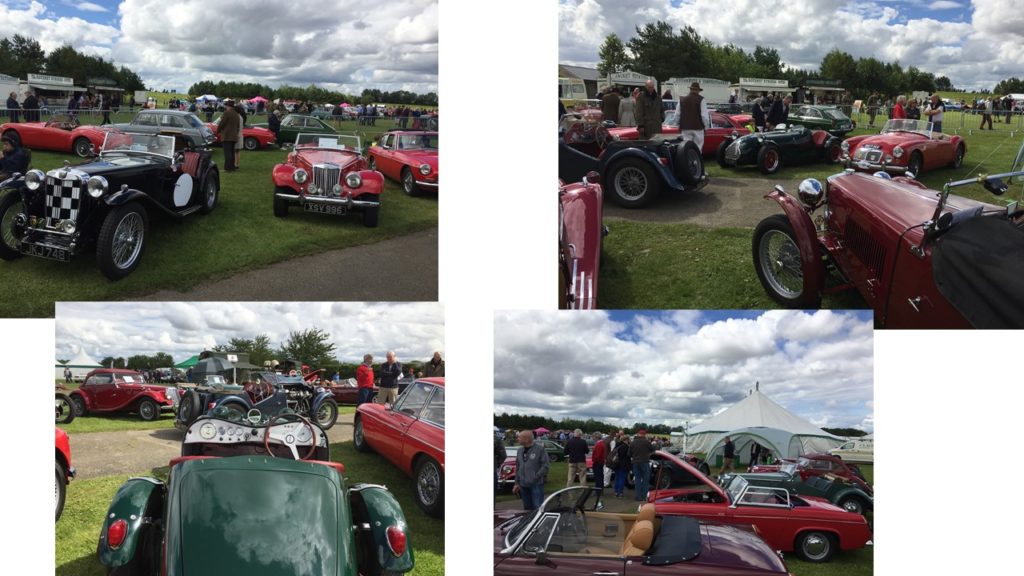 A feature of the Sunday for many, was the chance to take their MGs onto the track for the circuit tours, of which there were several.
Pictured above are (clockwise) Alex and Tony Wood in "Bluebottle", Owen & Pam Frankland in "Numbum", Barrie & Sheila Hope in their MG ZB Magnette Varitone, and "Tiffany" driven by her owner Andrew Kelly, with a beaming Ed Harvey in the passenger seat.
The following montage shows some of the highlights from the Sunday…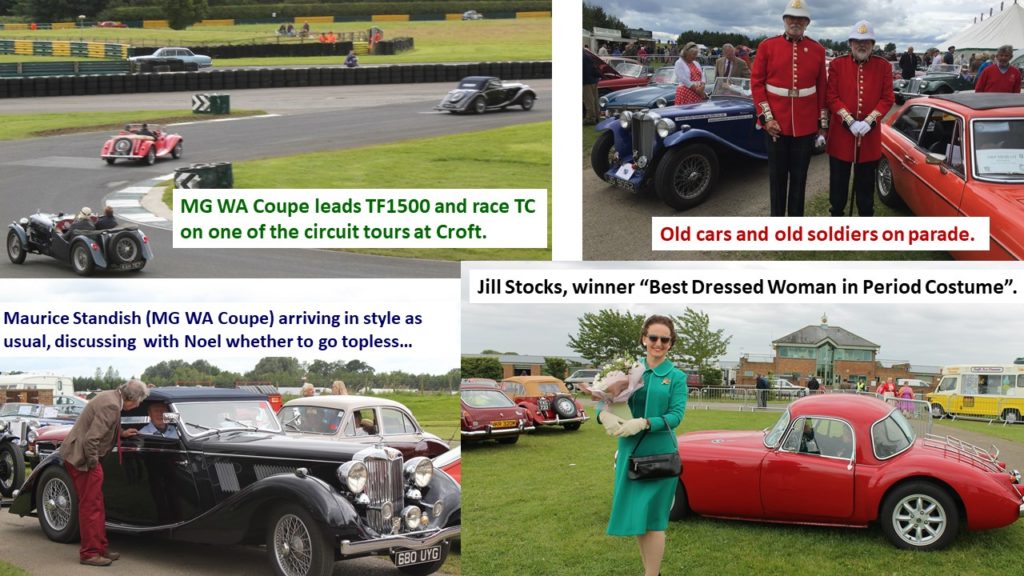 The racing was excellent, with MGBs and Midgets in two of the races providing some of the best entertainment on track.

We had by far the largest (and most varied) marque display of the weekend, so my thanks to all who took part over the weekend, including some of our good friends from Yorkshire and Caledonian Centres, and a special thanks to Dennis Hope for, as ever, being everywhere to keep the show on the road! Thanks also to Sylvia and Paul at Croft Circuit for all their help…we will be back in 2018!
Report posted by Noel Lindford. Photos by Noel, Barrie Hope and Ray Abbott. 
Prince Bishops & St. Cuthbert's Run: Sunday 4th June
These simultaneous runs attracted a combined entry of 60 cars, with the Prince Bishops Run starting from Stokesely in the south, and the northern St. Cuthbert's Run starting from the Maritime Centre at Newbiggin.
Ian Whyte put together a superb run from the excellent Maritime Centre café, that did us proud for "breakfast on the coast" at Newbiggin by the Sea.
The 90 mile route took the cars south west on the morning section heading across Northumberland via Ulgham, Causey Park, Longhorsley and Nether Witton to a lunch-halt at Kirkharle Courtyard café. (You will know that catering is a priority on our events, often involving coffee and cake!)
The afternoon section took the cars south, via Stamfordham and  Ovington, then passing through the Land of the Prince Bishops via Ebchester, Leadgate and Esh Winning, finally arriving in Durham City, passing the Royal County Hotel on the way to Palace Green.
Sign-on for the Prince Bishops Run was at Howards Café in Stokesley, who kindly accommodated us once again, and with reserved parking at the Show-field car-park, courtesy of Hambleton District Council.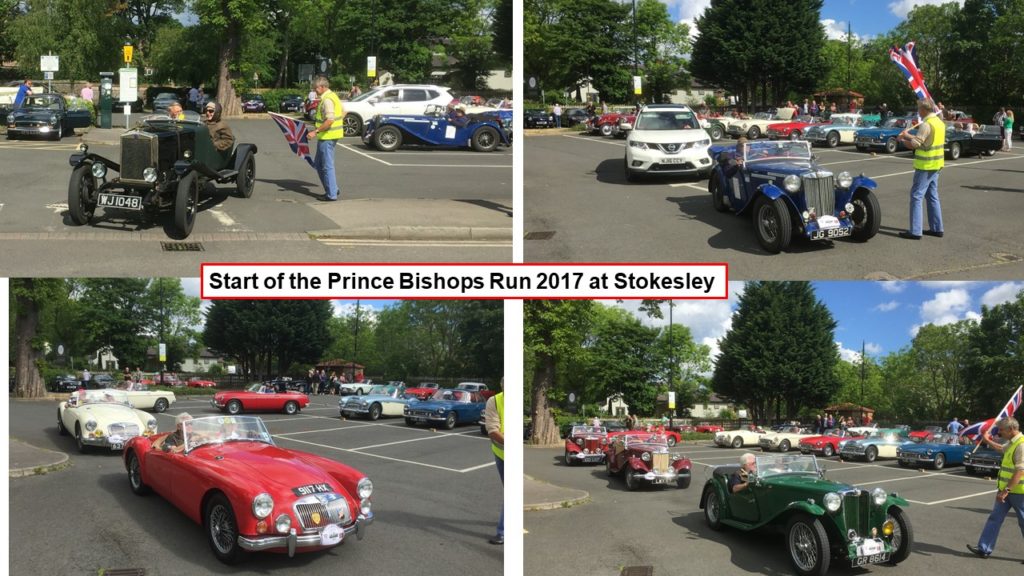 The PBR entrants did the whole of the 99 mile route in glorious sunshine, with new sections not driven before, on a varied driving route via Great Broughton, in Cleveland, Hutton Rudby, Osmotherley and Northallerton, then on to Hunton and through an expanding Catterick Garrison, to the lunch-halt at Richmond, with reserved parking, thanks to Richmondshire District  Council.  The afternoon section took the cars north-west into County Durham, skirting Hamsterley Forest, up to Wolsingham and Tow Law, then on to the finish at Palace Green opposite Durham Cathedral, where all cars came together for a very welcome cream tea.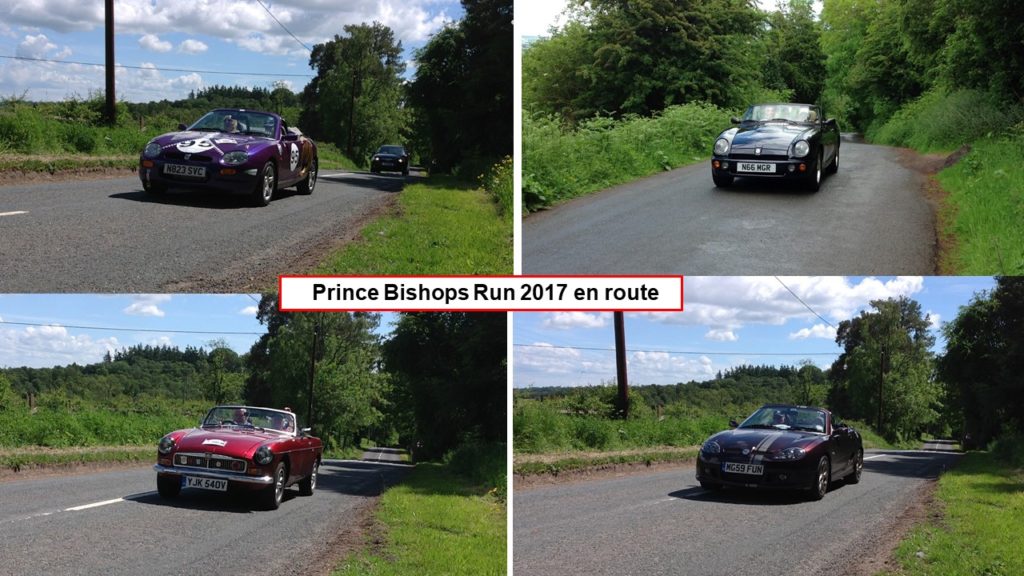 The chosen car awarded the Prince Bishops Trophy was the blue MG1300 Mk2 of Ken Armstrong, whilst Sean Morton picked up the Prebends Trophy for his Oxford Blue MG RV8. The Spirit of the Event award went to Rob & Jane Parry for "Zip", their superbly restored Amaranth pre-production MGF VVC (with race history), which they had driven up from the West Midlands.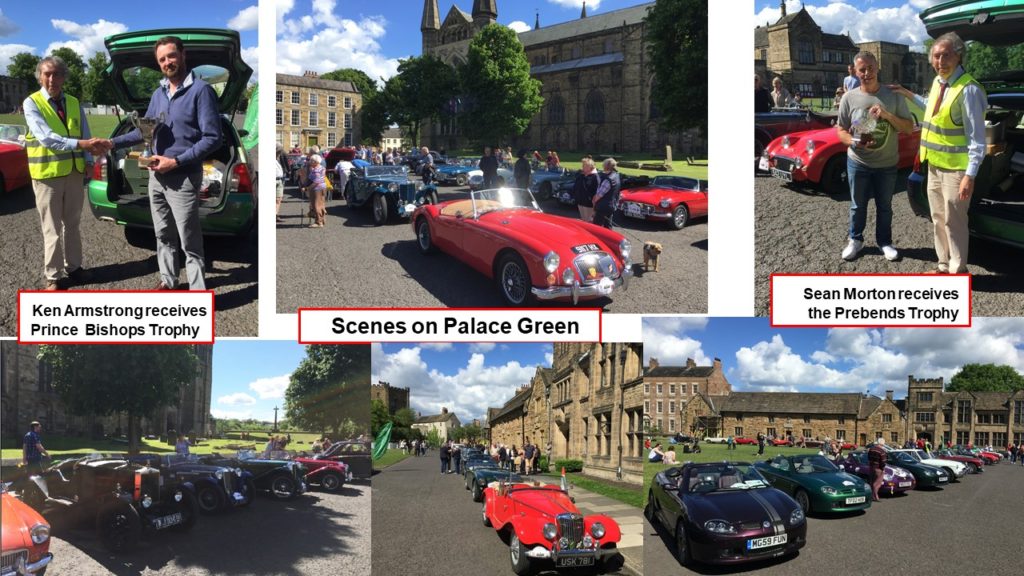 Report posted by Noel Lindford. Pictures by Tony Wood, Barrie & Sheila Hope and Noel Lindford.
Cobweb Run Celebrating Drive It Day: April 23rd
An eclectic mix of 55 cars started (and completed) this 88 mile circular tour of Northumberland and Cumbria, starting and finishing at Brocksbushes Farm Shop near Corbridge.  The morning route took us along Roman roads, close to Roman Forts and Hadrian's Wall, travelling westward into Cumbria for a lunch halt at Lanercost Priory. The return journey followed more industrial landmarks of coal and lead mining, but still travelling through wonderful scenery and on excellent roads.
 Following a well-earned cream tea, our guest judge chose the cars he would most like to take home. The pre-1981 award went to the MGA Roadster of John & Linda Shaw, whilst Duncan McEwan picked up the post-1981 award for his MG RV8. Organiser Ian Graham gave the Spirit of the Event award to Sandra Vinnell for her MG TF1250, which she had driven up from Sandy in Bedfordshire to take part…excellent choice!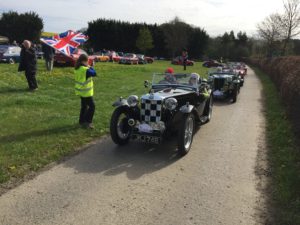 Charlotte flags away event organisers Ian & Justine Graham, in their 1946 MG TC, once owned by MG racer (and one-time Safety Fast! Editor)  Paddy Willmer

Sandra Vinnell had travelled all the way from Sandy in Bedfordshire to take part, in her MG TF1250 and having successfully completed the run was presented with the "Spirit of the Event" award…well deserved!

Two cool cats at Lanercost Priory lunch halt. The D type Jaguar was a very authentic and well-used replica, which by all accounts went very well, driven by an all-girl crew.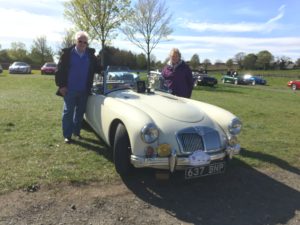 John and Linda Shaw received the pre-1981 Cobweb Trophy for their lovely OEW  MGA 1600.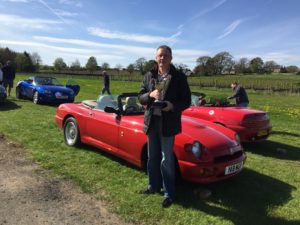 Duncan McEwan was awarded the post 1981 Cobweb Trophy for his flame red MG RV8.
     Photo montage taken by Ed Harvey…see below
 Report and photos posted  by Noel Lindford
Regularity Production Car Autotest: March 19th 2017
  Held at Seaton Carew, this first competitive event of the season attracted seven MGCC Tyne-Tees entries for the "Testularity" class, run alongside the regular all-forward autotest organised by our hosts at Hartlepool & District Motor Club. This event was thrown into doubt by the late decision of Hartlepool Council to white line parking bays on the site, such that the organisers were left with a compact footprint in which to hurriedly re-design a suitable test layout. This proved challenging to all competitors, even the quick guys, expert at spin turns. However it did allow us to have a good day's motorsport, and we adapted to the tight course, which called for some degree of precision to stop going out of bounds. Despite this, and due in no small part to the excellent organisation and timekeeping of Tony Coates and Tricia Colligan, we all managed to get three runs at three tests each, and for those swapping cars to navigate in more than one entry, the odd sprint into the passenger seat was called for!  At the end of the day, Ken Armstrong won our Testularity class with his MG TF160, with Tony Wood an excellent second in his Peugeot Coupe, with Noel Lindford third in an MG TF 85th Anniversary. This will probably be the last event at Seaton Carew, so a new venue has now been found on Brenda Road in Hartlepool, with much more space, and that will be in use on the next event on Sunday May 14th.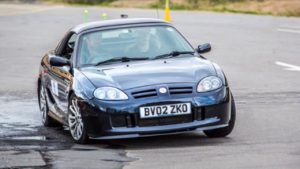 Ken Armstrong in his MG TF160 proved he can do regularity at speed.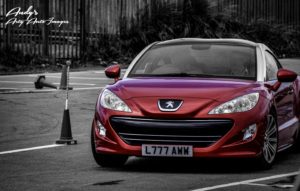 Tony Wood in his Peugeot Coupe going for it…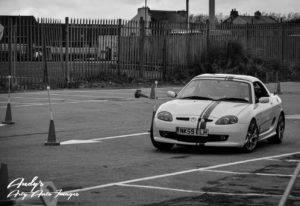 Noel Lindford in the TF85 trying the precise approach…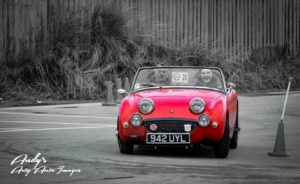 Ian Whyte with passenger Lucy Armstrong having FUN….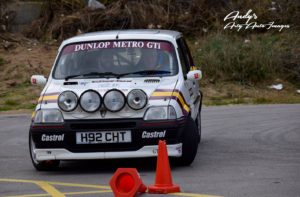 Richard Young is his race Rover Metro on full lock…
Report by Noel Lindford
Tyne-Tees Awards Dinner: December 3rd
Once again held at the splendid Gibside Hotel, Whickham, I am pleased to report that all of the 40+ people who had booked, made it to the Dinner and thoroughly enjoyed the evening. (No disruptive storms this year thankfully!)
After an excellent festive dinner, we were royally entertained, firstly by Christine Fair, who recited with passion a wonderful poem she had written about the joys of taking part in Tyne-Tees Centre runs in the delightful MG TA Tickford owned by Ian and Christine, which received much applause.
Our guest speaker for the evening was Anthony Wood, past Secretary and Chairman of the Centre. Tony's often humorous anecdotes about people and events in the Centre from days gone by were a fond recollection to some in the room, and quite a revelation to others.  The Centre has had to adapt to the winds of change, and Tony cited examples of Tyne-Tees being at one time a serious motor sport club, he himself once being succinctly described as a "good all-rounder"  having raced, sprinted and rallied in the day. He described some of the real Tyne-Tees Centre characters, notably one Gordon Douglas aka "Mr. MG",  long time Chairman, Secretary and driving force in the Centre.  Tony was thanked for a very entertaining speech.
Noel then reflected on some of the highlights of what was a very varied and full  programme of events in 2016, with Croft Nostalgia Weekend being a standout highlight for us, and an enjoyable weekend for our friends from Kimber House who supported us, surprised by how good Croft Circuit is, and what Tyne-Tees can do, with an excellent display of cars!
David Alexander then gave everyone an insight into what we have planned for 2017….every bit as varied, and then some.
The main event of the evening was the prize presentation, some of the trophy winners only being announced that evening.
Some, but not all of the  winners of the road run trophies were able to receive their engraved trophies in person…kindly presented by Tony Wood.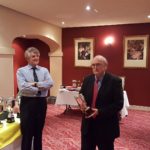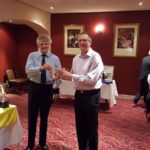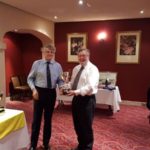 Ian Fair  TA  Tickford     Duncan McEwan RV8     David Bolton MGB
The Pride of Ownership competitions were fiercely contested, and a close- run thing to award the winners, who were: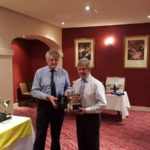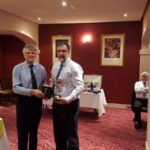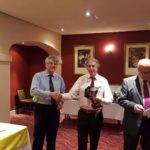 Dennis Hope MGB GT    Ian Graham  MG TC    Noel Lindford MG TF85
Trevor Leighton won the southern natter post '81 award with his RV8, with another RV8 owner, Sean Morton, kindly collecting his trophy.
It will be no surprise to many that the winner of the Enthusiast Award was none other than Dennis Hope. The Lady Enthusiast Award winner was Lynda Alexander, with son Matthew winning the Marshal of the Year.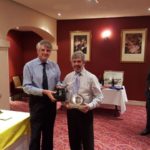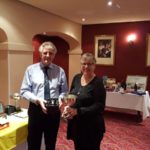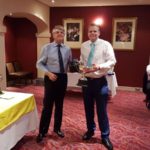 Dennis  Hope                 Lynda Alexander            Matthew Alexander
The Long Beach Trophy, currently awarded for anyone competing in an MG on events outside the Centre, went to Doug Carmichael for his sterling efforts in his MGB on major rallies such as the Beaujolais and Welsh Three Castles.   The final award of the evening was the Chairman's Award, which this year went to Andrew Kelly, in part for his unique efforts in organising the Nissan factory tour, and gaining permission from Nissan senior management for our unique MG Timeline of 30 x MGs within the Nissan carpark, which were on display for 400+ Nissan people to see. This was unprecedented and will probably not be seen again. MGCC were privileged in no small part due to Andrew's enthusiasm and relationship with Nissan.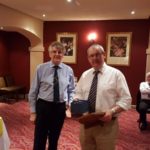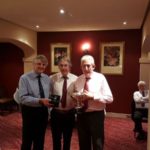 Doug Carmichael (left) and Andrew Kelly (right) receive their trophies.
The final event was the highly entertaining grand raffle which raised £200 for the Great North Air Ambulance. Many thanks  to all who bought tickets.
The whole evening was a night to remember, and it only remained for Noel to thank Lyn Ebdon for once again superbly organising this Awards Dinner.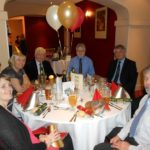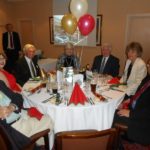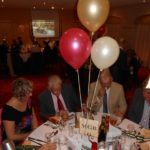 Report posted by Noel Lindford  Photos by David and Matthew Alexander
Autumn Leaves Run: October 16th
Organised by Andrew Kelly, this tour had 40 cars start from Dobbies Garden Centre, near Ponteland. Most arrived early to take advantage of the excellent breakfast options in the restaurant, once they had checked in, with Peter and Judith Baglee kindly manning sign-on control, strategically placed at the entrance to the restaurant! It was very nice to see some of our good friends from Yorkshire Centre taking part, and also Geoff Baron (MGA Twin Cam guru) popped in to say hello.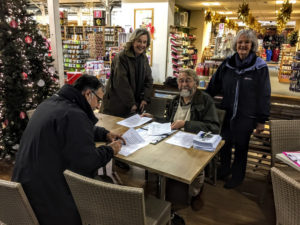 Ian Graham signs on at Dobbies, with Peter and Judith Baglee doing the admin.
From about 11:00am Jason Smith, a family friend of Andrew's kindly flagged away the cars under overcast skies.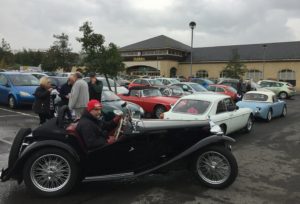 Ian Graham gets an early start in his TC.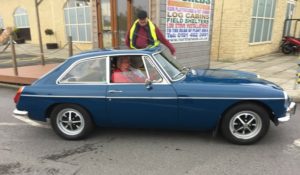 John Mitchell smiles for the camera.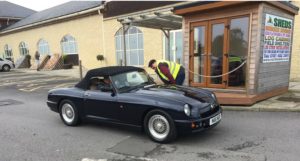 Sean Morton with his MG RV8
As the run progressed, via Ponteland and through the pretty village of Whalton, the expected rain arrived, but it did not detract too much from the wonderful scenery along this 67 mile route; autumn leaves aplenty, and with wet leaves scattered across some roads, caution was occasionally required. There was a mid-point stop at Otterburn Mill, where many chose to stop for a coffee, and for the hardy ones who had started with the car hood down, a chance to get warm and dry!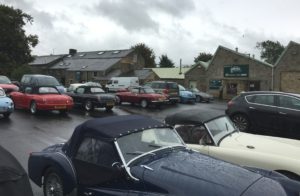 Otterburn Mill, and all hoods now up!
Then it was onwards through Elsdon and Rothbury towards the finish near Morpeth.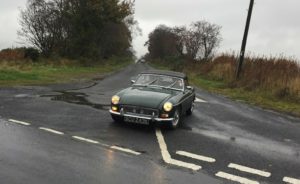 David Bolton's MGB nearing the finish of the run…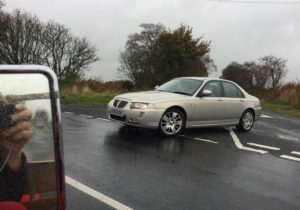 …as were Brian and Pam Wright in their Rover 75.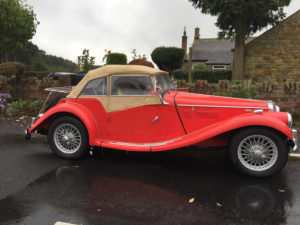 Andrew got there ahead of the pack in "Tiffany"
With skies clearing such that the sun finally came out as we pulled into the Dyke Neuk Inn at Meldon, near Morpeth, where our 80 hungry diners arrived just before 2:00pm for an excellent Sunday lunch.
Jason Smith was our guest judge and the car he most admired was David Bolton's 1972 MGB Roadster, still resplendent despite the rain, for which David was presented with the Autumn Leaves Trophy.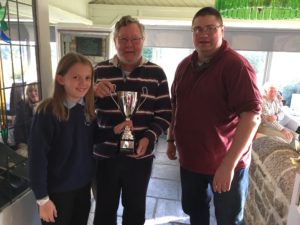 Charlotte presents the award to David, with Jason looking on.
Paul Croft from Yorkshire Centre winning the Spirit of the Event award, having driven up from Bingley to do the event.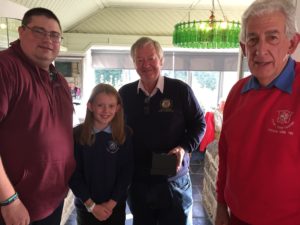 Jason and Charlotte present Paul Croft with his award.
Andrew Kelly, on the right, looking suitably pleased.
Andrew can be rightly proud of his first organised road run, receiving many good comments, both on the day and by email. He may well be asked to do another one!
Report posted by Noel Lindford.
Photos by Noel Lindford, Andrew Kelly and Jason Smith.
9th Old Speckled Hen Run: Sept.4th
The start venue for this year's Hen Run would be familiar to those of us who may have entered the Herriot Road Safety Trials many years ago, it being the Rokeby Inn (previously the A66 Motel) at Smallways, eight miles west of Scotch Corner. Now run by Charles and Lindsey Hall, they made us very welcome with excellent hot drinks and breakfast rolls on what started out as an overcast day, with threatening clouds.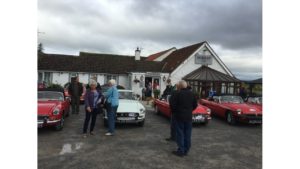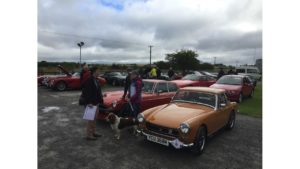 Highly appropriate then that Tony Wood (TTC chairman back in the late 1980s ) and organiser  of past Herriot Trials, kindly offered to marshal, and flag the 47 cars away, (on time!) from 10:00am.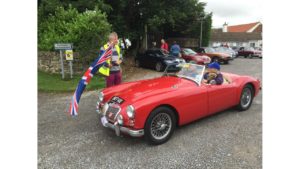 Mervyn Gillespie and Janice Boustead in their MGA 1600 with motoring dog "Bonnie".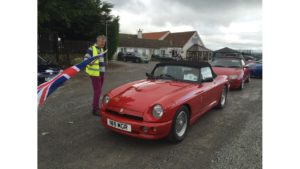 Duncan and June McEwan's MG RV8
The morning section route took the cars through Swaledale, via Richmond, Reeth, Gunnerside and Muker, to tackle the splendid Buttertubs Pass which took the cars over the top and down into Wensleydale, past the Simonstone Hotel, where one J. Clarkson once had a bit of a fracas with a Top Gear person.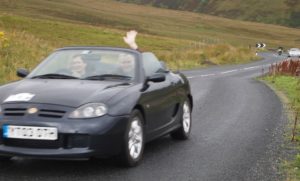 Lady Margaret Farquhar and Bill Marchant on the Buttertubs Pass in their MG TF135.
The lunch halt was in the splendid Garden Rooms Café at Tennants Auction House, Leyburn. Apart from the wonderful surroundings of this place (and very good food) we also had the spectacle of 100 classic Ford cars on display.
The afternoon route took us out over Grinton moor and into Reeth, than on past the CB Inn at Arkengarthdale and through the Stang Forest, over the Stang, where  the crews enjoyed some stunning views of Teesdale on the descent.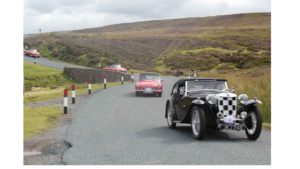 Ian Graham and Justine Graham in their MG TC heading towards Grinton.
Then onwards via Barnard Castle and Piercebridge to the finish at the Spotted Dog, High Coniscliffe, where manager Steve Grabham did us proud with excellent cream teas, and also agreed to be our guest judge.
After much deliberation, he chose Ron Benson's very nice 1939 MG TB and Duncan McEwan's flame red MG RV8 as the OSHR trophy winners for pre and post 1981 cars respectively. A popular winner of the "Spirit of the Event" award was John Stanger-Leathes for his 1961 Austin Healey 3000, which was the 1961 Motor Show Car at Earl's Court.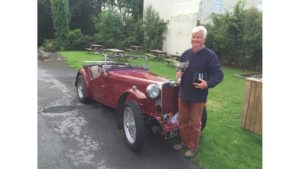 Ron Benson's 1939 MG TB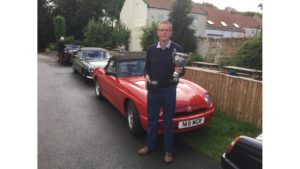 Dancan McEwan with one of the last MG RV8's built.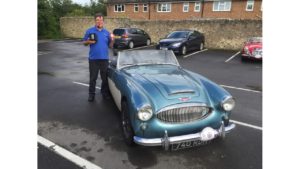 John Stanger-Leathes with his 1961 Austin Healey 3000
I must thank Tony Wood for marshalling on the event, taking photos on the Buttertubs Pass, and (as did Ray Abbott) coming to the rescue of one entrant who "failed to proceed" high up on the moor near Grinton. Fuel pump problems that defied all efforts to fix and even replace….plumbing mismatch!   He did get recovered home safely.  Marque of Friendship in action!
Report by Noel Lindford. Photos by Tony Wood, Ray Abbott  and Noel Lindford.
Croft Nosalgia Weekend: 6th/7th August
This year we were delighted to be supported by a major presence from MGCC Kimber House staff, for this wonderful weekend of nostalgia from the 1940's to 1970s, with classic cars, military vehicles and flying displays, plus a full programme of historic racing at Croft Circuit. We managed to display a superb collection of members' cars on both days, including some from our good friends in Yorkshire Centre.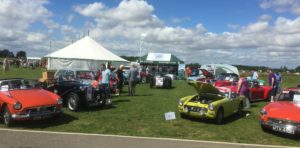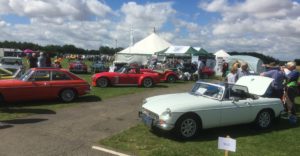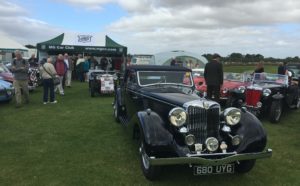 The star attraction on both days had to be LBL 301, the 1955 Le Mans MGA, owned by John Savage from Rhode Island USA, and driven to the display by Tyne-Tees member Mervyn Gillespie, who collected the car from Bob West, the man who did a wonderful restoration on the car. This is the only surviving works entered EX182 car, which finished 12th at Le Mans in 1955, and was displayed as raced in the 2015 Mille Miglia, having previously entered the 1957 event.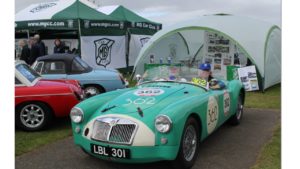 Thanks to our members for making the weekend such a success, and to Adam, Lauran, Cherina & Nigel, Liz and Ineke for all your help in flying the flag "up north" for MGCC and Tyne-Tees Centre. I know you enjoyed the circuit tours!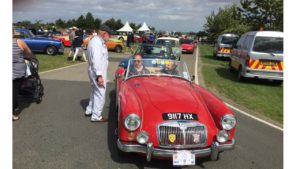 Report and photos by Noel Lindford.
Prince Bishops & St Cuthbert's Runs: 12th June 2016
This year's joint event attracted no less than 59 entries, with concurrent starts from Stokesley and Seahouses. For once the weather let us down somewhat, especially at Seahouses, but did not dampen spirits, though one or two entries on both runs fell prey to  the odd technical problem and failed to reach the start.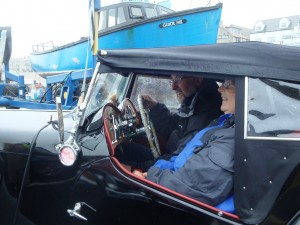 Ian and Justine Graham in their TC at an inclement Seahouses harbour, next to an appropriately named boat? Fortunately Ian Whyte's route directions provided all the guidance required for the 18 cars starting from this point!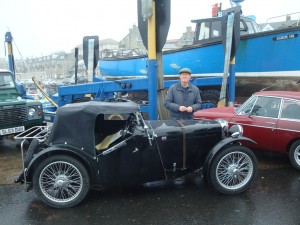 David Rawlinson demonstrating his 1933 J2's weather equipment was fit for purpose.
The morning section of the St. Cuthbert's Run followed the coastal route south, as far as possible, passing Beadnell, Boulmer and Amble on route to Ashington.
Meanwhile down at Stokesley the 34 cars that made the start there faired better, as the rain eased off just as the oldest car, a 1937 Riley 12/4 Special driven by Keith Orange, was the first to be flagged away….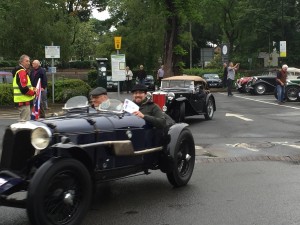 …followed by the 1939 MG TB of John Adamson.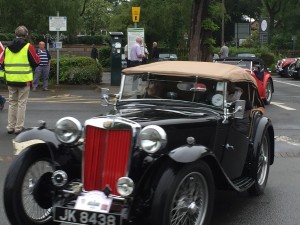 The furthest travelled was Frank Shore in his very nice red TC….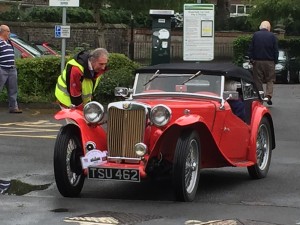 A rare car these days was the Mk3 MG Magnette of Tony Duffy from Selby.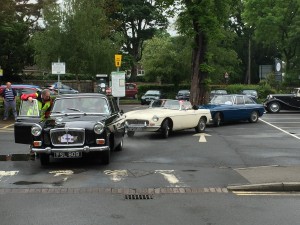 The morning section of the Prince Bishops Run took the  cars via Osmotherley and Brompton to Northallerton,  through Scorton and Catterick village , then onward to Catterick Garrison (via late changes to the route book thanks to the ever changing impact of the A1 trunk road upgrades) to reach Richmond for lunch.
All cars arrived safely at the respective lunch halts. Reserved free parking at a public car-park in Richmond was the perfect spot to have a picnic lunch (in dry weather) or explore the cafes in this lovely Georgian town, whilst the excellent Woodhorn Colliery Museum near Ashington  played host to the St. Cuthbert's Run entrants, again with reserved free parking and a good café for lunch. Here the weather brightened, but not yet enough for some to continue top-down.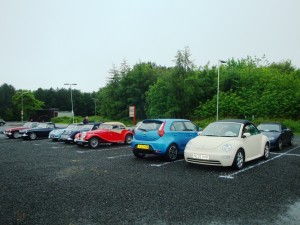 Lunchtime scene at Woodhorn Colliery (they are all indoors having lunch!)
The afternoon sections were driven in much better weather on both routes, with the St. Cuthbert's crews visiting Whitley Bay before heading  inland to go through the Tyne Tunnel, before turning south near Chester-Le-Street, heading for Durham.
The Prince Bishops crews reached Durham via Gilling West, then a short but quick run westward on the A66, turning off for Hutton Magna and Winston, then on to Staindrop, Witton le Wear,  Crook and Brancepath, with a revised route heading into Durham City towards the Cathedral, passing the Royal County Hotel.
Ian Lindley, chairman of the Caledonian Centre, was our guest judge, and whilst everyone enjoyed a most welcome cream tea at the Almshouse Café on Palace Green, Ian kindly chose the cars he would most like to drive home, apart from his own MG RV8 of course!
The Prince Bishops Trophy for pre-1981 cars went to David Rawlinson for his wonderful 1933 MG J2, which belied the fact it had been driven through some awful weather, and kept the occupants dry…I think!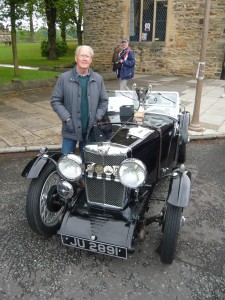 The Prebends Trophy for post-1981 cars went to Richard Pearson for his very nice flame red MGF VVC of 1999 vintage.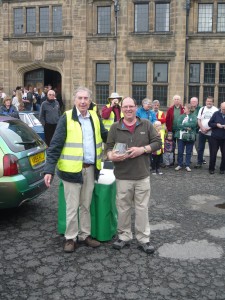 Finally, the Spirit of the Event award, an engraved whisky glass, went to Ian Clayton for his 1960 Austin Healey 3000.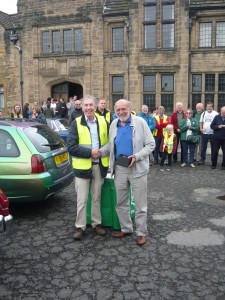 I would just like to add my thanks to Ian Whyte for organising the St. Cuthbert's Run, and putting together a splendid route, to which the weather failed to do justice, and to all the Tyne-Tees marshals who helped make this dual-run  event an enjoyable day out for all concerned.
Report by Noel Lindford.
Photos by Ian Fair, Ray Abbott and Ian Graham.
Skylive! at Durham Tees Valley Airport: Saturday 28th May
This was the first air-show at Teesside Airport (as I know it!) since 1990, and apart from the superb flying displays, the organisers had asked our friend Geoff Mansfield, Chairman of the local  Jaguar Drivers Club, to organise a display of vintage and modern "interesting" cars. (In the end, a total of 190 cars were assembled from several of the major car clubs.  We were the only MG club there…perhaps the early start was not for the faint-hearted! I got a call from Geoff to put on a wide-ranging display of MGCC members cars; we managed to get fifteen  on the day, which called for an even earlier start than the Nissan visit!
We had to be there for 8:00am as special access for our cars was only open until 8:30am when barriers changed for the public access. I have to sincerely thank our members for making the effort to be there on time. A lot of frantic activity then ensued to erect our large event shelter  (excellent team effort) and then position the queuing cars into a suitable visual display, so we did not just look like a car-park.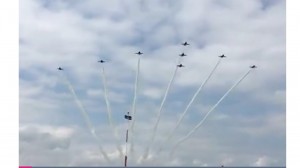 The flying displays by the WW2 Spitfire and Hurricane, Typhoon fighter-bomber and the Blades display teams were brilliant, with the RAF Red Arrows providing the highlight of the afternoon, watched by an enthralled  crowd of 18000 people,  and despite being reduced to eight planes, following  a bird-strike on take-off.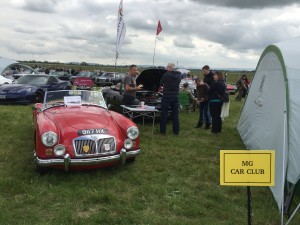 Our display attracted  a lot of public attention, and with our new pop-up roller banner graphically showing what we are all about, as well as being  the "Marque of Friendship" we may well have signed up some new members.  A good day in the sun, enjoyed by all!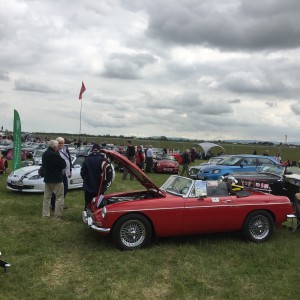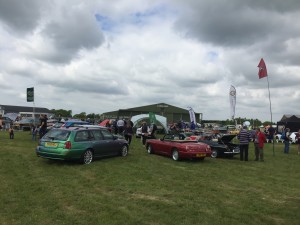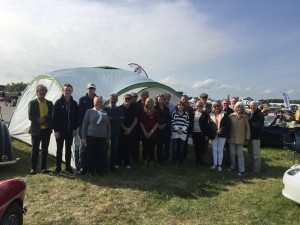 Our Tyne-Tees folk pose for a group photo, at the end of another  grand day out.
Report and photos posted by Noel Lindford
Visit to Nissan Sunderland: Thursday 19th May
Tyne-Tees Committee member Andrew Kelly arranged for our members to have a full tour of the Nissan car factory at Sunderland, probably the most productive and mechanised  car-plant in Europe. We thought it would be nice therefore, as part of our visit, and as a counterpoint to this high-tech facility, to put together an MG Timeline display of 29 MG cars from 1933 -2010, all of which were effectively hand-assembled at MG factories in Abingdon and Birmingham.
No less than 54 of us took part in what turned out to be a 2.5 hour tour of the Nissan plant, and this meant an early start for many to get there for 9:00am as we all had to be signed in and briefed for the tour start at 9:30am. This led to some interesting sights at a nearby McDonalds restaurant, where the MGs that rolled in for breakfast at 8:00am caused quite a stir, not least with local police who wanted to swap their car for an MGB GT for the day!
I am very grateful to all those taking part for getting there in good time, and we were able to create the MG Timeline as planned, in the executive car-park.
Three Nissan tour-guides took us in groups of 18 on the manufacturing journey from the press shop, paint and trim, chassis & powertrain and final assembly of the Qashqai, Juke, Leaf and the new Infiniti model. No task on the line takes more than a minute, and that includes "stuffing" the engine into the car in seconds, fitting the dashboard in place in two seconds flat and a similar time for the windscreen.
The tour guides (all having worked "on the line" in the past) were brilliant, and they explained all about "Kaizen" (continuous improvement) where factory workers develop and make their own improvement aids  to production, and "Just In Time" philosophy, holding just small buffer stocks of parts for the cars, all of which are built to customer order.
Apparently whilst we were on the tour and during the lunch break, over 400 Nissan workers and management came out to look at our MGs.
Nissan kindly laid on a buffet lunch for us, and I took the opportunity to thank our hosts and the superb tour guides, by presenting them with engraved whisky glasses.
Many thanks to Andrew Kelly, all at Nissan Sunderland, especially Dave Suckley, who worked with Andrew Kelly to arrange the visit, and of course our MGCC members who made the early start to kindly display their cars. A grand day out !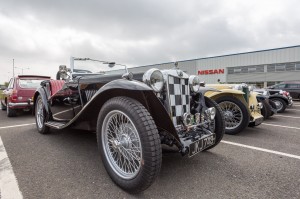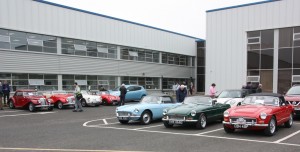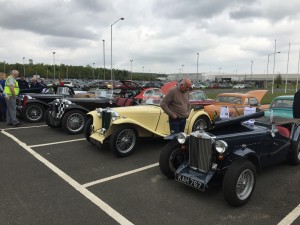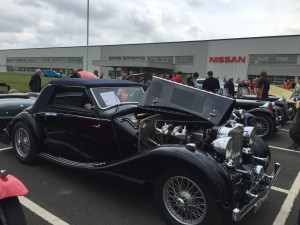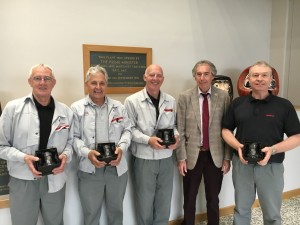 The three Nissan Tour Guides with Noel and Dave Suckley
Report posted by Noel Lindford
Regularity Production Car Autotest: Hartlepool Sunday 15th May
At the kind invitation of Hartlepool & District Motor Club, and with much liaison from our man Tony Coates, we held a Regularity Production Car Autotest at Hartlepool Town Centre car-park on Sunday May 15th.
We managed to put together four entries, for this event where a navigator is required to help keep the driver on track, the idea being to match your time on each of three runs at a particular course, laid out with cones on the tarmac car-park.
Our event was run alongside the all-forward regular autotest being contested by Hartlepool Motor Club and guests.  Three test layouts were used over the course of the day.  At least two of us had not done an autotest in decades, but we soon got back into the swing of things, and eventually driver and navigator were working well as a team….we were on learning curves in more ways than one!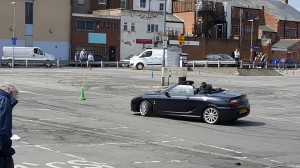 Ken Armstrong, competing in his MG TF160 with son Connor, managed to get the closest set of times, and won the regularity event overall.  Obviously the man to beat next time!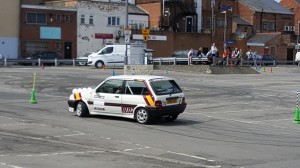 New member Richard Young, driving his Rover Metro, came an excellent second place in his very first autotest.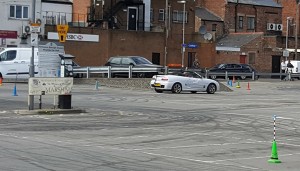 Your scribe, Noel Lindford, also navigated by Ken, came third overall driving my MG TF85. It was all looking good until the red mist came down, more than once, pushing for a quick time.  On the last test,  it all came together for a much quicker time, which of course  was not the best result on a regularity…even though it was fun! I will learn…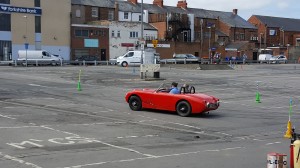 Ian Whyte's Frogeye Sprite proved deceptively quick, though the odd wrong test did not help,  but Ian posted consistently quick times. Not bad after a 40 year gap!
We all agreed it was great fun and a good day's sport, and I have to thank Ken for being my navigator as well as Ian's….he had a busy day!
The winner and runner-up were presented with engraved whisky glasses, and everyone thanked our hosts at H&DMC, and also Tyne-Tees members Tony Coates and Trish Colligan for their superb job marshalling and timekeeping.
We plan to hold another regularity event on August 28th at Seaton Carew, again with H&DMC, but it would be great if we could get more MG entries, so come on Tyne-Tees, how about it?…great fun and not damaging to your car, as you set your own pace.
  Cobweb Run 2016: Sunday 24th April
Organised by Ian Graham, this run through four counties and two countries  attracted an entry of 55 cars  on what was a (very) cool but dry spring morning at Brocksbushes Farm near Corbridge, where we were joined on the run by a number of friends from Austin Healey Club Northumbria. Following sign-on and the usual hot drinks & breakfast rolls, Ian gave a driver's briefing, and then just after 10:00am the cars were flagged away from the start at regular intervals, by our junior marshal Charlotte.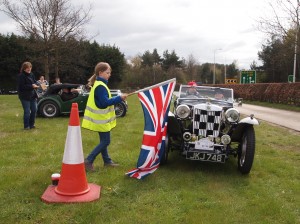 Ian Graham organised and also entered the run in his fully restored MG TC.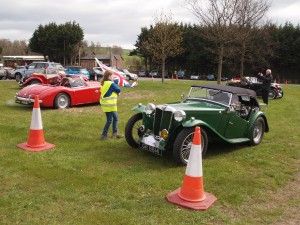 Gerald & Lillian Breedon in their MG TC about to go, with Mike Leatherland's rare 1953 prototype Healey 100-6 waiting to go, in the background.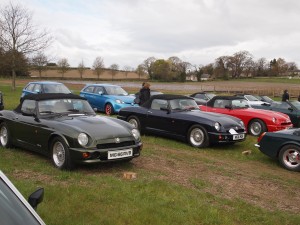 A trio of MG RV8's entered the run,  owned by (from L-R) Trevor Leighton, Sean Morton and Duncan McEwan.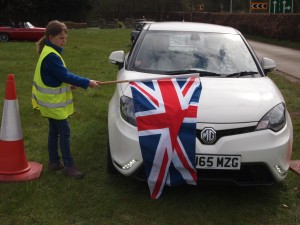 Nice to see three MG3s on the event, this one belonging to John Brown.
The route took the cars through Corbridge and out across Northumberland, west towards  Kielder Forest and Kielder Water, where some chose to cross the reservoir dam and come back on route, before motoring north into the Scottish Borders for the first scheduled halt at Newcastleton. Here a good number of folk chose to have lunch in the Grapes Hotel, which apart from serving  good food, also allowed dogs, which was very helpful on this occasion.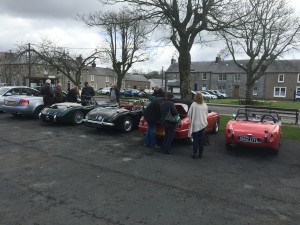 Cobwebbers cars  parked in Newcastleton opposite the Grapes Hotel.
The middle section of the run took the cars back across the border to Lanercost Priory,  where the second halt and optional lunch stop allowed some to enjoy the tea rooms there, whereas others just had a quick chat and then headed off on the final leg. With the sun now shining, many more elected for top-down motoring over some lovely winding roads and a number of arrow-straight Roman roads traversing spectacular Northumberland scenery, heading back to Corbridge and the finish at Brocksbushes Farm.  This was a 107 mile route in total, which all entrants who started, completed, even though one crew did swap cars, following an early  mechanical problem on route (not I hasten to add in an MG) but they did have a spare MG handy!
Whilst we all enjoyed a splendid cream tea, Ian had asked Charles at Brocksbushes to be our guest judge for the day and choose the cars he would most like to drive home, if he could.
The pre-1981 MG award went to Ian Fair for his delightful MG TA Tickford.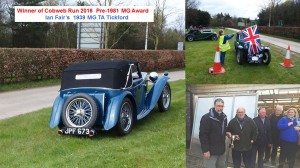 The post-1981 MG award went to Trevor Leighton for his MG RV8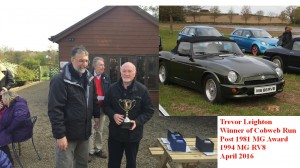 The Spirit of the Event Award went to Adrian Read for his Austin Healey 3000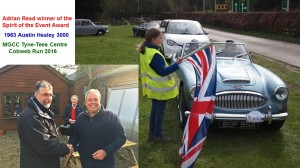 Many thanks to Ian Graham for organising a superb route, to Lyn Ebdon for organising the start and finish at Brocksbushes, and to Jan at Brocksbushes for once again doing us proud with the catering and facilities. We thanked Charles for his efforts judging the cars by presenting him with an engraved MGCC whisky glass.  Finally a big thank you to all the Tyne-Tees Centre marshals for making sure that everything went to plan and ran on time, and especially to Owen & Pam Frankland who drove all the way from Eaglescliffe in their MGB GT, an early start to do the signing on for us…much appreciated by all!
Report posted by Noel Lindford (entered an MG TF85).
Visit to Classic Mercedes: 5th March
Organised by David Alexander, 24 people from the Centre attended this visit, hosted by Walter Nieuwkoop, a collector, restorer and dealer in Mercedes Benz cars, and someone who has a worldwide reputation.  Once again, Walter did not disappoint, with an amazing collection of early Benz and Mercedes Benz cars in various states of restoration, which demonstrated his skill and dedication to rebuilding these lovely old cars, many of which were technically innovative in their day, some being very rare examples. Following the visit, a number of us had lunch at the nearby Dyke Neuk Inn.
Those present made a small donation to Medicins San Frontiere which is Walter's preferred charity, and Noel presented him with an engraved whisky glass as a small token of our thanks.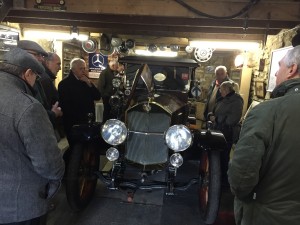 The polished wood panels on this car were truly a wonderful sight!

A very rare car which is going into the Mercedes Museum at Stuttgart, as it is much better than the one they have! A certain Adolph Hitler wanted to buy it before they threw him in jail for being a political activist. If only they'd thrown away the keys….
Tyne- Tees Centre 2015 Awards Dinner
Despite the best efforts of Storm Desmond 46 members and guests gathered together at our 2015 Awards Dinner held at the Gibside Hotel in Whickham on Saturday 5th December.
This annual event which has risen like a phoenix from the ashes of the Dinner Dance was enjoyed by all and the chat and discussion continued late into the night.    Chairman Noel gave a spirited review of the past year accompanied by a lovely montage of pictures from the events.
David Alexander outlined the Calendar or 2016 which includes two new social events for our long suffering partners to enjoy.
In September we are organising a two day tour to the Lake District staying in a four star lakeside hotel.  A little later will be a trip to York by train the plan being that we all arrive at the same time no matter the station from which you start.
A raffle raised £170 for the Great North Air Ambulance thanks to the generosity of all present.
The awards were presented by Lyn Ebdon who had put so much effort into the whole event.    Chairman Noel thanked Lyn for presenting the awards and the work put into organising such an enjoyable evening.
MGCC Tyne-Tees Centre 2015 Award Winners
Southern Natter Pre-81          Owen Frankland  MGB GT
Southern Natter Post-81         Dennis Hope MG3 Style
Northern Natter Pre-81           Ian Fair   MG TA Tickford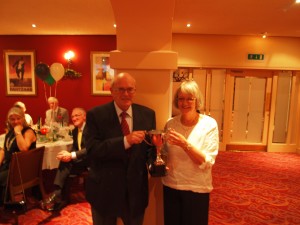 Norther Natter Post-81          Bob Heslop  MG TF135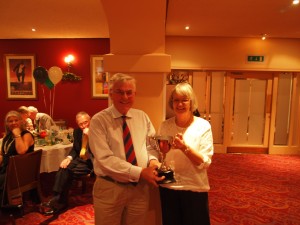 Cobweb Run Pre-81               Steve Gibson  MGA Roadster
Cobweb Run Post-81             Terry Garnick   MGF VVC
Prince Bishops Run – Pre-81  Maurice Standish 
        MG WA Drop-head Coupe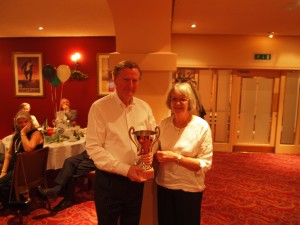 Prebends  Post-81                  Richard Wood  MG RV8
OSHR Pre-81                         David Bolton   MGB Roadster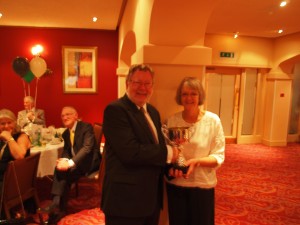 OSHR Post-81                        Paul Guellard  MGTF LE500
Autumn Leaves                       Ed Harvey  MG TF135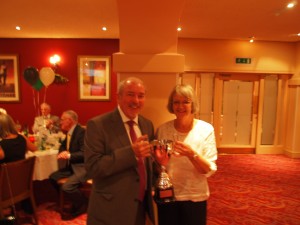 Enthusiast of the Year           Dennis Hope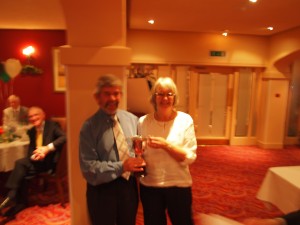 Dennis is an indefatigable member who enthusiastically supports all our events and is normally the first to arrive and last to leave.  He has also organised two road runs in the year and lead the Old Mill Natter.
13. Lady Enthusiast                      Pam Frankland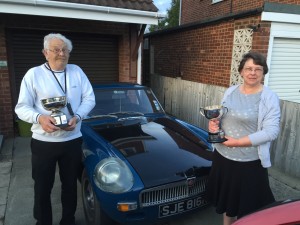 Owen and Pam receive their trophies at home, a few days later.
Pam is an expert navigator on events in their MG TA and MGB GT, is the first to volunteer to do the competitor Signing On for the Cobweb Run and Prince Bishops Runs.   In addition to all this Pam took part in Yorkshire Centre Daffodil Run, MGB Register Spring Run and Caledonian 3 day event.
14. Marshals Trophy                     Tony Coates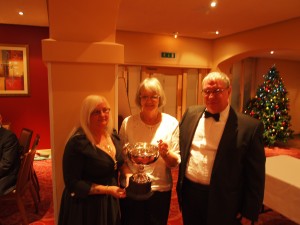 Tony who is always with Tricia is a very enthusiastic member of the TTC Marshals Team, supporting autotests held by Hartlepool & DMC, Durham AC, as well as all the stage rallies that the Centre supports across our region. He suggested improving our visibility with new marshal's banners which we now have, and designed a new Marshals Logo.   Tony is keen to set up a Facebook page for our Marshals and bring us into the age of social media.
15. Long Beach Trophy                Doug Carmichael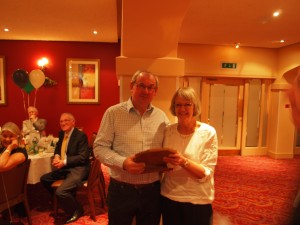 Doug has successfully campaigned his MGB Roadster all over Europe this year and achieved
1st in class on the Welsh 3 Castles Rally – a 4 day event mainly in Wales.
3rd in class in Italian Lakes Rally – a 7 day event
5th in class / 9th overall in the 2 day Beaujolais Rally
16 Chairman's Award                   Ian Graham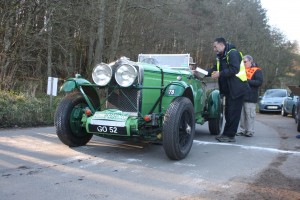 Ian organised 2015 Cobweb and 2014 Old Speckled Hen Runs is an active member of the Centre marshalling team whatever the weather.   His biggest achievement this year was completing the rebuild of his wonderful MGTC which he entered on the Autumn Leaves to great acclaim from all who saw the finished car.
Report posted by David Alexander assisted by Chairman Noel.
Visit to Aston Workshop: November 11th
Twelve members and guests gathered for a visit to Aston Workshop at Beamish in Co. Durham which was established by Bob Fountain in 1988. This specialist car sales and restoration company grew out of Bob's personal interest in restoring Aston Martin cars to the highest possible specifications.

From the moment you enter the large showroom featuring over 40 classic Aston Martins and a sprinkling of other specialist cars it's obvious they are no ordinary restorer.    The cars were all open and we were encouraged to have a close inspection
Brian Steadman showed us around the workshops were cars are stripped down and rebuilt to the highest standards.   In the body shop where they regularly make new bodies in aluminium but most impressive is that the craftsmen are young enthusiastic guys who have been taught the skills.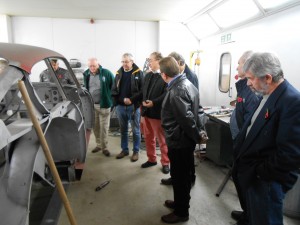 This car was undergoing a full restoration having had the outer panels removed to repair the ravages of salty roads and time.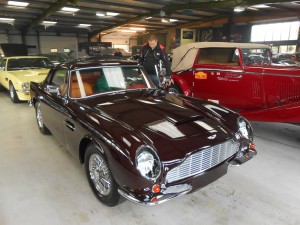 I had never seen a DB6 Volante with a hard top which was not surprising as it had been made by hand from scratch with only a few pictures as a guide.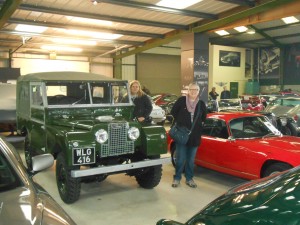 Despite all the exotica Lynda and Emily both loved this restored Series 1 Land Rover which was better than new.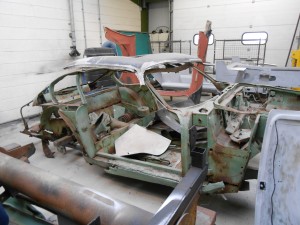 With three years work this will be a DB5 that James Bond would be happy to use as his daily driver!
We would like to express our grateful thanks to Brian Steadman and his team for sparing their time to show us around this amazing facility.
Report posted by David Alexander.
The 2015 Autumn Leaves Run: October 18th
An excellent mix 0f 28 cars descended on Dobbies Garden near Ponteland, on what was a very nice late Autumn Sunday morning, for the start of this final road run of our season. This is a more relaxed affair than our other road runs, in that there is not the usual staggered start of cars.  Many people chose to partake of the excellent breakfast menu on offer at Dobbies, before setting off from about 11:00am to follow a pleasant 45 mile tour around southern Northumberland, over very good driving roads, many of which, especially on the latter part of the route near Bolam Wood,  being covered by a canopy of golden leafy trees, which is what this run is all about!
Joining the MGs on the route were a couple of Austin Healey 3000s, a Triumph TR3A, a couple of BMWs and the lovely Riley 1.5 owned and driven by our good friend John Brown.
The cars set off west via Tranwell Woods, then north towards Morpeth, Longhorsley and  Netherwitton, before heading out towards Longwitton and Scots Gap.  The route book then had the cars heading  south via Bolam Wood to Belsay, and on down the A696 to the finish at the Highlander Inn.
Here we sat down to an excellent Sunday lunch, with our own reserved tables. Lyn Ebdon was invited to chose the cars she found most appealing, and chose Ed Harvey's MG TF135 as the winner of the Autumn Leaves Trophy, whilst the Spirit of the Event award went to Ian Graham, for entering his very recently restored MG TC.
My thanks to Louise and all at the Highlander Inn for making us most welcome.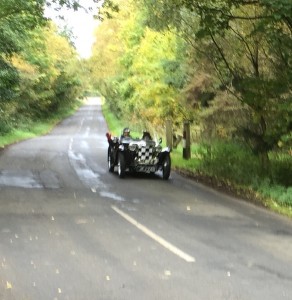 Ian Graham pressing on  in his MG TC at Bolam Wood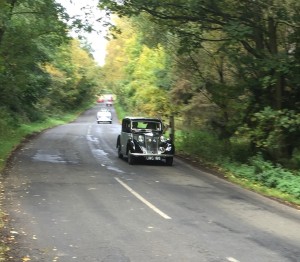 Richard Verill in his MG YA, also at Bolam Wood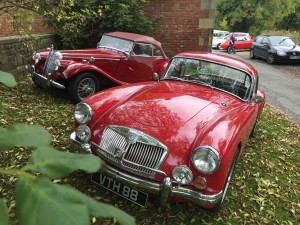 Lunch stop at the Highlander – Maurice Standish's MGA Coupe keeps Bob Thompson's  TF1250 company.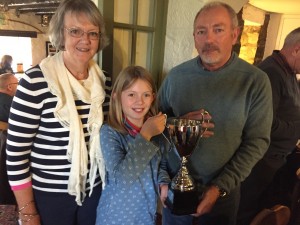 Lyn's granddaughter Charlotte presents Ed Harvey with the Autumn Leaves Trophy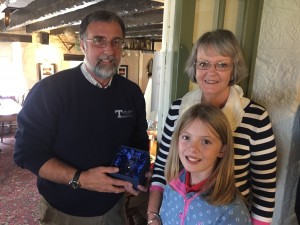 Ian Graham receiving the Spirit of the Event award, for entering his MG TC after a long rebuild.
Report by Noel Lindford.
The 8th Tyne-Tees Old Speckled Hen Run: 13th September
Despite a lot of competing events on the day, we had 34 cars signed up for this one, of which 30 made it to the start on a lovely early autumn day.
Keith Dunn put together a superb driving route of some 90 miles, running through Weardale, Teesdale, Northumberland and a short trip into Cumbria.  The event started and finished at the Chatterbox Café in St. Johns Chapel. The owner, Cameron, (a real character) made us very welcome and provided the breakfast rolls and hot drinks at the start. The map below shows the circular route taking the cars over smooth quiet roads through quite stunning scenery.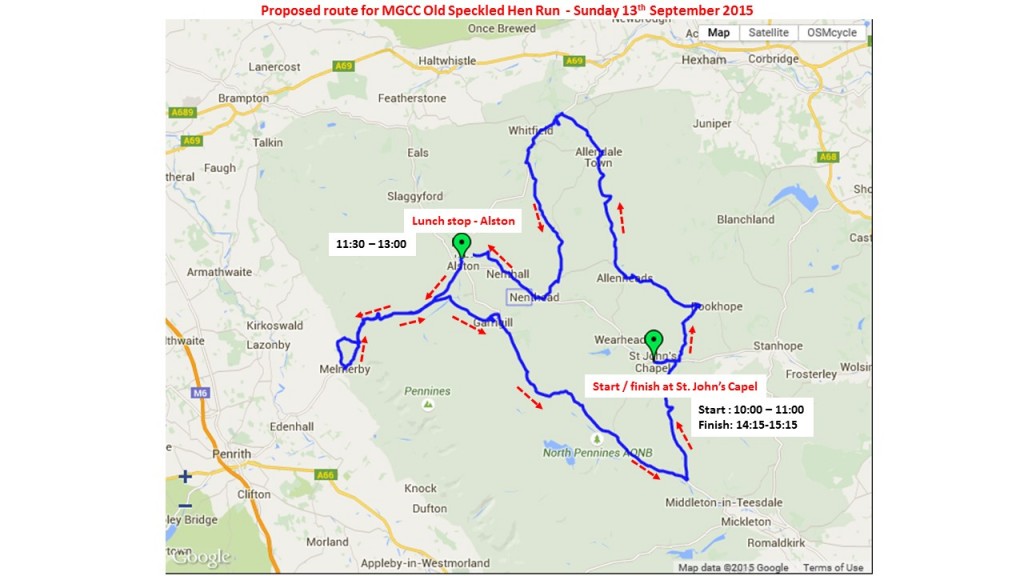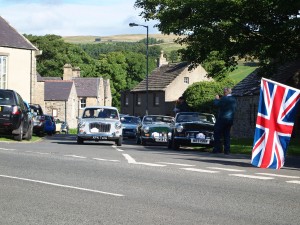 The start at St. John's Chapel. Our man Ken Armstrong with his Mk2 MG1300 ended up being the only FWD Register car to make the event.
Many chose to have lunch at Alston, with the station café a popular choice, but others decided to press on to Hartside Café which was very busy with both cyclists and motor-bikers.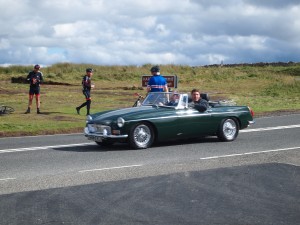 David Bolton in his 1972 MGB Roadster on Hartside.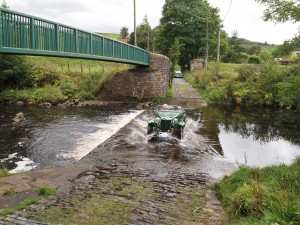 Gerald and Lillian Breedon making waves crossing a ford in their 1947 MG TC, at Westgate, close to the finish.
The event finished back at the Chatterbox Café, where cream teas were very welcome, as all made it safely to the finish. Cameron was our guest judge, and he chose David Bolton's MGB Roadster for his favourite pre-1981 MG and Paul Guellard;s MG TF LE500 as his post1981 MG choice. Yours truly chose Mike Leatherland's superb prototype Austin Healey 100/6 for the Spirit of the Event which we award to a non-MG.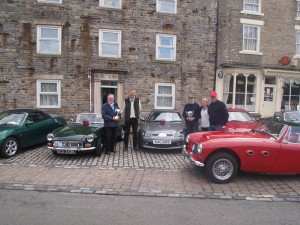 The award winners.
L-R David Bolton,  our guest judge Cameron, Paul Guellard and Mike Leatherland.
My thanks to Keith for putting together such an excellent route, (which attracted a lot of positive feedback), to our Tyne-Tees marshals for helping at the start, and to Cameron and all at the Chatterbox Café who made us so welcome.
Posted by Noel Lindford
Croft Nostalgia Weekend: August 8th/9th
Once again Tyne-Tees Centre had a major club presence at this fabulous weekend held at Croft Circuit. This amazing event has been referred to as the Northern version of the Goodwood Revival, with period racing on the track, and displays of period aircraft and all manner of military vehicles, complete with folk in period dress from the 40s, 50s and 60s, both "civilian and military". We were blessed with fine sunny weather the whole weekend.
Our Club presence included an eclectic mix of no less that 18 cars on both days, displayed in chevron formation in front of our splendid new Event Shelter complete with our large Tyne-Tees Centre  logos, so no one was in any doubt that the MG Car Cub was on site!   (Only the Jaguar display could compare with ours , though they did have more cars!) Our MGs attracted many visitors and some members we do not often see. Tony and Helen Wood arrived late on the Sunday morning in their racing MG TC nicknamed "Bluebottle" which Tony took out for a couple of parade laps on the circuit. Andy Bailey from Edinburgh (Caledonian Centre) joined us in his MGB and as a former instructor at Croft, showed me the correct line to take around the circuit when he allowed me to join him as passenger on one session of parade laps.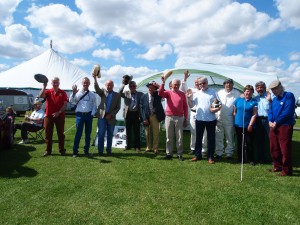 "Hello from Croft"   on the Saturday – photo Noel Lindford
The icing on the cake for us on the Sunday (apart from the wonderful flypast by the only flying Vulcan bomber), was when Sheila Hope wo the Best Dressed Lady wearing period costume Award, which had husband Barrie beaming from ear to ear!
The cars on display ranged from the magnificent MG WA Coupe of Maurice Standish, to "Jester" the MGF VVC race car of Mags Farquahar (in red and yellow harlequin colours), both of which really  pulled in the crowds.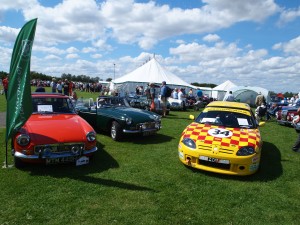 Jester to the fore on the Saturday: Photo: Noel Lindford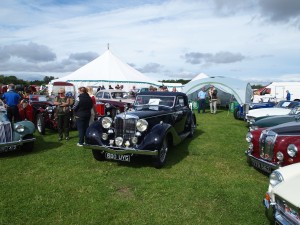 The WA Coupe was the centrepiece of the display on the Sunday.  Photo: Noel Lindford
Throughout the weekend we had several people enquiring about joining the Club, and hopefully some will become new members. Main Club (Kimber House) could not be with us this year, but hopefully they will in 2016!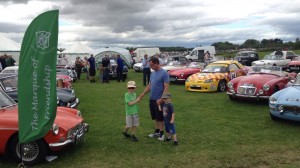 Scene on the Sunday –  Photo: John Watson
If you missed this year's event then you really missed a treat…so be there if you can  in 2016.
Report posted by Noel Lindford.
Prince Bishops & St. Cuthbert's Runs: Sunday 7th June
For the second year running we held these two simultaneous runs, both of which attracted a good number of entries. 35 cars started the Prince Bishops Run from Stokesley, whilst 23 cars started out on the St.Cuthbert's Run from the harbour at Seahouses. The weather held fine all day!

The Prince Bishops Run followed a variation on the 2014 route, traversing North Yorkshire, with the lunch-halt this year being in Richmond at the Nuns Close car-park, where we had reserved parking, by kind permission of Richmondshire District Council. The afternoon rout took the cars up into County Durham via Staindrop, Howden -le Wear and Crook, before heading up the A690 into Durham City, to the finish on Palace Green, in front of Durham Cathedral.
The St. Cuthbert's Run, route devised by Ian Whyte, started down by the harbour wall in Seahouses, and headed south via Beadnell, Alnwick and Rothbury, to a lunch stop at Kirkharle Courtyard. The afternoon route saw the cars heading south towards Chollerton and  Corbridge to eventually pick up the A691 towards Lanchester and then on into Durham. Hear cars occasionally joined up with some of those from the Prince Bishops Run heading for the cathedral.
Given that the security people got the message we were arriving a bit late, this called for some creative parking direction by the TTC marshals to ensure we got all the cars well positioned around Palace Green.
Paul Plummer, MGCC Overseas Director, and our special guest for the day, chose the cars he would most like to take home. The Prince Bishops Trophy went to the beautiful MG WA Drophead Coupe owned and restored by  Maurice Standish, and the Prebends Trophy was awarded to a lovely MG RV8 owned by Richard Wood. The "spirit of the event award" a glass whisky tumbler, went to local man Steve Owens for his Austin Healey 3000.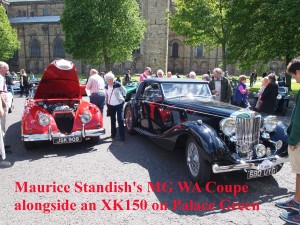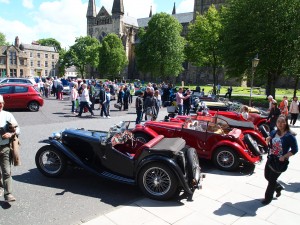 General scene on a busy Palace Green.
Thanks to all the TTC marshals and to Pam & Owen for handling the signing-on at Stokesley. and to Ian Whyte for putting together a superb St. Cuthbert's Run route.
Cobweb Run 2015 Celebrating Drive-It Day: April 26th
The 2015 Cobweb Run, Celebrating Drive It Day on April 26th, was organised this year by TTC Committee member Ian Graham, who had put together a varied and scenic route that crossed Northumberland taking in wild country-side and some stunning coastal scenery. A feature of this event was to pass by several significant RAF WW II airfields, with notes in the route book giving a potted history of each.
  No less than 60 cars entered the event, which was open to all vehicles, and apart from a large and varied selection of MGs, the others included several Austin Healeys, a number of Triumphs, and two 5.7 litre Chevrolet Corvette Stingrays which made quite a distinctive sound!
  Once again the start and finish for the Cobweb was Brocksbushes Farm, near Corbridge, to whom we extended our grateful thanks. Many people enjoyed a breakfast roll with their hot drinks following check-in, with Owen and Pam Frankland kindly signing people on and handing out the entry packs. Fortunately we were blessed with a dry and bright day, unlike previous years when this event has been run in rather damper conditions.
  Following a drivers' briefing, Charlotte, our energetic junior marshal (who seemed to be everywhere), flagged away the first car at 10:30am and all cars after that at regular intervals.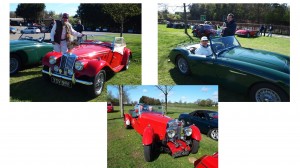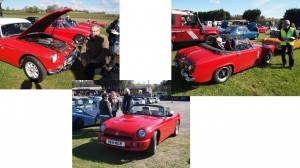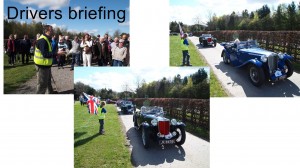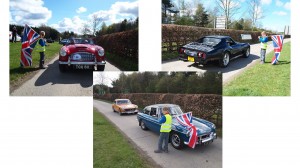 The 98 mile circular route took the cars north to Ponteland, Morpeth, Acklington, past Warkworth Castle (always an impressive sight), and out to the coast via Alnmouth and RAF Boulmer to the lunch stop at Alnwick. Here there was a chance to have lunch in the town centre (where there were plenty of good parking spots) or visit the Aln Valley Railway, just a short drive away.
  The afternoon section took the cars south to Rothbury, Scots Gap, Belsay and Stamfordham, before returning to Brocksbushes for a well-earned cream tea.
  Our guest judge was then invited to choose the most appealing MG car they would like to drive home. The winner of the 1924-1980 MG category was Steve Gibson with a superb MGA 1500 Roadster, whilst the 1982-current MG award went to Terry Garnick in his MGF.  An excellent event, enjoyed by all….no one got lost and they all finished the route.  Well done to Ian for an excellent route, and to Lyn Ebdon for co-ordinating everything at Brocksbushes Farm.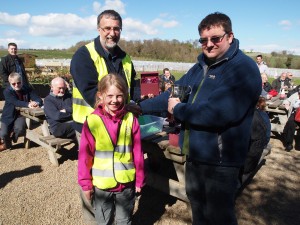 Steve Gibson receives the Cobweb Trophy 1924-1980 for his MGA 1500 from Ian and Charlotte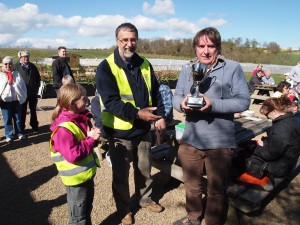 Terry Garnick receives the Cobweb Trophy 1982-present for his MGF
Both drivers also received engraved whisky tumblers, which unlike the trophies, they get to keep and use.
Report and photos  posted by Noel Lindford
Visit to Heritage Classics of Teesside: 28th February
At the kind invitation of John Collins, Managing Director of Heritage Classics of Teesside, 30 TTC members and guests visited John's premises at Riverside Park Industrial Estate, in Middlesbrough.
John and his very skilled team of craftsmen showed us some examples of their work, from the complete originality and attention to detail of a restored Mk4 Austin Healey Sprite, owned by TTC member Brian Smith, to one man's wish to create his ultimate MGB GT, complete with Frontline suspension, uprated K series VVC engine, and bespoke trimming to the highest standards. John and his team, including apprentices (good to see the skills are being passed on) showed us the range of what they can do in-house, from chassis powder coating to complete interior trimming made up on the premises.  The following photos capture some of this.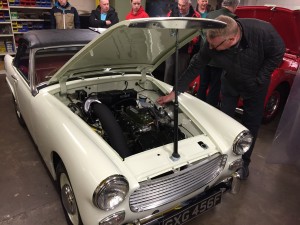 Brian Smith with his 1968 AH Sprite Mk 4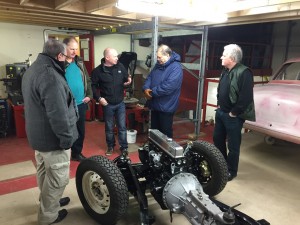 John Collins (in centre) explaining the chassis powder coating process to Jim Panton and others, in front of a Triumph TR6 rolling chassis.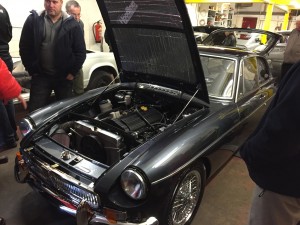 An MGB GT built up at Heritage Classics from a new BMH body-shell with modified VVC engine, Frontline suspension and bespoke leather interior….very nice!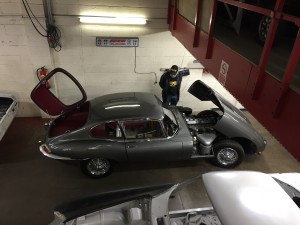 An immaculate E-Type Jaguar Coupe
On behalf of MGCC TTC I would just like to record my thanks to John and his team for giving up their Saturday morning to show us just what they can do. The best quote came from Brian Smith, who has had his AH Sprite restored there…" I cannot praise John and his team too highly for the work they have done".
We concluded the visit with a short drive to the Blue Bell at Acklam,  Middlesbough  for a pub lunch.
More info on Heritage Classics can be found at http://www.heritageclassics-teesside.co.uk/
Report posted by Noel Lindford
Tyne-Tees Centre AGM: 5th February 2015
  Our Tyne-Tees Centre AGM took place on 5th February at the Old Mill, Metal Bridge and was well attended. Reports were presented on how the Centre delivered on the 2014 program of events, our satisfactory financial status, and our plans to take the Centre forward with our 2015 program, making effective use of more wide-ranging communications via Facebook, and perhaps Twitter.  
 With the exception of Margaret Farquhar, who is stepping down from the Committee after five years  (to whom we offered much thanks & recognition for all her efforts, plus wished her well racing her MGTF), all other Officers and Committee are unchanged, having stood for re-election un-opposed.  Should any Tyne-Tees member unable to attend the AGM, wish to see a copy of the reports, please contact me on 0191 587 0753, or 07432 152095. The 2015 Committee and their contact details are listed on the  Contacts Page of this Tyne-Tees microsite.
Posted by Noel Lindford
Tyne-Tees Centre 2014 Awards Dinner: Friday 5th December
This year we decided on a less formal, more relaxed evening of good food & drink, sparkling conversation, and of course the awards to those who had won various Tyne-Tees trophies throughout 2014. We were delighted to have a number of people who had travelled considerable distances to be with us at the Gibside Hotel at Whickham (close to the Metro Centre and just off the A1 western bypass).
George & Pat Harvey came over from their home in France, Mervyn Gillespie and Janice Boustead travelled up from Harrow in their MG TF LE500, whilst TTC members Barrie & Sheila Hope made a welcome visit from their home in Lincolnshire.  Our guest speaker this year was Paul Plummer, who with his partner Madeleine Harvey had travelled up from the Midlands (via Tenerife!) to be with us. As well as being the MGCC Overseas Director, Paul also represents the interests of our Centre with Main Club and the Board.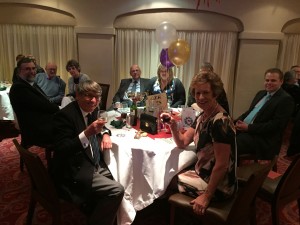 Paul and Madeleine raise a glass to Tyne-Tees Centre.
On arrival guests could see a big screen moving photo gallery which was a comprehensive review of what we had been up to in 2014, and not exclusively TTC events I might add; Tyne-Tees Centre Marshals have been all over the place this year, supporting all manner of high-profile classic rallies.
Once again the Gibside Hotel did us proud with an excellent Christmas Dinner served in the Bowes Suite. Following the after-dinner toasts, Noel Lindford briefly reflected on the Tyne-Tees events of 2014, and then handed over to  our Secretary, David Alexander, who gave us an insight into the events we have planned for the 2015 season, including an interesting 24 hour trip into Scotland. More will be revealed when everyone receives the 2015 calendar….soon!
Paul then delighted the audience with a slide show reflecting his visits to Europe,  the Far East and Australasia, promoting MGCC and supporting affiliated MG club events across the world. The enthusiasm for MG in America is well known, but it is equally so across the World it seems.
We then asked Paul to kindly present the trophies to our award winners, not all of whom could be with us on the night, some unfortunately due to ill health. To those, they will be presented with their trophies at an appropriate Natter. The photos below capture some of the smiling winners and the diners.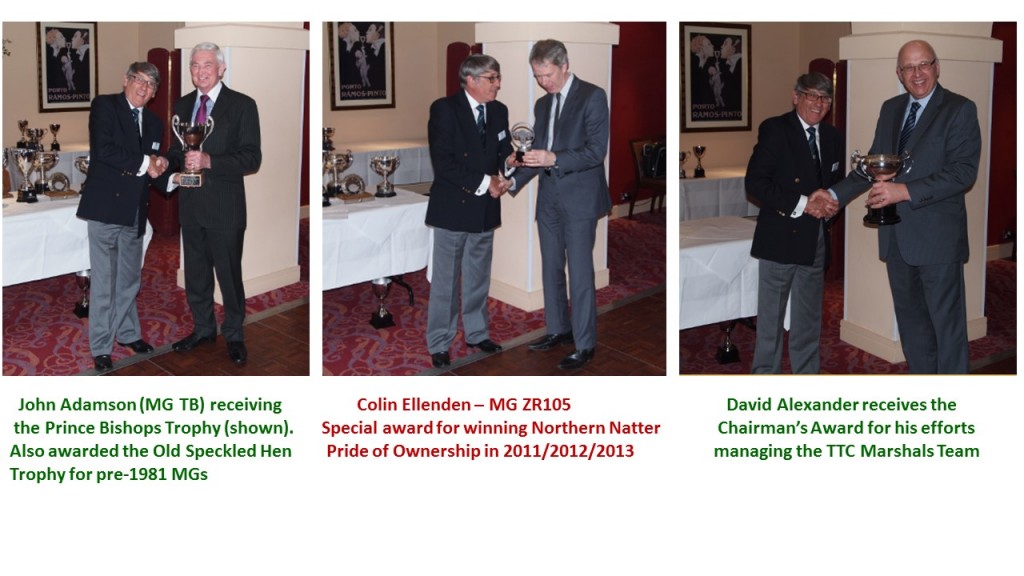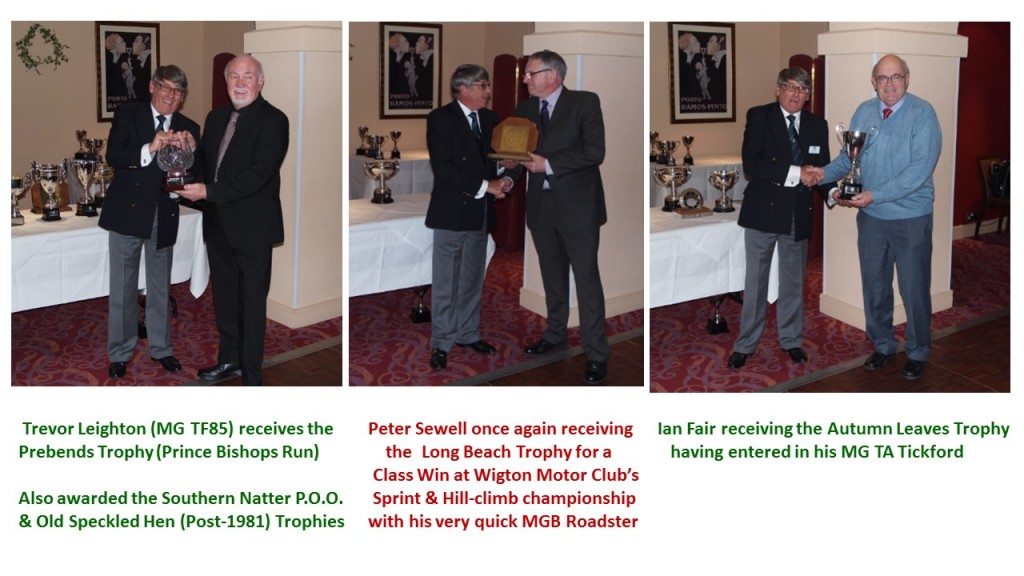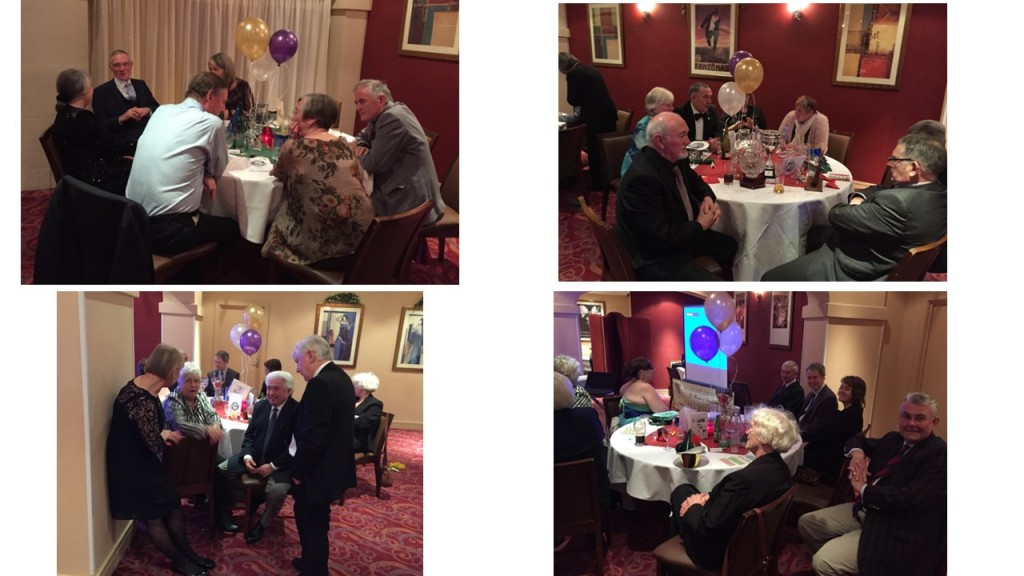 The finale of the evening was the Grand Raffle which raised a total of £164. This has now been donated to our two chosen charities, Great North Air Ambulance and Marie Curie Cancer Care.
Finally I must express a big vote of thanks (on behalf of many people) to Lyn Ebdon for once again so successfully organising our Awards Dinner. Many people commented that they preferred the format this year, with more time for socialising, which is what it is all about.   
    Tyne-Tees Centre 2014 Award Winners      
              Pride of Ownership
           Southern Natter (Pre-81)                 Peter Baglee    MG TD
           Southern Natter (Post-81)               Trevor Leighton:   MG TF 85th Anniversary
           Northern Natter (Pre-81)                 David Rawlinson:  MG J2
          Northern Natter (Post-81)                Noel Lindford:  MG TF 85th Anniversary
              Road Runs: "Car to Take Home"
          Cobweb Run:  (Pre-81)                   Bob Thompson:  MG TF1250
          Cobweb Run:  (Post-81)                 Helen Waddington: MG TF135
          Prince Bishops Run: (Pre-81)        John Adamson: MG TB
          Prince Bishops Run: (Post-81)      Trevor Leighton: MG TF 85th Anniversary
         Old Speckled Hen Run: (Pre-81)   John Adamson: MG TB
         Old Speckled Hen Run: (Post-81)   Trevor Leighton: MG TF 85th Anniversary
         Autumn Leaves Run (Peter Ebdon Trophy)   Ian Fair: MG TA Tickford
              Individual Awards
         Enthusiast's Trophy:   John Brown
        Lady Enthusiast's Trophy:   Irene Stephenson
        Marshal's Trophy:  Donald & Eileen Dalton                      
        Long Beach Trophy:  Peter Sewell
        Chairman's Award:   David Alexander
Posted by Noel Lindford
Autumn Leaves Run 2014: October 19th
This was our last road run of the season and it attracted no less than 38 cars for a half day run, superbly organised by Lyn Ebdon. The start was Dobbies Garden Centre near Ponteland, which also proved to be a popular place to get breakfast for many of us taking part in the event. Most people arrived to a gloriously sunny, if breezy morning, the rain having passed by. Unlike our other major full day runs, this is a more relaxed  affair, with cars leaving when ready, aiming to drive the 47 miles of the route to get to our chosen pub for Sunday lunch, which was booked for 1:30pm.
The photos below capture the scene at the start, with much good conversation and comments on the cars.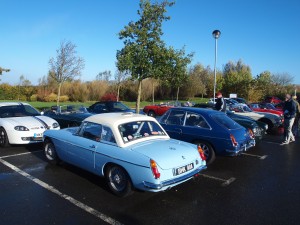 Martin Robinson's FIA spec MGB freshly washed for the event, apparently. Note the clear blue skies!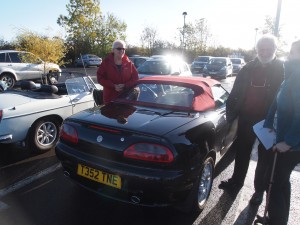 Irene and George Stephenson with another one of their immaculate cars – an MGF 75th Anniversary model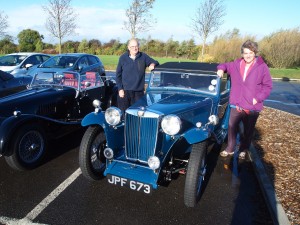 Ian and Christine Fair with their Saxe Blue MG TA Tickford. (They look relaxed so that must have been before Lyn told them about the two fords they had to cross on the run…)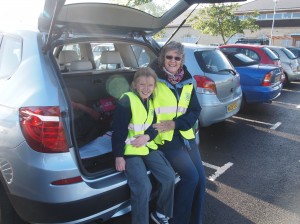 The smiling marshals: Lyn with granddaughter Charlotte – at sign-on control.
Lyn put together an excellent route that took the cars on a 47 mile circular tour which headed off north west towards Longhorsley via Mitford, then up towards Rothbury, before turning South towards Nether Witton, crossing two fords, the  second of which is captured below: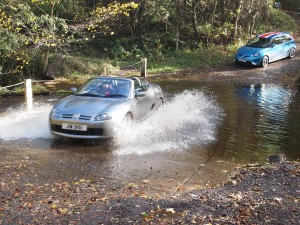 John Watson (MGB Register Chairman) in his MG TF135, closely followed by Terry Garnick in his newly acquired MG3, which he loves apparently! Let's hope for a few more MG3s and MG6s joining us in 2015.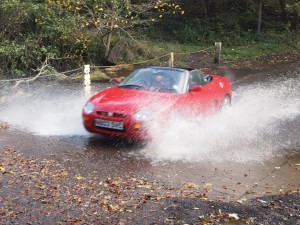 Michael Ring making quite a splash in his lovely red MGF.
Further down the road, your scribe, playing catch-up in his MG TF85, came up behind  Nick Owens, bowling along at quite a pace in his MG TC, resplendent with new chrome wire wheels…sheer motoring bling!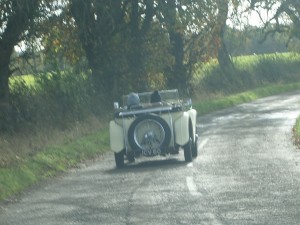 In the latter stages of the run, with roads now littered with autumn leaves, David Alexander took these shots of some cars at speed on a straight bit…..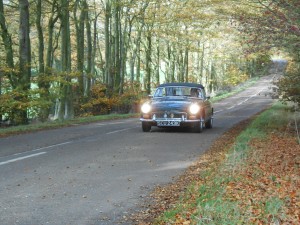 David and Helen Bolton enjoying the run in their 1972 MGB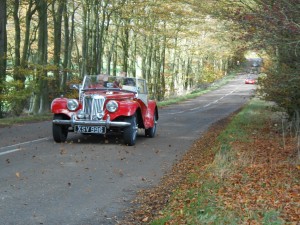 Nick Simpson waves for the camera in his MG TF.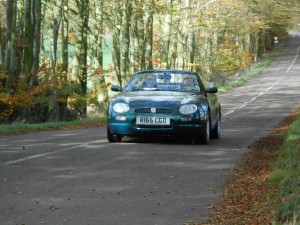 Tom Smith pressing on in his MGF VVC
Everyone successfully made it to the finish at the Highlander Inn near Belsay, where about  76 of us sat down for a very enjoyable  Sunday lunch. Parking was a challenge for those who arrived last, but not for some…..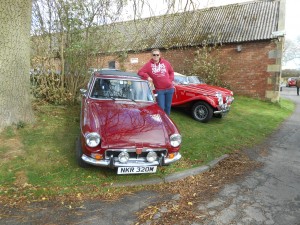 Matthew Alexander in cool pose alongside dad David's trusty MGB GT.
Following an excellent lunch, John Watson, our guest judge chose the car he most admired on the day, and this year the Autumn Leaves Trophy went to to Ian and Christine Fair for their delightful MG TA Tickford.
The photos below show the presentation by young Charlotte…..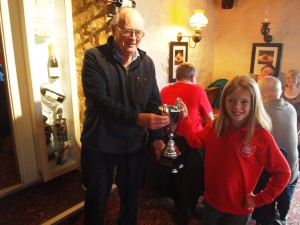 ….with another photo-call in the autumn sunshine alongside the winning car.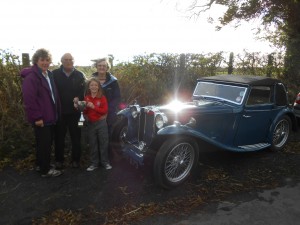 An excellent event for which organiser Lyn Ebdon has received much positive feedback. Many thanks to all those who took part and to all who helped make this super event happen, not least the management and staff at Dobbies Garden Centre and the Highlander Inn, to whom we express our sincere thanks.
Report posted by Noel Lindford
 7th Tyne-Tees Old Speckled Hen Run: September 14th
We had a good entry of 43 cars for this event (organised this year by Ian Graham – his first event as a road run organiser) with 40 cars actually making it to the start at the Paddock Farm Nursery & Water Gardens at Dalton Gates, just over a mile past Croft Circuit. We were please to welcome friends from MGCC Yorkshire and Lincolnshire Centres to this one, along with an AHC Healey 3000 and a splendid Jaguar XK150 OTS. Mervyn Gillespie also made the trip up from London to be with us.
Following some excellent coffee and breakfast rolls, Ian invited the owner of Paddock Farm, Janet Binney, to flag away the cars at one minute intervals, which she gladly agreed to do.
The photos below show the initial cars being flagged away by Janet, starting with a group of MG T types, led by Gerald Breedon (green TC) followed by John Adamson (black TB) Roy Kingan (red TC) and Andrew Guest (red TF1250). Ian Graham was on hand to offer some encouragement to the crews.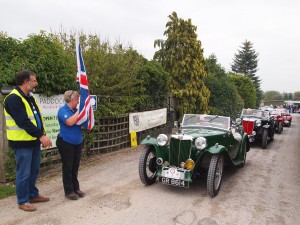 Our guest entry this year, driven by Kevin Bruce, was the Old Speckled Hen liveried MGB Roadster owned by Greene King, our sponsors. The car had been driven down from Scotland the day before and looked to have a perfect 50/50 weight distribution, aided no doubt by a large number of cans of that particular strong ale in the boot. (Don't think they are in the Moss catalogue as a handling aid….)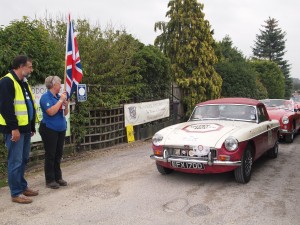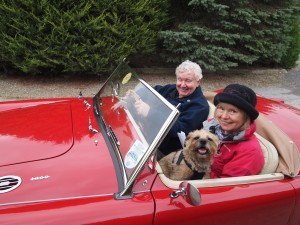 Mervyn Gillespie & Janice Bousted (plus canine navigator), ready for the off in their MGA 1600.
Ian promised us a drivers route on good flowing roads and he did not disappoint. The morning section, driven under overcast skies, took us via Scorton and Brompton-on-Swale to Richmond, and then out towards Leyburn, then via Redmire into the splendid Yorkshire Dales National Park.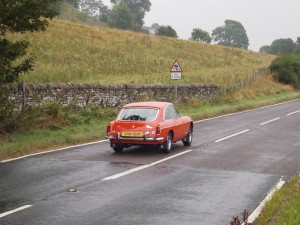 George and Irene Stephenson in their MGB GTV8 heading out towards Leyburn.
The route then took us into Askrigg, famous for links with James Herriott , and a  number of cars were caught on my camera heading past the White Rose down towards the church….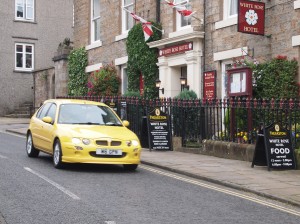 Geoff & Pauline Norcliffe in their MG ZR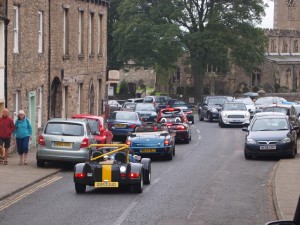 The Westfield SE of Bill Marchant and Lady Margaret Farquhar following the MG RV8 of Richard Wood.
The route then took us into Cumbria, via Hardraw and the remains of Pendragon Castle, into Kirkby Stephen, which was the lunch halt, with some nice places to eat.
The afternoon session run under brightening skies, took us via Brough and back into Upper Teesdale, heading for Romaldkirk, on some really quiet roads, enabling everyone to enjoy the stunning scenery.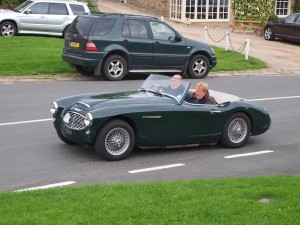 Ian Clayton in the Healey 3000 at Romaldkirk.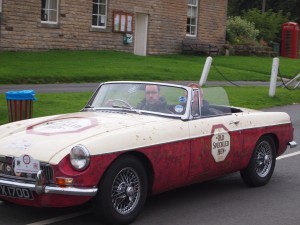 The OSH MGB heading out of Romaldkirk.
The final section of the route took us on some arrow straight roads between Eggleston and Staindrop, where we turned off towards Ingleston and then to the finish at the Bay Horse pub in High Conniscliffe, just west of Darlington.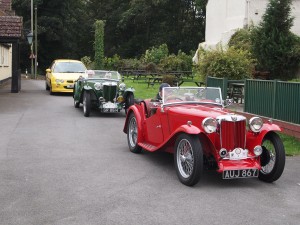 Roy Kingan leads a small group at the Bay Horse.
This run was also the first outing of James Dunn's splendid MGB GT V8, James showing us the V8 engine which has had a lot of engineering and midnight oil to get it right.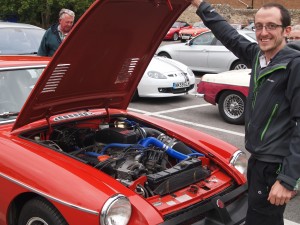 Steve, the landlord of the Bay Horse was invited to choose the two cars he would like to drive home.
Following a superb tea of sandwiches and cream scones laid on by the Bay Horse (we will be back!)  it was time for the presentations:
The OSHR trophy for MG cars 1924-1980 was awarded to John Adamson for his superb MG TB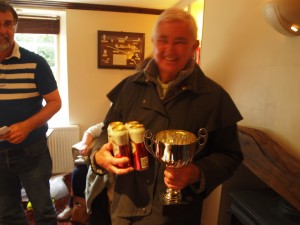 John with the trophy and appropriate beverages.
The OSHR trophy for MG cars from 1982-present date went to Trevor Leighton and his MG TF85.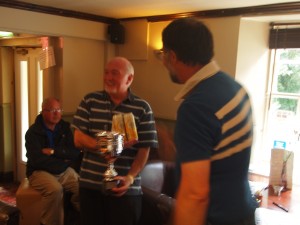 Trevor with his trophy and some Golden Hen.
Everyone agreed that Ian had done a superb job in organising the route and the event on the day. I should also mention the super job done by his wife Justine, who single-handed signed everyone on at the start. A grand day out!
Report posted by Noel Lindford.
Yorkshire Dales Weekend 23rd/24th August
Nine cars from Tyne-Tees took part in the Yorkshire Dales Run, held on Sunday 24th August, which was a circular route around several dales, starting and finishing at the Bay Horse pub, on the outskirts of Skipton. The event was superbly organised by Paul Croft, who is natter leader for North Yorkshire.
A  number of us had travelled down on the Saturday; some of us met up at Scotch Corner services and some joined our little tour from Aysgarth, on the run down to Skipton. Iff you have never been, this charming market town has many attractions, not least the canal basin, the castle and vibrant market.
On the Saturday evening we joined our hosts from Yorkshire Centre for an excellent Chinese buffet meal in Skipton, and they really made us very welcome, as always.
Sunday dawned warm and sunny, and in total 105 MG cars made it to the start, including a superb 1933 MG L2 Magna in brown and cream, which the owner of some 47 years had driven up from Grantham. Meanwhile David & Matthew Alexander had a very early start to drive down from Morpeth to make the start, which they did in good time in their MGB GT.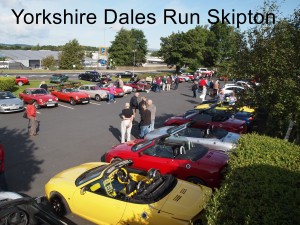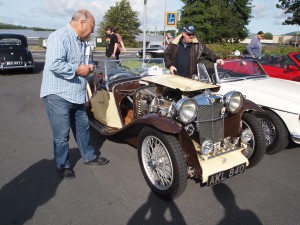 There was a choice of whether to do the full 114 mile route or a shorter 81 mile version. On such a nice day, my brother and me elected to do the full version in the MG TF85 and we were  not disappointed, despite the constant  challenge of cyclists on the roads, and not just in ones and twos. Le Grande Tour has a lot to answer for…. The furthest point north was the CB Inn at Arkengarthdale where a good number of us elected to have lunch. The return leg included a welcome stop at Brymor Ice Cream near Jervaulx Abbey between Masham and Leyburn.
The picture below, taken by Steve Gibson, shows John Mitchell (sans navigator) enjoying himself on the run in his very nice MGC Roadster.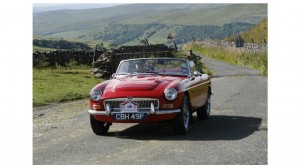 All in all a superb weekend!
There are many more photos embedded in Ken Cothliff's excellent Event Review which can be found  on the Yorkshire Centre's website – just follow this link
http://www.mgccyorkshire.co.uk/reviews/Reviews.htm
Report posted by Noel Lindford
Hamsterley Hoppings 24th August
In a busy August Bank Holiday weekend, with a number of attractions on offer, it is pleasing to report that we had no less than 9 x MGs on the Tyne-Tees MGCC stand, and my thanks go to Dennis Hope for organising things on the day. The star attraction was the 1939 MG WA Coupe, owned by Maurice Standish, and making it's first public outing after a lengthy rebuild. It was no surprise to anyone that it won the Car of the Show award. This show makes a lot of money for local charities and a lot of hard work in making it happen is done by our local TTC members Irene and George Stephenson.
The photos below were kindly taken by Geoff Stephenson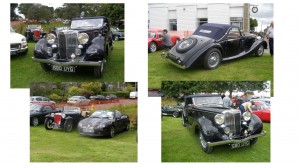 Croft Nostalgia Weekend 2nd/3rd August 2014
This year Croft Circuit is celebrating its 50th anniversary of motor racing,  the first race meeting having taken place in 1964. The Croft Nostalgia Weekend is a retro festival with historic racing, major displays of classic cars (many owners taking  advantage of the free circuit tours), military processions, all in an atmosphere of retro fashions and live period music from the  1940s, 50s & 60s. There were also some excellent flying  displays.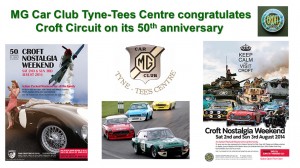 Tyne-Tees Centre had two displays of 12 cars over the two days –  superb members MGs (and one Morris Minor Convertible) which certainly drew in the crowds to our stand. This year we had a prime pitch for our small marquee and the 12 cars, ideally situated just opposite the main admin building and conveniently close to all the food outlets!
The following photos give a flavour of the displays…and our marquee.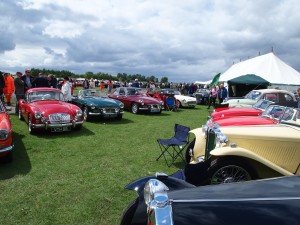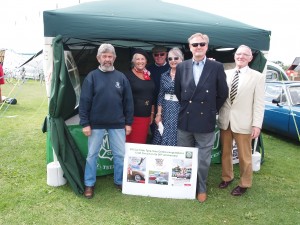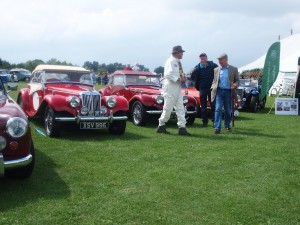 A number of our members took advantage of the circuit tours, including Roy Kingan in his 1938 MG TA, shown following Andy Baillie in his MGB (driven down from Edinburgh), and ahead of Andy is Ian Tunnicliffe in his 1949 MG TC.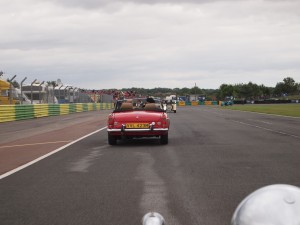 Thanks to all those Tyne-Tees members who kindly displayed their cars, and made for a superb weekend….despite the occasional hiccup with the weather. Our marquee became very popular when the heavens opened on the Saturday afternoon, but the skies did clear  in time to see celebrity racer Brian Johnson (he of AC/DC fame and "Cars that Rock") drive a superb race in his Mini-Cooper S, overtaking Ford Mustangs in fine style during the Historic Touring Cars event. A lot of people came to talk to us, and a number took away MGCC membership forms, which of course is very good, especially if they send them in!
It was nice to meet up with a number of long-standing members, such as Linda Bailey, who still has her MGB GTV8, and Jim Adamson, a notable MG racer from days gone by,  who turned up in his  superb Austin Healey 3000 Mk 3. A great weekend was had by all!
One down side was that someone managed to steal the Jaguar Drivers Club "Leaper Statue" on the Saturday evening …the link below takes you to more info on this,  and a plea if you come across an advert on e-Bay….Jaguar Leaper Theft Notice
Posted by Noel Lindford
Prince Bishops & St.Cuthbert's Runs: 8th June 2014
Sunday 8th June was our first ever  dual road run, with the Prince Bishops Run attracting 32 cars for the start from Stokesley, and the new St. Cuthbert's Run attracting a further 18 cars for the start from Bamburgh Castle.
At Stokesley we were kindly given exclusive use of  both Showfield Car-parks by Hambleton District Council, and Howard's Bistro in College Square kindly opened early to provide breakfast and our signing on point.
After a driver's safety briefing, Owen & Pam Frankland were flagged away at 10:00am (event time!) from Stokesley in their go-everywhere blue 1937 MG TA , followed by Roy Kingan and his daughter in Roy's immaculate red 1938 MG TA.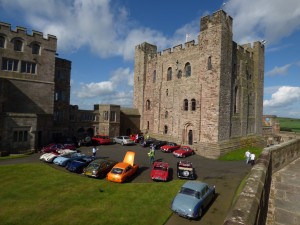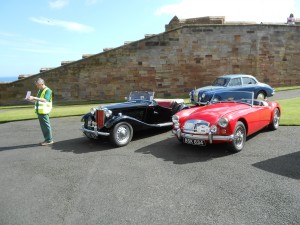 All cars bar one made it to the start at Bamburgh Castle, where run organisor Ian Whyte is shown diligently checking cars against his list (either that or checking his breakfast order!)  Many thanks to Chris Calvert, manager of Bamburgh Castle and Gary at the cafe in the castle for excellent help and facilities. Following the drivers safety briefing given by Ian Whyte and David Alexander, the first car, Nick Owens' white 1947 MG TC was flagged away, also at precisely 10:00am.
The crews navigated their cars some 88 miles on their chosen run, following in part, routes taken by mediaeval Prince Bishops travelling from York to Durham, and our interpretation of a route which monks may have followed to carry St. Cuthbert's remains and the Lindifarne Gospels from Lindisfarne to Durham Cathedral. For once we were blessed with brilliant sunshine, which meant that top-down motoring could be enjoyed to the full, and which made the superb display of cars at the finish even more appealing to the public and entrants alike.
The lunch halt for the St.Cuthbert's Run was Kirkharle's Tea Room, near Wallington, which apart from free car parking offered excellent food and drink for lunch.
The Prince Bishops lunch halt this year was Mainsgill Farm Shop and Tearoom, just west of  Scotch Corner on the A66. Again an excellent choice of food and drink on offer. Prior to getting to Mainsgill, the crews had to do a lap of the public car-park in Richmond, as part of the "splash and dash" built in to give folk a chance for a short comfort stop or take on fuel.  Apparently picture of MG cars at Mainsgill car-park were on their Facebook page within minutes of our arrival!
Once again Rachel Harding and her team at the Almshouse Cafe did us proud with an excellent cream tea servced to all entrants on Palace Green, following  arrival at Durham Cathedral. Our thanks to Durham University for  allowing us to park around Palace Green; once the on-site security had caught up with the game-plan, it all came together!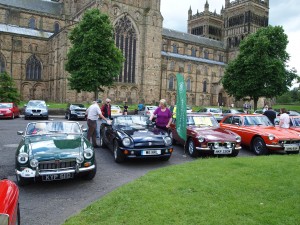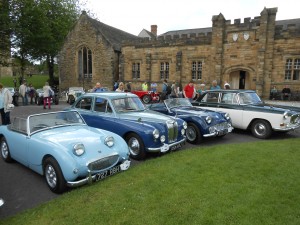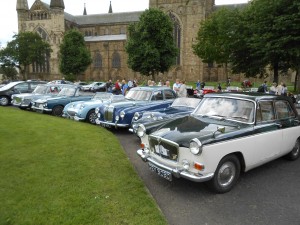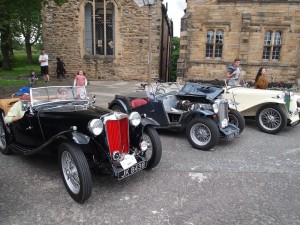 The picture above shows John Adamson's Prince Bishops Run winning MG TB, Tony Wood's ex-race MG TC (with bonnet open) and Nick Owens' white MG TC, which was first car away from Bamburgh Castle on the St. Cuthbert's Run.
This year our guest judge most appropriately was a previous Tyne-Tees chairman, Tony Wood, who devised the original Prince Bishops Run back in 1987, and this year actually got to drive it, in his superb ex-race TC "Bluebottle", navigated by Helen Wood. After much deliberation, Tony chose John Adamson's 1939 MG TB as the winner of the Prince Bishops Trophy, and Trevor Leighton's MG TF 85th Anniversary was his choice for the Prebends Trophy. Thanks to Ian Whyte for planning the St. Cuthbert's route, and all those who marshalled and signed people on.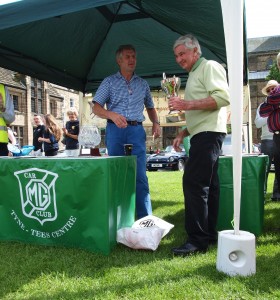 John Adamson receives the Prince Bishops Trophy from Tony Wood      for his MG TB
Trevor Leighton displays the Prebends Trophy for his MG TF 85.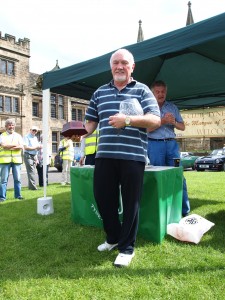 Posted by Noel Lindford.
 Cobweb Run Celebrating Drive-It Day : 27th April 2014
Despite the (accurate) forecast of inclement weather, 57 cars were entered for this major season opener. Nick Owens devised a challenging but very enjoyable drive through some stunning scenery in Northumberland, the Pennines and the Tyne Valley. The start was at Brocksbushes Farm Shop & Tea Room, where everyone signed on and took advantage of the welcome hot drinks and breakfast rolls on offer. Our youngest TTC marshal, 8 year-old Charlotte (grand-daughter of Lyn Ebdon) welcomed everyone to the event and then handed over to Nick Owens who gave some useful advice about the route on which we were to embark.   The photos below show the gathering at Brocksbushes for the start.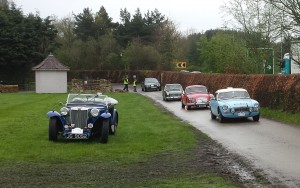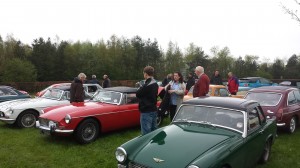 The first section took the cars north then west towards Haydon Bridge, before turning south to Allendale for a scheduled stop, allowing the crews to take an early lunch if required. The middle section of the run (and the route-book) offered a choice, either to take an adventurous route through two fords, or elect to take the dry line on an alternative route. Fortunately most had a sense of adventure and elected to take the more aquatic route, which made for some superb photos at the first of the fords, captured by Nick Owens. Owen and Pam Frankland are seen taking this ford at pace and making quite a splash! Others crossed at a steadier pace, yours truly included. Both middle routes came together at Allenheads, for the second scheduled stop, with another chance to sample the local cafes. The photos below show Owen & Pam  in their 1938 MG TA going for it! Others followed at a more measured pace….like Ken & Connor Armstrong in their 1968 MG1300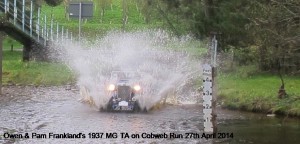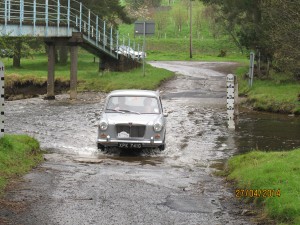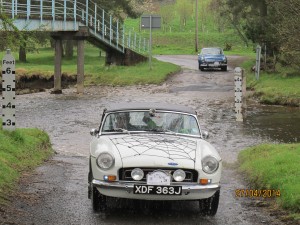 and Tony Coates' suitably cobwebbed MGB…
  The final section, which took the cars east then north on the return loop via Blanchland, was not without incident. On a twisty downhill narrow road section we came across Jon Radgick's MG RV8 in a ditch, millimetres from a stone wall which would have done his car's nearside bodywork no good whatsoever! Apparently he had pulled over to give way to someone and not seen the state of the verge. We stopped to assist, but no amount of careful forward and reverse manoeuvres could extricate the vehicle. At that point David Coultard and Helen Waddington came to the rescue, and with the aid of a hurriedly sourced tow-rope, Helen's MG TF135 managed to pull the RV8 slowly in the right direction and out of the ditch, with no damage to the car. Well done David & Helen! A much relieved Mr & Mrs Radgick continued without further incident to the finish, to join everyone else back at Brocksbushes for a welcome cream tea.
  Final order of the day was for our guest judge to choose the cars they would most like to drive home. On this occasion the pre-1981 MG award went to Bob Thompson in his MG TF1250 sporting some rather splendid new seats. He is seen receiving the trophy from  Charlotte, our junior marshal.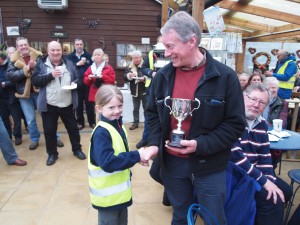 The post-1981 award went to Helen Waddington, who sadly had to leave early. Noel did however present the trophy to Helen at a race meeting at Croft some weeks later.
 Many thanks to Nick Owens for devising a very enjoyable and challenging driving experience, to Lyn Ebdon for pulling the whole event together, to all our superb marshals, and to Owen & Pam Frankland for signing everyone on at the start.  Despite the weather, which managed to reduce the splendour of the stunning scenery somewhat, everyone really enjoyed the day…the smiling faces at the finish sort of confirmed that!
Posted by Noel Lindford.
Please follow the links below for the reports and photos from other past events.
2012 5th Tyne Tees Old Speckled Hen Run
2013 Dinner Dance & Awards Presentation