Out and About
Tyne-Tees Marshals
Le-Jog Rally December 2015
This was the last Rally of the year; can I offer an enormous vote of thanks to everyone who turned out and assisted with running the tests on his year's Le Jog Rally.
Given the reputation of Eastgate for inclement conditions, it was gratifying to see so many of you turn out on a cold but dry Sunday night.  I hope everyone enjoyed the experience and that you found the varied field of cars interesting.  The Le JoG Rally is a true test of determination and endurance the crews were obviously very tired when they reached us at Eastgate as could be seen from the creative route many cars took through the test.
The Test at Eshott near Felton early on Monday morning was interesting and certainly without us the organisers would have struggled to get the two tests running. 
For 2016 I will be volunteering our services on the main events that come through the North East
Fellside Northern Trial  Lake District, Sunday 20th February 2016
Flying Scotsman Rally 15th – 17th April 2016
http://www.endurorally.com/pages/flying-scotsman-rally-2016
Durham Dales Trial Co Durham, May 2016
RAC 1000 Mile Trial 11th -16th July 2016
A team also go up to the Saltire Rally near Pitlochery usually on the first Sunday in March although I do not yet have a date.
The Berwick Classic Historic Rally for which I am the Chief Marshal will be taking place on the 30th April – 1st May 2016 which is its normal Bank Holiday weekend.
There are also a number of Stage Rallies we can marshal on as they announce the dates I will let you know.
Thank you for your support on all our marshalling trips this year.
Anyone wishing to join the marshalling team on any of these events, please email David Alexander at   david.alexander2012@btinternet.com
Tyne-Tees members out in force to support Great British Sports Car Picnic at the Aln Valley Railway:  August 2015
This event organised by Martin Robinson, a leading light at the Aln Valley Railway, which is located just outside Alnwick, was once again well supported on Sunday 23rd August by a good display of Tyne-Tees Members cars. The event took place on a bright and sunny day. I am indebted to Ian Fair for the photos.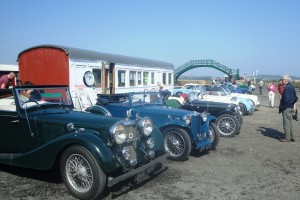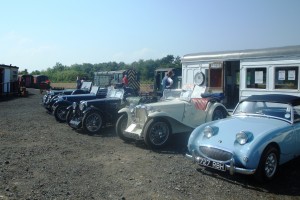 Tyne-Tees Member Wins "Best Dressed Lady" at Croft Nostalgia
One of the key attractions of the Croft Nostalgia Weekend, is that just like the Goodwood Revival, people are encouraged to arrive in period dress of the 40s, 50s and 60s. True to the spirit of Tyne-Tees Centre, many our members who displayed their cars, were suitably dressed  in period attire.
Joining us for this weekend were TTC members Barrie & Sheila Hope, now living in Lincolnshire, but who made the trip north in their MG ZB Magnette, to be with us.
To the delight of everyone (not least Barrie), Sheila won the best dressed lady award for her period outfit, and duly arrived back at our stand with a beaming smile, flowers, champagne and a certificate. A fitting end to a superb weekend!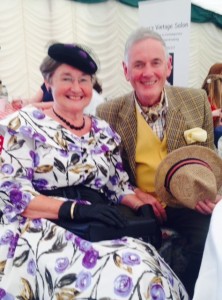 Barrie & Sheila Hope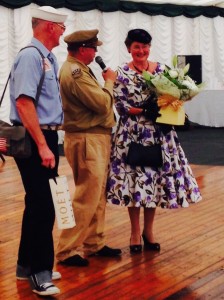 …and the winner is…Sheila!
Doug Carmichael does well on 3 Castles Classic Car Trial/Rally
 See below, a  report from MGCC Tyne-Tees member Doug Carmichael of his exploits and excellent placing on this recent event…
"I have just competed in the 3 day event  3 Castles Classic car Trial/Rally which was over roads in north Wales totalling 530 miles or so. The  event comprised of   15 tests  of various nature and 19 regularity section between  4 and 25 miles long.
"Myself & navigator John Gearing from Cambridge  finished  9th overall out of 62 starters and first in class with a total penalty of 152 seconds over the  3 days. The car performed without any hitches and even beat  a Ferrari Dino. Our best result to date !"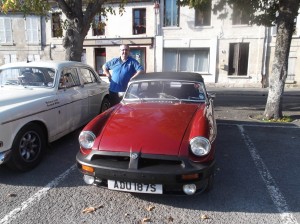 Doug with his MGB Roadster.
 Stewart Howson on Track at Spa
Thought you might be interested in seeing a photo of Stewart in his MGB on track at Spa. The following comments from Stewart…"The Porsche passed me on the straight but I kept that dratted Alpine/Matra behind me .We were on a visit to the Spa Classic  in cahoots with Doug Bond of the MGs on Track committee in his MGB GT V8. I think he may be doing an article for Safety Fast!"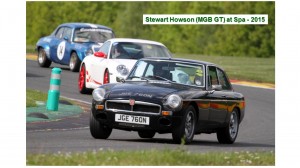 Northern Classic Trial organised by Fellside Auto Club  14/02/2015
A report by Stuart Bankier   View by following this link   Northern Classic Trial 2015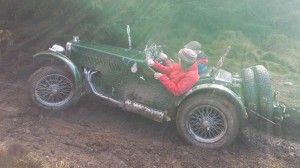 MG J2 going for it.
MGCC TTC members Donald & Eileen Dalton were marshalling on Test 13