Golden Jubilee Weekend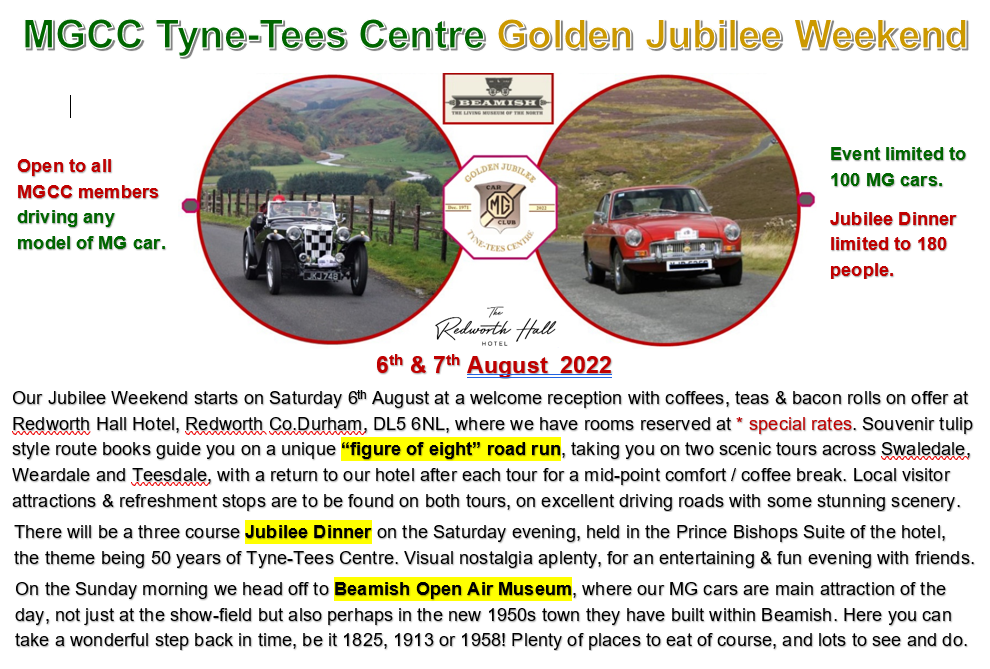 We aim to provide a memorable high-quality weekend at a reasonable cost. We realise that you may prefer to be selective in what you do, so each part is also individually priced:
The Total Package for two Saturday Road Runs, teas, coffees, three course Jubilee Dinner and the Beamish Museum display gathering on the Sunday, is £100 for two people.
The "Figure of Eight" Road Runs (two separate events running morning and afternoon, with morning and lunchtime teas and coffees, are £30 per MG car and two people. Prices include Jubilee event rally plaque, expanded road book and event souvenirs.
The Jubilee Dinner is £30 per head. To be held at 7:30pm on the Saturday evening in the Prince Bishops Suite of the hotel.
Visit to Beamish Museum on the Sunday is £10 per MG car and two people. # Additional passengers in the car will be charged at £5 each. Access to 1825, 1913 and 1958!
To enter our Jubilee Weekend Event, please follow the simple steps below:
1. Figure of Eight Tour
To make an entry for the road runs and complete the necessary driver declaration, please follow this link: HERE
On successful completion of the form, click the SEND button and you will get an acknowledgement of your entry, where you can check the details are correct.
Payment is covered in the main Booking Form.
2. Dinner Reservations
If you would like to make dinner reservations for the Saturday evening, please complete the Dinner Menu Booking Form  HERE
 Make your menu selections and then save a copy of the form. 
3. Complete the Jubilee Weekend Booking Form and registration details for the event .
You can also make an entry for the visit to Beamish Museum on the Sunday.
Enter on the form which options you require, add up the cost, enter the total at the bottom. 
When you are done, please save a copy of the form. 
The Jubilee Weekend Booking Form is HERE
4. Payment  
Please pay by BACS if possible.   Make your payment by bank transfer to the following account:
Sort code: 40-43-13      Account No. 41051067       
 Our business account name is M G Car Club Tyne Tees Centre 
 Payment Reference: Jubilee/Your name
  If you are unable to pay by BACS, send a cheque for the required amount payable to MG Car Club Tyne Tees Centre (+40p bank admin fee) to: Tony Wood, Rose Cottage, Scruton, Northallerton, DL7 0RD  (please write "Jubilee" on the back of the cheque). 
5. Please email your completed booking form(s) to noel.lindford@btinternet.com
     On successful receipt of your email, I will send you the special booking code for the Redworth Hall Hotel, where we have secured very attractive B&B rates for one or two nights, should you wish to stay there.  We have reserved a limited number of rooms at this rate, so first come, first served!  
  Closing date for entries is 15th July.
  Final joining instructions will be emailed out to you at least a week prior to the event. 
  If you need any more information, either email or call Noel on 07432 152095.