History of Tyne-Tees Centre
This History of Tyne-Tees Centre  is a living document and will be continually updated with facts and photos  from times past and present.
1963-1999
In the month of May 1963, a group of MG Car Club members met in a pub in Durham City. The result was that the Tyne-Tees Sub-Centre was born as an offshoot of the North East Centre, whose then hub was based in Leeds. When things got organised, Peter Tipton (later to become General Secretary of the MGCC) was elected chairman, a post he was to occupy until 1975 when Gordon Douglas took over. The first secretary was Dave Hodgson, who held that post until 1967, Gordon Douglas then taking on that role until 1975.
  Right from the start, Tyne-Tees showed a leaning to the competitive field; no fewer than five cars being entered for the racing at Silverstone in 1965, with success coming to Tony Lester, who won the Hanks Trophy as the best newcomer. Rallying at restricted level was much in evidence, and memories of the Bronte and Goathland rallies are still a bright spot to recall. Tom Tate (MGB) was the star, with Jack Logan the expert navigator, with a hat-trick of Bronte wins. However the rally scene was soon so orientated over atrocious roads that MGBs were at a disadvantage. It was too expensive to have to buy a new exhaust system after every event!
  Fortunately, at the time, North East Centre had managed to get the use of Topcliffe airfield for sprints, and the following seven years saw a great deal of excellent sport, with Malcom Trewhitt, Tom Tate, George Taylor, Tony Wood and many others shining brightly on this, the best sprint course in the country. North East Centre were undoubtedly the best organising team around, and a letter to this effect in the motoring press was sent from members of another competing club. We must not lose sight of the fact Peter Tipton himself became not only a keen competitor, but quickly learned the basics of organisation and we soon shared the North East Centre sprint series. Sadly someone decided he would like to blow up the barracks at nearby Ripon with the result that Topcliffe was denied to outsiders.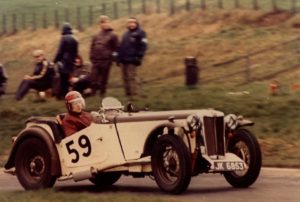 Tony Wood hill-climbing his MG TC "Bluebottle" at Harewood Hill
To make up for the loss of the sprints, Tyne-Tees became specialists in the mini-rally scene, running about seven each season. These twelve-car events were really great fun and required first-class navigation plus on-the-limit driving. Credit must go to Gordon Douglas' navigator John Parker for the success they managed to obtain, as they certainly dominated the scene for most of the time. This was not to assume that he was unbeatable, as many other teams managed from time to time to put one across, when the joy of beating John was greater than taking to the winner's rostrum. However the RAC decided to make the organisation so difficult that the rallies had to cease, and that august body has never been forgiven for that dastardly act.
  In 1971 Tyne-Tees attained full Centre status and we must be eternally grateful to Jack Armstrong, who was the chairman of North East Centre, for his great help in making the transition possible.
 Four years later, Peter Tipton handed over the chair of office to Gordon Douglas, and for a number of years Gordon took the Centre from strength to strength. Affectionately known as "Mr. Tyne-Tees" to most people, he worked relentlessly for the Centre. He and wife Rene could be seen at every event, usually in their red MGB, and if they were not competing they were organising.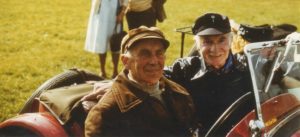 Gordon Douglas (right) with Bill Wood in his J2
  By 1980 we had reached a membership of around the 350 mark, not bad from a start of 39. At one meeting in the Hardwick Hall Hotel we reached the incredible attendance of 93 people. Not all members of course, but good enough to go into the Guinness Book of Records perhaps. At that time we often had an attendance in the 70 to 80+ range, even at AGMs.
  For a number of years our membership percentage increase was greater than any other UK Centre. This fact was eventually recognised in 1983, when we had the honour to win the Nuffield Gold Cup.
  During our period of sprints, mini-rallies and auto-tests, we were able to organise no fewer than a dozen championships, from full-blooded motorsport, to family type events, and all were keenly contested. Although by then we were much more restricted in our efforts, it was pleasant to be able to report that we were still very much a competitive Centre.
Most notably in the 1980s and early 90s were the achievements of Brian Sayers and his 1948 MG TC "EUJ 924". Brian started racing in 1978 in the MGCC T-Type Championship, comprising circuit races, sprints and hill-climbs. Competing in Standard Class, a combination of exceptional driving skill, "will to win" and a very reliable car saw Brian quickly move up the field year on year, winning the championship outright in 1981, 1982 & 1983. Not bad for a car purchased for £25, and in the early years, driven considerable distances to and from every meeting. Following some sponsorship from ICI, and a move to Road Modified Class, with a very well-prepared engine, Brian was able to keep pace with the Full Race cars, and his sterling efforts resulted in winning the T-Type Championship again in 1991. In those years Brian held lap records at most of the race circuits, sprint and hill-climb circuits across the UK visited by the T-Type racers. Quite an amazing record.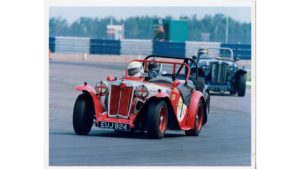 Brian Sayers racing EUJ924 as T Type Champion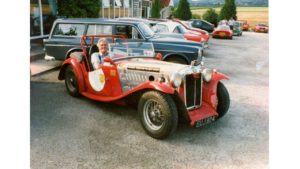 Meanwhile in auto-testing Dave Farrar, Ian Farnsworth and Ian Lambley won the BMC Trophy at Silverstone 1987 with a better time than the winning California Cup team.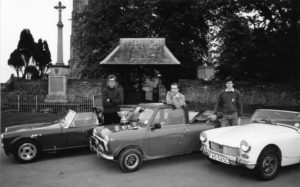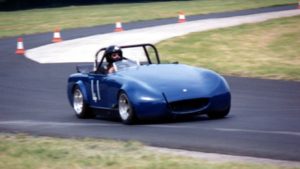 Dave Farrar himself had given ample proof, with his modified Midget entered in speed championships, the spirit of Tyne-Tees still lived on.
Around about 1986, Gordon Douglas handed over the reins to Tony Wood, who carried on the good work until family and work commitments obliged him to step back from these duties. During the 1990's John Cucchi, May Farrar, Brian Ireland and Noel Lindford all chaired the Centre.
  Dave Farrar, Ron Angus and Alan Merchant (all driving Midgets) won the California Cup Auto-test at Silverstone in1994, an excellent achievement beating off strong competition.
Throughout this period, some new faces appeared on the competition scene. Julian Hepburn successfully campaigning a race MGB.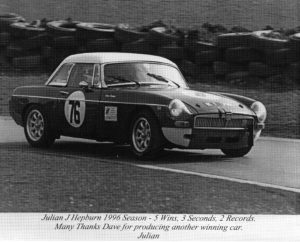 Julian Hepburn racing his very quick MGB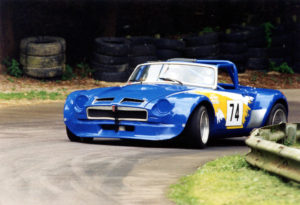 Alistair Crawford Hill-climbing his V8 MGB
Alistair Crawford won the MGCC Speed Championship in a 2 litre MGB. Alistair preferred hill-climbs and so competed in the RAC Leaders Championship, culminating in 1998 by winning the over-2 litre class (beating Ferraris and Porches) with a 5 litre 400bhp V8-engined MGB roadster, running with a perfectly developed suspension set-up and good reliability.
  The men to beat in the BCV8 race championship were local men Tom Stewart and Joe Parrington. Tom started in Class B with a standard MGB GTV8 in 1992. A move to Class C (controlled V8s with 250bhp) in 1995 saw Tom win his class in that first season and in 1997 won the BCV8 championship outright with class wins in all 12 races and 11 fastest laps! For 1998 Tom raced in a newly built Class D (Full Race – 360bhp) V8 in which he won that class first season out, in a car that was always immaculately turned out…plus the odd battle scar!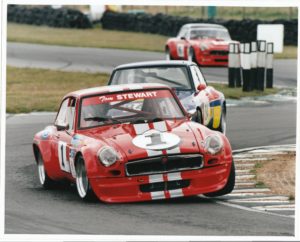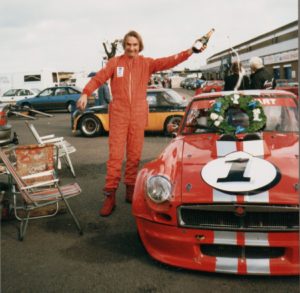 Tom Stewart leading in his Class D MGB GTV8 racing with No. 1 as he was the BCV8 Champion.
Tom celebrates another race win!
Joe Parrington, a highly talented mechanic, raced an MGB GTV8 in Class B with some success from 1988, but a move to Class C in 1998 saw Joe's results improve further, culminating in Joe winning the BCV8 championship outright in 2007. Joe then moved up to Class D, racing his Gulf Racing coloured car to some good class wins right up to 2013.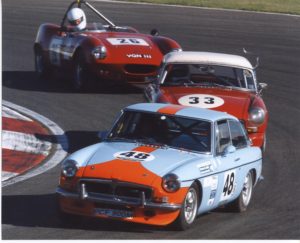 Joe Parrington racing his Class C MGB GT V8 in the BCV8 Championship.
Sadly both Tom and Joe are no longer with us. Tom lost his fight with cancer in 2010 and Joe lost a similar fight earlier in 2014. Great characters who are sadly missed.
The Centre has also catered for the more relaxed driving events. The Prince Bishops Run from York to Durham, devised in 1987 by Tony Wood, become the "blue ribbon" event in our calendar, starting with 90+ entries. Another popular event was the Herriot Road Safety Trial.
  In 1999 the Centre organised an event at Beamish Open Air Museum, jointly with the Yorkshire & Lincolnshire Centres, to celebrate 75 years of MG. This showed the value of Centres working together on major events, each one taking responsibility for the auto-tests, gymkhana or concours competitions. The event was perhaps the largest ever staged by Tyne-Tees Centre in terms of club entries and public attraction; it proved to be very successful, thanks to all the planning and hard work by the Tyne-Tees Committee, alongside the super efforts of Yorkshire and Lincolnshire Centre. It even attracted local TV coverage.
2000-to date
As we moved into 2000, bureaucracy had effectively stopped our popular mini-rallies; Auto-test events had been severely cut back due to lack of support and venues, and the Committee realized that newer members were less interested in thrashing their cars round auto-test circuits or other similar events.
Although overall membership changed only slightly, numbers attending monthly meetings and events were in decline and even our annual Prince Bishops Run was struggling.
 Brian Ireland and Maurice Standish raced, initially with MGB GTs then later with MGAs, Brian picking up at least two class wins in the John Deere championship. Paul Rigg and Margaret Farquhar took up the sport in an MGF, both having considerable success with numerous class wins over several years, Margaret gaining her class wins in the MGCC Cockshoot Cup.
Maurice Standish took over as Chairman in 2001 and the main meetings were held at Walworth Castle. Tyne-Tees Television visited us to do a feature about MG and good fun was had driving round the grounds with camera cars following.
 Despite the Committee's best efforts, and a new venue at The Manor House in West Auckland it was obvious by 2007 that the Centre, like several others, was in trouble and discussions took place with Main Club as to the future, one possibility being to merge with Yorkshire Centre. However at an EGM held in November 2007, two people, Peter Ebdon and Barrie Hope, both long time MG Car Club members but who for location and work reasons had been unable to get involved in Tyne-Tees Centre offered their services; Peter as future Chairman and Barrie as Secretary. Maurice Standish stayed on to assist in an orderly hand over to Peter, although several existing Committee members stood down. Dennis Hope, Ian Lambley, Paul Rigg, and Peter Sewell joined Maurice, Peter and Barrie on the Committee with Lyn Ebdon taking on the role of Treasurer. This team was determined to rescue the Centre, and thank goodness it worked. Peter Ebdon took over as Chairman in July 2008 and by the start of 2010 it was great to report that things were definitely on the up, with increasing membership, better attendances, and a new monthly natter north of the Tyne at Stannington.
A major highlight was the award in 2009 of the Nuffield Gold Cup for the rescue operation performed by the Committee and this was celebrated at a Dinner Dance at The Marriott Hotel, Metro Centre, where Club Chairman John Day presented the cup.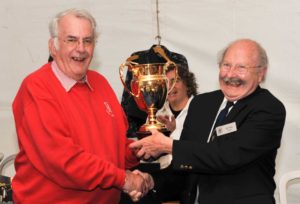 Tyne-Tees Chairman Peter Ebdon receiving the Nuffield Gold Cup from President Bill Wallis at MG Silverstone in 2000
Peter and Barrie always tried to do things by the book, and their attention to detail has paid off. As well as the Prince Bishops Run having a new lease of life we also have the early season Cobweb Run, a late summer Old Speckled Hen Run and the Autumn Leaves Run in October, all of which can  attract entries of 50+ cars. Dennis Hope in an MGF and Peter Sewell in his MGB took up sprinting and have had considerable success, Peter in particular picking up many class wins, and Margaret Farquhar has returned to racing with a newly built MG TF.
  Sadly Peter Ebdon lost a brave fight against cancer and passed away in July 2013. His hard work for and dedication to Tyne-Tees Centre, plus his support to Main Club cannot be over-stated. Noel Lindford then took on the role of Chairman, with David Alexander, who brings a wealth of experience in rally organization, filling the Secretary's role, as Barrie & Sheila Hope moved south to live in Lincolnshire, but still remain Tyne-Tees members.
The current Committee are determined to carry on the good work of people like Gordon Douglas (who sadly died in 2008) and the late Peter Ebdon to ensure that Tyne-Tees Centre continues to have a bright future, offering a calendar of well-organized events to meet all tastes, including a resurgence in some competitive events such as Regularity Production Car Autotests run in partnership with another local motor club.
 Above all we aim to live up to being the Marque of Friendship.
This abridged history was compiled by Gordon Douglas, Brian Ireland and Noel Lindford.