Past Events – 2018 onwards
Prince Bishops & St. Cuthbert's Runs
Sunday 1st August 2021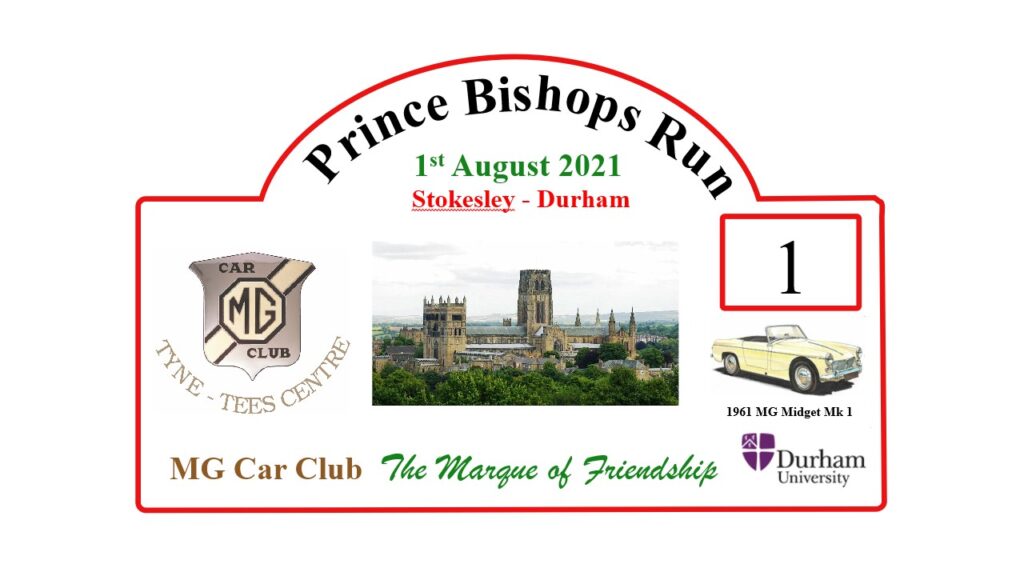 The Prince Bishops Run had 28 cars flagged away from the start at Stokesley, which included Paul Ireland in his TC having driven up from Suffolk to take part, on the 101 mile run I planned across North Yorkshire to a lunch halt in Richmond, before heading across County Durham, through Weardale via Wolsingham to Durham City. Coming from East Anglia Paul found the long drive up the side of Hamsterley Forest a revelation. The weather played ball and the Il Mulino café did us proud with seated al-fresco breakfast served in front of the café with coffee, teas and breakfast rolls. Thanks to Peter & Judith Baglee for handling registration and issuing route packs.
We had reserved parking in Richmond, and thankfully all arrived there safely, not confused by the fact the MGCC Yorkshire Centre Compass run also arrived in Richmond, in the Market Square!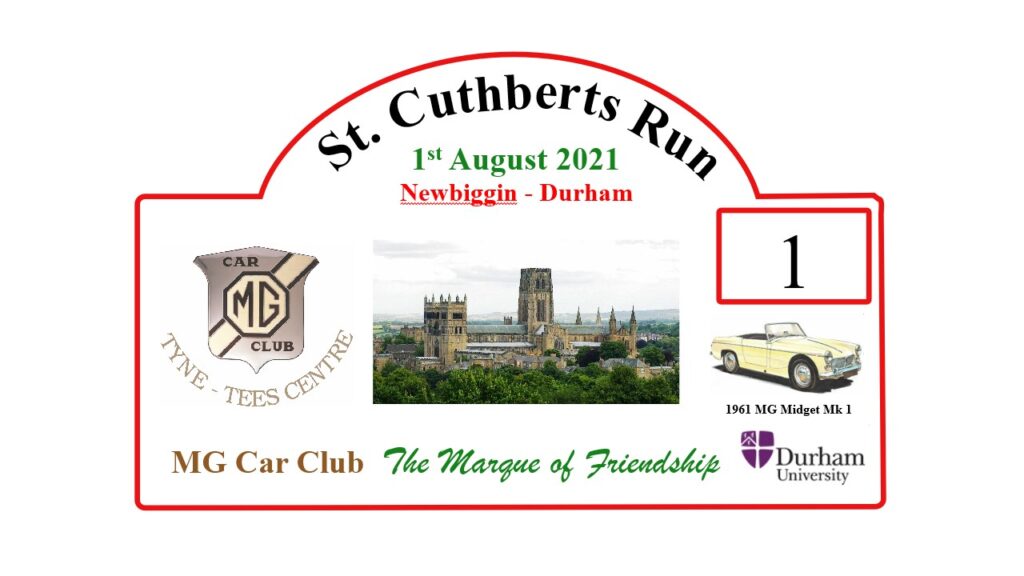 The St. Cuthbert's Run started from Newbiggin-by-the-Sea with a further 21 cars including organiser Ian Graham's TC "Jessica". Following breakfast options at the Maritime Centre Café, with an improving weather situation (mizzle at the start) the 105 mile run took the cars across the coastal plain of Northumberland and the Tyne Valleys to the Allen and Wear Valleys (many folk stopping for lunch at Allenheads) before meeting up with the Prince Bishops route at Wolsingham, so all cars could continue from there to the finish, arriving in front of Durham Cathedral from about 2:30pm, as planned…well done all!
Here the sun shone on cue (I can put the prayer mat away until the next event) and everyone enjoyed a cream tea whilst our guest judge, Lorraine Noble-Thompson (MGCC EC Director who supports Tyne-Tees Centre) had the unenviable job of choosing the three most appealing cars.
Ian Fair's (always immaculate) MG TA Tickford won the new Van Mildert Award for the most appealing MG 1924-1955, Ken Armstrong's very nice MG 1300 Mk2 won the Prince Bishops Trophy for the chosen 1955-1980 car, and Jane & Rob Parry were awarded the Prebends Trophy (for post 1981 cars) having entered their beautifully restored pre-production MGF VVC "Nemo" which they had driven up from Dudley in the West Midlands. All three trophies (and engraved whisky tumblers) were kindly presented by Lorraine Noble-Thompson, who had driven down from Scotland in her own rather special WSM Midget and had some very nice things to say about our Centre! Also from Scotland we had Tony Smith in his "dealer demo" Oxford Blue MG RV8. In all we had cars from five MGCC Centres taking part, with a very good turnout of Tyne-Tees cars.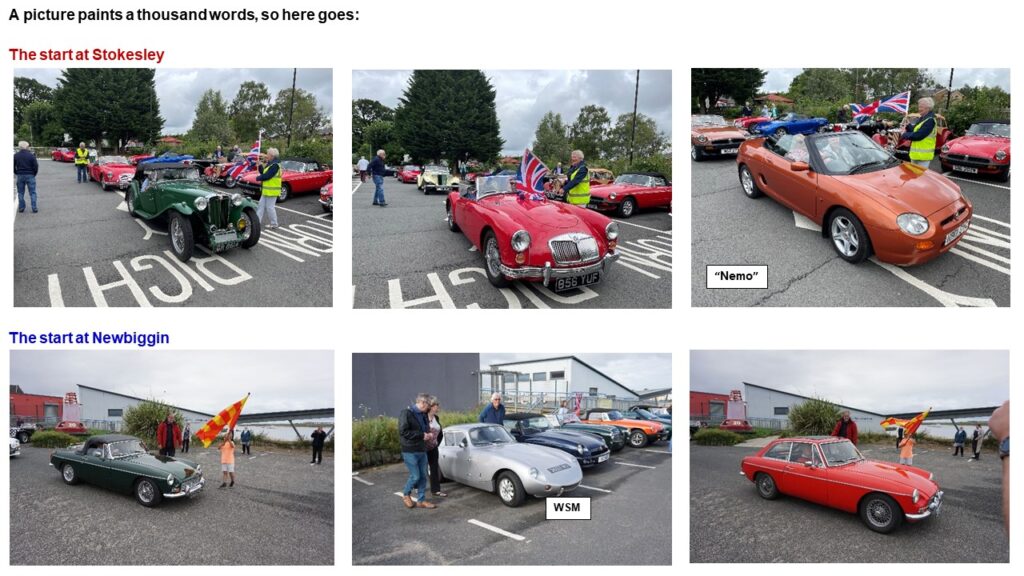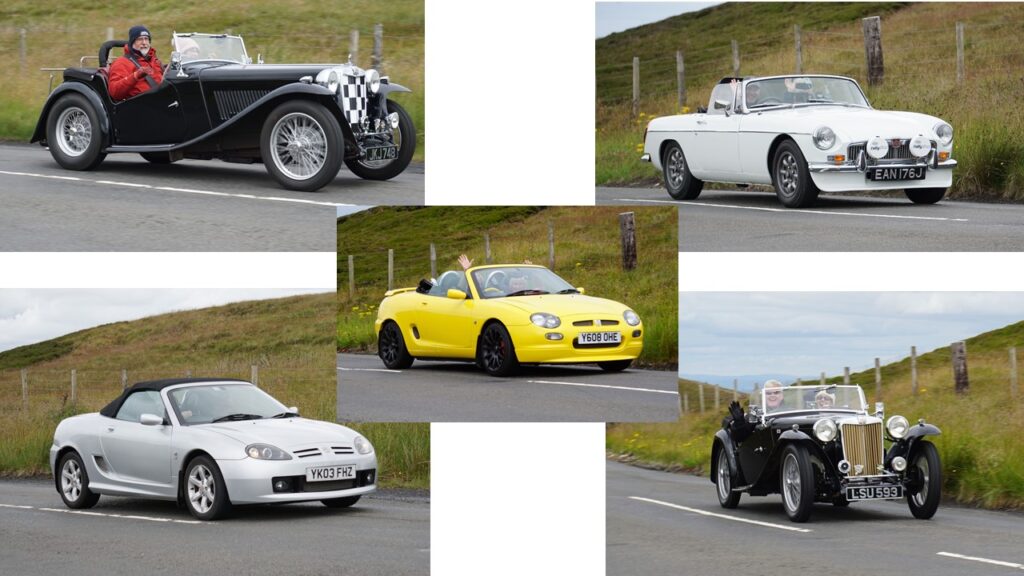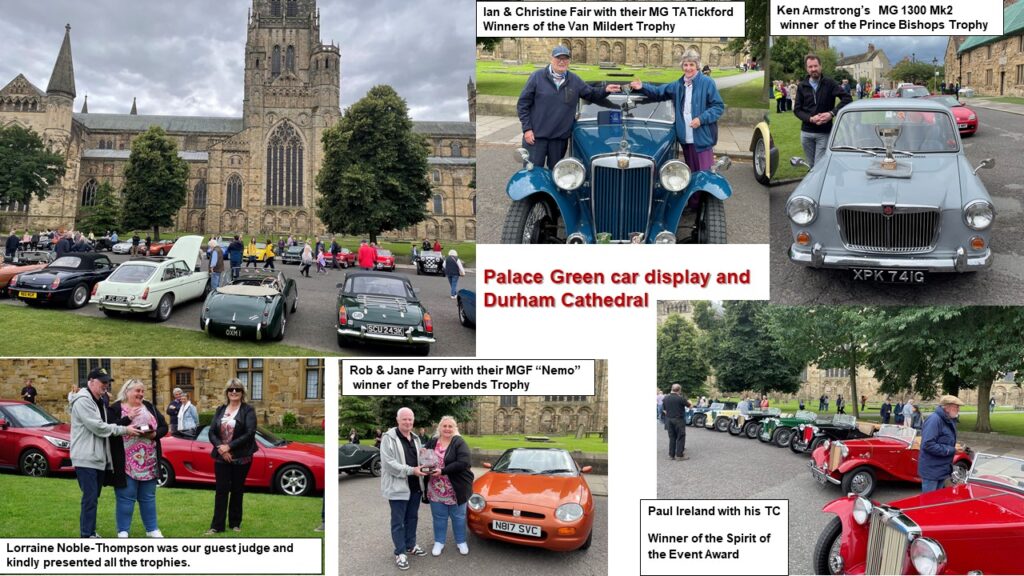 My thanks to Ian Graham for organising the St. Cuthbert's Run with a superb route, and to all the Tyne-Tees marshals (and Covid Officers) who made it all go so well and kept everyone safe!
Most of all thanks to all those who took part.
  MGCC Tyne-Tees Centre is back on the road!                                Noel
—————————————————————————————————————
Tyne-Tees Centre Annual Awards Dinner: Saturday 7th December
The 2019 Tyne-Tees Centre Awards Dinner was held at the splendid Ramside Hall Hotel, just outside Durham City, a venue that some of you will recall played host to Tyne-Tees Centre Awards Dinner Dances in the ballroom, many years ago now.
I am pleased to report that 54 members and guests joined us for this always enjoyable evening, which took place in the Fountain Room at the Ramside. It was good to personally welcome Barrie & Sheila Hope from deepest Lincolnshire (though still Tyne-Tees members of course), our good friends John and Gill Watson from Abingdon Works Centre, and Caledonian Centre members Tony Smith and Lorraine Noble-Thompson, who had travelled down from Scotland to be with us. Lorraine has been elected to the MGCC Board Executive Committee and she now represents the interests of our Centre at Board level. This is good news people!
At this point I would likely to thank all those kind folk who brought a wonderful selection of raffle prizes. These no doubt helped the buoyant sales of raffle tickets, all in a very worthy cause, that being the Great North Air Ambulance Service; amazing people whom we all hope we never need but we know that in an emergency they can be called upon, as they are about 1400 times a year.

We then all enjoyed a splendid three course dinner, hot food served quickly, that more than lived up to the reputation of the Ramside Hall Hotel. Following coffee and mints, and the loyal toast, and toasts to the MGCC and Tyne-Tees Centre, I proposed a toast to Absent Friends. This year we had to say our sad goodbyes to Donald Dalton, Bob Heslop and John Mitchell, three people very dear to this Centre who sadly lost their brave fight for life and passed on. All three featured in our annual rolling photo montage of 2019 MGCC memories, for all to see on a big screen.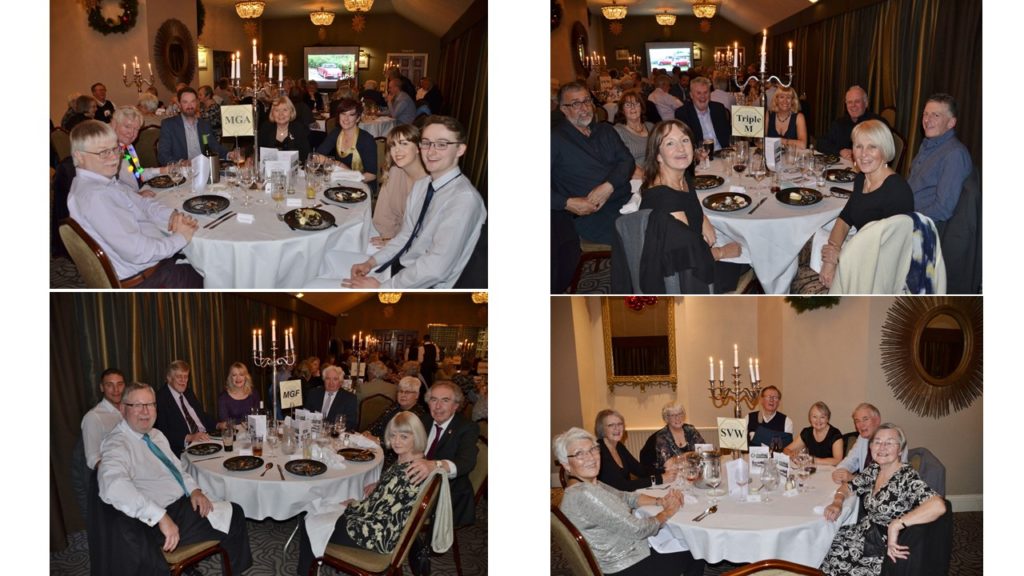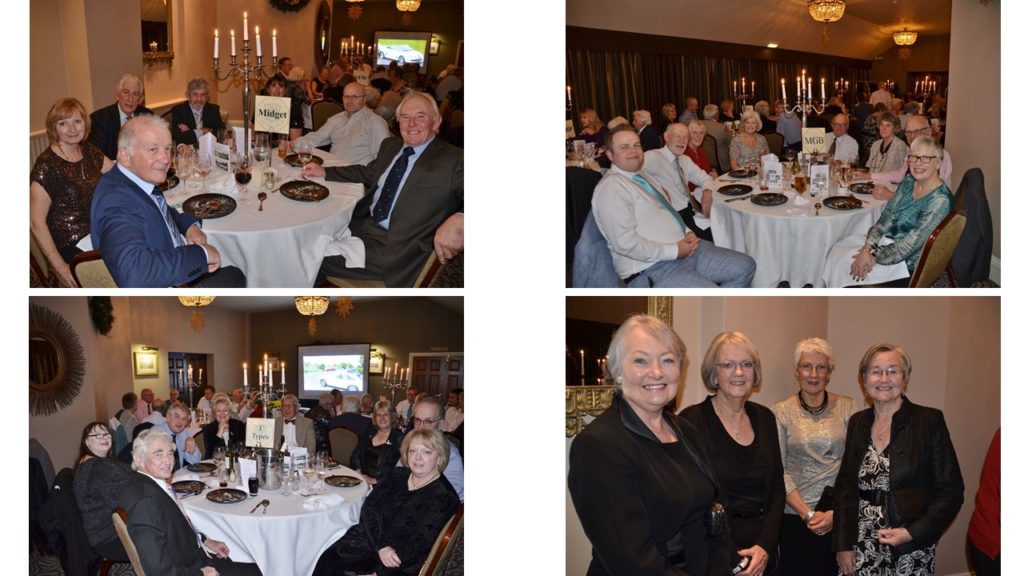 Noel then gave a short review of the 2019 season, a mix of familiar events and some new items, all of which were well supported, so we seem to have the formula about right, with subtle changes as required, to adapt to what people want. With an occasional steer to driving MGs as they were meant to be, several of us enrolled in the excellent Harewood Speed Hillclimb Driving Academy.
David Alexander then gave us an overview of what we have planned for the 2020 season, with some new additions, one or two of which are still in the planning stage. The four main road runs continue, with a change of organiser for a couple of them, so a fresh look at these. Of course with MG Live! back in the calendar for 2020, Tyne-Tees will again be heavily involved in the Circuit Tours and the California Cup at Silverstone….if you want to be part of it as a marshal, let me know. With 2020 being the 90th anniversary of MGCC, and 2021 being the Golden Jubilee of Tyne-Tees gaining Centre status, there are a number of special items being planned right now.
The evening then moved onto the Awards Ceremony, where no less than 16 awards were up for grabs, of which some recipients were already aware, having known they had won at the end of the main road runs, whilst others, gained by accruing the relevant enthusiast points during the season, or having won one of the Pride of Ownership awards, were kept a secret until the evening.
The following photo montage shows some of the main enthusiast awards that were not known until the evening…A full list of all the award winners follows: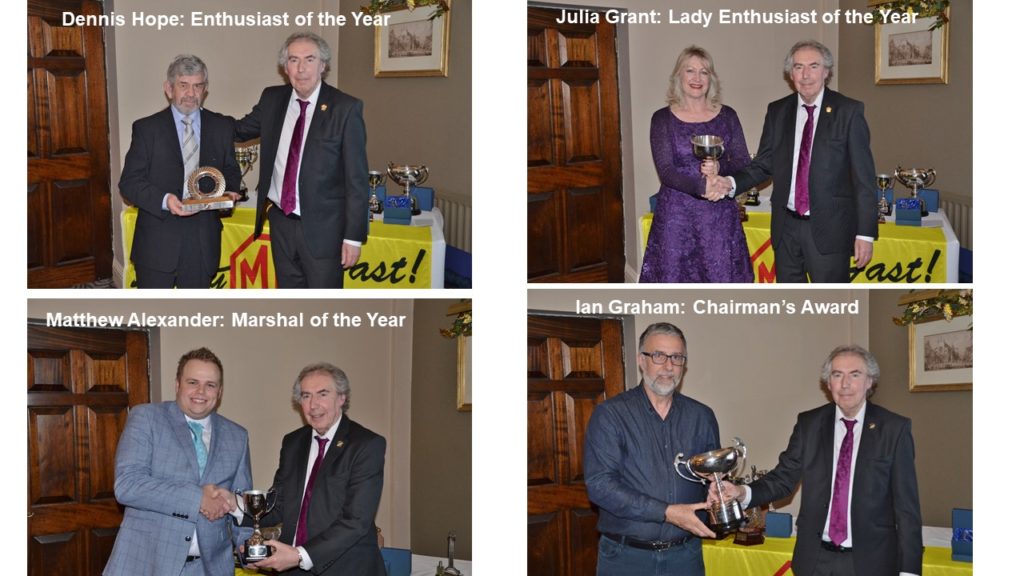 Southern Pride of Ownership
Pre-1981 John Grant MGC GT
Post-1981 Noel Lindford MG TF85
Northern Pride of Ownership
Pre-1955 Andrew Kelly MG TF1500
Pre-1981 Bill Went MGB GT
Post – 1981 Ian Whyte MGF
Most admired non-MG: David Rawlinson Austin 7
Cobweb Run Pre-1981 John Adamson MG TB
Post -1981 Ian Whyte MGF
Prince Bishops & St. Cuthbert's Run
Prince Bishops Trophy John Grant MGC GT
Prebends Trophy Helen Waddington MG TF135
Old Speckled Hen Run Pre-1981 Bob Thompson MGA Coupe
Post -1981 Richard Pearson MGF VVC
Autumn Leaves Trophy Tony Wood MGB Roadster
Enthusiast of the Year Dennis Hope Lady Enthusiast of the Year Julia Grant
Marshal of the Year Matthew Alexander Long Beach Trophy Doug Carmichael
Chairman's Award Ian Graham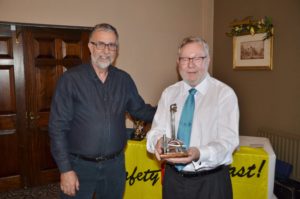 One final award "The Award Nobody Wants" was specially commissioned by Ian Graham, to award to the Tyne-Tees member whose MG most befell bad fortune in the last year. There was a clear "winner" this year, that being the MGB Roadster of David Bolton, his engine giving him more grief than he could imagine, being in and out of the car twice, but is finally now in repaired /renewed mechanical good health, and back in David's good books!
This award will be available for presentation again next year should a suitable unfortunate recipient qualify….
The finale of a most successful and enjoyable the evening was the raffle, which I am pleased to report raised almost £300 for the GNAAS.
I am indebted to John Watson for kindly taking all of the photos at the Awards Dinner.
—————————————————————————-
2019 Autumn Leaves Luncheon Run: Sunday 20th October
A good and varied entry of 44 cars and crews arrived at Dobbies Garden Centre, Ponteland for the start of our final road run of the 2019 Tyne-Tees season. The entrants were greeted by Peter and Judith Baglee who kindly managed sign-on control with their usual friendly and efficient style.
Most entrants took advantage of the excellent breakfast options on offer in the café which had opened early for us, thanks to a much appreciated agreement with Dobbies management. Very welcome indeed for those who travelled that morning from Yorkshire and Scotland to be with us!
Following a drivers briefing from Noel, (speed cameras noted) Andrew Kelly flagged away the first car shortly about 10:15am. Waving his large Northumbrian flag he added a welcome splash of colour to what was an overcast Autumnal morning, with a hint of drizzle in the air.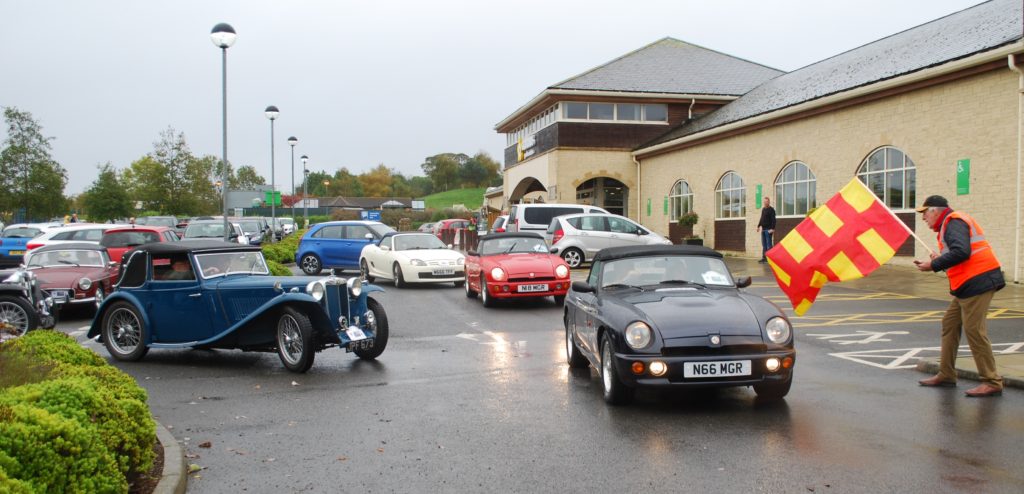 The 57 mile route aimed to take the cars on scenic byways not used on our tours for many a year, and the feedback afterwards suggested that it did! The good news was that no-one got lost, though I did see one or two take a wrong turn and double back! Heading out to Hadrian's Wall at Heddon, the route took the cars down into Wylam in the Tyne Valley, heading west and tracking the River Tyne upstream, crossing the river to reach Riding Mill and then on to Slaley and Slaley Forest.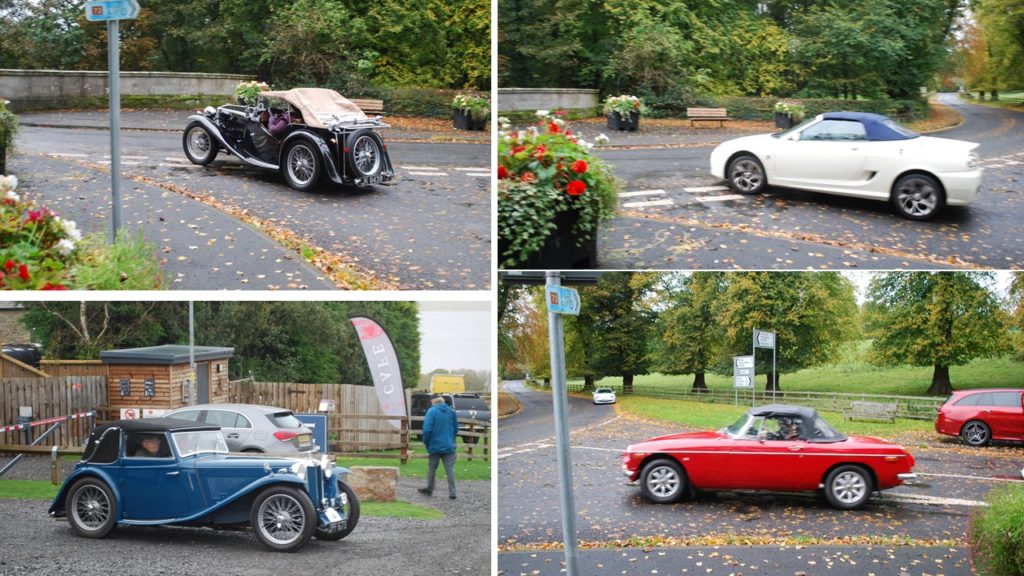 The first of two optional coffee / comfort stops we recommended was in the historic and very popular village of Blanchland, where local cafes are a real draw to tourists. A little further on, the second was a real gem called the Boat Shack, situated by the banks of the Derwent Reservoir. This amazing place was constructed in just 3 days from two large shipping containers, and has been developed into a warm and welcoming café, which many folk enjoyed.
We continued along the Derwent Valley to Shotley Bridge, then on via Medomsley and Burnopfield to little known (to some) key aspects of the birth of the railways, namely the Causey Arch and the Tanfield Railway which was running steam trains that day, to my great surprise as I passed by.
The final part of the route took us into County Durham via Stanley and a unique finish by the River Wear at Emirates Riverside Stadium, home to Durham County Cricket Club. With reserved parking to display our cars, we all enjoyed a very good Sunday Lunch in the Riverside Suite, whilst overlooking the famous Test cricket pitch. The food was served hot and on demand, as people arrived, with a licensed bar open to quench thirsts, which was just what we wanted.
One of our entries was David Henderson driving a brand new MG ZS EV, direct from the showrooms of local dealers Fred Henderson MG of Durham. David agreed to be our guest judge for the day, and on this occasion he chose the 1970 MGB of Tony Wood as the most appealing car on the day and winner of the Autumn Leaves Trophy.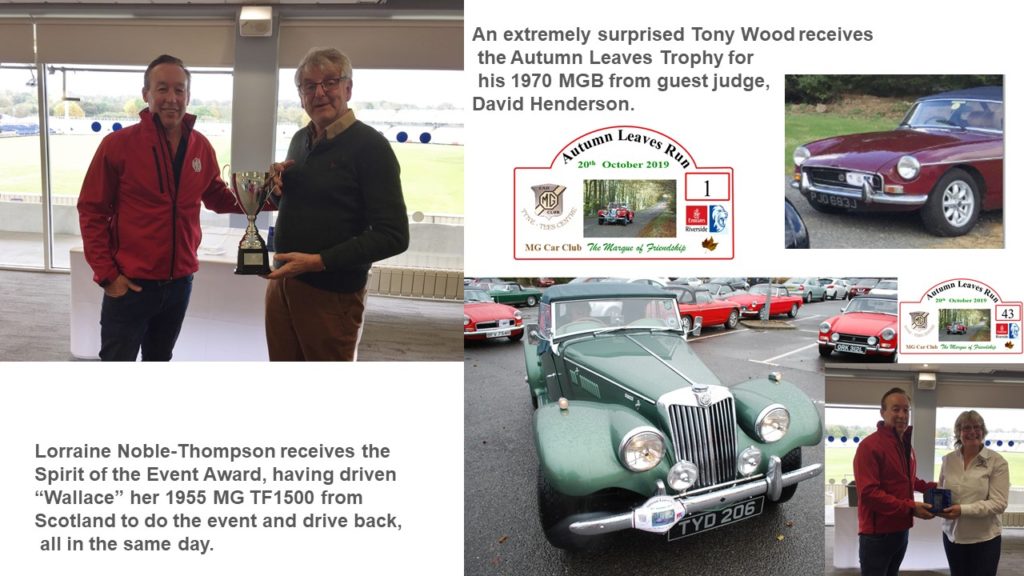 The photo shows an extremely surprised Tony receiving the trophy. As run organiser I awarded the Spirit of the Event award to Lorraine Noble-Thompson, who like Tony Smith had driven many miles from Scotland just to start the event, in "Wallace" her pristine 1955 MG TF1500.
I would like to thank Andrew Kelly for all his kind help with this event, arranging both the facilities at Dobbies, and of course helping to negotiate with Durham Cricket Club the unique opportunity we had to be at the Emirates Riverside Stadium for lunch. Also big thanks to both Andrew Kelly and Dennis Hope for braving the wind and rain at the finish to ensure all 44 cars were parked in their correct reserved slots at the stadium.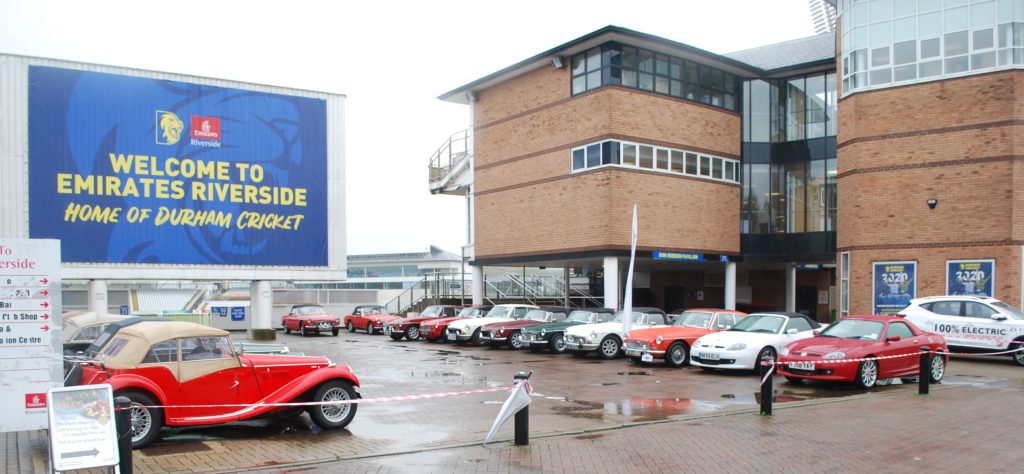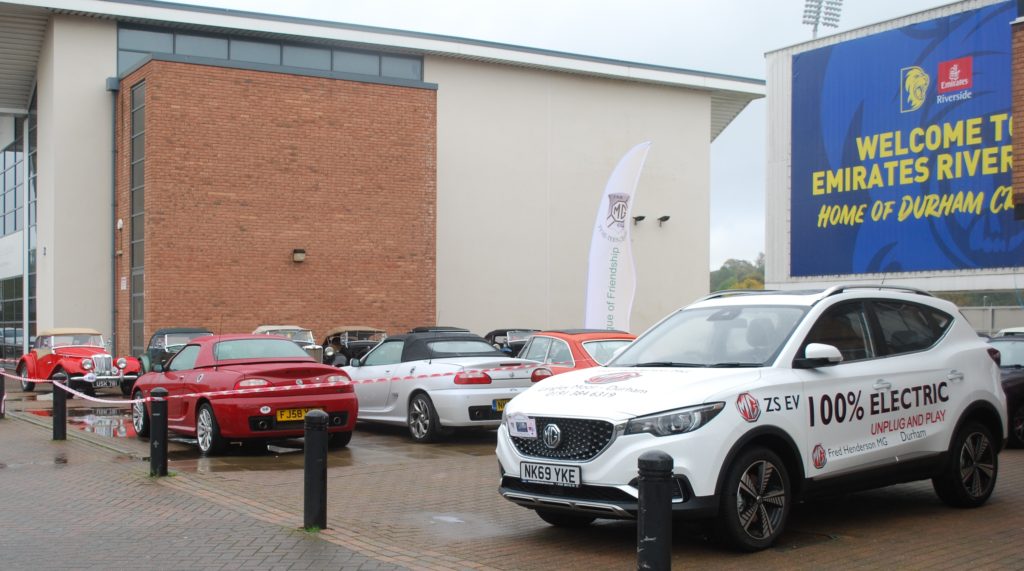 Report and photos by Noel Lindford
——————————————————————————————–
12th Tyne-Tees Old Speckled Hen Run & Road Safety Trial: Sunday 1st September
This year's event was a 95 mile tour on classic driving roads in the Vale of Mowbray and North York Moors, starting and finishing at the Allerton Court Hotel in Northallerton, with a lunch halt in the beautiful town of Helmsley. The Road Safety Trial introduced a mild competitive element with simple untimed tests of driving skill, which took place at Controls 1 & 5 at Allerton Court.
On route people had to get to Controls 2, 3 and 4 (all of which had an opening and closing time) to answer questions on the Highway Code and motoring history, all of which gives this event its unique character. We had an entry of 38 cars that all made it to the start, with 35 completing the event, though I gather all three that did retire with mechanical maladies did get back home safely.
The photo montages below give a flavour of the event.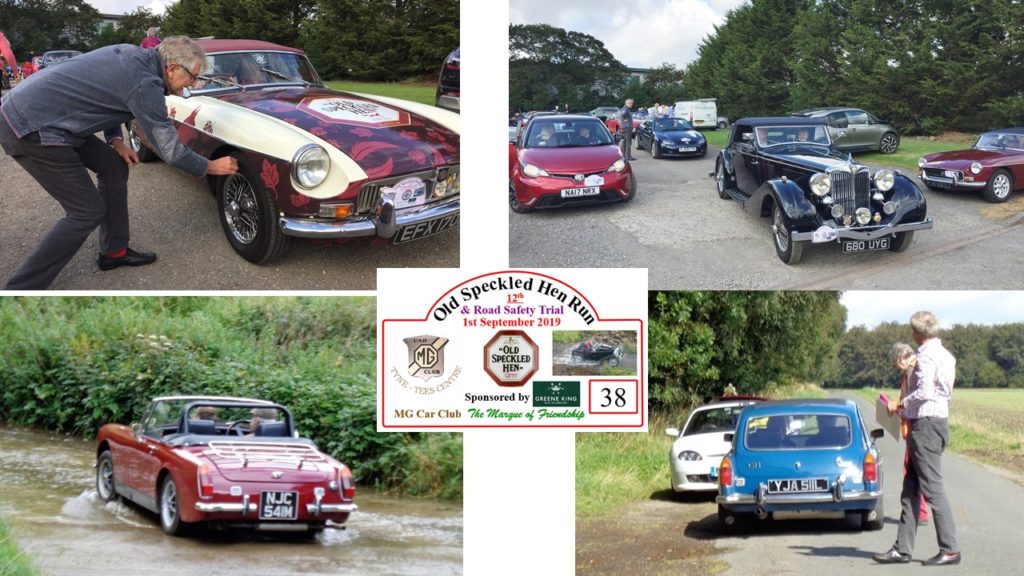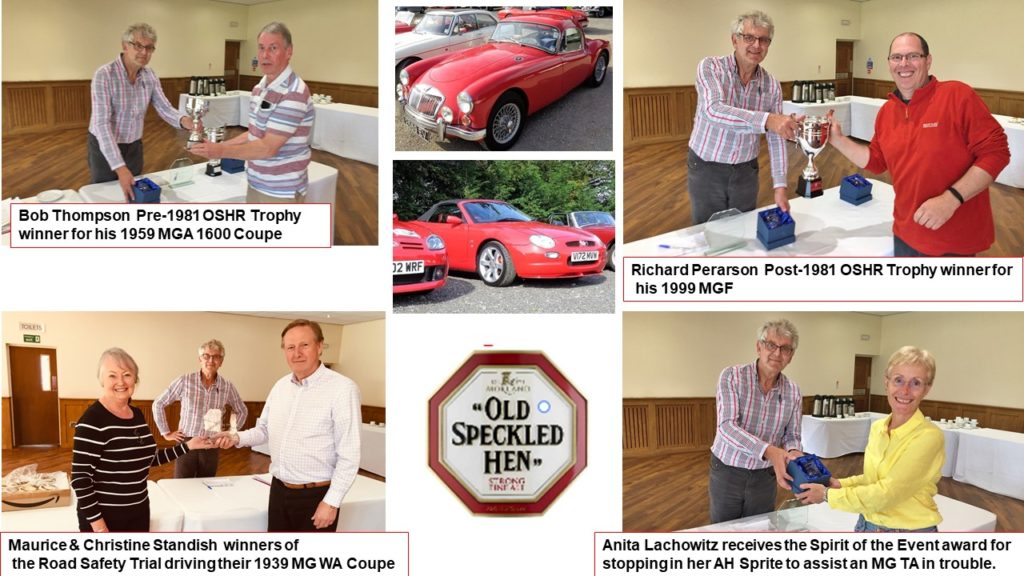 Many thanks to Tony Wood for putting together such a wonderful route and devising the Road Safety Trial challenges, to Peter & Vanessa Macey for marshalling at two of the Controls, and to Mervyn Gillespie & Janice Boustead for kindly managing Signing On.
Words by Noel Lindford Photos by David Coulthard and Noel Lindford
———————————————————————————
Croft Retro & Classic Weekend: 3rd/4th August
Once again, MGCC Tyne-Tees and Yorkshire Centres provided the largest single-marque Club display by far at this weekend event mixing nostalgia with some superb on-track action at one of the best race circuits in the country. The weather was far from the inclement forecast, and apart from a splash or two early on Saturday morning the weekend was set fine, with sunshine aplenty.
Joining us adjacent to our very prominent pitch were our good friends from the Northumbria Healey Club, whose cars were mostly built at Abingdon, as many of you will know!
Just to prove that it is not just our MG cars that are well turned out, two of our members, Owen Frankland and John Pinkney won the best dressed man award (clearly with a nostalgia theme in mind) on the Saturday and Sunday respectively.
Many of our members took the chance to enter the parade laps on the Sunday, and loved it!
The event had a different theme this year, with a change of name and also a different feel, with much less of the "Nostalgia theme" that had made this the "Goodwood Revival of the North".
The following photo montages give a flavour of the weekend. We will be back in 2020!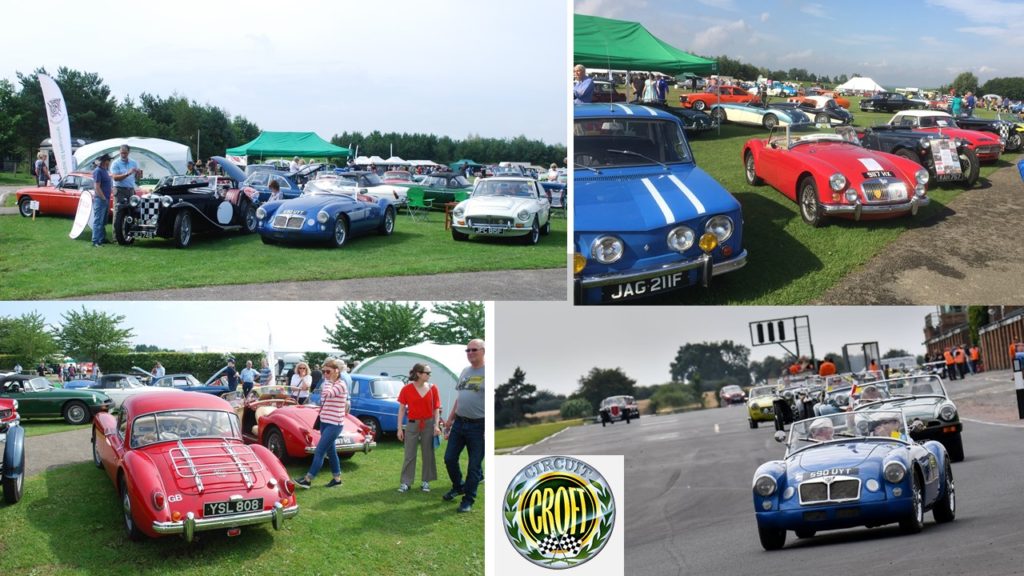 Words and photos by Noel Lindford (Track parade photo courtesy of Croft Circuit)
———————————————————————————————–
2019 Prince Bishops & St. Cuthbert's Runs: Sunday 2nd June
The Prince Bishops Run was a 100 mile route starting from Lordstones Country Park near the Cleveland Way at Carlton Bank. A varied selection of 32 MG cars from 1939 – 2010 entered this run which took in some breath-taking scenery over wonderful driving roads, the route traversing parts of North Yorkshire and onwards across the County Palatine of Durham, following elements of routes taken by medieval Prince Bishops travelling north to Durham Cathedral. This year we once again had a lunch halt at the Horsemarket in Darlington, where despite a brief shower, the cars attracted a lot of public attention. The afternoon section took the cars north via Shildon to Auckland Castle, and a scenic climb up the side of Hamsterley Forest, before crossing into Weardale and via Tow Law for the run down into Durham City.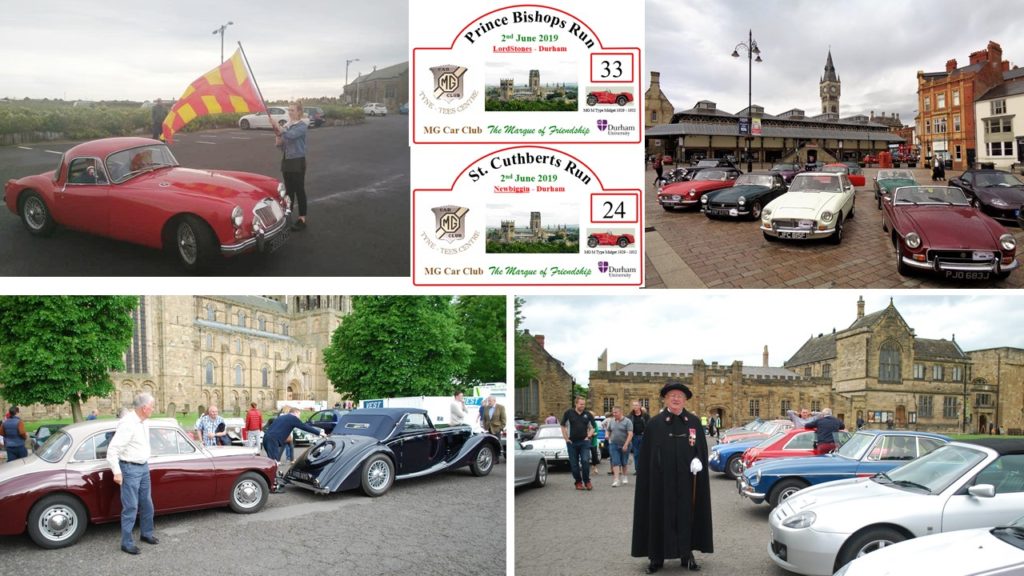 The concurrent St. Cuthbert's Run was also a 100 mile route, where 24 cars (MGs from 1939 – 2019 and a couple of Austin Healey 3000s) started from the splendid Maritime Centre at Newbiggin-by-the-Sea, overlooking the bay on the Northumberland coastline. The run headed due west to the valleys in the foothills of the Cheviots before heading south, crossing the Tyne Valley to the moors of County Durham and along Weardale. Optional stops for refreshment were at Bellingham, Blanchland and Stanhope, before joining up with the Prince Bishops route at Wolsingham, for the final section of the route into Durham City.
A key feature of this event since 2012 is that both runs conclude around Palace Green in front of magnificent Durham Cathedral. Despite some occasional inclement weather on route (nowhere near as bad as was forecast), the sun finally shone on the 56 cars that were on public display around Palace Green, whilst we all enjoyed a welcome cream tea served within the Alms House Café. Our thanks go to Sarah Harrington and the Event Durham team at Durham University for arranging this and ensuring that the MG Car Club has the unique opportunity to finish these road runs at this World Heritage Site.
Our guest judge chose John Grant's splendid 1968 MGC GT as the winner of the Prince Bishops Trophy, whilst Helen Waddington was awarded the Prebends Trophy for her immaculate 2010 MG TF135.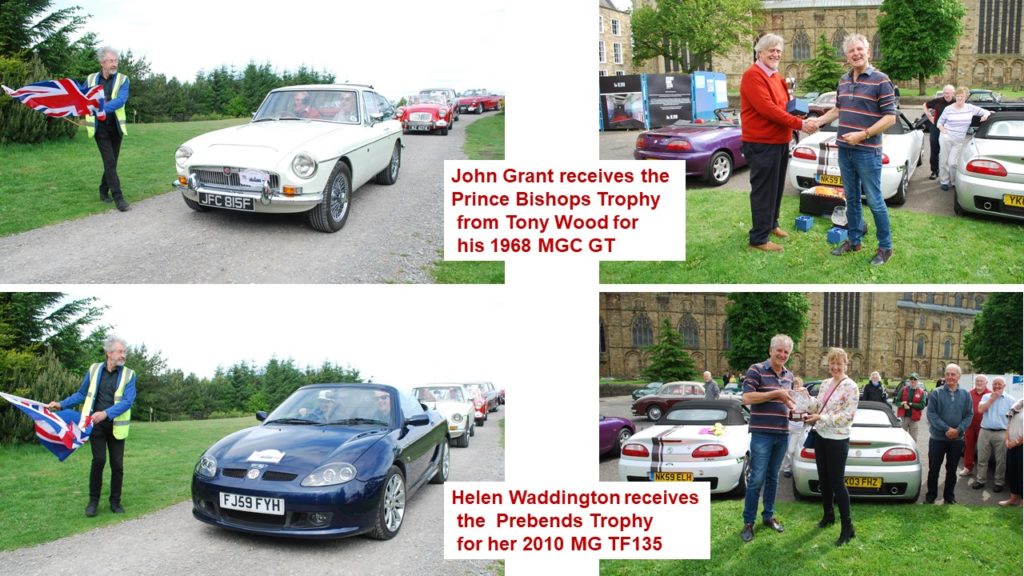 I had the chairman's prerogative and absolute honour to award the Spirit of the Event award this year to John Patrick Mitchell, who although fighting immense physical challenges, and despite the fact his lovely MGC Roadster is currently minus its gearbox, his determination that he and Marion should enter and complete the St. Cuthbert's Run in his trusty MGB GT, made him the most worthy recipient of this award.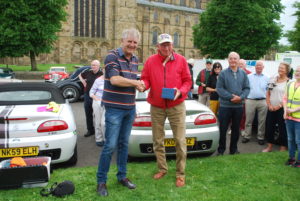 John Mitchell, worthy winner of the Spirit of the Event award, receives his engraved whisky glass from Tony Wood.
Thanks to David Alexander for putting together the excellent route for the St. Cuthbert's Run, to Lynda and Emily Alexander for signing everyone on at Newbiggin, to Peter and Judith Baglee for managing sign-on at Lordstones, and to all the Tyne-Tees Centre marshals without whom, these events could not happen.
Words and photos by Noel Lindford
——————————————————————
2019 Cobweb Run: Sunday 28th April
Ian Graham provided a superb route which gave a real flavour of Northumberland from coast to countryside on this 100 mile journey enjoyed by a full entry list of 66 cars. The weather came good on the day and sunshine broke out by the time many of us stopped for lunch in Alnwick. Once again Brocksbushes Farm café did us proud with excellent breakfast rolls on offer at the start, and cream teas to welcome us back at the end of the run.
The photo montages below gives a flavour of the event…pictures by Noel Lindford and Ray Abbott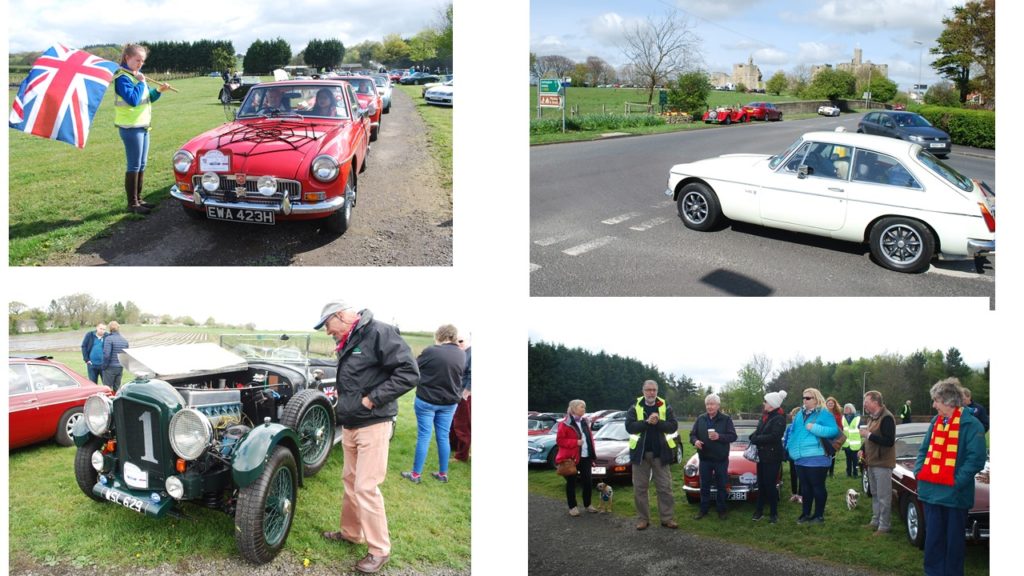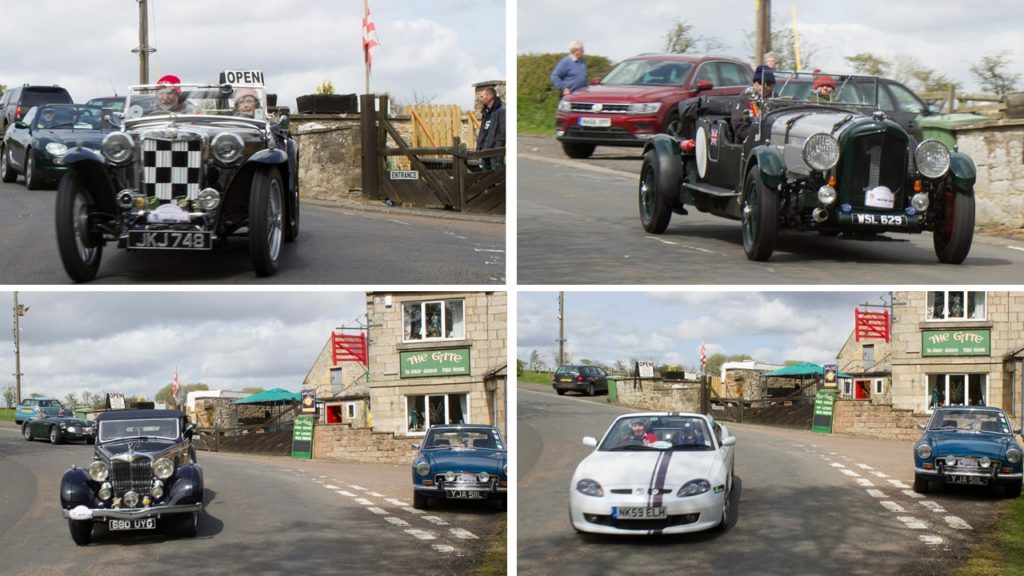 The winner of the pre-1981 MG award went to John Adamson and his 1939 MGTB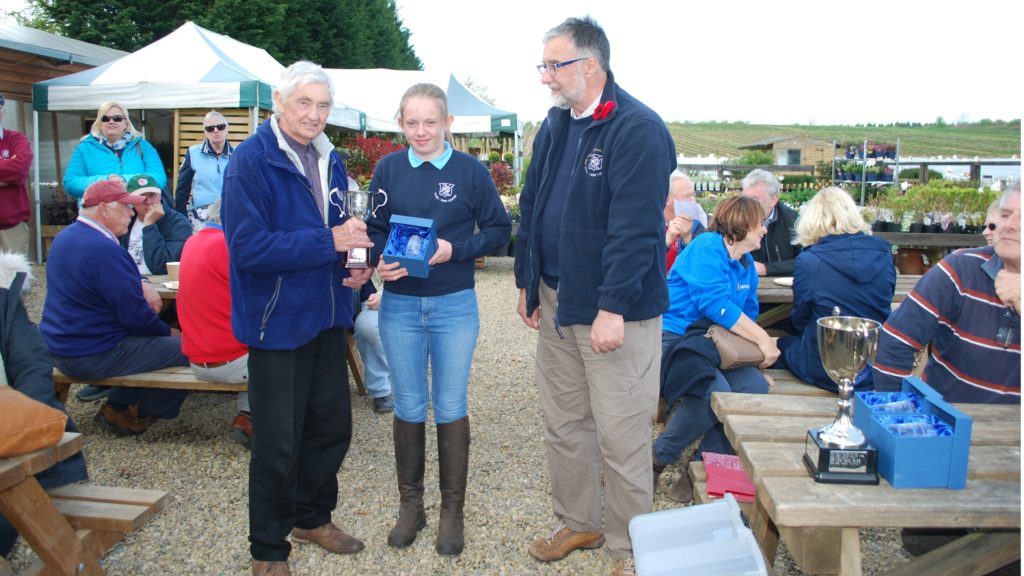 and the winner of the post 1981 award went to Ian Whyte for his 1996 MGF.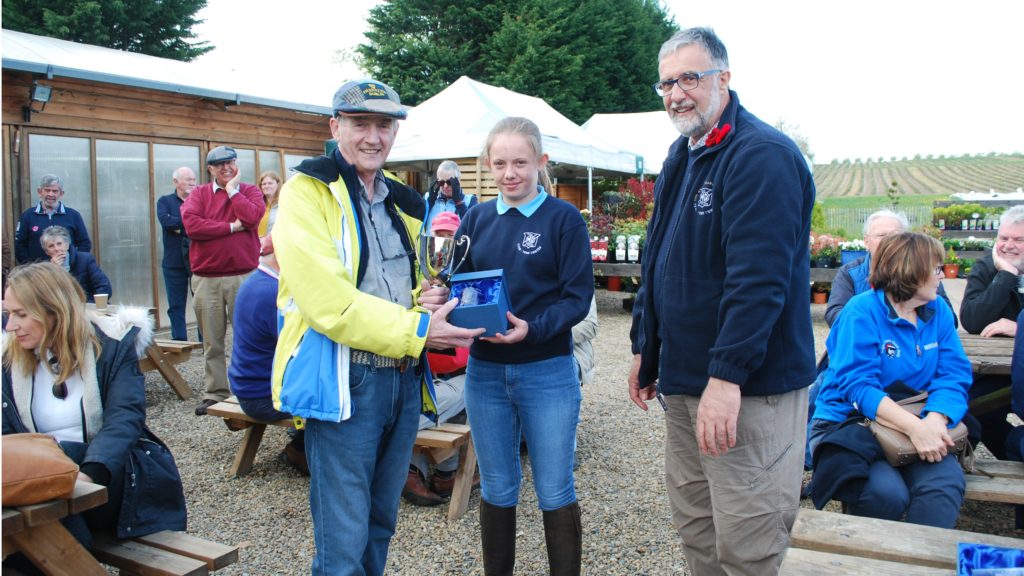 The Spirit of the Event award went to Laurence Hogarth (driving a Daimler DE27 Sport) for his efforts aiding another competitor in a Healey 3000 with a puncture.
Thanks to Charlotte Goodson for flagging off the cars and presenting the trophies with Ian Graham, as well as navigating for her dad! A good day out was had by all!
Report posted by Noel Lindford
——————————————————————-
2018 Autumn Leaves Run: Sunday 14th October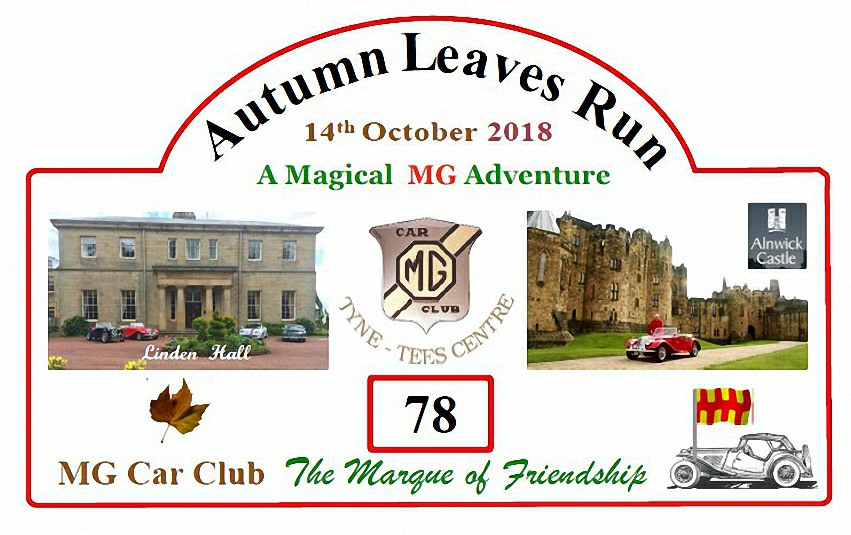 This year our Autumn Leaves Run held on Sunday 14th October was planned to be something rather special, in part to celebrate that 88 years ago the MG Car Club came into being (October 12th 1930 was a Sunday), and 55 years ago, Tyne-Tees Sub-Centre of the then North East Centre was created. So the route this year was set to cover 88km or 55 miles! Our 2018 event incorporated the suitably grand start venue of the Linden Hall Hotel at Longhorsley in Northumberland, and the most stunning finish to a run we have used yet, the magnificent Alnwick Castle. Built in Norman times and owned by the Percy family since the 13th century, from the 1760s it has been home to the Duke and Duchess of Northumberland, and featured in Harry Potter films and the Downton Abbey TV series.
The run attracted the maximum entry of 80 cars, with a good number from our many friends in Caledonian and Yorkshire Centres of the MGCC. Many entrants elected to stay at Linden Hall and join us for a "Marque of Friendship Dinner" on the Saturday evening, the idea of Tyne-Tees Committee member Andrew Kelly, who planned and organised the entire weekend. 92 people enjoyed an informal dinner, including entrants staying or living nearby.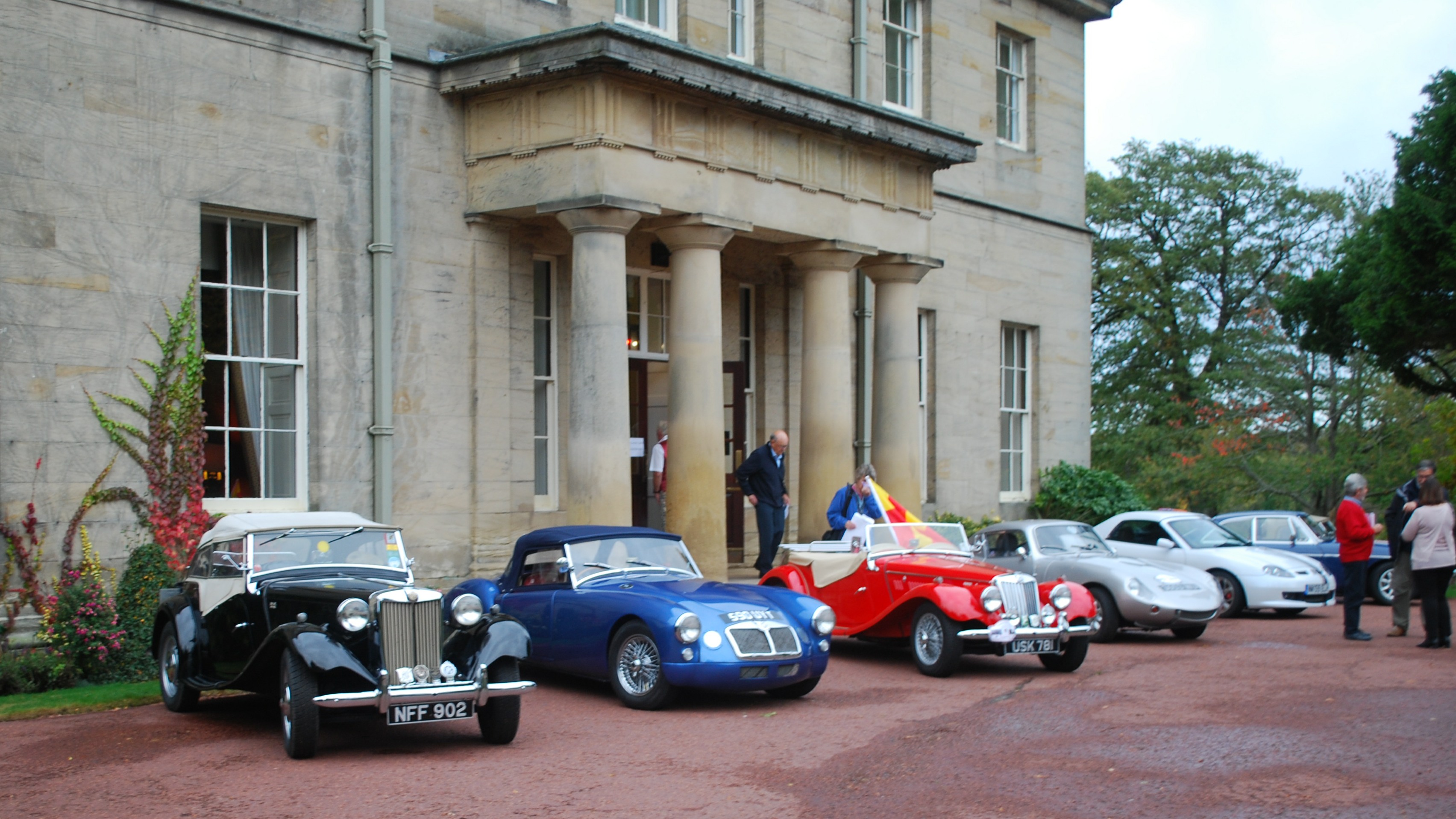 You can plan any event to the finest detail, except the weather. On the Saturday afternoon the weather was atrocious, but that did not stop myself and three other MGCC stalwarts staking out 80 numbered parking places in the display Timelines I had created on areas of the Castle kindly assigned to us by the Northumberland Estates Executive.
Fortunately our prayers were answered and Sunday dawned dry if not yet bright. Those not already staying at the hotel were asked to arrive by 9:00am for breakfast and registration, to get their entry packs which included a souvenir route-book, map of the route and numbered rally plate.
Following separate briefings for the marshals and entrants, the first car was flagged away just after the scheduled 10:30am start time. One of our guest starters was Paul Plummer, the MGCC Director who looks after Tyne-Tees Centre. The run attracted MGs ranging from the 1932 MG F Type Magna of Bob Walker to current MG models. Cars went off at suitable intervals generally in age order, and this worked well, despite cars being parked in various locations in the hotel car-parks. Mayhem did not ensue!
The photo below shows Paul Plummer flagging off the very rare 1939 MG WA Drophead Coupe of Maurice & Christine Standish, with event organiser Andrew Kelly wishing them a safe journey.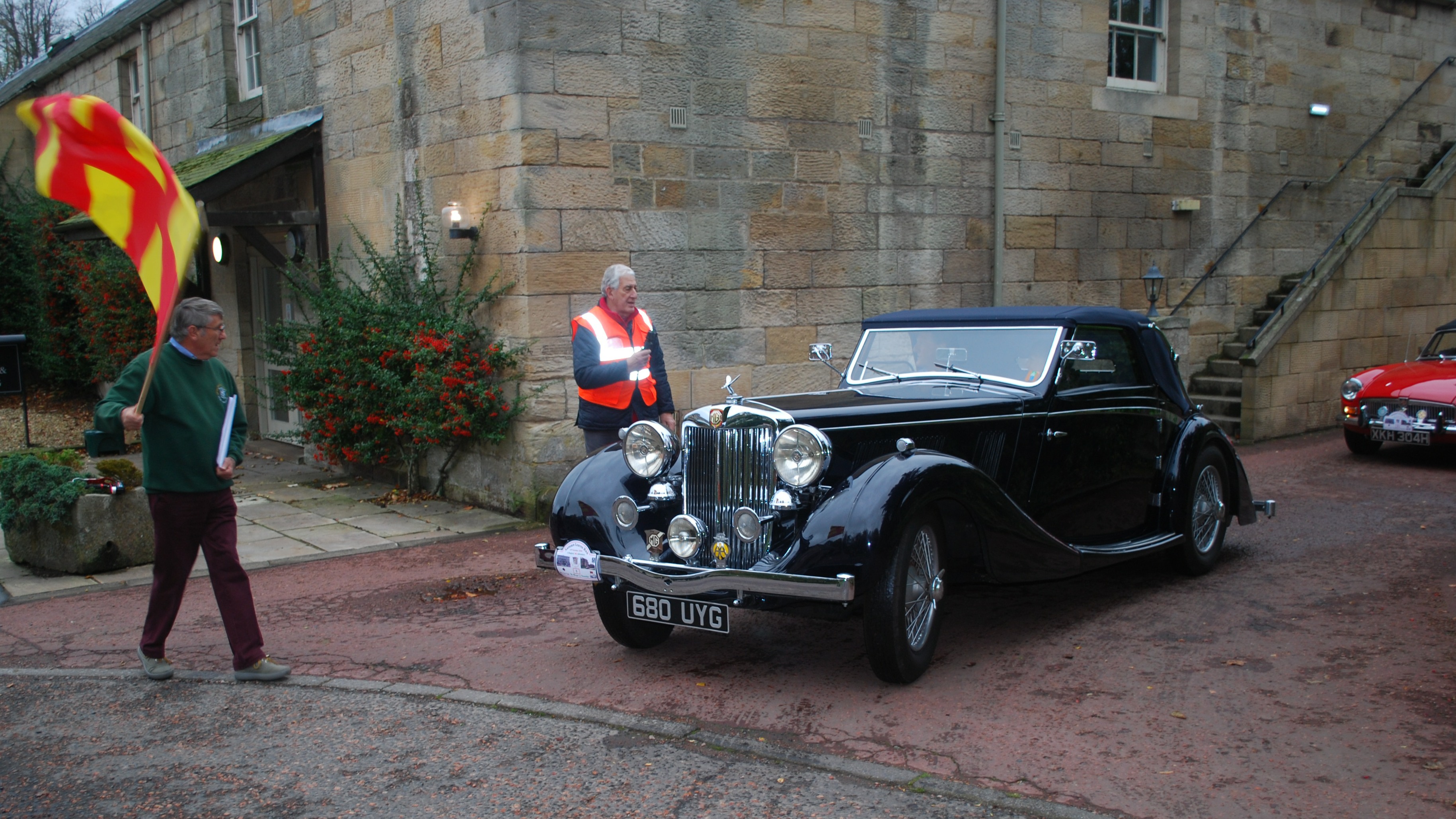 The route took the cars out west, following the valley of the River Coquet, passing through Rothbury (known as the Capital of Coquetdale) then on to the wilder moorlands of the Cheviot Hills, lands dominated for 300 years by the Border Reivers. Our intrepid photographer Trevor Grugan got shots of many cars on the road above Alwinton, looking west up the Coquet valley. Cars then headed north via Netherton and Whittingham, passing through the Northumberland National Park to Glanton.
Here are a selection of photos taken by Trevor: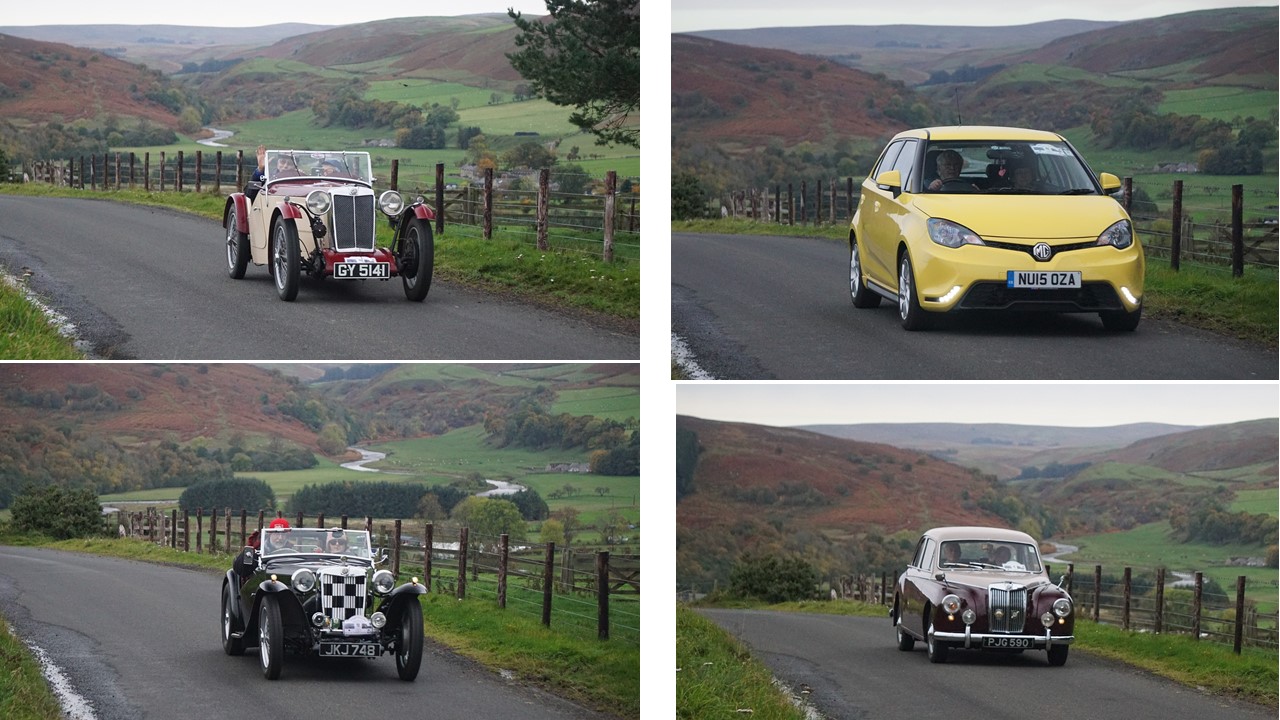 About 35 miles into the run, local folk saw MGs travelling up the A697 to Powburn where Hedgely Services offered a welcome comfort and fuel stop. The route then turned East to the charming village of Eglingham, then on to South Charlton and its Parish Church of St. James, built for the 4th Duke of Northumberland in 1862. Finally the run headed south, with the North Sea a distant background, as cars headed for the county town of Alnwick, crossing the River Aln onto Cannongate and Bailffgate, where the cars were briefly held opposite the imposing Barbican entrance to majestic Alnwick Castle.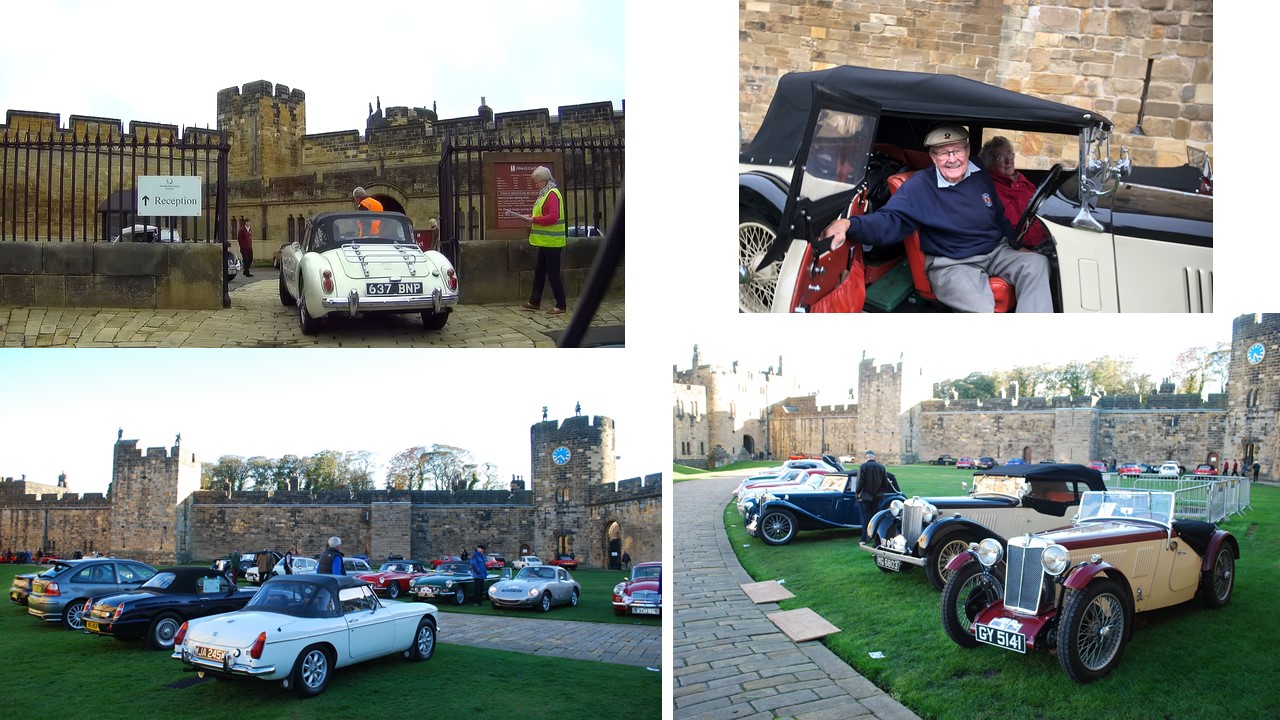 I have to say a big thank you to all the Tyne-Tees marshals who carefully and safely steered 80 cars into their allotted slots within the Castle grounds without causing harm to the members of the public! They had all driven the full route, but managed to get there ahead of the pack, having been sneaked into the earliest group of cars that left. We thought we had lost one entrant, but Alan Dakeyne, who was driving his 1939 VA Tourer was reported as "failing to proceed" but in fact with the kind help of one or two others on the run who stopped, he changed the fuel pump for one that worked, and did make it to the finish, still smiling! See photo montage above – top right.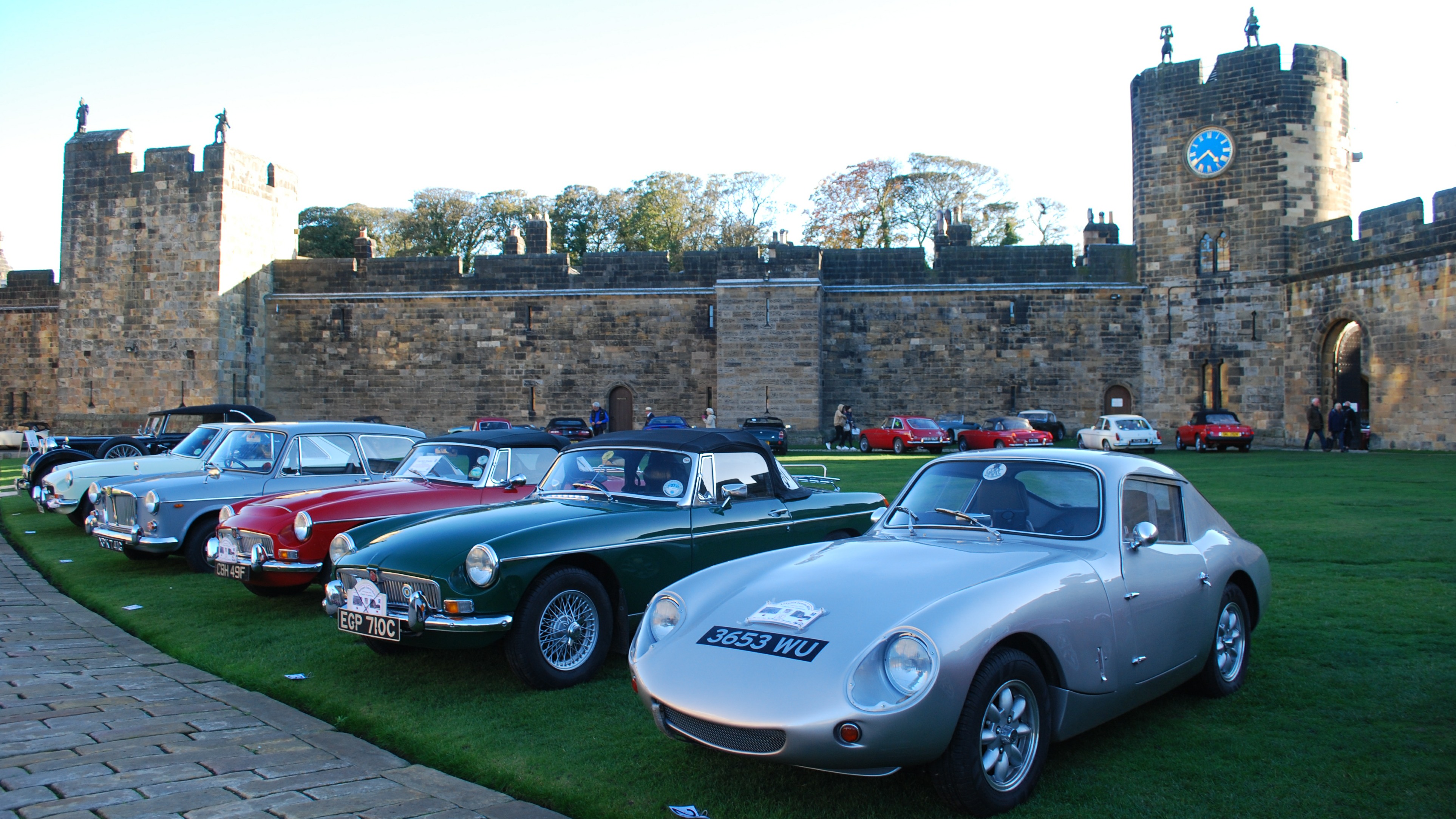 With all cars safely parked up, about 160 of us headed into the Guest Hall for a traditional three course Sunday lunch, which was served with military precision by the excellent Castle staff.
Photo below kindly taken by Jon Radgick from a lofty position!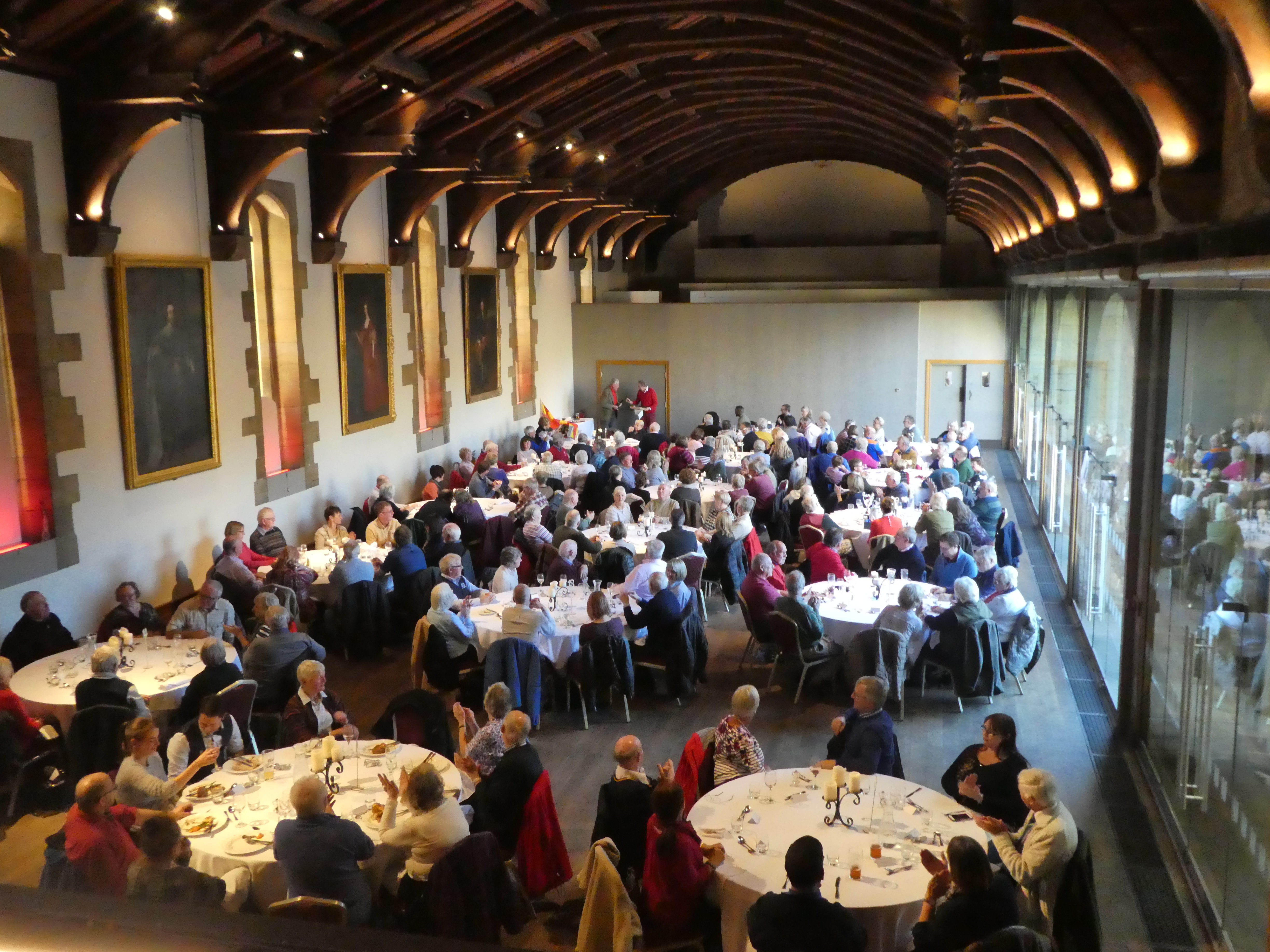 After the main course had been served, event organiser Andrew Kelly took the opportunity to announce some of the awards, which we traditionally present at the end of every road run. I had escorted David Hawke, General Manager Alnwick Castle Ventures, on a tour of all the cars and he chose the MG he would most like to take home. This was was the 1960 blue MGA Roadster belonging to Simon and Carole Weightman, (see photo below) who received the Autumn Leaves Trophy. The Spirit of the Event Award, presented by Paul Plummer, was to the unanimous and popular choice of Alan Dakeyne, who although senior in years is still young at heart and drove his MG VA Tourer in his usual spirited manner.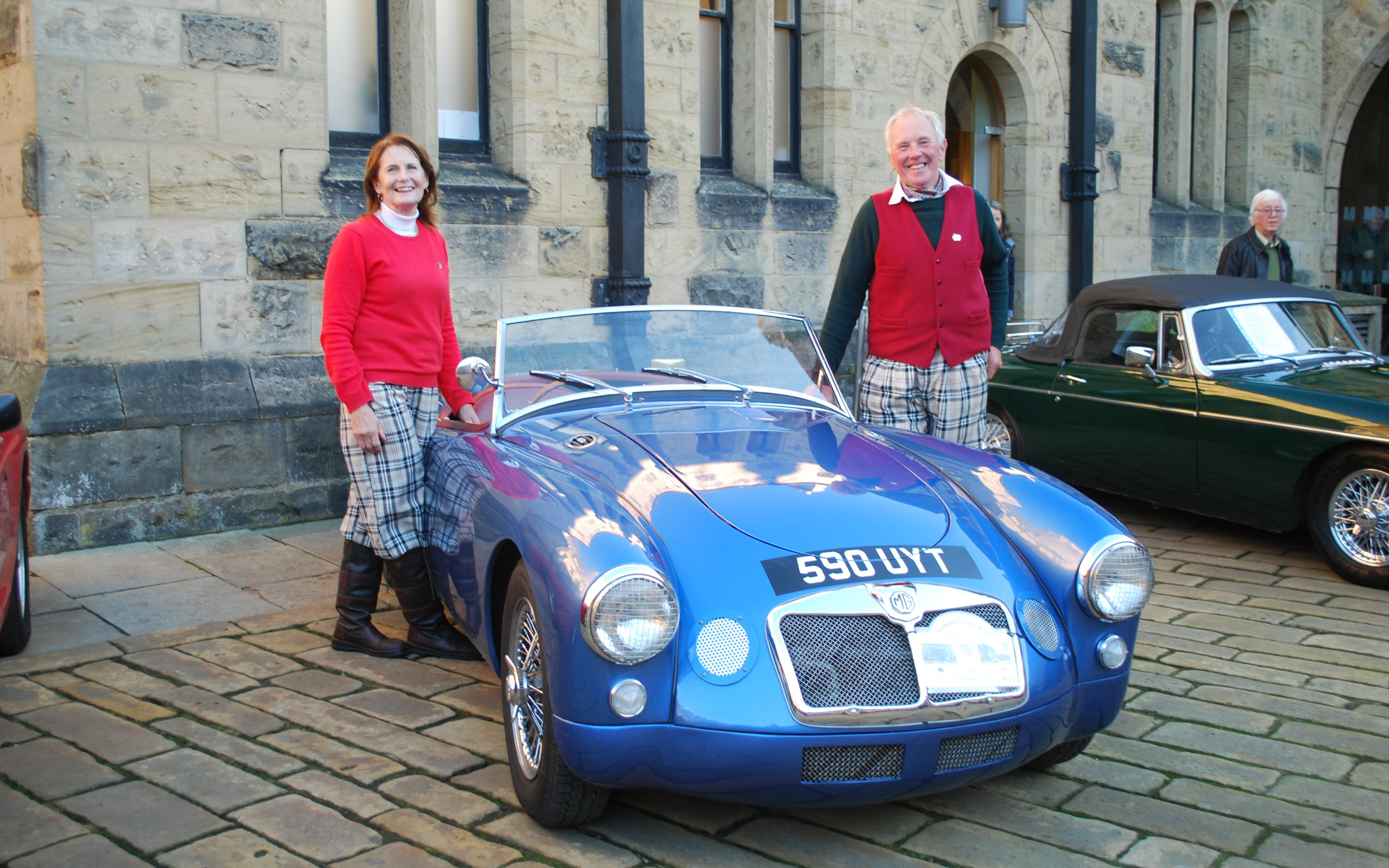 Paul then took the opportunity to make a farewell speech as he is stepping down from the Board and as our Director, having looked after the interests of Tyne-Tees Centre these past nine years. Andrew and I were delighted to be able to present Paul with a book on the history of Alnwick Castle, which he much appreciated. Following lunch there was still time to visit the State Rooms and other attractions which stayed open until 5:30pm especially for us, and those who did so found them truly stunning.
The sun was shining on clear blue skies at this point, and the Castle and grounds looked amazing. After an enjoyable day, people made their way home from about 5:00pm. We received a lot of complimentary emails and messages suggesting that the event was very successful. Finally, thanks to Andrew for the huge effort put in to make it happen.
Report posted by Noel Lindford
11th Tyne-Tees Old Speckled Hen Run & Road Safety Trial: Sunday 9th September
This year's event (our 11th Tyne-Tees "Hen Run") was a 90 mile tour through the Northern Dales of Yorkshire, starting and finishing at the Rokeby Inn, west of Scotch Corner on the A66. The Road Safety Trial introduced a mild competitive element with simple but devious tests of driving skill, plus questions on road safety and general motoring knowledge to enhance the fun of fine roads, and of course the wonderful scenery encountered as the cars criss-crossed the Dales.
The run, which took place in relatively good weather, attracted 31 cars, ranging from the splendid 1939 MG WA Coupe of Maurice Standish to the recently acquired 2018 MG ZS of David Coulthard. We all arrived in good time to get signed on and enjoy the excellent breakfast rolls and hot-drinks on offer at the Rokeby Inn. The event started with a simple driving challenge at Control 1 before setting out on some of the lesser known (and almost cyclist free) roads, before encountering me at Control 2 not far from Redmire, with some MG picture questions. Just as well it was a large army tank turning area near a quarry, as the cars arrived in a flurry at one point! The cars then headed off towards Leyburn and more devious driving manoeuvres to attempt at Controls 3 & 4, both on entering and leaving Tennants Auction House, where lunch was on offer in the Garden Rooms. The afternoon route took the cars back from Wensleydale into Swaledale, encountering me (again) and some road safety questions at Control 5, located near a cattle grid between Melmerby and West Witton….we do pick exotic locations to pull people in! The run ended back at the Rokeby Inn for a final set of questions at Control 6 before we all enjoyed an excellent cream tea.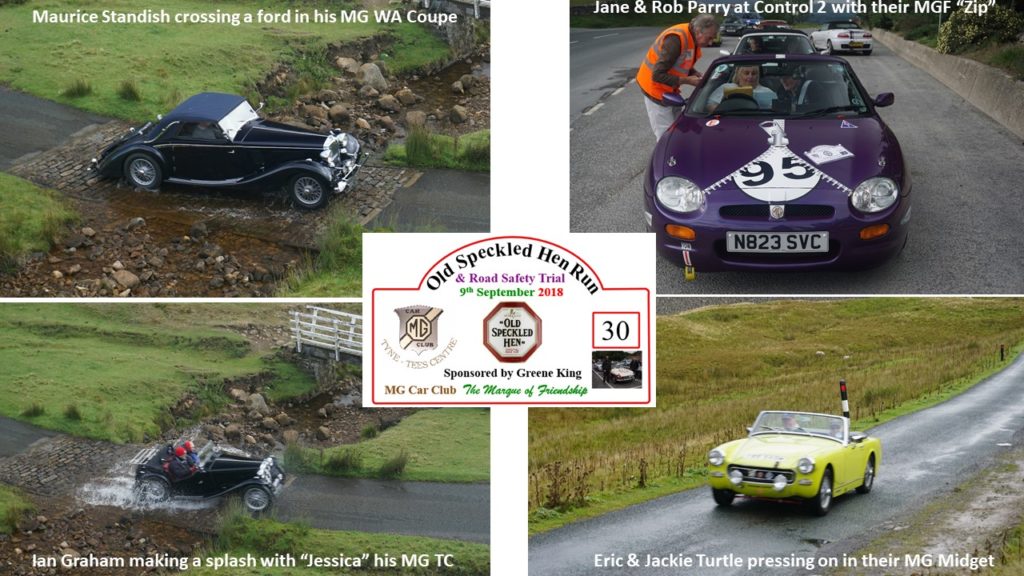 The winners of the Road Safety Trial, with an impressively low penalty score, were Margaret Farquhar and Bill Marchant in their MGF Steptronic, who were presented with the appropriately named "Road Safety Trial Winner" award.
Our guest judge then chose the splendid MG Midget of Eric & Jackie Turtle as winners of the Pre-1981 OSHR Trophy, with Jane & Rob Parry's MGF "Zip" chosen for the Post 1981 MG award. I had Chairman's prerogative to choose the recipient of the Spirit of the Event Award, which this year went to Maurice & Christine Standish for managing to negotiate their rather large 1939 MG WA Coupe around the tight hairpins and climbs on this challenging route.
Who needs the Stelvio Pass when we have roads like this almost on our doorstep? Many thanks to organiser Tony Wood for putting such a wonderful route together, and to all those who entered, and had fun giving it their all, including our friends from Yorkshire Centre who regularly support our events.
Prince Bishops & St. Cuthbert's Runs Sunday 8th July
This year was the 30th Anniversary of the Prince Bishops Run, a unique event devised by Tony Wood back in 1988 as a northern rival to the southern Regency Run. That first event attracted an entry of 100 MGs and ran for 100 miles from the Clifton Moor Centre at York to County Hall in Durham, as it did for may years. In recent years, to avoid the long drive (for many) to the start at York, and to attract entries from our members in the North of our Centre, the event became the two concurrent runs we have today, with a joint finish (since 2012) on Palace Green in front of Durham Cathedral, something that took a lot of negotiation with Durham University and Event Durham to whom we are of course grateful! (When the Dean of the Cathedral became an MG convert by judging the cars in 2012, we knew we were OK!)
The Prince Bishops Run 2018 started from the splendid Lordstones Country Park, high up in the Cleveland Hills at Carlton Bank, with stunning views that made the climb to get there all the more worthwhile. Appropriately, 30 cars entered the event, and following sign-on and some excellent breakfast options, the driver-briefed crews were flagged away under clear blue skies.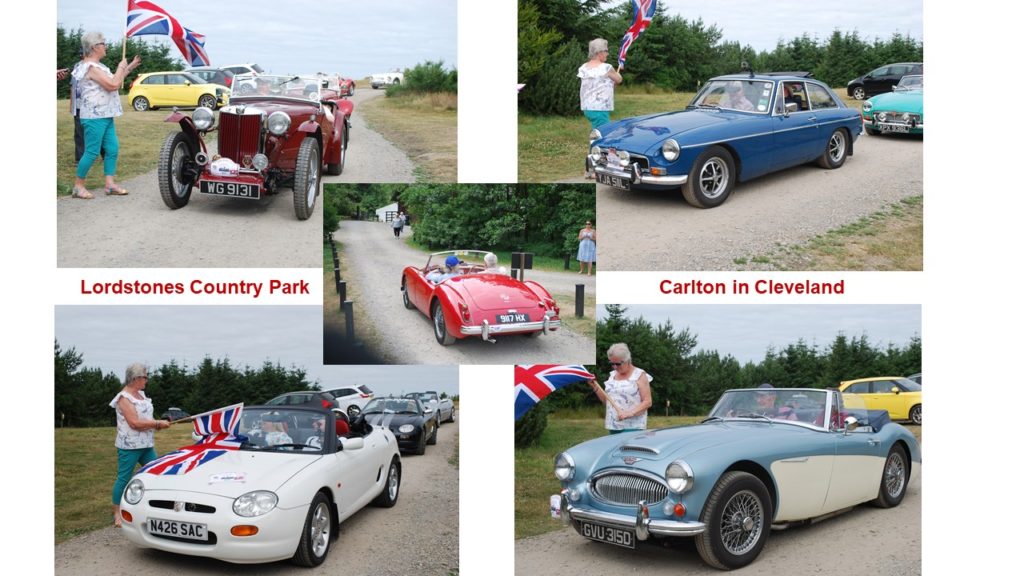 The 99 mile route took the cars across North Yorkshire and through Northallerton then north via Neasham, Hurworth and Croft, to Darlington for the lunch halt which was at the Horse Market, kindly opened up for us to park there, by Darlington Borough Council. Darlington was once owned by the medieval Prince Bishops, and the cars were parked a stones throw from St. Cuthbert's Church.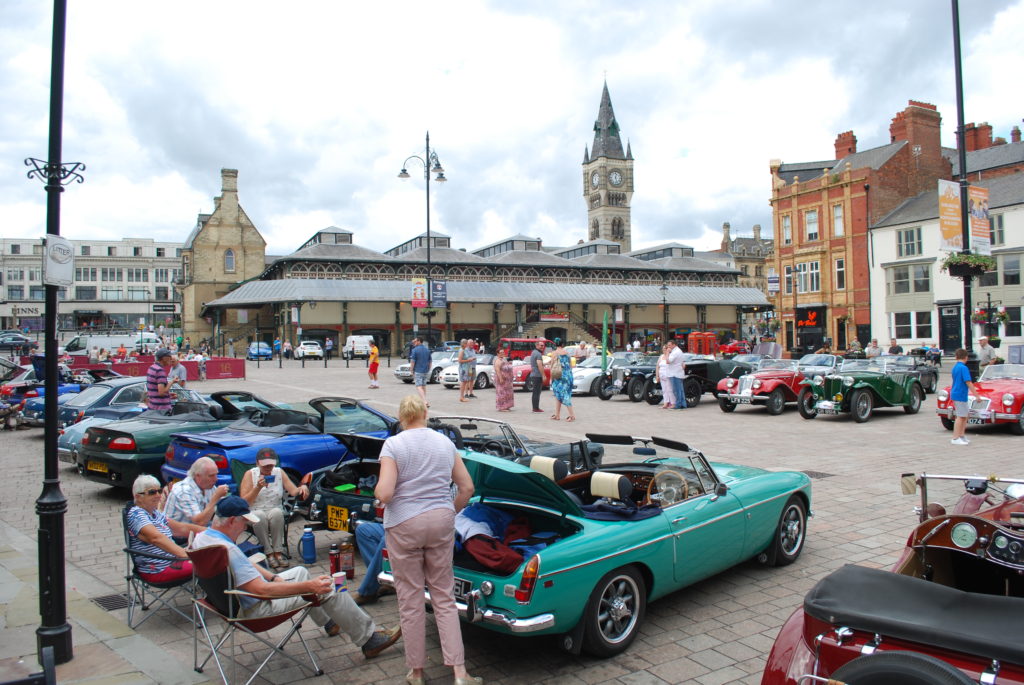 The afternoon section took the cars out via Walworth Castle and Shildon into Bishop Auckland, passing Auckland Castle, once home of the Bishop of Durham. The run then went up the side of Hamsterley Forest and then down into Wolsingham, crossing the River Wear. From then on, this route combined with the St. Cuthbert's Run into Durham.
Meanwhile, this year's St. Cuthbert's Run started from the Maritime Centre at Newbiggin-by-the-Sea, where 25 cars entered the event. The route was planned by David Alexander, but as he was at Classic Le Mans that day (its a hard life) Ian Graham kindly organised the event on the day.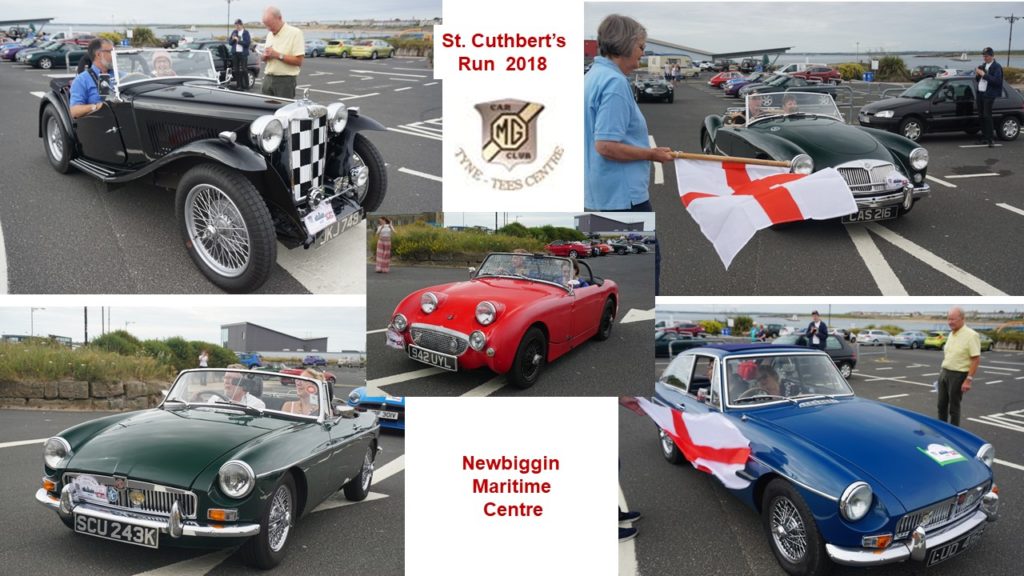 The 95 mile route, starting on the Coastal Plain in the industrial coal field of South East Northumberland headed due west to the valleys in the foothills of the Pennines before heading south crossing the Tyne Valley to the moors of Co. Durham and along Weardale towards Durham City.
I am indebted to Trevor Grugan for the photos above and below taken on the St. Cuthbert's Run. Lunch was available at Kirkharle, the Vallum Tea Rooms or Blanchland, as the route progressed.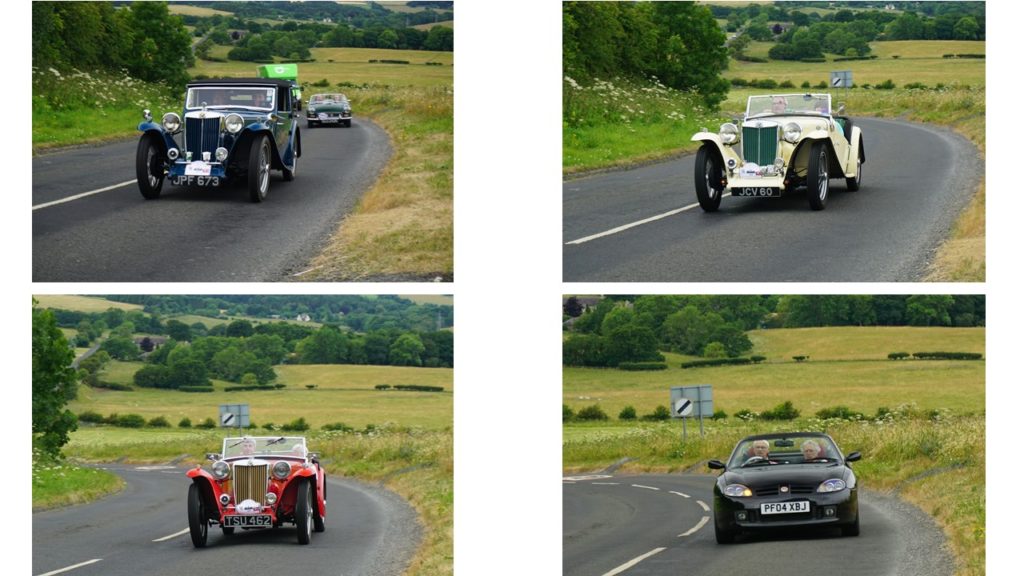 Both runs joined up in Wolsingham for the final 33 miles via Tow Law and on via Brancepath into Durham City. Here the cars made their way up Sadler Street and onto Palace Green, where MGCC marshals arranged some creative parking!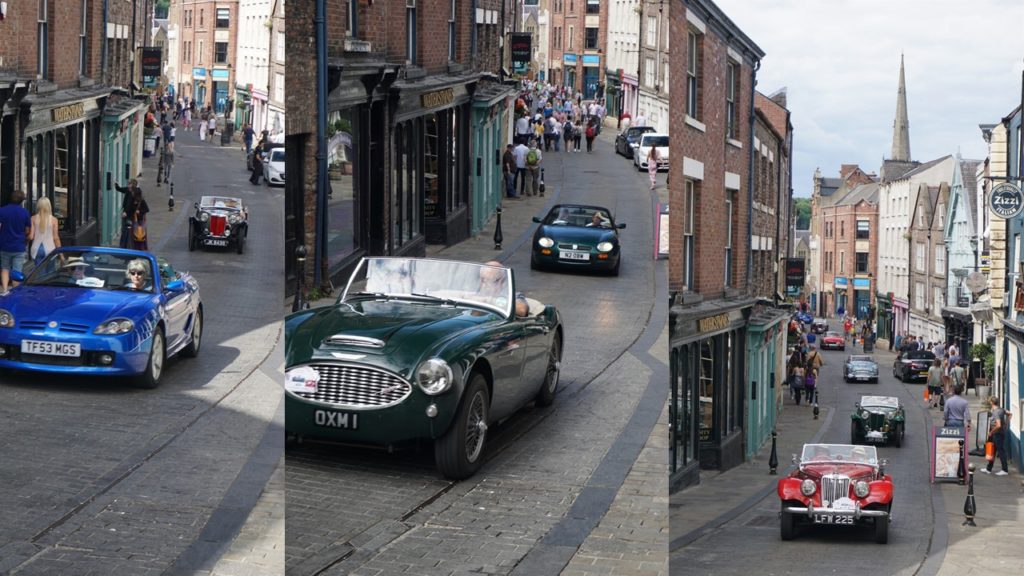 It was highly appropriate that Tony Wood should be our guest judge on this occasion and the cars he chose were as follows: Prince Bishops Trophy went to Duncan McEwan for his very nice MGA Roadster, and the Prebends Trophy went to Trevor Leighton for his MG TF 85th Anniversary. I had organiser's prerogative to award the Spirit of the Event award to Rob & Jane Parry (and their white very early production MGF "Snowdrop") for having supported this event once again, travelling up from the West Midlands to take part.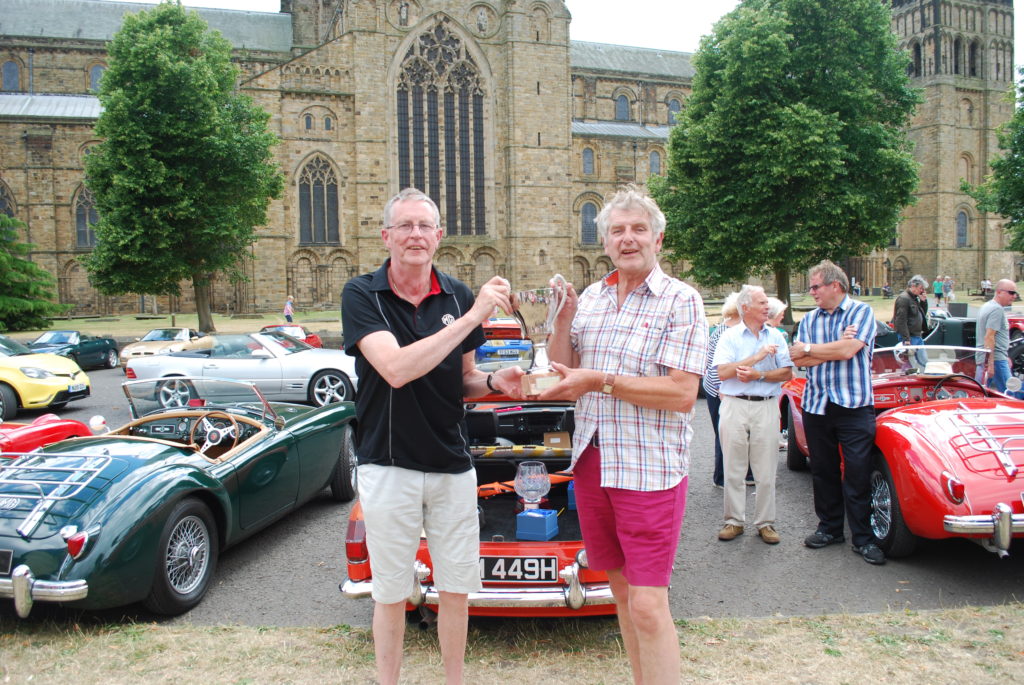 Duncan McEwan receives the Prince Bishop Trophy from Tony Wood for his green MGA – see left.
Trevor Leighton receives the Prebends Trophy for his MG TF 85th Anniversary
Rob and Jane Parry receiving the Spirit of the Event Award from Tony.
I am much indebted to Owen and Pam Frankland for capturing the Prince Bishops Run on video, and an abridged two minute version can be accessed via our MGCC Tyne-Tees Facebook page.
https://www.facebook.com/747608998/videos/10155965593683999/
My thanks to all the marshals, to Peter & Judith Baglee for managing sign-on at Lordstones, and Justine Graham for the same at Newbiggin Maritime Centre. Many thanks also to Ian Graham for managing the St. Cuthbert's Run, and to David Alexander for planning that very good route.
Report by Noel Lindford. Photos by Noel Lindford and Trevor Grugan.
Cobweb Run 2018: Sunday 22nd April
This years Cobweb Run was organised by Ian Graham, and the theme for this tour was "Peace and Remembrance" given that 100 years ago, this country was emerging from the end of the Great War. The 85 mile circular route was set across Northumberland and Durham, passing through the splendid scenery of the Allendale Valley, Upper Weardale and Upper Teesdale. The route would take us past a number of memorials where a name of someone who fell in the 1914-18 conflict is highlighted in the route book.
As has been a tradition for the last 10 years, the start and finish of the event was at Brocksbushes Farm Shop near Corbridge, where no less than 61 cars and crews assembled on a dry but cool spring day, to sign on and take advantage of the hot drinks and breakfast rolls on offer. The entry list included a wide range of MGs from 1939 – 2017, seven Austin Healeys, a Rover Mini and a visiting Landrover Defender owner (his other car is an MGC).
At sign-on, as well as collecting route books and rally plaques, every entrant was offered either red or white poppies, superbly knitted by Justine Graham and Ruth Berkley. The poppy theme was also echoed on the rally plaques.
Following a detailed drivers briefing by Ian, the cars set off in age order at 10:15am , (oldest first of course) at "approx." one minute intervals, this year flagged away as usual by young Charlotte, waving a large Union Flag, and also little brother Alex with a suitably smaller flag! Sibling rivalry there I fear over who gets the large flag in future!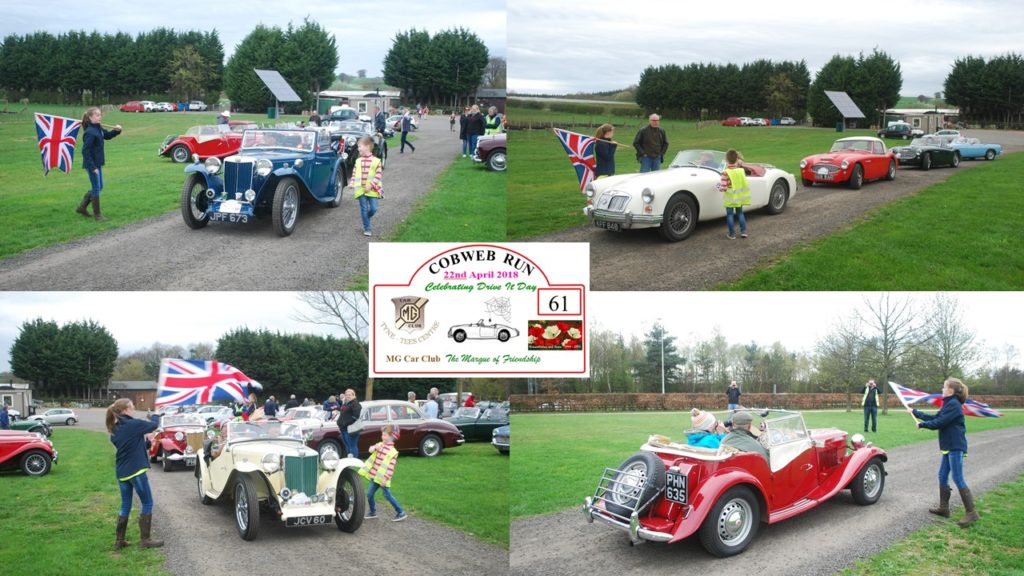 Clockwise from top left: Ian & Christine Fair's 1939 TA Tickford, John Brown's MGA 1600, Nick Owens' TC and Lawrence Hogarth's TD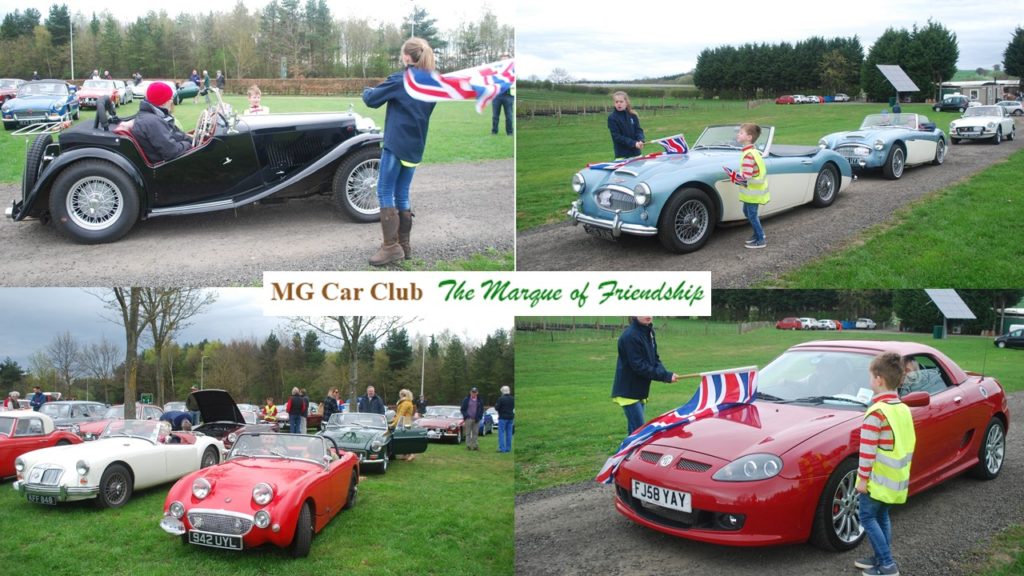 Clockwise from top left: Ian & Justine Graham's TC "Jessica" , a brace of Austin Healey 3000s , Ian Whyte's Frogeye Sprite and Mervyn Gillespie's MG TF LE500.
The route took us west to Corbridge and Hexham, and then turning south west to Allendale and Allenheads before crossing Weardale to St. John's Chapel, from where we dale-hopped into Upper Teesdale passing Forest-in Teesdale before arriving at High Force. Here a good many folk stopped to walk to this amazing waterfall, and then have lunch at the local hotel. Some of us decided to carry on to nearby Middleton-in Teesdale wher we found a delightful café for lunch, along with guest entrants Tony and Lorraine from the Caledonian Centre.
After lunch the sun broke through, so with top down motoring in the TF85 my option for the afternoon run (and my navigator agreed!) , we carried on to Eggelston before turning north to cross back into Weardale and head for Stanhope, Blanchland, Slaley (passing the forest) and via Broomshaugh, back to Brocksbushes for a well earned cream scone and a hot drink.
All cars returned safely by 3:00pm and once parked up, allowed our guest judge to choose the two cars he would most like to drive home.
The photo montage below shows a very surprised John Brown receiving the pre-1981 MG "Cobweb Trophy" and engraved whisky glass for his 1959 MGA 1600 Roadster. Meanwhile Sean Morton received the post-1981 MG "Cobweb Trophy" and glass for his 1996 MG RV8.
Ian awarded the "Spirit of the Event" award to Barrie & Sheila Hope for bringing their 1958 MG ZB Magnette Varitone all the way from deepest Lincolnshire to take part.
The final presentation of the day was made by Lyn Ebdon, to Jan from Brocksbushes for supporting this event for the last 10 years with superb catering and use of the venue.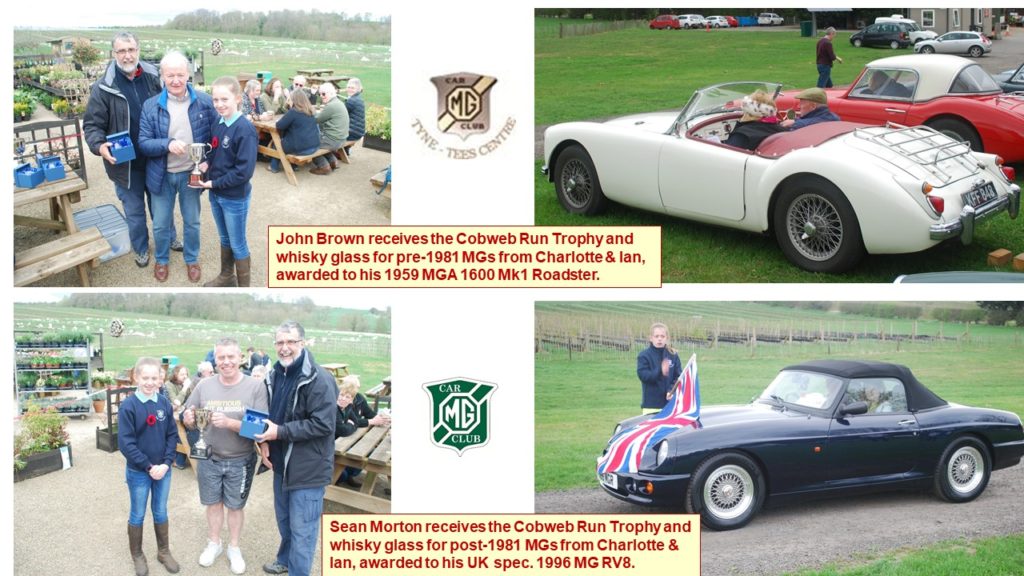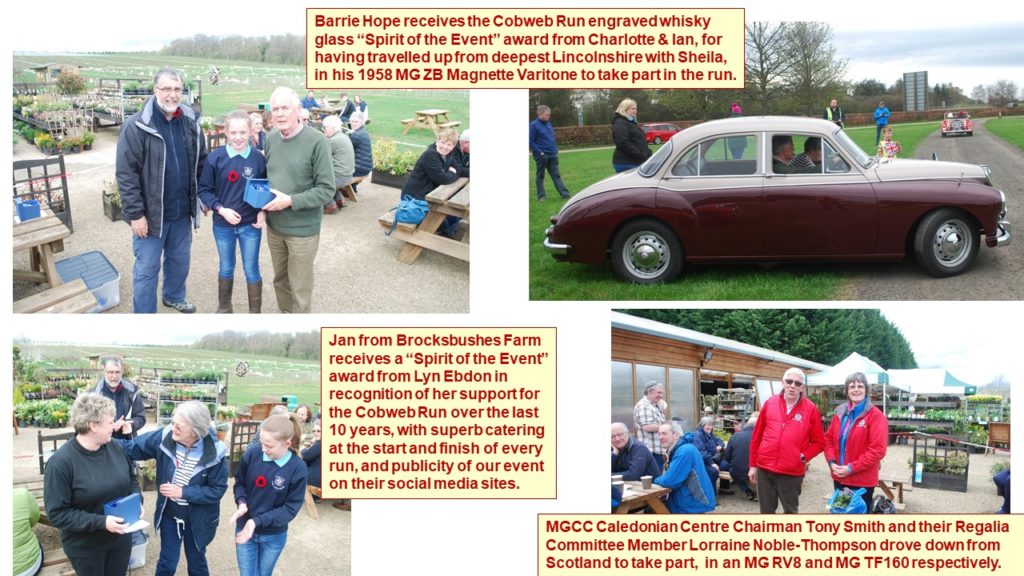 I would like to thank Ian & Justine Graham for all their efforts in once again making the Cobweb Run such a superb event and a really great route, with as ever, superb support from Lyn Ebdon liaising with Brocksbushes, to David Alexander who helped with the planning, and to the Tyne-Tees marshals who helped make it all happen.
Report and photos by Noel Lindford.
na