Future Events

The Tyne-Tees Centre 2018 Events Calendar is available HERE 
---
Northern Treasure Hunt and Supper Run: Saturday 12th May 
Starting from Heighley Gate Garden Centre, Wooler Rd, Morpeth NE61 3DA the plan is to meet at about 1530hrs with time for a cup of coffee in the Costa before starting the run around 1630hrs.  Organiser David Alexander  will be at Heighley Gate from about 1500hrs to meet and greet and supply a road book and question sheet.
The route will be approximately 40 miles through south Northumberland finishing at the Ridley Arms Stannington where tables have been booked for supper from 1800hrs.  No need to rush, as David  will be at the Ridley Arms in time to secure our reserved tables which should be in the Ridley Room.
On arrival at the Ridley Arms, competitors will fill up the tables ordering from the standard menu and paying for food and drinks at the bar.   There is no need to pre-book food; all David needs to know is exactly how many "seats" to book.   The entry is limited to 12 cars so that we do not overpower the kitchen at the Ridley Arms.  Prizes will be presented about 1930hrs allowing those cars with limited lighting to make their way home in daylight.
There is no entry fee for this event so please get your entries in to David Alexander by May 9th. All you need to do to register and get an entry on the event is to call David Alexander 0n 01670 86178, mobile 07841 624056 or email  david.alexander2012@btinternet.com
______________________________________________________
Production Car Autotest at Hartlepool: Sunday 13th May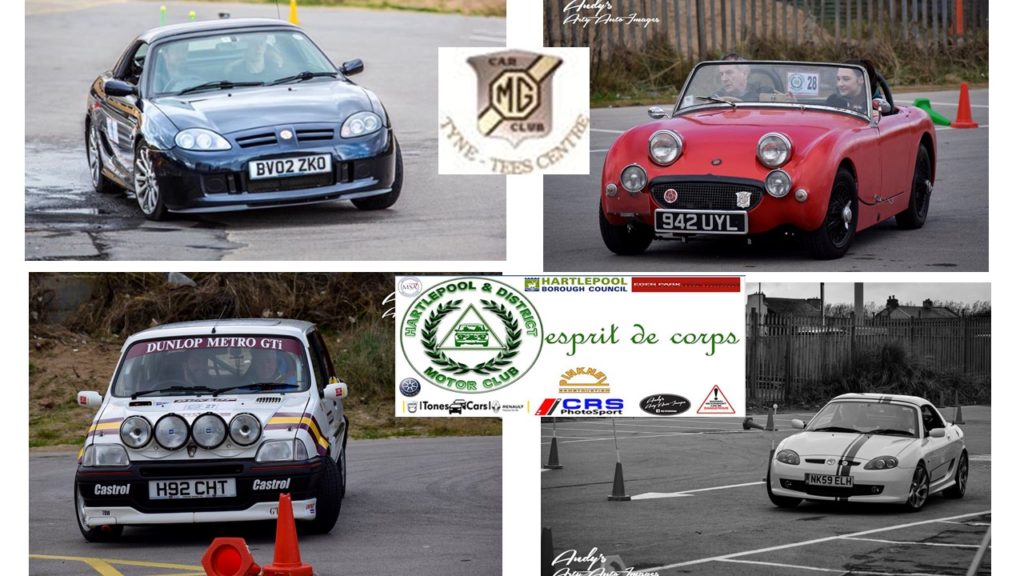 Contact our man Tony Coates for more details of this low risk to your car, great fun form of motorsport. Organised by our good friends at Hartlepool & District Motor Club, this event incorporates a special Production Car Autotest (PCA) Class for MG cars, which allows you to have a navigator, should you choose. This All Forward event (no reversing involved for the PCA class course) takes place on fairly smooth tarmac at Eden Park Autotest Arena, Eden Park Hire, Brenda Road, Hartlepool, TS25 2BW. Meet from 9:00am for sign-on and scrutineering (and no later than 9:30am), for an event start at 10:00am. Tony can be emailed at tonycoates2003@gmail.com  The Supplementary Regulations and Entry form for this event can be downloaded HERE
__________________________________________________
Scruton Village Fete: Saturday 16th June
All MGCC members are invited to display their MG in the "Interesting Car" display at this very traditional village fete, this year featuring a brass band, clog dancing, a WW1 hospital display and loads of food…and drink! You need to be there before 1:30pm to be part of the car display.
Scruton is about a mile off the A1(M) junction 51 at Leeming Bar, or if coming from Northallerton, it's just off the A684. Contact Tony Wood on 07885 654795 or anthony@scrutonvillage.co.uk.  
---
Prince Bishops & St. Cuthbert's Run: Sunday 8th July
This is the 30th Anniversary of the Prince Bishops Run (which started in 1988) and the 95 mile route starts from Lordstones Country Park near the Cleveland Way at Carlton Bank, taking in some breath-taking scenery over wonderful driving roads, then onwards across the County Palatine of Durham, following parts of the routes taken by the medieval Prince Bishops travelling north to Durham. This year we have a rather special lunch halt which, with other key points on the route will attract much public attention.
The concurrent St. Cuthbert's Run is a 90 mile route starting from the splendid Maritime Centre at Newbiggin by the Sea, overlooking the bay on the Northumberland coastline, takes in stunning scenery over superb driving roads in Northumberland, then onwards across the County Palatine of Durham to St. Cuthbert's final resting place. There is a unique feature of both runs this year that will be discovered as you drive the latter part of your chosen run.
A key feature of this event since 2012, is that both runs conclude around Palace Green in front of magnificent Durham Cathedral. A cavalcade of MG cars on display in this sublime setting, cream teas to hand, and trophies for the most appealing cars…Sundays don't get much better than this!

An on-line entry form is available to download HERE
Entries are limited to a combined total of 60 cars for these runs, so, given that entries are already coming in from MGCC members across the UK, I would suggest you get yours in sooner rather than later!