Future Events

The Tyne-Tees Centre 2019 Events Calendar is available 
 to download  HERE 
—————————————————————————
Autumn Leaves Luncheon Run
"Motoring through the Tyne & Derwent Valleys"
 Sunday 20th October 2019
Tyne-Tees Centre end of season run starting from Dobbies Garden Centre, Ponteland, where breakfast options are on offer from 9:00am.
  Starting from 10:00am onwards, this 57 mile road run takes you on scenic byways not used on our tours for many a year.  Heading out to Hadrian's Wall the route then takes us into the Tyne Valley, heading west and tracking the River Tyne upstream, before travelling on through Slaley Forest. We then drive into the Derwent Valley, before heading past some surprising railway history in South Tyneside. The final part of the route takes us into County Durham and a unique finish by the River Wear at Emirates Riverside Stadium, home to Durham County Cricket Club.  With reserved parking to display our cars, we will have Sunday Lunch in the Riverside Suite, dining whilst overlooking the famous cricket pitch.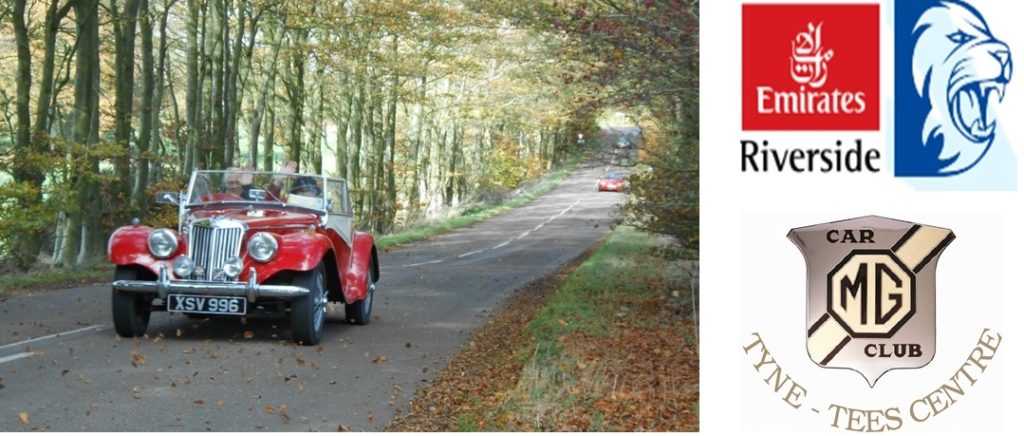 The package price for this event is £35 per car, which includes our easy to use tulip style route book, rally plaque and Sunday Lunch for two people at the splendid Emirates Stadium. 
An entry form can be downloaded HERE
Limited to 60 cars.  (Entry closing date is 11th October)
For more info, please call the organiser, Noel Lindford on 07432 152095 or email noel.lindford@btinternet.com 
——————————————————————————————————–