A copy of the 2022  Tyne-Tees Centre Calendar of Events can be downloaded HERE
Prince Bishops & St. Cuthbert's Runs
Sunday July 3rd 2022
Organised by Noel Lindford and Steve Lidgate
Once again, we have organized a unique road run experience, "two tours through history, one glorious finish!"  This is the event that accommodates all our Tyne-Tees members, wherever you reside, be it north or south of our region, and of course MG friends from across the UK.
Both the events are described below, and they finish on Palace Green, just in front of Durham Cathedral (this is a World Heritage Site) where the cars will be judged whilst you all enjoy a cream tea served adjacent to the Green, before the trophies are awarded.
  This year both routes have been much revised to take in a combination of superb driving roads not often used together on this or any of our road runs, but all relevant to the spirit of these events.
Choose your event, then click on the link to the on-line entry form to book your place, it's that easy! Limited to 60 cars in total, so don't delay; a timely entry is highly recommended.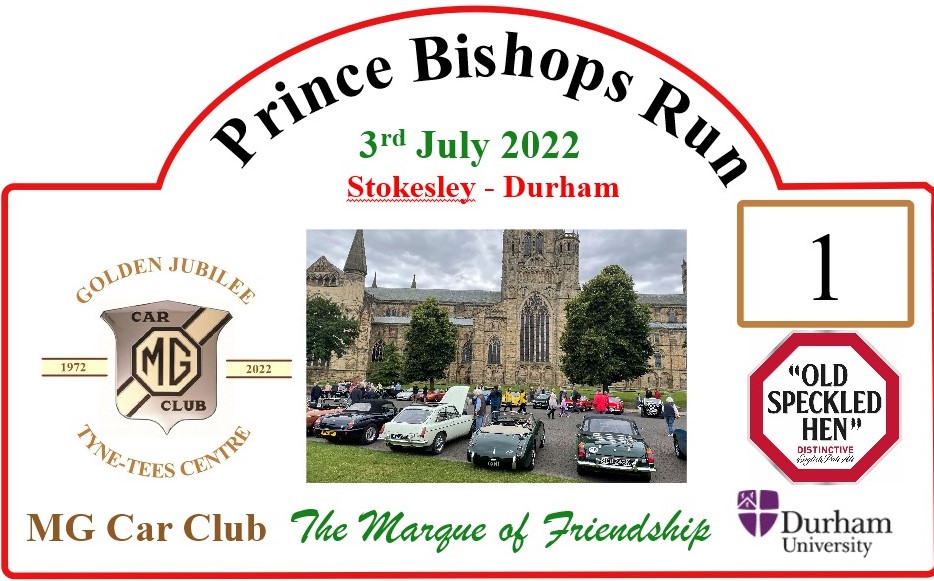 Welcome to the Prince Bishops Run 2022     Noel Lindford: Organiser
This year the run starts from the Show-field Car-Park in Stokesley TS9 5DP, where we will have a reserved car-park all to ourselves, courtesy of Hambleton District Council.
 Breakfast rolls are available (they can be pre-ordered) and teas / coffees are provided at il Mulino, a very nice restaurant just a two-minute walk away in College Square.  Details are in the on-line booking form. The event is covered by a Motorsport UK Permit and by the MG Car Club.
Entrants can sign-on at Event Control in Il Mulino Restaurant from 9:00am onwards. Here you will receive your event packs containing route books, rally plaques and food & drink vouchers.
There will be a mandatory drivers' briefing at 9:50am and cars will be flagged off at about 1-minute intervals from 10:00am. On-route fuel stations and public loos are identified in the route books.
 The route is a 107-mile tour taking in breathtaking scenery over wonderful, relatively quiet driving roads taking us high up into Bilsdale, then descending to Cleveland and then through picture-book villages in North Yorkshire, before heading north-west to the recommended lunch halt at the Market Square in Darlington, a town once owned (a long time ago!) by the Prince Bishops.  Here we have free reserved car-parking thanks to our friends at Darlington Borough Council, and there are plenty of cafes available, or you may choose to bring a picnic lunch.  The afternoon section tales us out into Teesdale, via Barnard Castle, then turning north-east to Weardale, heading across the County Palatine of Durham towards Crook. On this event we follow parts of the routes taken by medieval Prince Bishops travelling to Durham City, and a finish in front of Durham Cathedral. Here cream teas will be served whilst a guest judge chooses the most appealing cars having arrived at Palace Green from both this and the concurrent St. Cuthbert's Run. Three age-related trophies are awarded to the owner / drivers, plus a special "Spirit of the Event" award.    
To make an on-line entry for this event, please click on the link below…
———————————————————————————————————————————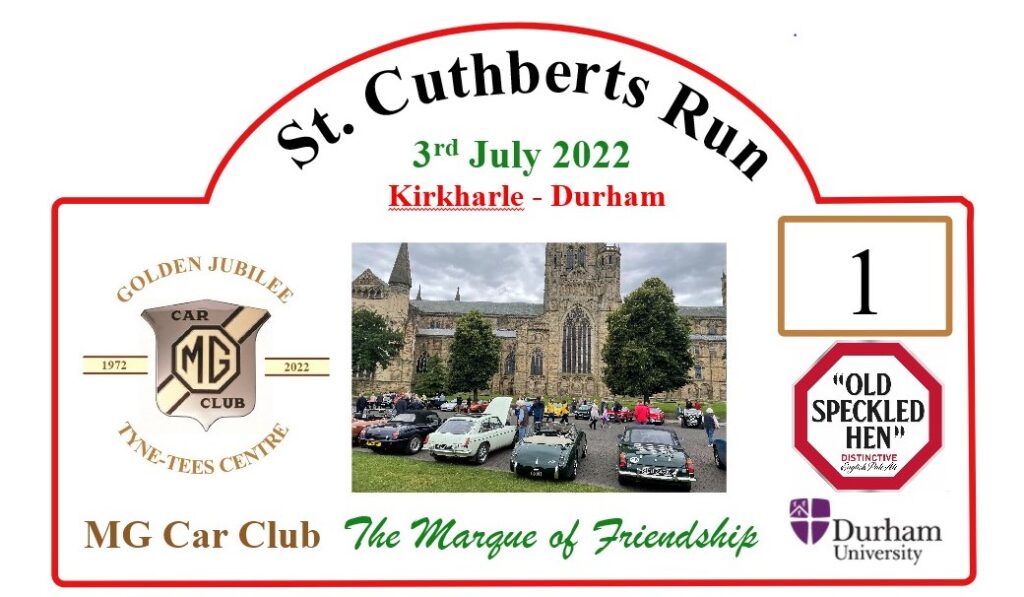 Welcome to the St. Cuthbert's Run 2022     Steve Lidgate: Organiser
This year's St. Cuthbert's run will start from Kirkharle Courtyard – Coffee House, Larder, Galleries and Workshops NE19 2PE.
Kirkharle lake & courtyard is set in an 18th Century farm steading and was the birthplace of the famous landscape gardener Capability Brown and is home to the 14th Century Grade 1 listed St Wilfrid's Church.
Cars can arrive at Kirkharle anytime from 9.00 a.m. for signing on and to receive your route pack and we will have the first cars away by 10.00 a.m. to arrive at Durham Cathedral by 3.30 p.m. latest. Petrol stations and toilets are indicated in the route book and although you will zero your trip meters when arriving at Allenheads you are free to stop anywhere on the route for those of you that choose to take your own picnic. There will be a mandatory driver's briefing prior to the start.
The morning run is a total of 51 miles and takes us through the villages of Matfen, Corbridge, Slayley, Blanchland, Stanhope, Eastgate and on to Allenheads where there is a coffee shop and toilets for those who would like to take a break at this point.
The afternoon session is a total of 59 miles taking you past Nenthead mining museum, Gargill, Middleton-in- Teesdale, Hamsterly, Crook, Willington before finishing on the palace Green at Durham Cathedral.
The Tea or Coffee at the start, and a cream tea at the finish is included in the cost of the run.
Bacon and Sausage sandwiches can be pre-ordered for the start of your run at a cost of £5 and for those who are Vegan, Cheese scones are available at a cost of £3 – please add this onto the cost of the run.
To make an on-line entry for this event, please click on the link below…
—————————————————————————————————–