Safety Fast Newsletter -June 2019
REGISTER NEWSLETTER JUNE 2019
Welcome to our first newsletter of 2019.  This year has been particularly busy for us so far with the events we've attended, and the launch of our 'Save our ZEDs' campaign.  We thought it would be a good idea to briefly review the events we've been to,followed by an update on our campaign.
Our first event took place on Sunday 10th February when we returned to Stoneleigh for the MG & Triumph Spares Day.  This has now become the traditional season opener for us.  Our stand area was quite generous and we were able to have all three ZED models on display.  We were lucky to have Paul Field's recently restored ZT-T 190 in Garnet Red as one of the trio.   This car has undergone major bodywork restoration and a complete respray.  We have also been lucky this year to have the use of the club's own ZR 160 Express Van and it made its debut at Stoneleigh too.  The van is becoming a rare example of its type and as such makes it an ideal vehicle to promote the club/register and our campaign around the country.   Completing the line-up was Ray Kemble's early ZS 180 in Trophy Blue.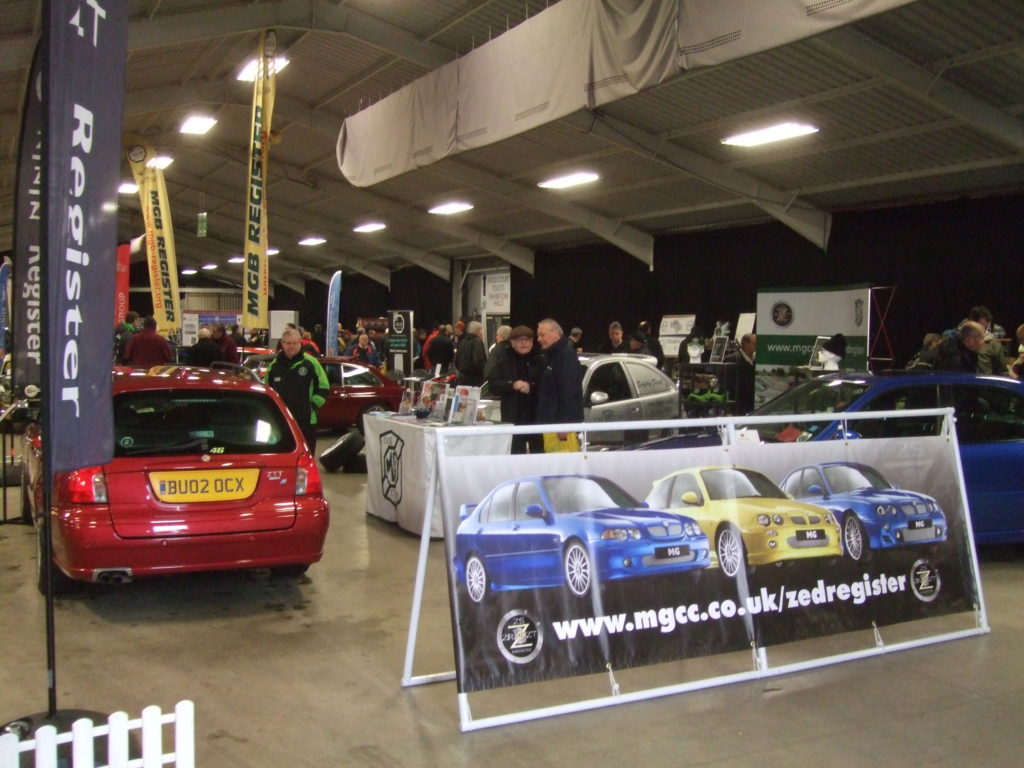 Whilst planning the Stoneleigh event we were also finalising our arrangements for our next show at the NEC.  This year was the third time we've had a stand at the Practical Classics Classic Car and Restoration Show and a three-day show takes a lot of organisation.  We are always very conscious of how we portray the image of the ZEDs and the register at this show as there are so many other classic cars and groups around us.  Ultimately, i think our completed stand looked punchy and professional.  Space allowed us to have all three ZED models displayed with enough room around them for viewing.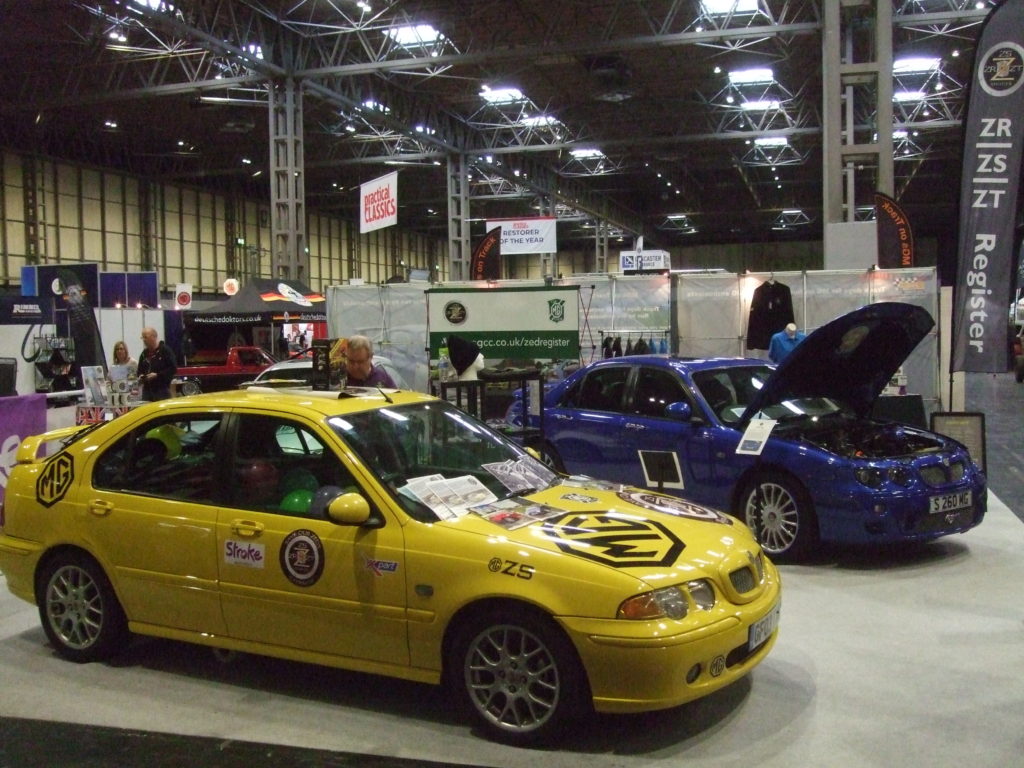 Many thanks go to Tony Cotter for loaning us his stunning ZT 385 in Trophy Blue for the show.   The V8 certainly pulled in the crowds and looked stunning under the lights.   The ZR Express Van took centre stage again whilst completing our line-up was the 'Save our ZEDs' campaign car.  The show marked the official launch of our campaign with the Trophy Yellow ZS creating quite a stir among visitors and the classic car press – brilliant!
The 2019 racing championships began at Silverstone on 30th March and we were present in the paddock with our gazebo and campaign car.  Please read Paul's article elsewhere in the newsletter about race meetings, what we do there and the benefits of attending.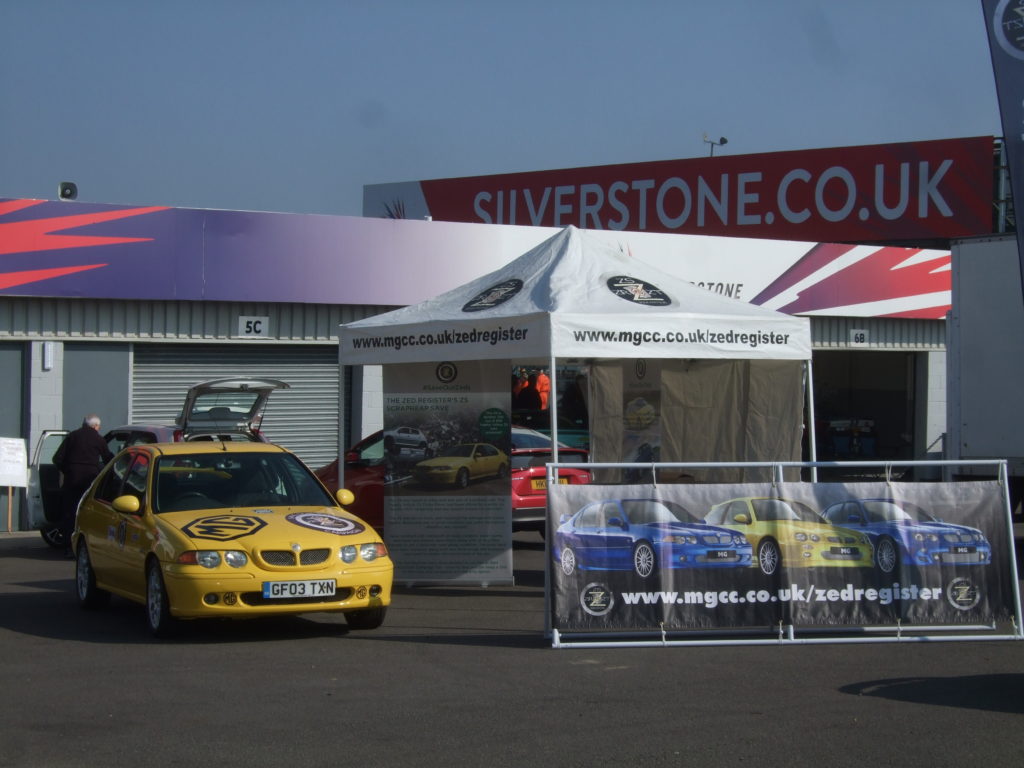 We returned to Birmingham on 13th April for Pride of Longbridge.   There is always a real mixture of cars from all ages at this event that represent the decades of heritage from this famous car plant.  It has also become a haven for cars from the MG Rover era which makes us feel right at home.   Fortunately, this year the weather was on our side and the day went ahead as planned.   We had a small number of cars around our gazebo including the campaign car and the express van.   This was the ideal environment to publicise the club and register, but also our campaign and to explain exactly why we were doing it/how it works etc.  We ultimately had a lot of interest in both which was great.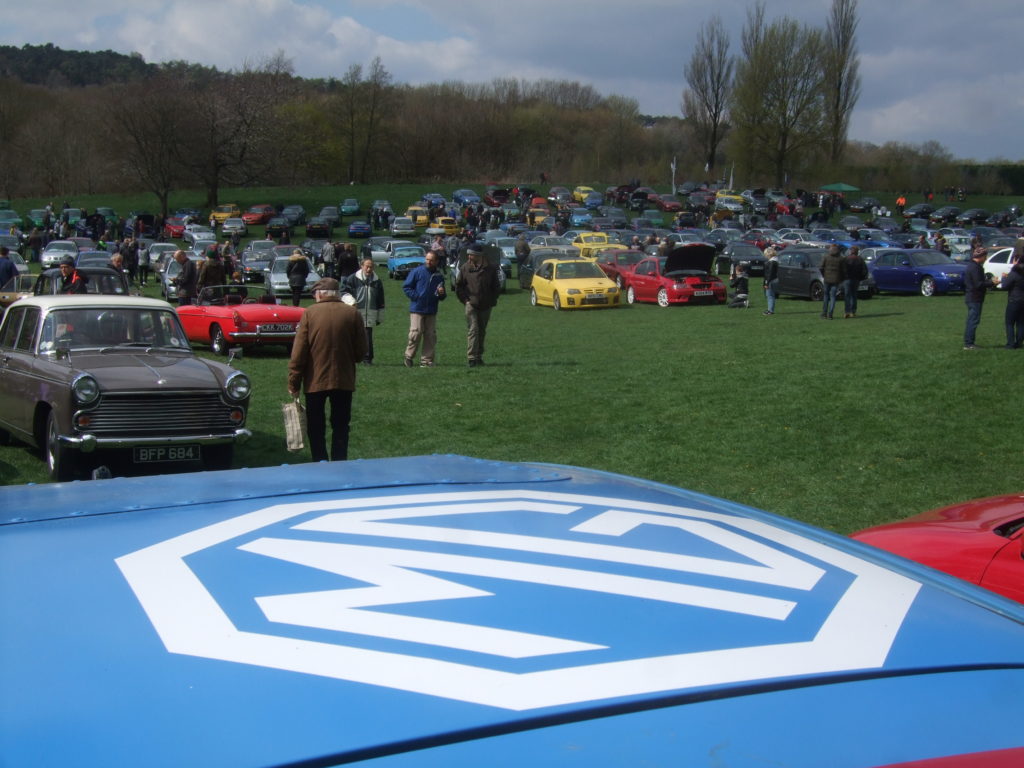 We returned to Brands Hatch on 27th/28th April for the first weekend of racing in the 2019 championships.  In the weeks prior to the event we decided to go all the way on the Saturday and bring the full kit; gazebo, flags, regalia, flyers/information etc.  As we should know by now you can plan everything except the weather.  The remnants of hurricane Hannah did its worst that day and although the rain stopped early on it was too windy to have anything outside.  We'd like to thank those hardy members who braved the cold and joined us on the day.   Weather aside there was some excellent racing.   See elsewhere in this issue for a full race report.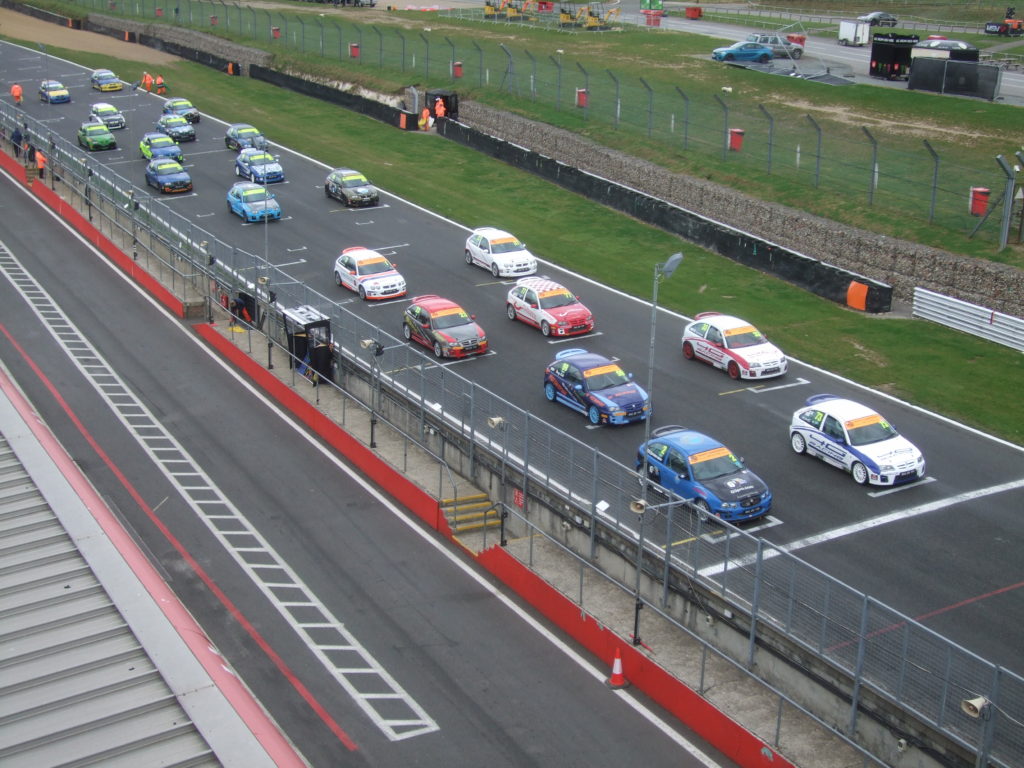 The following day on Sunday 28th April we were invited to Braxted Park Estate in Essex for a Breakfast Meet which had been organised by Peter Best Insurance Services.   This also coincided with the Federation of British Historic Vehicle club's National Drive-it Day.   Around four hundred and thirty cars arrived during the morning producing a real mixture of classic cars of all ages.  We took the campaign car and the express van, but the MG Brand was well represented with many fs/TFs and MGBs so we were in good company.  This was a stunning venue for a car event with such a relaxed and friendly environment.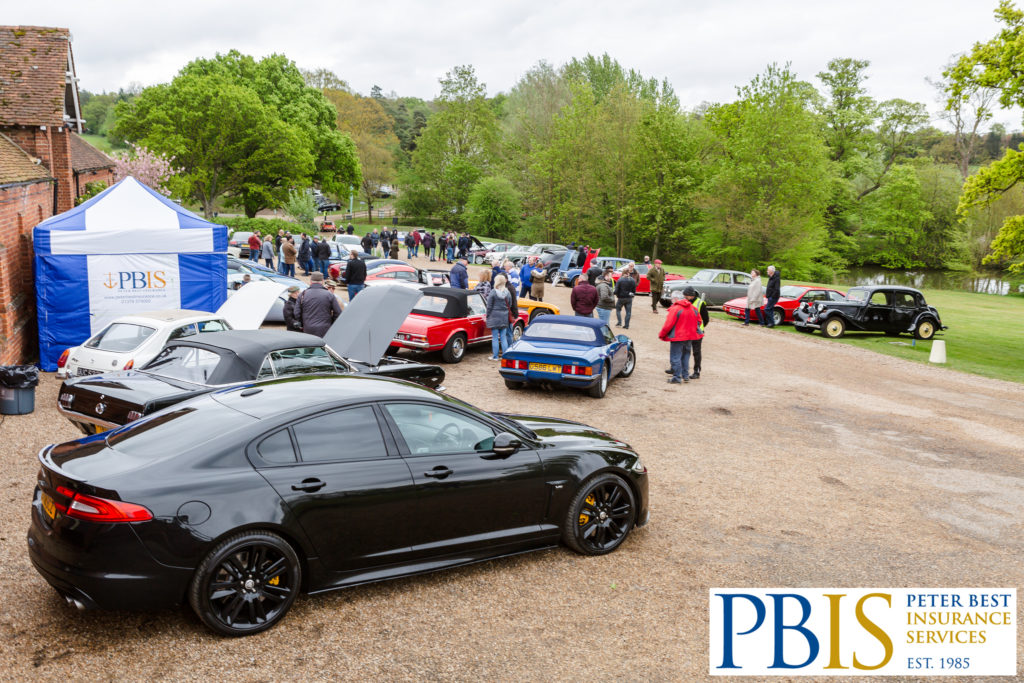 MG SALOON DAY 2019
With MG Live!  having been rested for this year our next summer show will be MG Saloon Day which takes place on Sunday 28th July.   We return to the Shuttleworth Museum at Old Warden after a gap of seven years.  The museum collection contains some very rare vintage aircraft from around the world.  One of which is the oldest British aircraft still in flying condition.  The collection also houses a wide selection of vintage vehicles, motorcycles and agricultural machinery.   The six display hangers will take you on an aviation journey from the early years of flight and through the two world wars.  Adjacent to the collection is the Swiss Gardens which are a classic example of regency fashion in creating landscapes in an alpine style.  Also close by is the children's play area, restaurant and gift shop.  All of this makes for an ideal summer family day out.  Admission into our event is FREE, and we have arranged a discounted entry rate into the collection and Swiss Gardens.  We have also arranged a voucher for use in the restaurant.   MG Saloon Day in recent years has become a haven for ZEDs, MG6s and MG3s, but everyone is welcome.
We would like to extend the welcome to the owners of Metros, Maestros and Montegos, and also to the older MG Saloon Cars.  The owners of the latest SUV Models are most welcome too.  Let's see how many cars we can get in the paddock area.  Please see the accompanying advertisement for further information or contact myself or PaulMoney at paulmoneymg@gmail.com.
SAVING THE ZEDS – WHERE ARE WE?
We first had the idea for the campaign during the autumn last year.  Over the summer we had become very aware of the number of cars that seemed to be being scrapped, some of which for very trivial reasons.   During the initial stages of the campaign we discovered that 78% of the original build had been lost.   This alarming statistic was enough for us to set the wheels in motion.
With the assistance of Jade at Kimber House we set about detailing exactly what we wanted to achieve.  Quite simply the campaign is about the sharing of knowledge.  We know that a lot of spare parts are still available new.   Some of them aren't however and that sourcing them from Ebay of a specialist broker is the only option.  What we'd like to do is encourage everyone to share their knowledge with each other of not only the locations where they can go to find these parts, but also any garages/workshops in their local area they would recommend to carry out work on their car.
Looking ahead, we aim to work with parts suppliers/specialists and create an arrangement that will hopefully be beneficial for all.  Doing so will enable going for the repair a viable option.  Our campaign car was purchased for a very small amount and is a good example of how for relatively little cost a ZED can be put back on the road.  We have taken it to a number of specialist garages since the campaign began and they have all got behind our campaign with great enthusiasm and support.  Some of them have generously agreed to sponsor the campaign car.   The car will feature prominently at all our events this year.  We can't save every single one and we know that, but at least the campaign has raised awareness of the situation.