Merchandise shop
MGA Register 50th Anniversary Book, (updated 23rd  November 2020)
"The MGA Register – The First Fifty Years",  has now been published. Members who have pre-ordered a copy  will be contacted by email within the next few days to complete your purchase.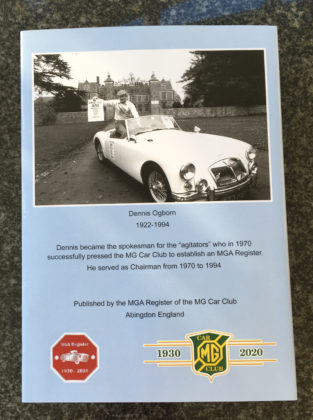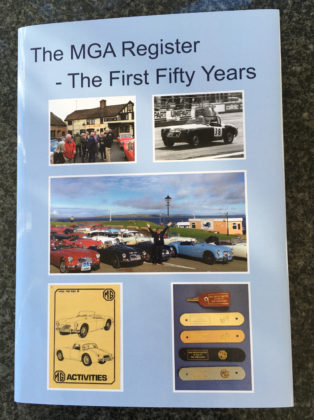 The book has 154 pages A4 sized, it is hard backed with a dust jacket.   The price is £30 per copy plus postage & packing.  £5.50 to a UK address, £12.50 to Europe, £24.00 to USA and £22.50 to the rest of the world
To read the full contents list and to view a selection of the book's pages, simply "click and browse"  then click again to open the file.
If you have not pre-ordered, copies are available now by sending an email to mgaregistershop@outlook.com  with your name and address for delivery.  We will send you a PayPal invoice.
50th Anniversary Badge very limited stocks left (updated 10th November 2020)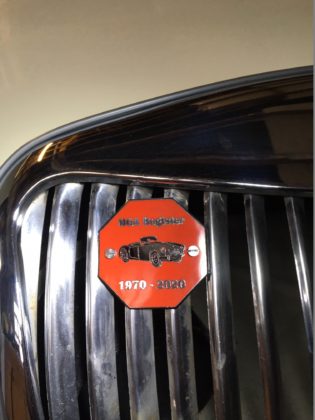 The Register has produced this enamel Grille badge to mark its 50th Anniversary.
Measuring 54mm x 54mm the badge is the same size as the MG emblem on the radiator grille. It is supplied with 2 stainless steel machine screws and toggles.
Production of the badge was limited to 100 and is now sold out except for 2 badges with minor imperfections in the red enamel.  These are on offer at half price, £15.00 + £1.50 p&p to a UK address.  These badges  can be returned for a full refund if not satisfactory.
To order, simply email mgaregistershop@outlook.com with your name and address for delivery,  then you will receive a PayPal invoice which you can pay by credit card.
Thank you for visiting the MGA Register shop, our online catalogue contains a varied selection of Books and Badges. 
Click here to open the Merchandise Catalogue