Merchandise shop
Thank you for visiting the MGA Register shop, our online catalogue contains a varied selection of Books and Badges. 
Click here to open the Merchandise Catalogue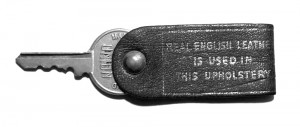 This original style leather key fob is our top selling item
MGA Register 50th Anniversary Book
In 2005 the MGA Register published a book to celebrate the 50th Anniversary of the launch of the MGA.  Now it's the turn of the 50th Anniversary of Register itself to be commemorated.  Members of the Register Committee and others are in the process of compiling a book covering all aspects of the work and history of the Register.  There will be approximately 18 chapters on 'How It All Began', the development of the Register Database, touring events, MGA publications, Safety Fast down the years, Technical Support and much, much more.
The book will be A4 sized, 130 pages, hard-back and in full colour. The cost will be approximately £30. The current time plan is to have the books printed in time for MG Live, if possible, or if not, in time for MGA Day in August.. The book is sure to be a very collectible item for the future.
At this stage, we would like to know the level of interest in the book to ensure that the print run will meet demand. To express your interest and to reserve a copy, without commitment, please email mgaregistershop@outlook.com  with your name and address for delivery.
New Badge now in stock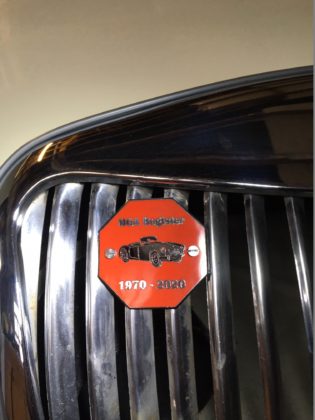 The Register has produced this enamelled Grille badge to mark its 50th Anniversary.
Measuring 54mm x 54mm the badge is the same size as the MG emblem on the radiator grille. It is supplied with 2 stainless steel machine screws and toggles.
Production of the badge was limited to 100 and only 11 are available as at 7th June    The price is £30 plus £1.50 post and packing to a UK address.
To order,simply email mgaregistershop@outlook.com with your name and address for delivery,  then you will receive a PayPal invoice which you can pay by credit card.