MGA film clips
Nostalgic images from contemporary films are the best way to appreciate the magic of the MGA. This collection of film clips will be added to as more footage becomes available. Clicking on the link will open the film clip in a new window.
"Le Mans 1955"
British Pathe News coverage of the event where the MGA made its debut. Look out for cars 41, 42 and 64. The film is shown in 6 parts: Five are in B&W with a sound commentary, part 6 is in Cinemascope colour but with no soundtrack.
Please be aware, this clip has scenes of the horrific accident opposite the pits.
Watch for the first car to take the chequered flag, MGA No 64 driven by Ted Lund.
A colour compilation of the race without sound
"Sportscar of the Year 1955-56"
A 10 minute British Pathe newsreel showing scenes from Le Mans 1955, Alpine Rally 1956, the record breaker EX181 in action at the Bonneville Salt Flats, Utah. The clip ends with footage of the Twin Cam being tested at the MIRA track.
"BMC Ladies First"
This 20 minute newsreel was a promotional film made for the British Motor Corporation featuring the team of 5 MGAs competing in The 1956 Alpine Rally. Lots of "in car" shots including the Stelvio pass.
"MG Speed Trials at Bonneville Salt Flats 1956"
A 20 minute film produced for the British Motor Corporation showing the EX179 setting International Class F records for 12 Hours and for 10 miles on 18th and 22nd August 1956. Driven by Ken Miles and Johnny Lockett, the car was powered by a Twin Cam version of the 1489 cc "B" series engine.
"MG's Record breaker EX181″
Stirling Moss sets new International 1500cc Class Records at Utah in August 1957 driving the Abingdon prepared car with a supercharged Twin Cam engine. This 3 minute colour film clip comes from British Pathe News
"Against The Clock"
Another Pathe News clip from October 1955 showing the MGA as one of five production cars from the British Motor Corporation each attempting to complete 100 miles in one hour at the Autodrome de Montlhéry banked track.
"Le Mans 1959"
A short Pathe News clip from June 1959 includes a brief shot after about one minute of car no 33 the MG Twin cam of Ted Lund and Colin Escott. The car was forced to retire after hitting a dog on the Mulsanne straight. These photographs of the race are from the MGA Register archive.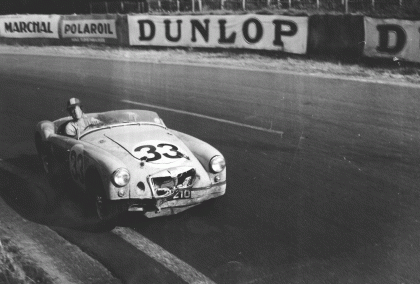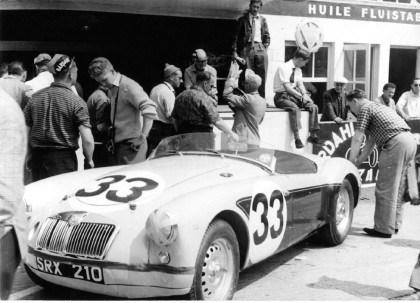 In the words of our Registrar " This superbly period film has oodles of classic English cars, including three MGAs and Z & Farina Magnettes. Sadly, the MGAs are no longer registered at DVLA, probably scrapped."