Spring Tour Cancelled
Acting on Government advice to avoid social contacts and unnecessary travel, The MGA Register has cancelled the 2020 Spring Tour due to take place on 9th and 10th May. Members will be contacted about their entry fee.
MGAs return to the "home" of the Register
Saturday 26th October saw a gathering of MGA owners at the Phoenix Inn near Hartley Whitney to mark 50 years since a small group of MG Car Club members met to "agitate" for a new Register dedicated to the MGA.  Our thanks go to Committee member Jill Eke for getting the event publicised in the Basingstoke Gazette the following week.  Click on the link below to read all about it!
73 people sat down to lunch including some who were at the original meeting in 1969, plus current members and guests from all over the UK.  Credit for arranging the cars and taking the photograph goes to John Lakey.  John also wrote an article about the reunion for Classic Car Weekly published on 7th November.  John's connection to the MGA dates back to his childhood and uncle, Ted Lund, a works driver with MG who drove at Le Mans in 1955.
50th Anniversary Grille Badge coming soon
To mark the 50th anniversary of its founding in 1970, the MGA Register is planning to produce a limited edition of 100 grille badges.  Reservations for these badges are now being taken, click on Merchandise Shop in the left hand column for all the details.
MGA Register 50th Anniversary weekend
During 2020 we shall be marking the 50 years since the formation of the Register.
The major event of the year will be our 4 day Touring Weekend to be held in East Yorkshire from 25th to 28th September 2020.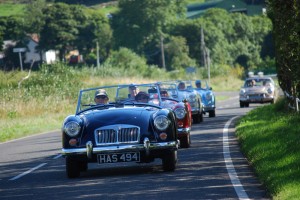 For all the details, go to the Events in 2020 page in the left hand panel and click on Anniversary Weekend.
MGA Register is now on Twitter
Just a heads up that the MGA Register now has its own Twitter page.
Please follow us on Twitter at our hashtag @mga_car
A "Follow us on Twitter" page has been added to this web site
Four MGAs and a Twin Cam in starring roles at British Grand Prix
The MG Marque had the honor to be chosen to provide the cars for the Drivers Parade at the 2019 British Grand Prix last Sunday.  Anthony Hamilton in his MGC with son Lewis perched on the back led the parade which included 4 MGAs and a Twin Cam.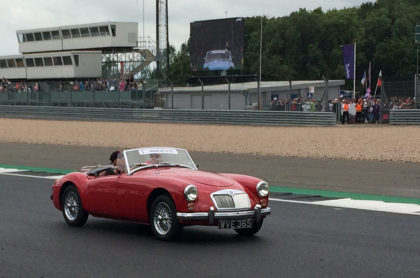 Sebastian Vettel driven by Dave Storer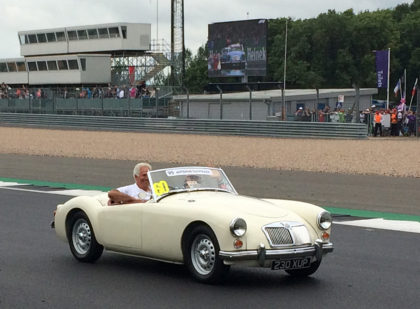 Antonio Giovianazzi driven by Colin Manley
Lewis Hamilton posted  this on Twitter
Dad's in the driving seat for the Driver Parade! 😀#BritishGP 🇬🇧 #F1 pic.twitter.com/HRS7QQoDAo

— Formula 1 (@F1) July 14, 2019
MGA At 2019 Australian Grand Prix
MGAs from the Victoria Club will be in pride of place next Sunday when they drive the competitors around the Albert Park Circuit on their parade lap.  These pictures are from our 50th Anniversary celebrations in 2005, the only previous occasion when the MGA was granted this honour.
Set your alarm clock or TV recorder for Sunday morning and enjoy the moment.
Pictures should be available for the next edition of "Safety fast!"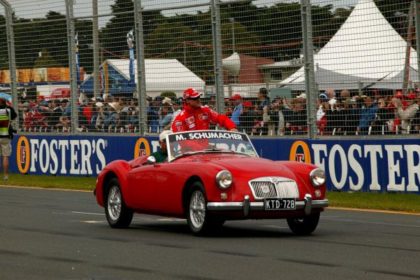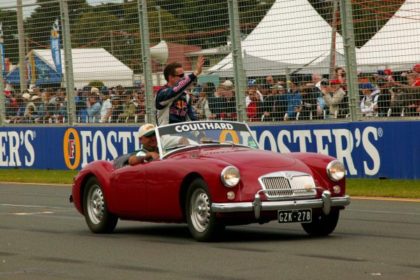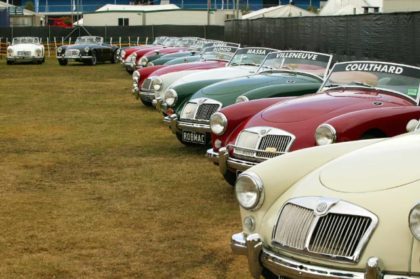 MGA Day 2018 on videos
MGA Day was held at Canons Ashby, a 16th Century Manor House in Northamptonshire about 10miles North East of Silverstone.  The Register had reserved a large private parking area next to the House which would take about 100 cars.  As the long hot summer of 2018 came to an end and with heavy rain forecast for several days beforehand, it was no surprise that the turn out was just 27 cars.  Only one of these was a Twin cam which was a disappointment in this their 60th anniversary year.
Click here to watch a video produced by Jonny Pollard, our event organiser.
Colyn Firth also sent his selection of photos and comments
Follow this link to see Jonny's still pictures
Car of the day was awarded to Daran Scarlett of Buckinghamshire, joined by his charming and enthusiastic son Charlie, for his wonderful OEW 1500 roadster KAS 893.  The Danny Byrne Trophy was presented by Peter Morgan.