Anglia Centre Enthusiasts Trophy
As some of may have seen already on Facebook I (Peter Skipper) have had the Enthusiasts Trophy engraved and visited the South Norfolk pub meet at Hilborough, on Thursday 11th January, where I presented the trophy to Alison Isaacson as per the committee decision.
Everybody there also thought it was very deserving for the work she has done for the F Register and more recently Anglia pub meet. Last night was a case example with some 20 people attending the meeting.  Also the award is fitting for the excellent work she has done on the Anglia facebook social media site since joining the Anglia centre committee.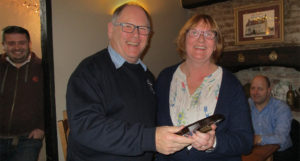 Peter Skipper presenting Alison Isaacson with the Enthusiasts Trophy