Anglia Centre News
A New Web Presence For Anglia Centre
The Anglia Centre is launching it's own website officially on the 1st of February 2018, but you can preview it NOW, please make a note of the address which is  http://mgccanglia.com/  and be sure to add it bookmarks in your favorites on your browser.
We hope you will find it speedy and easy to navigate both on the PC, Laptop and Mobile device.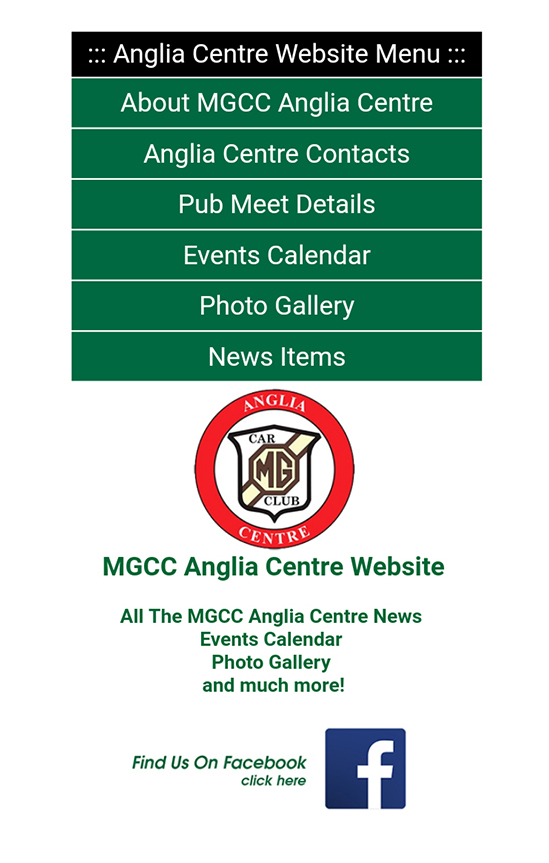 Anglia Centre Enthusiasts Trophy
As some of may have seen already on Facebook I (Peter Skipper) have had the Enthusiasts Trophy engraved and visited the South Norfolk pub meet at Hilborough, on Thursday 11th January, where I presented the trophy to Alison Isaacson as per the committee decision.
Everybody there also thought it was very deserving for the work she has done for the F Register and more recently Anglia pub meet. Last night was a case example with some 20 people attending the meeting.  Also the award is fitting for the excellent work she has done on the Anglia facebook social media site since joining the Anglia centre committee.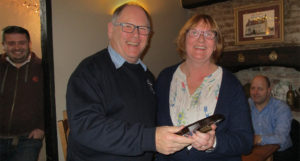 Peter Skipper presenting Alison Isaacson with the Enthusiasts Trophy
Wow! what a great photo taken on the Rivera Run
Thanks to Steve Nash for his  stunning photo of his car 'Kermit' taken on the recent Rivera Run, this picture taken at Burnham Overy Staithe.
Click the image for  full size
The 15th Norfolk Riviera Run
Norfolk Riviera Run 28th December – the first pictures are in, this selection from Alison Isaacson.
We would love to see more of your photos – A full event revue will be published in due course
Send your pictures to: webmaster@mgccanglia.com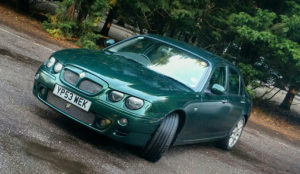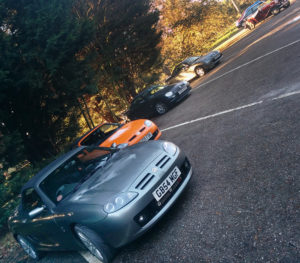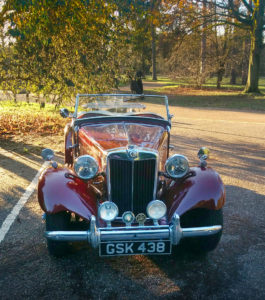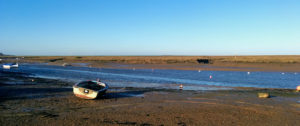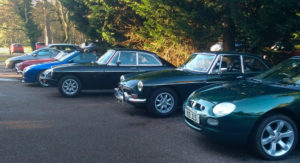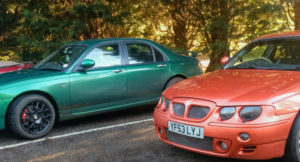 Anglia Centre Restoration Trophy
This year's recipient of the award is Paul Bloomfield who has put his heart and soul into this project over the last 6 years, as well as a few £s. Paul and Janet Bloomfield, together, have been enthusiastic and committed members over several years, having organised two Riviera Runs and three Charity Runs, recognised previously with the thoroughly deserved award 'Enthusiast's Trophy' two years ago, as well as having an MG wedding.
It's a MG mark lll Farina Magnette, it has been off the road for 19 years be 20 in January 2018. Paul is the 6th owner and he has all the history of all the owners, it has done 71400 miles Paul purchased it 2011 and it licensed to go on the road on the 22/11/2017. Paul paid £550. It was first purchased 6/6/1959 from F.W. Kerridge Ltd Alton Hants. All owners were members of the Cambridge Oxford club including Paul, all information was given to Paul by fellow member and friend Mick Holehouse who supplied some of the parts for the restoration.
Click on the photo to enlage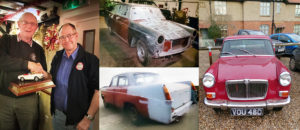 The Chairman's Trophy Awarded to Tony Batson
Pictured is the Chairman's Trophy being presented to Tony Batson by Peter Skipper on Saturday the 2nd December 2018 at the Anglia Centre's committee meeting… well deserved!
Tony is responsible for putting together all the events in the region, and predominantly in charge of the Queen Vic event.
click on the photo to enlarge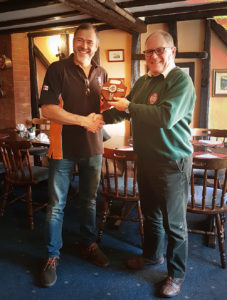 Did you know that we are on facebook?
A few months back Alison Isaacson,who recently joined the committee, took on the job of looking after the Anglia Centres facebook page,which is already packed full of photos and comments from members who have embraced this section of social media. You can visit the facebook page here: Anglia Centre Facebook Page Or search MGCC Anglia Centre on the facebook website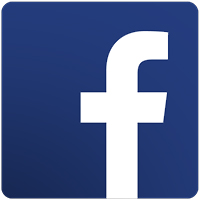 Riviera Entry Form Now Available
The entry form for this years Riviera run on the 28th of December is how available HERE
Anglia Centre History
See our new page on the history of the Anglia Centre and how it has evolved over time to become the Centre we all know today. Click HERE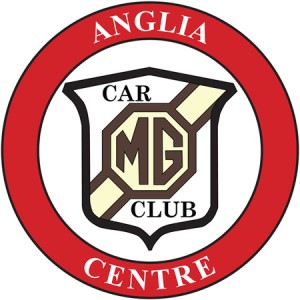 The 2017 MGCC Anglia Summer Picnic Report – By Roger Latham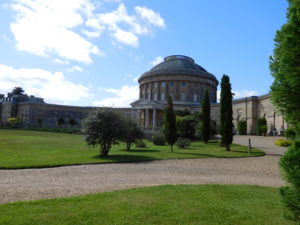 Great day, great weather and a great line up of MG's.
On a lovely summer's day we met at the NT Ickworth House in Suffolk.
An excellent area on grass had been set aside for our use close to all facilities and the house and gardens.
Present were 50 MGs. These ranged from T Types through MGA, B, C, GTV8, Midget, Magnette, RV8, modern TF's and Z cars through to the latest MG3's.
'Wow' some display indeed, which was much admired by other visitors to Ickworth House.
At lunch time groups of MGCC members were seen enjoying their food and drink around their cars in the glorious sunshine.
This most interesting house was there to view, for those who desired, together with the magnificent and colourful garden.
I don't suppose I was the only one who got a bit pinker than anticipated lulled by the summer breeze!
Next year's venue is not yet in the planning stage but suggestions are welcome.
Roger Latham