Anglia Centre Photo Gallery

 Please send your photos to our Webmaster Kelvin   webmaster@mgccanglia.com
On this page we are showing a selection of photographs taken at events and also photos of members cars who have submitted an image along with some details about their MG.
MG Midget – Owned by Mike Starnes
The picture was taken at Claydon, a National Trust property in Buckinghamshire, in September 2017. We were on route to the Midget Register run the next day and called in to find that there was a Classic car show on! (My wife still thinks I knew about the car show and planned this stop off!) . We were invited to join in and given a prominent position – the lawns behind were filled with cars by the end of the day. The car is called "Bracken" (the colour) and is a 1974 Mk3 – one of the last 1275 cars. I have owned it since 1976 and did a full nut and bolt restoration in 2014. Bracken has had a fairly adventurous life, I drove it to Monte Carlo within a month of buying it and it moved to Germany with us for 5 years in the '80's. For the first ten years of ownership it was my only car and was used for commuting (across London) and many camping holidays in Devon. Apart from respray it is in original condition.

MG ZT CDTi- Owned by William Ball
This is my ZT CDTi and the photo is what was sent to me before I bought it in July 2016 with just 73,000 miles on it. I have added 35,000 miles since using it as a daily driver plus several long journeys – Cornwall twice and SW Ireland last May with a group of 6 MGs from our Natter – and it's a wonderful cruiser. I would like to think this is a "keeper", as long as I can start to manage the mileage down a bit!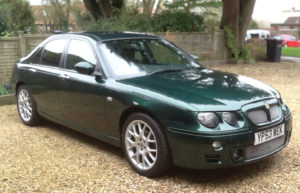 MGB GT – Owned by Peter Thomas
The car was first registered in November 1972 and been in my ownership since May 1979. Basically in original condition complete with rare Yellow Ochre colour interior. Some bodywork was undertaken in 1990.  It still has the original engine  gearbox but with an unleaded head fitted. Mileage is 80,000. The photo was taken at Blickling Hall in 2004
 
Duxford – Spring 2017
Oulton Broad East Coast Pub Meet – 2014

 Duxford  – 2014
East Coast Natter – 2014
The Fox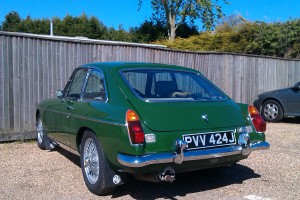 Chairman's Run 2013
Kersey Water Splash