Event Reports
The 2016 MGCC Anglia Summer Picnic
This year we were at Audley End House (English Heritage) for the Picnic. The beautiful Jacobean mansion with its landscaped gardens by Capability Brown provided a wonderful setting for our event.
We were given a superb area on grass with some splendid mature trees for our cars and picnic sited just left of the front of the house adjacent to the path for the shop, restaurant and house entrance
The house was magnificent with wonderful plaster and ornate decorated ceilings, painted and gilded woodwork, sumptuous furnishings and many fine paintings.
The formal gardens at the rear of the house were at their colourful best with the grounds overall in wonderful condition. The stables and kitchen garden were well worth a visit too.
Despite the weather being rainy in other parts of Anglia we enjoyed a fine and warm day with plenty of sunny intervals. There was a splendid turnout of some 42 MGs ranging from TD to Magnettes, Bs aplenty, a quorum of RV8s, many Fs and TFs to MG3s. An impressive line-up indeed which attracted lots of admiration from the other visitors.
A great day out at an excellent venue.
Roger Latham
Spring Show at Duxford
This was a major event for car clubs not least the MGCC represented by the Anglia Centre. With a prime location on the grass immediately in front of the American Pavilion, bordering the airfield plus glorious spring weather all was set. The turnout of MGs did not disappoint with some 36 cars ranging from pre-war models and covering most post war ones through to the latest MG3.
Although not a flying day there was still plenty of aerial activity with a number of Moths coming and going, an aerobatic display from a Mustang plus many pleasure flights from a DH Rapide and a 2 seater Spitfire. Plenty to entertain plus, of course, all the permanent display pavilions with their myriad contents to absorb and entertain.
A very enjoyable day indeed. Roll on next year!
Many thanks to Terry Starkey of the Burblers Natter for organising the event for us.
Roger Latham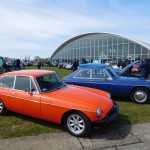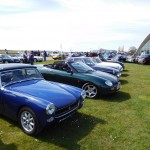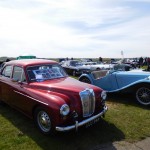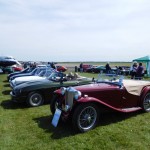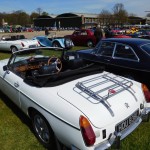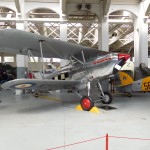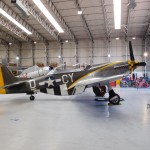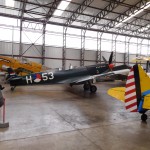 Norfolk Riviera Run
This years run was held in conditions more akin to a March spring day rather than the Wednesday following Christmas.
33 cars took the start at Gayton's Crown Inn, for a 38mile route compiled this year by Steve Atkinson, and what a splendid run it was.
Following coffee and bacon rolls a fine parade of MGs began departing at 10 o'clock, ranging from the 1954 MGTF of Trevor and Christine Forecast, who were part of the organising team on the first Riviera Run. Some superb MGs followed including a lovely green MGTD, two MGA's, some B's, and many other models of MG right up to the latest MG3.
The route took us past the Sandringham Estate resplendent in the low sunlight but with no sign of the fields of lavender that it was swathed in last August. We then followed a wonderfully scenic route passing Holkham Hall, noticing as we did some intrepid runners out training for Saturdays Holkham Park run.
We ended our day at Fakenham with a welcome lunch before wending our way home. Thank you Steve and the hosts at Gayton for another successful event.
Chris Bone took some excellent photos on the day which you can see below along with this photo of Trevor and Christine in their 1250cc TF.
Helmingham Hall Festival of Classic & Sports Cars 2015
The annual Festival was held on August 2nd this year. According to reports over 700 cars in total were on display. Many of these were on club stands. Invited entries were on show immediately in front of the house.
Apart from the cars there was the moated Elizabethan house to view (privately owned so externally only) plus the extensive gardens and grounds. There were many options available for refreshment too.
The MG Car Club stand was organised for us by John Cumming. Mike Pelling kindly brought along his gazebo and various MGCC/Anglia Centre material to assist. Quite a number of membership packs were handed out on the day. Some regalia was also sold.
On the MG Car Club stand we had 44 varied MGs ranging from old to new. An excellent turn out.
Many thanks to John for organising and Mike too for assisting him.
Roger Latham

2015 Visit to Pace Products
Earlier this year over twenty MGCC members enjoyed a visit to their premises at Haverhill.
We were warmly greeted by the Sales Manager with tea, coffee and soft drinks on offer. There was also a selection of cars outside to view.
When we were all gathered there was a short introduction and welcome from CEO Gareth Burnett. He informed us their business is the design and manufacturing of Cooling Solutions and Oil Systems for the Automotive, Motorsport and Specialist Applications. A further aspect of their business is Motorsport Preparation which includes both Race and Road car preparation. (Website – paceproducts.co.uk)
Following which we split into two groups for a detailed conducted tour of their works. During this we saw the many processes involved in the manufacture of their products. We also saw many fine cars in various stages of preparation or restoration. not least all of the famous Fox and Nicholl Talbot Team cars.
At the conclusion of the tour we were allowed to wander at will and look more closely at the many interesting cars in their works.
Finally we finished with a barbecue and further refreshment.
Many thanks to Pace Products for their welcome and hospitality during a fascinating and enlightening visit.
Thanks also to Tony Batson for arranging the visit.
Roger Latham
2015 Anglia Summer Picnic
Blickling Hall (NT) in Norfolk was the venue for this year's Picnic. We were allocated a parking area in the orchard, the only other occupants being staff members, so had plenty of space for our MGs and our picnics.
In common with most of the south of the country we had a band of rain sweeping across which affected us for around two hours. Before and after it was fine and allowed us the opportunity to visit the house and gardens.
The house was magnificent with wonderful rooms many with fine plaster work and wood panelling plus sumptuous furnishings but still with a warm lived in feeling.
The gardens were looking at their best all beautifully kept, both ornamental and colourful.
There was a shop and second hand bookshop plus a café to keep us entertained as well.
The rain undoubtedly reduced the turnout but we still had a very respectable 40 MGs on display.
Many thanks to those who helped organise and thanks also to all members who supported us on the day.
Despite the problems the day was a great success.
Roger Latham
Gayton Crown Natter
Tuesday 25th February 2014 
The 55 attendees enjoyed a fun night with a great meal followed by a raffle and quizzes.
William Ball presented the following Autotest Trophies
1  Bruce Cox
2 Rachel Henderson
3 Bryan Pack

Thames Bridges & Tunnels Run
Saturday 7th September 2013
THE MG CAR CLUB's MGF Register and Anglia Centre 'Thames, Tunnels and Bridges' Run is over for another year!
Thanks to the efforts of committee members from both the Centre and Register, the event ran smoothly and proved to be another great success, with 62 cars taking part.
Here's event organiser Adrian Clifford's report:
Even with just 24 hours to go we had a potential problem as you may have seen on the TV, the whole of the Dartford Crossing was closed in both directions for a security alert. Vehicles were trapped for up to 9 hours on the bridge.
Then on the afternoon itself we were already aware of a march by the English Defence League in East London, it was proved to be true that it did not affect the event but it made it difficult and time consuming for cars getting to the start from the east.
We delayed the start a little due to late arrivals but this proved no real problem as the run went well, no traffic to report and all roads were open as planned. I'm pleased to report that many cars took advantage of the toilet and drinks stop in Canary Wharf allowing them all time to rest, talk and be at the Dartford Crossing after 22.00 to get the free crossings.
It was also very encouraging to see so many cars make it to Lakeside Services were the event finished.
There were three awards on the night where a framed certificate was awarded, they were :
Furthest travelled: Steinar Braaten from Norway in his MGB.
Best presented car: Linda Stock in her silver TF160.
Car of the night: Liz and Darren Allsworth in the MGCC/MacMillan Midget.
Of course many cars made navigational mistakes (you will not get a harder road run than London at night!) but many actually back-tracked to where they went wrong so as not to miss a mile, that was impressive, well done.
Well done to all you and a BIG thank you to everybody who made the journey, some driving from the Midlands, Lincolnshire, Lancashire and the south coast; without you the event would not mean a thing and the charity would not gain.
We made new friends, met new people and I hope it proved the value of being members of a great club.