Safety Fast Notes
Anglia Notes September 2017
MG People Through the Generations
With talk in most motor clubs of the need to encourage young blood into the fold, you can rest assured that The Anglia Centre is once again at the head of the field.
Many of us remember Stuart Musk, Anglia Centre member and intrepid racer. Who could forget his fearless three wheeling antics as he battled it out for the Peter Best and Anglia Phoenix championships in his yellow and green full race Midget, one time ending up on his roof at Russell Bend Snetterton. (with the photograph of the upturned Midget being used as the publicity shot for MGCC Silverstone Marshals for many years)
Or the sight of Stuart drifting his beloved racing MGC on the way to many a class win in historic races, always displaying number 35 on which ever car he drove.
Stuart may no longer be with us but his Family carry on the legacy, all Anglia members with MG in their blood.
Grandson Ross who now owns Stuarts Racing MGC, also has Stuarts never say die attitude. After breaking his arm at work days before Le Mans this year, Ross still drove to Le Mans with his arm in a splint, rather than miss the race.
Granddaughter Evie, who's Mum Sally decided on her name as she liked the registration of her first MGB which ended with letters EVE, is no less determined.
Evie, who turned seventeen in June, is learning to drive in her very own MG3, and is aiming to equal her Brothers first time pass before not too long.
With young people like this in the club, we can't go wrong.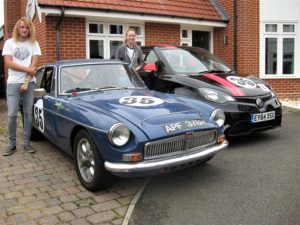 AGM
Please note that the Anglia Centre AGM being held on Saturday September 23rd will be at a new venue, The Anchor, Stratford St Mary, Colchester, CO7 6LW. Starting at 2pm, it is very easy to find just two hundred yards from the junction of the A12.
Mid Essex Club Meet
The Mid Essex now have a permanent new meeting address, which is The Red Lion, Margaretting, Ingatstone, Chelmsford. CM4 0EQ. Meeting the second Thursday of the month starting at 7.30pm. They also have a Facebook page at MGCC Anglia Centre Mid Essex Pub Meet.
Anglia Notes August 2017
MGLive
The Anglia Centre had what was possibly the best ever stand at MGLive, space was shared with The Caledonian Centre, visitors flocked to see the display all weekend Thanks must go to the hard-working members who worked tirelessly answering questions of visiting guests.
The theme of the stand was the Quintessential British Sports Car, we had two such examples on display with the timeless MG Midget and MGB.
Mike Pelling our events organiser and competition secretary did a fantastic job in organising such a display for us for which the Anglia Centre can truly be proud.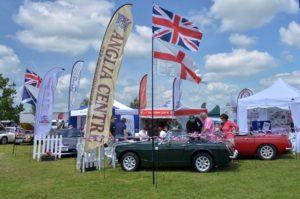 Anglia Picnic
The traditional Anglia Centre Summer Picnic was once again organised for us by Roger Latham and was as popular as ever as Roger reports for us.
The 2017 MGCC Anglia Summer Picnic
Great day, great weather and a great line up of Mgs. On a lovely summer's day we met at the Naional Trust Ickworth House in Suffolk.
An excellent area on grass had been set aside for our use close to all facilities and the house and gardens.
Present were 50 MGs. These ranged from T Types through MGA, B, C, GTV8, Midget, Magnette, RV8, modern TFs and Z cars through to the latest MG3s.
Wow some display indeed, which was much admired by other visitors to Ickworth.
At lunch time groups of members were seen enjoying their food and drink around their cars in the glorious sunshine.
This most interesting house was there to view, for those who desired, together with the magnificent and colourful garden.
I don't suppose I was the only one who got a bit pinker than anticipated lulled by the summer breeze!
Next year's venue is not yet in the planning stage but suggestions are welcome.
Roger Latham 
The Anglia Summer Run
Such is the successful year for Anglia Members that The Summer Run organised by Margaret Beresford and Barbara Pratley was full before the closing date for entries.
Run as a touring assembly, starting at Melton in Suffolk with a picturesque route of 55 miles and finishing at The Museum of East Anglian Life, with lunch at the Osier Caf'e, a splendid collection of MGs took part as can be seen in the photographs supplied by Roger Martin.
Events Planning
The Helmingham Hall Festival of Classic and Sports Cars takes place on Sunday the 6th of August. The Anglia Centre will have a presence there and entry to the event with your MG is £10.00 for the car and two people with an extra £7.00 for each additional person or £3.00 for children. John Cumming 01359 259717 or Mike Pelling 01366 286944 would need to know as soon as possible if you would like to display your classic car so an e-mail ticket could be arranged
AGM
Please note that the Anglia Centre AGM set for Saturday September 23rd will be at a new venue, The Anchor, Stratford St Mary, Nr Colchester CO7 6LW.
It is a very easy place to find, many of you will have been there if you have participated in the Rabbie Burns Run in years gone by. The pub provides home cooked food and the AGM will commence at 2pm. Contact Chairman Peter Skipper chairman@mgccanglia.co. or Secretary Roger Moran secretary@mgccanglia.com
Anglia Notes July 2017
Snetterton
With Silverstone and MGLive in full swing this month, it can often be overlooked that regular competitors in the various MGCC Championships have been working their socks off, keeping their race cars up to the latest specification and have been chasing championship points since early March.
At Snetterton just one week before MGLive, many of the Anglia Centre drivers were fighting it out on track to keep themselves in in contention as the series approaches its mid-season point.
Following races at MGCC Donnington Park and Brands Hatch, Snetterton saw rounds five and six of The MGCC Peter Best Insurance Cup.
Alan Brook was along with his very special self-built MG Metro, accompanied by Brother David, who is not only a past champion of the Peter Best Cup, driving an MGB V8, but is also host of the West Hertfordshire Club Meet at Redbourn.
Although David has not raced for a few years, he keeps his hand in, helping Alan build and prepare the Metro.
Practice started at 10.15 and saw Alan qualifying on pole position, with a time more than two seconds ahead of the rest of the field, despite a grass tracking moment, when he almost out braked himself going into Murrays chicane.
Race one saw Alan scorch off into the lead before falling off at the esses, putting himself back to fifth place, before charging back through the field to win, also gaining fastest lap in the process.
In race two, following a long hard day he had a copybook drive, leading from lights to flag and extending his lead in the championship.
If you get the chance, wander over and say hello to the talented Brothers and take a look at their fantastic little Metro all of which is home built.
The photo shows Alan looking relaxed by his race car before the start of race one.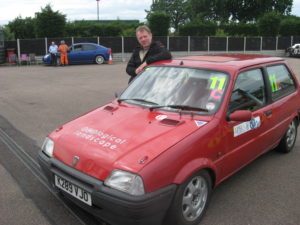 Queen Vic
The 9th of July sees the annual Queen Vic Classic and Sports Car Show, Billericay Summer Fest. All in aid of charity and with free entry and parking, details can be found on the dedicated website, Queenvic.mgccangliacenter.org.uk or contact Tony Batson via events@mgccanglia.com or on 07958 381470.
Not only classic cars to see but in the arena, there are such things as Dog Agility performances and demonstrations from emergency services. All this along with live music on stage plus craft and country fare stalls and refreshments.
There is also the annual Concours and Pride of Ownership that you can entre. One of the best days out in the Anglia Centre calendar.
Anglia Summer Picnic
The Anglia Picnic is on Sunday July 2 at Ickworth House, one of the most spectacular stately homes in the country. A National Trust property, the gardens of which were created during the first half of the 19th century.
Entry forms are in the May edition of Safety Fast and can also be found on the website
Club Meet News
Looking ahead to the 1st of August, we have the Longham Pride of Ownership, held at the White Horse Club Meet, contact William Ball 01508 471506 if you would like to attend. Each year the meet produces a splendid display of cars at this well attended meeting, so please go along and give them your support.
Anglia Notes June 2017
Terry Starkey
It is with much sadness that we have to report that Anglia MG member Terry Starkey passed away peacefully last month after a short cancer related illness.
Terry will be fondly remembered in MG and V8 circles and as a founder member of the Norwich Burblers pub meet Natter. A group he founded with friends Angus Munroe, Max Porter, John Cumming, Stuart Middlemiss and Ian Quarrington who all share a passion for the burble of a V8 engine.
Terry is also well known for producing the Burr Elm gear knobs which many RV8 owners have on their cars.
Our thoughts and prayers at this time are with Terry's wife Brenda and their two sons.
New MG
Committee member and roving reporter Roger Latham was at the London Motor Show in May to see the unveiling of a new MG, his report is as follows.
I was at the London Motor Show yesterday courtesy of tickets from Toomey MG.
An hour and a half after the show opened a new MG Suv was unveiled. Big news was the name is XS and not ZS as in China. Prices will be better than competitors.
It is quite large and dwarfs the MG3. As per press reports the interior quality is much improved over all previous offerings, which is good news. It's a spacious vehicle with good luggage space. Engine news is not clear cut but may include the new 3cyl one litre petrol turbo, however it is not expected to go on sale to the general public until late in the year.
More information can be found in a recent review in Autocar.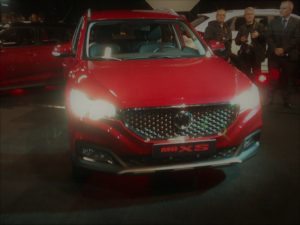 Pub Meet News
The Mid Essex Pub Meet is currently meeting on the 2nd Thursday of the month at The Red Lion, situated in Margaretting on the outskirts of Chelmsford. This is due to refurbishment works going on at their usual venue at The Crown in Sandon.
With result, their open evening scheduled for the 8th of June is most likely to be a normal club night but meeting at the Red Lion.
Dave Tynan and Andrew Woods will post the latest information on the Anglia Centre Facebook page as it happens this month and I will confirm the future meeting venue in the July edition of Safety Fast.
Anglia Mid Summer Run
Scheduled for June 11th and going from Melton, Woodbridge to The Museum of East Anglian Life, this popular event is usually oversubscribed, however it could well be worth contacting organizers Margaret Beresford 01394 382096 or Barbara Pratley 01384 385135 to see if there are any spaces left.
Anglia Summer Picnic
The Anglia Summer Picnic is being held on Sunday 2nd July at Ickworth House Suffolk.
One of the most unusual houses in East Anglia with its huge central rotunda and curving wings in the Italianate style.
The gardens around the house were created during the first half of the 19th century. It is a National Trust property and Roger Latham has arranged a dedicated area for us to park our MGs and enjoy our picnics.
Entry forms for the event can be found on the Anglia website and in the May edition of Safety Fast.
Anglia Notes May 2017
Club Meet News
One of our smaller Club Meets, The White Hart in Weeley Heath, East Essex may not have many members, however the members it does have are very active. Not least is Dave Stubbings who races a 1962 Lenham GT.
The Lenham is a special bodied MG Midget that had a successful race career in the early 60s. Dave had the privilege of being invited to race his Lenham at the Prestigious Goodwood 75th Members Meeting.
Entered in the Westlake Cup event for BMC engine A series' cars, there was some stiff opposition.
Dave qualified well and made a good start working his way through the field until the race was stopped following an accident. As the field made its way to the re-start, the Lenham developed a problem causing Dave to make the re-start from the pit lane. He made his way through the field again finishing just 1 minute 43 seconds behind the eventual winner.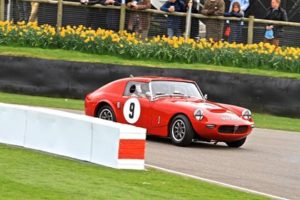 MG Live 2017
The Anglia Centre are going to present an innovative new display this year with a purpose designed area near to the main marquee. We will have much more room than in the past which will give us space to display more than one car and give us room so we can showcase some of our events such as the Anglia Picnic, Mid-Summer Run and Queen Victoria Concourse and Classic Show.
This will understandably necessitate a lot of manning over the weekend. If you feel that you could help with some time on the stand over the weekend, please contact our Competitions Secretary, Mike Pelling at compsec@mgccanglia.com, helping out on the stand could entitle you to complimentary tickets too.
Events Planning
Mid Suffolk Club Meet are holding their open evening on Friday 12th May at The Lion, Needham Market IP6 8EA. Always a very popular event with many MGs on show, contact hosts Graham Wills 01379 890732 or John Cumming 01359 259717
The Anglia Centre committee meeting is on Saturday May 13th starting at 10 am at the Limes, Needham Market, contact Anglia secretary, Roger Moran at secretary@mgccanglia.com if you would like anything pertaining to the centre brought up
Anglia Notes April 2017
MG Car Club Marque of Friendship
I have great pleasure in being able to announce that John Cumming, host of the Mid Suffolk Club Meet, has been awarded the MG Car Club 'Marque of Friendship' award.
John, who is Anglia Centre Membership and Regalia Secretary, along with holding the position of Vice Treasurer, was presented with the award by MGCC Chairman Ian Quarrinton in recognition of John's friendly approach to members, time given to the club and the sharing of his extensive technical knowledge among the members.
I don't think that you could find anyone who is more helpful than John, he is always the person that you turn to if you need help or have a problem to sort out. He quietly gets on with everything from organising touring runs and events for us, to keeping members up to date with what is going on. He is one of the people who makes our club the success that it is.
Supported by his Wife Sheila at many of the events, I would say that anyone who has met John would agree, we are privileged to have him in the club. Well done mate.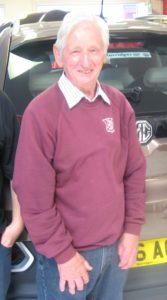 Drive It Day
Sunday 23rd of April is the annual Drive Your Classic day and many related events will be going on in the region. One that we have been invited to is the 10th annual "St Georges Day Run" organised by the North Norfolk Classic Vehicle Club, with donated entry fee in aid of The East Anglian Air Ambulance.
The run will start at Sheringham and follow through the North Norfolk countryside, finishing at Holkham Hall. Closing date for entries is April 14th and both details and entry form can be found on the Anglia website or you can e-mail stgeorgesrun@nncvc.org.uk
Brands Hatch
April 29th and 30th marks the dates of the first MGCC race event of the year at Brands Hatch, all of the club's championships will be racing including the Peter Best Cup and BCV8 championship races. Among the 'hotshots' that are already entered from our region are James Wheeler with his big V8, along with Simon Tinkler and James Darby, all three past champions. As they say, be there or be square.
Anglia Notes March 2017
A Presidents MG History
Recently Anglia Centre President and former Anglia Chairman, Roger Latham, produced an interesting synopsis of his involvement with MGs and how he became involved with the club. I think it warrants reproducing for the magazine below.
My MG motoring started in the 60s when I spotted an MG Midget on the forecourt at my local BMC dealer. At first they couldn't start it, not a very good beginning! Undeterred I purchased it and used it for my daily commute; it was our only family car. As is often the case it eventually had to go to make way for something more family friendly.
All that was long before I became an MG Car Club member.
Since when I have owned many MGs and still do today.
Here is a list of them to the best of my recollection.
MGB Roadster, MGC GT and TC. These three I owned concurrently. Sadly they had to go first to do so was the MGC then the TC. The MGB was my daily driver for some three plus years.
A pause in my MG owning followed while I made do with other cars. Then the urge took hold again with the purchase of a new MGF in 1996. This had an unfortunate end as it was damaged at the dealers while there for service. It was repaired but unfortunately not correctly. The outcome was the car was returned to the dealer and the full invoice amount refunded!!
After a while an MGF VVC Abingdon followed. This gave way to a TF160 with aircon and hardtop too. A great car.
Restless again it was sold and an MG Maestro EFI replaced it.
That went but a new MG ZS180 filled the void very nicely. That in turn was replaced by the updated MG ZS180 which was improved not just in looks but in ride and performance; a better torque curve I thought.
I have owned various MGB GTs, probably about four in total, over the years including a very nice BGT LE, the pewter colour one.
An RV8 was enjoyed too especially as it had power steering fitted during its time in Japan, plus aircon of course.
I enjoyed a lovely black TF LE 500 which had a very full specification and was purchased with less than 1500 miles on the clock. It went to the Le Mans Classic where the aircon proved its worth in temperatures of 30 C.
With a desire for something more versatile it moved on and was replaced by a ZR105+ fairly quickly you can see in the photo above. Replaced by a ZR160, face lifted version, which I much enjoyed.
Coming right up to date last December I traded in my first MG3 a 3 Form Sport for an MG3 Style Lux which
MGs in Hibernation
There follows a cautionary tale for those bringing their MGs out of hibernation. Last weekend I decided to bring my old race MG out of its hibernation, where it had lain since 2013 following its last race at Snetterton. Since then due to some health issues and a lack of money, it has been snug in its garage.
I began the recommissioning by checking, oil, water and electrics. I removed the plugs, added a little oil to the upper cylinders, then with fuel and ignition disconnected I spun the engine on the starter to build the oil pressure. All fine I refitted plugs etc. It started first go.
I warmed the engine between 2000 and 2700 rpm, all fine. Then all of a sudden, it boiled over. On investigation I found the engine coolant, which was fifty percent good quality antifreeze, had reacted for some reason in the top hose and thermostat cover, turning to a blue gel as can be seen in the photo, stopping water circulation. I shut down the engine before any damage was done and was able to clear the problem, however it shows how a thorough check is needed before attempting to start an engine that has been standing for any length of time.
Anglia Notes February 2017
Riviera Run
Another successful event took place at the very tail end of the year, a very good turnout of members as usual in crisp conditions. This year the run ended up at the Norfolk Lavender fields where we enjoyed stunning winter views and a welcome lunch.
Mike Pelling has reported the event on Facebook where you can also see plenty of photos posted by Anglia members.
Mention of Facebook reminds me of the way that information can be easily found of the centres events from many sources these days.
Facebook
Those of you with a Facebook account can join the Anglia Centre page and those who have not yet tried the wonders of Facebook may wish to give it a go. It's free to register and easy enough to start. No one could be worse on computers than me, yet I managed to register. Once on you can access the Anglia Centre pages and obtain plenty of up to date information from the many members and Club Meet hosts that post information on an often-daily basis.
Anglia Events
Tony Batson has compiled our 2017 Events Calendar and Tim Martin, our webmaster has kindly posted it on the website. It is now even yeastier to access. Once you are on to the Anglia Centre site all you have to do is click onto the events section and you ate there.
Events for February to bear in mind are The Anglia Centre Committee Meeting on Saturday 18th February with a start time of 10 o'clock at the Limes Hotel, Needham Market. Contact Roger Moran secretary@mgccanglia.com
Mid Suffolk Club Meet are holding their annual dinner at The Lion, Needham Market on Friday February 10th. Contact John Cumming 01359 259717 to see if spaces are still available.
This month's photographs show The Old Speckled Hen MGB visiting the open evening at the mid Suffolk Club Meet. The second photo is a paddock scene at Silverstone with Rod Oakenfull from the East Essex Club Meet, alongside his race MGB as we look forward to the new season.
Anglia Notes January 2017
Two famous Anglia Centre trophies were presented by our Chairman Peter Skipper just before Christmas
Chairman's Trophy Mike Pelling, our Competition Secretary, is the worthy recipient of the 2016 Chairman's Trophy for his success in organising and developing the Anglia Centre stand at MG Live to what has become consistently one of the main attractions at the international event in the main marquee. This along with the effort he has put into finding new venues for the Autotest series and his tireless promotion of our centre.
Mike has a long history within the club, he started his competition career back in the early 1970s in Autocross ware he competed with the likes of Graham Hathaway, who went on to become European Rallycross Champion, and Andy Rouse, who became multiple Touring Car champion in the Ford Sierra Cosworth in the 1980s
To say that Mike knows his stuff when it comes to competition organisation would be an understatement. The award is well deserved.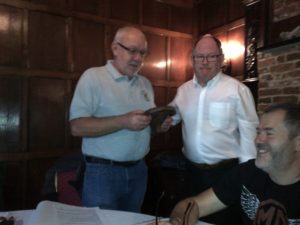 Restoration Trophy
Our second award winner is long time MGA enthusiast Roger Martin. Roger, who has written two very successful books on the history of the MGA, obviously does not want to be 'typecast' and has shown that he can be just as accomplished in his knowledge of other MGs by winning the trophy for the complete restoration of an MG Midget.
The Midget originally belonged to his sister and Rodger did the entire restoration with the help of his Son Tom at home. Roger has a photographic record of the restoration which is truly inspiring. I will include some of restoration record photographs on the Anglia website.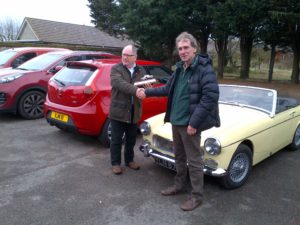 Anglia Notes December 2016
Enthusiasts Trophy It is with great pleasure that I can announce that the 2016 Enthusiasts Trophy has been awarded to Michael and Marion Murkin. Long standing members of the MG Car Club, both Michael and Marion have done an enormous amount of work over the years for the Anglia Centre. Not least with Michael's position as a previous secretary of the centre, along with help in organisation of the Queen Vic show and the London Bridges and Tunnels Run among many other events. They were involved in a rather nasty accident earlier in the year which was not their fault but were both hurt and their beloved MGF came off rather the worse for wear. They were presented with the trophy by good friend Tony Batson at their local Pub Meet and I add Michaels email that we received below.
"Just a quick email to thank you all for the kind gesture of awarding the Enthusiasts Trophy to me and Marion, Tony awarded it at our meeting last week at the Lodge, it was totally unexpected and a very pleasant surprise. This was one of those uplifting moments at a time when we were both at an all-time low following the accident.
Following on from all the flowers, cards and goodwill messages we received this only goes to uphold our club motto, " The Marque of Friendship"
Once again thank you all."
Regards Michael
The photo this month shows Michael being presented with the trophy by Tony Batson.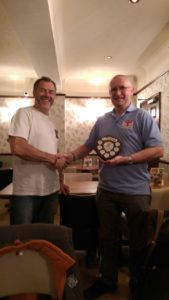 Events Planning Saturday 3rd December is the date of the next Anglia Committee Meeting, to be held at The Limes Hotel, Needham Market. If you would like anything discussed contact your local Pub Meet Host to forward your request or any member of the committee who's contact details can be found on the Anglia website. The 2016 Norfolk Riviera Run will take place on Thursday December 29th. It is the ideal event to blow away the winter blues and to blow the cobwebs off your treasured MG.
Always a popular event, starting this year at The Green Man at Little Snoring and finishing at the Norfolk Lavender fields ware lunch can be ordered in advance.
Entry form and more details can be found within the pages of the November edition of Safety Fast or on the Anglia website page.
Anglia Centre Clothing
With Christmas, just around the corner now would be the time to visit the Anglia website and browse through the merchandise that is available from the MG shop. Ordering is very easy; you can personalise the clothing with your details and Anglia badges along with seeing a preview of the prospected purchase on the screen before you buy with design and chosen colour etc. delivery time is very fast and it is just the place to look for ideas for presents or just for souvenirs for yourself.
Local Pub Meets With Many of the local Pub Meets organising end of year Christmas dinners, if it is a while since you made a visit to your local meet, why not go along and join in the fun, a lot of the meets organise their presentation dinners for the new year too so it also gives you something to look forward to and raise your spirits in the depth of winter.
Wishing all readers, a merry Christmas and a happy New Year.
Anglia Notes November 2016
MGA Norfolk Tour September saw the MGA Register autumn tour of the north Norfolk coast and the Norfolk Broads, finishing at Blickling Hall where the National Trust kindly let us park up in front of the hall itself. This great event was organised by Norfolk member and MGA owner David Simons and even the sun came out for us.
Snetterton
The end of season MG race meeting at Snetterton saw some quality racing spread over two days on the first weekend of October. Saturday was very wet but it did not dampen the enthusiasm of competitors or the many spectators alike.
The Anglia Centre had dedicated parking in a lovely grassy area overlooking the assembly area and the Senna straight, affording a good view of the cars as they rounded coram curve and drove through Murrays chicane.
It was good to see so many MGs in the dedicated area and to meet up with old friends, it made an ideal meeting point and was almost like a concourse show at times with so many fine cars on display.
All of the races were good but special mention must go to the BCV8 race on the Saturday. With rain clouds hovering as the cars made their way to the assembly area it was debatable whether it would be a wet race, however as the grid formed, the heavens opened and torrential rain hit the circuit, poor Russell McCarthy aquaplaned into the pit wall on the second lap and the race was stopped. Stirling work saw him replace the front wing ready for the re-start, his efforts however were thwarted when damage was found to the steering rack mount just moments before the re-start.
The race was re-started and 'rainmeister' James Wheeler shot into an unassailable lead which he held to the finish gaining him driver of the race. Andy Young drove a copybook race in his Class C MGC GT finishing fourth overall and becoming the 2016 BCV8Champion.
Well done Andy on your success after many years of effort, MGC expert and proud Father Vic was along giving support to the latest line of the MGC dynasty.
Committee Meeting
The next Anglia Centre committee meeting will be at The Limes hotel Needham Market on Saturday 3rd of December, you are welcome to attend or if you would like any point discussed please contact a member of the committee via the contact details on the website or contact the secretary, Roger Moran at secretary@mgccanglia.com
Norfolk Riviera Run
Looking ahead to next month and the popular Norfolk Riviera Run on December 29th, details can be found on the Anglia Centre website, or by contacting the organiser Steve Atkinson at rivierarun@mgccanglia.com
The run always fills up very quickly so it is advisable to get your entry in early for this fun end of year event.
This months photograph taken by Roger Martin shows a fine selection of MGAs in front of the National Trust Blickling Hall
Anglia Notes September 2016
Queen Vic Classic Car Show
With the 2016 classic car season in full swing, The MGCC Anglia Centre Queen Victoria Concourse and Pride of Ownership display was as popular and well presented as ever, with Tony Batson and Michael Murkin pulling out all the stops for the organisation and Josh Batson producing such a professional dedicated website for the show, the stage was set for another good show. Tony Batson takes up the story.
Despite the gloomy outlook, around 180 owners still braved the rain to bring their pride and joy along to this year's Queen Vic car show on 10th July. Jointly held with the Billericay and Mayflower Rotary Clubs 'Summerfest'. The show attracted around 2000 visitors to see the cars and enjoy what has become a very popular and successful event. Alongside MG's of all ages were many other British marques, American cars, a number of commercial vehicles, some custom cars and even a few classic scooters. As usual, the Concourse and Pride of Ownership classes were hotly contested, presenting a challenge for our judging team. I would like to thank everyone who helped make this event a success. Further details including prize winners and photographs will be posted  at hppt://queenvic.mgccangliacentre.org.uk/ along with the Anglia centre website.
Helmingham Hall
 The Anglia Centre had a strong presence at this event with the Anglia stand fronted by John Cumming and Mike Pelling, with many members picnicking alongside their cars before watching classic cars being motored along the drive to the house and meandering among the hundreds of cars on show.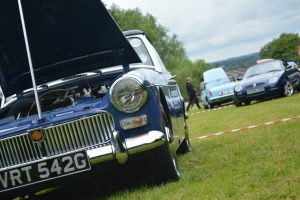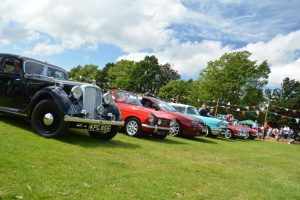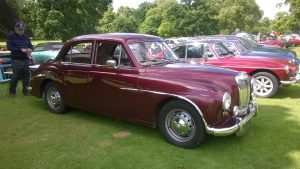 Longham Pub Meet
On a smaller scale but no less interesting, The White Horse Pub Meet at Longham held their annual Pride of Ownership on August 2nd. With some wonderfully presented MGs on display the judging was close. The final results were, First, The MGA belonging to Chris Bone, Second, Richard Smith with his MGB and Third, Mike Pelling with his super little MG Midget.
AGM
A reminder to all that the Anglia Centre AGM will take place on Saturday September 10th at The Limes Hotel, Needham Market, starting at 2pm. Please try to attend if you can. Contact, Chairman, Peter Skipper at  chairman@mgccanglia.co. Or Secretary, Roger Moran at secretary@mgccanglia.com
Oulton Park
The Peter best Insurance Cup and BCV8 championship races are at Oulton are on September 3rd. Our archive photo this month shows 30th Birthday Boy James Wheeler and Lew Bergonzi at Silverstone, both men are multiple past champions from the above races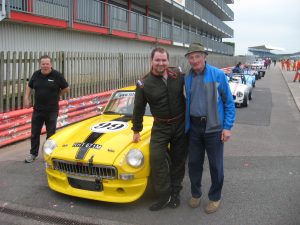 P & A Wood
Also on September 3rd is a visit to P & A Wood the Rolls Royce restoration company, a report next month. There may be a slim chance of a place still left if you are quick, contact Howard Quayle 01284 766909.
Anglia Wedding
 Finally this month we give warm congratulations to long time Anglia members Rachel Henderson and Bruce Cox who tied the knot at a wonderful ceremony on Friday July 15th at Bakewell.
Bruce is a multiple past champion in the Anglia Autotest Championship and Rachel is building a Midget to compete in the future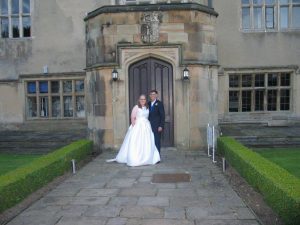 Long life and happiness to you both.
Anglia Notes August 2016
Pub Meet News
The West Norfolk Pub Meet originally held at The Crown at Gayton will now meet at The Woolpack, Terrington St John, Wisbech, PE14 7RR, on the 4th Tuesday of the month. The hosts of the popular meet are the same being Steve and Alison Kemp with Peter Thompson.
The reason for the change of venue is to give a more central meeting point to members in the area.
The East Coast Pub Meet will be meeting at a different venue for August, The Bell, Middleton, IP17 3NN on Wednesday 24th August at noon. They will be back to their normal venue of The Fox, Shadingfield from September.
MG GS Launch
Kerridges Dealership in Needham Market was the venue for the launch on the new MG GS in The Anglia area on June 28th. With over 100 years in the motor trade, the garage put on a fine display for us including a delightful buffet. We were able to try out the car on display and the general consensus was that we have another fine MG to join the marques illustrious past.
The photo shows Anglia members Adam Breen, John Cumming, Peter Skipper and Nick De-Vries enjoying the evening.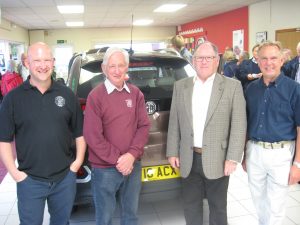 Anglia Summer Picnic
This year we were at Audley End House (English Heritage) for the picnic. The beautiful Jacobean mansion with its landscaped gardens by Capability Brown provided a wonderful setting for our event.
We were given a superb area on grass with some splendid mature trees for our cars and picnic, sited just left of the front of the house, adjacent to the path for the shop, restaurant and house entrance.
The house was magnificent with wonderful plaster and ornate decorated ceilings plus painted and gilded woodwork, sumptuous furnishings and many fine paintings.
The formal gardens at the rear of the house were at their colourful best with the grounds overall in wonderful condition. The stables and kitchen garden were well worth a visit too.
Despite the weather being rainy in other parts of Anglia, we enjoyed a fine and warm day with plenty of sunny intervals.
There was a splendid turnout of 42 MGs ranging from TD to Magnetts, Bs aplenty, a quorum of RV8s, many Fs and TFs to MG3s. An impressive line-up, which attracted a lot of admiration from the other visitors.
Words are thanks to Roger Latham and Photo to Roger Martin.
Anglia Notes July 2016
Queen Vic Classic Car Show
The Anglia Centre is pleased to announce that the ever popular 'Queen Vic Classic Car Show' will again be held in conjunction with the Rotary Club of Billericay, at the Billericay Summer Fest on Sunday July 10th. Entry to spectate and parking is free and the show will be open to the public from 11am to 4.30pm.
Apart from the classic cars on display, of which we expect up to 200 in attendance, there is a concourse and pride of ownership competition. There is interest for the whole family with a large display arena with demonstrations by dog display teams and the emergency services. There are craft stalls and refreshment stalls too and you are able to wander among the vehicles on display and chat to the owners about their pride and joy.
The whole event raises a substantial amount of money for charity every year and is a fantastic place to spend the day. It even has its own website hppt://queenvic.mgccangliacentre.org.uk/ or routed from www.mgccqueenvic.org.uk which is found from a Google search.
The location is The Common, London Road, Billericay, CM12 9LD and you can also find contact details on The Anglia Website or ring Michael Murkin on 01702 478476 or Tony Batson on 01245 607263 evening phone calls please.
Recent Events
2016 Spring Show at Duxford
The Spring show was very well attended and Roger Latham our Anglia Centre President has written a report for us.
This was a major event for car clubs not least the MGCC represented by the Anglia Centre. With a prime location on the grass immediately in front of the American Pavilion, bordering the airfield plus glorious spring weather, all was set, the turnout of MGs did not disappoint with some 36 cars ranging from pre-war models and covering most post war ones through to the latest MG3.
Although not a flying day there was still plenty of aerial activity with a number of Moths coming and going, an aerobatic display from a Mustang plus many pleasure flights from a DH Rapide and a two seater Spitfire. Plenty to entertain, plus of course all the permanent display pavilions with their myriad contents to absorb and entertain.
A very enjoyable day, roll on next year! Many thanks to Terry Starkey of the Burblers Natter for organising the event for us.
Pub Meet News
The mid Suffolk Pub Meet held a successful open evening at The Lion, Needham Market with 38 classic MGs in attendance. The photo shows Derek Mayhew and Roger Martin with their wonderful MG Midgets
Anglia Notes June 2016
AUTO TESTS, the Anglia Centre will be running two events this year, both will be held at the CITB site, Bircham Newton, Kings Lynn, Norfolk, PE31 6RH, on May 22nd & Sept 25th, it is a smooth tarmac site and has the benefit of nearby toilet facilities and we hope to have a burger van to provide eats and drinks. Regulations and entry forms can be downloaded from the centre website; they can be printed and sent direct to me, Mike Pelling. I can also send you some paper copies if you wish. Marshalls are required for both events so any volunteers to assist would be much appreciated, I can be contacted by telephone or email, details below. Invites to additional Auto Tests and Autosolos organised by other clubs will also be posted on the centre website.
It is also hoped that the centre could enter a team of three Auto testers to take part in the California Cup at MGLive this year, if interested please contact me, Mike Pelling on 01366 386944 or 07790 866137.  Alternatively you can e-mail  compsec@mgccanglia.com
Lincs Centre Auto Tests dates are May 8th and 11th Sept, details and entry forms are available from Dave Stonehouse, tel 01790 754774, davidstonehouse1@btinternet.com
MGLive 4th & 5th June, once again the centre will be having a stand in the Main Club Marquee, the theme this year is " Heritage" our intention is to represent the theme with a pictorial and memorabilia display of the history of the Anglia Centre, also help to man the stand over the week end would also be appreciated, helpers could qualify for complementary volunteer day or weekend entry tickets dependant on the amount of time given.
Topcroft Country Day Norfolk, Sunday 19th June, Bungay NR35 2BJ, free entry for classic cars, contact Kevin Andrews 01508 482647, 07736 747488, email kevin-andrews@live.co.uk for details and booking.
RAF Marham Charity Fun Day, Sunday 26th June, as well as the center picnic organised by Roger Latham, the Anglia Center will be having a stand at the RAF Marham Charity Fun Day to cater for those in the north of the centre, there will be other car clubs in attendance also 20+ trade and craft stalls, entry will be via a £5 book of raffle tickets, to book a place contact me on the numbers below.
Anglia Summer Picnic
The annual Summer Picnic is fast approaching and will this year be held at Audley End House, Saffron Walden. Booking forms can be found on the club website also were printed in the May edition of Safety Fast. You can also get information from Roger Latham on 01702  580472
To wet your appetite for Silverstone the photo's this month are of Guy Samuels waiting in the race holding area in his immaculate class A/B MGB Roadster along with a study of the B engine bay.
Anglia Notes May 2016
President MGCC Anglia Centre
I am very pleased to announce that on the 12th of March at the MGCC Council Meeting, Roger Latham was voted in unanimously as President of the Anglia Centre following his nomination by the committee.
Roger was a founder member of the Anglia Centre and spent many years as  Chairman, working tirelessly, as he still does, to make the Anglia Centre one of the most successful centres in the club.
He has written a book on the history of Anglia Centre and organises the very popular Anglia Centre Picnic each year. Do remember that this year it will be held on Sunday 26th of June and will visit Audley End House; you will find a booking form in this month's issue of safety fast. This month's photo was taken at last year's picnic, just to wet your appetite.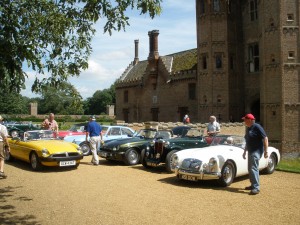 Roger as anyone who knows him is a true gentleman and no one deserves the recognition more than he does. Congratulations.
MGs Stolen
I received a rather upsetting e-mail the other day from Anglia Centre member David Skinner. David had to tell me that his two MGBs had been stolen from their lock up garages in Kirby Cross, close to his home at Frinton-on-Sea.
The cars, a 1969 red Roadster, registration OCA 554 G and a 1973white GTV8, registration NRU 261M were David's pride and joy and are both in very good condition.
Sadly as classic cars become more valuable this sort of occurrence is more common, sometimes the cars are broken for spares. I have therefore obtained the relevant engine/chassis numbers from David as below.
OCA 554G 1969 Red MGB- Engine No 18VE-H40620- Chassis No GHN4/165914G,
a Standard looking car with balanced engine, chrome wire wheels and black leather seats
NRU 221M 1973 White GTV8-Engine No 356-Chassis No- GD2D1475G, black leather seats and wood rimmed steering wheel.
Please do check on any of the above details if you are offered parts for sale and contact the police should you come across any information.
Events Planning
The Mid Suffolk Pub Meet will be holding their Open Evening at The Lion, Needham Market IP6 8EA on Friday evening the 13th of May.
There is always a good turnout at the event with around twenty classic MGs on show. Contact Graham Wills on 01379 890732 far more details.
The Anglia Committee Meeting will be held on Saturday May 21st at The Limes, Needham Market, starting at 10am. You are most welcome to attend, or you may wish to have a point of interest brought up in which case you can forward this via your local Pub Meet host or contact one of the committee members.
For more information contact chairman Peter Skipper 01502 731141 od Secretary Roger Moran 01502 722122
The Anglia Charity Run Stanhoe to North Repps will be on Sunday May 29th, contact Paul and Janet Bloomfield 01328 711632 janetvoutt@talktalk.net for details
Anglia Notes April 2016
Anglia Centre Calendar of Events
As you will have read in last months notes, the calendar is now available direct from the website. If you are an Anglia member and the club has your up to date e-mail address, the calendar will be sent to you electronically. Do check that we have the correct address by sending any changes to chairman@mgccanglia.com
You can also look at or download copies as you wish by either going to www.mgcc.co.uk/anglia-centre/calendar-of-events  or going to the main club website, then hover the curser over centres, this will produce a dropdown bar to select Anglia, then just click on the calendar of events on the left of the screen.
You will then see the list of events but if you require a printable copy, just click on Download Here.
For those members who do not have computer access, contact your local Pub Meet Host and they should be able to assist.
Drive Your Classic Car Day 24th April
The North Norfolk Classic Vehicle Club has invited us to join them at Sandringham Estate for Classic Car Day, with the opportunity to look round the house and gardens.
I know that some Pub Meets are planning to make up their own run groups with touring assembly's to Sandringham on the day. The event is in aid of the east Anglian Air ambulance.
More detail and information regarding entry forms can be obtained by contacting peter Skipper on 01502 731141 or chairman@mgccanglia.com The closing date for entry is the 16th April.
Anglia Summer Picnic
The Anglia Summer Picnic is on Sunday 26th June and will be at Audley End House, which is owned by English Heritage. For full details and a booking form see mgcc.co.uk/anglia This is always a popular event in the Anglia calendar so make a note now so as not to be disappointed.
Spring Car Show
Sunday the 1st of May sees the Spring Car Show at Duxford Airfield, Terry Starkey is the man to contact if you would like to attend with your MG. he can be contacted on 01508470384
MGCC Race Meeting
Donington circuit starts the season for the clubs racing events this year on April 3,
The Peter Best Insurance Cup championship race will be included in the programme with a good entry from our region, more detail can be found on the website
Autotesting 
There is still time to register your interest in the Autotesting Taster Day planned by Anglia Centre competitions secretary, Mike Pelling. Mike has some interesting plans for the future of the Autotest championship in our region and can be contacted via compsec@mgccanglia.com
Anglia Centre Clothing
Remember that you can now place orders for your personalised Anglia Centre merchandise by following the links on the website. You can browse and buy online, just follow the link and click over the Anglia Centre logo.
Anglia Notes March 2016
Anglia Events Calendar
This year for the first time the Anglia Centre will be making their events calendar available for members in digital form, available for download from the website.
For those members within the Anglia Centre who have made their e-mail addresses available to Kimber House, you will soon receive a copy as an attachment personally. If you would like to receive this please make sure that the club has your current e-mail address. You can keep this updated by sending it to chairman@mgccanglia.com
Burblers latest
I am happy to report that the final sum of money raised on behalf of the Peter Couch Cancer Research Fund is a fantastic £740.00. Thank you to all who contributed and to Terry Starkey for organising the fund.
I reported last month that Tony Burgess won a trophy for a valiant restoration of his Midget. Although Tony has restored the Midget, pictured in last months Safety Fast, this was completed some years ago. He actually won the trophy for his painstaking work as a labour of love on his 1964 Rover P5 3 litre saloon.
As you can see from the photograph taken at Snetterton last October, the old Rover looks like new. Tony tells me that the engine has so much effortless torque that it can cruise all day long at 70mph with just 2500 revs showing on the tachometer
Rabbie Burns Run
Sunday 24th January saw the eleventh running of the annual Rabbie Burns Run. This year organised by John Cumming and Graham Wills.
Starting from Needham Market Lakes car park, the 37 mile route went via Battisford before visiting the US Air Force memorial at Wattisham and on to the picturesque village of Lavenham for a coffee stop before pressing on to Long Melford, the town famous for its many antique shops, along with Kentwell Hall and the filming of the popular BBC TV series Lovejoy.
We ended the run at Belchamp St Paul and enjoyed a very pleasant meal at The Half Moon pub.
Of the many MGs on the run, the green MGB GT V8 Sebring look-alike restored and owned by Richard and Georgina Evans took my vote, I hope you like the picture.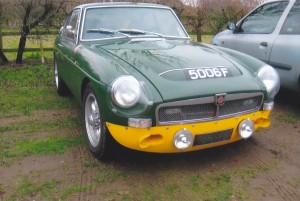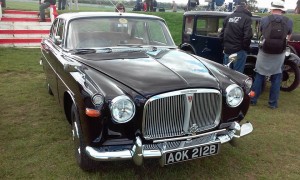 Peter Best Insurance Cup
The first of the race meetings this year takes place at Donington on April 3rd with full grids expected for the PBI race. I was talking to past champion James Darby this evening, he was just installing his new engine and by the sound of it he means business this year. Don't miss what promises to be an epic season.
Anglia Notes February 2016
Norfolk Riviera Run
This years run was held in conditions more akin to a March spring day rather than the Wednesday following Christmas.
33 cars took the start at Gayton's Crown Inn, for a 47 mile route compiled this year by Steve Atkinson, and what a splendid run it was.
Following coffee and bacon rolls a fine parade of MGs began departing at 10 o'clock, ranging from the 1954 MGTF of Trevor and Christine Forecast, who were part of the organising team on the first Riviera Run. Some superb MGs followed including a lovely green MGTD, two MGAs, some Bs, and many other models of MG right up to the latest MG3.
The route took us past the Sandringham Estate resplendent in the low sunlight but with no sign of the fields of lavender that it was swathed in last August. We then followed a wonderfully scenic route passing Holkham Hall, noticing as we did some intrepid runners out training for Saturdays Holkham Park run.
We ended our day at Fakenham with a welcome lunch before wending our way home. Thank you Steve and the hosts at Gayton for another successful event.
Chris Bone took some excellent photos on the day which you can see on the website along with this photo of Trevor and Christine in their 1250cc TF.
Pub Meet Update
At the recent Burblers pub meet Christmas dinner, Terry Starkey was able to report that a sum collected to date of £680.00, has been forwarded to the Peter Couch Cancer Research Fund.
Peter as many of you will know was a very popular member of 'The Burblers' who lost his battle with cancer last year. You can still contact Terry if you would like to donate to this worthy cause in memory of Peter.
Burbler of the Year award was also presented at the dinner, this year going to Tony Burgess for a fantastic restoration of his MG Midget
Autotesting
As mentioned last month, Mike Pelling our competitions secretary is proposing holding two, free to enter Autotest Taster Days. These are for members new to Autotesting, or for those who feel it is such a long time since they tried it, they wonder if they still have the knack.
I am pleased to say that this has sparked quite a lot of interest, you can contact Mike on compsec@mgccanglia.com to register your interest.
Anglia Notes January 2016
Autotesting
With a new motor sport season just around the corner, I would like to take the opportunity to focus on a very traditional and cost effective form of motor sport. The discipline of Autotesting.
Autotesting has a proud tradition within the Anglia Centre, we have run a very successful championship for many years, organised by intrepid Midget driver Bruce Cox. Bruce hung up his helmet last year and has handed the reins over to Mike Pelling our Competition Secretary.
Mike is no mean driver himself and apart from competing in Autotests had a successful career driving a very rapid Mini in Autocross and Rallycross.
Driving in an Autotest is against the clock round a set course on private land, you do not need any special equipment or competition licence to compete, and in fact many of the competitors use their road going MG which they drive to the event.
Mike is proposing holding two Autotest Taster Days in April this year for members who have never tried and would like to dip their toe in the water to see if they like it.
There would be no cost to entering, you can use your road car and there will be plenty of help and advice from experienced Autotesters on the day.
We propose to use courses at Great Massingham in the north of the region and Depden for members in the south tbc.
If you would like to have a fun day and enjoy some grass roots motor sport contact compsec@mgccanglia.com to register your interest
2016 Anglia Centre Calendar
This year we as a committee have decided to produce The Anglia Centre calendar on line rather than as a hard copy printed version included in the magazine,
Apart from a saving on cost to the centre, the main reason is the versatility that an on-line calendar can offer. Changes to dates or times of events that occasionally are forced upon organisers can be shown instantly on line which is not the case on the printed calendar. This avoids confusion and keeps information accurate for members.
If you do not have access to a computer to download the calendar, contact your local Pub Meet host or any of the committee and we will download and print a copy for you. The calendar will be ready to view on-line from January too which is two months earlier than in the past.
Event Planning
The traditional winter warmer, Rabbie Burns Run will start from Needham Market on Sunday 24th January. This will be the eleventh running of this popular Touring Assembly event. In the past we have had to deal with floods and even snow drifts two years ago necessitating last minute route changes, but we have always had fun. Contact John Cumming 01359 259717 or Graham Wills 01359 890732 to book a place.
Anglia Notes December 2015
Riviera Run
This year the very popular Christmas time Riviera Run is being organised by Gayton Pub Meet member, Steve Atkinson. The Touring Assembly run will start from Gayton and finish near Fakenham and will take place on Wednesday the 30th December.
There should be an entry form within these pages, you can also find information on the Anglia website or contact Steve via rivierarun@hotmail.co.uk
The places usually fill up fast so if you would like to join the fun, best get your skates on.
When Steve is not organising The Riviara Run he can be found racing his Historic MG 1300 Saloon in HRDC saloon car races. These are endurance events entailing pit stops. His MG affectionately known as Madge has a long racing history and is usually up with the front runners. The photo shows Steve at one of the driver change pit stops. As you can see the preparation of Madge is second to none.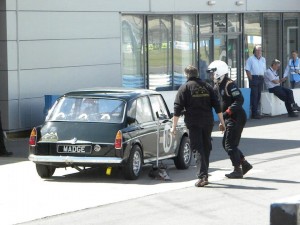 The amount of work and effort that goes into preparing these historic race cars by members is incredible, often on a very tight budget too.
Just in the same way that members burn the midnight oil, building their MGs to show at the MG Live Concourse or The Queen Vic Pride of Ownership, so many racers spend just as much time with their projects. Our second photo shows David Strike's MGB GT. David races his car in the MGCC Peter Best Insurance Challenge.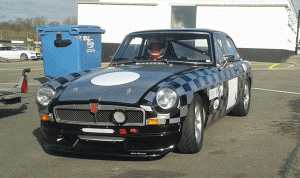 If you would like to see just how much effort is put into building these cars, Tim Martin our own Anglia Centre  webmaster, who races an MG ZR in the MG Car Club Trophy championship, has an incredibly interesting website, called,  techtrader-racing.com ware you can see just what is involved.
Anglia Centre Clothing
With Christmas just round the corner, don't forget to visit the Anglia website and have a look at the merchandise on offer. It is all very high quality and reasonably priced. You can even personalise the garments by having your name or car model and registration number embroidered onto the garment. If you feel too guilty to spend the money on yourself, you still have plenty of time to leave some hints and requests to Father Christmas.
Don't forget to visit your local Pub Meet over Christmas, it's free to attend and supports your Anglia Centre.
Anglia Notes November 2015
Committee Changes
At The Anglia Centre AGM we had some changes to the committee. Dave Tynan stood down as Chairman following his five year tenure, many thanks Dave for the sterling work. Peter Skipper was duly elected as Chairman. Roger Moran was elected as Secretary following Michael Murkin taking up his new post as MGF Register secretary. Tony Batson was formally elected Events Coordinator and Mike Pelling became new Vice Chairman along with his position as Competition Secretary.
Peter Couch
Following the recent sad passing of much loved and devoted MG enthusiast Peter Couch, Terry Starkey of The Burblers Natter has started a fund in memory of Peter to be donated to the Cancer Research charity.
To get the ball rolling Terry donated £100.00 from the sale of his RV8 badges to the cause, this was supported with a further £110.00 collected from members at a recent Needham Natter club night and a further £60.00 was collected at Snetterton during the Saturday race meeting, making a total of £270.00 in just three days.
Terry intends to keep the appeal going until the Burblers Xmas lunch on the 12th of December when a total figure can be announced.
Please support this worthy cause so we can beat cancer. Donations can be paid via Terry, e-mail terry@starkey.uk.com for details or given to your Natter leader for forwarding.
Snetterton
At a thrilling race meeting last weekend Simon Tinkler was crowned as 2015 MGCC Avalanche Motorsport BCV8 Champion.
The race was an absolute humdinger, with Rob Spencer taking a narrow victory in his 400 BHP MG V8 followed by Russell McCarthy and James Wheeler.
James, who won last time out at Oulton Park, made his way up from 5th on the grid and was right on the tail of Rob Spencer as a five car train of thundering V8s entered Murrays Bend for the final time.
As they approached the chequered flag Russell pulled out of the slipstream and pipped James for second by 0.14 of a second. In fact at the finish the first five cars were covered by just 1.909 seconds. As Murray walker would have said "Fantastic"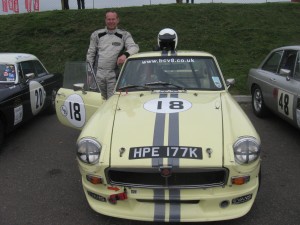 Anglia Committee Meeting
21st November at "The Limes", Needham Market. Contact secretary Roger Moran 01502 722122 if you would like to attend
Autotest
In conjunction with WSMC at Debden on November 9th. Contact Mike Pelling 01366 386944
Anglia Notes October 2015
Events Planning
Snetterton  
The MGCC final race meeting of the season is over the weekend of the 10th and 11th October. All the championship races will be coming to their conclusion and there is a lot of Anglia Centre interest in many of the races, including The MG Car Club Peter Best Insurance Cup and the Avalanche Motorsport MG Car Club BCV8 Championships. 
Just two weeks ago at Brands Hatch all the leading protagonists were out in the BCV8 race with Simon Tinkler narrowly leading this years overall points table from reigning champion Ken Deamer. 
Simon took class pole and on his way to second in class in the race along with fastest lap, helping him maintain his grip on the championship points, however poor Ken Deamer, after qualifying well developed an electrical fault with his Class C V8 on the start line and had to pull off the grid.
The race proved to be a battle of the big V8s in atrocious conditions with Spencer McCarthy taking the win and Rob Spencer just piping Anglia Centre Race Instructor James Wheeler for second place on the last lap 
Seeing the three cars coming out of clearways bend lap after lap on opposite lock at well over one hundred miles an hour was a sight to behold 
Expect Snetterton to be a humdinger of a race.   
Pride of Ownership 
As we enter the dark evenings of Autumn it is rather nice to look back to the sunnier days of The Norfolk Pride of Ownership and perhaps gain inspiration to spur us on over the winter months to perhaps bring our long awaited restoration project to completion and enter next years event. 
This year's event was organised by Steve and Allison Kemp. Held over two consecutive weeks at the Gayton and Longham Natters. Both events saw a splendid array of MGs and included a barbeque each evening. 
The top three at the Gayton Crown evening were, 
First   Richard Smith red MGB Roadster 
Second   Mike Pelling green MG Midget 
Third      David Walker with his MGB LE Roadster 
The second round, held at The Longham White Horse saw, 
First     Brian Nuth white MGB GT 
Second   Chris Bone red MGA Coupe 
Third    Chris Lane white MG TF 
Photo's taken by Steve of all the cars can be seen on the Anglia website.
 Last month's splendid photo of The Mid Summer Run was taken by Lynne Quayle.
Anglia Notes September 2015
Anglia Mid Summer Run
Sunday August 12th saw the twelfth running of this very popular annual event. Organised by Margaret Beresford and Barbara Pratley. It has become a traditional must do event, and just as you think that it could not get any better, Margaret and Barbara come up with another theme  that takes it to new heights.
This year twenty seven cars made the start from The Coach And Horses at Melton on a lovely sunny morning, their crews enjoying bacon sandwiches and coffee before the off. 
The first part of the run took participants along Suffolk country lanes through woodland to Woodbridge Airfield which is claimed to have the longest runway in Europe, and at 1.8 miles long it did look a wonderful sight stretching out in front of us. 
The airfield is owned by the ministry of defence but Margaret and Barbara had gained permission for us to use it for the day. 
Each of the participants would have the opportunity to drive their MG at their own pace along the runway; it was a rare opportunity to really stretch the legs of the cars, legally and safely on the vast expanse of track, some members topping 120 mph in their RV8s on each of their three runs. 
Then it was a short trip back to The Coach And Horses for our pre booked lunch at 12.30. 
After an enjoyable meal with time to swap stories and compare notes of our morning's activities, it was off for the second part of the run. This entailed a lovely 20 mile drive along the coast to Priors Oak Butterfly Garden. This is not just a garden, but also has vintage railway carriages and a museum with old agricultural interest appertaining to the area. 
The garden sits adjacent to The North Warren Bird Reserve, a ten acre site that that attracts many rare butterflies and birds to its marshes, reed beds and woodlands. 
We were able to enjoy a tour of the gardens before finishing the day with tea and cakes.
Thanks for such an enjoyable day must go to Margaret and Barbara and to John Cumming who helped produce the wonderfully bound road book that the Ladies gave to us with the route instructions and notes with photographs, such a nice memento of the day. 
Forthcoming Events 
Anglia Centre AGM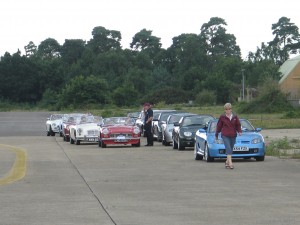 Anglia Notes August 2015
Anglia Summer Picnic
Despite a heavy band of rain moving over this year's venue of Blickling Hall, the annual picnic proved to be a great success thanks to the hard work of Roger Latham and the cooperation of The National Trust, the custodians of the hall and its fine grounds.
We were allocated a special parking area in the orchard which gave a stunning backdrop to member's cars, of which there were many models, ranging from T types through Midgets, Bs and Fs to the latest model of MG the MG3.
The rain did not spoil the day as when the sun shone through we could enjoy the magnificent grounds and when it was wet we could retreat into the hall itself.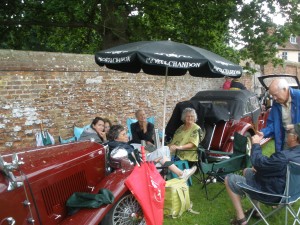 Helmingham Classic & Sports Car Show 2nd August
Always a popular event, for those of you who did not put this in your diary, you should have just about received Safety Fast in time to remind you to go.
The club will again have a stand and show area and with hundreds of classic cars on display plus the chance to see many of the exhibiting cars driven along the driveway of the hall, it is a must do event. The postcode of Helmingham Hall for those who do not know the area is IP14 6EF.
Longham Natter Pride of Ownership 
The White Horse Natter at Longham will again be holding their Pride of Ownership competition on Tuesday evening the 4th of August. Contact William Ball on 01508 471506 if you would like more details or just turn up on the night and enjoy the display.
Anglia Mid Summer Run
This ever popular Touring Assembly run in the lanes and byroads of Suffolk has been organised by Margaret Beresford and Barbara Pratley, on Sunday August 16th. If you would like to attend contact Margaret 01394 382096 or Barbara 01394 385135
Visit North Norfolk Railway Sunday September 13th
John Collier is organising a day with this vintage railway which will include a guided tour round the rail sheds at Weyborne Station followed by a train ride to Sheringham and visit to Marriott's Museum.
You can contact John on 01553 842566 or john.collier14@btinternet.com you can also find more detailed information on the Anglia Website
Anglia Notes July 2015
Anglia Centre Autotest Championship
A good entry turned out for the first Anglia Centres Autotest of the season at Great Massingham. Warm jackets were the order of the day, however with the weather staying dry, track conditions were very good.
MGBs, Midgets and Fs made up the majority of the entry with a lone Renault Clio bringing up the rear. 
Fastest time of the day went to Steve Atkinson driving a Midget, with Geoff Hirst also in a Midget, in second place; third overall went to Bryan Pack in his MGF. 
Details of the next event can be found on the centre website. Why not give this ever more popular discipline of motor sport a try. 
Anglia Run 
Despite the appalling weather and a slightly lower than expected turnout, The Village Run, organised by Paul Bloomfield and Janet Voutt from The Gayton Natter, was a great success. 
A route of 56 miles took participants from Stanhoe, to the finish at St. Mary's Church, East Raynham. 
Using mostly B and C class roads, the run culminated with the cars on display along the drive of Raynham Hall, by kind permission of Marques Townsend. 
A grand total of £750.00 was raised, which will be donated to St. Mary's Church. 
Janner Week
Janner week was a fantastic success in June with river trips and car runs organised each day, photo's are already on the website as well as in the Safety Fast
Events
Queen Vic
The Queen Vic Classic Car show is on the 12th of July. This year it has its own website at  www.queenvic.mgccangliacentre.org.uk  you can download an entry form and see pictures and details of this very popular show, held at Billericay each year.
The website has been put together by Josh Batson, the son of our events coordinator.
I for one can not praise Josh too highly for the work he has done putting this very professional site together, but don't take my word for it have a look and see what a fantastic job he has done.
Anglia Summer Picnic
If you would like to attend The Anglia Picnic on July 5th at Blickling Hall then please note that the date for advance bookings has passed, but if you see Roger Latham on the day, he will get you in
Natters
Note  that The Royal Fusilier Natter now meets at The White Hart, Weeley, CO169ED, on Sunday lunch times. Contact max Collier on 01206 250869
Anglia Notes June 2015
May saw our biannual visit to P & A Wood, the Rolls Royce and Bentley restoration experts. 
The trip was organised by our own Andrew woods of The Ship Natter, Andrew has arranged visits to this world class company for many years now and deserves our gratitude for his sterling work, 
P & A Wood are fully authorised Rolls Royce and Bentley dealers and are the only  Rolls Royce authorised accident repair agent in the UK. 
The standard of their work is second to none. The company was started in 1967 and is run by Brothers Paul and Andrew. 
We were welcomed at 10am with coffee and biscuits before being taken on a tour of the workshops by manager Andy Smith. 
They restore and service Rolls Royce and Bentley cars ranging from early 20th century veterans, through 1930s Le Manns Bentley Blowers to Silver Ghosts of the present day. 
 We could not have been made more welcome, and with the company motto 'Attention to Detail' at the forefront of every area of restoration it is a visit you really must try to attend when our next invitation comes around.
Forthcoming Events 
The next Anglia Centre committee meeting is on Saturday June 6th at The Limes Needham Market. Members of the centre are more than welcome to attend, or you may wish to ask your local Natter leader to raise a question for you in any other business. The people to contact regarding the meeting are Chairman Dave Tynan 01795 535776 or Secretary Michael Murkin 01702 478476.
The Ship Natter Open Evening is on Thursday June 11th, at The Ship, Stock Road (B1007) Stock, CM2 8LB. Always a popular event, run by experienced Natter leaders, Dave Tynan and Andrew Woods, contact Dave on the above number or Andrew on 01277 210009.
 MG Live
 With MG Silverstone now on the horizon, you will need to get a move on if you would like to get reports or photo's of your MG exploits included in the Centre display. Indeed you may wish to volunteer to help over the weekend which could entitle you to free entry to the meeting, in either case contact Mike Pelling on mike480mg@yahoo.com
To wet your appetite, this month's photo, taken at the recent MG race weekend shows a rare Lenham Le Mann MG being readied for its race.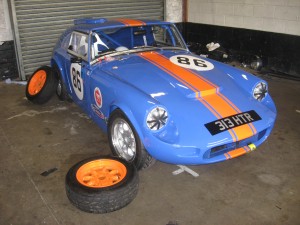 Anglia Notes May 2015
Mallory Park
We had Anglia Centre drivers in the Peter Best Insurance MG Cup at Mallory Park, but both David Strike from Leiston and Rod Oakenfull from Colchester suffered engine problems.
David had a troubled practice and had to start from the back of the grid in race one. After a valiant drive, his car let him down on lap eleven, resulting in him having to miss the second race.
Rod had better fortune in race one, finishing 3rd in class in his red BGT, only for his car to let him down in race two with falling oil pressure.
Rod found the problem to be the big end bearing in number four cylinder to be the culprit on stripping the engine. Two good drives and better luck for the next round. The photo shows David's car during testing at Mallory.
Events Planning 
Duxford Classic Vehicle Show 
The annual classic vehicle show will be held at Duxford on Sunday May 3rd.
The Anglia Centre will have a display stand on site and there will be dedicated MG parking. Terry Starkey is the man to thank for the organisation. Places may well be full for the dedicated parking by now but Terry can be contacted on terry@starkey.uk.com
Natter Open Evening 
Needham Market Natter are holding their open evening at The Lion on Friday evening May 8th. They always draw a good crowd and have some fine cars on show, contact Graham on 01379 890732 for more details.
Shadingfield Fox Natter 
Peter Skipper and his team at The East Coast Pub Meet, Shadingfield, are organising a week of visits, runs and eating venues during the week of May 23rd to 30th, for Janner Week. A holiday week for Devon & Cornwall Centre's visit to our area. To find out if there is anything you would like to join in with, contact Peter at peter.skipper@rocketmail.com
MG Live 2015  
The Anglia Centre will have a major presence with a stand in the main marquee at Silverstone. Mike Pelling, is the man to contact if you could lend a hand at some point over the weekend. You could well be entitled to for free entry to the event in return for your help.
Mike is asking for photographs and reports of events from members that can be used in the display. Contact Mike on Mike480mg@yahoo.com
Anglia Notes April 2015
Race Reports
As you receive this magazine, our first race meeting of the year will have been completed just three days ago. We have a lot of local interest with many drivers from the Anglia region competing. I will get some results and photos on the Anglia website in the next couple of days and report in these pages next month.
 Anglia Centre Clothing
We have an excellent new range of men's and ladies clothing, with more designs and a greater choice of colours all bearing the Anglia Centre logo.
You can even add other details, such as your name or car registration number.
All ordering is on-line through our suppliers secure site. http://shop.topsigns.net
Natters Support Charities
Gayton
We have had some tremendous support given to charities this month;
At the Gayton Natter annual dinner. Organised by Steve and Alison Kemp.  Members from the region came together to enjoy a meal, followed by a quiz and raffle. Generous donations of the event being presented to the Astro Brain Tumour Fund.
The evening also saw the presentation by William ball, of the Norfolk Pride of Ownership Trophy, which was presented to Keith and Kate Gosden.
Burblers and Needham Market
Some time ago, Terry Starkey, of the Burblers Natter decided that the scruffy beige leather gearknob marred the superb interior of the RV8, so he and his good friend, fellow RV8 enthusiast John Cumming set about designing a much better example. Made of burr elm with an intricate metal inlay.
Initially just two gearknobs were commissioned, made be a local craftsman. However word soon got round and now there are over 200 RV8 MGs fitted with the item.
Terry decided to raffle the 200th gearknob with proceeds going to Macmillan Cancer Support. On top of this it was decided to present John with the 208th special burr item in recognition to his work for the Anglia Centre, members making donations for John's presentation at the Needham annual dinner. The donations also going to Macmillan cancer Support.
John was overwhelmed when the presentation was made.
With the unstinting generosity of Anglia members a staggering sum of £2280.00 was raised for Macmillan Cancer Support, with the cheque being presented on the night.
John drew the raffle ticket on the night and the proud owner of the 200th gearknob was a very happy John Deed.
Photo is William Ball presenting pride of ownership to Keith & Kate Gosden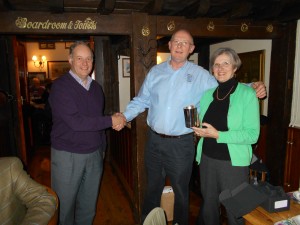 Anglia Notes March 2015
I can't believe how fast the year is going by. March sees the start of the 2015 racing championships with races for The Peter Best Insurance Cup at Mallory Park in Leicestershire on Sunday march 29th. One day earlier on Saturday the 28th, The BCV8 championship gets underway at Donington Park.
The Anglia region has drivers in both championships with the likes of James Wheeler, Simon Tinkler and James Walpole. All three drivers are past champions and will be looking to build an early start for championship points.
Rabbie Burns Run
 No less than thirty five cars took to the start of the annual Rabbie Burns Run from Needham Market on Sunday 25th January.
With lunch booked from noon, the crews embarked on a scenic leisurely route of some thirty three miles, visiting the villages of Bildeston, Chelsworth, Kersey and Boxted before arriving at Stratford St Mary for lunch at The Anchor.
Each crew had an information sheet with a history of some of the places visited, such as St James Chapel. Dating back to a time before the Reformation, it is now in the care of English Heritage.
A total of forty five pounds was donated to the club from a collection made on the day. The event always lifts the spirit in mid winter, with many members having attended each run since it's inception in 2008.
Committee Meeting
You are welcome to attend the committee meeting on March 7th  at Needham Market.  Let Dave Tynan 01795 535766 or Michael Murkin 01702 478467 know if you would like to attend. It could help you to become more involved with your club.
Photo 1)     BCV8 Championship cars assemble at Snetterton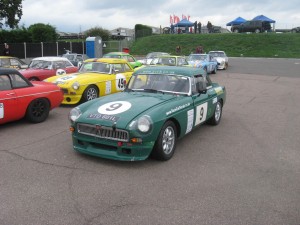 Photo 2)      Roger and Tom Martin arriving at the finish of The Rabbie Burns Run in Roger's Late Wife Fran's beloved MG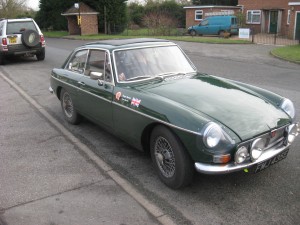 Anglia Notes February 2015
Events Planning
 P&A Wood Restoration Experts
 A visit to P&A Wood, the renowned Rolls Royce and Bentley specialists and restorers is planned for Saturday April 18th. This is always a very popular tour and places are limited. The company is situated in a picturesque rural area near the town of Dunmow. If you would like to attend, contact our own Andrew Woods on 01277 210009 as soon as possible to secure a place as the visit is bound to be over subscribed.
MG Spares Day
 The MG and Triumph Spares Day at Stoneleigh Park, near Coventry will fall this year on Sunday the 1st of March. Consult the website or main club office for more details.
The Many Skills of Anglia Members
We have two photographs this month depicting the skills of two of our Anglia Centre members. The first shows Roger Martin's 1969 Midget restoration in progress, Roger says.
"I originally planned the repair of rust bubbles on the A-posts of Dad's old British Racing Green Midget, but one thing led to another and Tim, my Son, wanted it put back to it's original Primrose Yellow, so a total rebuild resulted. Moral of the story: Try to avoid project creep"
The second photograph shows Anglia Centre member Penny Hilton. Penny is a Teacher from Great Baddow and owns a fabulous 1971 MGB in Old English White.
Penny finds that driving her beloved MG and her hobby of painting are just the things to relieve her pressures at work. I am sure we can all we can all empathise with that.
Photograph Captions
 1)  Roger Martin's Restoration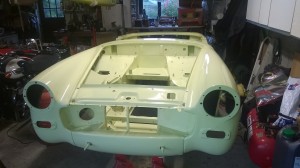 2) Penny Painting A Goodwood Revival Race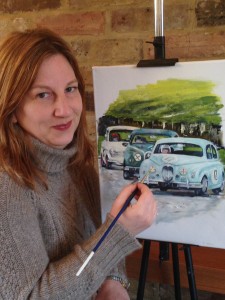 Anglia Notes January 2015
Anglia Centre Regalia
With the New Year upon us you may well be looking to replenish your wardrobe with some up to date MG clothing. As you will know our centre produces some high quality merchandise that you will find by following the links on the website.
There is also a limited amount of our end of season clothing available at greatly reduced price for immediate delivery. Contact John Cumming on 01359 259717 or   e-mail johncumming@talktalk.net
Natter News
 As reported last month, many of our Natters are really strong with a high turnout of members attending meetings. However, as with any club, despite best efforts, some Natter leaders can find it hard to attract numbers which can be very disheartening.
Since our committee meeting way back in April, it has been on the agenda looking at ways to help. One such way to publicise your Natter, apart from mentions in this section of the magazine, is to join in with The Anglia Centre Newsletter.
A trial Newsletter was sent out to members via e-mail in June, this proved to be very popular, publicising Natter events etc., so it was decided to produce three Newsletters per year. I have sent e-mails to all Natter leaders, but so far response with information of matters for inclusion has been limited. It would be much appreciated if Natter leaders who have not responded could contact me with any events or trips that their Natter is planning so we can circulate the information to members for you.
Events Planning
 I am very pleased to announce that the vacant position of Events Co-ordinator for the Anglia region has been taken up by Tony Batson. Tony who runs a splendid TF LE500 in orange is a member of the Ship Natter and was duly elected to the committee in November. Tony is sure to be a great asset to the region and we welcome him on board.
Rabbie Burns Run
 The eighth annual running of the popular Rabbie Burns Run will take place on Sunday January 25th, starting at Needham Market. Open to all MGs it is a gentle touring assembly taking in around thirty miles of some of the most picturesque spots in the local area, then ending up with lunch including the optional 'Haggis' Contact me if you are interested and would like further details and I will get you booked in.
Future Events
 Other events already confirmed for the coming year are the ever popular Anglia Picnic, this year visiting the National Trust property of Blickling Hall. The date has yet to be confirmed but is likely to be either 28th June or 5th July
The Queen Victoria classic Show and Concourse will again be held at Billericay and the date is confirmed as Sunday 12th July
Autotests
 We are also looking to continue with our Anglia Centre Autotest Championship events, with events planned for the spring and autumn along with the California Cup at MG Silverstone. I will give more detail and dates in next months notes.
So 2015 is looking like another bumper year for our region, it just remains for you to get your MG out and enjoy it.
Anglia Notes December 2014
With Christmas just around the corner, don't forget to visit the Anglia centre website and follow the link to the centre regalia section for some ideal present ideas. Polo shirts, hats, fleeces etc., all at very keen prices.
Natter News
 The Queen Victoria
 Steve French of The Queen Victoria Natter contacted me with the news that they are still looking for a member to lead this old traditional meet, if you would like to take up the reigns of what was a very popular meeting place and you feel that you could help then please contact any member of the Anglia committee and they will give you all the help and support you need to get this popular meeting place back on track.
It is always a shame to lose a meet, especially one with such a long history, unfortunately until we can find someone who would like to take on the role; the meetings on the 3rd Monday of each month have had to be cancelled.
The Shadingfield Fox
 On a much happier note, it is good to report the continued success of one of our newer Natters, The Shdingfield Fox, will be holding their first Christmas Dinner on Saturday 6th December. I would guess that places may well be full, but it could be worth giving Peter Skipper a ring, if you get your skates on as there may be the odd place left.
This vibrant Natter has organised everything from attendance at a speedboat racing weekend to a Natter concours, along with some fantastic monthly club runs this year, I am sure they will continue their success in 2015. They meet on the third Wednesday of the month at lunchtime. Give Peter a ring on 01502 731141.
The Royal Fusilier
 Another Natter on the rise, The Royal Fusilier at Angers Green, meets on the first Sunday of the month, again at lunchtime. This is a Natter that has traditionally attracted many of the racing fraternity in the region. If you want to get any advice on racing with the club, or indeed just like to have a chinwag about anything racing, then this is the Natter for you.
Natter leaders Max Collier who currently races a works replica MGB is preparing an FIA car for 2015 with the help of Jake Subbings. Dave Stubbings campaigns his Lenham GT in club events along with the Goodwood Revival Meeting.
The photo this month was taken at this laid back Natter and shows Natter Doggy Member, 'Harley' in his usual window seat surveying the race MGs in the car park.
Events Planning
There is still time to book your place on this years Norfolk Riviera Run on December 29th. See entry form in safety Fast and on our web page or contact Steve Atkinson at rivierarun@hotmail.co.uk
Anglia Notes November 2014
As autumn draws in we still have plenty of action going on within the Anglia Centre. With reports this month of success at Snetterton. Plus Pride of Ownership at longham and Geyton, along with a fantastic autumn run in Norfolk.
Snetterton
Hot off the press with great success for Anglia drivers. The BCV8 practice saw drama even before it started, with last years champion, Simon Tinkler having a steering column bearing come loose as he came into the holding area. Father Richard cycled, post haste, back to the paddock for tools so the errant bearing could be fixed, just in time. Simon still managed to secure pole in class and win his class in the race, despite all the pressure. The photo shows Richard desperately working on the car whilst Simon sits waiting.
The race was a fantastic battle for overall lead between the McCarthy brothers and James Wheeler.
James, who builds his own race cars, is a former two time BCV8 champion and race instructor. He has moved in to the 'Big Banger' class this year with a fearsome 340 BHP MGB V8.
James knows every inch of the Snetterton circuit and used his experience to good effect in the wet conditions, also taking fastest lap on the way to his victory.
Norfolk Pride of Ownership
The first event was held at The Geyton Natter, headed by Steve and Alison Kemp in Kings Lynn. With a splendid turnout of superbly presented cars the winners were as follows.
 1st        Keith and Kate Gosden                      MG PA
 2nd        The Warmington Family's                  MG TC
 3rd        Joyce Davison                                     MGA
The second event was held at The Longham Natter. A Natter headed by William Ball. With cars on display of an equally high standard and produced the following results.
 1st        Keith and Kate Gosden                      MG PA
 2nd        Dave Walker                                       MGB GT
 3rd        Joyce Davison                                     MGA
A trophy for the combined event will be presented at the Geyton Natter annual Dinner in February.
Autumn Lunch Run
Geoff Bateman organised a very interesting Autumn Run for us. With 28 cars starting at Needham Market, then ending at The Huntingfield Arms for lunch. The route of some 34 miles took in some very picturesque and quiet roads that Geoff had found when he was involved in his other hobby of cycle racing. He combined many of his old training routes, what a lovely run it was too.
Our cars were able to park on the green outside the Pub which made a very nice spectacle. Many members expressed their hope that this could be an annual event. Well done Geoff and thank you.
Anglia Notes October 2014
Snetterton
Our final race meeting of the year is this weekend, October 4/5 at Snetterton.
Dedicated members MG parking will be available as last year, situated near Murrays corner (the old Russells Bend) just before the paddock entrance, on the left.
The Anglia Centre will have a stand in the welcome centre, situated up the stairs above the Pit Garages. This is accessible from the paddock.
Please come along and say hello. Free tea and biscuits will be available. You will be able to see the presentations to the race winners here too; also you have a fantastic view over the start/finish line of the circuit.
Autotest Championship
Following many years of coordinating and successfully competing in the Anglia Centre Autotest Championship. Bruce Cox is moving to a new home in Cornwall. This will leave us with a very large void to fill, following Bruce's  stirling work for us over the years. If you think you would like to take on the organisation of this popular championship, contact Dave Tynan, our chairman and have a chat.
We would like to thank Bruce for all his hard work over the many years; he will be a hard act to follow. We wish him well in his new home.
Natters or Pub Meets
If any members in our region know of good venues and would like to start up a new Natter in the area, please have a word with a member of the committee and you will receive help and advice on how to get one started.
The meetings can be evening, lunchtime or weekend, what ever would suit members in your area. Once approved, they will be included in the centre calendar and promoted in safety Fast.
Events Planning
The 2015 Anglia Calendar will soon be going to the printers, so a reminder to Natter Leaders and indeed any members who have events planned for 2015, to get in contact with our secretary Michael Murkin with the details, as soon as possible if you would like it to be included in the calendar.
Anglia Picnic
The date for the Picnic next year has been finalised as July 5th and the venue will be the magnificent National Trust property of Blickling Hall in Norfolk
Riviera Run
Entry forms for the annual Norfolk Riviera Run on the 29th December should be in this issue of the magazine, you will also have details on the website. It is always a very popular event so make a note so you do not miss out.
Our photograph this month is of Nick Martin's MG3 in Red Rose body colour with the Piano Black and Red interior option pack. Nick and Wife Helen love the car and find that the driving position is just perfect.
The Trophy Blue ZR in the photo was purchased by Racer Brother Tim for just £300, with the intention to cannibalise the car for spares for Tim's race car. However he decided it would be sacrilege to break such a good car, so has decided to use it as the family car. What good value the ZR and ZS models are.
Anglia Notes September 2014
Anglia Centre AGM
Please note that the Annual General Meeting of the Anglia Centre will be held at the Limes Hotel, Needham Market on Saturday the 6th of September starting at 2pm.
As a member of the club you are most welcome to come along and have your say on how and what you would like in your Centre. You may even find that you would like to become more involved within the club and perhaps become involved in the organisation of the Centre.
As an incentive and a thank you for coming along, you are even entitled to a free luncheon voucher to spend at the Limes on the day.
The meeting does not usually last longer than an hour and it is an ideal opportunity for you to make a first step towards a deeper involvement with the club.
No pressure what so ever is put on you to do anything if you don't want to, but attending would at least give you an insight into the running of the club.
Donnington
Anglia Centre drivers were well to the fore at Donnington on Sunday in The MGCC Peter Best Insurance Challenge Race. This year a double header event.
Race one saw the welcome return of Ian longhurst. Driving his patriotic Union Jack liveried car. Ian drove well in race one but suffered head gasket failure so could not make race two. Jim Walpole had similar bad luck, having to withdraw his car from the grid following an engine failure.
Rob Campbell won both races in his spectacular MGC. Alan Brooke drove his fantastic red Metro to a fine second place overall in the second race, after having a clutch cable sideline him in race one. James Darby gaining a strong third overall in race two and being voted Driver of the Race. It was nice to see Rod Oakenfall from Angers Green Natter back for more and making good progress following his début at Silverstone.
Natter News
The Pub Meet Natter based at The Fox, Shadingfield, is going from strength to strength. Hosted by peter Skipper: 07455 932323 peter.skipper@rocketmail.com They  not only had a successful BBQ evening that was preceded by a run of classic MGs from the north and South of the region but are also having a display of members vehicles at the upcoming Lowestoft Power Boat Racing Evening. I will include a report next month.
Not to be outdone in the success stakes. The Gayton Natter held a very well attended Pride of Ownership evening comprising twenty MGs ranging in models from MG TC, to MGA, B, C and Midget, followed by a BBQ of their own. Contact Steve & Alison Kemp 01553 840245 or peter Thompson 01362 668101.
Anglia Autotest Championship
Sunday the 28th of September sees the next round of the popular Anglia Autotest Championship, to be held at Great Massingham. There is still time to enter, contact Bruce Cox bruce.cox@btinternet.com he is sure to give you a good welcome. The events are great fun and are open to novice and expert alike. Why not try it out for a fun day, or go along and marvel at the car control of the Autotesters.
The photo this month shows members enjoying a sunny Sunday at the Anglia Picnic organised by Roger Latham.
Anglia Notes August 2014
2014 Anglia Summer Picnic at Anglesey Abbey
A glorious English summer's day! What a bonus for our 16th picnic. We had an exclusive area on the grass on which to display our cars, enjoy our picnics and socialise together.
The turnout saw a wonderful array of close to 60 MGs ranging from an 18/80 to Z and TF models.
This was our second visit to Anglesey Abbey and what an interesting venue it is. The Abbey with its many rooms and fine furnishings to view, the extensive grounds and gardens plus the Lode Mill for added interest offered plenty to entertain.
For additional interest the visitor centre with its range of facilities and shop plus second hand bookshop by the Abbey offered even more to do and see.
But above all it was the relaxed atmosphere of the event that made the day.
Gayton  Natter Car Rally St Mary's Church East Raynham
Paul Bloomfield and Janet Voutt from the Gayton Natter organised the above car run to help raise money for the Church. Over £1,000.00 was raised on the day. So impressive was the effort that I include the letter of thanks that was sent by the Church warden below.
Dear Janet and Paul,
On behalf of all at St Mary's Church I would like to thank you both very much, for the MG Car Club, Anglia Centre, Geydon Natter's outstanding efforts, planning and implementation of the rally last Sunday.
It was noteworthy that during the 'Run' and at the Church activities all the attendees had a fantastic time. Please pass on my sincere thanks to all who came along, for their fantastic spirit and humour which made for a great event.
The Rally has raised a substantial amount towards the Church kitchen fund and we are now closing in on the fund target which will enable us to have running water in the Church.
Your support for this important event is very much appreciated and we look forward to working with the MG Car Club in the future.
Best Wishes,
John Bossion. Churchwarden.
Natter Leader and Centre Chairman Positions
After many years running The Queen Victoria Natter, Steve French would like to stand down. If you feel that you would like to take on this roll contact any member of the committee for information.
Also our own Chairman, Dave Tynan may be looking to stand down at the end of his tenure in the post. If you feel you could fill this position contact David in the first instance on chairman@mgcarclubangliacentre.org.uk.
The Anglia Centre AGM will be held at The Limes Hotel, Needham Market on Saturday 6th September this year.
MG90 Thanks  
Mike Pelling our hard working committee member responsible for the running of the Anglia Centre stand at MG90 sent this message.
A very big thank you to all who supplied material for our stand, assisted to man it, marshalled, visited, took part in events or helped in any way over the weekend to help make MG90 a huge success both for our centre and the MG Car Club.
Many favourable comments were received on the layout and content of the stand, especially this year the addition of being able to purchase regalia, something that we will be continuing at other events during the year.
Once again, many thanks for all your help, however small.