Communications – A Timeline
1969
THE earliest known Twin Cam Group article published in Safety Fast! dates from May 1969.
Two Twin-CaMGazettes were then published.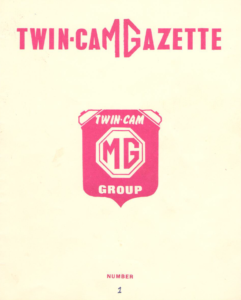 It is clear from the content of this Gazette that the Twin Cam Group, like most, was (and remains, to this day) reliant on members fulfilling various roles and duties to help other members
For some period thereafter, The Twin Cam Group had write-ups in Safety Fast!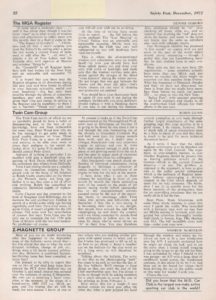 1982
However, interestingly, the theme of asking members for contributions in Safety Fast! articles seems to be a long standing one as shown in the first Twin Cam Group 'Supplement' of February 1982's Safety Fast!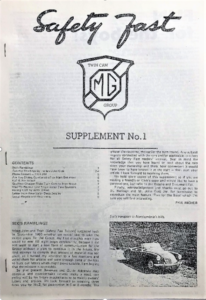 2013
Years later, technology evolution and email popularity offered the ability to send information freely and easily to receptive individuals. "e-newsletters" were commenced in September 2013, with Issue 1, and circulated to a worldwide contact list. These were then published frequently, until October 2017, with the last e-newsletter being edition No. 13.
2014
In April 2014, the Twin Cam Group started a twice-yearly, four-page, newsletter in the monthly MG Car Club magazine Safety Fast!. These newsletters try to cover light technical topics relative to the Twin Cam owner, who, historically, is most likely to 'tinker about' with their car more than other marque owners may be seen to do. We occasionally have the odd 'Feature' article in addition. A new contact e-mail has been created for members to send material for consideration for inclusion in the newsletters; mgatcgscribe@gmail.com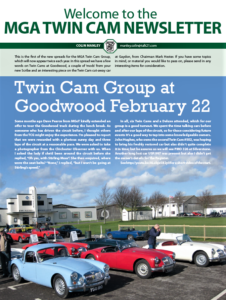 2018
February 2018 saw the e-newsletter rebranded as the Twin-CaMGazette; starting as the 14th edition (to follow on from the last e-newsletter) and deliberately copying the format heading of the original Twin-CaMGazette. For just this first issue, the transitional use of e-newsletter was applied in the header but was not repeated on subsequent issues.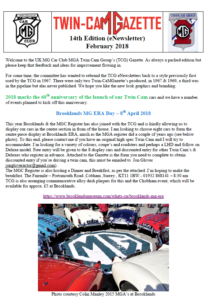 Frequency and Circulation
The Twin–CaMGazette is now published in February, June and October of each year and is circulated to almost 250 readers worldwide.
Contact mgatcg@outlook.com to go on the e-mail distribution list and, If you have an item that you think other Twin Cam owners would like to see, in the Safety Fast! newsletter or the Twin–CaMGazette, please contact mgatcgscribe@gmail.com