MGA Twin Cam Group News
"60 years young" section added.
This section gives a 'looking back' view and reflects on the reasoning of the Twin Cam.
New "Communications" Section added
A Timeline of the various media the Twin Cam Group has used to communicate with the membership over the years has been added.
New sections added to the web site
Sections describing the Background to the Twin Cam Group and the Development of the Engine have been added.
Twin Cam Group – News
Twin Cam Group news is distributed predominantly via our 4 page spreads in Safety Fast twice a year.
We also offer a frequent eNewsletter called "Twin-CaMGazette", usually issued in February, June and October. This is part of a media plan with other MGA communications to give MGA's exposure every month of the year.
If you are a member and not on the email distribution list please contact the chairman on mgatcg@outlook.com
MG Era, Brooklands – 14th April 2019
A new parking arrangement this year, we were parked up in a 'model' by 'model' "Timeline". It seemed to make it more interesting for the public to see a small gathering of approx. 8 parallel parked cars per model in the timeline, whilst more cars were parked around the entire museum grounds in a mixed formation. Just visible at the foot of the greenery, you may be able to make out the entrances to the concrete bomb shelters.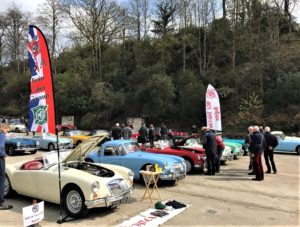 Stockfest – Sunday 19th August 2018
"Three of a kind" parked up after the Rare Breeds Tour.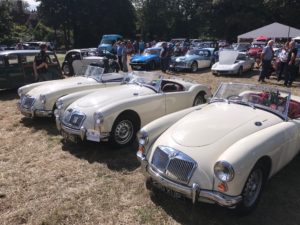 Chobham 1958 Press Launch 60th Anniversary – Saturday 14th July 2018
We held our main 60th Anniversary event on 14th July 2018, to the exact day, sixty years earlier, of the original Press Launch of the Twin Cam at the Chobham Test Track. We held the event at the original venue and even had the man that organised the original event in 1958, Geoffrey Iley, to give us a flavour of that day sixty years ago.
With over 100 attendees and 53 Twin Cams this was the biggest ever gathering of our cars in the world.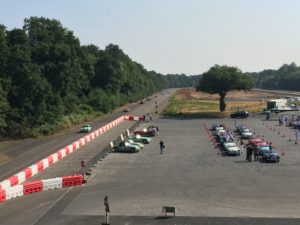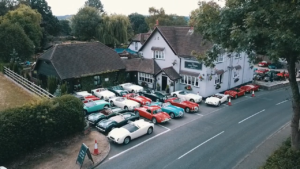 We finished the day with a lunch at The Half Moon Free House in Windlesham, where the car park looked more like the 1950's despatch area of the MG factory in Abingdon.
Brooklands MG ERA Day – Sunday 8th April 2018
Brooklands were kind enough to allow us the central display area to kick of our 60th Anniversary events. A great day was had by all, despite the very wet weather.
We even had the chance to drive around the Mercedes Benz World track in the pouring rain, while saxophonist Bob Webb played "On Days Like These"!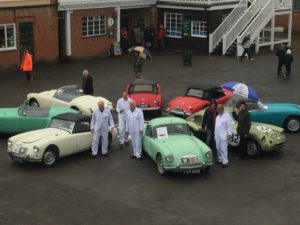 Twin Cam Group 50th Anniversary – May 2016
Here's a great photo of the Twin Cam Group celebrating the Group's 50th anniversary in May 2016, at The Half Moon Freehouse, in Windlesham.
A venue we used again for 2018's post Chobham 60th event lunch and AGM.