December 2020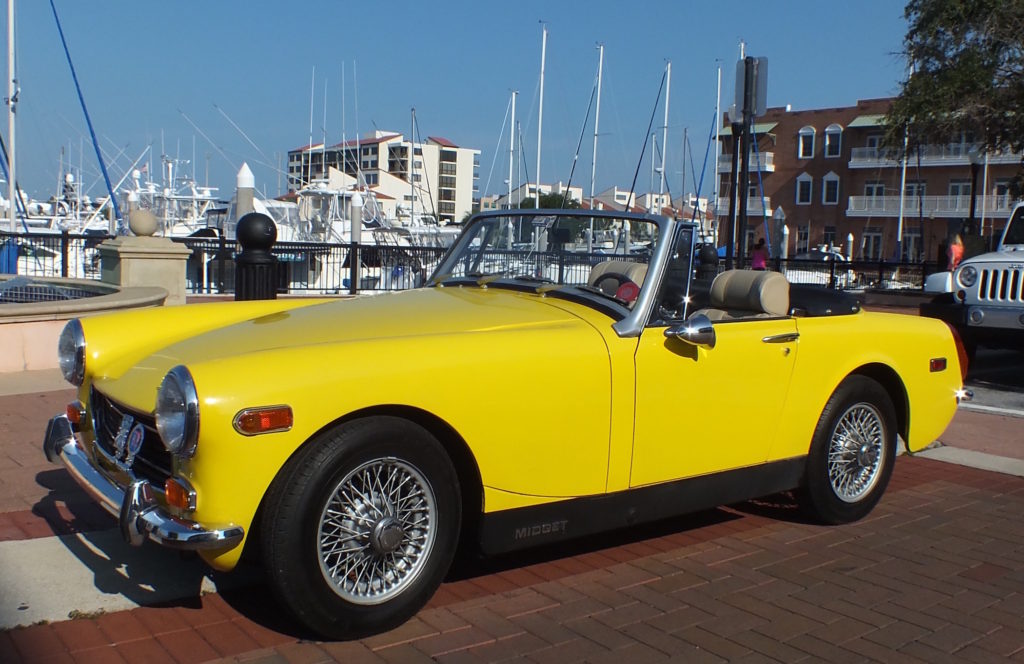 Owners name: David G Powers
Owners location: Pensacola, Florida, USA
Model: Mk3 Midget GAN5 
Engine size/type: 1275cc A-Series
Year of manufacture: 1970
Colour: Yellow
How long owned: 15 Years
History of Car and any work or modifications carried out: Lest the purists howl!  Oh dear, that could not be a 1970 MG Midget. And, it is not, although the registration paperwork says so. 
So, the story goes … I bought this car a decade and half ago on an online auction website, and although I saw photos of the car on the site I did not go back and check the provenance of the numbers. I have never been overly concerned with RWAs versus SWA body styles. (I also have a 1968 Sprite.) What I saw was a great looking, reasonably well cared for Midget, all at a decent price. I wanted a driver, nothing perfect, and certainly not an over pampered garage queen that required an in depth weather brief from the Met Office before driving. Well, that's what I got. Later, I did finally determine there was something amiss with the year. 
The previous owner had told me that many owners ago the car was subject to a complete bare body restoration. He did not, however, have any further details of the work. Included with the car, when I bought it, was a pile of old photos, none of which, unfortunately, had anything noted on the back. Delving into the photos, which apparently chronicled the restoration, I came to the conclusion that this car was an amalgamation of two Midgets, with the intact and solid RWA body shell being used as the basis. Perhaps that was when the identity was swapped. Perhaps the restorer didn't know or didn't care about the year being proper for an RWA Midget. Another idea is that it was just a simple mistake in the registration paperwork long ago in the past. (I have an old Alfa Romeo that my local Department of Motor Vehicles insists, based on the serial number, is a Maserati, so mistakes do happen.) 
I was a bit disconcerted at first, not knowing the true identity of my Midget, but that feeling quick passed. What I have is a fine example of an early 1970-ish MG Midget that is a joy to tinker with and tend to. It was a bit tired and starting to show some age when I bought it, but I soon brought it along. For years now I have driven it on a regular basis, and it has never left me stranded. I have written of the mystery surrounding this Midget a few times, which has been published in a various magazines, including gracing the cover of MG Enthusiast. Again, the purists may howl with derision. But I say let's not take everything too seriously and relax – it's an MG Midget and it is supposed to be fun. And it is. Cheers!
Nickname of Car: The Midget