MG 6.3.5 Register News
635 Register Christmas meal 2nd December 7pm The Guild, Bromsgrove
This year's Christmas meal will be at the usual haunt of the Guild, Bromsgrove at 7pm on Saturday 2nd December.
If you wish to attend, please choose from the Festive menu here: https://www.brewersfayre.co.uk/pub-restaurant-menus/Worcestershire/Guild-Loews-Hill/festive_menu.html
and contact steve-haines@live.co.uk
There is a large premier in right next door with reasonable rates, so not far to walk after the meal!
635 Register AGM 2nd December 2017
The Register AGM will be at 3pm on Saturday 2nd December at the MG Motor Conference centre in Longbridge.
All very welcome, but please bring your MGCC membership card if you wish to vote.
We will be having our usual fantastic raffle for this year's charity, MIND UK.
We are currently looking for a treasurer and Technical rep. for next year's committee. If you are interested in helping out, please contact steve-haines@live.co.uk
Register Christmas party was lively!
The Register followed the AGM with the annual Christmas party at the Guild in Bromsgrove. It was a very lively event indeed! A great turn out enjoyed all the trimmings plus some party props and a few Christmas beverages….
It looks like everyone had a great time, especially when we got another 30% off the bill!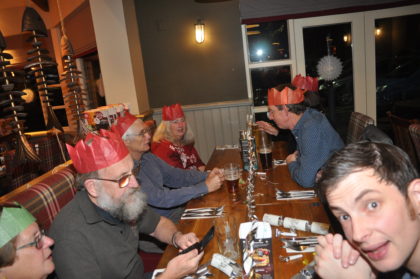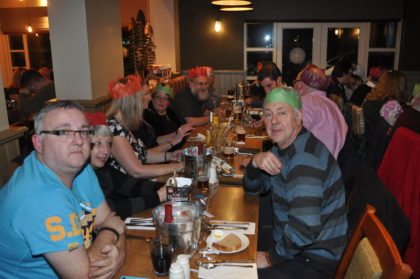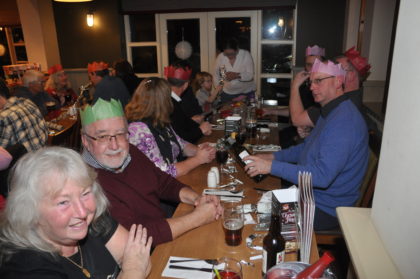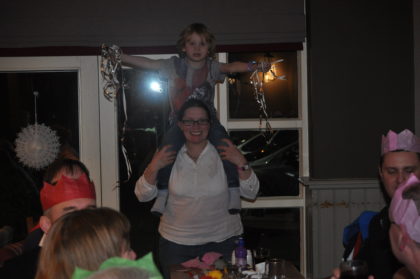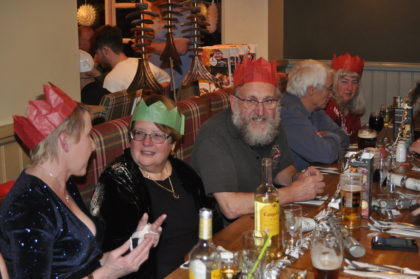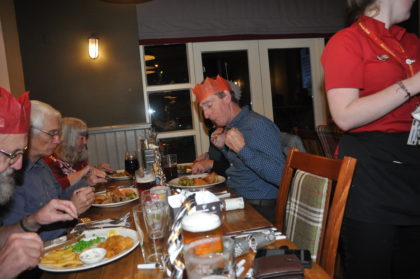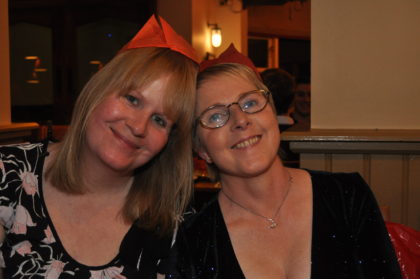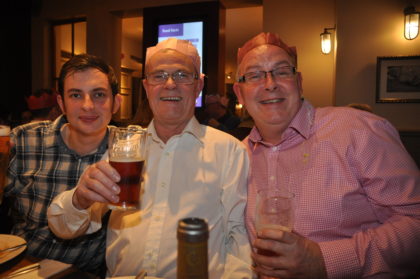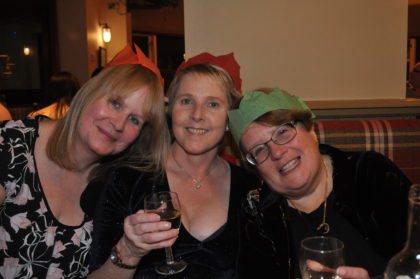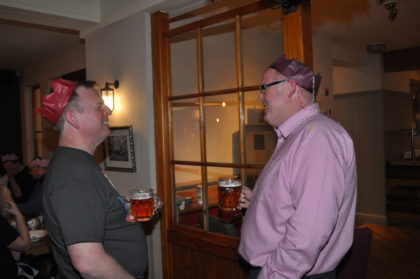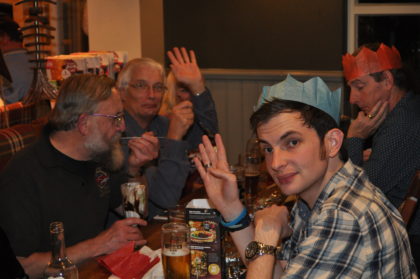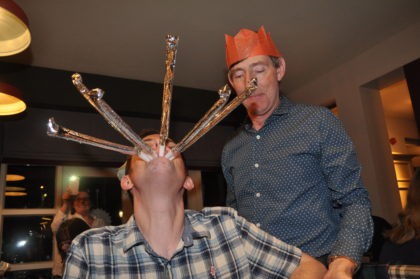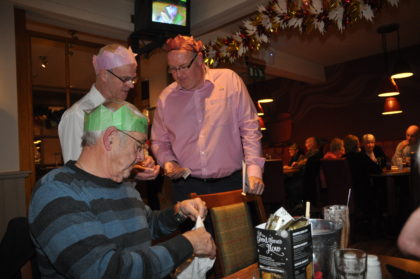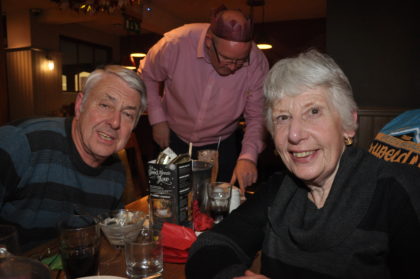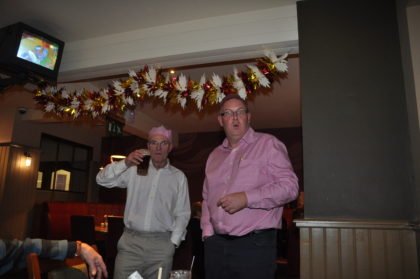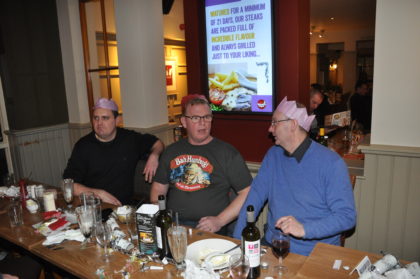 635 AGM 3rd December 2016
The register had its AGM on Saturday 3rd December at MG Motor's Sales Centre, Longbridge.
There was a great turn out of MGCC members and guests including some new MG GS owners too.
Steve Haines and Sean Round gave a summary of the year for the Register, some bullet points:
MG6 and MG3 numbers in the UK up to 8,300
Driver Power survey results good for the MG6 and MG3. Thanks to owners from MG Motor
Several successful events in 2016 supported by MG / 888 and MGCC
Worldwide social media has increased, 1470 Facebook members, 200 Twitter followers
Formal Register now on line
Club merchandise stocks and sales are up
A club gazebo has been purchased using the MGCC Douglas Mickel fund
The 2016 Charity – Croghns and Colitis UK has been well supported. £220 plus and additional £130 raised on the day from the raffle.
Barry Faiers gave the Treasurer's report showing increased turn over and funds and assets.
Mark Cropper presided over the election of the 2017 Committee. Nominations and voting returned the 2017 Committee as follows:
Steve Haines – Chairman
Barry Faiers – Treasurer
Sean Round – Events and BTCC
Steve Taylor – Technical
Sheila Ballard – Registrar / Archivist
Andy Littler – Secretary
The Register thanked Mark for his hard work over the last few years.
Sean Round went through some provisional dates for 2017 events, which will be published in the New Year.
The 2017 Chairman's Charity will be Mind UK. a target will be to raise £635.
Tim Wright form SMTC Test and validation gave a very interesting talk on where SAIC Motor are in Product development. The future look extremely bright for MG models and the Design Centre at Longbridge.
Some very high quality raffle prizes were donated by MG Motor and the Sales Centre, SMTC, John Woods Motorcare, Roger Briscoe. As mentioned, £135 was raised for Crohns and Colitis UK.
Huge thanks to the MG Sales Centre for supporting the Register and allowing the use of their facilities.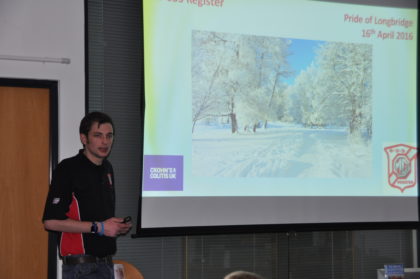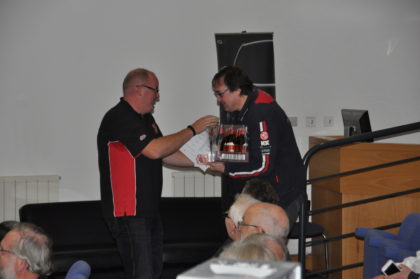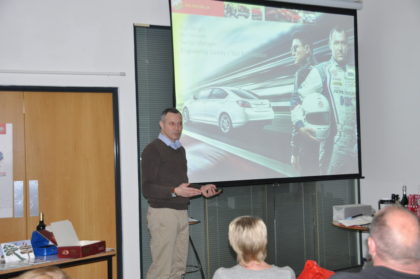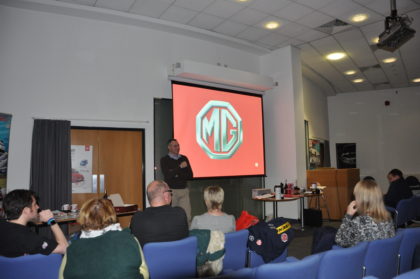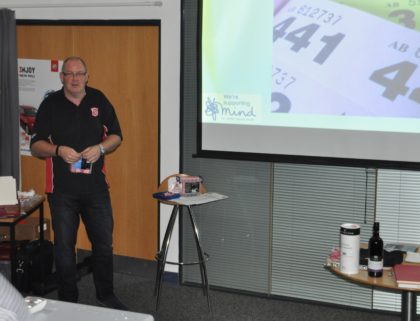 MG6 and 3 owners assist MG Motor at Thruxton BTCC
Once again, MG Motor asked owners local to Thruxton to support their sales staff by providing their own vehicles for the stand at the BTCC on the 7th and 8th May.
Trevor and Di Walbridge supplied their passion red MK2 MG6 TL, Sean Round his modified orange marmalade MG3 Style and Stu and Bev Forbes Hello yellow 3 Style lux were on hand to talk to interested members of the public about their cars and their ownership experiences.
It was a bumper crowd over the weekend at Thruxton, mostly due to the fantastic weather, with some really exciting racing. The MG6 GTs of Ash Sutton and Josh Cook qualified well on the Saturday and once the bad luck of race 1 was out of the way, performed very well in races 2 and 3 showing good pace on what is historically not one of the favorite track of MG/888.
MG3 and 6 do well in 2016 Driver Power Survey

MG Motor UK has once again proven its place on the road after motorists ranked both the MG3 and MG6 within the top five in their respective vehicle segments in this year's Auto Express Driver Power customer satisfaction survey.
Drivers' voting placed the super-fun MG3 fifth in the supermini segment, demonstrating that this fantastic car is deservedly up there with others in its class. The MG6 swept up a bronze award in the family car segment for a second year in a row. Retaining its reputation for road handling, the medium-sized fastback also moved up two places from last year to finish second amongst all models in the road handling judging category.
In both 2014 and 2015, the MG3, MG6 and MG as a whole scooped awards for best handling, third best manufacturer, tenth best car to own and this year has confirmed that British motorists are still just as impressed with the models.
Matthew Cheyne, Head of Sales and Marketing for MG, said: "We are thrilled to see that once again our customers have praised MG in the Driver Power survey.
"The backing from our customers is greatly appreciated and when they place us so highly in a prestigious survey like this, it shows that the brand is continuing to go from strength to strength. In June we will be launching MG's first SUV, so we are very much hoping to break into other categories with this new model."
The Driver Power survey, from the UK's biggest selling weekly automotive magazine Auto Express, asks the public a number of questions about their car. This year, nearly 50,000 people responded, providing feedback on reliability through to practicality.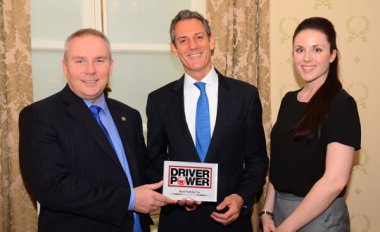 635 Register at John Woods Motorcare Open day
On Sunday 20th April, the 635 Register attended the John Woods Motorcare open day in Mollington, Cheshire. We were given a prime spot to park up and use the opportunity to show off our cars. The event was well attended by various clubs from accross the country and also featured guest star, Fuzz Townshend from Car SOS. A great day was had by all those who attended and we'd like to extend our thanks to John Woods and Mark Burnham of JWMC for their invite! See you again next year!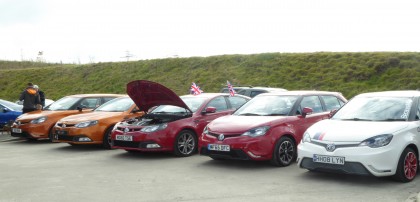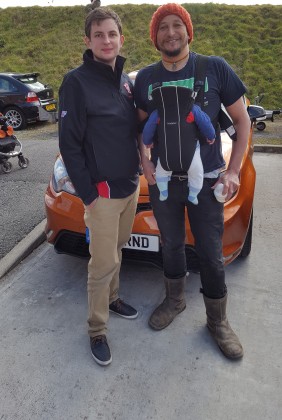 Sean Round BTCC and Events Coordinator with Fuzz and Johnny Townsend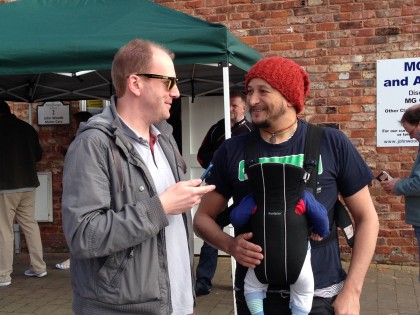 Si Price with Fuzz & Johnny
Brands Indy BTCC goes well for MG/888
It was a pretty solid start for Ash Sutton and Josh Cook at the first weekend meeting of the 2016 BTCC. Qualifying saw Ash at 5th on the grid for race one and making his BTCC debut, drove like a seasoned pro in the first race of the day to earn fourth and was followed superbly by Cook who battled his was to finish fifth. A great day for Ash earnt him the Jack Sears trophy for best rookie performance of the weekend.
Josh Cook had a solid weekend too, with an unfortunate off in race 2 due to some fluids on the track.There were more incidents for both drivers to contend with in the second two races, but a healthy collection of points from the opening rounds gives reason for optimism for the rest of the season.
Next races are at Donington on the weekend of the 16th and 17th of April…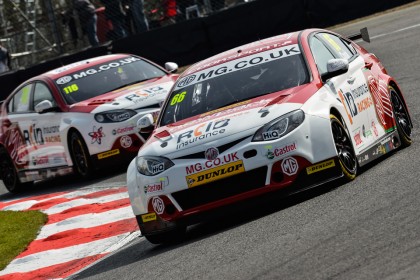 Photo courtesy of AM Soul images www.amsoul-images.com
2016 BTCC MG6 GT breaks cover
The new livery for this year's 2016 BTCC entry from MG/888 MG6 GT was unveiled this morning at the BTCC media day at Donington.
Drivers Ash Sutton and Josh Cook looked pleased to be underway for the first testing of the season. Its nice to see a one team livery and very smart it is too. Good luck!!!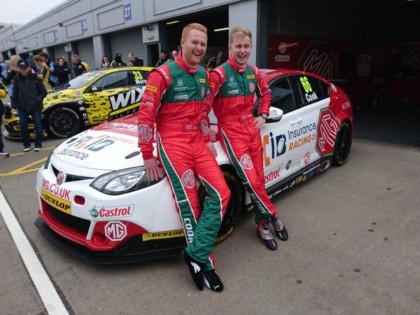 Triple Eight Announce 2016 Driver Line Up
Triple Eight Racing are delighted to announce the signing of Josh Cook and Ashley Sutton to compete in the Dunlop MSA British Touring Car Championship 2016 in a works supported MG6.
MG Motor UK Ltd recently confirmed a new three-year contract extension with Triple Eight Racing in the Dunlop MSA British Touring Car Championship and shared their plans for a young and up-and-coming driver line up with an intention to grow a champion over the duration of the contract.
Matthew Cheyne, Head of Sales and Marketing for MG, commented: "MG Motor UK Ltd is proud to continue its association with Triple 888 Racing and BTCC touring cars for another three years.
"We are delighted that the team has once again been able to secure two young, ambitious, up-and-coming talented drivers for the 2016 season.
"We are proud to support the team as they develop fresh home grown talent and look forward to a successful season and many more to come."
Josh Cook, former 2014 Renault UK Clio Cup Vice-Champion, made his debut in the BTCC in 2015 with Power Maxed Racing and Racing for Heroes.  Josh quickly established himself as a star of the future. The rookie caught the attention of many within the Rockingham paddock after he achieved a pole position, podium position and fastest lap. Josh also clinched the victory in the Jack Sears Trophy.
Josh commented: "I'm over the moon to be working with a team and manufacturer that has such heritage.
"The introduction of the new RML components this season is bound to mix it up, and I'm coming straight off the back of a strong first season in the BTCC. I want to keep that momentum going and be competing for the top step from the first round. I have no doubt that the knowledge and experience at Triple Eight Racing will enable me to do that. This is an important step in my career, and I'm looking ahead to this season at being a Championship contender with MG and Triple Eight. 
"I have worked extremely hard since the end of last season to get back to the grid – it was the only place I wanted to be. So I now have an important job to do to give back to the sponsors who have got me here. I'm 100% focused and will be prepared in every aspect, starting with my mental approach and fitness."
Following in Josh's footsteps graduating into the BTCC is current 2015 Renault UK Clio Cup Champion Ashley Sutton.  Ashley first appeared on the BTCC support package in 2014, having raced for part of the season in the Formula Ford series. When he was announced for 2015 in the Renault UK Clio Cup, under the Team BMR Restart Pyro banner, it came with a great deal of optimism.
2015 was an outstanding year for Ashley racing in the Renault UK Clio Cup for Team BMR & Pyro Motorsport.  In what was his maiden year in the series, Ashley was challenging the "old guard" as he and Ant Whorton-Eales ran side-by-side for race wins with the duo finding themselves out in the front in the early part of the season.  Ashley took the title in a dramatic final round as well as securing his place as top rookie in the series and being presented with the Graduate Cup.
Ashley commented: "I am overwhelmed to have been given this opportunity as a manufacturer driver for MG with Triple Eight Racing in my first year of the BTCC. When we first joined the TOCA package back in 2014 I would have bitten someone's hand off if they said I would be racing in the British Touring Cars in just two years' time. It has been a dream to compete in the BTCC for a full season from a very young age. Over the past two years I have had some amazing support from my two main sponsors, Global Force Group and Select Fire as well as my manager Warren Scott. I can happily say I wouldn't be where I am today without all of their efforts as well as mine. I will continue working with Warren behind the scenes as we have a great relationship.
"I can't wait to get behind the wheel of my MG6, the car has proven what it is capable of over the years. I have every faith in Triple Eight to deliver a race winning car as they have done over the years, so I will be putting in all my efforts to bring home some good results. This is going to be a big learning curve for me and with not much testing planned I have my work cut out for the year, but I feel I couldn't be more ready for this challenge and I will grab it with both hands and give it my all. I can't wait to get started and to get stuck in with the team, roll on round one!"
Triple Eight Managing Director, Ian Harrison commented "Naturally we are really happy to announce Josh and Ashley to MG Racing for 2016. Both of them are young chargers eager to build up their knowledge in this category. We know what they can do and hope to help them build their performance in touring cars throughout the season with pace and consistency."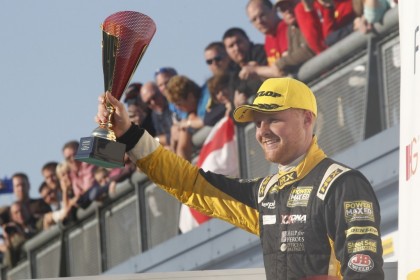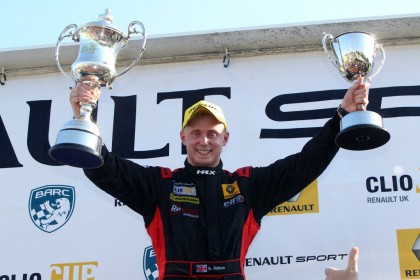 Photos Jakob Ebrey