Brands Indy BTCC goes well for MG/888
It was a pretty solid start for Ash Sutton and Josh Cook at the first weekend meeting of the 2016 BTCC. Qualifying saw Ash at 5th on the grid for race one and making his BTCC debut, drove like a seasoned pro in the first race of the day to earn fourth and was followed superbly by Cook who battled his was to finish fifth. A great day for Ash earnt him the Jack Sears trophy for best rookie performance of the weekend.
Josh Cook had a solid weekend too, with an unfortunate off in race 2 due to some fluids on the track.There were more incidents for both drivers to contend with in the second two races, but a healthy collection of points from the opening rounds gives reason for optimism for the rest of the season.
Next races are at Donington on the weekend of the 16th and 17th of April…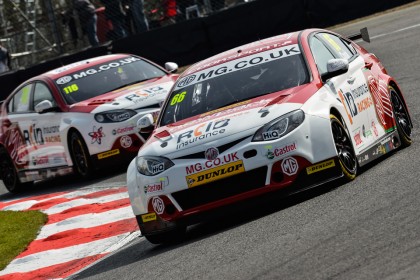 Photo courtesy of AM Soul images www.amsoul-images.com