Archived Race Reports 2018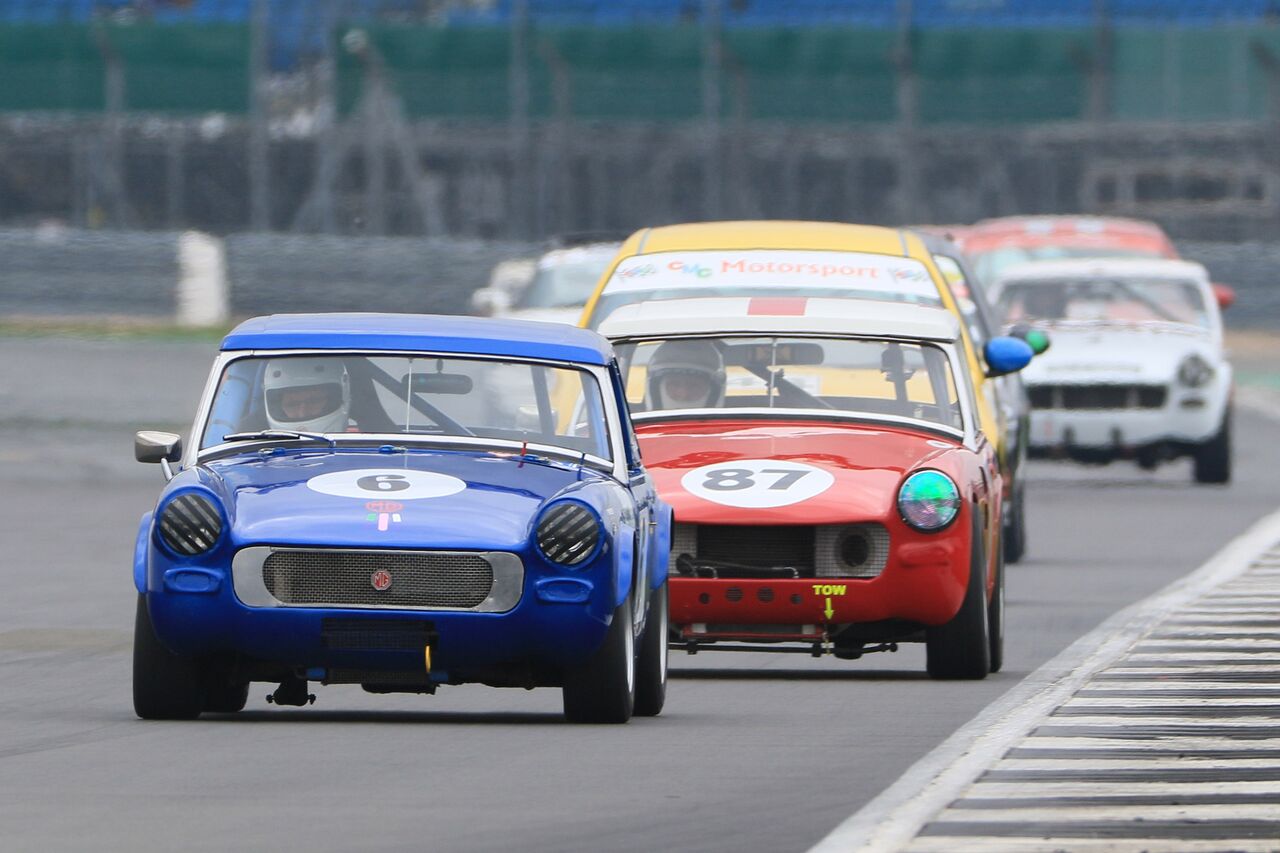 Oulton Park September 29th
The final round of the 2018 Championship was run on the Oulton Park International Circuit on September 29th. Eighteen drivers arrived to take part in the qualifying session at twelve o'clock. Gary Wetton and Ray Collier driving their powerful MG ZR 190s set the pace with Gary pipping Ray by 0.233 seconds for pole. Next quickest was Colin Robertson guesting in the race in his brand new MG3 with Peter Bramble's MGB fourth. Mark Bellamy was next heading Class B from James Johnson, Mike Peters and Colin Stubbs. Christopher Greenbank and Ian Wright were fastest in Class F and Class A.
When the red light went out, Gary got a great start to take the lead which he held for the full twenty minutes of the race. Ray stayed close at first, but dropped back with an over heating engine finishing second. Pete Bramble got the jump on Colin's MG3 but Colin re-passed and so finished third on the road. Next finisher was Mike Peter's Midget winning Class B. Mark Bellamy was catching Mike in his ZR 170 but engine problems saw him drop back. Colin Stubbs came through to second in class from James Johnson. Chris Greenbank crossed the line just ahead of Brian Butler to win Class F with Ian Wright taking Class A victory.
After the race Gary Wetton, Mike Peters, Ian Wright and Christopher Greenbank were presented with the Malimson, Genesis, Entune and MGF Trophies.
Oulton Park September 1st
Round eight of the Championship was run in perfect conditions on the wonderful Oulton Park International Circuit. Twenty drivers took to the circuit for morning qualifying. Ray Collier set the pace as he has done all season long, clinching pole position in his MG ZR 190. Ash Woodward was second fastest in his MG ZS with Pete Bramble's MGB and Keith Egar's K series engined Midget making up row two. Phil Standish was readying himself for a charge up the grid when his session was ended by a minor mechanical problem. Mark Bellamy's ZR 170 was quickest in Class B from Mike Peters in his Midget fitted with a new engine after Anglesey. Class poles went to Brian Butler in Class F and Ian Wright in Class A.
When the red light went out, Phil Standish got the best start to lead into Old Hall Corner. Keith Egar's Midget barely moved and he was swallowed by the pack of cars. Ray soon passed Phil to take the lead which he held for the rest of the race to take another win. Just behind, second place was contested through out the full twenty minutes by Phil and Pete. The yellow MGB was seemingly glued to the back bumper of the orange TF LE500, but despite trying everything Pete had to settle for third, just half a second behind at the flag. Front row driver Ash Woodward was an early spinner so he and Keith were both on recovery drives. Mike Peters drove a strong race to finish fourth and win Class B with Simon Lowery' MG ZS next up. Mark Bellamy finished second in Class B. Third in Class B was resolved with Colin Stubbs taking the place under huge pressure from Julia Penfold both driving MG ZR 170s. Keith Egar made it back to sixth in the race passing David Coulthard's MGF Cup Car near the end. Ian Wright was victorious in Class A with Brian Butler winning Class F, both these two drivers breaking their class lap records. Ninteen of the twenty drivers made it to the flag with Phil Yate's MG Midget being the only retirement. At the prize giving, Ray Collier, Mike Peters, Ian Wright and Brian Butler were awarded the Vicky Peters Trophies.
Anglesey August 11th and 12th
Rounds six and seven were held at the Anglesey Circuit on August 11th and 12th. Ninteen drivers set up in the paddock ready for qualifying. It was great to see the defending champion Brian Butler back with a newly built car to replace the MGF badly damaged at MG Live. Qualifying took place in dry conditions with Ray Collier and Gary Wetton trading times in their MG ZR190s with Gary securing pole by 0.119 seconds. Keith Egar's Midget and Pete Bramble's MGB claimed row two with Ian Whitt in his Midget and class leader Mark Bellamy on row three heading the Class B runners. Brian Butler's MGF had some electrical gremlins so he was in last place.
Despite a pessimistic weather forecast, the track was dry for round six. As expected the race lead was contested by Ray and Gary. Gary held the lead for most of the race, setting a new lap record, but just lost out to Ray, the margin of victory being just 0.53 seconds after twenty minutes racing. There was an equally close dice for third and fourth with Pete Bramble passing Keith Egar late in the race for third. The Class B runners put on a great race. Ian Whitt was ahead from the start, but was passed by Mike Peters in his Midget with both then having to give best to Mark Bellamy driving his MG ZR170. Karl Green was fourth in class in his MG ZS from Colin Stubbs driving his MG ZR170. Brian Butler had solved his car problem winning Class F from Christopher Greenbank. Ian Wright won Class A. It looked as if all nineteen drivers would finish, but on the final lap, Steve Norton suffered complete brake failure in his MG ZS hitting the barrier at Rocket. Steve emerged bruised but otherwise unhurt. Gary Wetton, Ian Wright and Brian Butler all set new lap records.
Sunday morning dawned dry, but rain was on the way with round seven being run on a damp and greasy track. Once again it was Ray versus Gary, but in the difficult conditions Gary won the race by 3.722 seconds. Next up were the Class B runners with Mark Bellamy third in the race taking maximum class points. Karl Green repeated his wet weather form from 2017 and finished fourth and second in class. Julia Penfold stormed through the field after suffering mechanical problems with her MG ZR170 on Saturday to take third in class. David Coulthard had to start from the pit lane in the MGF Cup Car but overtook most of the field to finish sixth and third in Class C.  Next up and fourth in Class B was Maddy Maguire who started last. Brian Butler and Ian Wright were again class winners.
Donington Park July 14th and 15th
Rounds four and five of the 2018 Cockshoot Cup Championship were held at Donington Park as part of the MGCC British Sports Car Weekend. The weather was hot all weekend with the sun beating down onto the track. Twenty-one drivers took to the track for qualifying with Aaron Jackson making his return with a rebuilt MG Midget. Pole position was claimed by Ray Collier's ZR190 just 0.019 seconds ahead of Phil Standish in the MGTF LE 500. Row two was occupied by Keith Egar's K Series engined MG Midget and Pete Bramble's MGB. Next up were the quickest Class B runners, the MG Midgets of Mike Peters and Ian Whitt. Ian Wright was quickest Class A driver and Chris Greenbank quickest Class F contender. Ash Woodward lost a wheel and set off home for replacement parts.
The first race was dominated by Ray Collier after Phil Standish's car headed into the gravel with coolant on the tyres. Second place was held for most of the race by Peter Bramble with Simon Lowery driving through the field to take third in the race and Class C. Ash Woodward was running well until his engine expired in the biggest possible way. Also retiring with mechanical problems was Mike Peters. This meant that Ian Whitt clinched the Class B win with Mark Bellamy and Julia Penfold filling the class podium in their MG ZR 170s. Ian Wright and Chris Greenback were the victors in Class A and Class F.
Race two was held on Sunday morning. Ash Woodward and Aaron Jackson were missing from the grid so nineteen cars lined up on the grid. For twenty minutes Ray and Phil raced amazingly closely, never more than a few tenths apart. Then on the final lap, Phil had a spin at the chicane resulting in Ray taking his fifth win of the year. Phil recovered to take second with Keith Egar finishing third in his MG Midget. This time, Simon Lowery was fourth and Pete Bramble fifth. In Class B, Ian Whitt's Midget was an early retirement. Mike Peters with a rebuilt engine stormed to a class win with Mark Bellamy second and Colin Stubb's MG ZR170 third. Ian and Chris both won their classes again.
 Silverstone Grand Prix June 2nd and 3rd
It was back to Silverstone for rounds two and three of the Cockshoot Cup 2018. The drivers would qualify with the BCV8 cars and then race at the same time, but with a "split grid". Twenty cars left the collecting area for qualifying in bright sunny weather. Ray Collier driving his MG ZR 190 was quickest with Mark Bellamy alongside on the front row in his MG ZR170. Next up on row two were Keith Egar's rapid K series engine MG Midget and Simon Lowery in the quickest of the MG ZS saloons. Ash Woodward's similar car headed the third row with Mike Peter's Midget alongside. Both Ian Wright and Ian Whitt suffered mechanical problems with their MG Midgets and would be unable to start the race.
The first of the two races was dominated by Ray Collier. Keith Egar made the best start in the Midget, but was soon passed by Ray and Simon Lowery. Simon began to close in on Ray towards the end of the race, but had to settle for second in the race and Class C. Third in the race and first in Class B was a jubilant Mike Peters who held off Mark Bellamy. Next up was Keith Egar taking third in Class C just ahead of Brian Butler in his MGF winning Class F. Juila Penfold clinched third in Class B and seventh overall in the race. Brian Butler shaved a few tenths off his own lap record.
Conditions were still perfect for the second race on Sunday. Once again, Keith Egar made the best start, but as in the previous race, Ray and Simon soon passed him. Simon was able to stay much closer to Ray in this race and was about to make a challenge when the safety car was deployed because Brian Butler's MGF had made heavy contact with the formula one pit wall. There was then a single lap dash to the flag with Ray nursing his overheating car to a victory by three seconds from Simon. This time Keith Egar finished third, these three being the Class C podium. Several drivers retired early in the race with mechanical problems, one of these being Mike Peters. So Mark Bellamy won Class B from Julia Penfold and Colin Stubbs, a clean sweep for the MG ZR 170s. Ian Wright won Class A with a new engine fitted and Margaret Farquhar took Class F honours.
The Tim Forwood Trophies for best aggregate performances were won by Ray Collier (Class C), Mark Bellamy (Class B) and Ian Wright (Class A).
Silverstone National April 7th
Twenty drivers signed on for the first round of the Cockshoot Cup. The new image for 2018 was displayed on the cars. Ray Collier in his MG ZR 190 clinched pole position in the qualifying session held on a dry circuit. Phil Standish occupied the other front row spot in his MGF LE500 with Ashley Woodward's MG ZS and Pete Bramble's MGB on row two, all these drivers being from Class C. Next up was the fastest Class B car, the MG ZR 170 of Mark Bellamy with the MG Midgets of Ian Whitt and Mike Peters following. Brian Butler was the quickest Class F runner in his MG F with Ian Wright's Midget being the only Class A car present.
Ian was unable to start the race with engine problems so nineteen cars lined up in gloomy, but dry, conditions. Phil Standish got a great start in the MGF LE500 but was soon passed by Ray Collier who then had a half spin coming onto the Wellington Straight. He held the car brilliantly and then was not troubled in a clean run to the flag and the winner's trophy. There then ensued a great scrap for the other podium positions. For a while this involved Phil Standish, Ashley Woodward and Pete Bramble. Sadly, Ashley grabbed the wrong gear and buzzed his engine leading to retirement. Pete Bramble drove the yellow MGB with great verve but just couldn't pass Phil with these two finishing second and third in the race and Class C. Fourth in the race and the Class was Michael Ashcroft driving his MG ZR 190. Just behind the Class C drivers, the leading Class B runners also had an exciting dice. Mike Peter's in his MG Midget held off Ian Whitt and Mark Bellamy with the three drivers running nose to tail for the whole race. Mark got by Ian at one point, but Ian fought back to keep second place. Defending Champion Brian Butler beat Christopher Greenbank in Class F.
New lap records were set by the race winner Ray Collier and Brian Butler in Class F.