MGA to the Arctic
Similar to last week's feature, we travel back to the sixties, but instead of an MGB in the Andes, we have the slightly colder story of an MGA in the Arctic – quite fitting for the current weather here in the UK. It was written by David Williams, and featured in Safety Fast! from June 1968.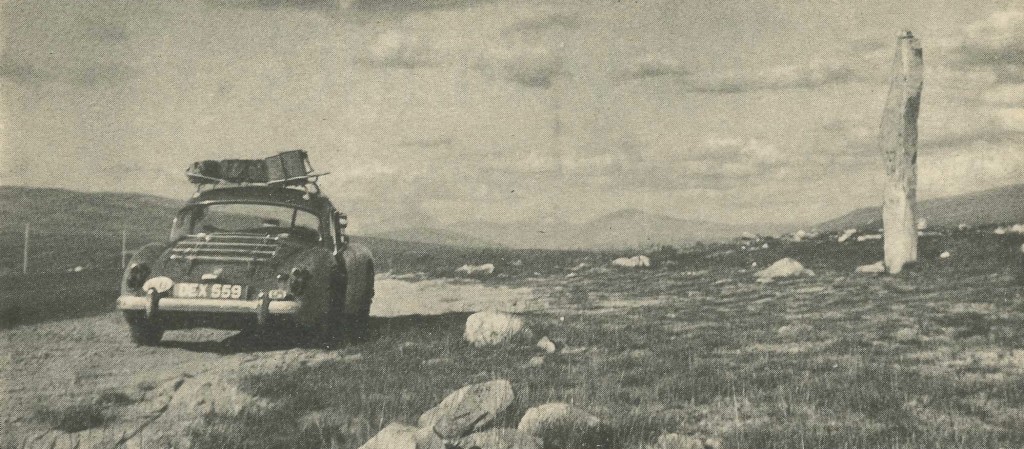 An MGA in the Frozen North. Road and scrubland merge at this Lapp ritual stone one mile north of the Arctic Circle. 
David Williams and his wife wanted a holiday with a tinge of excitement. And that was exactly what they got when they took their venerable MGA on a three-week tour of the Land of the Midnight Sun, right to the far north into Lapland and the Arctic Circle, covering as much of Scandinavia as possible on the way.
The mention of 'Arctic' and 'Lapland' inspired incredulous looks and the odd roar of laughter from some of our friends who considered a holiday abroad to be sun, sweat, and the over-crowded roads and beaches of Italy, Spain, and the south of France. But although Lapland was our goal, my wife and I decided we would see as much of Scandinavia as possible in the time we had. We did in fact cover almost 4,000 miles of it in 17 days of motoring.
Our transport may not have been ideal for such a trip but it undoubtedly made it more interesting and ear-marked us as the 'attraction of the week' on many occasions. This, although rather embarrassing at times, made for us contacts we would not otherwise have made and stimulated conversation generally.
My MGA 1600 Coupe was seven and-a-half years old and had 78,000 miles already behind it. It was our home, overland jeep, mountain goat, sure-wheeled 100 m.p.h. steed, filming plat-form and chow wagon for those three glorious, exciting weeks. It did its job remarkably well over roads surfaced mainly with dirt, gravel or pot-holed tarmac-some which seem to be just a series of potholes. Many, many mountain roads were ascended and descended but no gradients of more than 1 in 7 were encountered. Interest taken in the MGA was staggering.
We were often surrounded by a dozen or more people when we stopped in town or village, all touching, admiring, asking questions including the inevitable `Hvor hurtig?' and I had to do a quick conversion into km.p.h. Up in the north we were told by some folk it was the first MGA they had ever seen. MGs are rare in Scandinavia. We saw an MGB GT near Trondheim and two MGAs and a TD in central Sweden, and that was the lot. I know from the activities of our two centres in southern Sweden that they are more prolific in that area, but time prevented us from getting that far.
Mid-September meant that the Harwich-Kristiansand service had ended for the year, so we had to make the 250-mile trip from Norwich to Newcastle to join the ship for Bergen. A calm, pleasant 19-hour voyage on the modern 9,000-ton drive-on Jupiter put us in good spirits for our arrival in Norway. The weather was just as holiday weather should be, but my mood was changing as I completed my third circuit of central Bergen looking for a parking space. Eventually we found one and
after some very rapid shopping we headed for the fjord country—our first objective. This is perhaps the most picturesque part of Norway, but although it was tempting to linger longer, we knew we had to keep up a 150 to 200-mile daily average if we were to take in Lapland, north Finland, Sweden, and Oslo during the following three weeks. My introduction to Norwegian roads was that first afternoon when we motored from Bergen, alongside Hardangerfjord to the village of Granvin-87 miles.
The road alongside the fjord was gravel, constantly twisting, with a width of between 12 and 14 feet. I found myself travelling at a ridiculously low speed, dodging potholes and giving way to everything in sight. Quickly realizing that this rate of progress was far from satisfactory, I adapted to the local style of driving, put my toe down harder and dealt with each hazard as it appeared. The majority of potholes are in the centre of the road, so you straddle them and get ready at each corner to miss the chap who is likely to be doing exactly the same thing in the opposite direction.
There is an overall 50 m.p.h. speed limit (30 m.p.h. in urban areas) in Norway but I met few native drivers who kept to it, although on some sections of road it is suicide to do more. But their standard of driving is high and I admired their skill, courtesy and consideration.
But if you are admiring the scenery it is advisable to pull over and let following vehicles pass as they, not unnaturally, become a bit annoyed. This habit of driving fast wherever possible has probably developed because one has to be prepared for hold-ups, both natural and unnatural. Extensive roadworks, sheep, cows, horses, reindeer and the odd bear, plus of course, the ferries were, we found, responsible for the most common delays. But the ferries are in a class all on their own.
With water, water everywhere the ferries form an essential part of Nor-way's road system. The ones operating a regular service usually pose no problem, but others are far from regular and journeys have to be carefully planned to coincide with sailing times. If you miss one there's no point in getting steamed up about it. Just quietly accept the situation as the Norwegians do and wait for the next one—which could be anything up to three hours. Places can be booked in advance on many of the longer trips.
Our first full day took us to Voss, a popular tourist centre and ski resort, and then up into the mountains where there is a magnificent lake—Lake Skjelingvatn—at the road's highest point of 3,254 ft. On the descent to Vik, a village on the Sognefjord, we were discussing whether or not Norwegians went straight on at hairpin bends when we were halted on a particularly nasty one by a group of work-men who were using a bus in an attempt to haul a lorry back onto the road.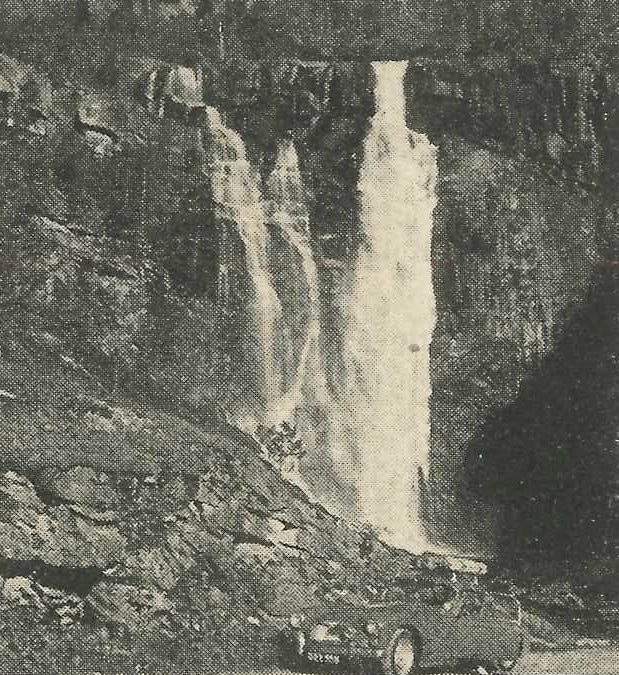 One of Norway's many beautiful waterfalls-100 miles out from Bergen beyond Granvin on the Voss Road. 
We learned from a Norwegian couple in an immaculate pre-war Opel that the lorry, containing three workmen, had left the road on the bend and was only prevented from falling 1,500 ft. to the valley below by a belt of trees. They escaped with cuts and bruises. On the ferry from Vangsnes to Balestrand we witnessed a fantastic vehicle packing operation as the final car was bounced on sideways and completed the journey partially hanging over the stern.
I was pleased it wasn't mine. That night we camped, but it was the first and last time! September nights in Norway are cold—too cold for tenting. Sognefjord behind us, we pressed on to Moskog and over the mountains to Skei, then on to Route 60 and climbing again through the Sunnmore Alps. We descended in brilliant sunshine and saw Nordfjord below us—completely covered by low cloud. At Stryn we joined Route 15 and headed for Grotli.
The zig zag climb through the Hjelledal, maximum height 3,740 ft, seemed never ending. On the gradient descent the scenery became wild and barren yet strangely beautiful. With rugged grey rocks and shimmering lakes, sharply contrasted by small snow-fields, the landscape changed yet again to pine forests. Then we really appreciated Norway in autumn—the red and russet of the white and silver birches and rich brown of the mountain ash softly merging with the dark and light green of pines and grass. Next day 40 miles brought us to the E6—the North Cape Road—and we headed for the Arctic.
With long sections of good tarmac road we were in Trondheim by late afternoon. The city was shrouded in fog and visibility was down to about 15 to 20 yards. Next day it was the same so instead of 'seeing the sights' we decided to press on. I drove for 100 miles before getting out of the fog and into the familiar clear skies and sun-shine. Road conditions vary immensely on this section of the E6, with a badly pot-holed road from Majavatn to Laksfors.
The surface is quite good to Mosjoen but there are about five miles of corners as you approach this steel town. September 17th dawned clear and bright and the 110 miles to the Arctic Circle were soon completed. The temperature was 65° F.
More fog again after 40 miles and we stayed in it for the rest of the day. The ferry at Sommerset was over an hour late as it was navigating the fjord by radar. Here we met a Dutch couple in a big Citroen and it was the beginning of a 10-day friendship. On arrival at the other side—Bonnasjoen—we counted over 200 cars waiting for the ferry. It was dark now but as we were miles from civilization we drove on for about two hours to Innhavet and put up at a guest house.
Despite a very rapid drive, with our Dutch friend's unshakeable behind, we missed the next ferry by 10 minutes. Here at Bognes I was complaining to an Oslowegian about the fog, when he assured me it was most unusual and he had never known it so thick or so persistent. On arrival at the next ferry point, Skarberget, we were soon made to realize that to catch the next ferry on the other side of the island we had to travel 15 kilometres in 12 minutes.
We did it and as I was first off the ferry, I led this sort of mountain Grand-Prix, hotly pursued as usual by the Citroen followed by Volvos, Beetles, and Mercedes with about five seconds separating 15 cars. Thankfully the drive to the next ferry was more leisurely and then Narvik came into view shortly after mid-day. Two hours in this whaling port and we were off again. Darkness came now about 6 p.m. so I carried on driving until 8 p.m. or 8.30 p.m. each evening as there was little to do and nothing to see if we stopped earlier.
That night we stopped at a lorry driver's halt at Storsteinnes and had a pleasant, lingering meal with two Norwegian and one Lapp lorry driver despite the fact that our Norwegian was about as good as their English. Very cheerful types these lorry drivers, who move their big Volvo trucks along the lonely, twisting, mountain roads as fast as most cars. With lights atop cab and tail they are distinguishable miles away at night—unlike their British counterparts.
Yet another ferry next day, then very slow progress as we were faced with scores of tanks, armoured cars, and lorries pouring south. We waved to the entire Norwegian Army—or so it seemed—and learned that their annual exercise in Finnmark was just ending. Then our first trouble—a slashed tyre and blow-out. Both tube and tyre were repaired by an obliging garage man and two miles farther on the speedometer packed up.
That night we stayed in Alta and knew we were truly in Lapland—there is a traditional Lapp fair there each autumn. We had decided we must make a short excursion to Hammerfest—the world's most northerly town—so we turned off the E6 and caught the ferry. The only pre-war building there is the church. It miraculously escaped when the Germans fired the town, as they did all northern communities in panic over a possible Russian invasion towards the end of the war. Hammerfest is a port and lives by the sea. The only industry of any size we saw was a fish-meal factory which issued a considerable pong.
The choice of meat there is seal or seal, so we had seal—fishy but quite tasty. We had arranged to meet our Dutch friends at Russenes where that night we were all to board the ferry for Honyinsvag. So we left Hammerfest and returned to the E6 where we came across thou-sands of reindeer between Skaidi and Olderford. We left the MGA at Russenes and joined our friends in the Citroen, then boarded the steamer. Car places are limited for this four-hour trip anyhow and by joining them we saved some cash.
The boat was 90 minutes late so we had a flat-out crossing with everything vibrating that could vibrate, and docked in Honningsvag at 1 a.m. We had to knock up the local guest house proprietor, but we were quite well received and got a bed for the night. The 20 miles across the island to North Cape is rugged, rough,narrow and winding. Our old friend fog was with us again so we did not see the sun—midnight or otherwise—but we were initiated as subjects of King Arctic and had a long chat with the owner of the North Cape restaurant who was packing up to go south and home for the winter.
There were 3,000 reindeer on the island and the Lapps were preparing to take them inland for the long winter—which in-cludes a hazardous swim to the mainland. We returned to Russenes, picked up our MGA and drove to Lakselv, absolutely bursting with Lapp life.
The hotel lounge was full of them—a colourful sight in their gay, predominantly blue and red costumes. They sat, chatted, and waited patiently for the special buses that were to take them to their winter quarters over in Finland. Next day we travelled into Finland too, where the border guard cheered us up no end by jokingly asking why we did not have winter tyres. It could snow, he said. We made good time on long, straight, tarmac roads, deserted apart from ourselves and it was good to let the MGA do the ton again without breaking the law. Occasional dirt road wet from recent rain, slowed us down considerably but didn't last for long.
On these we met Herrman and Dora with a burst tyre, changed the wheel and got the Citroen on its way again. Fifty miles further on my front offside tyre burst at 85 m.p.h. But all was well after sweating to get the jack under the car on the heavily cambered road. We re-crossed the Arctic Circle and arrived in Rovaniemi, having covered 325 miles that day. Next day we clocked 400 miles in both Finland and Sweden, following the E4 alongside the Gulf of Bothnia.
Sweden had just changed over driving on the right, so everyone was doing a steady 50 with headlights blazing and in great bunches. I joined them, for there were a lot of police about and I couldn't afford a fine at that stage of the holiday. After an overnight stop we pressed on leaving the E4 at Soderham, and arrived in Mora more by luck than judgement. We re-crossed into Norway again next day and in misty rain half-way up a mountain the fan belt broke. Wet and dirty, there followed a dark, foggy crossing of the mountains to Favang.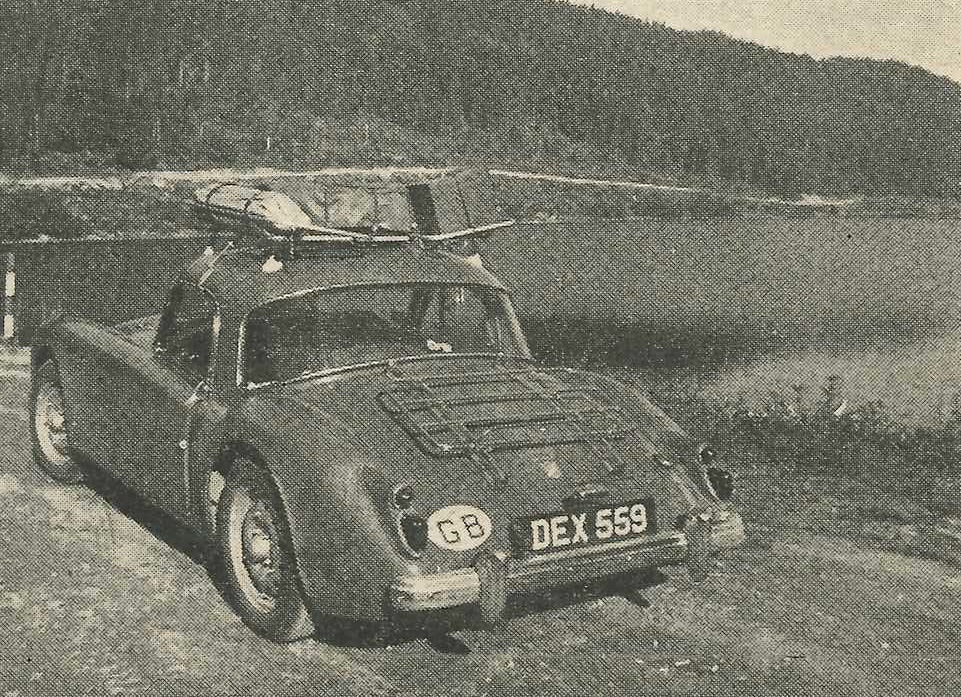 Lakeside halt at Flattadel, between Trondheim and Mosjoen, with a grimy MGA after 100 miles of fog.
Now a day ahead of schedule we had an easy run to Lillehammer and on to Oslo. We stayed overnight and did the usual tourist rounds next day—in the rain—and took the Reindeer Road to Bergen. We made this trip in two days through some very beautiful country including the hair-raising hairpins of the Mabodal Valley.
We packed most of our luggage in the boot and behind the seats. The spare wheel was strapped to the roof rack along with tent and petrol can. We cooked much of our food in the day on a camping gas burner which also provided numerous cups of tea. Fortunately we had dry weather or it could have posed problems in the confines of the-MGA. One thing is certain—we shall be back.
The Arctic is like that. D.W.
---