Yorkshire Centre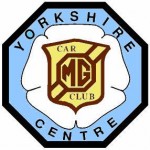 Website: www.mgccyorkshire.co.uk/
Facebook: https://www.facebook.com/pg/MGCarClubYorkshireCentre
Facebook (Members Only): https://www.facebook.com/groups/mgcarclubyorkshirecentre/
THE Yorkshire Centre's remit is to cover the interest of members in Yorkshire. Due to the vagarities of geography we find that some of our members come from the surround counties while others from Yorkshire may belong to adjoining centres.
Your first contact with the Centre may well be at one of our monthly "Natters" these are pub gatherings where you can meet local members socially. Attendances at these informal meetings very from just a few to 30 or so enthusiasts.
Visit www.mgccyorkshire.co.uk/ to find out more about the Yorkshire Centre.
Contacts
Yorkshire Centre Chairman:
Colin Brear
07811 114450
colin.brearad@aol.com
Yorkshire Centre Secretary:
Marie Dobson
07881 525486 (after 6pm)
secretary@mgccyorkshire.co.uk
Natter Leaders:
North Yorkshire:
Colin Brear
07811 114450
colin.brearad@aol.com
South Yorkshire:
Geoff Norcliffe
07796 113761
geoff.norcliffe@btinternet.com
East Yorkshire:
Brian Rylance
07946 531396
blesm@blesm.karoo.co.uk
Beverley:
Peter Welbourn
01964 550693
peter.welbourn@yahoo.co.uk
West Yorkshire:
David Copeman
01274 674655
d4ccopeman@aol.com
24/39 Group (Bi-monthly):
Tony Hay
01423 509858
tony.hay@hotmail.co.uk
Vale of York:
Ken Cothliff
07946 597952
kencothliff@hotmail.co.uk