Events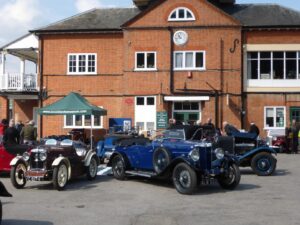 Vintage Register 60th Anniversary Celebration!
We are delighted to announce, that at long, long last we can invite you all to the Vintage Register 60th anniversary event! One year late, but we simply couldn't let it pass without a suitable occasion!
You are therefore cordially invited to attend our summer gathering on Saturday 12th June, from 10am at Brooklands Museum.
All members, friends, owners, ex. owners, MMM and other Vintage car owners most welcome!
We are fortunate to be sharing the event with the South East Centre who are holding a gathering at Brooklands also on the day.
The itinerary is presently being brought together but a Vintage raffle and presentations will feature. Along with lots of long overdue catch ups with old friends!
For booking please both contact the museum and Debbie Brading on debbiebradingvr@yahoo.com so we can have an idea of the numbers who are due to attend.
We will be parked as a Register and, of course, strict Covid guide-lines will be adhered to. Everyone, including Brooklands Members, will need to book with the museum in order to attend.
Entrance will be via the Campbell Gate and postcode for SatNav to enter the visitor car park is KT13 0SL
Brooklands Road,
Weybridge, Surrey.
Looking forward to catching up, after soooo long! MaGic!!