Events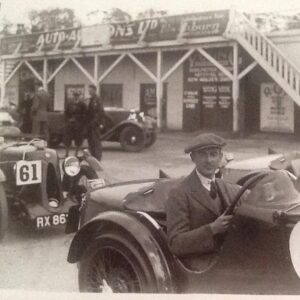 The Vintage Register 2023 Events Calendar: 
The Centenary year of M.G.
We are delighted to extend the very warmest invitation to the 2023 Vintage Register events listing. ..
Meet up with like-minded friends and enthusiasts – new and old. Events listed here are either organised by the Vintage Register or attendance by the VR is planned in gratefully supporting the efforts of others.
Sunday 26th March 2023
Vintage Register AGM at Kimber House, Abingdon
Opening the year, we are delighted to confirm that the ever-so-social Vintage Register AGM will be held at Kimber House, Abingdon on Sunday 26th March with our guest speaker Bill Munro of 'Carbodies of Coventry' fame providing an interesting 'after-lunch' talk on Vintage MGs main coachwork supplier.
10.00 hrs arrival for 10.30 hrs commencement please at Kimber House, 12, Cemetery Road, Abingdon, Oxfordshire, OX14 1AS
Lunch is literally just around the corner at the lightly-MG-themed Hilton Garden Inn Abingdon, Marcham Road, OX14 1TZ where we will have a private function room for both lunch and Bill's presentation.
Please confirm attendance to our Secretary, Debbie Brading on debbiebradingvr@yahoo.com
In addition, we have negotiated an excellent room rate for stays over that weekend at the hotel, so if you prefer to stay the night before, or make a weekend of it, please contact Rob on the e-mail below.
I am pleased to say that at the time of going to press we know Constant senior/junior will be staying the night before, along with our Club President, John Day, so please liaise beforehand if you would like to join us so we can get a table for dinner together. rob@littleabingdon.co.uk
Sunday Date TBC April 2023

MG's on Grass I – Christon, near Banwell, North Somerset
The fun, lightly competitive auto-test organised by the South West Centre of the MG Car Club – see www.mgccsw.com  Join in the fun with other enthusiasts keen to use their cars in a lightly competitive arena
Contact peterjones1880@gmail.com
Sat/Sun 29th/30th April 2023
MG Centenary Kimber Touring Assembly & Gymkhana
 The Kimber Trial is dead. Long live the Kimber! Well, not exactly. For a variety of good reasons the Kimber Trial will not be run again. However, Main Club asked us in the Southwest Centre if we would put on an event to take its place which would celebrate the centenary of the MG marque.
So here you have it, ladies and gentlemen. A touring assembly. But not just any old touring assembly. One that is based at the same hotel where we have traditionally held the Kimber trial. It covers the same ground as the trial but here is the big difference. The whole route, approximately 90 miles, is on tarmac roads. Yes, that's right, tarmac roads. No Alham Splash. Yet the scenic route does pass right by several of the old trials hills. So, if you wish, you can get out of your car and walk back into the past.
The lunch stop is at the Haynes Motor Museum. If you wish to take an extended break you can visit the museum at the specially reduced rate of £15.
On Saturday evening we hold an informal dinner at Lanes. Non-residents who wish to attend must order their dinner on the official entry form.
On Sunday we drive to our traditional venue in Butleigh. For those not in the know here is the home of Barry Foster and Hamish McNinch. As usual we are very grateful to those two worthy gentlemen for giving us permissionn to hold a gymkhana in their large field during the morning.
The MGCC Southwest Centre looks forward to welcoming friends old and new to celebrate 100 years of the MG Marque.
Alan Grassam      ag.theoldpoc@hotmail.co.uk 
MGCC Southwest Centre
Sat 27th May 2023
MG Centenary Launch Event & Road Runs
Multi-Club Launch Centenary Launch Event at The British Motor Museum at Gaydon
 Visit www.mgcentenary.co.uk 
Sun 1st June 2023
Oxford Showroom Celebration – Bonn Square, Oxford
Celebratory Display of MGs in Central Oxford
Wed 7th June to Sunday 11th June 2023
Vintage & MMM Register 'Around Oxford & Abingdon' Break
For your fun and enjoyment we have organised a very special Centenary event entitled 'Around Oxford & Abingdon' in collaboration with our friends in the MMM Register…
Through discussion with our friends and partners the dates have been confirmed as the few days prior to MG 100 at Silverstone June 10th/11th, as we seek to bring a fantastic finale to the break, with all the Centenary related activities and features; not to mention the exciting return of MMM racing to the track and celebrations marking 90 years of the K3! MGs most famous racing car…
After careful consideration of location, geography for our developing itinerary, and, importantly, value for money to make the event as inclusive as possible, we have selected the comfortable Hilton Garden Inn Abingdon as the 'hub' for the event. Abingdon being, of course, the spiritual home of M.G.
After a welcome event in the centre of Abingdon on the Wednesday, on the Thursday we will enjoy a tour of Tom Dark Engineering's premises in the morning followed by a guided walking tour of Oxford in the afternoon, taking in venues of Morris Garages significance; before on the Friday enjoying a scenic tour from Abingdon down to Nuffield Place to visit Lord & Lady Nuffield's old home to gain an insight into the life of someone central to the early evolution of M.G.
Given the inclusive principle to the event we have adopted a 'menu' type approach for those who would like to 'join in' for all or part of the four-night itinerary.
Arrivals for the start of the itinerary will be on Wednesday 7th June.
We have negotiated a superb room rate of £149 dinner, bed & breakfast per night which for enjoying the full itinerary equates to £596 for two people. Three nights is £447 and the hotel will honour the same rate for whatever duration of stay participants opt for in tailoring their stay to the time they have available. Single occupancy is £114 per night.
The hotel will act as our 'hub' and is well located for touring the Oxfordshire countryside, visiting both Oxford and Abingdon and is within striking distance of Silverstone for the weekend which follows. We are also compiling a list of nearby bed & breakfast possibilities for those who might prefer alternate accommodation formats.
We look forward to a great turnout for this literally once in a lifetime event as we share in the celebrations and great friendships these wonderful old motorcars have helped create…
Please RSVP to Rob Constant on rob@littleabingdon.co.uk to book your place…
Sat/Sun 10th / 11th June 2023
MG 100 / Triumph 100 at Silverstone
Visit www.mgtriumph100.co.uk 
Also, enter the California Cup Auto-test to enjoy a competitive outing at the current day home of British Motorsport.
For Vintage entries to the California Cup – Contact peterjones1880@gmail.com
Sun 25th June 2023
MMM Summer Gathering, Farnham Royal
We are delighted to have again been invited to our MMM chums Summer Gathering. This charming garden party event has something for everyone – from rows of interesting Pre-War cars, to bring and buy table, to driving tests and quiz. Lots of fun.
Contact rob@littleabingdon.co.uk
Sat 10th July
Pre-War Prescott – Garden Party & Hillclimb Day
Visit www.prewarprescott.com 
Sunday 23rd July
MGs on Grass II – Claverham, Near Bristol
The fun, lightly competitive auto-test organised by the South West Centre of the MG Car Club – see www.mgccsw.com  Join in the fun with other enthusiasts keen to use their cars in a lightly competitive arena
Contact peterjones1880@gmail.com
Date TBC
October Social Gathering 
Contact rob@littleabingdon.co.uk

 *Please note the Vintage Register cannot be held responsible for any events being cancelled or postponed which are outside of their control. Please do book in / check with the relevant contact regarding confirming arrangements