The MG Supercar
This week's article, and the last before Christmas, is the story of an MG that most people wouldn't mind having as a present on Friday morning. This is the story of the MG SV, written by Jock Simpson that appeared in December 2007's Safety Fast!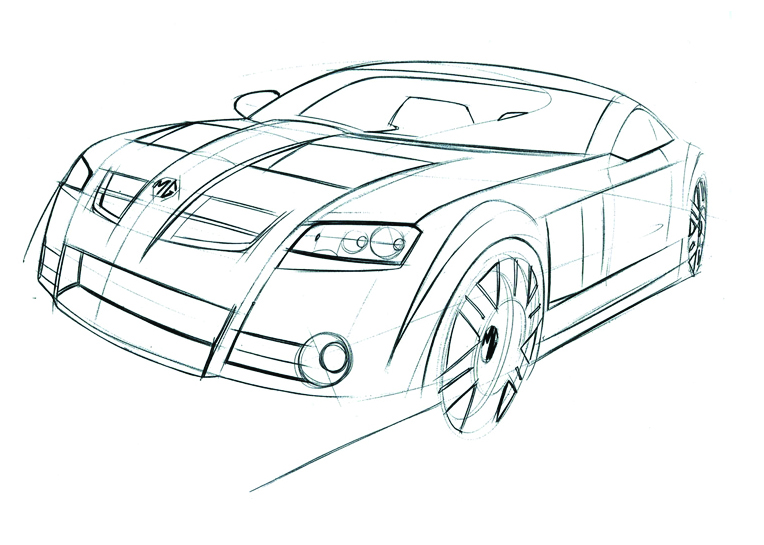 The original concept drawing of the MG SV
Sitting cosseted in considerable comfort behind the wheel of one of the few factory built MG SVs and gazing down the bonnet you do begin to wonder why on earth MG suddenly decided to move away from 'sensible' small sporting cars and decide to build an expensive, sophisticated 'supercar' like this?
How come they reckoned that that they could take on the Italians and Germans at their own, well established high performance, game? Here was a small company in a financial vacuum with no specialised management and no historic background in building a production car capable of achieving 200 mph that would be as happy on a race track as it would be cruising down to the South of France. Fortunately for us none of this bothered The Phoenix Consortium.
They saw the project as a way to launch the company into other more profitable markets and to demonstrate that MG was, once again, a technological high performance brand leader with serious racing aspirations. Did they succeed? Having now had the rare chance to drive the car we think they certainly succeeded in making a highly credible supercar that still performs well in the company of other, more modern, machinery. Sadly we will never know if this would have been a successful GT racing car or whether it was the best way to move the MG brand forwards.
It is not generally realised but this wasn't the first expensive, top of the range Supercar MG had built. Back in 1934 they built the MG K3 Magnette. This was an out and out road racer that came fourth overall at Le Mans in 1934 and won its class in The Mille Miglia in the same year. However this was a car that only a wealthy enthusiast could buy and drive around on the public roads. He needed to be 'a wealthy enthusiast' since in today's money it would have cost in excess of £100,000!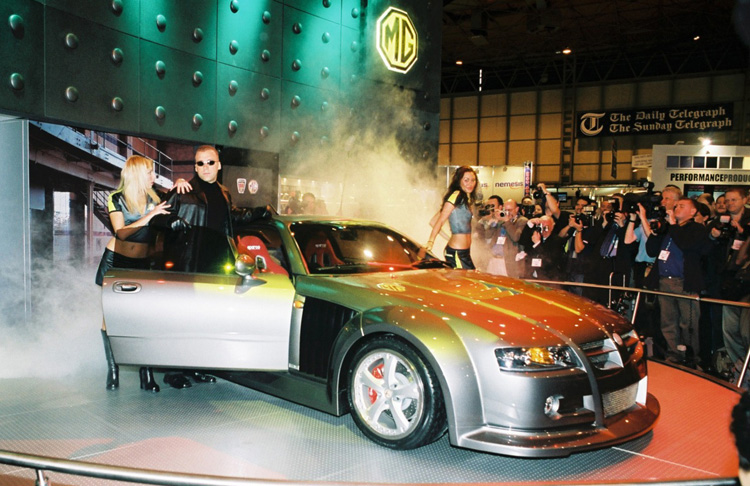 The SV's first public showing at the Birmingham Motorshow
Historically MG had always been a relatively small part of the Midland's huge motor industry. Traditionally they had produced popular, inexpensive, sporty cars that often gained a healthy reputation on the race track. But this was an industry that had systematically torn itself apart and then emerged from the ashes with yet another new name and new hope for the future. Over the years, despite all the changes and disruption, MG managed to carry on producing a series of very successful cars.
The final act in this long running drama started in May 2000. BMW sold Rover and MG to The Phoenix Consortium for a mere £10! But BMW chose to hang onto the profitable Mini and Land Rover brands. By September the Rover Group had changed its name to MG Rover Group Ltd. In February 2001 the seeds of a 'Supercar' project were taking root as car manufacturer Qvale and MG Rover were starting to talk to each other. By June of the same year a deal was completed and the MG X80 project was up and running. MG Rover now had a toehold in Modena, the traditional heartland of the Italian Supercar industry.
Once the decision had been made speed was vital, the MG XPower SV needed to go on sale as soon as possible. Yet another company was formed to look after the project, it was called MG X80 Ltd. X80 being the prototype name for the MG SV. JohnTowers, Nick Stephenson, Peter Beale and John Edwards, or The Phoenix Four as they had become known, went out to 'buy in' some of the best names in the business. They knew the Qvale family, they had been selling MGs in USA for years, and they knew the Mangusta model (which had started life as the DeTomaso Bigua) had a superb chassis, a reliable Ford V8 power plant and the company had access to a well established network of specialised suppliers.
However it was not a stunning car to look at or for that matter particularly quick, so a simple cosmetic 'make over' was ruled out! A key feature was that the chassis had already been fully homogolated in the US and Europe, thus saving MG three years of development work.
Peter Stevens was the first to join the team. He was to be solely in charge of the whole project from design to completion. There was no doubt he had the pedigree, after all he had designed the McLaren F1, Lotus Excel, Esprit and Elan, The Jaguar XJR15 and many others. Plus he had an excellent track record and reputation amongst the racing fraternity.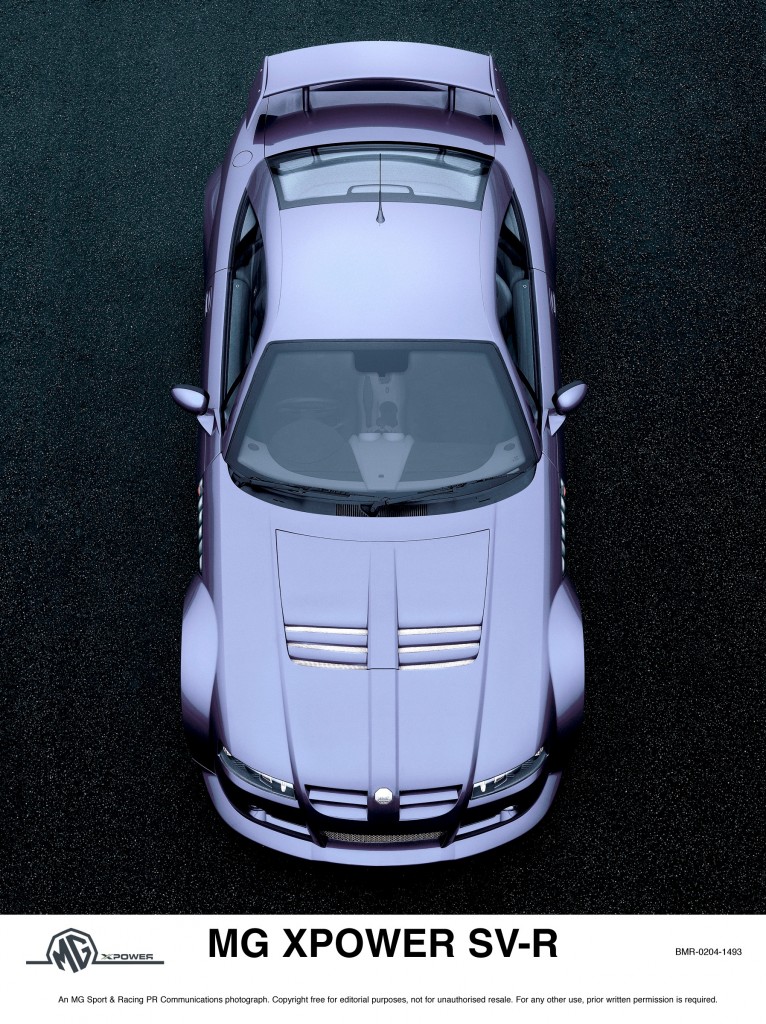 A press shot of the MG SV
The next person to join the team was Giordano Casarini; he had worked in Ferrari's race department, then joined Masarati and worked for them in Modena for nineteen years and was finally tempted away to join DeTomaso and then Qvale. He would look after all the engineering aspects of the new car. Casarini knew all there was to know about the Mangusta chassis and the complex web of suppliers that worked in the Italian supercar industry.
Ian Moreton had worked with Peter Stevens in the past when he was project manger for Prodrive Subaru and deeply involved with their World Rally Championship team. He joined the X80 team as the natural choice of project manager in March 2002. He was going to have his work cut out to pull together various suppliers from UK, Italy, America and Canada.
With the well proven Mangusta box section chassis as a template The MG X80 project rapidly evolved into a series of prototypes, XP1-XP4. XP1 was painted matt black ( an urban myth suggested that black board paint had been used!) and developed by David Price Racing and mainly used for high speed cooling, handling, engine and gearbox development and eventually high speed stability tests at Nardo in Italy. It was quick! The watches showed that Le Mans winning driver John Nielsen hit an impressive 206 mph.
It used a 450 bhp version of the Mustang engine. It was also packed with a variety of components that were track orientated. XP2 started life in grey primer but was then also painted black and was used for aerodynamic development and was seen at the Nurburgring on several occasions. XP3 appeared at the October 2002 Birmingham Motor Show. It was later sent to shows in Barcelona, Bologna and Amsterdam. It even put in an appearance at the glamorous Cannes film festival in 2003. It was used for occasional development work but its role was mainly as a display/demonstrator car. XP4 was the first automatic version and was painted in 'Monogram Sunspot Yellow.
It was around this time that yet another name and company were formed to handle the production of the MG SV, it was called MG Sport and Racing Division. This also saw the arrival of the MG XPower Brand. So now serious production could begin. The production process broke down into four separate parts, all of which were handled in different regions of Europe and America. The chassis was lightened, stiffened and then went into production with Vaccari & Bosi in Modena. They had been building chassis and components for Ferrari, Masarati and DeTomaso for years and were a totally safe pair of hands.
The engines and gearboxes started life with Ford in Detroit and were then shipped to either Rousch in Michigan or Sean Hyland Motorsport in Ontario. Both companies were top engine tuners in NASCAR and other branches of circuit. There were three power options for the car. The SV with 4.6 litre 320 bhp, a top speed of 165 mph and 0-60 mph in 5.3 secs.
The SV-R with the 5.0 litre engine producing 385bhp, a top speed of 175 mph and 0-60 4.9 secs. Finally the SV-S, with the two valve 4.6 litre engine and a supercharger that bought it back up to 385 bhp, matching the SV-R. The SV-S was planned to replace the manual SV-R model. The differential was sourced in Australia, traditionally the home of some very powerful V8 engines and the drive trains to handle them!
The specialised material used in the production of the carbon fibre body panels were produced in UK by SP Systems on the Isle of Wight. They had developed innovative new techniques that allowed for a mirror like paint finish that was traditionally very hard to achieve with traditional carbon fibre weaves. Each car was built up with 3,000 pieces of carbon fibre which were then chilled and shipped to Belco Avia near Turin where they were then individually moulded into 30 body panels and then 'cured' at 130ºC.
The final body panel assembly was completed at OPAC where the FIA approved integral roll over bar was installed. Finally the rolling chassis was mated with its engine and gearbox and then shipped back to MG Sport and Racing at Longbridge in the UK for the final stages of production.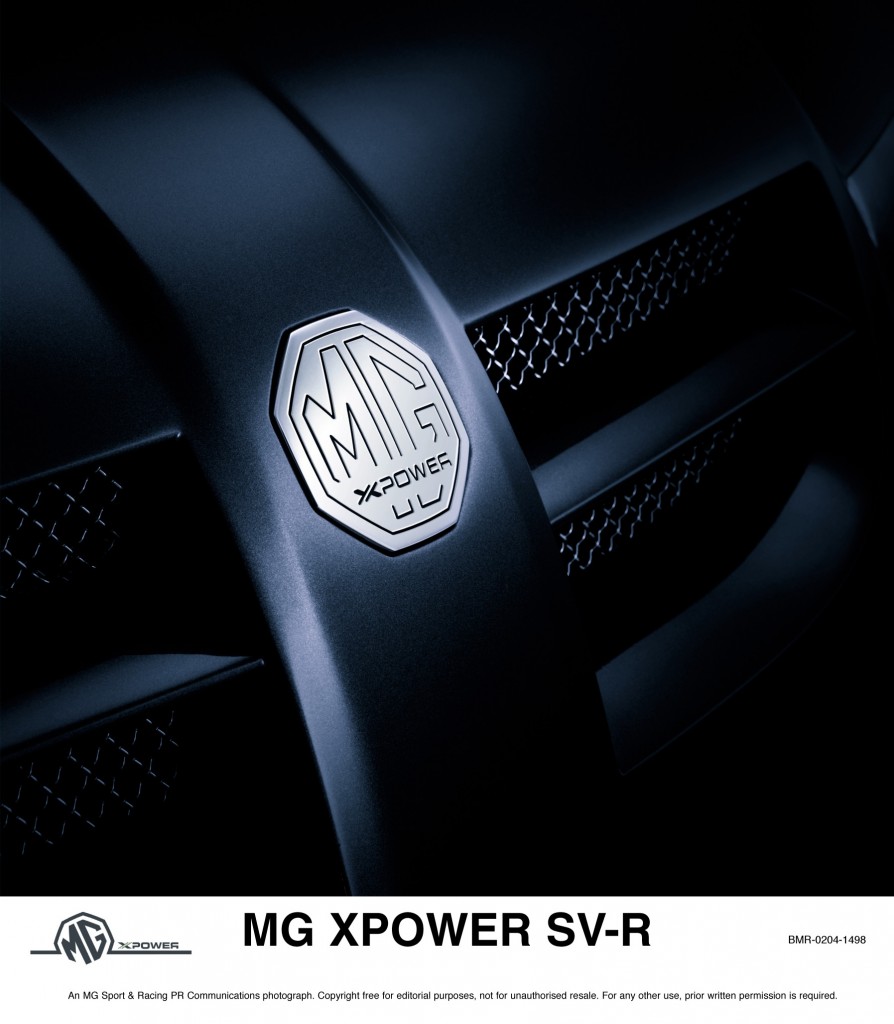 The MG SV's unique badge
Back in the UK the interior trim, glass, seats, dashboard, instrumentation and final detailing was carried out by a small, but totally dedicated, team at MG Sport & Racing in Longbridge. Work on the design of X80 prototype was started in June 2001 and the first customer took delivery in February 2004. It had been a rapid, innovative and unconventional way to build any motor car, let alone a genuine, thoroughbred, 'Supercar' but it had worked. Nobody will ever know now if the MG-SV would have found a place in the exotic supercar market, or whether it could have revitalised that famous octagonal badge for MG rover and taken the company on into the future.
In amongst all the chaos and confusion that surrounded the final days of MG Rover a number of MG SVs were still on the production line, others had been completed but not sold. So we are left with a few very precious, very memorable, very rapid and very serious Supercars. J.S.
---