The Life of William Morris, Lord Nuffield – Part 2
Reproduction in whole or in part of any article published on this website is prohibited without written permission of The MG Car Club.
By Peter Cook
From 1928, with his position as a successful and wealthy manufacturer with a knighthood established, Morris started doing what many others in his position then did – he went on long winter cruises to Australia and other warm places. On return there would often be arguments and resignations for those managers who Morris thought had usurped his authority, but who often were just trying to do their best. They had the worst of both worlds: deprived of his good judgement, but subjected to capricious and belated criticism.
After a visit to Detroit in 1925, Morris invested as a partner in Pressed Steel (now the BMW Mini plant) because he could see that the all-steel body was the future, but he had to sell his stake in 1930 as other manufacturers would not place orders with the underused plant as long as Morris was on the board. The crucial body-making was now beyond his direct control. This was contrary to what he wanted, for Morris Motors had gradually evolved from being an assembler of bought-in components into a division-based manufacturer with an M-Form organisation along the lines pioneered by Alfred Sloan at General Motors. Both Oxfords and the Cowleys had been fantastic successes and had undergone much modification, but future models had not been planned. Yet Ford was getting its act together at Dagenham, General Motors' substantial investment in Vauxhall was raising market share, and Austin was always at his heels. The vehicle tax regime gradually favoured low horsepower cars. Austin very successfully responded with the 1922 Seven, but it took Morris until 1928 to announce the Minor. Riddled with faults, it had to be completely redesigned – previously unthinkable had 'the boss' stayed on top of detail as he did in the early days. Apart from the long cruises and the increasingly fewer attendances at Cowley, Morris was increasingly distracted by being "Fired with thoughts of greatness".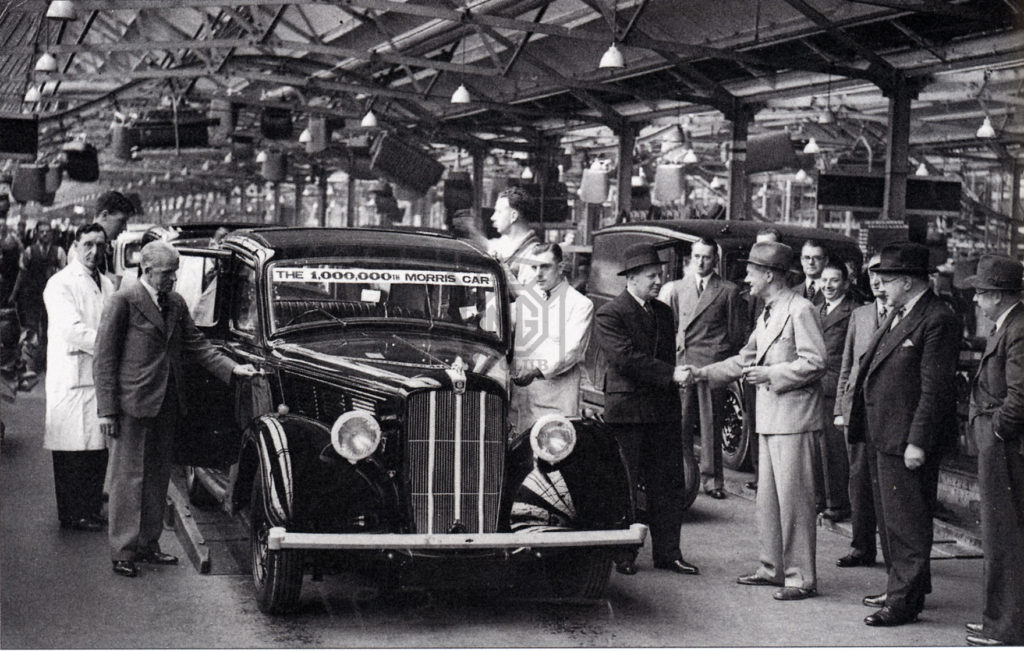 Now in his 50s, with enormous wealth, and heirless, Morris wanted to become a different kind of public figure, and mainly through his donations to medical and other causes. Being awarded a baronetcy in 1933 and made a viscount in 1936 led him to rename the house he had bought in the Oxfordshire countryside as Nuffield Place. Morris's benefactions were not exclusively focussed on his home city; Guys Hospital was a particular beneficiary. In 1943 Morris established the Nuffield Foundation, and in 1936 he bought the derelict canal basin in the centre of Oxford as a site for Nuffield College. He provided funds to set up the Oxford University Medical School, and endowed professorships in clinical medicine, anatomy, obstetrics and gynaecology, plastic surgery, and anaesthetics. The last three were particularly controversial with the medical establishment as they were viewed as being 'technical' rather than 'academic'. The university caved in under the threat of no medical school. Not for the only time, Morris's judgement was right. These were emerging medical disciplines. There is a Morris connection with the discovery of therapeutic penicillin which was partly developed within the medical school with input from Nuffield-financed research fellows. Alexander Fleming's scientific curiosity in a petri dish, became world-changing therapeutic penicillium in 1939 after the efforts of Howard Florey, Ernst Chain and Norman Heatley at Oxford.
Meanwhile, back at Cowley, the pressure of competition and lack of decent models led Morris to decisive action. In 1933 he had a purge of his senior management; some left, some were sent to outposts of the Morris business. In came Leonard Lord, a brilliant production and design engineer whom Morris had noticed at Wolseley. Lord, as managing director of Morris Motors, insisted on complete control, which Morris agreed to. Morris and Lord were similar in some respects – an autocratic tendency and a brusqueness of style. Cowley was completely reorganised and modernised with a moving assembly line and overhead conveyors. A new light car was introduced, the Morris Eight in 1934 which would become Britain's highest selling car in the inter-war period. The similarly successful Ten and Twelve soon followed. Revealingly, Morris had absented himself from the whole design process. Vehicle sales leapt from £11,379,000 in 1933 to £21,124,000 in 1936. By 1937 Morris Motors was the largest manufacturer in Europe and in 1939 became the first outside North America to make a million vehicles.
While modernisation was producing good results at Cowley, other parts of the Morris empire were feeling the effects of change. Oddly, Wolseley, Riley, SU, Morris Garages and MG had been personally owned by Morris, rather than under Morris Motors, the public limited company. In 1935 they were formally integrated into the main company. This meant Cecil Kimber was now accountable to Lord rather than to Morris. Up until this point, Morris had been fairly tolerant of MG's arms-length autonomy. He liked to visit the factory and have lunch with Kimber or the factory accountant Albert Smith. With some models turning in a healthy profit he had allowed Kimber to produce specials for competitive events; Kimber ran a full-scale works racing programme for around five years from 1929. MG successes gave kudos to the marque and perhaps chimed with Morris's innate competitiveness. Morris had provided the whole £3,100 prize money for the 1933 Ulster T.T., and let Bentley use a factory he owned in France from 1925–30 so they could prepare for the Le Mans. Morris was not averse to motor competition, but he liked a healthy balance sheet. He continued to support reliability trials and world speed record attempts until the very end of his influence. Lord, however never demonstrated any enthusiasm for competitive events.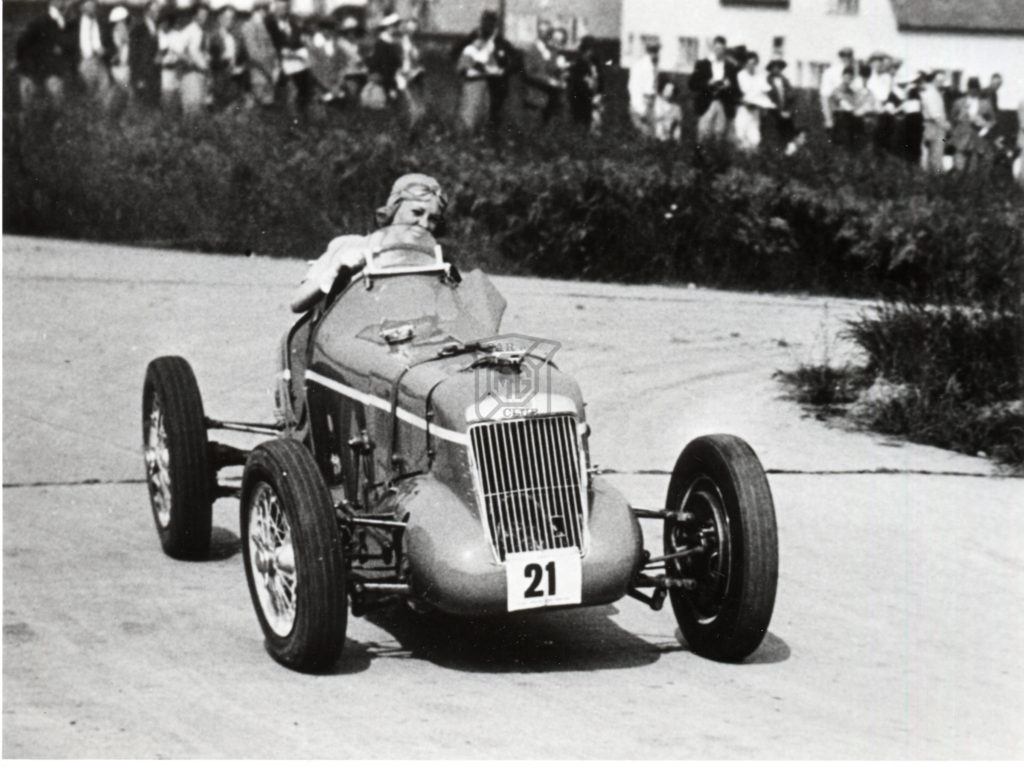 Legend has it that on a visit to Abingdon, Lord took one look at the racing department and said, "Well that bloody lot can go for a start". There are though a number of other explanations for the cessation of most competition. First, Morris had a policy that a customer should be able to buy a car very similar to the one which won an event. Increasingly this was not the case with MGs. More pressingly, MG lost a substantial £28,156 in 1935 while competition costs were heading towards £5,000, and the R Type's development costs were being concealed under production costs. Another possibility is an incident: in the run up to the Isle of Man TT at the end of May 1934 when driver Kay Don went out to test a K3 with his mechanic. Don was testing outside the official practice time at 10.30 pm, had no lights, was untaxed, and uninsured. Don lost control on a bend, crashed, and mechanic Frank Tayler, 28 and married, was killed. The incident received much negative publicity for MG. Don was charged with manslaughter, convicted, failed an appeal, and was sentenced to four months in prison. Mechanic Tayler had joined Morris Garages in 1923 and was known personally to Morris. Frank Tayler is buried in St Sepulchre's Cemetery at the north end of Walton Street, Oxford. The gravestone has a carved relief of an MG.
At a personal level Lord and Kimber apparently got on well, and Lord may have bought Kimber time by closing the racing budget and slimming down the model range from about 15 to five. Even so, Kimber was to fall foul of Lady Nuffield's disapproval of his personal life and Morris's insecurities in late 1941 when he was forced to resign.
By 1936 Morris Motors was back on track in a more competitive commercial environment. There were successful models and profits were healthy. Leonard Lord, unsurprisingly given Morris's long winter absences and sporadic visits to Cowley, felt that he should have a share of the profits. It has been estimated that this would have brought Lord £1 million. Morris refused point blank. Lord complained: "I make the money; he just sits and does nothing". Lord resigned, a reluctant decision on both sides. Lord's uncharacteristically diplomatic explanation was that: "I am pig-headed and Lord Nuffield has his opinions". Within two years Lord had executive control of Austin on the same salary as the aging Sir Herbert.
Lord did the same at Austin as he had at Morris – reorganisation, labour saving machinery, and new designs. It is said that Lord wanted retribution for the humiliation that he suffered and "to screw Nuffield into the ground" and "to take Cowley apart, brick by bloody brick." Austin did overtake Morris during and after the war, and Lord was widely acknowledged as the best production man in the UK. But his obsession with Morris clouded his judgement. As we saw earlier with the development of the Cowley, Morris's approach was to cost up the car, and if the selling price was uncompetitive go back and find efficiencies. By this time Lord's approach, one which was to continue, damagingly, into the BMC era and beyond, was to ask: "What's Bill Morris's price … put it ten pounds under that". In the early 60s Ford engineers discovered that the Mini was unknowingly being sold to dealers for £30 less than its production cost. The Ford U.K. Chairman telephoned the BMC Chairman and informed him; nothing was done. Fourteen years later Michael Edwardes also found that there were no model costings. This was an 'Austin' rather than a 'Morris' failing.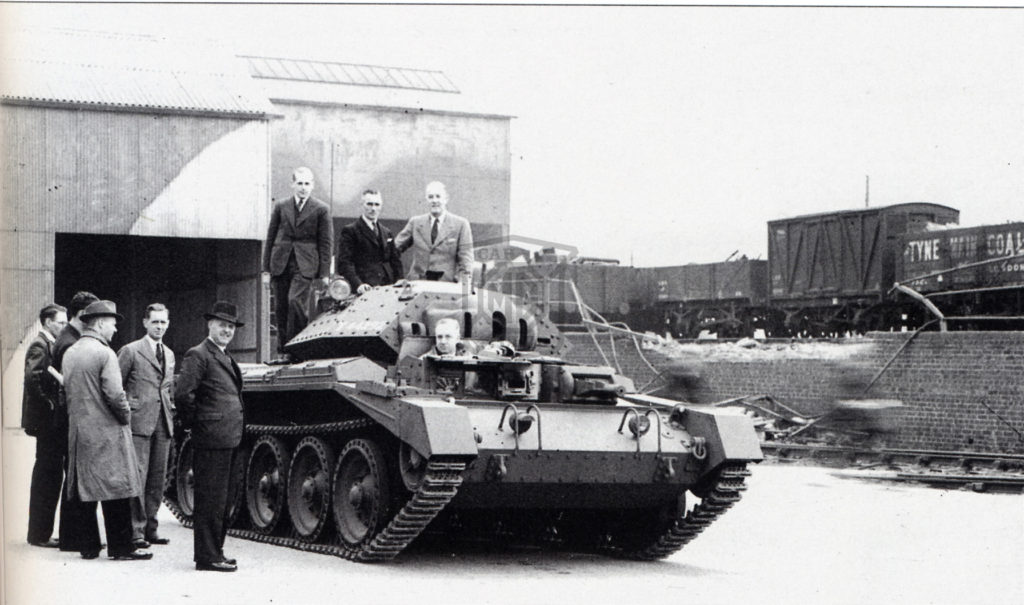 The Second World War saw the Morris empire again get fully involved in armaments production from shells to tanks, guns and aircraft. Whilst part of the 'great and the good', Morris lacked the subtlety and guile to succeed in the affairs of state. His offer to be put in overall charge of aircraft production was turned down, much to his disappointment. He even went to see Churchill and remind him how much money he had given to the Conservative Party, but to no avail. Lord Beaverbrook was appointed instead. Morris was put in charge of aircraft recovery and repair. A 100 acre site was established east of the Pressed Steel factory (now BMW) where damaged aircraft were repaired. German aircraft were dismantled and the materials recycled. Overall some 79,000 were processed. The site now contains Unipart and other businesses. A famous painting of the site was created by war artist Paul Nash in 1941. 'Totes Meer' (German for Dead Sea) is a very evocative moonlight view of 'dead' German aircraft. It hangs in the Tate Gallery.
Morris had a new 'shadow' factory built at Castle Bromwich in order to produce Spitfires. Although adept at making tanks and armaments using the established flow production principles, attempting to use the same methods for aircraft created much trouble and some humiliation for Morris. Morris's managers invested heavily in tooling, but simultaneously Rolls-Royce was getting more power out of its Merlin engines by the month, and more power entailed modified wings and control surfaces. Tooling was being superseded before it was used. Morris was by no means the only car manufacturer who believed mass and flow principles could be applied to aircraft production. Henry Ford experienced the same problems at his purpose-built Willow Run plant near Detroit. Willow Run only produced in sufficient numbers once the military 'froze' the design.
The RAF was desperate for more fighters for what it knew would soon be the Battle of Britain and the matter came to a head in May, 1940. Beaverbrook telephoned Morris to find out the cause of the delays, Morris replied that Beaverbrook could have Spitfires or modifications, but not both, and offered to give up control of Castle Bromwich. Beaverbrook accepted and put the phone down. Miles Thomas described his boss's face as 'ashen'. Morris withdrew even further from his business, but he did, albeit reluctantly, eventually approve the design and production of a post-war car. It was the Morris Minor, designed by Alec Issigonis. Morris did not like it and described it as a 'poached egg'. In spite of the misgivings, it could be said that the Morris Minor was the salvation of Cowley once it became part of BMC.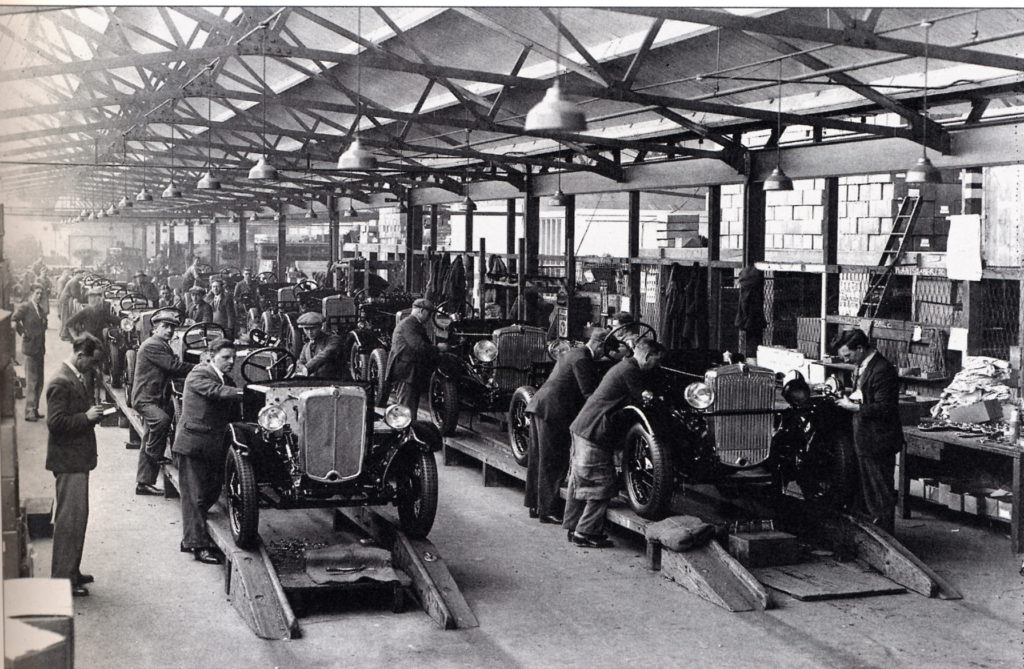 By the time of the merger with Austin in 1952 to form the British Motor Corporation the Nuffield organisation was a sprawling, undermanaged business with little in the way of long term vision or strategy. A telephone call from Lord to Morris on the latter's birthday in 1951 broke the ice. Secret meetings followed, and a year later the deal was done. BMC was the fourth largest motor company in the world, after the American 'big three'. Lord became chairman of BMC and Morris became president – an office of title only. Morris, now 75, attended his last board meeting, thanked everyone and left as the meeting started. He drove around the factory to the cheers of many employees, and went home to Nuffield Place. The original factory, the ex-military college in Holloway Road, Cowley was eventually listed and subsequently converted into houses and flats. The main factory across the road was closed and sold when Austin Rover was owned by British Aerospace. It is now the Oxford Business Park. The Morris Garage in Queen Street where the first MG was sold was moved in 1932 to new premises at the lower end of St. Aldate's, opposite the Oxford City police station. It now houses the Oxford Crown, County and Magistrates' courts.
Lord's antipathy to everything Morris explains why once Lord was in control of BMC both the Cowley and Abingdon factories fared badly in the allocation of investment and new model development. Austin had been fortunate in keeping a car production line going in parallel to war production to supply the government. Product development had continued. This was not so at Morris or MG. For this reason it was no surprise that the post-war TC was little developed from the TB, but by 1952 Syd Enever had produced a modified TD chassis with a body which been tested at Le Mans the previous year, and which closely resembled the later MGA. Shown to the BMC board with a view to production 'it was turned down flat', in Wilson McComb's words. Later, in 1952 at the Motor Show, Donald Healey unveiled the Healey 100. Fully supported by Lord, the Healey was based on the poorly selling Austin A90 (Atlantic) chassis and engine, and was assembled at Longbridge. MG were told to carry on with the TD but its sales fell dramatically in 1952–3 as did sales of the Y-type. BMC management would only sanction a TD facelift, but when the TF was launched at the 1953 Motor Show it was greeted with derision by the motoring press. Insult was added to injury, for the Wolseley4/44 launched the previous year was given a new radiator and badge and named the ZA Magnette. Leonard Lord had had his revenge, but there was now the danger of losing the marque completely if nothing was done. Fortunately senior management realised their folly, reopened a full design office at Abingdon, and told Enever to turn his prototype into a production car as soon as possible: 'The success of the MGA was immediate and spectacular'.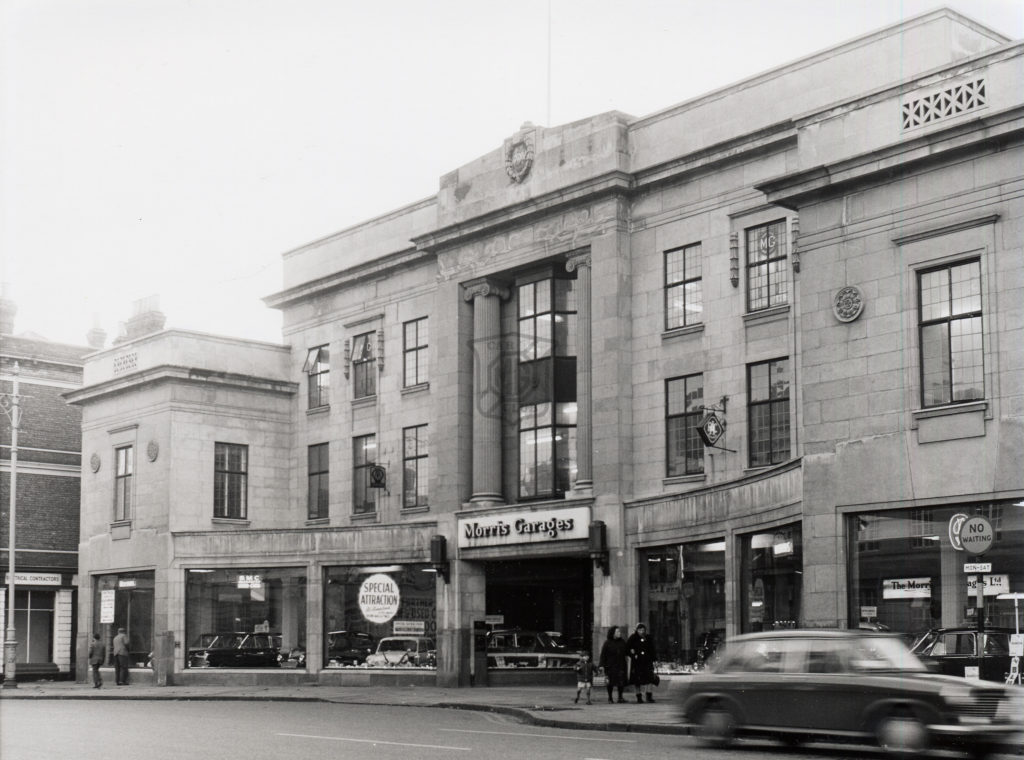 After the merger Morris made occasional visits to his old office at Cowley to see what was going on, but eventually the visits ceased. He spent the next decade giving away more of his fortune to good causes including some new ones – Jodrell Bank for instance. His main preoccupation was the college to bear his name. Approved in principle in 1937, wrangling over its remit and design were only resolved in 1940 by which time war intervened. Morris had wanted an engineering college, but the university, which had an understanding with Cambridge to avoid duplication, wanted 'modern studies'. This time the university prevailed with its desire for a postgraduate college devoted to social science. Morris was eventually persuaded to fully commit to his college, in part because two Nuffield academics produced a rather anodyne and flattering biography. On June 6 1958 the Duke of Edinburgh handed over the Royal Charter of Nuffield College to its founder. Lady Nuffield died in 1959, Lord Nuffield followed on August 22, 1963. There was a small ceremony at Oxford crematorium followed by burial of ashes at Nuffield parish church. After some small bequests to relatives and former colleagues, the residue of the estate (over £3 million) and Nuffield Place were left to Nuffield College. Nuffield Place is now managed by the National Trust and is open to visitors. It remains largely untouched from the time of Nuffield's death.
William Morris was not a particularly skilled engineer, nor was he an inventor. He was adept at picking up good ideas and employing clever people in the right situations. He was astute in his recognition of the importance of cost control and in focussing on what the customer wanted – something which became lost and then eventually exploited by Japanese manufacturers. He was the preeminent industrialist in that period between the wars when there were few British industrial success stories. The city of Oxford would have been very different without William Morris, as would its university, and, of course, there would have been no MGs.