Small Wonders Part II
Reproduction in whole or in part of any article published on this website is prohibited without written permission of The MG Car Club.
By Martyn Morgan Jones
A potted history of the Triple-M Midgets, from the PA to the R Type.
PA
MG was very much looking to the future. In March 1934, a new Midget, the P-Type, was introduced. Even though it took many engineering and design cues from its predecessor, the P-Type sported a slightly longer wheelbase, the chassis was a tad sturdier, there was a little more interior space, the level of standard equipment was improved and the bodywork had more flowing lines.
Offered in open two- or four-seat form, the P-Type proved very popular, with 1,396 two-seat sports and 498 four-seat sports finding homes. A svelte 'Airline' fastback coupe model, produced by H W Allingham of London, was soon offered and, at £290, commanded a £70 premium over the two-seater. Records show that 28 were produced. Other fixed-head coupes were offered by Cresta Motors of Worthing and University Motors.
Significantly, the P-Type was the welcome recipient of a new, 847cc engine, the design of which was rooted in the Magnette's six-cylinder unit. The previous two-bearing, four-cylinder engine, already at the limit of its development, had an alarming propensity for snapping crankshafts, particularly if it had been reground (which led to MG issuing a 'must-read' service sheet that highlighted the fact that these crankshafts should not be reground). Replacement was the only option. The crankshaft's frailty was particularly evident under racing conditions
Fortunately, the new engine featured a new crankshaft …one that was supported by three main bearings (including a strong, steel, centre main). Although it wasn't counterbalanced, it was immensely robust. And, its life was further extended thanks to the redesigned engine's much-improved lubrication system (with external and internal filters). Power was 36bhp at 5,500rpm.
To garner the greatest potential from the PA however, many owners resorted to supercharging. Kits were offered by a number of specialist manufacturers. Unusually, MG even went as far as honouring the car's warranty if a supercharger was fitted …but added a crucial caveat: working at its maximum, the supercharger was not to exceed 6psi.
MG had also fitted 12-inch brakes which were far more effective than the previously-used 8-inch versions. And, the transmission system had been modified and strengthened.
Even though the P-Type was not designed for racing, many examples ventured onto the circuits. When it was raced, its nemesis was the Singer Nine Sports. Blessed with a jewel-like 972cc overhead cam engine, the light and nimble Singer had the measure of the 847cc P-Type. Of course, this was largely due to the P-Type's avoirdupois.
At Le Mans, in 1935, a team of six female drivers, nicknamed the 'Dancing Daughters', entered and finished the gruelling 24-hour event, albeit quite some way behind a trio of Singers which took first, third and fourth places in the 1,000cc class, averaging over 10mph more than the MGs.
PB
It was this drubbing at Le Mans, along with other factors such as press criticism of the car's performance, that prompted the arrival of the PB in August 1935. However, MG still had 27 P-Types (which were now referred to as PAs) in stock. Keen to dispose of them, they were offered at a Substantially reduced price. Nonetheless, there were no takers, the upshot of which was that all were later converted into PB models.
To improve performance, the engine in the PB was bored out to 60mm, resulting in a capacity of 939cc and an output of 43bhp. Not only did it have more power, the power was more accessible thanks to the gearbox being fitted with the J-Type's closer ratio gears. Even so, as with the PA, many owners elected to fit a supercharger. And, MG continued to honour the warranty if a supercharger was fitted …but, as before, only if didn't exceed 6psi.
Interestingly, thanks to the harvesting of the endangered Sequoia Redwood tree having been banned, with the introduction of the PB, the dashboard fascia now featured burr walnut veneer.
In production for almost seven months, 408 two-seaters and 99 four-seaters left Abingdon. Also, H W Allingham made a PB 'Airline', selling 14. The survival rate (PA and PB) is excellent.
Q-Type
Aimed squarely at the racing customer, although listed in MG's general car catalogue (at a cost of £550), the Q-Type of 1934 was a very limited run. Just eight were produced over a four-month period.
Powered by a short-stroke, 746cc engine, that was topped off with Zoller supercharger boosting at an incredible 25psi, and with 113bhp at its disposal (equating to approximately 151bhp per litre) the Q-Type was a rather fast car. Thankfully, the two-bearing crankshaft was not carried over. The engine was suitably uprated with a three-bearing P-Type block, P-Type cylinder head and featured a counterbalanced crankshaft and stronger connecting rods (which were further strengthened later in the production run).
Unfortunately, the chassis, which was a curious melange of previous designs, was not quite a match for the engine's performance. As a result, the Q-Type never quite delivered on its promise.
R-Type
Which, by default, is a criticism that could also be levelled at the Q-Type's successor: the R-Type. By 1934, the effectiveness of independent suspension was being realised by several manufacturers, MG included. Indeed, MG had done some 'in-house' experimentation with independent front suspension as early as 1933, although it was only in 1934 that H N Charles, MG's Chief Designer, started working officially on an all-independent suspension car: the R-Type.
The only way to enable independent suspension to work properly was if the chassis was rigid, a characteristic that was completely lacking in most car frames of that time, MGs included. To counter this, Charles designed a Y-shaped frame, completely boxed in, which was immensely strong and rigid, but relatively light. The engine, essentially a Q-Type unit, was mounted in the 'fork' of the Y and the suspension was by double wishbones, of unequal length at the front but equal at the rear, connected to steel bars held in torsion and running the length of the boxed chassis. The body was an elegant single-seat affair.
A noticeable improvement on the Q-Type, the R-Type, which was less of an evolution, and more of a revolution in chassis design, had huge potential. But the design was in its infancy of course, and although the wheels remained upright during enthusiastic cornering, the body leaned alarmingly. A combination of the early design of fluid dampers, equal length wishbones, rather soft rear torsion bars, and a roll centre that was close to the ground were the main problems. Problems that could have been easily, and cheaply, rectified.
Nonetheless, by this date, William Morris had sold MG to Morris Motors. Morris Motors promptly issued an edict that all work on racing cars, and all racing activities, were to cease, with immediate effect, thereby curtailing any development of the R-Type. Then, to rub salt into MG's wound, the design team at Abingdon was disbanded and all subsequent MG products were designed at Cowley, the Morris main works.
While many regret the passing of the OHC engines, and other changes, it was this rationalisation and the forced switch to using standard Morris components …and the arrival of cars such as the soon-to-be-celebrated T-Series Midgets, which ensured MG's survival. Had the changes not been implemented, it was quite likely that the MG factory would have ceased to exist by 1946.
A PA Today
Photos by Gez Hughes
AFC 634, a 1934 PA, first registered in June of that year, belongs to Mark Hillier. Mark has a long association with classic/vintage cars and, in particular, vintage motorbikes. He currently owns a Series One Land Rover, a 1929 Model A Ariel, a 1935 Matchless 500, a 1937 Ariel Red Hunter and a 1951 Triumph TR5, two HT 500 Ariel trials bikes, one with a sidecar, two 1960s Triumphs, one is a 500, the other a 750.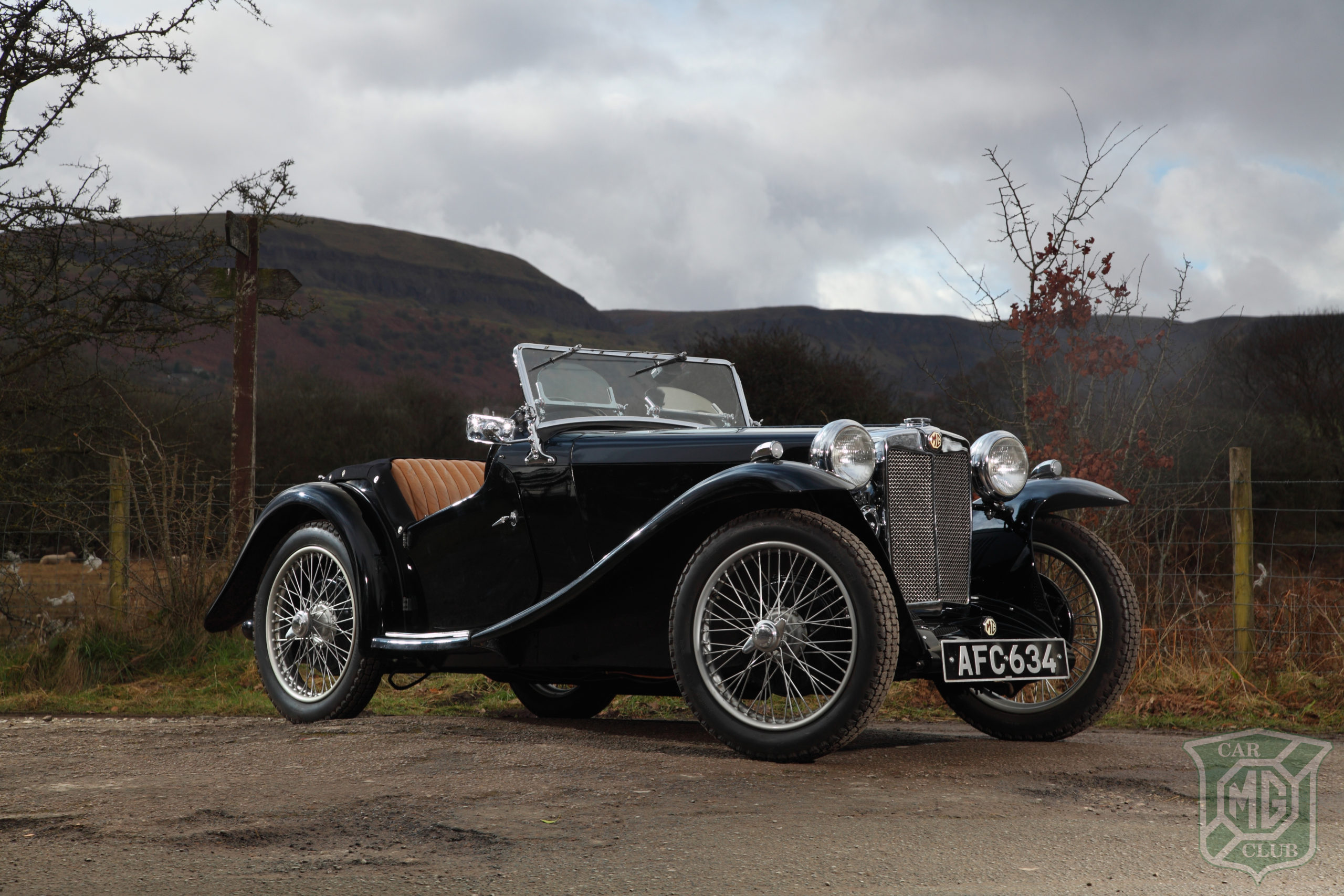 He's no stranger to the MG marque either, having owned a number of MGBs, an MGC GT Automatic, an MGC roadster (which he kept for 30 years) and, more recently, two early MG TAs, but this is the first Triple-M car he has owned. Records show that it left the factory as a four-seater.
"It was later converted to a two-seater," explains Mark. "Apparently, this was quite a common practice. The first owner was a Mrs Piggott and the car was in her possession until 1936, when it was purchased by a Mr Jackson. In 1946, the car was bought by a Mr Anscombe and it seems as if he kept it until it was purchased by a Mr Wardle. Between 1974 and 1980, Mr Wardle restored the car. During the restoration, it was fitted with a new ash frame. In 2009, the car was sold via Chapterhouse Auctions to a chap in Devon, Christopher Lambert, and he sold it to Barry Walker in 2015. I bought it from Barry in October 2015."








A numbers-matching car, AFC 634, chassis number 1063, is a very fine example and is meticulously maintained by Mark. Originally blue with blue trim, it was painted black some time ago, long before Mark bought it. Otherwise, it's in remarkably original condition, even down to the fact that it doesn't have a water pump …common practice at the time. Nonetheless, fitting one is on Mark's 'to-do' list.
"Generally, the engine runs at the correct temperature," he elaborates. "But occasionally, especially when in traffic, it can get a little warm. Fitting a water pump makes sense as it will help when dealing with stop-start traffic. The engine's actually designed for a water pump, and everything's in place for one, but it wasn't a standard fitment. I'm not a purist, but I like to keep the car as original as possible. However, I am prepared to make subtle changes that will benefit the car."
MGs are drivers' cars, of course, and Mark is very pleased with the PA's road manners. "For a car of its era, it drives remarkably well," he enthuses. "It steers very nicely, with great handling, and the brakes are very good. Much better than the TA's. The trick with the PA is to get the cable adjustment spot-on. The performance is pretty good, too. That said, unlike my TAs, which had the XPAG engine, and would pull strongly from low revs, you have to rev the PA's OHC engine hard to get the performance, and hills are a bit of a challenge!"
Mark, who mentioned that he's never at ease, and never sleeps well, if his garage isn't home to an MG, is very happy with his PA. It's a keeper, too. "I hope to keep this car as long as possible," continues Mark. "I just want to use it …and cherish it."
Thanks to:
Triple-M Register – www.triple-mregister.org/
Mark Hillier