Round Australia…in GT style
This week's feature documents Trevor Clark's Aussie adventure in an MGB GT, from January 1968's Safety Fast! 
About a year ago, Trevor Clark—a local enthusiast and experienced rally competitor—called to see us here at Abingdon and told us that he was taking an `MGB' GT to Australia and would we be interested in a report of the extended tour he proposed making out there?
We expressed interest—cautiously, because many ideas of this kind never come to anything. We asked him to let us know how the trip went. In August be wrote briefly to say that it had gone quite well.
He had driven right round Australia—alone—covering 12,235 miles in 35 days of driving (taking 58 days over the whole project) over every kind of going—dust, gravel, mud, floods, desert heat, and occasional tarmac—and the '1VIGB' had gone like a bird. The only troubles bad been one broken exhaust bracket and one petrol pump failure.
The whole trip had been covered on one set of SP44 radial tyres without even one puncture. He had plenty of pictures; would we like a story? Yes indeed, we said; and here it is.
THE original plan was to ship a car to New York and then drive to Vancouver via San Francisco, Alaska and Montreal, for Expo '67', then to ship the car to Sydney in order to drive round and down, through Australia.
Owing to the economic situation and currency controls, the American trip had to be cut out, and the car was shipped direct to Sydney. After discussing the project with David Hiam it was agreed that he would supply an 'IvIGB' GT and prepare it suitably for a long, rough journey.
This included six-leaf rear springs, an Abarth exhaust, Contour driving seat, Kenlowe fan and sealed radiator system, a considerably thickened sump, petrol tank protection, sundry interior and exterior lights and instruments. Having decided to do the entire trip on SP44 radial tyres, Dunlop kindly had these available for my collection in Sydney as they are not on sale in Australia.
All sources of information were unanimous that such a trip should be made between May and October as this is the dry season in the tropics south of the equator. So all arrangements were made to fit this timetable. However, Sydney is not in the tropics and June there is not the dry season; to prove the point I set off across the Harbour Bridge in a torrential downpour on 14 June.
Having decided to go anti-clockwise, I was heading north towards the tropics and the further I went the more it rained until at Kempsey I was confronted by nine feet of water in the main street. As even an `MGB' cannot cope with that, I had either to wait or make a detour. Not being in England, this was not quite a straightforward choice.
The detour would be approximately 300 miles—up one side of the valley and down the other. I decided to wait for one day. Having done this, the floods were still rising, so off I went up the valley and this took me onto a gravel road which, being fairly hilly and having had days of heavy rain, was in rather poor shape.
At the time I thought it was pretty terrible, but now I think it was not so bad, having done the round trip and experienced really rough going! And so back to the coast road, and the journey north via Brisbane, Mackay, Rockhampton, Townsville and Innisfail to Cairns was, in the main, uneventful.
Although 'sealed', the road was not exactly first class and several long stretches were under repair, which necessitated detours. Such detours are tracks cleared near the highway by the authorities; they are not easily followed in many instances and their surfaces vary according to the type of land traversed and the amount and type of traffic using them.
Later on I was to find much longer detours—in one case nearly 11 miles! In Southern Queensland there are long stretches of uninteresting straight roads broken only by numerous creek crossings, and, of course, by gum-trees of many and varied species. But after ten miles one is almost fed up with the sight of them, though they keep appearing all the way round.
Once you get into the sugar-cane country, things change. In place of creeks you have 'Tram Crossings' and judging by the ride it would seem that when the roads were sealed the bitumen was put around the rails at their original level, so the result is a very uneven crossing, which if nothing else helps to keep one awake!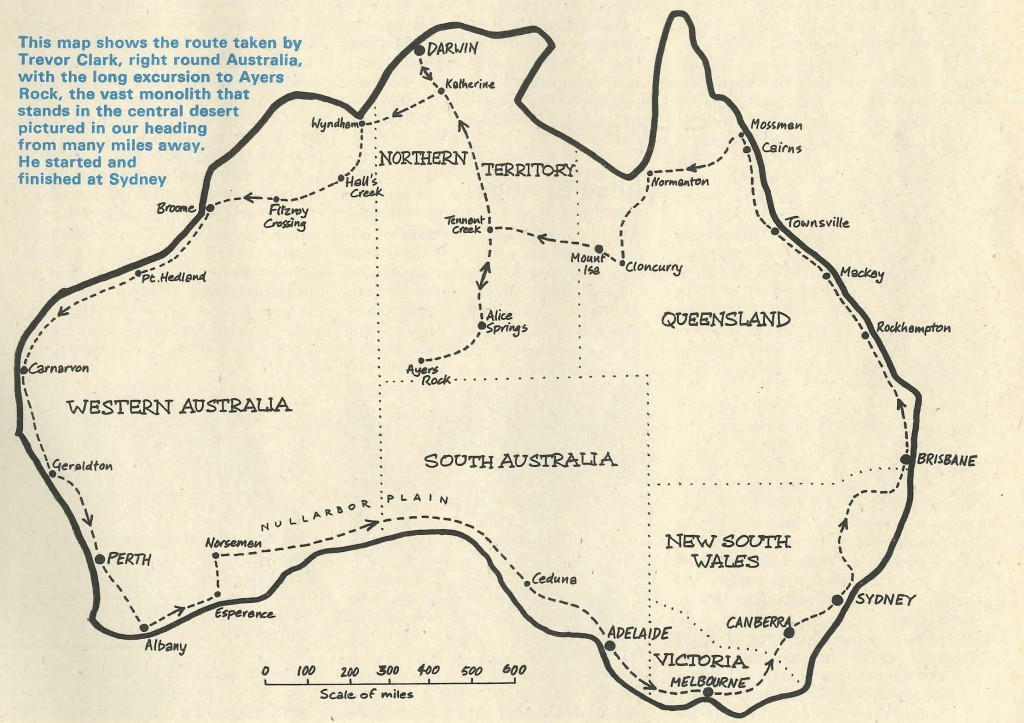 This map shows the route taken by Trevor Clark, right round Australia, with the long excursion to Ayers Rock, the vast monolith that stands in the central desert pictured in our heading from many miles away. He started and finished at Sydney.
Arriving in the area at the start of the cutting season, it was interesting to see so much activity and especially the burning of the cane prior to cutting. Mossman is 50 miles north of Cairns along the coast and the road, though sealed, is in poor shape presumably owing to the heavy sugar traffic. It twists and turns along the cliffs and is one of the prettier stretches.
Mossman is at the end of the bitumen and here I turned inland over the Atherton Table-lands. The climb up from the coast was gravel but uneventful and once on the plateau I was reminded in many ways of the Yorkshire Dales as far as the scenery was concerned. The roads here were narrow and bumpy, though sealed, and there was sightseeing to be done if one is that way inclined.
I pressed on because in another hundred miles I would be joining a road, which is marked only 'surveyed road' on the map. Having refuelled at Mt. Garnett, I started on the rough stuff, which lived up to its description. After some thirty miles of very rough and slow going I came to the junction of the `surveyed road'.
To my surprise it was a first-class graded gravel road and speeds of around 70 were possible without any discomfort. As I approached Mt. Surprise there was a detour, which, lo and behold, took me onto a new bitumen road. Surprise, surprise! And so the next hundred miles of jungle had been transformed into one of the best stretches of road in Australia.
But once the cattle trains are let loose it will soon deteriorate. A cattle train consists of a 15-ton truck (or similar) with a two-tier cattle-truck body and this pulls two trailers with similar bodies.
It is a formidable object to meet on a narrow road. But of course the roads are not really narrow—the bitumen is just wide enough for two cars to pass but the overall width of the original gravel road is probably around 50 feet, so there is plenty of room to manoeuvre. As in golf, one keeps to the fairway as far as possible!
After a night in Georgetown it was back to gravel at its worst and the 98 miles to Croydon was slow going with a top speed seldom in excess of 35. Croydon, unlike its English namesake, is a sleepy old place with about twenty houses, a pub and a 'filling station' (a hand pump outside the village store).
So after a quick refuel and a glass of lunch it was a case of pressing on to Normanton. For a mile the road was much the same but then suddenly improved and I was back to the sixties again. The first hundred miles out of Normanton was bitumen and then it went to Julia Creek and I wanted to go to Cloncurry.
Having asked about the state of my road in Normanton, I got two quite different answers. So much for local knowledge! In fact it was 120 miles of hell! Apparently the road is little used except by cattle trains. Well, it had rained, cattle trains had used it, it had dried out and the result was hard, severe, deep ruts.
And the creek crossings would be better described as conkers. Around forty-five was the best speed if one could put up with the shaking from the ruts and corrugations near the creeks and cattle grids, which appeared with monotonous regularity. And so to Cloncurry and a welcome shower in a more than somewhat out-dated hotel.
Having years ago been a big flourishing city, Cloncurry has dwindled to little more than a village. I believe it was this part of Queensland which pioneered the Queensland and Northern Territory Aerial Service—now better known around the world as Qantas. On the following day I planned only  a short run of 85 miles to Mt. Isa.
Just off the main road is Mary Kathleen, a private township owned by Rio Tinto to house the operators of their uranium mine, now with only a handful of personnel and looking rather forlorn, although its colourful gardens are worth the visit. Mt. Isa's mines are world renowned and are an immense sight from afar.
The town itself is a dusty disappointment. But by chance I parked the car outside the office of an enthusiastic `MGB' owner, so I enjoyed my visit to Mt. Isa! It was a strange coincidence that he was proposing to leave for Cairns the next day following the route I had taken. A very good excuse for a noggin and natter—and they are open from 10 a.m. until 10 p.m.!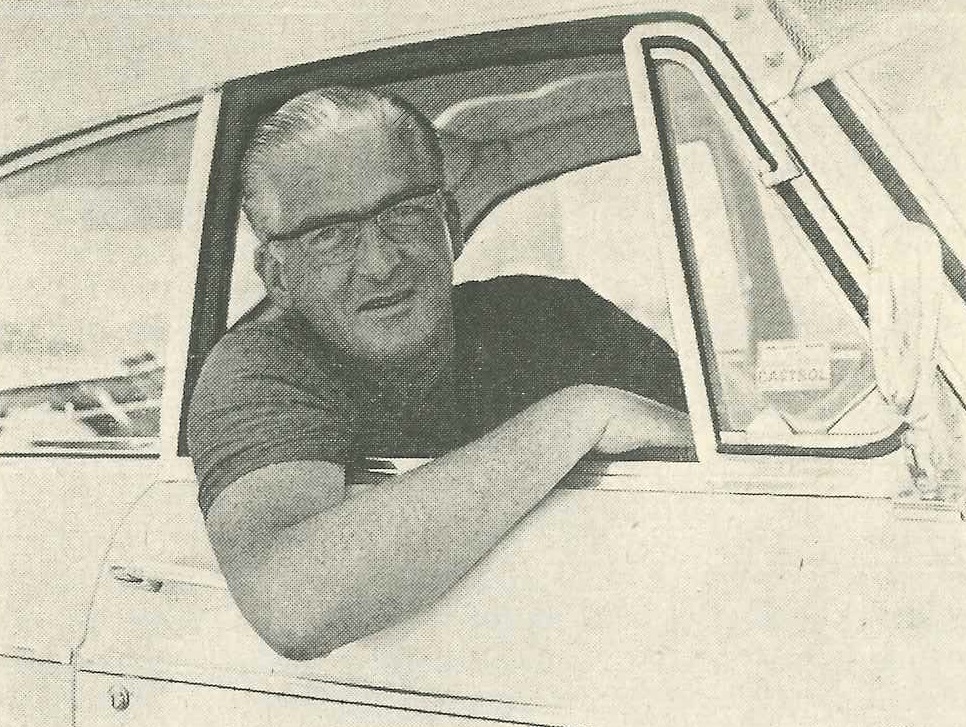 Trevor Clark in the 'MGB' GT as he set off from Sydney on his 12,000-mile trip Photo: BMC Australia.
Although sealed all the way, the road from Mt. Isa via Tennant Creek to Alice Springs is uninteresting in the extreme—/ in fact monotonous would best describe it. Soon after leaving Mt. Isa one crosses the Northern Territory border and very soon mile upon mile is traversed of completely flat country with only an occasional tree in sight.
For the occasional ten-mile stretch the road undulated over level country and presumably the dips are shallow watercourses. Over one river the wooden bridge was in a bad state of repair and I came to realize the padding in the GT's roof lining is a really good idea! Between Tennant Creek and Alice Springs the road passes through the Devil's Marbles.
They are brown and are spread over a dusty red desert; otherwise they are equally as intriguing as Stonehenge—an inscription on one read, 'Wilson was here in 1965′!
Alice Springs whilst in some parts of Australia `MGB' roadsters are reasonably plentiful, in other areas they have never been seen, and so a GT creates great local interest. In Tennant Creek it was treated to a very thorough inspection by a large proportion of that town's young set who appeared from nowhere as soon as I pulled in for fuel, in very hot versions of sundry Hoidens, Minis, and Cortinas.
It eventually emerged that one of their number had a GT on order. Alice Springs is quite one of the sleepiest places I came across. It is al-most in the middle of the country and is known as the 'Centre'.
It abounds in hotels and motels and would appear to exist very largely on tourists. There is much to explore in the vicinity, but I confined myself to one excursion—to Ayers Rock, the biggest monolith in the world and a sight well worth three hundred extremely rough miles to see.
As throughout most of the country, there is no choice of road, although one can on occasion wander off along ill-defined tracks, but then you forgo theluxuries of refreshment for car and self. The first hundred miles are rough gravel, the next hundred dusty gravel with some corrugations, and the final hundred bad corrugations with some loose gravel and much thick dust.
The Rock itself is surrounded by oceans of thick red bull dust and three small motels. At sunset the Rock changes colour—red, bronze, blue, green—but in order to see the change you have to take colour photographs.
The naked eye does not see it happen. The motel I chose was not quite finished but was excellent, especially when it is realized that it has no connection with the out-side world save for the three-hundred miles of road and its airstrip. Somehow it seemed odd to find H. & C. and all mod cons and even a room-heater so far from civilization.
The return journey to Alice Springs took up the same amount of time as the outward journey, i.e. 6+ hours. Back in Alice Springs I had to get an exhaust bracket welded, and at the same time had the whole car 'blown out', but for the amount of dust that had got in, it was hardly worth the bother. I was somewhat taken aback in the local paper shop to see a headline saying `Americans for Henley?'!
Naturally I bought a copy to see what it was all about and discovered that Alice Springs is on the River Todd and they have an annual regatta which they call Henley-on-Todd.
As it so happens the river only runs on two or three days a year, and never in September when the regatta is held! Consequently the rules are somewhat different from those at Henley-on-Thames and the main differ-ence is that boats shall be bottomless!
The owner of the motel I used in Alice Springs took a keen interest in both the car and the trip. It transpired that by profession he is an engineer and the proud owner of a Riley Pathfinder—in superb condition.
He intends to keep it in first-class shape until Riley produce what he considers a suitable replacement ! And so off up 'the Track' to Darwin right at the top end of the country. The road is sealed all the way (950 miles), though not in the best condition and with a considerable amount of works with the inevitable detours.
Many of the creek crossings are being bridged, which makes for a much smoother ride, and grids on this section are few and far between. A night stop at Katherine enabled me to search out an Italian snack bar where they served Spaghetti Bolognese, par excellence. 'The Track' northwards from Katherine passes through some hilly and forest country which transformed it into an interesting run, if only because one had to be on guard against what might be around the next bend.
Far more pleasant motoring than the vast open spaces with flat straight roads. Darwin is just far enough north to be sub-equatorial and in winter the climate is very pleasant.
Day temperatures in the high 70's and nights around 50 made it possible to sleep comfortably without air-conditioning, though this is provided in most establishments. As there is a shortage of beds in Darwin, the beaches are also fairly crowded at night! At this stage I had decided that I would try to get a major service on the car, as the next 2,500 miles would be almost entirely on gravel.
Port Darwin Motors, the BMC Dealers, were wonderful and, having entered into the spirit they did a magnificent job, since leaving Sydney I had covered nearly 5,500 miles with only an oil change to the car. Taking into account the various conditions it was probably equal to about 10,000 miles of average motoring, so a thorough check-over and service was slightly overdue if I didn't want to run into trouble later on.
Another white GT had come out on the same boat with mine—and by a strange coincidence a Darwin man had ordered it. Being somewhat more sophisticated than the standard car a keen interest was immediately taken in mine. When they had finished it was like a new car and I have no doubt that it was as a result of their interest that I completed the trip without any mechanical failure at all, other than a petrol pump which packed up in the middle of Perth on a Saturday night!
Somehow I was very much looking forward to the next part of the trip because it seemed to be more of a challenge. Driving a modern motorcar over mainly sealed roads should present no problem to a properly prepared vehicle.
But now, it was just me and a GT for the 'outback' with really basic roads, filling points fewer and farther between, and townships hundreds of miles apart. From Darwin I retraced my tracks to Katherine and then turned west. Lo and behold! —Bitumen road, albeit a narrow strip but in a very fair condition.
And it went on and on—for 70 miles. Then—thrump! And here it was, rough loose gravel badly corrugated which brought me back to earth and my speed down from around 65 to about 25. But as had happened on the way to Ayers Rock, I got used to it and gradually speed built up again until I was motoring at around 50 except on the worst stretches of corrugation.
Up the creek Much more interesting country-side now, and views of quite a big river, some cattle trains going the other way and soon the now-familiar sign 'ROAD PLANT AHEAD' and shortly afterwards 'ROAD CLOSED—DETOUR'. This one was straight away very rough, quite twisting, and from time to time a choice of direction with no signs.
At one of these I hoped I had taken the wrong one when I found myself face to face with a deep, fast-flowing stream. I went back to the inter-section—now which way did I come originally? —I took the next on the right and hoped for the best and after seeing nothing nor anybody for a couple of miles I thought I must be well and truly up a gum-tree. I pressed on and in about another two miles I came into what seemed like a gravel pit and found men working.
It seemed a good idea to ask if I might be on the right road in view of the fact that I could see no other way out. Good: this is the road (sorry, detour) and I go over that pile of gravel and after crossing the river I can't go wrong.
I had found Australians to understate on matters of this kind, so I chuckled quietly to myself and set off into, so far as I could see, oblivion. After crossing the pile of gravel, the track dropped almost vertically down to a wide river—mercifully with only a trickle of water.
A narrow strip of concrete had been laid and so over I went until halfway across the concrete ended abruptly and there was a good one-foot sheer drop to the riverbed. After a careful survey I chose the point at which I would attempt a one-wheel-at-a-time descent, with the aid of some boulders on the riverbed.
With three wheels over successfully I was almost congratulating myself when the fourth wheel went over with a metallic scrape. What was it—would it rattle or fall off? Press on, Clark, and get out of this river before it floods! Very shortly I came up behind a caravan but there was no room to pass.
Eventually he stopped to let me by—and it was a BMC 1100 so I felt I had friends! We chatted and decided to wait until the road works were completed before attempting this road again. Then I was away again and in another four miles rejoined the original road. Where I had been, what I had circumnavigated, and where I was, were all mysteries.
But Timber Creek should be about thirty miles on—and in fact was only twenty. The landlord was an amusing character who told me he thought they would get on with the bitumening in a couple of years when the road would be back to the state it was in before they started to build the bridge.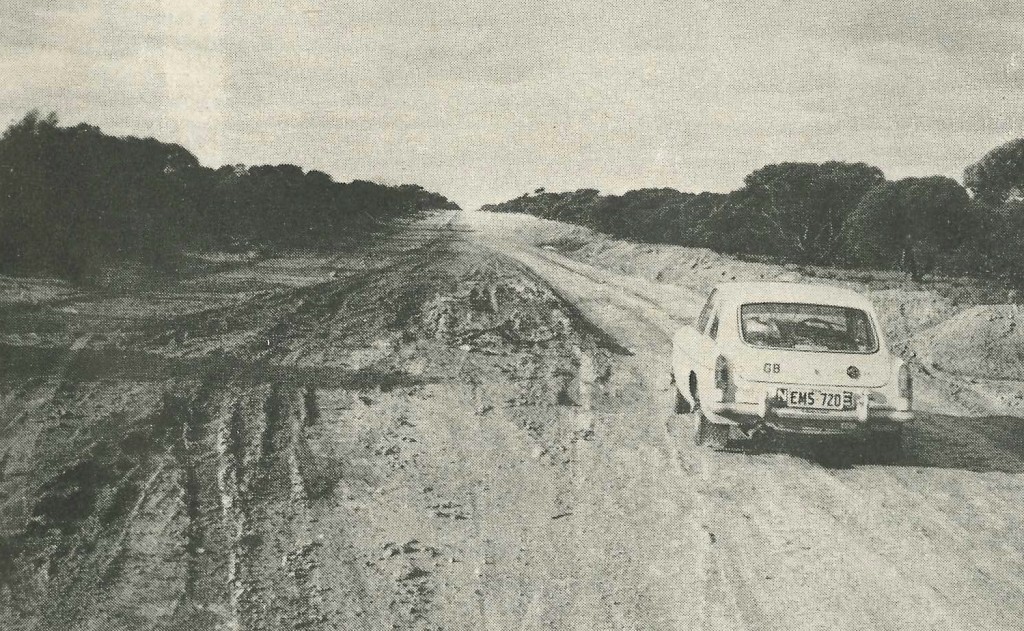 Many hundreds of miles on the journey were covered over highways like this—one of the rougher parts of the Eyre Highway over the Nullarbor Plain in Western Australia.
And even then it would be impassable in the wet season so why bother anyway! A wonderful outlook. From Timber Creek to Kununurra the road improved from time to time and soon after passing the Hall's Creek turn, we were on bitumen again.
Obviously fairly new and in excellent condition, it continued all the way to Wyndham, with the exception of a short stretch just out-side Wyndham, which was receiving attention. Wyndham on Saturday evening was as dead as a doornail—not that there seemed to be much around to come to life at any time.
After a fuel stop and a good look under the car for any damage sustained on the aforementioned detour, which revealed nothing was amiss, I booked into the local for a night. The problem to be pondered over a glass was how far to set tomorrow's target. After much thought I decided that this must be one of the few days when I would just get as far as I could.
As with each day in the tropics, Sunday morning dawned sunny and warm and after an early breakfast I set off towards Hall's Creek: two hundred miles on the map with just a possibility of fuel at Turkey Creek, at about half-distance. Having left the bitumen but twenty miles from Wyndham the gravel road became dusty and rough, but it was possible to keep going at a reasonable speed.
Without incident the sign to Turkey Creek appeared and I decided that petrol would be taken on at every available opportunity in this remote corner of the country. Off I set down a very rough track, very narrow and twisting between high banks before dropping fairly sharply to the bed of the creek—up the other side to a house and a hand pump.
A quick refuel and back again to the `main road'. The rest of the run to Hall's Creek revealed even more corrugations and the heat was terrific, so it was good to find the luxury of an open bar and also fuel at a Hall's Creek hostelry. The landlord here was one of the cheerful variety who didn't reckon the car would make the two hundred miles to Fitzroy Crossing.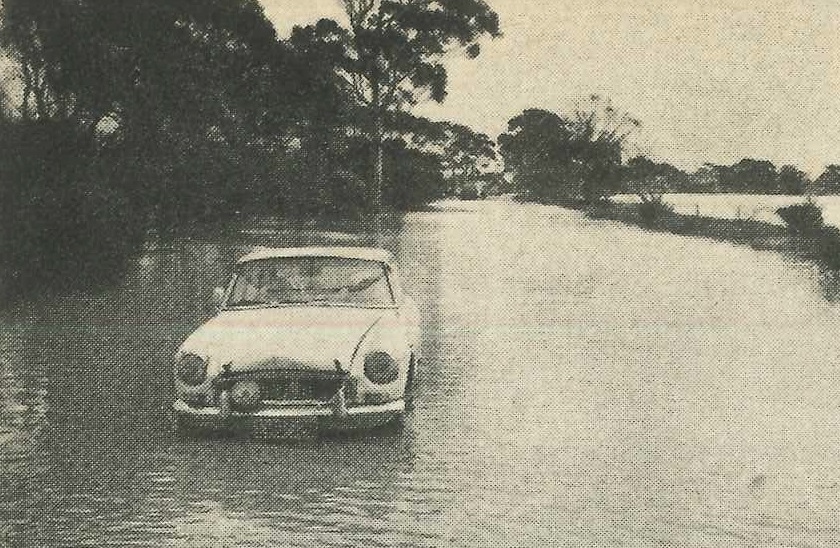 The GT comes to a temporary halt in the floods near Perth. 
'The road is shocking', he said, 'very corrugated and very thick dust, and some of the ruts . . . !' Undismayed, I pressed on. That the road was shocking I will not deny, though not quite as bad as he made out. However, an added hazard was the setting sun and this eventually pulled me up for a short rest.
Driving blind on good roads is bad enough. By nine o'clock I was beginning to think the road couldn't get any worse when I realized that it was becoming much, much worse. But it was leading down to the river crossing at Fitzroy, where I creaked and groaned my way over the 'bridge'.
I felt it was just as well that I could not see the bridge properly in my headlights! Up the other side and a search for the fuel pump was an adventure in itself and resulted in finding no fuel available after 7.0 p.m. on Sun-days! So with two hundred miles from the last re-fuelling point behind me, and 242 miles to Broome ahead of me without a fuelling point, I made some hasty calculations on the chances.
I decided I could do it easily, especially as my notes indicated some stretches of bitumen ahead. When I left Halls' Creek I had 32 gallons on board in the tank and fuel bags, so at worst I would have to average 14 m.p.g. in order not to make it and had so far averaged 29 overall.
Things were back to normal very soon after leaving Fitzroy—in so far as I came to a detour, and then another, and then a third, and shortly after that some bitumen road. Short stretches appeared reasonably often, and then—about 80 miles out from Fitzroy—a kangaroo sought my assistance in its attempt to commit suicide.
It was successful, but at the expense of some minor styling modifications to the grille and bonnet of the car. But fortunately there was no mechanical damage. By now it was 10 o'clock so I decided to call it a day and pulled off the road for the night. On waking the next morning it seemed that the stretch of bitumen road I was on stretched into the distance as far as one could see.
And so it turned out, and it did, in fact, go all the way to Broome or considerably more than a hundred miles. And so it was Broome for breakfast and after some difficulty I found a suitable pump and re-fuelled. The next goal would be Port Hedland. On the map the road is shown as hugging the coast along 'Eighty Mile Beach and it is also noted as being 'very barren'. And so it is for almost the entire 348 miles.
Along Anna Plains it is just deep, loose sand with 'banks' of sand on either side to a height of about 12 feet, and it is only one vehicle wide except for a very few passing places. It was fortunate that I met nothing. It was very hot 'in the trench' and the Kenlowe fan worked overtime to keep the engine from boiling.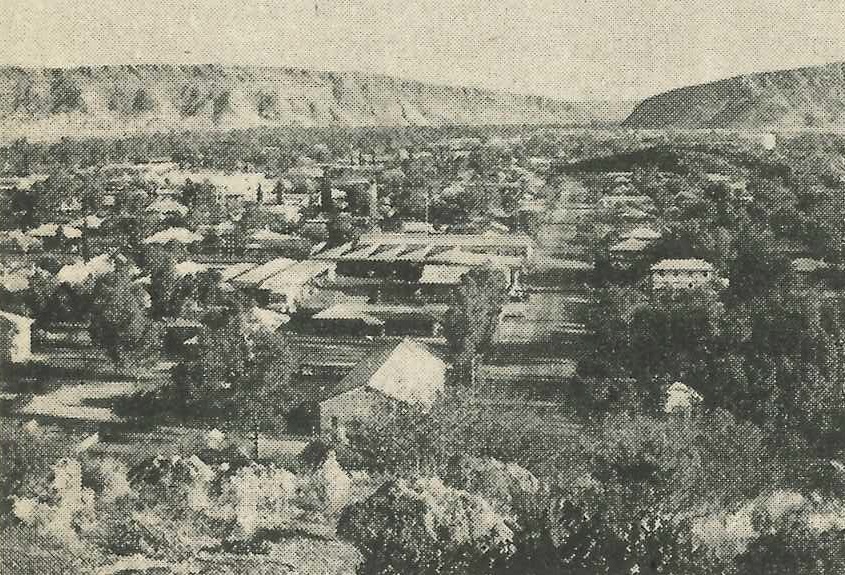 A view of Alice Springs. 
Beyond the plains the sand changed to dust and potholes abounded. They were wide and deep and would, without a doubt, cause no end of dis-comfort and damage if not approached with caution. And since making contact with that kangaroo, caution and care loomed larger in my mind than usual. Port Hedland, boomtown of the North West, proved to be a hustling and bustling town in a very sleepy way.
But it was very full and a bed for the night was found with difficulty. Now I was approaching the end of my run in the tropics—in fact not more than 450 miles remained. The weather remained good for those miles and more, and the roads remained bad, but shortly after crossing the Tropic of Capricorn bitumen returned and continued for a considerable distance. My last tropical night had been spent at Onslow and it was quite a cold one.
Next day I made an uneventful run to Geraldton; uneventful except for the gales, thunder and rain encountered over the last fifty miles. The rain went on all night, as did the gales and I set off to Perth on a very miserable morning. In about a hundred miles I was going through floods and then suddenly it happened—a very deep flood made the car stall.
I got out to spray 'WD 40' over the electrics and by that time the car was flooded inside up to the doorsills! But it still motored out quite successfully. Perth seemed like heaven after the rough and hot North West. It was here that I had the car serviced again and it was fortunate that I was still in Perth the following day when the petrol pump packed up! It turned out to be the only mechanical failure of the entire trip.
I was carrying a spare, but as I had the long and arduous (and infamous) Nullarbor Plain ahead of me, it seemed prudent to delay a day and have a new one fitted. The last obstacle to the successful completion of my trip would be the above-mentioned Nullarbor Plain, between Norseman and Port Augusta in particular.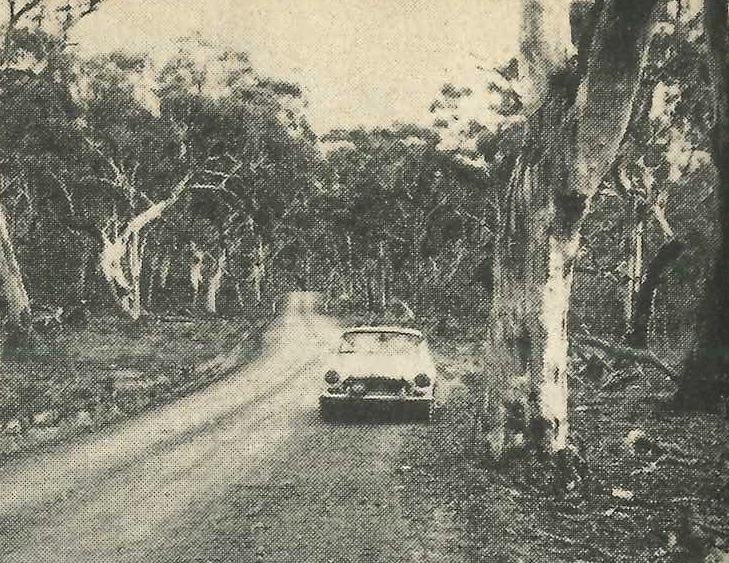 Gum trees in the Snowy Mountains not far from Canberra.
In Sydney, Brisbane, Perth, etc., etc., it was this road that everybody said was bad. It would be awful—don't go in that car—don't go in any car but put it on the train; and so the advice went, and as usual in these parts, it turned out that those offering the advice had never made the trip!
From Perth I went down to the South West through the wild flower country; it was a beautiful run and well worth the additional distance. Going this way was somewhat farther than going direct to Norseman, but after all those vast expanses of nothing in the North West it was pleasant to be surrounded by wooded land and all the colours of the rainbow: it must be a wonderful sight in the summer.
Nullarbor Plain New road making across the Nullarbor Plain is apparently a non-stop process except in adverse weather conditions, and so no map is very accurate so far as road surfaces are concerned. What was denoted as gravel on my map was in fact bitumen on which I covered 162 miles in two hours exactly.
But the following four hundred was gravel and seventy-five miles of this was quite the worst road of any I found right around the coast. As this was really the last gravel road before my return to Sydney, I decided to do it in the day. But I had been fooled by the first part of it and my timetable was somewhat upset when I could barely exceed 25 m.p.h. for that really bad stretch of 75 miles. In the end I managed it, but arrived in Ceduna too late for a bed.
Next day was, in effect, a run in to Adelaide—a mere 485 miles, four hundred of which were bitumen. Adelaide — Mt. Gambier — Melbourne: more and more vehicles per mile until they almost crowded the roads. A look at the volcanic (extinct) lakes at Mount Gambier, the biggest of which changes colour twice a year for no apparent reason.
Some rain and then fog in Melbourne, which made me feel quite at home! Instead of following the coast from Melbourne to Sydney I had decided to pay a fleeting visit to the Snowy Mountains and spend one night in Canberra, for after all a tour of the country would be incomplete without a visit to the capital.
The road I selected from the coast to Thredbo (known as the Alpine Village) turned out to be almost Scottish and was both scenic and twisty whilst climbing about 3,000 feet. Although gravel, it was in very good order. The Snowy Mountains didn't live up to their name for me and I had to drive the car off the road at about 4,500 feet in order to photograph it on snow!
The night at Thredbo was a cold one with several degrees of frost and next day the run up to Canberra was exhilarating with a distinct `nip' in the air. Canberra, having been properly planned as a capital city from its be-ginning, is very fine and quite unique in many ways but it seems to lack a soul.
And so it was on 10 August that I arrived back in Sydney—the run from Canberra being a mere 189 miles. But it is a road with a difference. From Canberra to Goulburn, where it meets the Hume Highway, it is scenic. But from Goulburn it is reputed to be the busiest road in Australia, and just to make it more interesting there are vast amounts of road works in progress and in addition it is speed-restricted.
Speeds allowed are 35, 40, 45, 50, 55, and 60 and the changes from one restriction to another are numerous so it is difficult to remember to what speed one is restricted at any given time—not that this is always relevant since the amount of traffic is often such that you cannot reach the limit anyway!
All in all a wonderful trip. Even 58 days only gives one a glimpse of the world's biggest island and smallest continent. There is much more for me to see next time round and then it will be much easier with knowledge of road conditions ahead. On this occasion I managed to spend every night but two in a hotel or motel. In order to do this it is sometimes necessary to do quite vast mileages in a day.
Next time I think the ideal would be a motorized caravan and so be entirely independent. The hotels and motels vary greatly in quality and tariff, from very poor to first class. An `114GB' GT loaded with two spare wheels, five fuel bags, a tent, stretcher, sleeping-bag, suitcases, stove, food, etc. etc., is not comfortable as a bedroom and unless one stops before sunset it is very difficult to erect a tent.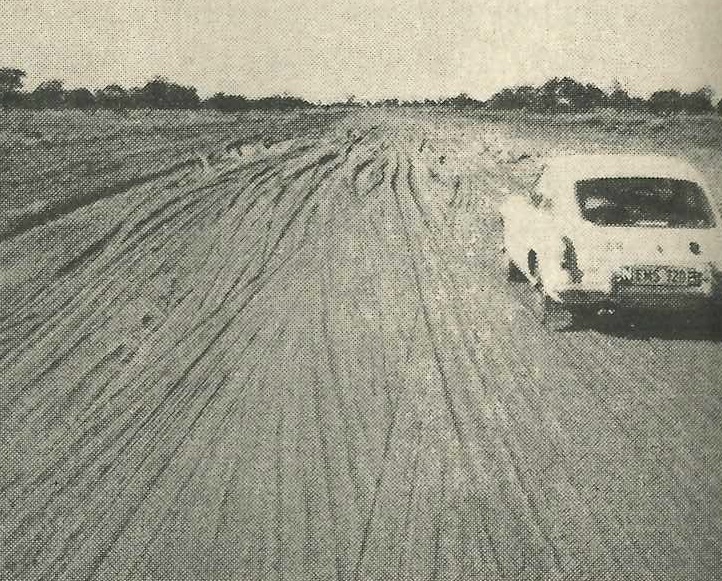 The main highway composed of two-foot-thick 'bull-dust' near Pt. Hedland, Western Australia.
However, apart from the petrol pump failure and one broken exhaust bracket, the car ran perfectly for the entire trip. I did not have to change a wheel once, and the Dunlop SP44 tyres were absolutely ideal for all the conditions encountered. The Kenlowe electric fan and sealed radiator system worked perfectly and saved no end of possible boiling and certain topping up.
The additional ground clearance given by the Abarth exhaust, in conjunction with six-leaf rear springs, proved adequate but necessary. The Contour seat, Leston leather steering wheel and Paddy Hopkirk accelerator pedal combined to make long distances over abominable surfaces a pleasure.
Without considerable co-operation from David Hiam, Dunlops, Evan Green of BMC (Australia), Donald Thompson of the Confederation of Australia Motor Sport, and the Double Bay Auto Port, the trip would still have been possible, but much less successful and enjoyable! My grateful thanks to them all. T.C.
---