One man's meat….'not for purists'
This week's feature looks at Philip Edbrook's modified MG TD, and goes through what work he had done to it. The original article featured in Safety Fast! from January 1968.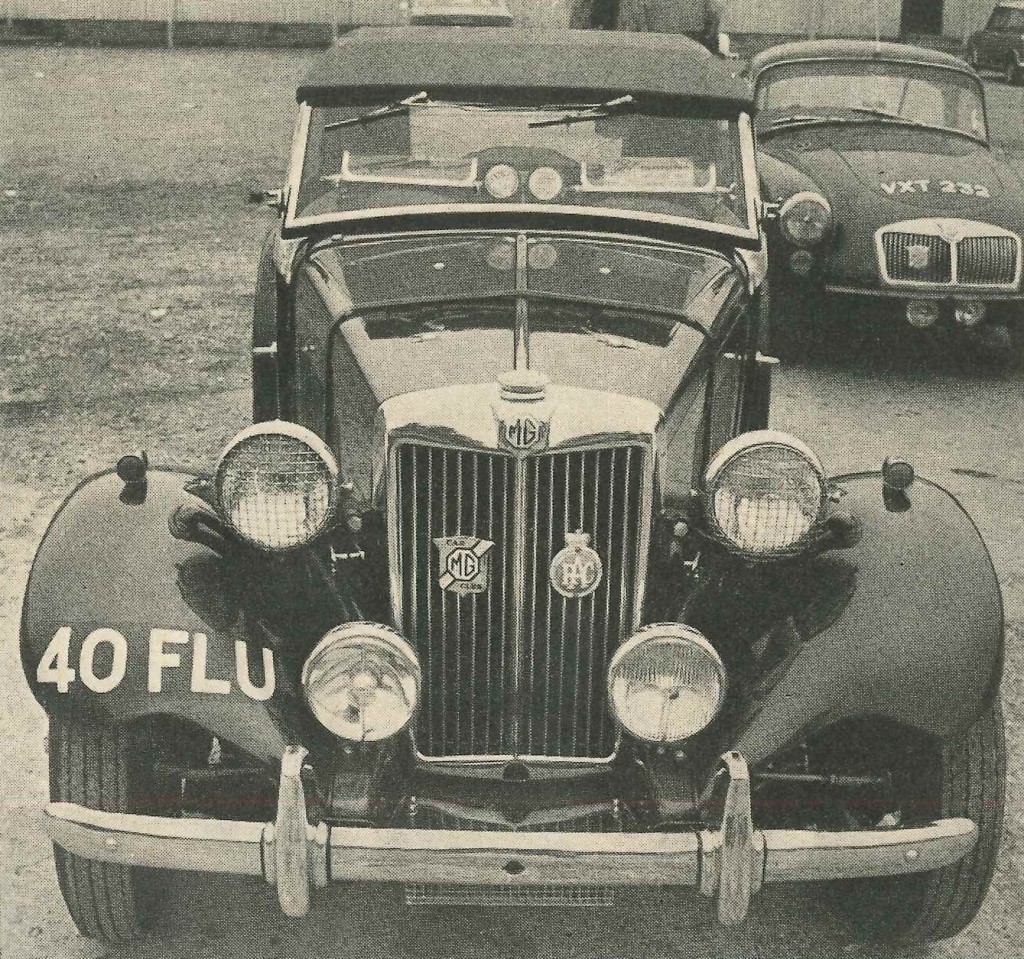 I would first like to say that I am quite sure that mine is not necessarily the best 'T' type, nor the fastest; but after the work carried out on and off over the past three years or so it largely conforms with what I require from a motorcar.
When I first bought the TD back in 1964, it had been in the United States for the previous 10 years. Evidently it had been exported when new and had just returned. It was a genuine one-owner car, and altogether a very good basis for a rebuild.
The only problem was the fact that it had disc wheels. But more on this point later. To date, the main work involved is as follows. The engine has been over-bored to 1466 c.c., after rather drastically 'swallowing its tonsils' in the way of a carburettor butterfly grubscrew. Originally it had been tuned firstly to Stage I, and then Stage II. But when it was stripped for the rebore, the crank-shaft assembly was balanced, (by Laystall naturally) and rebuilt using TF con rods, which I was advised were better.
I then considered either fitting a supercharger, or the alternative' of an alloy cylinder head and extractor manifold. Some people said for, and some against blowing, but eventually I decided in favour of this form of tuning and, in fact, obtained the last Shorrock Kit that Allard were prepared to assemble for the XPAG engine.
There have been difficulties in the past years' over castings, and at last the stock has dried up. Much has been written in the past in favour of this form of tuning, so I do not intend to repeat it here. All I will say is that I have been most impressed and very satisfied with the results.
I personally think that it is the answer to tuning any car, especially the M.G. 'T' types. It took a while to settle down, and despite the tuning manuals, I found that Champion L.7 are the best sparking plugs for road use and not the L.5 as recommended.
The whole car is much smoother to drive, obviously has far more power, and fuel consumption is still in the region of 20-25 m.p.g. The engine is run on Duckham's Q20/50 oil and fitted with an oil cooler, which I am inclined to think is not really necessary. Purists who have read this far will have already realized that I am obviously not over-keen on keeping the car original. I'm afraid this point has never really bothered me, as I have always felt that an improvement is just that, whether the manufacturer's thought of it or not.
Therefore I had no feelings of guilt when I carted away the engine accessories to be chromium-plated and refitted them along with a finned alloy rocker cover and tappet cover plate,(which came from the States). I have also lined the bulkhead and underside of the bonnet with acoustic felt.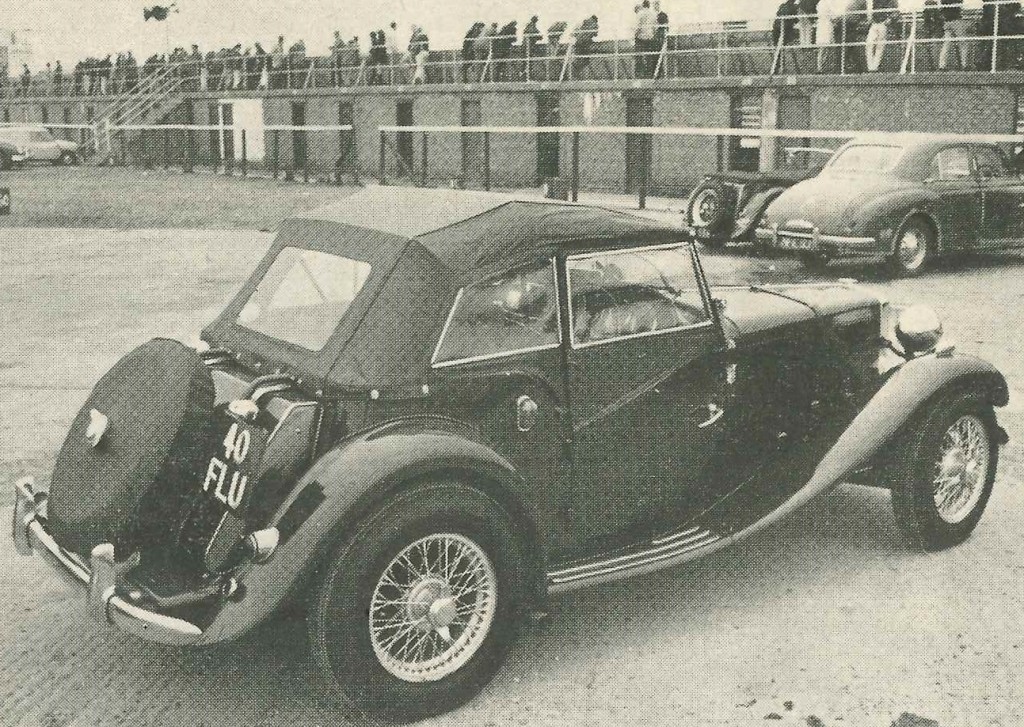 Wire wheels, side exhaust and spare wheel cover distinguish Philip Edbrook's immaculate TD. 
With the hood down, this obviously makes little or no difference to the noise level, which is mostly wind-noise anyway, but it is reasonably quiet with the hood and side-screens in place. The thermostat and bypass hose have also been removed, resulting in the engine being slightly overcooled, so that in winter it is necessary to cover the lower part of the radiator. Twin fuel pumps have also been fitted, not because I felt the extra output was required, but simply because I have always had a fear of things electrical and have never had much faith in electric fuel pumps.
Of course, now that I have a spare, I have had no trouble to date (touch wood!). The interior has been re-trimmed and the original seats replaced with proper bucket seats. These give a lot more support on cornering, and there is also more room between the driver's and passenger's seats allowing access to a rear seat cushion, which has been fitted in the rear part. This is very useful when carrying my three-year-old daughter.
A smaller diameter wooden-rimmed steering wheel has also been fitted. Detail interior additions also include: fitted rubber mats, a map light, M.G. embossed gear-change knob, and an organ-type accelerator pedal, which makes it far easier to heel-and-toe. The tonneau cover has also been modified by the addition of two extra zips above the door, which enable side-screens to remain when the hood is lowered and keep a lot of the wind at bay, even with aero screens.
The hood has also been modified to fix to the rear of the body with 'lift-the-dot' fasteners, instead of the normal 'tacking strip', which always seems to rot away. The road-holding has been improved immensely by the addition of an anti-roll bar at the front and `Koni' shock absorbers at the rear. This has curbed the TD's desire to roll a lot on corners, though with the obvious hardening of the ride. Brake linings have been changed to Mintex high-performance ones.
These require a slightly harder pedal pressure, and are inclined to snatch when they are cold, but are very good when they are warmed up. The underside has been de-rusted and painted in underseal, and the undersides, of the wings given two coats of house hold gloss paint. The 'lily' has again been 'gilded' somewhat by the addition of a black P.V.C. spare wheel cover to match the hood and tonneau and I have also fitted leather bonnet straps.
Twin quartz-iodine spot and fog lights which have been added have been found very satisfactory. As I have already said, I was never very happy with the disc wheels, and after giving it much thought ended up with a special one-off wire wheel conversion by J. A. Pearce of Southall. These consist of a bolt-on splined centre-piece, fitted with standard 15-in.-diameter 48-spoke wire wheels similar to those of the MGA.
The track is increased by an inch or so, which in theory should increase the road-holding too, but in practice I don't think it makes much difference. I think that the looks of the car are greatly improved, and I have never found them too difficult to keep clean. The last three years have been spent doing one job after another as they have occurred to me.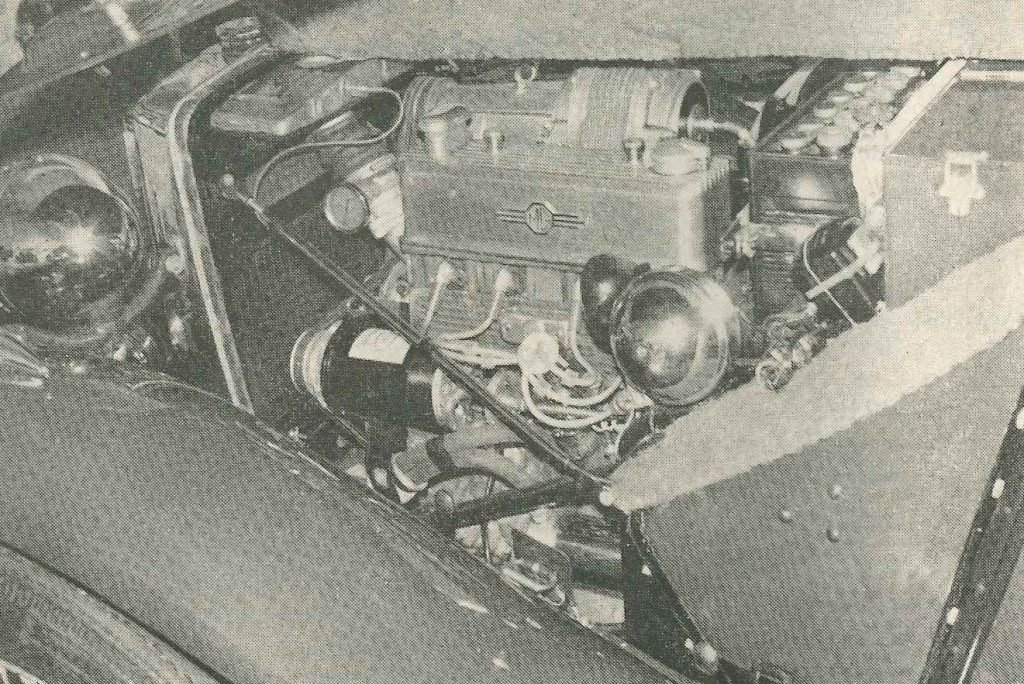 The Shorrock 'blower' and alloy rocker-cover are the major changes in the gleaming engine compartment.
The exhaust system has been modified recently by the fitting of a Burgess straight-through silencer with the tail-pipe emerging under the driver's door. I must admit that there are quieter set-ups! I don't suppose I shall ever consider this car as 100 per cent complete—one always gets new ideas, tries them, then decides if they are any good or not.
When Dick Jacobs drove this car in the 1966 BMC Sports Car Parade at Silverstone, he commented on the performance and handling of it, yet I'm sure I've improved it even more since then. People ask me why I haven't spent the money and time on a more modern car. Sometimes I even ask my-self this question, but I think it's be-cause I simply like the looks of the old M.G. better and also I like a reasonably rare car.
Some owners may not know what I mean, but I'm sure 'T' type owners will understand when I say that a modern car just wouldn't be the same. P.E.
---