Crackers & Muskets
This week's article comes courtesy of Safety Fast! from April and May 1972, and is a two-part feature on two of the most famous MG trials teams of all time; Crackers and Muskets. Written by Steve Dear.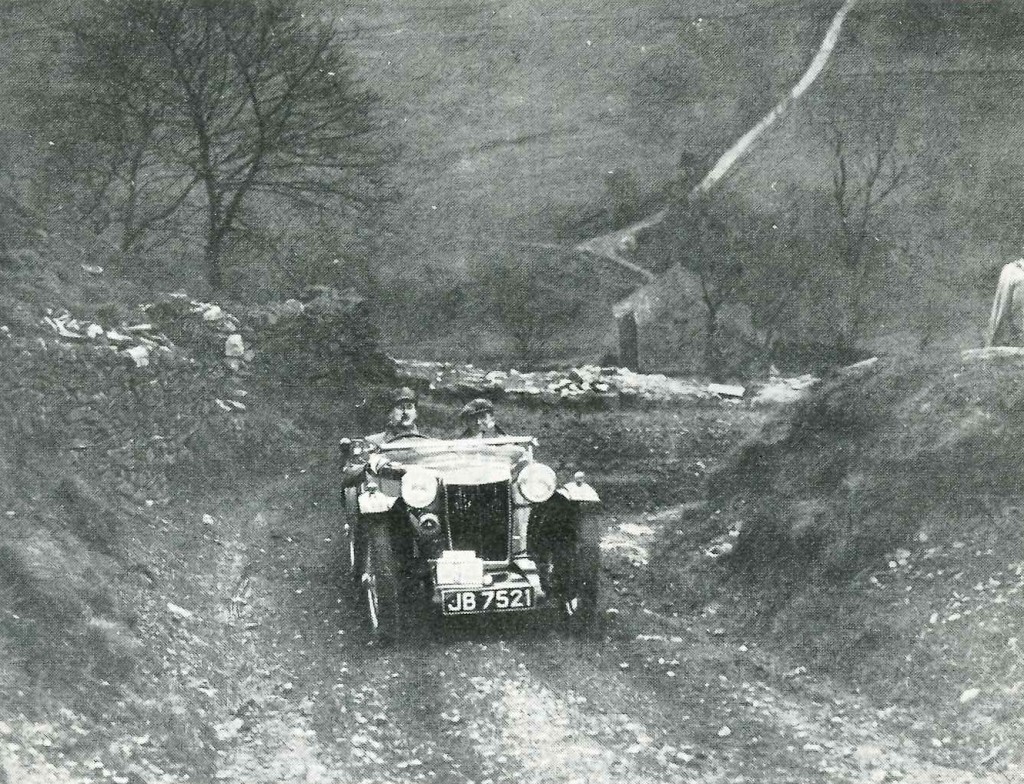 Maurice Toulmin seen climbing Jenkins Chapel in the most famous of all the Crackers, now owned by the author.
It was in 1968 that I received a phone call from Mike Allison asking me if I wanted to buy a 'Cream Cracker' PB which had turned up in a dealer's showroom in Brighton. I had owned a PB for some eight years, and as I was already infatuated with the model, what could be more desirable than perhaps the most famous PB of all?
My enthusiasm was dampened by my initial enquiry which revealed that the car was an unblown non-runner with bald tyres, a set of wheels notable for the number of gaps where spokes used to be, attached to a price of £600. Learning that the owner had in mind the exportation of the car, I then conducted a blind postal haggle, with the invaluable help of Colin Butchers who reported on the authenticity of the car, and kept talking to the owner in a persuasive manner about the beautiful home I would give it, and what a patriotic gesture to let a real, live English enthusiast knock her down 150 quid.
So I became the owner of JB 7521, one of the 1936 blown PB team originally driven by the team's skipper, the late Maurice Toulmin (nothing to do with. Toulmin Motors incidentally) and subsequently by C. A. N. May, author of the well-known book on pre-war trials, 'Wheelspin'.
During the past three years, I have been lucky enough to meet Austin May and Jonathan Toulmin (son of J.M.T.) who have given me lots of photographs and information which, together with records at Abingdon, and help from Mike Allison, Wilson McComb, Morgan Marshall and several other experts, has enabled me to piece together some history of the teams. During the thirties, reliability trials were the popular form of motor sport for most enthusiasts, who had little scope for motor racing outside Brooklands, and such was the importance of the publicity attached to success in trials, that inevitably the makers of sporting motor cars took an interest in supporting entrants, much as they did in big rallies in the '50s and '60s.
MGs were successful in Trials at an early stage of their history, for Cecil Kimber himself won a gold medal in the 1923. Lands End driving one of his early specials described variously in contemporary journals as a 'Cowley Chummy', or the 'Super Sports Morris'! But it was in 1932-33 with the announcement of the J2 M.G. that the marque really began to show its paces, and three of the best J2 drivers were Maurice Toulmin, Jack Bastock and R. A. MacDermid. Maurice Toulmin drove TJ2, which still survives, and is owned by member Malcolm Dunkley, Bastock had WP2195, though Mac's car I have yet to identify.
None of these cars were 'Cream Crackers', although these 3 drivers teamed up at an early stage, and eventually formed the first Cracker Team. It was in March 1934 that Toulmin and MacDermid appeared with the new P types, the former driving TJ5000 and the latter JB3639, both of which looked fairly normal, had swept wings and were painted blue.
Bastock kept his J2 for a while, but he appeared in a green P type JB3854 in May the same year. It was widely thought that these PAs were entirely privately owned at the outset, and that their subsequent success prompted the factory to offer assistance. A look at the chassis file on JB3854 however, reveals that the cars first 'owner' was the MG Car Company, and the address given was simply 'Competitions'! This suggests that factory help was being given anonymously far earlier than was generally known.
It was not until 27 August 1934, that Bastock appears to have bought the car from P. J. Evans Ltd. of Birmingham. It is possible that the car was the subject of some research at Comps Dept., and was thought a suitable machine for Bastock to have subsequently. The mystery is not helped by the crossing out of 27 August 1934 as the date at which the car passed to Bastock, and 15 May, 1934, substituted, which was the date that it was also sent to Competitions – all most confusing.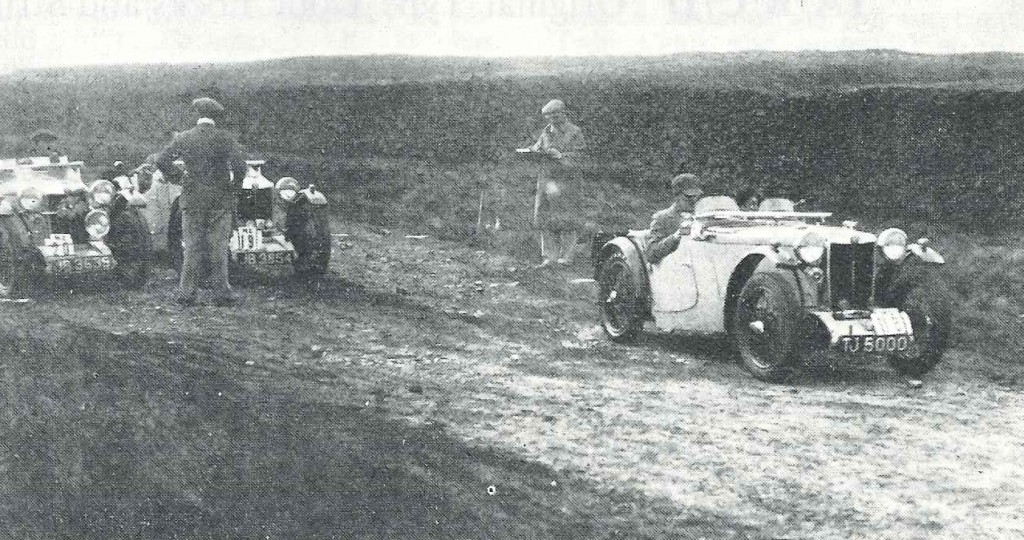 The early team of PA Crackers…note the 8in. brake drums!
It seems odd (had the cars been earmarked at the outset to form a team together), that they did not all appear the same colour, or with similar registration numbers ; unless of course this was to conceal the factory support, by making them look privately owned, and maintained. In fact, the whole problem was solved recently when, looking through some of the old factory files we found that the cars were owned by the drivers, but bought at discounted prices.
In fact the only concessions were that certain entry fees were paid, and repairs made to cars after those trials were 'on the house'. For the 1934 Sunbac inter-team trial, the cars were entered as the MG Car Club 'A' team, and by the 'Exeter' trial in December 1934 they had shed their swept wings in favour of J2 cycle types, and were beginning to look like the Cream Crackers they were to become. It seems that Jack Bastock was the man who inspired the idea of the new colour scheme that became so famous, by writing a pencil note to John Thornley (manager of the two teams) on 8th April, 1935 : — 'Publicity' as we are the first cars in Lands End we have a chance of getting the press?
All three cars club colours as Edinburgh Magnettes? All cars blue which would mean mine only to be re-painted. In any case we must have club colours on the bonnets as before. By the 15th April, John Thornley had written telling Bastock that his car and MacDermid's were well on the way to completion in their new coats. At the same time the cars were fitted with 8 in. J2 brakes in an effort to save weight, though Morgan Marshall who often bounced for Mac in JB 3639 tells me that the drivers pretty soon demanded some proper anchors back!
The cars had cream bodies, fuel tanks and front aprons, and brown wings, bonnet-tops, scuttles and wheels and they were inscribed 'CREAM CRACKERS 1, 2 and 3'. Toulmin was 1, Bastock 2, and Mac-Dermid 3. The precise dates at which they all sprouted Centric blowers are hard to establish, though Mac and Toulmin seem to have had them for some months before Bastock who, from the files, seems to have fiddled about for some time with different manifolding and bigger carbs.
Either way, they were outstandingly successful throughout 1935, and gathered trophies at almost every outing, including one at a very early VSCC trial at which the entries were so thin, that Toulmin was welcomed with open arms although he was a gatecrasher!
The VSCC has grown in stature somewhat since, but at this time they were considered a bunch of eccentrics with their large obsolete carriages by some of the smaller sports car drivers. (The ones under 5 ft. 3 in.) Tolmin's record for 1935 with TJ 5000 includes: Lands End Trial, Premier Award; Sunbac Team Trial, Winning team; Brighton-Beer Trial, Premier award; Liverpool Trial, Special award; Craigenlet Hill Climb, Alexander Trophy; London-Edinburgh Trial, Premier award, and triple for second year in row; Brooklands, 1st place in 1100 c.c. race; Buxton Trial, Premier award and second overall ; MCC Sporting Trial, Silver award (failed Bamford Clough, tut-tut!). N.W. Lanes Team Trial, Winning team and 5th overall; London-Exeter, Premier award and 13th out of 275 entrants; Colmore Trial, Premier award, best time on timed hill, 3rd overall; Lanes and Cheshire Trial, Premier and 5th out of 76 overall.
There were as many awards at lesser events, so one can grasp the reasons for the invincible reputation that the 'Cream Crackers' built up in this first season, for Bastock and MacDermid were no less spectacular. What of the early Musketeer team?
The first Musketeers were in fact three of the 1934 TT Race NE cars. Having achieved the job of winning the one assumes that someone with imagination hit on the idea of putting some surplus K2 bodies on them and making them work for their living, instead of sitting on their considerable laurels. Lewis Welch drove JB 4606, Kindell JB 4608 (now owned by Syd Beer) and Nash drove JB 4750, which not only as 'Aramis' won the Welsh Rally, but was also the actual car that Charlie Dodson drove to victory in the TT.
This car is now owned by Pat Green of Amersham (MMM 212). The career of the NEs as Musketeers does not seem to have spanned many months, for we think (but stand to be corrected) that the racing bodies were returned for the Evans Bros. to enter the 1935 TT, and at the MCC Torquay Trial in the early summer of 1935, the Musketeer drivers were mounted in three Dancing Daughter Le Mans PAs, painted in cream and brown Musketeer colours.
These three Le Mans PAs didn't appear again as a works trials team, and one can only guess that they were used as a stop-gap pending completion of the new experimental Musketeer specials. These appeared in their final super-charged form at the December 1935 Gloucester Trial, driven by MacDermid, Bastock and Archie Langley, and not as previously Nash, Kindell and Welch. It is believed that both Toulmin and MacDermid were very much 'leaders of men', and having two generals in one team sometimes led to minor clashes of personality. It was probably this that led to Mac being made captain of this new exciting Musketeer team (from December 1935 onwards), taking Bastock with him, and calling up Arch Langley as third member.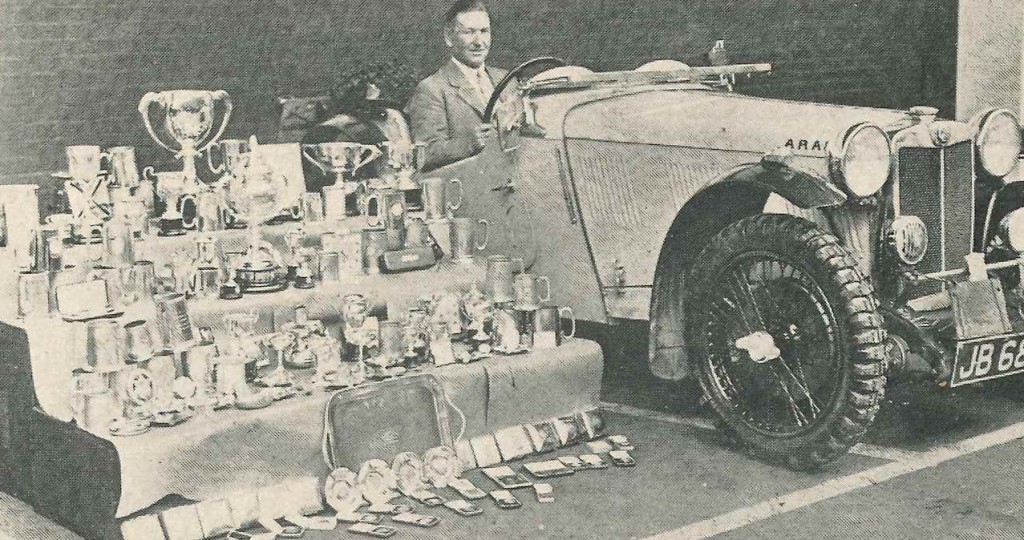 Arch Langley with Aramis from the 1936 Three Musketeers' Team. These cars were trials machines first and foremost and amongst the first of the lightweight/high-power formula.
No team of cars ever made such a shattering impact on the Trials scene as these three specials, and they were probably the most potent road going MGs to appear until the ill-fated MGC of 1967. (Snorts from MGA Twin Cam Group!) C. A. N. May describes in 'Wheel-spin' MacDermid's climb of Nails-worth Ladder in the 1935 Gloucester as the most spectacular thing seen there in years, the Magnette leaping high in the air with all four wheels off the ground over the bumps.
These cars were true 'MMM' cars, with parts from Midget, Magna and Magnette in their specification. The frames were L type with an L type back axle, (though such was the car's appetite for crown wheels, that straight cut ones were soon fitted), the engine was N type bored out to 60 mm. (giving 1408 c.c.), with a belt driven Marshall blower ; the body was P type, with a longer aluminium bonnet ; the brakes were 'Q' racing type, and the front axle was N giving a 3 ft. 9 in. front track (compared with 3 ft. 6 in. rear). MacDermid drove 'Athos' JB 6865, Bastock 'Porthos' JB 6866, and Langley had 'Aramis' JB 6867, and the cars were all cream with brown wings and wheels, and differed from the Crackers in that the Crackers had brown bonnet tops.
The PA Cream Crackers team had disbanded by the December 1935 Gloucester, and Bastock's PA (JB 3854) appeared driven by Alf Langley who usually drove a 11 litre Singer. The change did him good, (of course!) for he won the President's Trophy for a class win, whilst MacDermid won the Gloucester Cup with 'Athos', defeating Sidney Allard driving an ex-1934 'TT Ford Special V8.
A brand new team of PB Crackers was being prepared for the Exeter after Christmas, to be driven throughout 1936 by Toulmin, Ken Crawford and J. E. S. Jones. Both the latter were old hands at Trials, Crawford having been very successful with an N type Magnette, and Jones being the holder of a rare MCC Triple award for 1935, in a J2. These were perhaps the most famous and talked about 'Cream Cracker' cars, and were probably of greater publicity value to MGs than the Musketeers, because they were fairly standard PBs, and the public was able to identify the production product with their successes, whereas one could not buy a Musketeer Magnette at any price.
The cars differed from the 1935 PA team in that they started life cream and brown, and were fitted with Marshall IZ75 superchargers. They were inscribed on the bonnets CREAM CRACKER, (with no "s" on the end), and were not numbered 1, 2 and 3 like the PAs, and differed again by having brown front aprons and silver wheels. Straight cut crown wheel and pinions were fitted, twin fuel pumps, twin spare wheels, and some sophisticated Andre tele remote control friction shockers at the back.
These were so sophisticated, that they retired hurt after about every second trial, and it is surprising to find that the set on JB 7521 have survived to this day in a rusty boxful in my garage!The cars boasted four shock absorbers at the front which also survive on my car. The engines and gear-boxes were quite standard, and anyone could convert his existing PB to the same specification (and quite a lot of people did). Toulmin had JB 7521, Crawford JB 7524 and Jones JB 7525.
The Exeter Trial 1935 was a tremendous triumph for the MG teams, for the Musketeers and Crackers tied for the team prize, and throughout 1936 these two teams carried all before them, and had a tremendous inter-team rivalry which led to a lot of leg-pulling and frivolity at parties after events. The Musketeers won the MCC team championship for 1936 which was a fitting climax to a wonderful year, and compensated a little for the cessation of MG racing the previous year. It was sad with these successes, that the OH-Cam engines which had been the secret of so much of MG motor sport supremacy should now be shelved in favour of some rather ordinary looking push-rod Morris units.
They probably justified it with that horrible word 'rationalisation', just like they do now. The two teams continued through 1937 with six TA Midgets, though the Musketeer team were now painted red, and for 1938, six more (rather better) TAs took their place with some interesting engine modifications in view of certain mechanical problems encountered when revving the 102 mm. stroked TA engine, particularly when these were fitted with superchargers! My good friend Norman McKee (of the Devon and Cornwall Centre) owns two of the 1937 cars, and will no doubt take up his pen to defend the model, and tell something of their history and successes in a subsequent article, so I won't attempt to steal his thunder by dwelling further on these cars.
WHERE ARE THEY ALL NOW? It is astonishing, and very gratifying to report that a high proportion of the cars have survived all these crunching trials, a World War, MOT tests, petrol rationing, and the ravages and corruption of 36 winters. The odd thing is that none of MacDermid's cars have survived, and indeed Mac himself died tragically early after the war. Mac kept JB 3639 after he became a works Musketeer driver, and used lit in the 1936 Gloucester, although he tipped it upside down on 'Middle Drag' as shown in Wheelspin. The car was none the worse, and was sold to a Scottish driver E. R. Herald (Ernie Herald—now chairman of the Scottish Centre) who had many successes with it until 1939. My investigation into its whereabouts came to an abrupt end, when I traced it to a Mr. David E. B. Phillips of Surbiton, Surrey, who last taxed it for use in 1959.
Subsequently, Jonathan Toulmin followed up this clue, and traced Mr. Phillips, but he recalls having sold it to a chap from London who was rebuilding a PB, and suspects that the car was used for spares… (Imagine breaking a Cracker to rebuild an ordinary PB!). If any of our readers rebuilt a PB in the early 60s, and have the remains of a PA chassis sitting in the garage, I recommend that they go and take a look at the chassis number and let me know.
Anyone got an old log book with JB 3639 on it? Something must survive somewhere after only 10 years. Toulmin's 11. 5000 had a bad prang in 1965 in North Wales, but luckily a previous owner, Bob Williams of Chester, has rescued the remains, and is making an excellent job of rebuilding the car, and we hope to see it registered in the MMM register in due course. Bastock's JB 3854 I managed to trace despite two changes of registration number, and I bought the car in Huddersfield last year although it had not been on the road since 1962.
This is now Centric blown again, and is in fairly regular use in events. Toulmin's JB 7521 we have already discussed, and I am indebted to Ray Whitcher from Newbury, who found me the correct Supercharger for the car, which is now pretty original and running, though it lacks the performance of JB 3854 for some reason not yet discovered. Crawford's JB 7524 was exported by a gentleman from Hailsham in Sussex to the U.S.A. in July 1960, and so far I have not discovered the precise whereabouts of its owner, though I have several USA enthusiasts roaming that continent with both eyes and ears open. Jones's JB 7525 has been traced to the Midlands, where it has the engine out, is rather rusty, and has not moved of its own volition since 1958.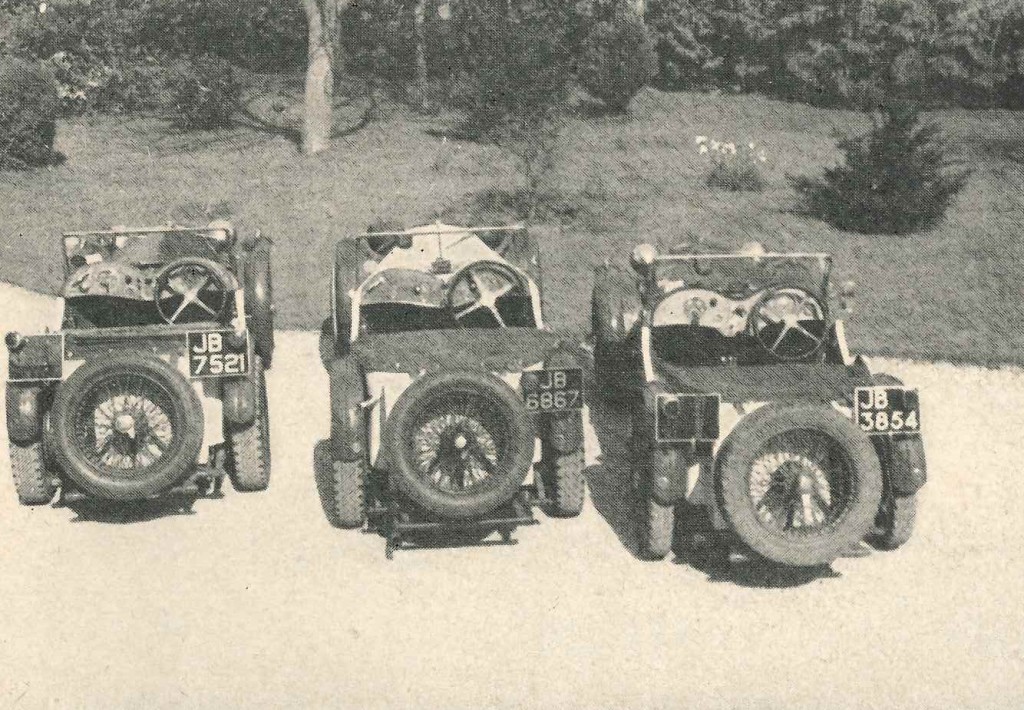 Three of the survivors: the ex-Toulmin Cracker, ex-Langley Aramis, and ex-Bastock Cracker pictured just before the Lands End Trial this year by the author. 
The owner is abroad, and his father hopes to rebuild the car when he has finished his house! The car was in Weston-Super-Mare until the early 1950s, and has probably had but three owners since the war. Five out of six Cracker P types is pretty good going, but what of the Musketeers? It is probably fairly well known that all seven of the racing NE cars survive, of course this obviously means that the three NE Musketeers must survive. (I believe 2 NEs are in Australia, 1 in the USA, and by a stroke of luck four have managed to stay here.
The sad chapter of the story is the fact that only 'Aramis' of the blown Musketeer specials survives, albeit owned in good condition by member John Reid of Dulwich. 'Athos' JB 6865 was, according to Abingdon records, broken on the 10th May, 1948. This seems a very odd statistic, for unless you get brutal with an oxyacetylene cutter, I can't think how you can completely break a car all on one day. Unless it was pranged in some violent speed event possibly? Do any old members know? 'Portos' JB 6866 was made into a fibre-glass special in the '50s, and was owned until 1959 by Peter' Toms of Redditch, and we believe the car was raced, and probably crashed by Chris Lawrence of Morgan racing fame.
The proper body was put on a PB chassis by Mike Harris, and the car passed to Roy Perkins who appeared with it at an MGCC Silverstone meeting about four years ago. This car was regrettably exported to Canada, and there are probably dozens of enthusiasts over there, who think the car really is Porthos—but it is not. Rumour has it, that the bent chassis survived until quite recently, and of course it is only the chassis which is regarded as identification of the genuine article. If any member knows of the address of either Messrs. Lawrence or Toms I should be most interested to hear from him.
You never know, it might still have an engine and blower sitting on the frame! What of future ambitions? Well, there will probably never be a complete pure team of either PAs or PB Crackers, though a mixed team of TJ 5000, JB 3854 and JB 7521 looks as though it could happen for the Lands End of about 1973, and I have some hopes that JB 7525 may come into more active hands within a year or two, In two years with JB 7521 we have managed a 3rd and a 2nd class award in the Lands End and in the process climbed all the hills, though not all on one day, due to various pilot and mechanical shortcomings.
The car has also climbed Nailsworth Ladder, Cats-wood Lane, and has won the Kimber Trophy Trial. It also wrote off two cliffs in one day at the Phoenix, and crawled abjectly away on a rope with a sheepish owner wishing the colour scheme wasn't quite so conspicuous.
The following weekend, JB 3854 stripped a nasty little Morris crown-wheel right at the top of Beggars Roost, and ruined the 1971 Lands End for me! JB 3854 also stripped the blower drive pulley at the California Cup when leading the class this year, but we seem to have cured that problem now, and hope to have a more successful trials season this coming winter, with the rest of the MMM teams. If any of our older members can remember any interesting facts about the team cars, or have any photos or information, please write to me. Meanwhile, the South East area members can go hunting for two Musketeer, and one Cracker chassis, which just might be around some-where.
They certainly were last seen in that part of the world. Good hunting! Footnote: T type enthusiasts may wish to look for the missing 1937 and 1938 cars. All the 1937 cars had AB registration numbers, and the 1938 cars BBL. BBL 82 has recently been bought by SW Centre member John Barnacott. S.D.
---