An MG K3 on the Mille Miglia…
The MG K3 has a special relationship with the Mille Miglia, and this week's feature written by Peter Fenichel from January 2009's Safety Fast! details his trip to the legendary Italian race from May 2008.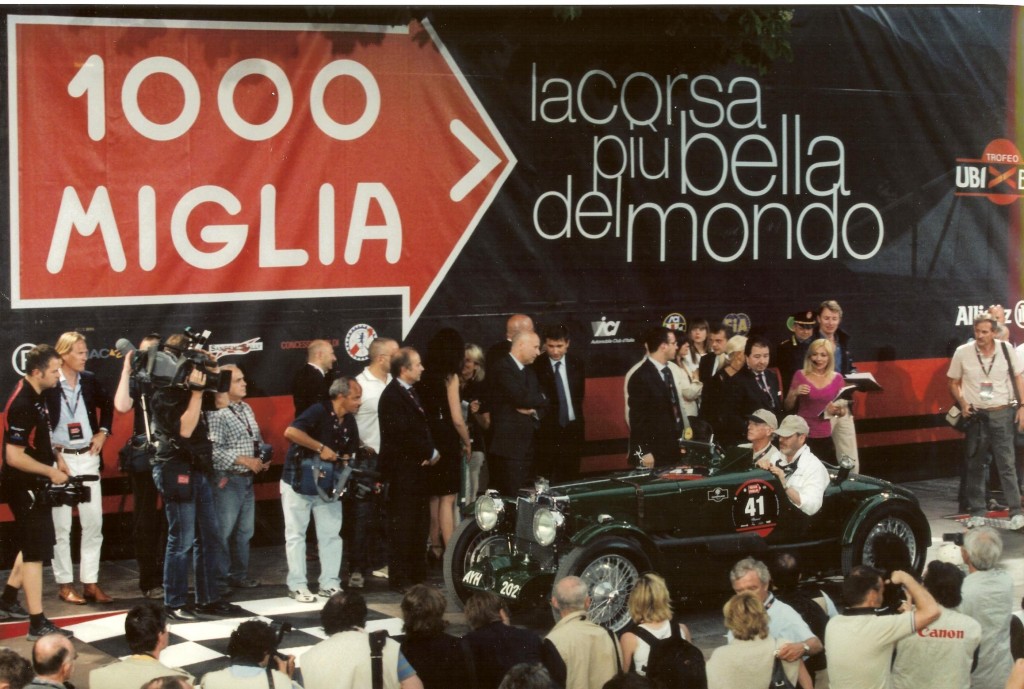 Some decisions are not that difficult. When Doug Hampson telephoned from California to ask if I'd be interested in co-driving his K3 on this year's Mille Miglia I have to confess that I did not bother to check my diary before saying "yes, absolutely".
I've done quite a few historic car events over the past few years including several drives on the Tour Auto through France and regularity runs in the UK. Add to that a rather busy race schedule with the VSCC, MGCC and Motor Racing Legends Pre-War Sportscar Series, but this would be my first time on the famous Mille Miglia! I've also been fortunate to race two other K3's ("real ones" but I'll come back to that later) having raced Dean Butler's K3 (K3020) at Donington in 2005 and more recently the ex-Earl Howe K3 (K3001) with Brandon Smith-Hilliard, the same car we took to last year's Le Mans Classic. The rare opportunity to experience K3028 (AYH 202), one of the two 1934 Le Mans team cars was incredibly exciting.
For those who us who were at this summer's annual MGCC Silverstone weekend, the display of K3's – 16 in all – organised by Peter Green and the Triple-M Register was a treat! These cars bring back into focus the history and fame enjoyed by MG through the 1930's, the backbone of which was, of course, the Mille Miglia and Le Mans K3's. For someone who started out with an MGB and moved on quickly to an MGA, the pre-war era held out eventually even more attraction… so by the mid-1990's I had gone through 2 PB's and a J1.
While I actually started racing in the UK with a Lagonda Rapier it wasn't too long until I ventured into "proper 6 cylinder MG's" with a 1934 K1/s which was rebuilt and set up to as close to K3 specifications as one can do. I've taken MG3094 (K0417) to virtually every circuit and hill climb in the UK over the past few years and to Porto, Dijon, Spa and Le Mans… running the K1/s in the 2006 ACO Centenary Pre-War Race at the Le Mans 24 Hours being a real highlight and certainly rounded out what is becoming pretty solid familiarity with how these K-Types behave on the Circuit, at Hill Climbs and on the Road.
Having said all that what we were in for as an experience with K3028 on the Mille Miglia was exciting, unexpected, unusual and gruelling to say the least. Starting in Brescia on a Thursday evening with a night run to Ferrara, an early Friday start Ferrara to Rome and an all day drive on Saturday from Rome back to Brescia would be tough and tiring in a modern car. Doing 1,000 miles in the K3 was pretty daunting, which certainly turned out to be the case.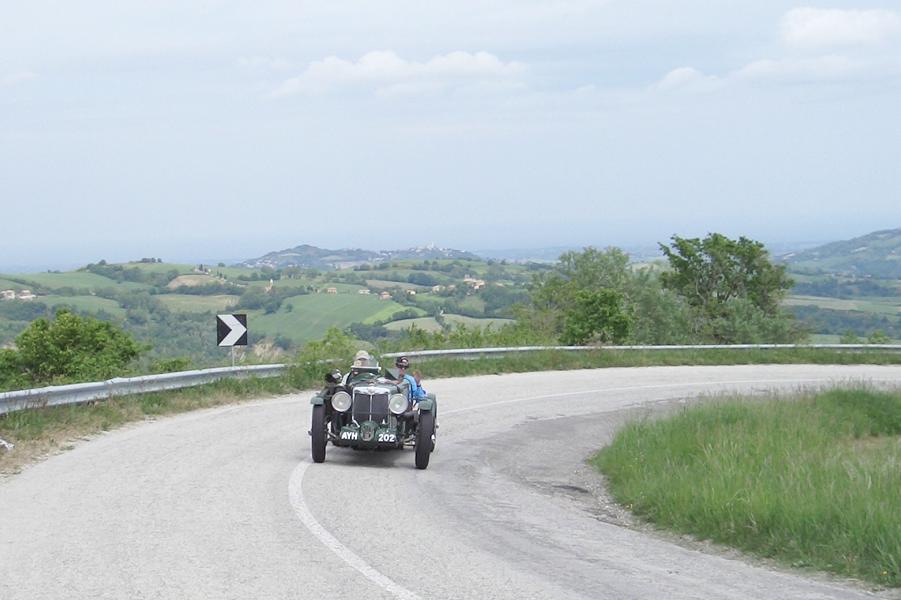 K3028 'on the road again' somewhere in Italy – 2008 Mille Miglia 
On its return to the UK a few years ago K3028 was given a thorough mechanical inspection and full MPI crack testing to safety critical components in the steering and suspension by Bob and Charles Jones at Baynton Jones near Shaftsbury. New stub axles, steering arms, brake levers and track rods were made and the 1934 double-pull brakes had new cables made with the shoes relined. The rear axle was stripped and rebuilt using the 9/44 ratio as original to a K3. The wheels were checked and new tyres fitted, along with a spare mounted on the offside of the car.
The fuel tank was stripped to remove rather severe internal corrosion and filled with safety foam. The sump was removed and cleaned and a full flow oil filter fitted to the block. In anticipation of the Mille Miglia event the ENV75 pre-selector gearbox and Marshall 85 supercharger were stripped and inspected and cleaned as a precaution – the gearbox was found to have the close ratios from an R-Type racing car.
Doug Hampson designed a rather clever rear storage area with access via the K3's boat tail which was engineered by Baynton Jones. This allowed us to carry a few essential tools and spares and some wet weather gear.
During the Mille Miglia event we were also fortunate to have the excellent support of Andy King who travelled in our support vehicle accompanied by John Hampson, Doug's son, doubling as navigator and apprentice. Andy really pulled double duty for this event as we had arranged to share the support vehicle with Brandon Smith-Hillard who had entered his Fraser Nash Targa Florio. Just keeping track of two Mille Miglia cars separated by several hundred entries, following the support route and sorting the cars each night being certainly more than a full time task.
The Mille Miglia (being a very Italian event) could be described as 'chaotic with a smile' and while it was awfully hard to get too annoyed with our Italian hosts the administration, scrutineering and officialdom did prove trying at times. We spent most of the day prior to the start on various queues and oddly the scrutineers spent their entire time with the K3 assuring themselves as to its originality based on pre-submitted documentation… and I really do mean a really very careful look at almost every number; chassis, engine, gearbox, supercharger, FIA papers, Registration and Insurance papers, etc. Little actually looked at from a safety or mechanical perspective.
The Mille Miglia officials reacted very negatively indeed to an odd miss-statement on the K3's registration documentation and were very concerned to find the year "1990" noted next to "year of first registration" which they interpreted as the year the car was built… explained away eventually as a translation problem where 1990 represented the year the K3 was imported and re-registered in the USA. The same document did note 'year of manufacture' as 1934. Not an insignificant drama at the time.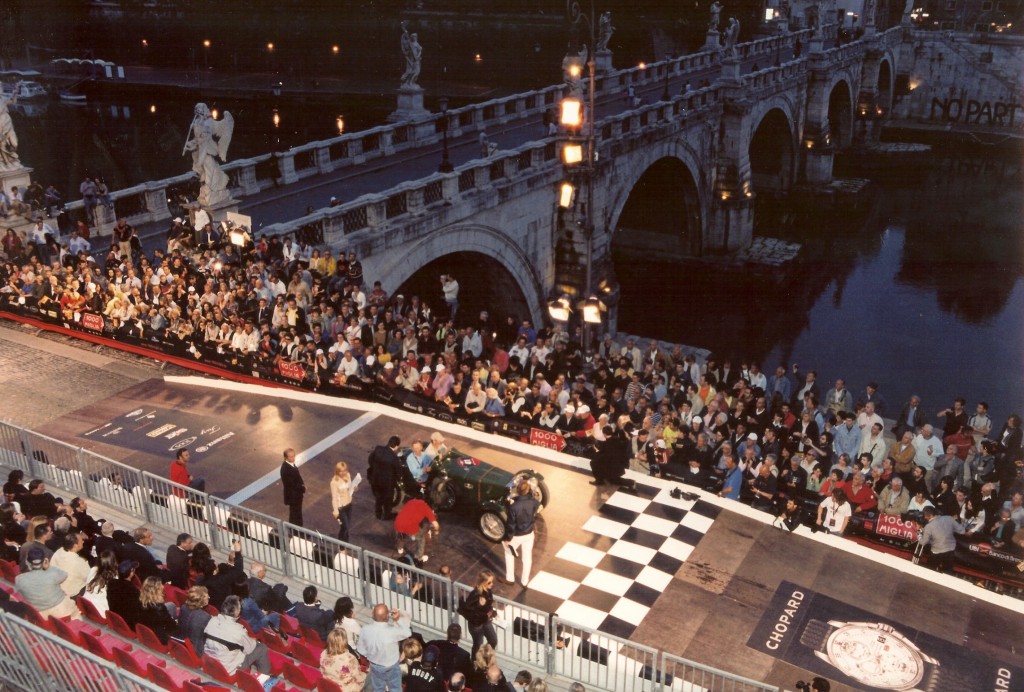 Hampson/Fenichel MG K3 on the Podium ready for the off
The new to 2008 Mille Miglia organisers, introduced "tulip" based route books for the first time and continued with what ultimately felt like a never ending series of traditional Mille Miglia regularity speed and distance tests which are honestly unlike anything I have previously experienced. The route itself as I had been told, all on public roads, is almost impossible to miss given that at every turn, roundabout, town and city centre there are literally hundreds to thousands of spectators cheering you on, waiving little red and white Mille Miglia flags or alternatively flags provided by one of the dozen "lead sponsors" of the event.
This show of support and interest in the Mille Miglia was not limited to cities and towns along the route on sunny afternoons. Spectators were literally out in force everywhere, at all hours and in all sorts of weather. Closed roundabouts, police urging you through red lights and mayors and town council representatives at every stop along the route complemented cheering thongs of people literally at every turn along the 1,000 mile drive. That, plus the proximity of one or many of the 385 Mille Miglia cars, plus the dozens of motorcycle police escorts and the occasional friendly police presence at key rural intersections, made that aspect of the navigation rather easy.
But back to the regularity tests… Doug had clearly done the homework required and had taken some very helpful advice from previous Mille Miglia participants, including from a very helpful group of Mille Miglia veterans who we had met up with near Parma earlier in the week. Based on that good advice and preparation Doug was well prepared with 8 count-down stop watches used to effectively navigate across the series of somewhat impossible "consecutive speed trap tests".
Best to explain that with an example; within a mile of the Mille Miglia start, on a closed public road there were 5 consecutive regularity tests set up via electronic triggers on the road. The first was "140 meters in 20 seconds", followed immediately by "200 meters in 23 seconds" – with the finish line of the 1st test being the start line of the 2nd and then on to the 3rd test, 4th test, 5th test. All the subsequent time trials were of the same format varying from 50 meters to over 3 kilometres with time limits set based on average speeds from around 30 kph to just over 60 kph. And, there were some 50 of these 'tests' over the 3 days and 1,000 miles.
Penalties were given based on fractions of a second off on each individual test (hundredths of a second actually) and added to that were the more usual time elements at pre-assigned road and city checkpoints, some with the added penalty of arriving too early and then with the added dilemma of crossing the electronic tape near a tented checkpoint within your allotted 20 second slot. I used the word "dilemma" for a reason which relates back to the Italian style of organization.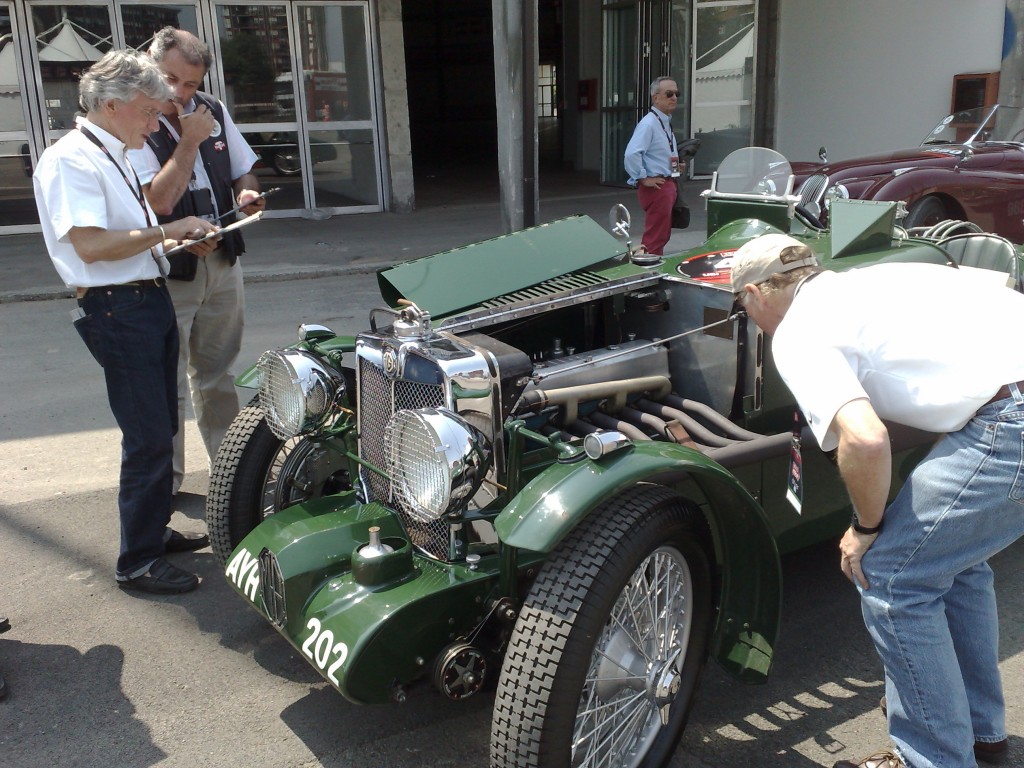 Hampson K3 being 'inspected' by the Scrutineers
On more than a few occasions we arrived at a checkpoint to be faced with an entire parking lot full of what has to be said was some of the very best historic cars in the world, but with no clear idea of who was were in the "queue" and who needed to be moving ahead of who and when… what then seemed to happen without too much effort vocally or on the horn was the sight of Marshals moving this gaggle around in a way which miraculously seemed to get the cars back in a semblance of number order linked to the time requirements of the stage… perhaps only possible in Italy? Certainly an example of real 'chaos with a smile'.
Having spent most of the Wednesday with administration and related formalities, Thursday was just as busy leading up to the start of the Mille Miglia. We were at the Paddock by 11am (a very large set up some way outside Brescia in the town "fairground" – sort of an NEC Birmingham facility) and had the K3 ready to go by lunch. At that point we queued up in groups and were escorted via police motorcycle escorts into the town centre where cars were "announced" and then parked along the main square and all its side streets. Having to deal with 385 cars was a challenge and the square quickly filled as did all the surrounding side streets we could see.
This, however, was just the preliminaries. After several hours in the town centre the next move was a late afternoon short drive to the MilleMigliaMuseum for another static display of the competing cars and a quick early dinner. With the official start back in the centre of Brescia scheduled beginning at 19:30 the cars were moved again about an hour prior to the start, this time in race number order. Being car number 41 our start time was 19:43.20 and amazingly we were marshalled through the city onto the start podium at precisely the right time and off we went…
To be honest, sitting now trying to write a full report of the next three days presents some difficulty as much of the actual route through incredibly beautiful Italian countryside, villages, towns and major city centres (largely closed for the event) remain a blur. However, in the interest of giving you a feel for the effort the following summary of the trip will give some idea of the task:
Day 1  Brescia to Ferrara
The evening run on this, the first day of the event, was a fairly straight forward tour from Brescia through Verona and into the overnight stop in Ferrara including 7 time trials. We covered about 175 km in a set time of 4 ½ hours… finishing just after midnight.
Day 2  Ferrara to Rome
An all day run on very varied roads from some limited motorway driving, through to local roads and town centres, and up and across mountain passes. There were 9 time trials along the 515 km route… which called for a set 11 ½ hours to the final evening stop in Rome. Following the last check point we were escorted by motorcycle police through a night time Rome on closed roads; around the Coliseum, through a night time flood light St. Peters Square and on a route lined with cheering spectators; a really unbelievable experience!
Day 3  Rome to Brescia
The final run from Rome back to Brescia was a painfully early start; at 06:40 and led us through Florence and Sienna along a 585 km trek in a timed 15 ½ hours. Certainly the most time I've ever spent in one go in a K3… certainly the longest time I'd want to spend in any MG! And, I forgot to mention the 23 time trials along the way.
(For those readers who are inclined to add up the total kilometres covered… I also noticed that the Route Book ultimately did not add to 1,000 miles. On review we seemed to have covered about 1,275 kilometres or just under 800 miles, but who's complaining?)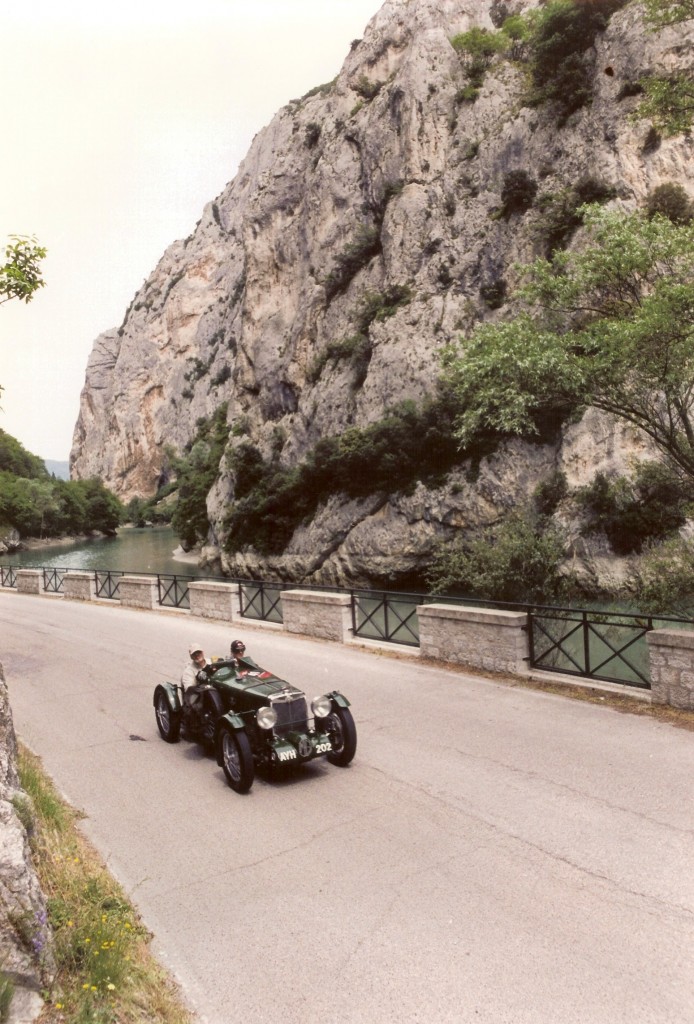 In a real testament to the quality of these cars and, obviously, to K3028 we had very few problems indeed. Being somewhat more tuned to the efforts involved in racing I was a bit fixated on oil consumption, water, and general running (in order to avoid problems perhaps before they would start). In the end we did not use any oil at all – not a drop, having maybe overfilled the sump before the start.
The K3 did not use oil or water, kept cool in the changing weather conditions including a very warm day from Ferrara into Rome. We did have the odd minor problems… if I recall correctly the rev counter failed fairly early on and although Andy King had two spares neither would fit K3028, being spares from Brandon's K3 (K3001).
In an effort to compete more effectively we had rigged up a bicycle style Speedo which, in theory, would have given us current running speed in kilometres, average speed over selected distances and average distance over sectors – a great idea if we could have gotten the darn device to work from day one! And, although this and other more sophisticated technology aids are legal on the Mille Miglia we were in the end left to "fly blind" which I suppose was our destiny on this a first attempt on the event.
Despite a slipping gearbox towards the very end of the event I guess the most dramatic mishap involved shearing the nearside Hartford shock in the afternoon of day three – right in the middle of Siena, at the main checkpoint, and in front of Italian TV and perhaps 2,000 spectators!
How this happened remains a mystery (just wear I guess) as the Hartford had simply sheared across the metal bracket. Despite tapping the shock back up rather securely (we thought) we must have subsequently been dragging the part on the road as the Hartford was completely gone on our eventual arrival back in Brescia that night.
Very minor mishaps indeed if you consider over 32 hours of pretty hard driving in the K3. We managed a respectable finish being 126th from 385 participants and I'm told that, for a first attempt and not being an Italian crew, was very creditable.
Not really a road rally in the style of the French Tour Auto, not at all a race although those time trials certainly add complexity if you want to compete and compete well.
How Moss and Jenks did the 1,000 miles in 10 hours, albeit in a different era and certainly along semi-closed roads, and along a somewhat modified route… still remains a mystery to me, what an accomplishment that was! I'm also reminded of the photo of Earl Howe at the wheel of K3001 looking completely drained at the finish of the 1933 Mille Miglia.
In conclusion, a fantastic experience and one which I would be keen to repeat although perhaps more relaxing in a post war car, perhaps also in a fixed head coupe. I think I'll focus for now on racing K3's, considerably fewer hours behind the wheel! P.F.
---