MG Maestro: An Appreciation after 25 Years – Part 2
My MG Turbo experience
In 1988 I happened to take my sons to the NEC Motor Show, not really expecting to see anything particularly special. Imagine my astonishment when we wandered on to the Rover stand and saw what looked like a striking customised MG Maestro with the evocative word 'Turbo' on the rear hatch. Having experienced the performance of a friend's MG Montego Turbo, I had always imagined that the same drive-train in the lighter and more nimble MG Maestro would be the ultimate 1980s MG. However, market gossip had always suggested that Rover had vetoed such a proposal. Yet, here it was – not exactly good looking but to hell with that, the performance would more than make up for it.
So, despite not being due for a company car change for 18 months I almost ran to the nearest MG rep. to ask for details of the car. Cue second surprise of the day – there weren't any! I had to leave my contact details for some to be forwarded later. I subsequently learned that the 'MG Turbo', as it was named, was a limited edition, with only about a 500 examples to be constructed, so I was then worried that they would sell out before my car change date. In the event, I needn't have been concerned as the Turbo was a slow seller due to hot hatch insurance costs rocketing as fast as the cars on the road, so there were still plenty of examples unsold in 1990. I ordered a red one, to match my MGA.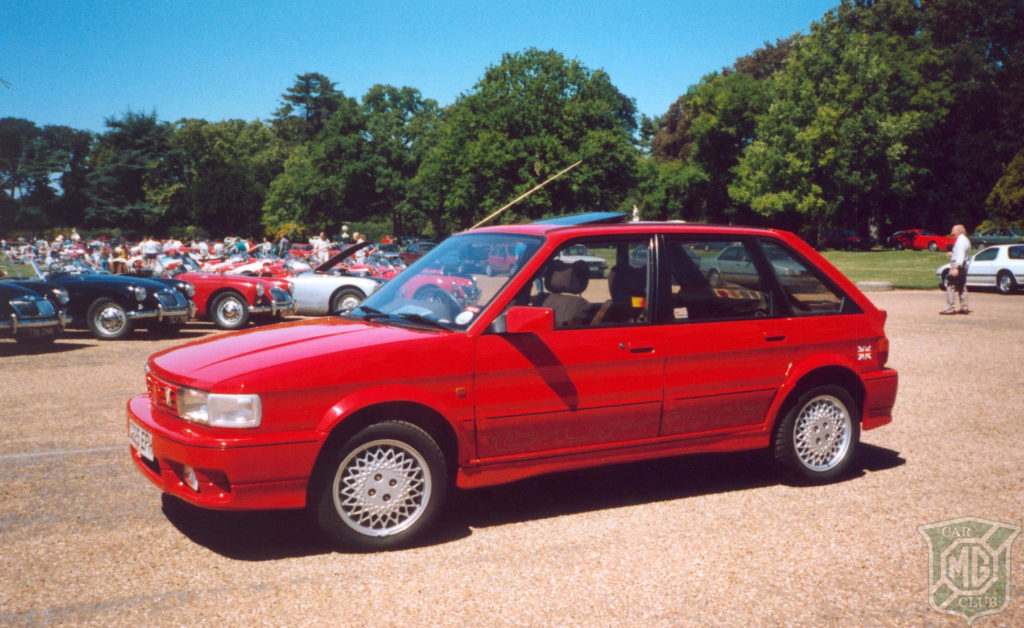 My Turbo, number 460, was due for delivery in early May so without even knowing what the registration would be I entered it for the Regency Run, and the car arrived a week or so before the event. It stuck out like a sore thumb lined up with its classic predecessors for the start in Battersea Park. By chance we followed a vintage MG through the finish on Madeira Drive at Brighton and I recall Bill Wallis on the PA system drawing attention to the oldest and newest MGs as we drove past.
What was the Turbo like to own? Well, I am not the only one to remember it as a 'Jekyll and Hyde' car. Pootling around town below 2800 rpm it was not unlike the EFi, quite flexible, if a little rougher at idle, indeed it could stall at idle when cold. However, spin the engine above 3000 rpm and the boost would kick in and the 152 bhp and 169 ft lb torque would transform it into a total hooligan of a car, well worthy of the 'road rocket' label. Better still, it didn't jump one lane to the left due to torque-steer, like my friend's MG Montego Turbo, when the throttle was floored on the motorway. It certainly brought out the dormant 'boy-racer' in me! I recall particularly enjoying out-dragging a show-off in a (presumably smaller engined) Mercedes SL from the Dartford Tunnel toll-booths on one occasion. Of course this sort of bad behaviour was only possible in the dry; in the wet one just remained stationary with spinning front wheels. All this fun had to be paid for, of course, average fuel consumption being c.25 mpg and I once got below 20 mpg on a particularly 'progressive' drive across country on old-fashioned A-roads!
I took it camping at MGCC Silverstone just after the Regency Run where it again stood out. I was forever opening the bonnet to let people view the engine bay. That same year Motobuild, which specialised in Maestros and Montegos at the time, fielded a DIY Maestro Turbo race-car but it was totally outclassed by the Metro 6R4s and Class D BV8s that it was racing against. [Image 10] I later took some photos of my Turbo outside its place of birth at the Cowley Rover manufacturing plant, little knowing that the factory bridge over the Oxford Bypass would soon be demolished.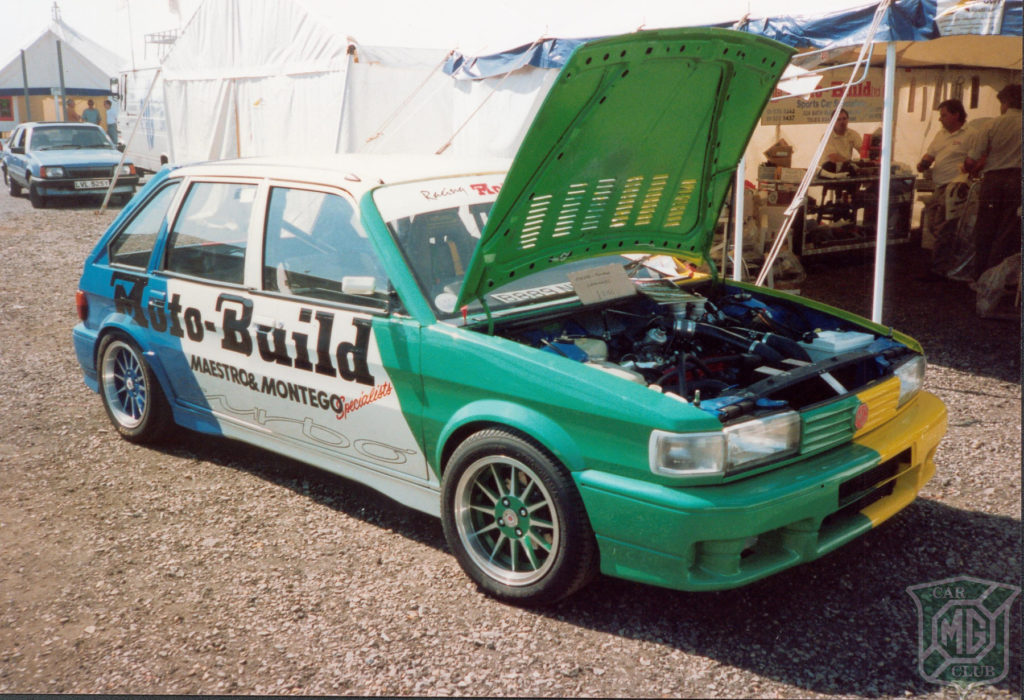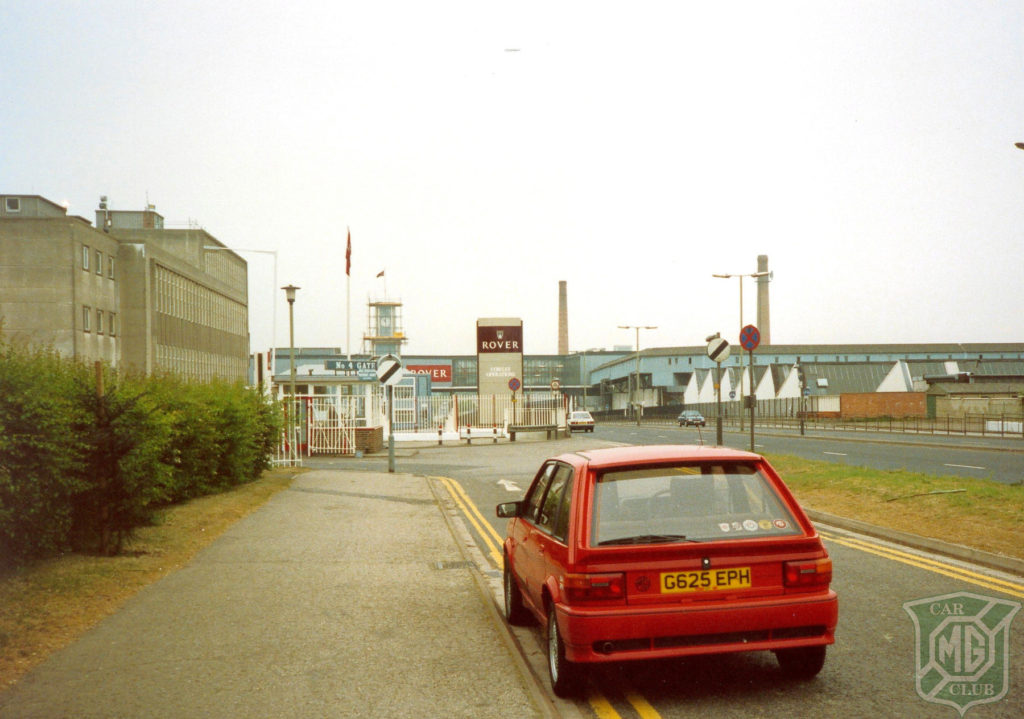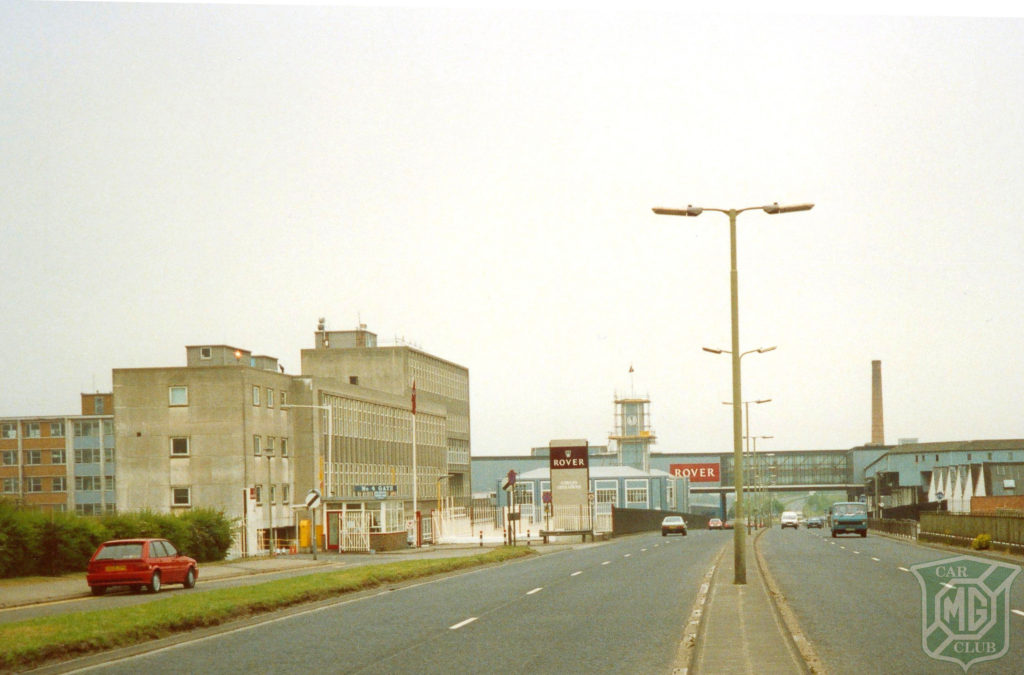 The body spec. was slightly different to my EFi. Not only did it have the signature Tickford applied body-kit and decals but the sun-roof was clear glass with a blind and the windows and mirrors were electrically operated. For some reason the red seat belts had been deleted in favour of boring grey but the speedometer was calibrated to an impressive150 mph. I never 'maxed' the car but it was still accelerating strongly at an indicated 130 mph when I did give it its head. I would not be surprised if Rover had under-stated the power in deference to the politically correct brigade.
Quality and living with the car? Well apart from the poor fitting window-seals – yup, rain still drained through the doors, the only failure I had in four years was when the power steering pulley broke up on the M6 one day. The car was still driveable but the journey home was quite muscle-building! However, I was meticulous with the Turbo warm up and cool down routine, which may have helped. Also, unlike the EFi, it consumed oil, about 1 pint in 6000 miles. Other 'consumables' wore quicker too, like tyres and brake pads but, happily, I didn't have to pay for them. Throughout my Turbo years the dealer's mechanics would always crowd around the car whenever it was serviced, which was very pleasing.
I was fortunate in being able to take my Turbo to the Maestro 10th Birthday Party event at Rockingham Castle in 1993, shortly before I parted with the car. This had an amazing turnout of over 100 MG Maestros including no less than twenty MG Turbos, perhaps the largest ever gathering of the model.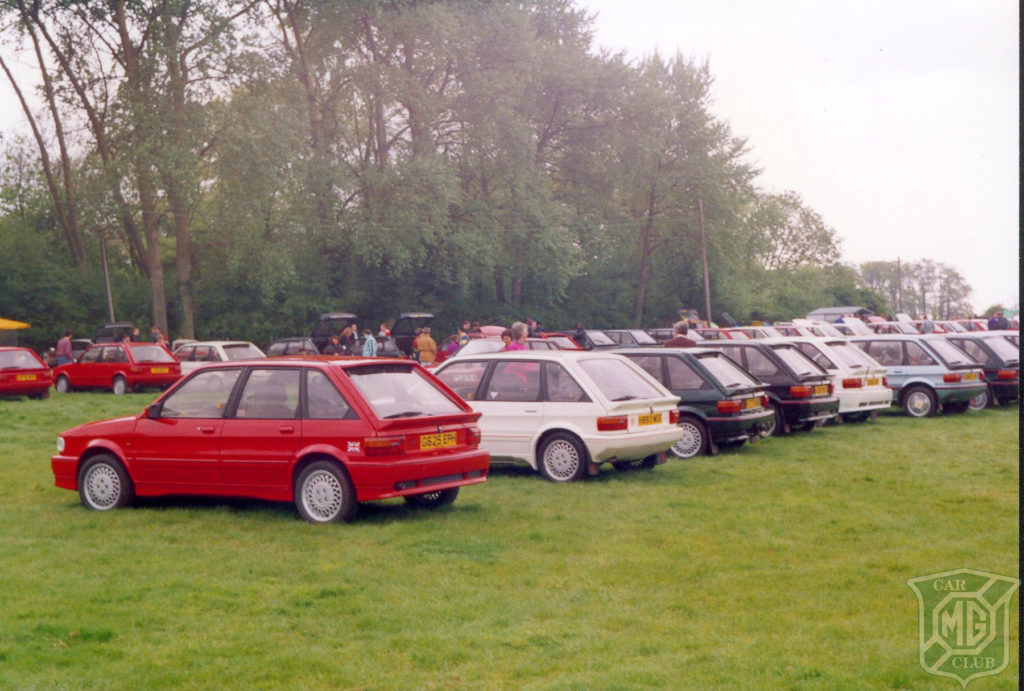 I heard that my Turbo was advertised for sale in September 2000 for £2000 and was sorely tempted to recover it but sanity (and the threat of divorce) prevailed so I passed it up. A recent DVLA search showed the last 'date of liability' as July 2002 but I hope that it still exists, perhaps awaiting restoration. So, all I have left is my memories and my MG Turbo pewter models. Well, that is not strictly true as my eldest son Tim still owns red MG Turbo number 219, which whilst in dire need of some TLC is still capable of giving that memorable 'push in the back' when pedal to metal.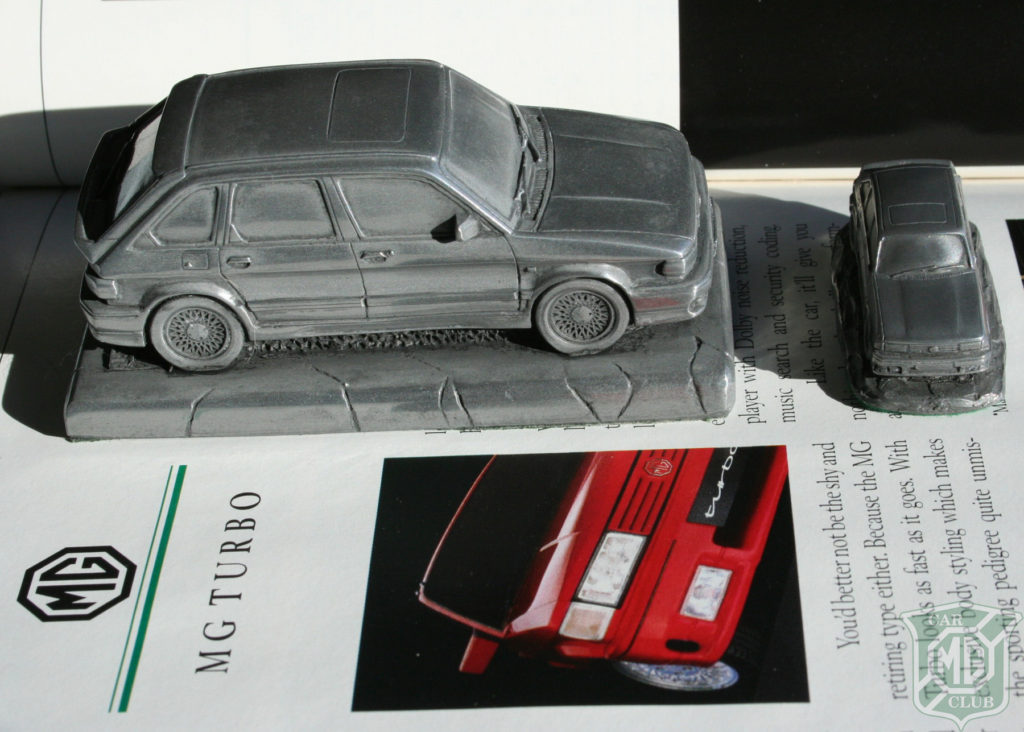 In Retrospect
Looking back, I can quite understand that younger buyers preferred the sexier looking Escort XR3 and, especially, the RS Turbo that was similarly priced to the MG Turbo and I don't think the prototyped 3-door Maestro would have made much difference to relative sales. However, for a family man wanting a sporting 5-door hatch, a 1980s equivalent of the ADO16 MG 1300 was ideal for me and that was the MG Maestro.
Many press reviewers reported the MG Maestro as not being 'chuckable'. I disagree entirely, especially with regard to the later 2-litre cars. I threw them around with as much abandon as our Minis of old and never came to grief. The early use of CAD/CAM in the Maestro design resulted in a body with very high torsional rigidity. As a result, quite a few competitors put MG Maestros to more extreme use until well after production had ceased, as did numerous 'joy riders'.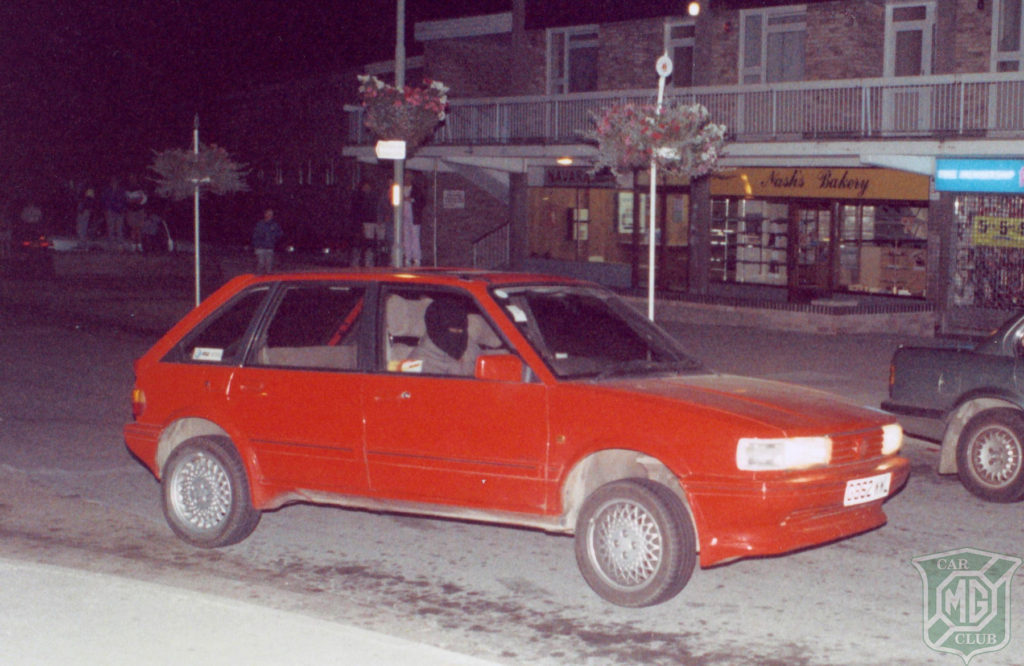 In rallying, MG Maestros competed in the 'RAC' Rally, with Pablo Raybould and Ben Coles finishing in the model's last outing in 1991. John Dalton and Michael Roe achieved an amazing 7th in Class and 36th overall on the tough 1993 Tour de Corse World Championship Rally and Alan Holly won the Association of South-West Motor Clubs Autocross Championship in an MG Maestro EFi as late as 1999.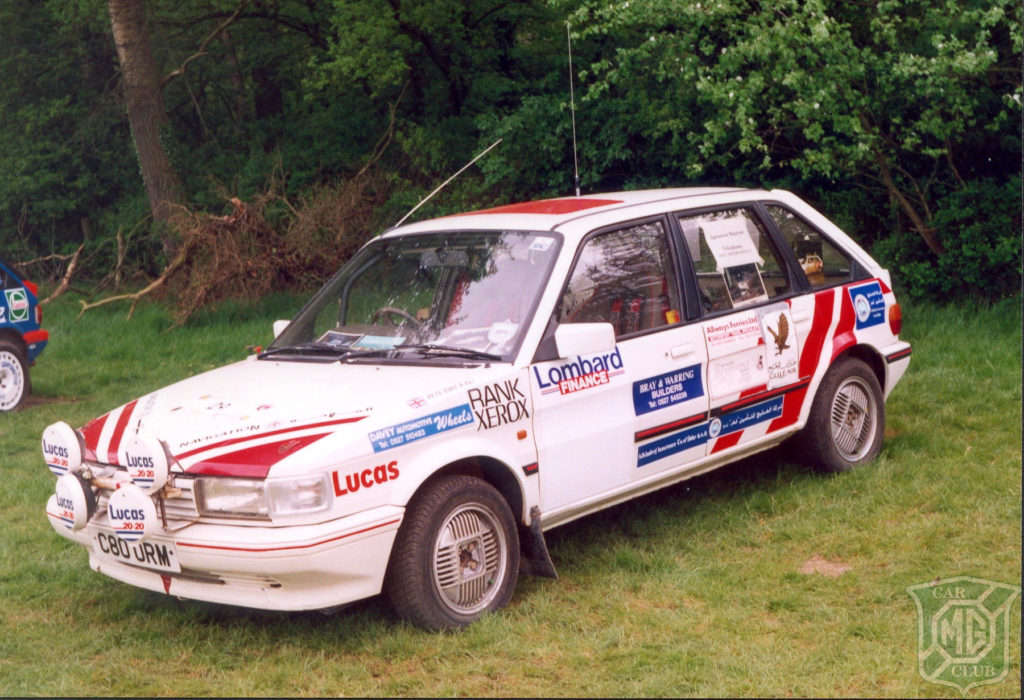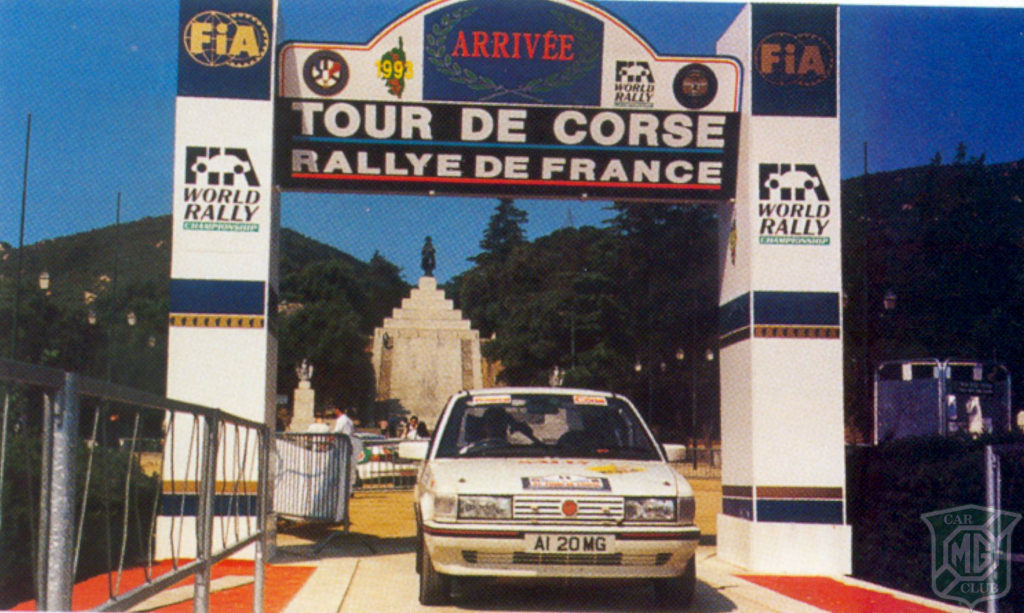 In other fields of motorsport, Adrian Brown and George Mackmurdie both campaigned c.270 bhp Maestro Turbos at Santa Pod, achieving standing quarter miles in about 14 seconds, and MG Maestros are still circuit racing today in Class B of the MGOC Race Championship, the 2007 champion being William Sharpe.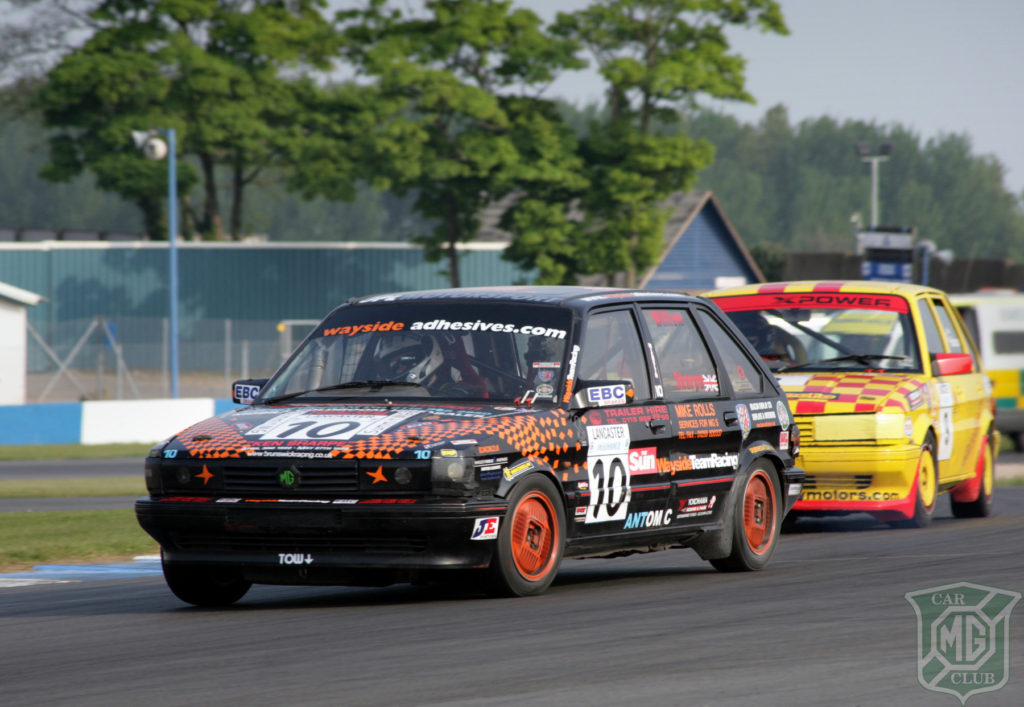 As recently as 2002 a letter to a daily newspaper motoring section read "Thinking back over the many cars I have owned, the best was probably an MG Maestro 2.0 EFi" and asked what modern cars most closely matched it. The response was the Honda Civic Type S and the Ford Focus ST170 – not a bad reflection.
So I have fond memories of MG Maestros – nostalgia is a wonderful thing – and I am not alone. When querying some information with ex-FWD Register Safety Fast scribe, Roger Parker, he confessed to missing his 250 bhp turbocharged T16-engined MG Maestro, despite now owning a V8 ZT and an MGF. Sadly his super Maestro was another that ended its being days stolen and torched so, with many others simply succumbing to the rust bug, I wonder if there will be any MG Maestros at all left in another 25 years. I for one really hope so.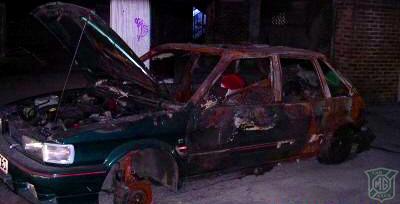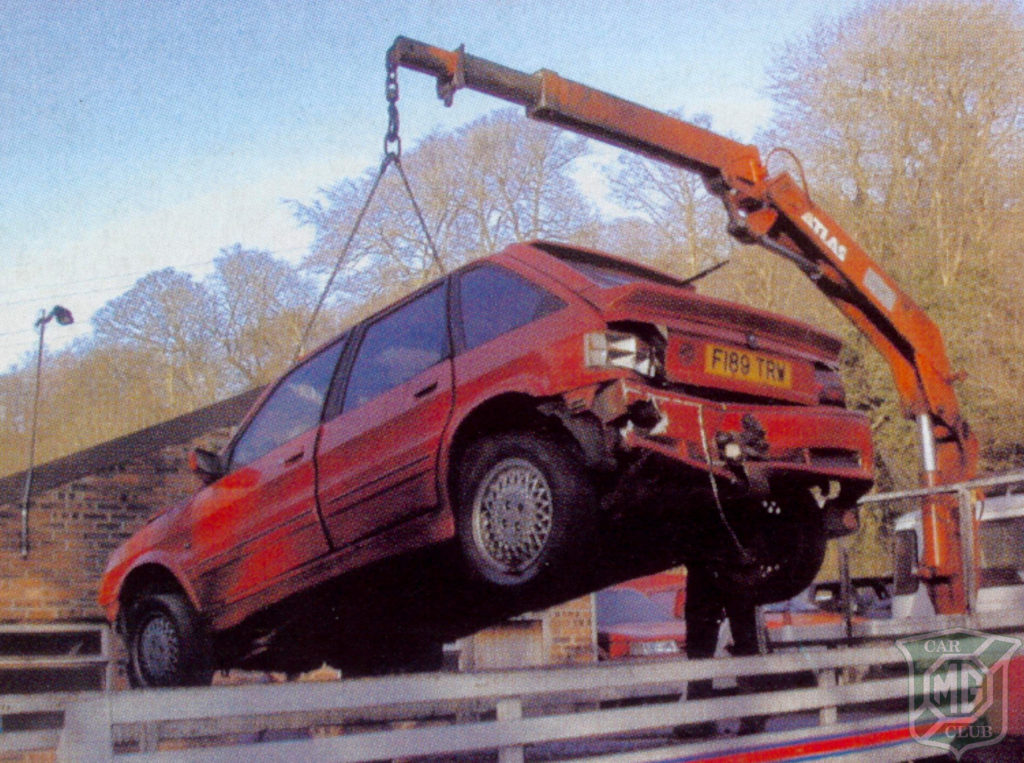 Grateful acknowledgements:
– Roger Parker (ex-FWD Register)
– The www.austin-rover.co.uk information archive website
– David Knowles' book 'MG – The Untold Story'
– Kelvin Fagan – MGOC Racing photo
– Martin Woods – Scrapped Turbo photo