Welcome to the MG Car Club's events page. Shown below are the events being staged by the MG Car Club's Centres, Registers & Branches throughout the year.
Here you will find information about hundreds of MG related events that take place throughout the course of the year. We don't just stop at UK-based events though, listed below are key international dates that are being staged.
Alongside all of the below are Pub Meets (Natters). These take place up and down the country on a monthly basis and the full listing can be found here.
Whilst we make every effort to ensure details are correct at the time of going to press please check with the organisers before embarking on a long journey. 
If your event is missing from the list below then please tell us about it by emailing office@mgcc.co.uk
For more regional events, please visit our Centre websites – CLICK HERE
For more model specific events, please visit our Register websites – CLICK HERE

NEC Classic Motor Show 2022
November 11 - November 13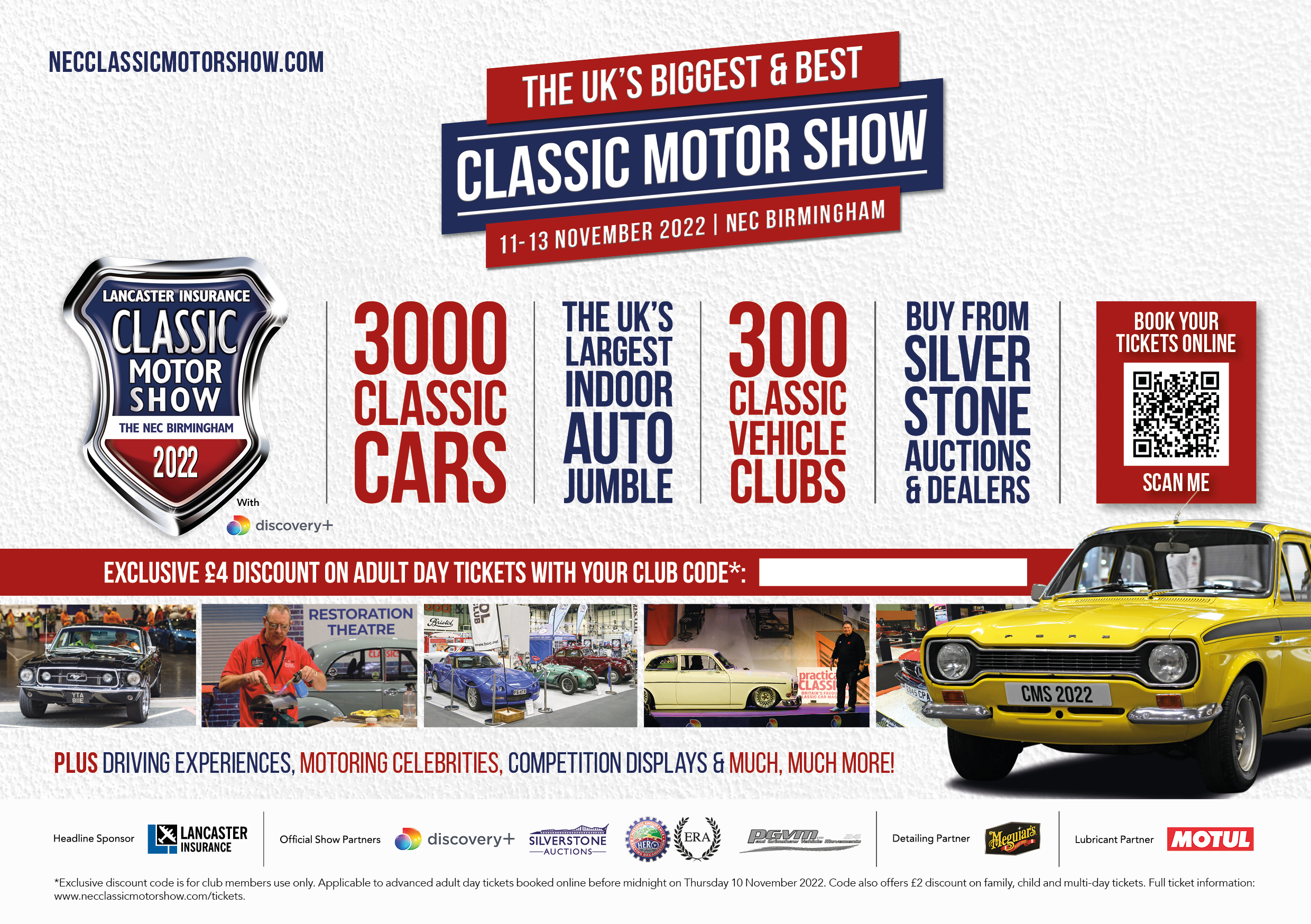 What is the NEC Classic Motor Show all about?
This massive indoor event is the biggest in the UK. It brings together a great selection of classic car and motorcycle clubs along with their iconic classic and vintage cars and motorbikes. As the season closer for the classic car community, it is an event not to be missed.
No matter what you're looking for this is the ultimate season finale for any classic car, collector, enthusiast, club member, or simply anyone with a passion for classic vehicles!
But it's not just about the classics on display. As well as admiring these amazing vehicles, you can shop for those elusive pieces in the autojumble, or source parts and tools for your maintenance and restoration needs from the many specialist traders.
Looking for something to fill that classic-shaped hole in your life? You'll find an outstanding range on offer from the Dealers and at Silverstone Auctions.
Then there are all the activities you can enjoy. Hear talks from motoring celebrities and experts, learn from specialists throughout the halls, or drive out in a unique classics with HERO-ERA or Sporting Bears, helping them raise money for some brilliant children's charities.
What is the MG Car Club displaying? 
The MG Car Club will have our usual impressive array of club member's cars on display, plus a pop-up merchandise shop from the famous Kimber House stores! There you can get everything from clothing to gifts and car accessories and, as it is the last show before Christmas, it is an ideal time to get presents for the MG fan in your life!
As well as the main MGCC display, many of our Registers will also have their own cars on display, including the MGCC Young Members' Branch – you'll find all the MG expertise you will ever need at this show.
How do I get discounted tickets?
We have discounted tickets available for MGCC members. Find the booking code in Safety fast Magazine or online within the MEMBER'S AREA HERE.
The MGCC club code unlocks a £4 discount for members off single-day adult advance ticket prices.  It also gives £2 off multi-day, child and family ticket prices