Welcome to the MG Car Club's events page. Shown below are the events being staged by the MG Car Club's Centres, Registers & Branches throughout the year.
Here you will find information about hundreds of MG related events that take place throughout the course of the year. We don't just stop at UK-based events though, listed below are key international dates that are being staged.
Alongside all of the below are Pub Meets (Natters). These take place up and down the country on a monthly basis and the full listing can be found here.
Whilst we make every effort to ensure details are correct at the time of going to press please check with the organisers before embarking on a long journey. 
If your event is missing from the list below then please tell us about it by emailing office@mgcc.co.uk
For more regional events, please visit our Centre websites – CLICK HERE
For more model specific events, please visit our Register websites – CLICK HERE

MG 40 celebration, incorporating MG Saloon Day
July 16 @ 10:00 am - 4:00 pm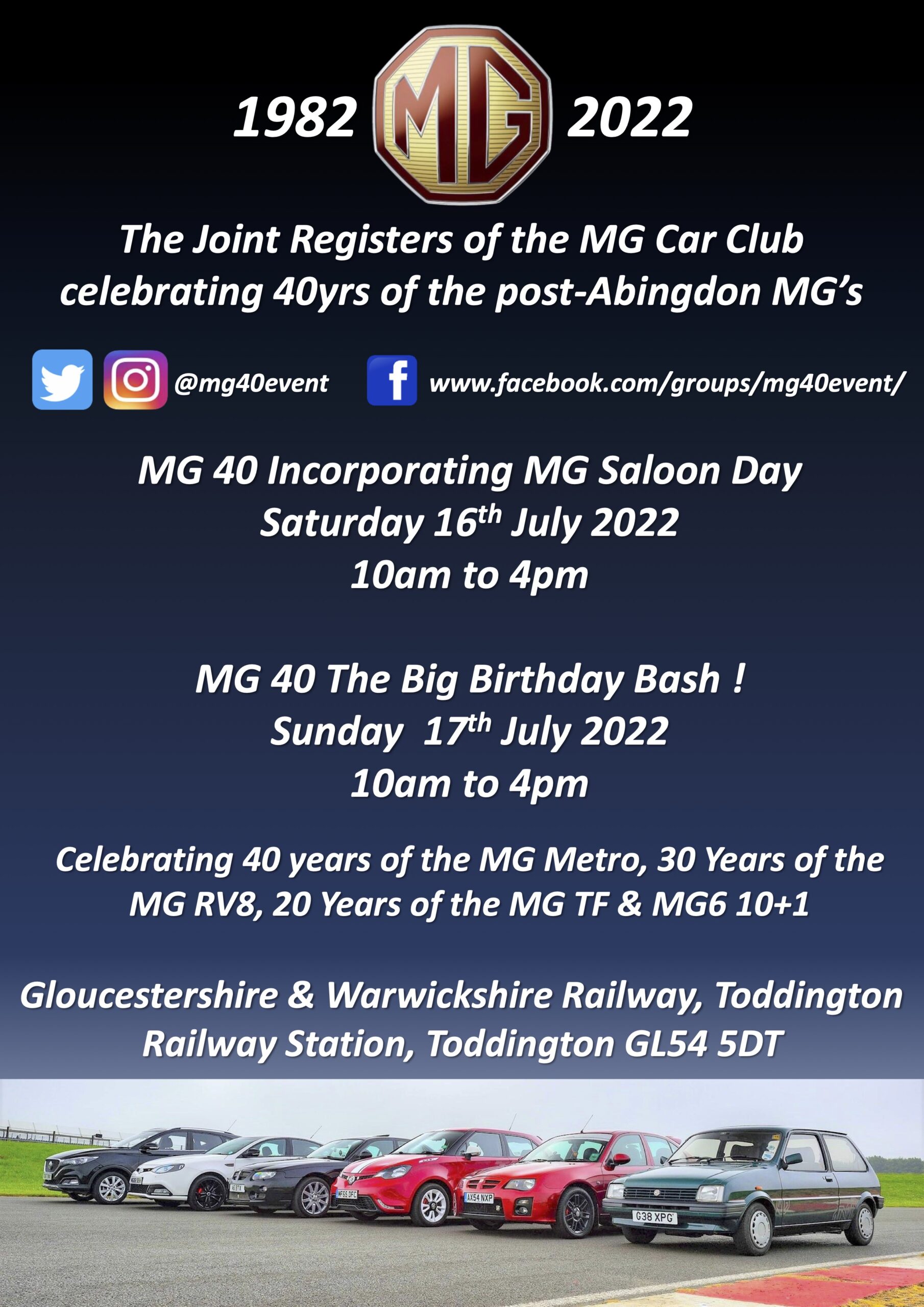 The MG Car Club is looking forward to a year of celebration to commemorate 40 years since the dawn of the post-Abingdon era of MG badged cars. The focus of the celebrations will be MG 40, incorporating MG Saloon Day on Saturday 16th July 2022 at Gloucestershire and Warwickshire Railway Station, Toddington. GL54 5DT.
The event, which is a collaboration between all the registers that specialise in the post-Abingdon MGs, will celebrate 40 years of the MG Metro, 30 years of the MG RV8, 20 years of the MGTF and MG6 10+1.
Doors will open between 10am and 4pm and tickets and more information available soon via:
http://www.facebook.com/groups/mg40event/