Welcome to the 2019 MG Trophy Championship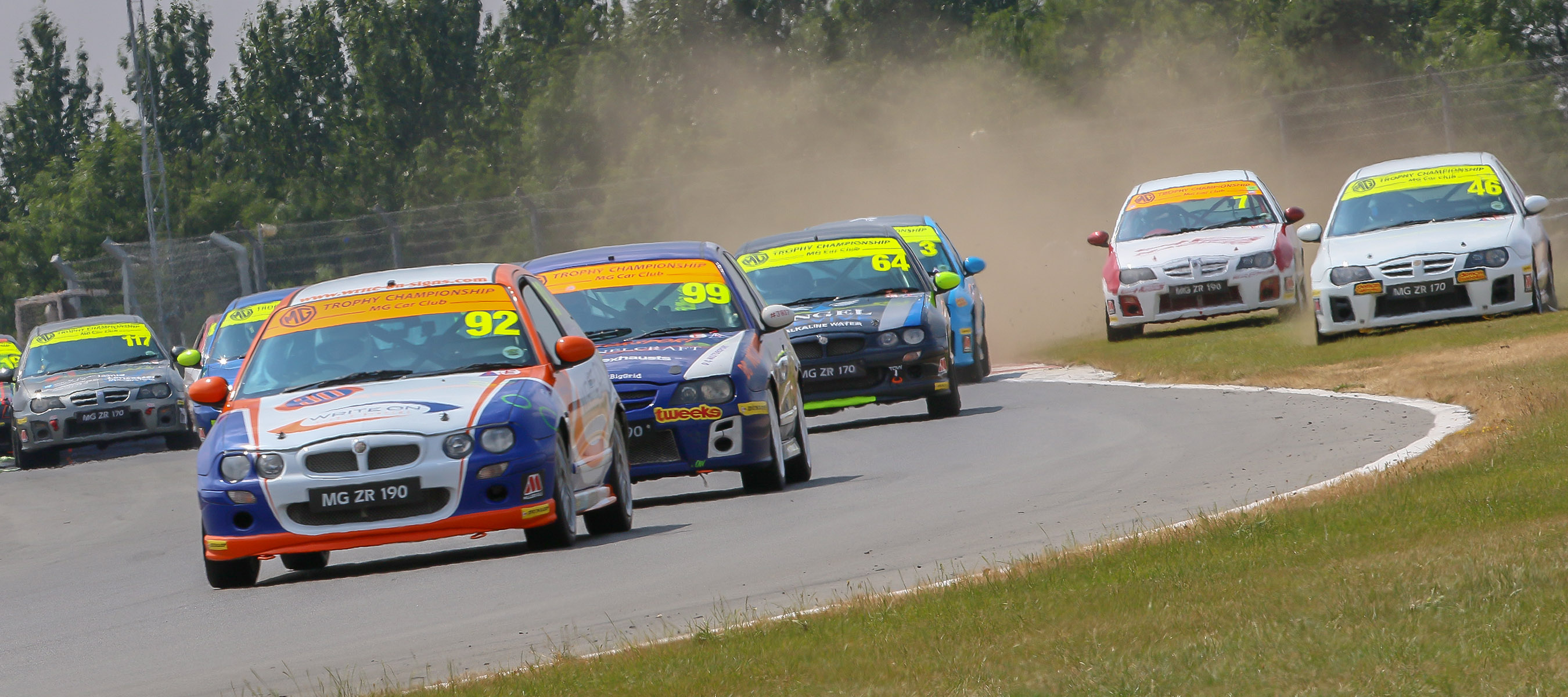 THE MG TROPHY is one of the UK's best and most enjoyable single make club championships, offering high quality close racing for the front wheel drive MG ZR in 3 classes, and new for 2019, the MG3.
In recent years the MG Trophy has produced a number of drivers who have gone on to higher levels of motorsport with ex Trophy driver Jack Goff competing in the BTCC having won the Clio Cup in 2012. This shows that this is the championship to see if you've got what it takes to race at the highest levels of motorsport. If you think this may be YOU why not try the cost effective MG Trophy and find out.
With regulations designed to keep costs to a minimum (eg sealed engines and gearboxes, max 15 new tyres in a season, etc), the series is suitable for both novice and experienced drivers.
For the experienced driver, Class A is for full race prepared ZR190 cars (190bhp) running on either Dunlop (control) slicks/wets, or Yokohama (control) slicks.
Class MG3 is for full race prepared MG3 cars (190bhp) running on the same tyres as Class A.
For drivers on a slightly lower budget Class B is for the ZR in 170 bhp form, running on list 1B Dunlop control tyres.
Class C is for race prepared ZR 160 road cars that can be built for around £3,000, possibly the cheapest entry level tin top able to race on all the UK's top circuits.
2019 will again see all classes competing together with the same points structure. There will be a winner for each of the four classes, but the Overall Champion will be the top scorer from the Enhanced Power classes A, B, and MG3.
Friendly and helpful off track, and highly competitive on track, it's undoubtedly one of the most cost effective single make club championships in the UK.
For drivers of all levels who require tuition/coaching speak to Zak Mercer on 07774 780747. Zak is the 2009 MG Trophy 160 Champion (Class C) and holds an ARDS Grade A instructor's licence and is the official driver/coach for the MG Trophy. In 2010 he raced in selected rounds of the Trophy in an MG ZR 190 and has previously raced an MG ZR 190 in Britcar and LMA Saloons. Jack Goff, our recent BTCC driver, is also giving driver tuition, call him on 07506 789787 to book.
For those without the experience of car set up etc speak to Dan Surridge at CMC Motorsport Ltd, they can provide an Arrive and Drive Package or Technical Support package at each circuit, Dan can be reached on 07899 925454. Fancy a go to see what it's like? A ZR 160 and 170 are being made available this year for interested drivers to try out, call Dan to make an appointment.
Novices can experience a fully regulated track day by contacting MGs-on-Track, book a day and find out more here www.mgs – on – track.com
For a full list of cars and equipment for sale please log on to www.motorsportads.co.uk. Also see under Race Cars for Sale opposite.
Every year we raise money for our chosen charity, previously we raised over £2,000 for Assert, the charity for those with Angelman Syndrome. For 2019 the drivers have voted to continue support for a second year for Rett Syndrome, and every car will carry Retts stickers. More information can be found here http://www.rettuk.org/what-is-rett-syndrome/

The MG Trophy Championship recommends Millers Oils
Please contact Bruce Woods for further information.
Bruce Woods
Championship Co-ordinator
Trophy@mgzrx.com

2019 Race Dates 
Non-Championship Round, March 30th, Silverstone (National), MGCC meeting.
| | | | |
| --- | --- | --- | --- |
| Rounds | Date | Circuit | Organising Club |
| 1 & 2 (DH) | April 27th | Brands Hatch (Indy) | MG Car Club |
| 3 & 4 (DH) | July 20th/21st | Donington Park | MG Car Club |
| 5 & 6 (DH) | August 3rd/4th | Knockhill | KMSC |
| 7 & 8 (DH) | August 31st | Oulton Park (Int) | MG Car Club |
| 9 & 10 (DH) | October 5th | Snetterton (300) | MG Car Club |
DH = Double Header Rounds