RACE BULLETIN No. 1 – 6th May 2021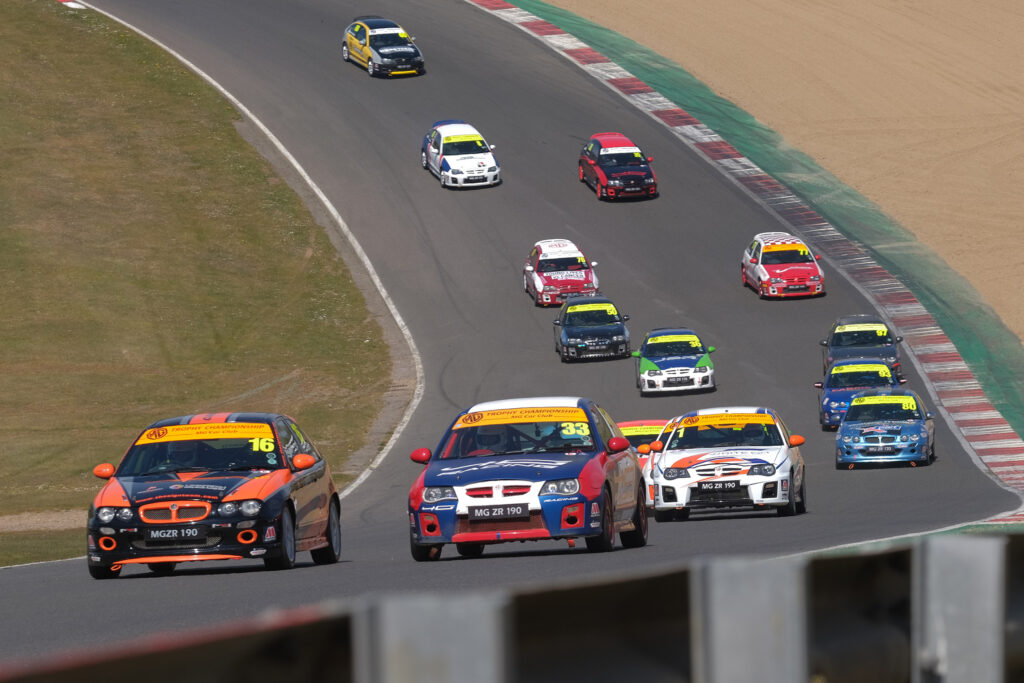 Brands Hatch Indy 24th April 2021
The Boretech Engineering MGCC MG Trophy Championship
With a gap of nearly nineteen months since the last Trophy Championship racing there was great enthusiasm from all quarters for the opening rounds of the 2021 season. 28 Driver Registrations have been received, and it was pleasing to have 19 entries for Brands Hatch, the Class breakdown being 7 Class A, 8 Class B, and 4 Class C.
Driver News
The Championship maintains a wide age range of competitors from 18 to 67, and also a good mix of familiar faces together with seven new drivers, five of whom were present at Brands Hatch; In Class B Jack Chapman (No.8), and Josh Bromley (No.97), and in Class C Guy Tolley (No.35), Andy Heitman (No.60), and James Moreton (No.78). Frustration was experienced in equal measures for the remaining two new comers, both in Class B; Keith Henley (No.30), who was unable to source a suitable size Race Suit in time, and Erick Lefebvre (No.66), who was unable to travel from France due to Covid restrictions. Moving to Class A this year is Adam Jackson (No.79).
Round Sponsor – Boretech Engineering
Rounds one and two of the 2021 Championship were sponsored by Boretech Engineering from Henfield in West Sussex. Boretech Engineering was founded in 1984 by new to Trophy Class C driver Andy Heitman, providing motorcycle engineering, cylinder reboring and crank rebuilding services.
Boretech has expanded its engineering services to include Automotive Engineering, block reboring, crankshaft regrinding and cylinder head machining for car, motorcycle and light commercial applications. Its well-established motorcycle servicing, repair, and motorcycle MOT facility, continues to grow alongside all the original engineering, preparation and restoration services.
Check out the Boretech website at www.boretech.co.uk
Testing
Thirteen cars made use of the Friday MSV testing option, although by mid-morning Patrick Booth (No.33) had experienced his first piece of bad luck for the weekend and was on the road back to the 4G base in Spalding for a replacement exhaust. In a later session, John Booth (No.50) had a rear quarter glass break and brother Patrick found his return journey to Brands interrupted by his second visit to 4G HQ. My observation from the groups of cars testing together was 2021 was going to filled with some very close racing in all three Championship classes.
Qualifying
The Trophy qualifying session was the second of the day, and every driver who had practiced Friday commented after that the track conditions had considerably deteriorated. In addition, Patrick's next piece of bad luck resulted in a gearbox seal failure, and some lubricant loss. (Doug Cole (No.99), however, stopped Patrick making another trip with the loan of a gearbox.) The frustration trackside was high, as TSL were unable to provide any live session data, and this was soon equalled on the track as six cars left the tarmac and brought out a safety car for four and a half minutes. At the end of the session only nine and half minutes of quali had been achieved. Eventually TSL provided the two race grids, and after adjustment for removal of times achieved after receiving assistance to regain the track, the starting positions were revealed. Top threes for Round 1 A Kirkpatrick(P1), Burgess(P2), Jackson(P3), B Dennison(P5), Campbell(P8), Dalgarno(P9), C Tolley(P16), Donnelly(P17), Moreton(P18). As always, the second race grid is based on second best quali times and so for Round 2 A Kirkpatrick(P1), Burgess(P2), Ross(P3), B Dennison(P4), Campbell(P5), Booth(P7), C Tolley(P16), Moreton(P17), Donnelly(P18).
Race Report by Graham Keilloh (edited by BW)
Sam Kirkpatrick (No.3) at Brands continued his strong form from last season by taking two wins from pole position in his ZR 190. And it was two young guns who fought for first in both races from the front row. In race one Kirkpatrick just held off his fellow young gun Fred Burgess (No.16), who also continued his good 2020 form. Burgess made many attempts to pass, including at Druids on the last lap, but Kirkpatrick clung on.
The MG Trophy's qualifying had been disrupted by many incidents as drivers reported the surface offered little grip at that point, and this resulted in a somewhat jumbled pair of grids. Doug Cole (No.99) was one who was impeded by this but he recovered to finish third in race one.
James Dennison (No.14) beat Fergus Campbell (No.31) to the Class B win, pipping him in a thrilling run to the line, and Dennison got Millers Oils Driver of the Race with it. Third in Class was Tylor Ballard (No.80). James Moreton (No.78) in his ZR 160 won the Class C race, from Guy Tolley (No.35) and John Donnelly (No.76).
Two non-finishers would see their day come to a premature end. Patrick Booth's final piece of bad luck for the weekend came on his tenth lap with a seized engine. Newcomer Jack Chapman (No.8) also finished his day on his seventh lap with what looked like a valve issue giving him only 3 cylinders. Jack was a late entry for the meeting, having actually only collected the Race Car from its previous owner on Monday evening!
Race two was a similar story at the front, though this time Kirkpatrick beat Burgess with a little more comfort, managing to get Burgess out of his slipstream.
"Good day, two good wins," smiled a satisfied Kirkpatrick. "The first one was a bit more hard fought, the second one was a bit more relaxed. In the first one I had a bit more understeer and didn't have much confidence. [Race two] it felt good, I had a bit more confidence and I could break the tow. We made no huge changes [for race two], I think the track might have been better, felt grippier.
"It was a good start to the season, hopefully more of the same next time! I think next time everyone will be more on it and it'll be quite close."
Burgess added: "It was a very messy qualifying, I felt like I had the pace to get maybe on pole. [In the first race] I put Sam under a lot of pressure, I had a really good car, good balance, good pace. I was hoping I could have the same in the second race but the balance wasn't quite right. Didn't quite have the grip, halfway through the race I settled for second. Maybe we've got to learn how to manage the balance of the car as the tyres fade away; I'm sure we will learn."
Adam Jackson – newly graduated to Class A – completed the podium, climbing from a 14th-placed start amid the disrupted qualifying. He finished eighth in the first race as he'd left the track avoiding the suddenly slowing fourth-placed Patrick Booth ahead whose car had seized.
Two-time MG Trophy champion Graham Ross returned to the contest in a left-hand-drive ZR 190, and his day was a struggle after a qualifying off. He only finished 12th in race one thanks to a tyre problem, while in race two he was fourth.
"It's a bit disappointing if I'm honest," said Ross. "Ever since the off in qualifying it's just been an uphill struggle, just trying to get the car right. In the first race it turned out to be a duff tyre, the rear left was always stepping out every right-hand corner. I changed the tyre and it was a lot better, but that second race was just frustrating, the pace wasn't in the car. Back to the drawing board!
"The front end of the car is not right, after the off in qualifying it hasn't got the right camber on, I think it's bent a crossmember or something. If it was right would I have been on the pace? I'm not sure, you get these weekends.
"In both races left-hand drive was fine. It took a bit of time yesterday in testing to get used to it."
Dennison made it a double Class B win in race two, winning by 9s ahead of Campbell and Dalgarno, and was also awarded Saturday's Driver of the Day. Moreton made it a clean sweep of MG Trophy doubles in this meeting by winning Class C's race two. He shadowed Guy Tolley for much of the distance and passed him to win late on at Druids. Third in Class C was John Donnelly. Moreton was also awarded Millers Oils Driver of the Race.
Round 1.
Fastest Laps – A: Burgess 54.493 on lap 19 (New Lap Record), B: Dennison 56.603 on lap 16, C: Moreton 59.777 on lap 20
Millers Oil Driver of the Race – James Dennison
Round 2.
Fastest Laps – A: Burgess 55.095 on lap 18, B: Dennison 56.570 on lap 7, C: Moreton 59.377 on lap 18
Millers Oil Driver of the Race – James Moreton
Driver of the Day – James Dennison
Bruce Woods
MG Trophy Championship Co-ordinator
t: 07836 358300
2020 Season Summary, and 2021 News.
2020 was a bad year for the Trophy and the world in general! The effect of the dreaded coronavirus forced us to make a difficult decision. In not wanting to make any driver feeling forced to compete we decided to make the decision that we would not run as a championship for the first time since our inception. The MGCC worked very hard complying with all the restrictions imposed and managed, after a lot of dedication, to put on 3 race events at Donington, Snetterton and Oulton Park. The MG Trophy ran as a series at all three which meant entries were low as many drivers decided to 'stay away'. However, this didn't put off newcomers joining the ranks and four new drivers competed in this very difficult year. Wins were recorded for Sam Kirkpatrick (2), Sam also competed in the Cockshoot Cup and bagged a win in both their races giving him 4 wins at one event, amazing! Other Trophy wins went to Fred Burgess (2), Adam Jackson (1) and Ross Makar, his first win for several years.
With our 2021 season due to start in a few weeks we are now waiting for the MSUK announcement to see if we will be racing at Silverstone on the 20th March. Registrations so far total twenty-six, and again we have a wide age range with one driver under the age of 20, six under 26, and seven over 55.
We are very pleased to announce this also includes six new Trophy drivers: –
Class B #30 Keith Henley 61, Retired Property Developer/Builder from Steyning, West Sussex. Car Colour: Blue. Sponsor: Boretech Racing. A complete racing novice, Keith has acquired Sam Johnston's car, and looks forward to some entertainment.
Class B #66 Erick Lefebvre 57, from Savigny sur Braye, France. Car Colour: White/Blue. Erick has previously raced with the MGCC, in 2008 he bought a MG Metro Turbo race car from Mark Bellamy, and the same weekend he competed at Donington Park in the MG Metro Cup finishing 5th. The car is still in Erick's garage along with a Mini, another MG Metro and a TF. Erick is intending to repeat his buy and race in a weekend experience this year when he joins us at Brands Hatch with the ZR 170 which previously competed in Class A with Ross Makar.
Class B #97 Josh Bromley 23, JCB Engineer from Hilton, Derbyshire. Car Colour: Grey/Red. Josh has minimal previous race experience. Since a young age he has been to many MGCC events and has always enjoyed watching MGT due to its competitiveness and how much fun it looked. He can't wait to give it a go himself!
Class C #35 Guy Tolley 38, Business Development Manager at North Star Imaging, from Droitwich, Worcestershire. Car Colour: Black/Red. Guy's work involves digital X-ray and 3D Computed Tomography for industrial applications in the aerospace, medical device, electronics, military, defence, and automotive sectors, which includes motorsport related purposes. Guy has been Karting since the age of 10 and has won the Rissington Kart club championship in 2008 and 2011. More recently he has raced in rental Karting, winning the Rugby Kart Club championship in 2018 and the Covkart championship in 2019. During 2020 he completed 3 track days in his MG ZR160 which was built by 4G Racing, who are running the car for Guy.
Class C #60 Andy Heitman 63, Motorcycle Service Business Owner from Small Dole, West Sussex. Car Colour: Yellow/Grey. Sponsor: Boretech Racing. Andy's business was founded 34 years ago and its main involvement is Sales, Service, Spares, and repairs of competition Motorcycles, and that's where Andy's racing career started when he was 8 Years old Racing a BSA Bantam, he has competed in most disciplines of Motorcycle Sport. His 4 wheeled endeavors' have been fairly limited, he raced a few seasons in Bangers when he was 17 and Quadbikes since the mid 80's. He was forced to retire from competitive Bike and Quad racing following an accident in 2011 which left him with a spinal injury which has taken 9 years to fully recover from. Andy has the ex-Jack Roberts ZR 160 and is looking forward to learning a new craft.
Class C #78 James Moreton 29, Service Advisor from Downham Market, Norfolk. Car Colour: Black/Silver. Sponsor: 4G Racing Joining the MGT in 2021, with a newly built 4G MG ZR 160.
RACE BULLETIN No. 2 – 25th August 2019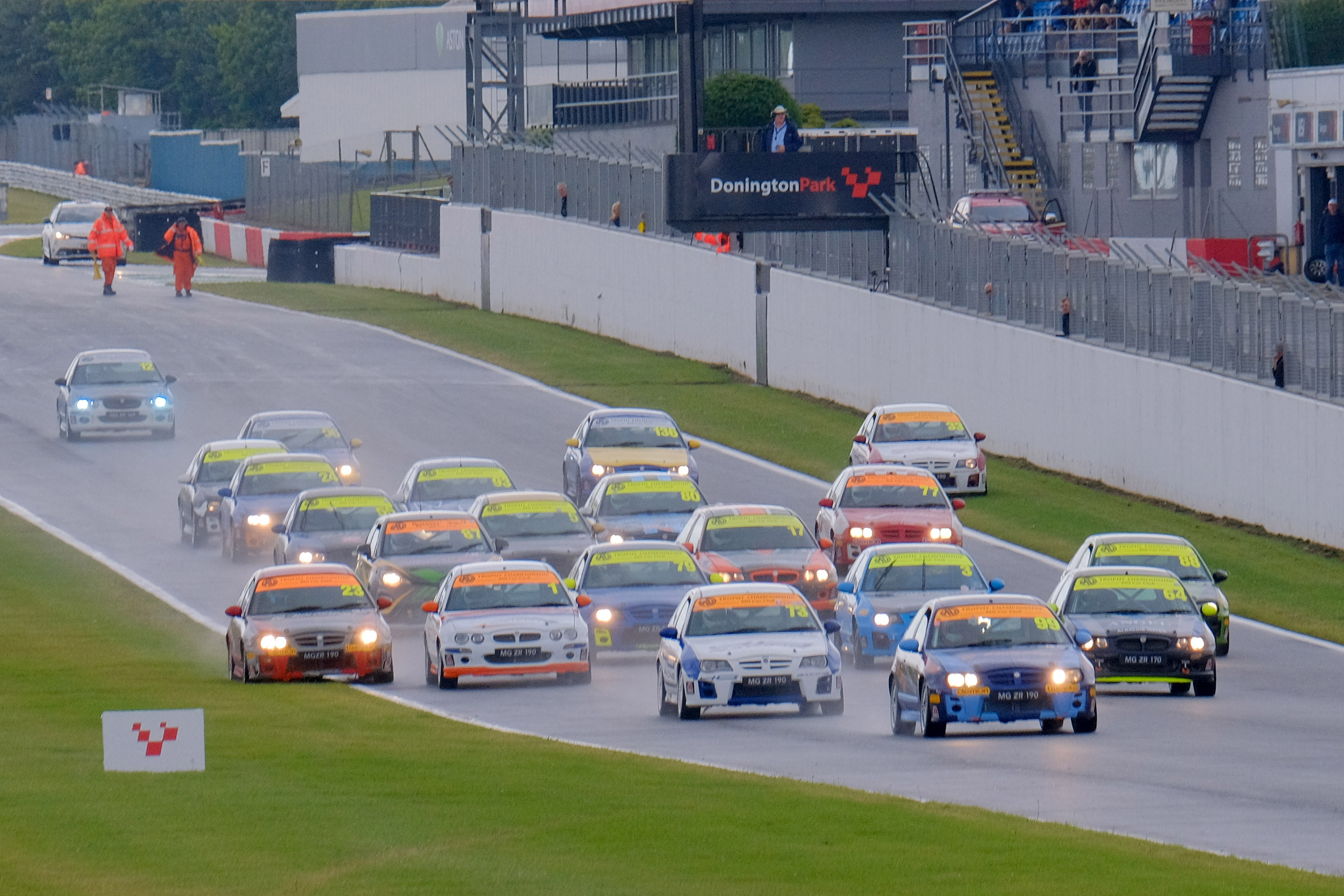 Donington Park 20th & 21st July 2019
The Vehicle Procurements Ltd MGCC MG Trophy Championship
With the resting of MG Live! for 2019 there had been a twelve week gap since the first two races of the Championship. As has previously been mentioned Championship registrations are significantly down on last year's figure with a total of 28. It was thus pleasing to have 24 entries for Donington, the Class breakdown being 7 Class A, 13 Class B, 3 Class C, and for the first time 1 MG3 190.
Driver News
A very welcome return to the Trophy was made by Colin Roberston (No.87), who brought his MG3 down from Perth for its first run in the MG Trophy. The car has been built by Colin with help from Doug Cole on custom parts (mainly suspension) using his previous MG ZR 190 engine. Considerable weight 'saving' has been done but the car is still 90 kgs heavier than a ZR. To make this car competitive in class A, where it grids amongst the other slick shod MG ZR, Colin is talking to Mark Stacey (K maps) re an ECU re map to give more power. Colin has gone down the existing K series VHPD route, but the championship regulations allow for 3 engine options up to 220 bhp. The first outing of this car was in the Cockshoot race at Oulton Park last year where it came 3rd.
New to the Championship for this year is Fred Burgess (No.17) in Class B. Fred is the son of last years overall Runner up Jason Burgess (No.16) and will be campaigning in Phil Tomlinson's car, while Phil takes a year out.
Also returning for their first 2019 outing were two drivers in Class B, Gianni Picone (No.5) and Matt Turnbull (No.64). Making a welcome return to Class C after two years out was Martin Webber (No.12)
Round Sponsor – Vehicle Procurements Ltd
Rounds three and four of the 2019 Championship were sponsored by Vehicle Procurement Ltd. Our thanks go to Malcolm, Mark and all the staff at their Nottingham base.
Testing
Many of the grid made use of the Friday MSV testing option. Of particular note was John Booth (No.50) Class B, who managed a gentle roll on to his roof, and starting a trend of what was to be a busy weekend for many. Friday evening the car returned to the 4G Spalding base and received the attention required from Ali and the team to make it ready for Saturday.
Qualifying
With the luxury of a two-day meeting the Trophy 15 minute qualifying began at 09:45, with the days somewhat unpredictable weather conditions currently dry. As the session reached its mid point the order in each class was A Makar, Ross, Booth, B  Kirkpatrick, Luti, Turnbull, C Croker, Bacon, Martin. Three laps later, Cole had replaced Booth for third in Class A, and Turnbull had taken second from Luti in Class B. Next Harris pulled off, and then Luti's engine expired which marked the start of a chain of events which would see a couple of engine builds and his missing of that days race. With a minute and a half of the session remaining the only change in order was to see Jackson take third in Class B from Luti. This order was unchanged at the session end, the six running Class A cars, followed by Robertson's MG3 in seventh and then the leading Class B car. Grids for the races were again formed in Class order, although this only really benefitted Harris and Dalgarno. Round 4 grid was based on second best lap times, the only top three difference from Round 3 being Burgess third in Class B.
Race Report by Graham Keilloh (edited by BW)
As the time for the race approached the weather had declined to cloudy, but still dry. Missing from the grid was Luti, still dealing with the expired engine from qualifying. Eight minutes into the race, with signs of the beginning of some rain, Harris experienced a brake issue at the Old Hairpin and on re-joining made contact with Marsh. This left Marsh upside down in the gravel, and brought out a Red Flag before the rain really set in. So began the third gigantic support effort of the weekend, which would see Marsh also return for the following days race. With the heavily deteriorated weather situation, and the cars held on the grid with their dry setup, Race Control made the decision to hold the remaining part of the race later in the day.
21 cars made the restart an hour and a half later, in what were now definitely wet conditions.
Reigning champion Graham Ross made it three MG Trophy wins from four this year by claiming both Donington victories. He prevailed in wet-but-drying race one – held over two parts due to a red flag – with a last lap outside-to-inside pass of Doug Cole through the Craner Curves.
"I am pleased, considering this weekend has been a bit experimental," Ross said, referring to a modified VVC head he was running for the first time, "but the wee thing has gone absolutely great. I can tick the box and say that one's a success. I like Donington, it's not one of these ones where I come with a negative attitude."
Cole got two second places from Donington, despite his gears jumping out in the second race, which let Ross past him at the Old Hairpin. "That's not an excuse, we should prepare them a bit better," Cole admitted. "I think I could have kept up with him if it'd been OK."
Double poleman Ross Makar had a frustrating time, as he dropped out of both races with blown head gaskets, which he suspected was due to gas getting into the engine and causing its water to overheat. Makar and Ross made contact at Redgate in race two as Ross went by shortly before Makar dropped out; though both drivers accepted there was nothing malicious in it.
Matthew Turnbull was Class B victor in both races, and got Driver of the Race as well as Saturday's Driver of the Day for his race one effort, where he finished third overall just 3.6s off Ross. He got the race two class win as well after Sam Kirkpatrick, who was holding Turnbull off, had a late-race engine blow up, ironically at almost exactly the same point of the track that he had a similar blow up in last year's Donington meeting. Kirkpatrick fell down in race one when he ran off at Coppice in wet conditions, not quite able to correct a slide. Adam Jackson was race two's Class B runner-up and got Driver of the Race. Joshua Bacon and Paul Croker split the Class C wins, after a broken throttle cable left Bacon stranded in the Assembly area for race 2.
Round 3.
Fastest Laps (from first part of race) – A: Cole 1:20.967 on lap 3, B: Kirkpatrick 1:23.473 on lap 3 (New Lap Record), C: Bacon 1:28.327 on lap 2, MG3: Robertson 1:25.537 on lap 3 (New Lap Record)
Millers Oil Driver of the Race – Matthew Turnbull
Driver of the Day – Matthew Turnbull
Round 4.
Fastest Laps – A: Ross 1:20.365 on lap 10 (New Lap Record), B: Turnbull 1:22.993 on lap 11 (New Lap Record), C: Croker 1:26.519 on lap 6, MG3: Robertson 1:23.347 on lap 8 (New Lap Record)
Millers Oil Driver of the Race – Adam Jackson
Bruce Woods
MG Trophy Championship Co-ordinator
t:    07836 358300
e:   Trophy@mgzrx.com
RACE BULLETIN No. 1 – 6th May 2019

Brands Hatch Indy 27th April 2019
The Maidstone MG MGCC MG Trophy Championship
With a gap of seven months since last year's final championship race the 2019 season opening rounds on the Brands Hatch Indy circuit could not come soon enough. Two changes for 2019, as agreed at the Driver's Meeting, both driven by the aspiration of avoiding first lap incidents between classes; Grids will be formed in Classes, and Class A have the option to use either Dunlop CM720 or Yokohama N2614 specified tyres. At the start of the 2018 season there were 40 driver registrations, this year there were 26, which will have an obvious impact on grid sizes throughout the year. After a little post closing date activity there were 20 entries, the Class breakdown being 8 Class A, 10 Class B and 2 Class C.
Driver News
Two drivers move up to Class A, Patrick Booth (No.33) having finished 2018 6th in Class B, and Paul Savage (No.23) after a year out since competing also in Class B. Three drivers have made the switch from Class C to Class B; last year's Standard Power Champion John Booth (No.50), runner up Tylor Ballard (No.80) and fourth place Joe Dalgarno (No.93.) Also making a welcome return after a year out besides Paul Savage was Paul Croker (No.96) in Class C.
Round Sponsor – Maidstone MG
Rounds one and two of the 2019 Championship were sponsored by Maidstone MG. Supporting the Championship for the first time, Maidstone MG are part of the F G Barnes group. As wind conditions allowed the MG Motor UK dome was inflated in the spectator area beside the back of the grid and the current range of MG vehicles was showcased. Maidstone MG are to found at Sutton Road on the Parkwood Industrial Estate in Maidstone. Our thanks go to FG Barnes Sales Manager Dan Brann and MG dealer principal Sam Jennings.
Testing
Nearly three quarters of the grid took advantage of the Friday MSV testing option. I noted only positive comment from those Class A drivers using the Yokohama tyre.
In Remembrance of David Heasman
Through the use of black armbands, the MG Trophy Championship demonstrated its respect to David Heasman who sadly passed away earlier this year. Dave, who finished third in the 2018 Standard Power Class always thought of Brands Hatch as his favourite circuit. His partner Sue thanked the Championship for this mark of respect, wishing all drivers the best of luck.
Qualifying
Having both races scheduled for the first day of the MGCC two-day meeting inevitably resulted in the Trophy being the first qualifying session of the day. As all 20 cars took to the circuit at 09:00 with the track conditions damp, the session would prove to be one dictated by tyre choice. Half way through the session the leaders were Makar(A), Bray(A), Cole (A), Savage (A), Luti(B), Kirkpatrick(B), and ninth Butler(B). In class C the order was 17th Bacon, and 20th Croker. With 2 and a half minutes remaining it was Bray(A), Makar(A), Cole(A), Luti(B), Kirkpatrick(B), and eighth Johnston(B). Class C still Bacon & Croker.
With Cole off in the gravel at the top of paddock hill the chequered flag fell early with the final order Kirkpatrick(B), Luti(B), Bray(A), Makar(A), Cole(A), Booth(A), Savage(A), Walker(A), Johnston(B), 19th Bacon(C) and 20th Croker(C).
Grids for the races were however formed in Class order, race 2 being based on second best time, giving pole positions to Bray, Kirkpatrick and Bacon in Race 1 and Cole, Kirkpatrick and Bacon in Race 2.
Race Reports by Graham Keilloh
Round 1.
The common theme of the Maidstone MG Trophy season-opener was recovering from adversity. Reigning champion Graham Ross won race one after starting seventh following "a gamble that didn't really pay off" of running slicks in wet-but-drying qualifying. Ross was aided to victory by Doug Cole spinning on fluid at Clearways – one of several to spin there – then by Ross Makar retiring from the lead when throttle body screws got loose and were sucked into his engine.
Ross was chased home by returning three-time champion Chris Bray, who wasn't letting Ross relax despite Ross's self-admitted desire to cruise to the flag! "It was more to do with the attrition of a couple of others," said a modest Ross of his win.
Sam Kirkpatrick looked on for Class B victory but retired with a clutch failure on his ZR 170 – "it gradually got worse," Kirkpatrick said, "first it wouldn't go into second and then it wouldn't go into anything". Paul Luti competing in that class also hit problems with his 170, with a water pipe for his coolant detaching and leaking fluid onto his tyres. Further, Luti didn't realise this was amiss until the race finished; he also didn't realise what was happening to his engine temperatures without coolant, as his temperature sensor was in fresh air! It meant a frantic engine repair for race two due to the overheating.
The Class B win was instead taken by Richard Marsh (no. 19) who after starting at the back of the class grid headed a fine scrap with Samuel Johnston and Adam Jackson. This also got Marsh Driver of the Race.
Cole (no. 99) later in the race was hit in the side by Tylor Ballard's 170 who was out of shape in avoidance of another car losing it, and had to visit the pit lane for a frantic door lock repair.
In Class C Croker (no. 96) got the better start and lead for 14 laps before Bacon (no. 136) took over the lead which he held to the line, finishing 0.24 seconds ahead of Croker.
Fastest Laps – A: Bray 55.012 on lap 19, B: Johnston 57.231 on lap 21, C: Bacon 59.401 on lap 12
Millers Oil Driver of the Race – Richard Marsh
Round 2.
After Cole's (no. 99) eventful race 1 and starting race 2 from pole, he was determined to make amends. "I had to do something about it; I had to win," said Cole of the second race, and he did just that by leading home a four-car battle and resisting enormous pressure from Makar, Bray – who discovered after the race he'd picked up a left-rear puncture after running over debris – and Ross. It also earned Cole Driver of the Race and Driver of the Day for Saturday.
"I've had a few races like that in terms of pressure, but nothing like for 18 laps," said Cole, who had the added challenge of not having timing and therefore having no idea how many laps remained. "It was just like keep putting the car in a safe place. We've been racing for 10 years together so we know each other really well; we don't knock each other off."
"It was just nose-to-tail for lap after lap," added Ross. "It was just awesome, and pretty clean from where I was sitting. It's one of those ones you come off with a big grin on your face."
Kirkpatrick got "a bit of a redemption" by winning Class B in race two, passing Luti partway through when Luti got stuck behind a 190; Kirkpatrick started the move at Clearways and completed it at Paddock.
In Class C again Croker had the better start, but this time only led for a single lap before Bacon took over the class lead which he held for a further 18 laps till the flag. Commenting on his two wins afterwards 19-year-old Bacon dedicated the second win to David Heasman who he had enjoyed some close racing with last year.
Fastest Laps – A: Bray 55.376 on lap 19, B: Luti 56.719 on lap 16, C: Croker 59.062 on lap 15
Millers Oil Driver of the Race – Doug Cole
Driver of the Day – Doug Cole
Bruce Woods
MG Trophy Championship Co-ordinator
t:    07836 358300
e:   Trophy@mgzrx.com
RACE BULLETIN No.6 – 9th October 2018

Snetterton 300 29th September 2018
The NMG MGCC MG Trophy Championship
The final two championship rounds again followed the tradition of the Norfolk Snetterton Circuit venue, but for the first time this year took place on the longer 300 layout. The outcome of all three race classes would depend upon the Snetterton results, the first to second place points gaps in each class being A: 9, B: 6, and C: 4. With all still to play for at the closing date there were 28 entries, the Class breakdown being 7 Class A, 16 Class B and 5 Class C.
Driver News
The final two rounds were the first of the year for two long time Trophy supporters Fergus Campbell (No.131) and Simon Byrne (No.4), both competing in Class B. Switching to Class A was Paul Luti (No.69).
Round Sponsor – NMG
Rounds eleven and twelve of the Championship were sponsored by the Norfolk Motor Group (NMG) of Norwich. NMG are a new MG dealer for 2018. Sales Manager Craig Durrant arranged the use of the MG Motor UK event trailer and together with the NMG team was able to display the current MG Motor range at Murray's corner.
Testing
With only a few having experience of the 300 circuit the Friday MSV testing option was very popular with Trophy drivers. I noted 25 cars making use of the track time. The news of Paul Luti's decision to leave the season long brake issues of his Class B car behind him and give Chris Bray's Class A car a proving run had been kept under tight control until now. Towards the end of testing I became aware of a very late Class A entry taking the Class total to 8, by far the largest for the year, and hopefully an encouraging sign for 2019.
Qualifying
Not being scheduled as race one made for a more relaxed start to a dry and bright day with the Trophy taking to the track at 09:58 for their 20 minute qualifying. Time keeping were only instructed to remove one lap time for exceeding track limits. After 4 laps the leaders were Makar(A), Luti(A), Kirkpatrick(B), Ross(A), Firth(B), and sixth Marsh(B). In class C the order was Booth, Bacon, and Ballard. Two laps later and it was Ross(A), Luti(A), Burgess(A), Makar(A), Turnbull(B), Cole(A), Kirkpatrick(B), and eighth Firth(B). Class C still Booth, Bacon, Ballard.
As the chequered flag fell the final order was A: Ross, Luti, Burgess, Cole. B: Turnbull, Kirkpatrick, R Firth. C: Booth, Ballard, Bacon. Second best times were the same order for Class A and Class B, but for Class C: Booth, Bacon, Ballard.
Race Reports by Graham Keilloh
Round 11.
The destination of the MG Trophy, supported for the event by Norfolk Motor Group, went right down to the wire, but Graham Ross emerged on top from a weekend that did not quite follow his plan. He did qualify on pole position, and was joined on the front row by Paul Luti – who appeared not in his regular Class B car but in past champion Chris Bray's ZR 190.
Having changed the clutch after qualifying to a more standard part, Luti made a terrible start to the opening race, with Jason Burgess storming through from row two to lead. Luti climbed back to third before a safety car period, then lost out to Ross Makar at Riches at the restart, before the latter went straight on at Agostini. A lap later, the seventh, Luti made contact with Ross at Wilson hairpin and grabbed second, before Ross spun down the order at Hamilton – although importantly he remained third in Class A, and eventually regained that position on the road. Up front, Burgess defeated Luti by 0.7s to also pick up Driver of the Race.
In a typically crazy Class B race, Ryan Firth came out on top although Sam Kirkpatrick had been ahead almost race-long. "He just pulled off under the bridge, I don't know if he missed a gear or what," mused the beneficiary. Matt Turnbull and Tom Butler completed the podium, while the two leading Class C contenders both failed to finish. Tylor Ballard was ruled out when startline contact left a wheel hanging off, while John Booth's engine blew on the final lap. Guest Joshua Bacon triumphed from Joe Dalgarno.
Fastest Laps – A: Ross 2:13.371 on lap 9 (New Lap Record), B: R Firth 2:17.701 on lap 7 (New Lap Record), C: Heasman 2:24.836 on lap 9 (New Lap Record)
Driver of the Race – Jason Burgess
The Class points gaps, first to second, at this stage were A:Ross lead Burgess by 7. B:Firth lead Turnbull by 18 (but with 12 points guaranteed from his drop score now uncatchable). C:Booth lead Ballard by 5.
Round 12.
The second race was, by and large, a relatively sedate affair. Burgess again scorched into the lead, but this time threw it all away with a spin at Hamilton on lap two, salvaging only fourth position. That left Luti out front, having taken track position from Ross at Oggies on the opening lap. Ross, meanwhile, did all that he needed and stroked the car (which he reckoned was understeering after the race one incident) home in second, ahead of Makar. "I've been doing this since 2008, so I am in my 11th year but never really had a concerted effort on the championship," said Ross, having wrapped things up. "I am not in the first flush of youth so I am really chuffed!"
After Kirkpatrick went off at the first corner, Firth initially led in the ZR 170 division but was passed by Turnbull at Wilson on the second lap. Turnbull was handed a bit of a cushion when Burgess slotted in behind him after his spin, and Firth was unable to chase him down – but had already wrapped up the Class B title. While Turnbull took his first class win of the year, Fergus Campbell was an excellent third and claimed Driver of the Race. In Class C, Ballard and Booth (following an engine change) slugged it out for the title but although young Ballard won on the road, Booth did enough to take the class crown by 3 points.
Fastest Laps – A: Luti 2:13.049 on lap 5 (New Lap Record), B: Turnbull 2:16.962 on lap 5 (New Lap Record), C: Dalgarno 2:23.129 on lap 8 (New Lap Record)
Driver of the Race – Fergus Campbell
Bruce Woods
MG Trophy Championship Co-ordinator
t:    07836 358300
e:   Trophy@mgzrx.com
RACE BULLETIN No. 5 – 11th September 2018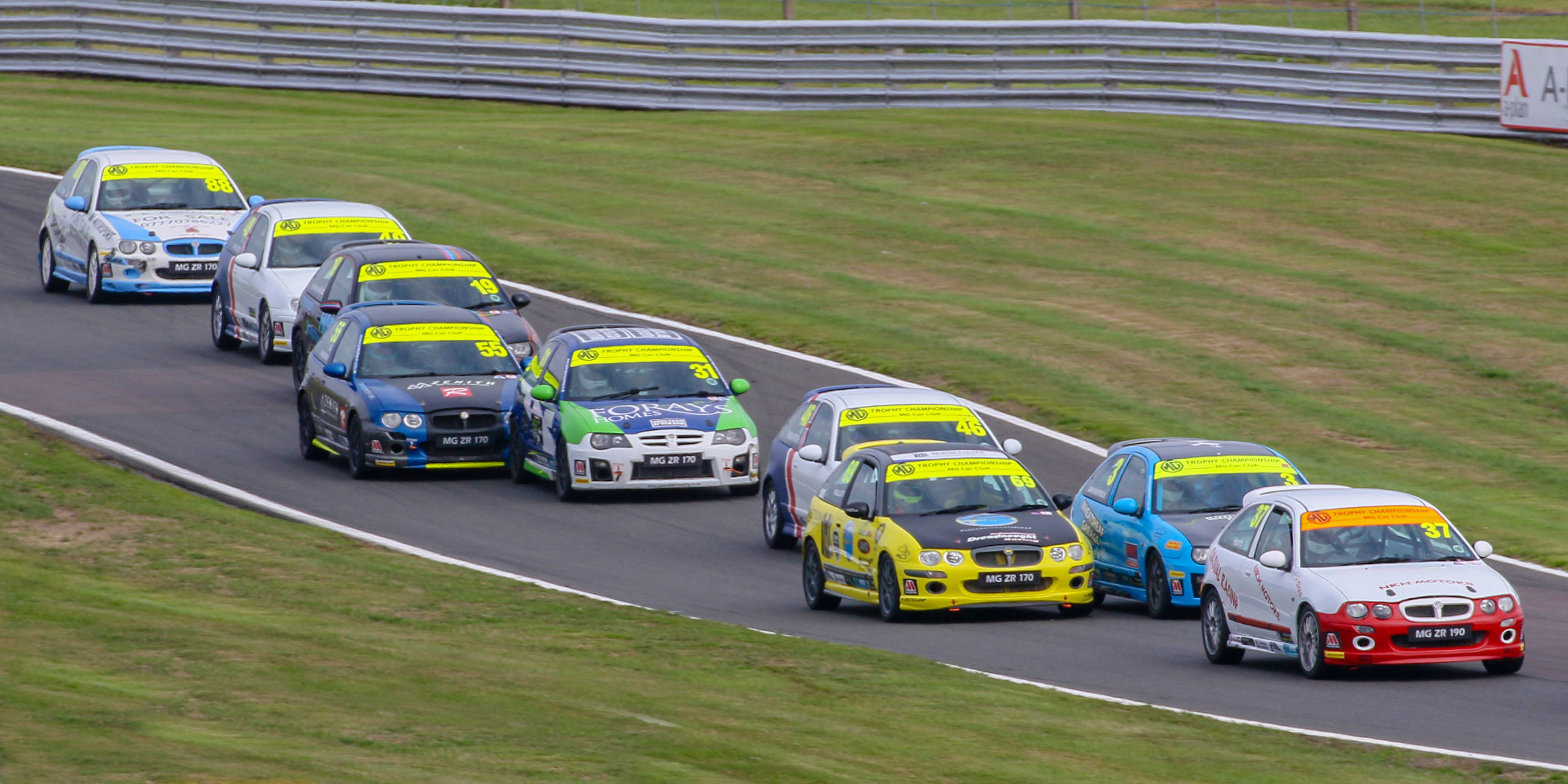 Oulton Park 1st September 2018
The Knight Industries MGCC MG Trophy Championship
Oulton Park is another circuit where the events of previous years give the Co-ordinator and Competitors plenty to think about in the build up to racing. Never the less, the initial intention of 30 entries made the Trophy grid the largest in the programme, the Class breakdown being 7 Class A, 17 Class B and 6 Class C.
Driver News
Mike Harris (No. 37) has been busy since the last rounds at Donington Park, and with assistance from Doug Cole (No. 99) of DC Motorsport, has decided to move to Class A for the remainder of the season as he fancied driving a car with a LSD again, and has always wanted to try racing on slicks.
New to Class C at Oulton Park was Josh Bacon (No. 136.) Josh, just turned 19, from Horsham, West Sussex, is competing in the Kent Karting Championship (Senior Clubmax) this year and currently lies in second place with one round to go. Josh has purchased Tony Jones car which finished third in class last year.
Also worthy of mention Ray Ferguson (No. 10), the Championship's most senior competitor completed his eighth MG ZR race in five days at Oulton Park, proving age is no barrier to competition.
Round Sponsor – Knight Industries
Rounds nine and ten of the Championship were sponsored by Knight Industries. Knight Industries, of Uttoxeter, Staffordshire are the first UK company to offer both performance tuning and body styling upgrades for the MG3, MG6, MG GS and MG ZS. Whether it's a simple replacement panel filter, right up to a complete performance enhancement package, Knight Industries can make a difference to your MG. Concentrating on looks, style, performance, braking and suspension, Knight Industries have teamed up with some of the top UK companies to bring you the best choice for your MG. Knight Industries have a superior knowledge of the new MG models and can offer help and advice should you have some technical queries that a dealer may not immediately have an answer to.
Testing
Again the Friday MSV open pit lane testing was very well supported by The Trophy. As an alternative to the delights of a Friday afternoon on the M6 this you would think a better option, but some were left to contemplate this more closely. First to suffer was Sam Johnston (No. 24) when his bottom end let go. Up next was Josh Bacon, after his first ever couple of hours in the car with a circuit instructor Josh experienced a bonnet retention pin failure requiring the services of Autoglass to replace his screen. Andy Spencer shattered the crank on the 4G Class A car, and finally John Booth required a Head Gasket change on the 4G Class C car. Josh and John would go on to compete, Sam and Andy would not.
Qualifying
Being scheduled as first race of the day means the Trophy cars were first on track to qualify at 08.30. Time keeping was kept busy with a number of laps being disallowed due to track limit infringements, a point made very clear in the subsequent Drivers Briefing! After 3 laps the leaders were Kirkpatrick(B), Wetton(A), Ross(A), Roberts(B), Butler(B), and ninth Burgess(A). In class C the order was Ballard, Dalgarno, and Booth.
With 5 minutes remaining Class A had moved to the top, with the order Ross, Burgess, and Wetton. Class B was now Kirkpatrick, Turnbull, and R Firth. Class C remained Ballard, Dalgarno, and Booth.
The session ran to its full time the final order being A: Ross, Burgess, Cole. B: Kirkpatrick, Turnbull, R Firth. C: Booth, Ballard, Dalgarno. Second best times were the same order for Class A and Class B, but for Class C: Ballard, Booth, Dalgarno.
Race Reports by Graham Keilloh
Round 9.
Jason Burgess won both The Knight Industries MG Trophy races and in so doing took maximum advantage in the championship table. (Co-ordinators Note: Once the effect of not dropping non zero scores is taken into consideration this is not the case!) Championship leader heading into the meeting Graham Ross led the first race from pole with Burgess in second seeking a way by. The pair touched at Old Hall second time through leaving Ross in the barrier and Burgess dropped behind new leader Gary Wetton. Burgess then got by Wetton at half distance for a lead he wasn't to lose.
And Paul Luti in Class B, who was second to Ross in the overall championship, also didn't make the end of race one as his brake pedal went to the floor leaving him in the gravel. Luti had also been unhappy with his brakes in the previous two rounds at Donington and Silverstone, and his problems included air getting into the system as well as issues with the pads.
Luti in the first Oulton Park race had been in locked in a tight scrap for Class B honours, which was won by Ryan Firth in third place overall and Firth with it got Driver of the Race. He just pipped Sam Kirkpatrick for the class win with Mike Harris, who was third in Class A, also in close proximity between the pair. Kirkpatrick dropped to third in class afterwards, behind Tom Butler, due to a five second penalty for track limits being applied.
Tylor Ballard continued his run of Class C wins stretching back to his Brands Hatch crash earlier in the year, consigning Class C table leader John Booth to second place four seconds adrift. Josh Bacon managed a third place finish in his first race.
Fastest Laps – A: Wetton 1:58.202 on lap 9, B: Kirkpatrick 2:01.658 on lap 7 (New Lap Record), C: Booth 2:07.713 on lap 3
Driver of the Race – Ryan Firth
Round 10.
The damage from his race one off meant that Ross was unable to take part in race two and Burgess again took advantage by winning. He led from lights to flag though had to resist close attentions from second-placed Doug Cole for the entire distance, particularly after a period when the safety car boards were displayed then withdrawn before the pack had formed up, in which time Cole moved a little closer to the leader. Wetton followed them home in third, four seconds adrift.
"Over the moon," said Burgess after his double win. "Really happy with the second race, it was a clean fight. Kept honest by Doug, as he always does, we were both throwing everything at it and we were pretty even.
"I was looking forward to the chequered flag – it seemed to go on forever and ever!"
"My early lead was because I managed to get a break away, I think Doug had got someone behind him and I worked extra hard to get the tyres warm, up to pace, and I was very confident from the word go."
Race two's Driver of the Race award went to fourth-place finisher Harris for upping his pace and staying well up the road from the Class B pack that time.
Burgess also made gains in the overall championship in race two as Firth finished third and Luti fourth in Class B behind class winner Kirkpatrick and second-placed Matthew Turnbull. The quartet had a close battle for class honours though the mentioned safety car board intervention had the effect of spreading them out a little.
Ballard again led home Booth in the Class C race, this time by two seconds, Bacon again taking third.
Fastest Laps – A: Burgess 1:57.786 on lap 9, B: Firth(R) 2:01.323 on lap 5(New Lap Record), C: Booth 2:07.615 on lap 5
Driver of the Race – Mike Harris
Bruce Woods
MG Trophy Championship Co-ordinator
t:    07836 358300
RACE BULLETIN No. 4 – 16th August 2018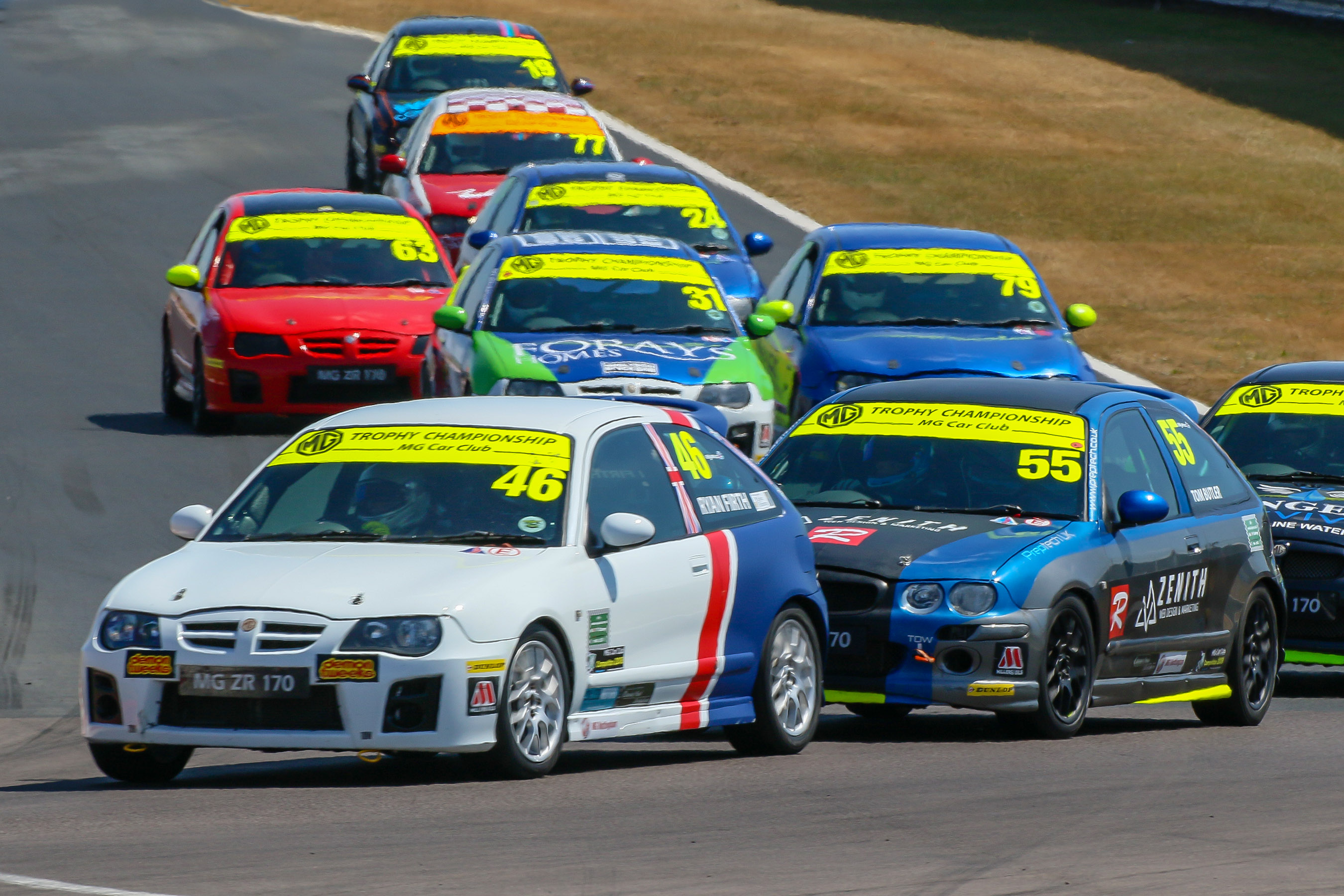 British Sports Car Weekend Donington Park 14th and 15th July 2018
The MG Nottingham MGCC MG Trophy Championship
The inaugural British Sports Car Weekend, a new initiative jointly run by the MG Car Club and the Morgan Sports Car Club, was a chance for MG Racing to move from the traditional race meeting format and try a few new concepts in order to build an event packed full of FUN for wider appeal.
Early indications suggested a grid of 32, but work and family commitments (and the inevitability of not being able to stretch time!) finally reduced this to a still healthy 29, the Class breakdown being 6 Class A, 18 Class B and 5 Class C.
Some unfortunate planning by my cousin, who has performed start line duties in Orange for MGCC in the past, resulted in Best Man duties for me, which consequently delayed my attendance at Donington until Sunday. All reports I have had, and media I have seen, about the Saturday Grid Walk have been very positive, with one or two notable 'outstanding' team performances. Well done to all who entered into the spirit of a FUN event.
Returning Drivers
Returning to the MG Trophy Championship at Donington, his local circuit, after the disappointment of a round three crash at Brands Hatch which wrote his car off was Andy Firth. The new car was built with the assistance of son Ryan (No. 46) and fellow competitor Simon Byrne.
Round Sponsor – MG Nottingham
Rounds seven and eight of the Championship were sponsored by MG Nottingham. MG Nottingham are a family-based dealer from the Mapperley area on the north side of the city. They are the first MG dealer to respond to a sponsorship request in over four years, and the MG Trophy is really proud to be associated with them. The team is led by Malcolm Ledgar and Mark Campbell, and ably assisted by Chris Lacey. Car sales are handled by Mollie & Jessica Clark, and Nicola Ledgar.
Qualifying Report by Pete Macwaters
The Trophy cars were second out on track for their qualifying session at 09.28. After 2 laps the leaders were Turnbull, Butler, Roberts and Kirkpatrick. The first 190 was Payne followed by Walker, Cole and Ross. In class C the order was Booth, Gill, Heasman and Dalgarno.
Spencer had rear bumper problems and was given the black and orange flag to call into the pits. There was a problem removing the loose bumper which lost him considerable time.
After 5 laps the order was Ross, Burgess, Payne, Cole and Walker. The class B front runners were Luti, Kirkpatrick, Turnbull, Butler and Roberts. Class C was led by Booth, Ballard with Dalgarno and Heasman next in line.
With 5 minutes remaining Burgess led from Ross with Cole, Payne and Walker next up. Class B was as before with Luti leading from Kirkpatrick, Turnbull and Butler and Booth, Ballard, Dalgarno and Heasman in class C.
The session was red flagged at 09.39 due to oil on the track at Coppice following Kirkpatrick's blow up which sent 5 cars spinning off. Due to his lost time Spencer was unable to post a fast lap and ended up in P27.
Race Reports by Graham Keilloh
Round 7.
In the opening MG Nottingham MG Trophy race Graham Ross claimed his fourth win in a row, just beating Jason Burgess who returned to action after missing Silverstone. Burgess led from pole but Ross seized the lead at half distance by getting up the inside at Redgate. Burgess stayed on his tail for the rest of the way and Ross won by half a second. Doug Cole finished third despite a Redgate spin on oil from two earlier blow ups as well as gearbox struggles.
Paul Luti kept championship pace with Ross by taking race one Class B victory, winning out in a fight with Tom Butler and Driver of the Race Sam Kirkpatrick – whose team changed his engine to an old unit in double-quick time after a qualifying blow up due to Kirkpatrick selecting the wrong gear, also several cars went off on his oil. In reality Luti's win was comfortable as both Butler and Kirkpatrick got time penalties for track limits – Butler had five seconds added and Kirkpatrick 15 seconds for two offences. Tylor Ballard meanwhile made it three Class C wins in a row.
Fastest Laps – A: Ross 1:20.774 on lap 6 (New Lap Record), B: Kirkpatrick 1:23.886 on lap 7 (New Lap Record), C: Ballard 1:28.850 on lap 10
Driver of the Race – Sam Kirkpatrick
Round 8.
Ross made it five wins on the trot by winning the second race too, again from Burgess. It was more comfortable than race one as Burgess had to ease off to cool his brakes at mid-distance after a spell of pushing them hard trying to force leader Ross into an error. Ross also got to the top of the championship table as Luti slid off at McLeans trying to take the Class B lead from Fitzpatrick on the outside, and got beached in the gravel. Kirkpatrick helped himself to the class win ahead of Ryan Firth and Driver of the Race Butler, while Ballard extended his Class C winning run to four.
"I'm chuffed as chuffed can be," said Ross afterwards. "Jason kept me really honest. Then I seemed to be able to eke out a wee bit; then it was just a case of not doing anything silly."
Fastest Laps – A: Ross 1:20.767 on lap 7 (New Lap Record), B: Firth(R) 1:24.035 on lap 8, C: Dalgarno 1:27.651 on lap 4
Driver of the Race – Tom Butler
Bruce Woods
MG Trophy Championship Co-ordinator
t:    07836 358300
RACE BULLETIN No. 3 – 8th June 2018


MG Live Silverstone Historic Grand Prix Circuit 2nd and 3rd June 2018
The Millers Oils MGCC MG Trophy Championship
MG Live at Silverstone is always a great event, with plenty of other activity, besides the packed race program, all helping to make this the premier MGCC Race Weekend of the year.
What had initially looked like a very pleasing potential grid of 40 gradually depleted in the final days before the event finishing up with a still reasonable 32, the Class breakdown being 6 Class A, 20 Class B and 6 Class C.
Testing
The Friday Silverstone test day was well supported by the Trophy Championship, with about three quarters of the field having a run. The most notable event of the day being the end of Ollie Coles return Guest Drive with the modification of one cylinder to a new five valve configuration which only had a very limited life. And so the grid became 31.
Returning Drivers
After a disappointing first round in Class B on the National circuit Will Payne returned, initially as a Guest, in a Class A car. After some careful consideration, and prior to the first race, Will made the decision to switch to Class A for the rest of the season. Also returning after disappointment in round one was Sam Kirkpatrick in a new car, originally built by Oliver's Preptech. Three drivers made their 2018 MG Trophy debut at MG Live, in Class A, 22 Gary Wetton, North Wales finest Truck Parts Supplier back for his seventh year in the Championship, and 77 Robin Walker, who also collected his ten year anniversary award at the weekend, in Class B 88 James Cole, back for his fifth year after the frustration of watching the first four rounds from the pit wall, and keen to eat into dad Doug's eighteen point lead.
Guest Drivers
The initial expectation was for five guest drivers. I've mentioned Ollie who had to make do with just racing his Porsche Centre Swindon Coca-Cola Boxster S this weekend, and Will who switched to being a point scoring Class A driver. So effectively we ended up with just three Guest Drivers. In Class B 4SS Danie Van Niekerk, from Cape Town, South Africa, apprentice cleaner at Dreadnought, and good friend of Paul, returning for his second time to race at MG Live. Back home Danie is three times BMW Saloon Car Series Champion, and he also encouraged fellow competitor 114 Clifford Bacon, also from Cape Town, to have a drive with us whilst here on holiday. Clifford drove Will Payne's Class B car prepared by 4G. And in Class C, Guest driving for just these rounds in what would be his fifth season was 27 Tim Martin. Tim is our IT advisor and runs https://techtrader-racing.com/ which tells the story of his racing as it unfolds. Well worth a read.
Round Sponsor – Millers Oils
The fifth and sixth rounds of the Championship were sponsored by our long-term friends at Millers Oils who also provide the "Driver of the Race" prize for each of the seasons twelve rounds. Millers Oils, of Brighouse, West Yorkshire, are leaders in the production of oils and lubricants for the motorsport industry. Using their nanodrive low friction technology they have developed the next generation of motorpsort oils. The MG Trophy Championship are proud to use their CFS 5W 40NT+ fully synthetic oils.
Qualifying
A 10:30 start for qualifying was a bit of novelty for me, for the past 14 years it's usually been a 07:00 start. While the full 3.6393 mile circuit is a great drive, the disadvantage is a 20 minute qualifying session is only going to produce 8 laps at best. As the 31 cars took to the track for their first circuit Ross and Bacon both managed to lose time and consequently were laps down on the rest of the field. After 4 laps the top 3's were A: Payne, Ross, Spencer, B: Kirkpatrick, Turnbull, Jackson, C: Booth, Ballard, Dalgarno. Two laps later, A: Ross, Spencer, Payne, B: Kirkpatrick, Turnbull, Firth, C: Booth, Ballard, Gil. Two more laps and the chequered was out – A: Ross, Spencer, Payne, B: Kirkpatrick, Turnbull, Firth, C: Booth, Ballard, Gil. Second Best times were A: Ross, Spencer, Payne, B: Kirkpatrick,  Turnbull, Jackson, C: Booth, Ballard, Heasman.
Race Reports by Ian Sowman
Round 5.
In the Millers Oils MG Trophy the stage was set for Paul Luti to extend his advantage in the Enhanced Power points standings in the absence of Jason Burgess, but it wasn't to be. Paul was plagued by brake problems on Saturday, with Graham Ross pouncing to grab the lead in the championship with a lights-to-flag victory in race one.
Andy Spencer took second place, a long way clear of what developed into a three-car battle for the last podium place. Having made his switch to the ZR190 class permanent, Will Payne "didn't give it enough revs" at the start and dropped right back, but grabbed third place from Doug Cole at Copse on the final lap, in spite of an issue with his exhaust.
In the ZR170 class, Ryan Firth was chuffed with his victory and the Driver of the Race award as he emerged on top of what was often a five car battle for the lead. Sam Kirkpatrick had put his freshly built car on pole, and brought the car home second in class, just ahead of Adam Jackson. Luti suffered "colossal brake failure" on two occasions in the race, both at Village hairpin. On the first occasion Matt Turnbull was delayed in avoiding the accident, while on the second occasion Luti retired from the race. Turnbull came back to fourth, ahead of Patrick Booth.
Tylor Ballard bounced back from his roll at Brands Hatch by taking the 160 Class victory in a new car that had been built up in the four weekends since the last race, taking the lead from John Booth on lap three and staying ahead thereafter.
Fastest Laps – A: Payne 2:26.197 on lap 5 (New Lap Record), B: Turnbull 2:31.896 on lap 2, C: Booth 2:38.190 on lap 7
Driver of the Race – Ryan Firth
Driver of the Day – Ryan Firth
Round 6.
Ross completed his brace of wins in the second race, but again Spencer gave him a very hard time on his way to second place. Cole completed the podium – just – but survived a "massive moment" at Maggotts before fending off Payne.
The ZR170 division again provided the highlight of the race, with Firth taking another far from straightforward victory. "I never thought I would be able to do the double at MG Live!" he said after fending off non-points scoring South African guest Danie van Niekerk by less than half a second. Firth had taken the lead by half-way around the first lap but lost it to Kirkpatrick on the third lap before the rookie's car promptly expired. Patrick Booth went with Firth and van Niekerk (who won Driver of the Race), with Luti limiting the damage from the weekend by grabbing onto their coat-tails by the end, up from 18th overall to eighth. With John Booth retiring on the first lap with a misfire on his ZR160, Ballard had to sing to himself to keep him entertained on his way to class honours once more.
Fastest Laps – A: Ross 2:26.533 on lap 7, B: Luti 2:32.084 on lap 7, C: Ballard 2:39.703 on lap 3
Driver of the Race – Danie Van Niekerk
Driver of the Day – Danie Van Niekerk
Bruce Woods
MG Trophy Championship Co-ordinator
t:    07836 358300
e:   Trophy@mgzrx.com
RACE BULLETIN No. 2 – 1st May 2018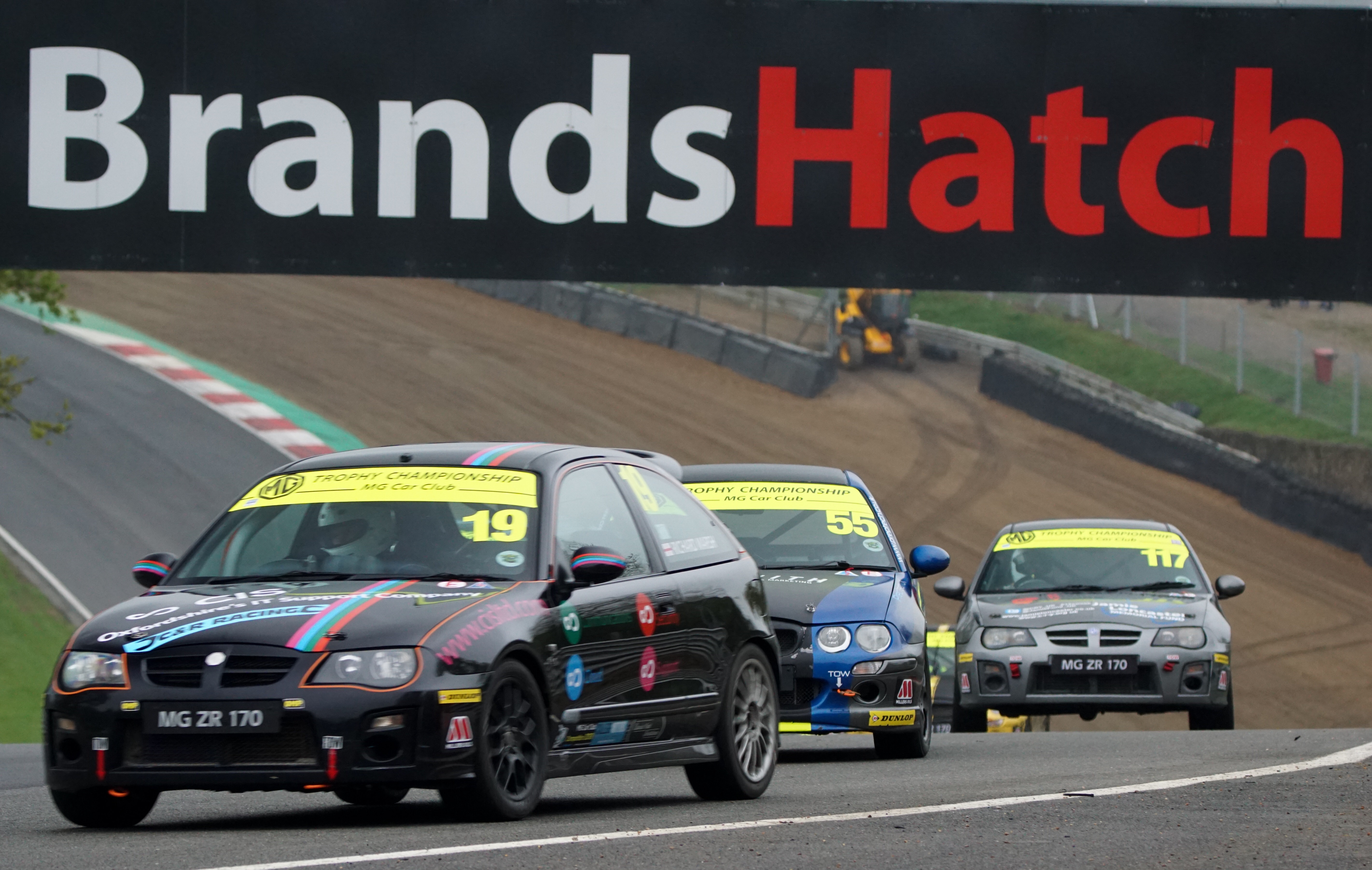 Brands Hatch Indy 28th April 2018 – Classic Fuel Solutions MGCC MG Trophy Championship
Following the first lap occurrence of 2017 I found myself with a reasonable dose of apprehension as the Championship returned to the Brands Hatch Indy circuit for its 2018 rounds. I was in fact treated to three clean first laps, although the day was most certainly not without its moments of anxiety.
What had initially looked like a healthy grid of over 30 was reduced by Saturday to 26 by the impact of competitors' work, life, and financial commitments. This was split between 5 Class A, 16 Class B and 5 Class C. (more…)
RACE BULLETIN No.1 – 14th April 2018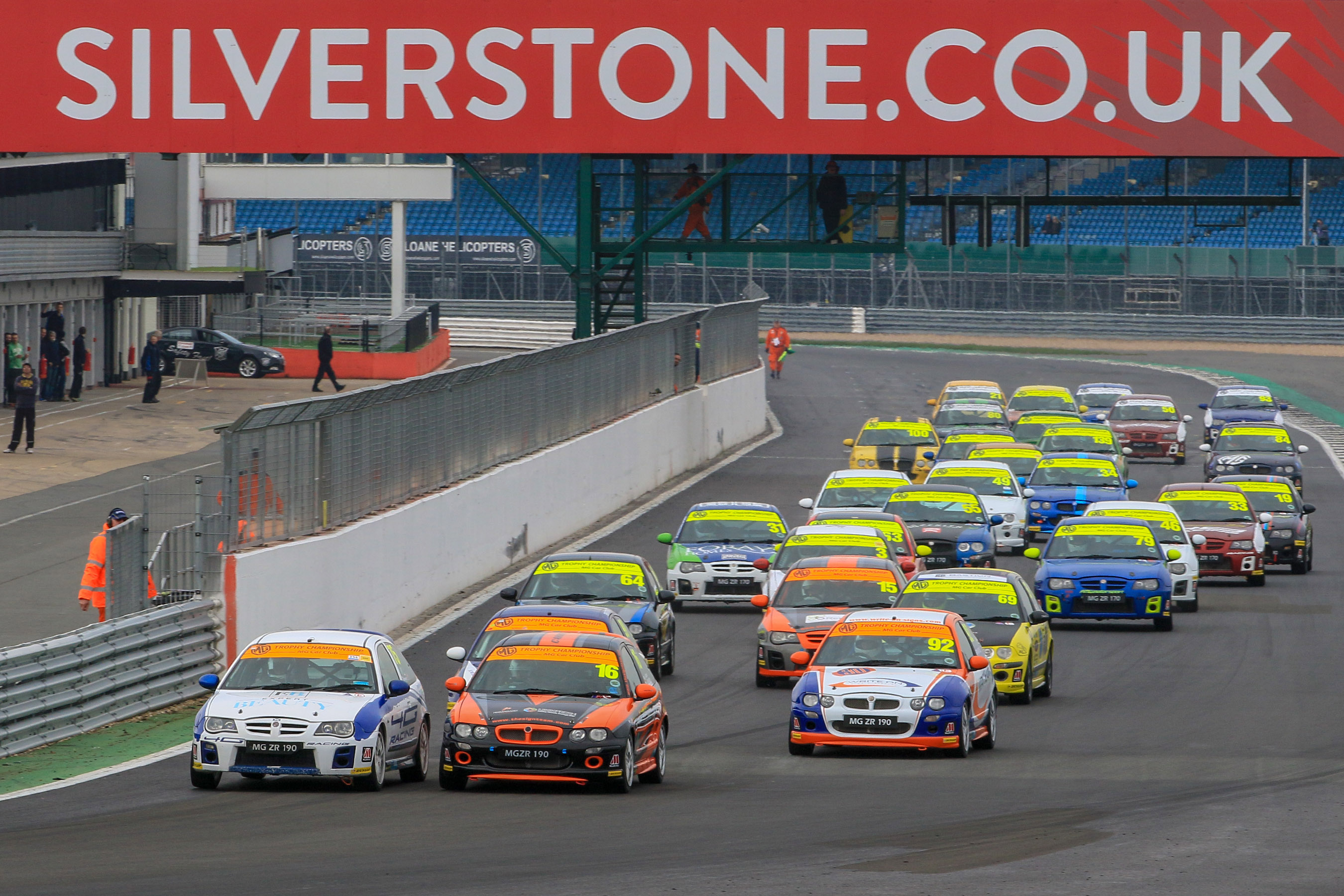 Silverstone National 7th April 2018 – The College Motors MGCC MG Trophy Championship
My first meeting as Championship Co-ordinator took place on the National Circuit at Silverstone, a venue the MG Trophy had not visited for four years, and then only as a non-championship event. Getting to grips with the many elements of the co-ordinator role would not have been possible for me without the ongoing support and great assistance which I have received, and thankfully continue to receive, from Pete.
I had wanted to start the season with a grid over 30, and just shortly after the closing date the entries reached a total of 35 which was really pleasing to see.
Following the decision made at the drivers meeting the Championship has separated in to Standard Power (160) and Enhanced Power (170 & 190) sections, with the overall champion coming from the Enhanced Power section. Two dropped scores will be permitted this year. (more…)