Chairman's Notes – John Thompson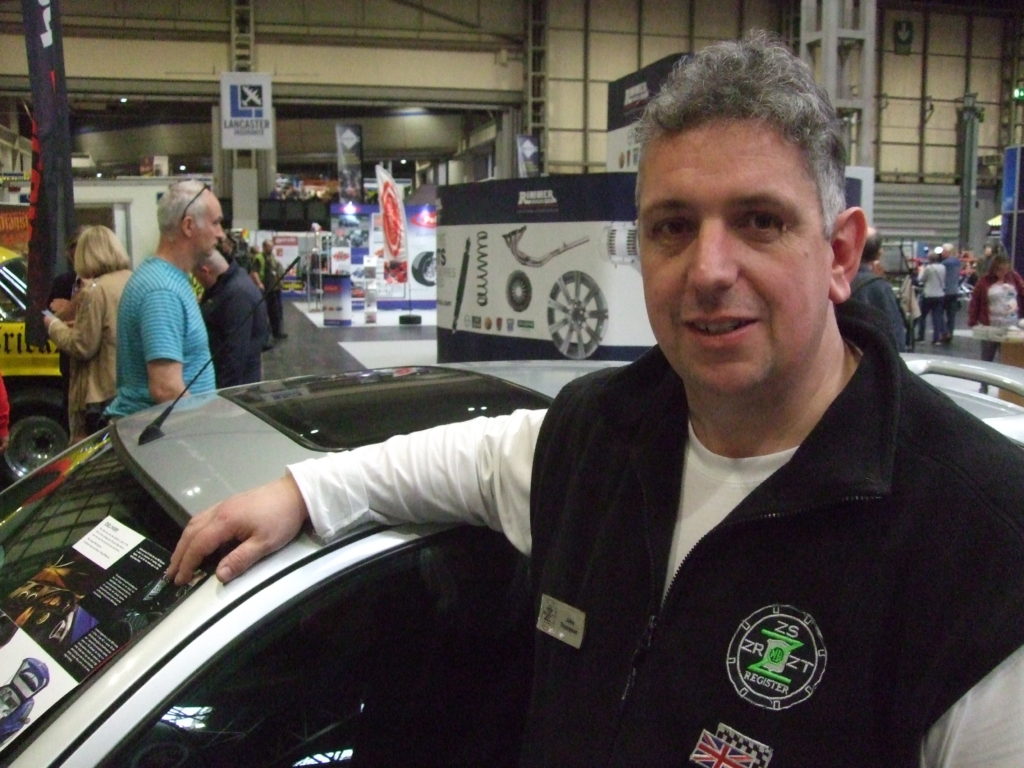 April 2021
The second half of this year is starting to look quite busy with postponed shows mixing in with our existing events. The dates for some of these events have been confirmed and published elsewhere by their organisers. Once any outstanding dates have been confirmed we'll publish our events calendar for the remainder of the year. Please continue to use social media to share your projects and activities with us.
Zed 20 – Update
As you might have seen, we've had a change of venue for our twentieth anniversary event Zed 20 in the summer. Following a clash of dates, we have been invited to become part of the Triumph & MG Weekend at the Three Counties Showground in Malvern. This event is being jointly organised between two Triumph owner's groups and our club. We'd like to reassure you that the plans we had already made for our own event will still be going ahead at the new venue. We've also had the opportunity to turn our event into a two-day show which will now take place on Saturday 14th August as well as and Sunday 15th. The facilities the showground has to offer will allow us to celebrate twenty years of the Zeds in a much grander style. We will keep you up-to-date with the details of our main event as they are confirmed. In the meantime, please visit www.triumph&mgweekend.com for information on the weekend, tickets sales and camping arrangements.          
March 2021
We hope you are all remaining well. Our twentieth anniversary year is still very much on hold as our present situation continues. Hopefully later this month as some of the restrictions are eased it will become clearer as to what will be feasible and when. With a number of events and shows postponed this year already, the second half of 2021 could be very busy indeed. In the meantime, please continue to use social media to share your projects and activities, and also continue to share your pictures of your twenty-year-old Zeds.
February 2021
We hope you are all keeping well. A number of events and shows have already been postponed following the announced lockdown in January. It is uncertain how long this present situation will continue and what further events will be affected, however we will keep you up to date with the latest information via our website/Facebook group and be guided by club announcements.
Zed 20
We have received a huge enthusiastic response to Zed 20 since we announced the event at the start of the year – thankyou. Arrangements for the day continue to forge ahead despite our present situation. A number of questions have arisen over past few weeks, some of which we need to clarify with the venue. Once the offices have reopened at Burghley House, we will inform you of their reply.
ZEDS AT THE LAKES
Our 'Zeds at the Lakes' road trip continues to attract a lot of interest. Postponed from last September this event makes an ideal addition to our 20th Anniversary events calendar. Further details can be found below.
Pricing
£299.00 per person sharing a car/room (£598 per car)
£398.00 per person in a room on their own (£200 reduction from the total 2-person price)
Prices include ALL of this:
3 night/4-day tour from 10th – 13th September 2020
3 nights' accommodation in the 3-star Riverside Hotel in Kendal
Breakfast included each morning at the hotel
3 dinners included – one every night
Evening meals provided will be a 3-course meal with at least 2 options per course. If everyone is dining together, the hotel may propose a fixed menu; i.e. the same menu for everyone, if they feel it will ensure a good standard of service.
1 route guide, per car, which will feature details and maps of attractions and places of interest
1 rally plaque, per car – Zeds at the Lakes tour plaque
24-hour out of hours helpline whilst on the tour
Full financial protection via ABTOT – registered number 5405
All bookings are bound by SCT conditions of booking
You will have the opportunity to travel on some of the most scenic roads in England in the comfort of your own Zed. Those of you who live locally are more than welcome to join us on our days out.
Just to remind you of the dates; the 10th– 13th September for our road trip.
It's still not too late to register your interest with Scenic Car Tours of you still wish to go. Simply email your details to admin@sceniccartours.com. Payment for this tour has been made very simple and flexible by SCT with various options.
Chairman's Autumn Update 2019
We teamed up with the MGF Register again on Sunday 18th August for Monogram Sunday which took place at Burghley House in Lincolnshire.   We had a great day in stunning surroundings with some rare and unique cars.
After a relatively quiet September its back to business as we approach October.
On Saturday 5th October the final rounds of the MGCC Race Championship take place at Snetterton in Norfolk.  Our colleague Geoff Hirst will be present in the Hospitality Suite to welcome you and sign you up for a lunchtime parade lap of this exciting circuit.   Don't forget that this is provided FREE as part of your membership, and complimentary refreshment is provided to members throughout the day.
The following day, our Open Day and AGM takes place at Kimber House between 10.00am and 4pm.  I'm happy to announce that our guest speaker will be Mark Stacey from Kmaps.  You may recall his article in Safety Fast earlier this year.  As promised, we have a number of exciting announcements for 2020 which will be revealed on the day.
At the end of the month on 26th October, Supercar Saturday takes place at Castle Combe Circuit.  We are happy to support this charity event with all monies raised during the day donated to the Stroke Association who have been our chosen charity for this year.
Additionally, we have been invited to the Lancing Motor Show which takes place on the 13th October.  We will be heading to the south coast with the campaign car and outdoor kit to promote the ZEDs at this huge event which attracts over five hundred classic cars.
Lastly,  the NEC Classic Car Show takes place from Friday 8th November to Sunday 10th November.  Whilst the ZED Register will not have a stand this year, the main club will be well represented, and details of discounted tickets for the show are available from the members-only area of the club website.
Drive safely this Autumn.
Chairman's Summer Update 2019
After the successful 'ZEDs in the West' event in mid-May, we took a break during June before tackling the busy second half of the year.  Moving into July we have two major events towards the end of the month.   Firstly, a full weekend of racing at Donington Park over the weekend of 20th/21st July followed a week later with MG Saloon Day at the Shuttleworth Collection in Bedfordshire on Sunday 28th July.
In August we have a celebration of MG Rover's Monogram programme.   'Monogram Sunday' is a charity event jointly organised with the MGF Register to showcase how colourful our cars can be.   The day is open to ALL MG Rover cars and all MG's.  Whether racing or a static show is your thing, there is something for everyone during the next few months.
Our 'Save our ZEDs' campaign continues to go from strength to strength with hopefully some exciting plans in the pipeline which will be announced in due course.
Wherever your heading this summer, have a great time!
March 2019
It's hard to believe we are in March already and our first show of the year is now behind us.  Sadly, we had to cancel our Meguiar's Detailing Day on 16th of this month due to insufficient numbers – maybe next year.
Following that is our first 'big' event of the year;  The Practical Classics Classic Car and Restoration Show with Discovery at the NEC.   We always have an enjoyable time at the NEC and hopefully the plans we have for 2019 will exceed last year.   Featuring this year will be our charity of the year, The Stroke Association and of course our 'Save our ZEDs' campaign will be launched to the classic car press over the weekend.   Visit our stand in Hall 5 next to the main club and take a look at the campaign car – the ZED that started it all.   As for the other cars on the stand, you'll have to come and see!
Moving on to the 'Save our ZEDs' campaign,  I'd like to thank you all for getting behind our campaign with such enthusiasm since it was launched on social media in January.  It was great to be approached by so many of you at the MG Spares Day at Stoneleigh last month with questions and requests for information.  Now we need your help to compile our database of recommended garages and parts sources to keep fellow owners on the road.
On Saturday 30th March the first rounds of the 2019 racing championships begin at Silverstone.  We will be there coordinating the lunchtime parade laps and to support the drivers and teams in the Trophy Championship and Cockshoot Cup.   Please make the most of the parade laps;  this is a unique opportunity to take your own car around the circuit and experience what it looks like from a drivers-eye view.   They can be very popular so ensure you sign on nice and early in the welcome centre.
Until next time.
Please visit our website/Facebook group for the latest information on register activities and event updates. We will continue to be guided by club announcements in this matter.