Register Update – January 2015
Happy New Year!
Here we are again at the start of another busy MG year. You will have seen in last month's issue our events calendar for the forthcoming year. We have another packed season ahead of us with a number of new events in addition to some old favourites. We will be attending the Motorsport show at Crystal Palace in May and the Classic Motor Show in Manchester during September. Mallory Park hosts the first round of the 2015 racing championships in March. We will be present at all the race meetings, organising the parade laps as usual. The Pride of Longbridge event held in Cofton Park is particularly significant this year as it marks the tenth anniversary of the closure of the former MG Rover plant. But the year begins in the traditional way at Stoneleigh for the MG & Triumph Spares Day on 1st March.
EVENTS & SHOWS
The Classic Motor Show was held at the NEC over the weekend of 16/17/18th November. This has always been a popular show for us and this year was no exception. The club stand was busy all weekend especially on the Saturday as the pictures in last month's SF! show. This year we shared a stand with the main club. Due to limited space the Register was represented by a ZR 160 race car. Many thanks to Helen Waddington for flying the Zed Register flag for us. It certainly created a lot of interest during the weekend. There was a lot of enthusiasm being shown in the world of the modern MG too with a number of people expressing an interest in the club and Register. Some existing Zed owners came to visit us; we hope you enjoyed the show. We took the opportunity on the Saturday afternoon to hold our final committee meeting of the year to discuss our plans for 2015.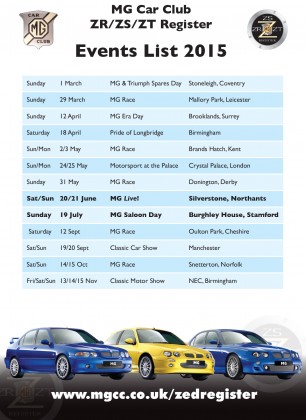 We'd like to take this opportunity to wish all of you a very Merry Christmas and a Happy New Year. And to thank all of you for supporting your Register during 2014. See you all next year.